Michigan brine brouhaha: Proposed limits for unpaved roads prompt dustup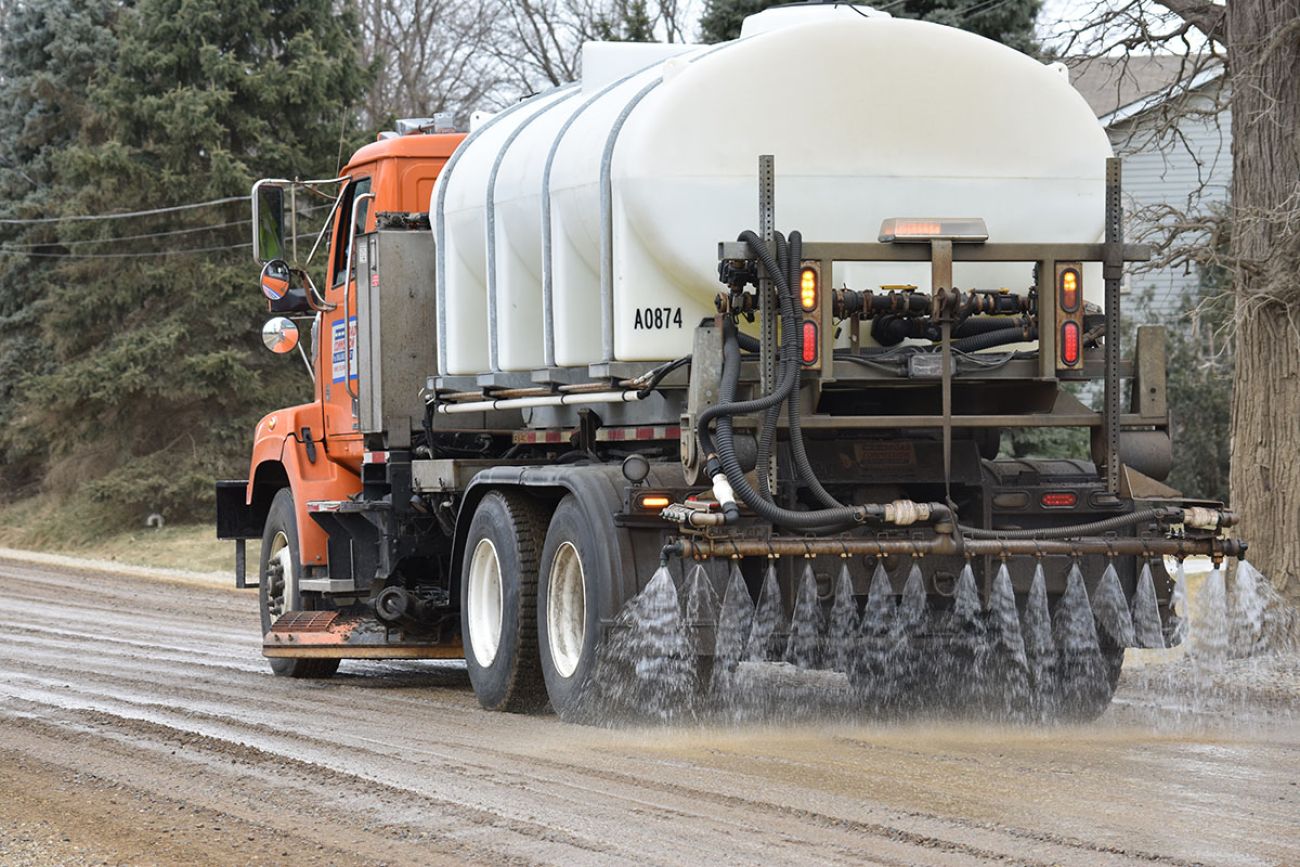 Local road crews typically spray brine a few times every summer to keep the dust down. (Photo courtesy of Road Commission of Oakland County)
Amid road salt pollution, Michigan regulators sought new limits on road brining
Road commissions revolted, saying they need brine to prevent dust
The standoff highlights the trouble with addressing pollution caused by actions fundamental to daily life
---
A salty solution sprayed onto many of Michigan's unpaved roads each summer is causing a major dust-up between the state's environmental agency and local road commissions.
Michigan has some 36,000 miles of unpaved roads, which are treated with brine to tamp down on dust.
But like the rock salt used to melt snow and ice, brine pollutes nearby waterways like Church Lake in Grand Rapids, where fish struggle to survive. Salt can also cause high chlorine levels that liberate heavy metals from soil and pipes as evidenced by Flint, whose notorious water crisis began when the city began obtaining its drinking water from the chloride-polluted Flint River.
Related:
Desperate for a solution, the Department of Environment, Great Lakes and Energy this year proposed restrictions on summer brine applications. But the agency backed off amid an uproar from local leaders.
"Nobody has come up with anything that A) works as well, or B) is remotely as cost-effective as salt brine — and that's why we're using it," Craig Bryson, spokesperson for the Road Commission for Oakland County, told Bridge Michigan.
Making brine costs as little as 7 cents per gallon, and alternatives are expensive, Bryson said. Oakland County estimates repaving a road can cost up to $2 million per mile. Other possibilities are just as bad or worse environmentally, including oil-based brine, agricultural byproducts and asphalt emulsion.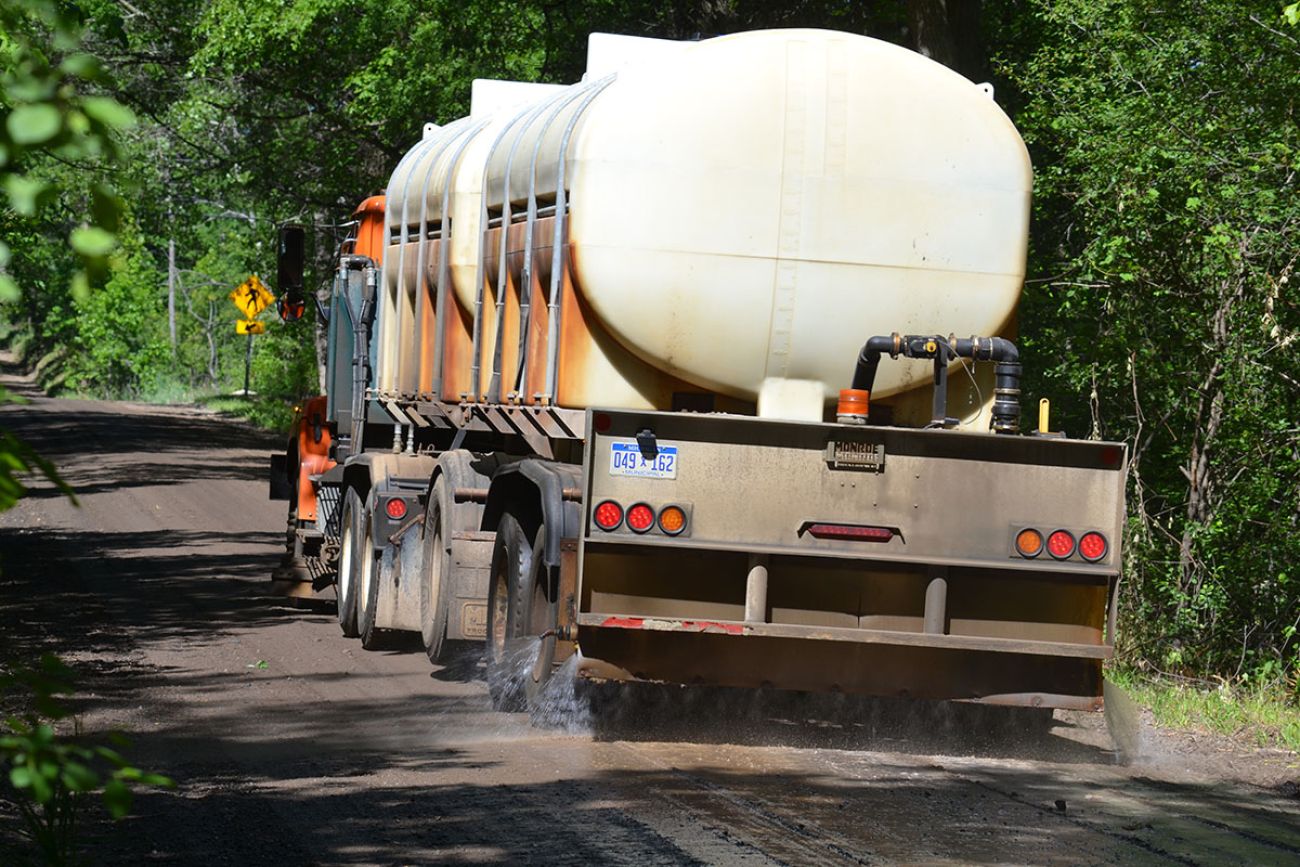 County road officials say brine is the cheapest, best method to treat unpaved roads. (Photo courtesy Road Commission of Oakland County)
A salty situation
Michigan requires permits to spread brine on roads to protect water from pollution, but sought to restrict when and where crews could apply it, barring use during rain or snow or on wet or flooded soil and near bridges or within 100 feet of surface water.
"Ultimately, we're working to… protect Michigan's environment and public health," Alissa Yanochko, an engineer permit writer for the state's environmental agency, said during a February webinar on the proposed changes.
"Everything that we do on the surface can and will impact groundwater."
The state suggested road commissions could instead spray certain roads with water to keep dust down, although they acknowledged it would be a short-lived solution.
The upshot of the rules in many rural areas is that it would be "damn near impossible" to brine unpaved roads, said Rep. Graham Filler, R-Duplain Township in Clinton County.
"We…would feel much better if there was some basic back and forth in sharing the science," said Filler, who led Republicans in protesting the measure. "Right now you basically have every county road commission pissed off and up in arms."
In Grand Traverse County, the proposal would mean at least a quarter of unpaved roads couldn't be treated for dust, said Jay Saksewski, the county road commission's superintendent. He noted that brining also preserves the roads.
Cheryl Vosburg, executive director of the Michigan Water Environment Association, called the proposed permit revisions "common sense."
"It's a compromise," she said. "They're not saying you can't do it at all, you just have to do it when the impact is more tolerable."
Other states are also grappling with how to reduce pollution from salt and brine. Illinois, for instance, set a deadline last year for Chicago to meet the state's chloride water quality standard. Wisconsin in December published a state chloride strategy that includes a host of strategies for cutting back.
The proposed changes blindsided county officials and were a "debacle," County Road Association of Michigan CEO Denise Donohue told Bridge Michigan. On April 3, the association sent state officials a letter outlining their concerns, noting a lack of clarity over changes that would require drastic changes to the status quo.
In a statement to Bridge, Jill Greenberg of Michigan's environment department said the agency is holding off on the new requirements to discuss concerns. The state "is confident that we will be able to reach an agreement … that protects water and other natural resources from brine runoff," Greenberg said.
Donohue said county commissions are proceeding as planned with summer brining schedules. Road commissions "want to know what the problem is first before we can really go about thinking of how we should fix this," she said.
Why brine?
In Michigan, road commissions use brine as a multi-season tool for road safety, preventing ice buildup in the winter and controlling dust on unpaved roads in the summer.
Dust and soot from unpaved roads is responsible for nearly half of the country's airborne particle pollution, said Nathaniel Warner, an environmental engineering professor at Penn State University who specializes in water quality.
Those particles can exacerbate asthma and heart issues, and can pose a safety hazard by reducing visibility on busy dirt roads. For neighbors, the dust is a nuisance that settles on gardens, windowsills and floors.
"If you live near a dirt or gravel road, oh gosh, dust just gets everywhere," Warner said.
Brine works by pulling water out of the air to keep the road surface damp, and binding clay particles together to keep the road intact.
The Road Commission for Oakland County sprays 80 miles of heavily trafficked gravel roads with brine four times a summer and contracts with townships and other locals to treat a wide swath of the county's other 670 miles of unpaved roads.
The commission takes environmental concerns seriously, and works to ration salt as much as possible — but any changes must take community concerns into account, Bryson, the commission's spokesperson, said.
"Any time the public thinks we don't put enough salt down, we are inundated with phone calls from people demanding more salt," Bryson said. "We are never inundated with phone calls from the public demanding less salt. Never."
Though winter road salting is responsible for more salt pollution in northern waterways, Warner said summer brining is also harmful because it happens during a vulnerable time for fish and wildlife. Streams are teeming with newborn fish, mussels and other creatures that are especially sensitive to pollution.
"There are some major unintended consequences," he said.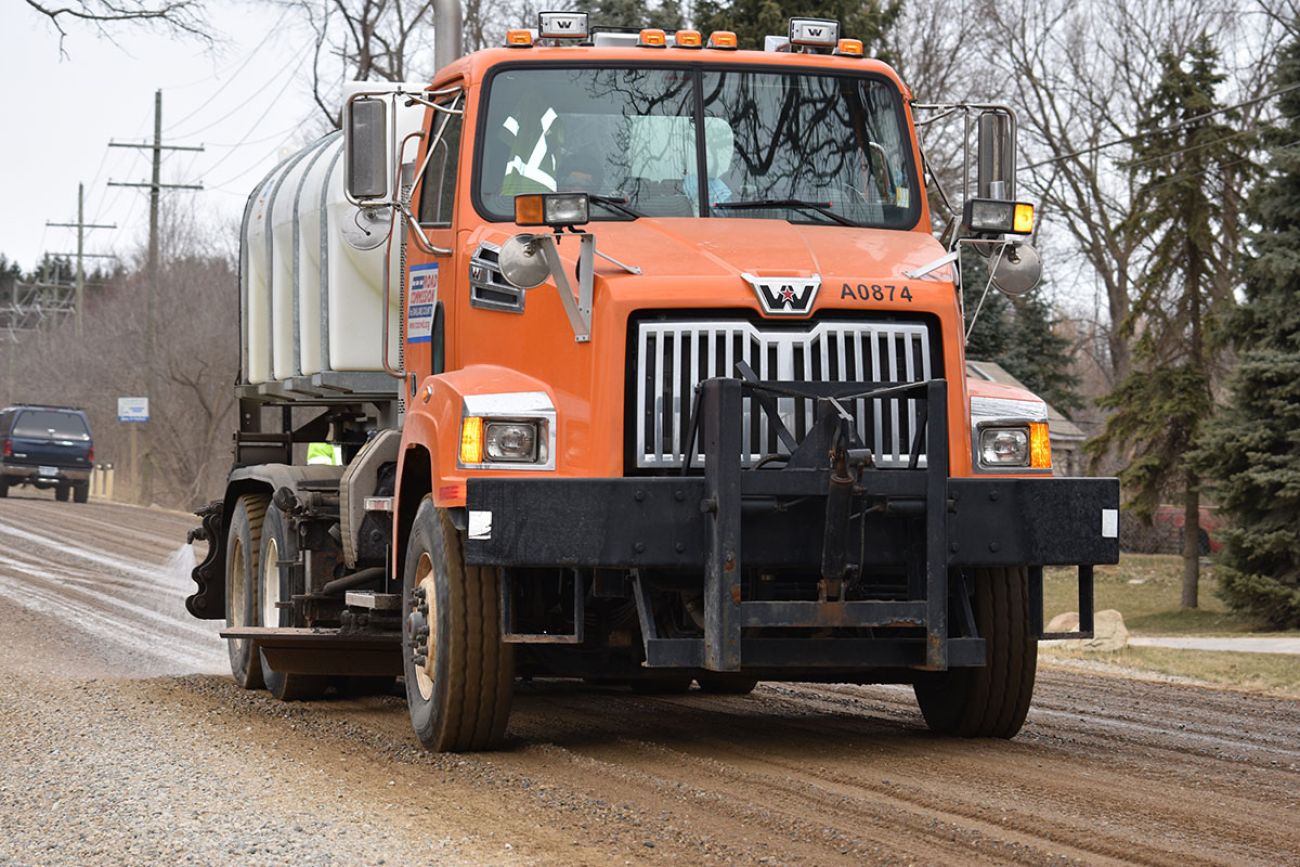 State officials and environmental experts are concerned about (Photo courtesy of Road Commission of Oakland County)
'Ticking time bomb'
If Michigan fails to address its salt pollution crisis, environmentalists warn the state's prized freshwater lakes and streams may gradually become tiny oceans.
Average chloride concentrations in urban streams in the northern U.S. doubled between 1990 and 2011. A study in 2021 revealed road salt is salinating Lake Michigan. And during the spring melt, the saltwater running off Michigan roads is so concentrated, some streams become brackish water.
Salt use is a "ticking time bomb" that threatens to detonate in waterways across Michigan, said Alan Steinman, the Allen and Helen Hunting research professor at Grand Valley State University's Robert B. Annis Water Resources Institute.
But like many modern environmental crises — from climate change caused by burning fossil fuels to plastic pollution from single-use containers — the problem won't be fixed unless humans sacrifice, Steinman said.
The first step is to quit making the problem worse, Steinman said. That would mean stopping the suburban sprawl that drives up salt use by creating more roads, parking lots and driveways.
Then comes the difficult task of cutting back on salt use.
The state in 2019 established water quality standards for chloride and sulfate, two pollutants commonly found in salt, and later released its plan to get salt pollution under control.
Point sources such as wastewater treatment plants will be required to monitor chloride and sulfate, and could need to limit their releases. But diffuse pollution caused by salt and brine running off roads is both a bigger problem, and trickier to regulate.
Salt and a hard place
With the state rules in limbo, others are hoping for alternative solutions.
Saksewski, the Grand Traverse roads superintendent, said a regional approach that takes into account diverse weather and road conditions around the state is a good place to start.
"It's not a one-size fits all solution," he said. "Finding solutions to minimize the amount of chlorides that are being used, whether it be for dust control, or for winter control, based on those unique characteristics of those geographic regions, I think would be key."
Penn State's Warner said there is one simple alternative for controlling dust: slow down. Dust generation increases fivefold when speeds go from 25 miles-per-hour to 45 miles-per-hour.
"If you slow down, you generate a lot less dust," Warner said. "Most people don't want to do that."
Vosburg, of the Michigan Water Environment Association, said the controversy speaks to the difficulty of addressing major, but largely invisible, forms of water pollution.
"People are resistant to change," Vosburg said. "If you ask them to change with no viable solutions to offer them, that's when you get the protests."
While Michiganders quibble over how to cut back, Vosburg is watching with worry as lakes and streams grow increasingly polluted. She's not optimistic about Michigan's ability to curb salt use before it causes an environmental crisis.
"Unfortunately, it doesn't seem like we ever learn our lesson," Vosburg said. "Why do we have to wait until things reach a tipping point to do something?"
Only donate if we've informed you about important Michigan issues
See what new members are saying about why they donated to Bridge Michigan:
"In order for this information to be accurate and unbiased it must be underwritten by its readers, not by special interests." - Larry S.
"Not many other media sources report on the topics Bridge does." - Susan B.
"Your journalism is outstanding and rare these days." - Mark S.
If you want to ensure the future of nonpartisan, nonprofit Michigan journalism, please become a member today. You, too, will be asked why you donated and maybe we'll feature your quote next time!