Michigan House poised to dismantle Michigan sick leave, minimum wage laws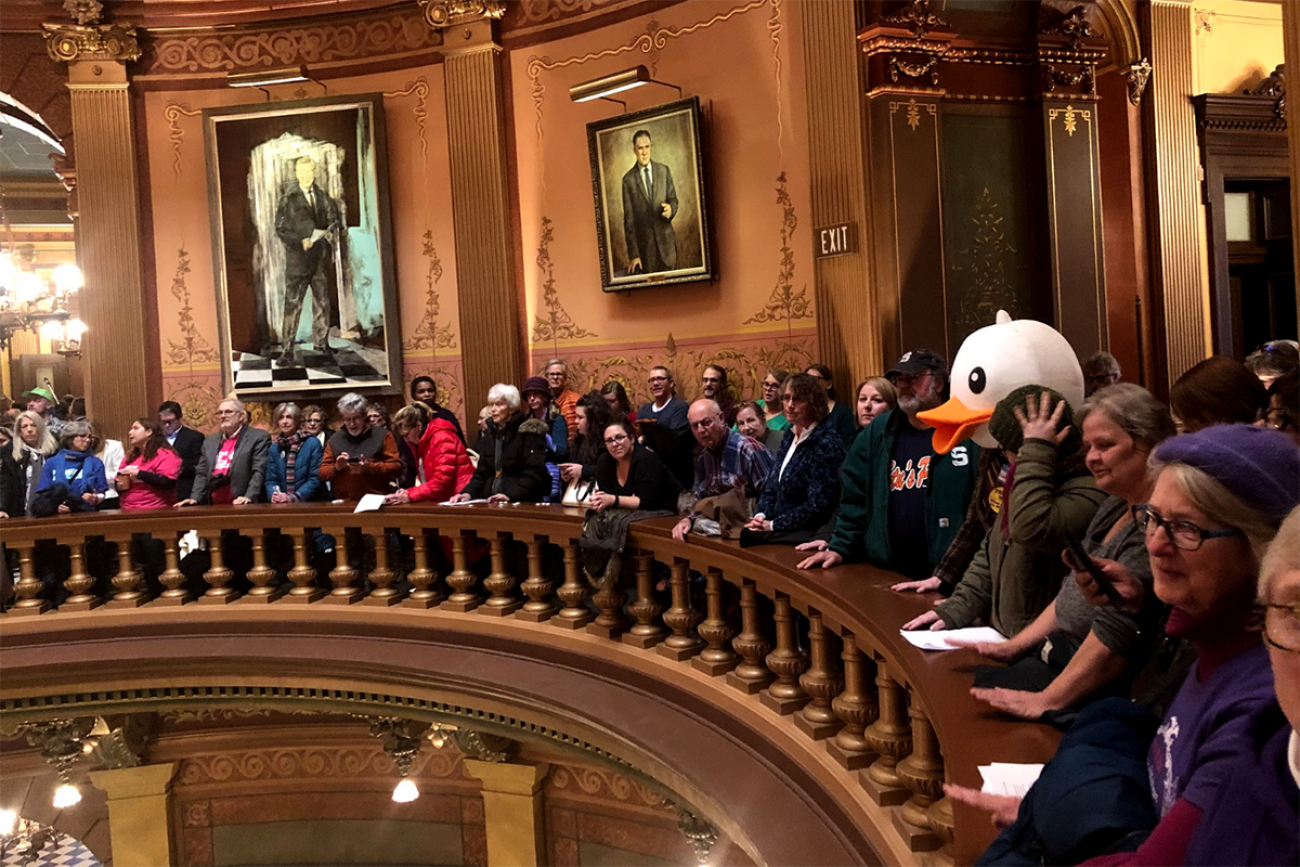 Feb. 13: AG Dana Nessel may review Michigan minimum wage, sick leave law
Dec. 14: Snyder signs bills that weaken Michigan minimum wage, sick leave law
The House could vote as soon as Tuesday afternoon to largely dismantle two citizen-backed bills to raise Michigan's minimum wage and require employers to offer paid sick leave.
Should the House approve both bills Tuesday, without making changes, they would make their way to Gov. Rick Snyder's desk. The Senate passed both bills last week. Both chambers and the governor's office are controlled by Republicans. The Legislature adopted both citizen initiatives in September with the intent to amend them in lame-duck session after the Nov. 6 election.
The issue pits business groups, who say it would be challenging to comply with the laws as written, against advocates for a higher minimum wage and paid sick leave, who contend that the GOP-controlled Legislature is undermining the will of the hundreds of thousands of people who signed petitions to enact both laws.
Dec. 21: That's a wrap! What bills passed, died in Michigan lame duck for the ages
Related: Michigan power grabs, pipelines and pot: What we're tracking in lame duck
It's unclear whether Snyder, who will be replaced by Democrat Gretchen Whitmer in January, would sign either bill. His office has said only that the governor considers bills on their individual merit.
Advocates for both laws, who organized ballot committees to gather signatures from registered Michigan voters, urged lawmakers to oppose them.
"Do you know how many times you all have gone out to eat and your server has been sick and she can't go ahead and leave?" said Tracy Pease, a restaurant server from suburban Detroit who testified before a House panel Tuesday morning.
"What was the reason for passing this bill (in September) if it was so bad?"
A House panel voted 6-3 along party lines Tuesday morning to send Senate Bill 1171, which deals with the minimum wage law, and Senate Bill 1175, which amends the sick leave law, to the full House for approval.
Senate Bill 1171 would raise Michigan's minimum wage from $9.25 this year to $9.48 on Jan. 1, instead of to $10 under the citizen initiative.
After next year, the bill introduced by state Sen. Dave Hildenbrand, R-Lowell, would raise the minimum hourly wage by 23 cents per year until it equals $12, which should happen by 2030. That's a far longer timeline than contemplated by the citizen initiative, which would have reached $12 by 2022, eight years earlier.
Hildenbrand's bill also strips a provision to increase the minimum wage by inflation each year after the rate reaches $12.
The Republican lame-duck bill also restores the tipped wage paid to workers who collect tips as part of their jobs, which is currently 38 percent of the full minimum wage, or $3.52 per hour. That generally applies to restaurant servers, who are among the biggest proponents of raising the wage.
The citizen-backed law, if allowed to take effect, would gradually raise the tipped wage until it equaled the full minimum wage rate. Hildenbrand's bill instead would raise the tipped wage by 4 cents per year until 2030, to $4 per hour, effectively reducing it to 33 percent of the full $12 minimum wage.
Senate Bill 1175, introduced by incoming Senate Majority Leader Mike Shirkey, R-Clarklake, would amend the citizen-backed sick leave law in an effort to give more flexibility to employers to offer sick time to their employees.
The bill would reduce the amount of paid sick time an employee could accrue — 1 hour for every 40 hours worked, rather than for every 30. And employers would be required to offer at least 36 hours of paid leave, rather than 72, in a year.
Notably, the Republican sick leave law no longer would apply to businesses with fewer than 50 employees. Before the exemption was introduced last week, the citizen-backed law required businesses with fewer than 10 employees to offer at least 40 hours of paid sick leave, with another 32 hours of unpaid leave.
Wendy Block, vice president of business advocacy for the Michigan Chamber of Commerce, testified that the Republican lame-duck changes will help employers by aligning with federal laws that exempt small employers and allow companies to continue to offer employees a pool of paid time off that employees can use for vacation, personal use or to recover from illness.
The changes, Block said, "represent the real-world input and concerns of job providers across our state."
An attorney for both the minimum wage and sick leave ballot committees has vowed to sue if the Legislature adopts the changes and Snyder signs them into law, arguing that it's unconstitutional to adopt and amend a citizen petition in the same two-year legislative term. If such a suit were successful, the GOP-controlled Legislature would have to try again in 2019, when these bills would face a likely veto from Whitmer.
On Monday, the ballot committee that pushed the sick leave initiative, MI Time to Care, anticipating that its sick-leave measure would be torpedoed by Republicans, submitted a new petition to the state to run a ballot drive in 2020.
We're not just a news organization, we're also your neighbors
We've been there for you with daily Michigan COVID-19 news; reporting on the emergence of the virus, daily numbers with our tracker and dashboard, exploding unemployment, and we finally were able to report on mass vaccine distribution. We report because the news impacts all of us. Will you please support our nonprofit newsroom?