Critical race theory flap makes teachers tiptoe on slavery, racism topics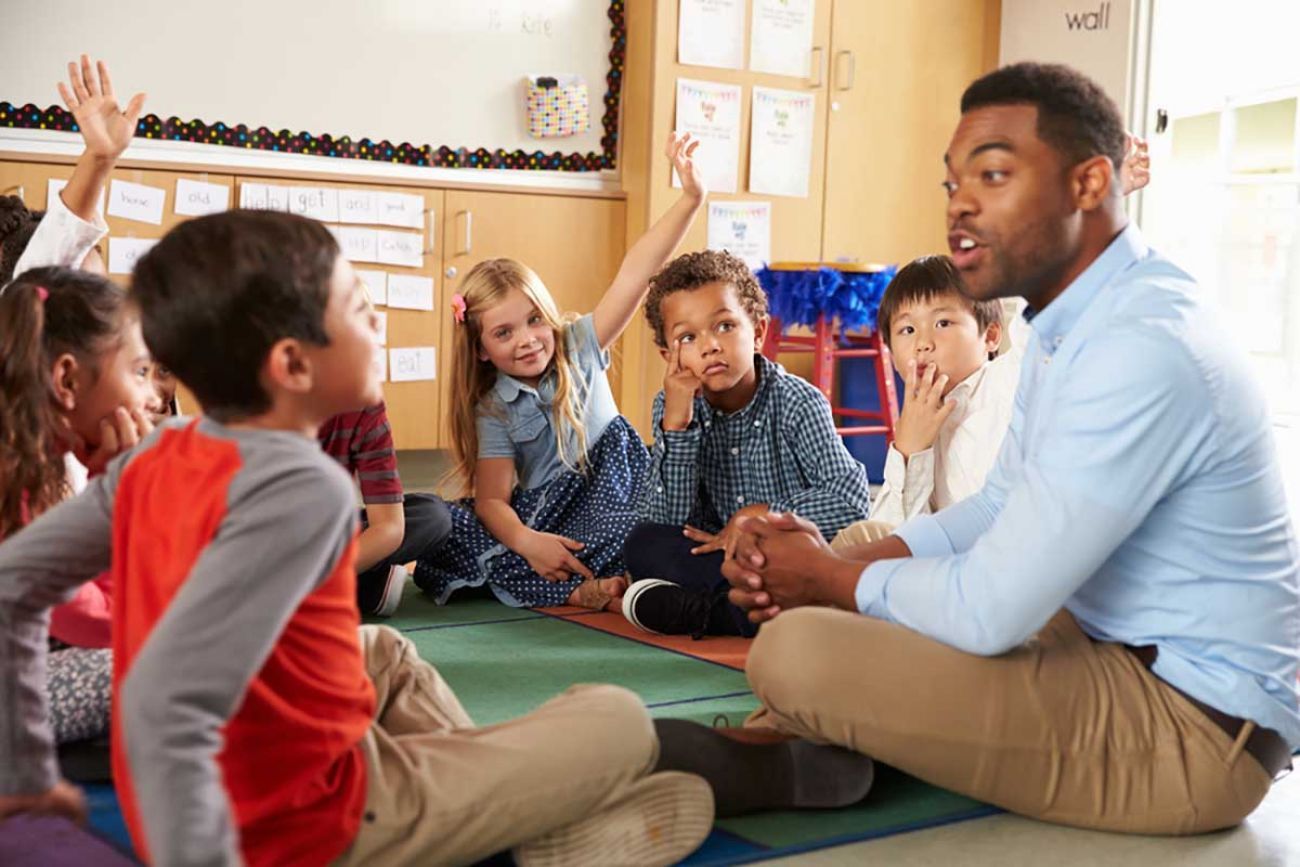 Republican-backed bills in Lansing seek to restrict what schools can teach about race, including a ban on critical race theory. While the proposals are unlikely to pass with a Democrat in the governor's office, some educators say they feel pressure to avoid controversial topics. (Shutterstock)
Two years ago, a northern Michigan teacher assigned readings on anti-racism to her students. This fall, the books will sit in a cabinet, unused.
A prominent conservative group is posting a list of "inappropriate library books" on its website, including "Beloved" by Toni Morrison, "How to be an Antiracist" by Ibram X. Kendi and "The 1619 Project: New Origin Story," by Nikole Hannah-Jones.
And some school districts are facing pushback about working with diversity consultants.
Related:
Michigan is one of several states considering bills that would restrict how schools teach lessons on race and racism. For now, the conservative-backed measures have little chance of passing with a Democrat in the governor's office.
Even so, some teachers report a chilled political climate coursing through schools as the fall term opens, leaving them unsure how they are supposed to teach about slavery, Jim Crow and other unsavory chapters in our nation's history. The result, they fear, is that students will learn a sanitized version of U.S. history.
"I would hate for us to not be able to teach actual factual history of things that happened, that racism did exist — it does exist," said Kymberli Wregglesworth, a social studies teacher at Onaway Secondary School in Presque Isle County. "And, you know, we should be working to try to stop (racism) from existing."
Proposals in Lansing include a ban on promoting "race or gender stereotyping," or teaching that the U.S. "is a fundamentally racist country." They also bar discussion of "critical race theory" (CRT) and "The 1619 Project," a historical analysis that holds that slavery and racism played a central role in our nation's founding.
Michigan is among 42 states that have introduced bills or taken other steps to restrict teaching CRT or how teachers discuss racism or gender stereotyping since the beginning of last year, according to an analysis by Education Week. Seventeen states have enacted restrictions through legislation or other methods.
A national survey of teachers and principals found that roughly 1-in-4 teachers have been directed by school or district leaders to limit conversations on political or social issues. This includes teachers in states that now limit how they teach about contentious topics, but also states like Michigan, that do not yet have such laws in place.
Wregglesworth is entering her 25th year of teaching. Two years ago, after a Black man named George Floyd was killed by Minneapolis police, Wregglesworth launched an online fundraiser to buy copies of "Stamped: Racism, Antiracism, and You," a young adult book written in a way she thought her current events class would enjoy.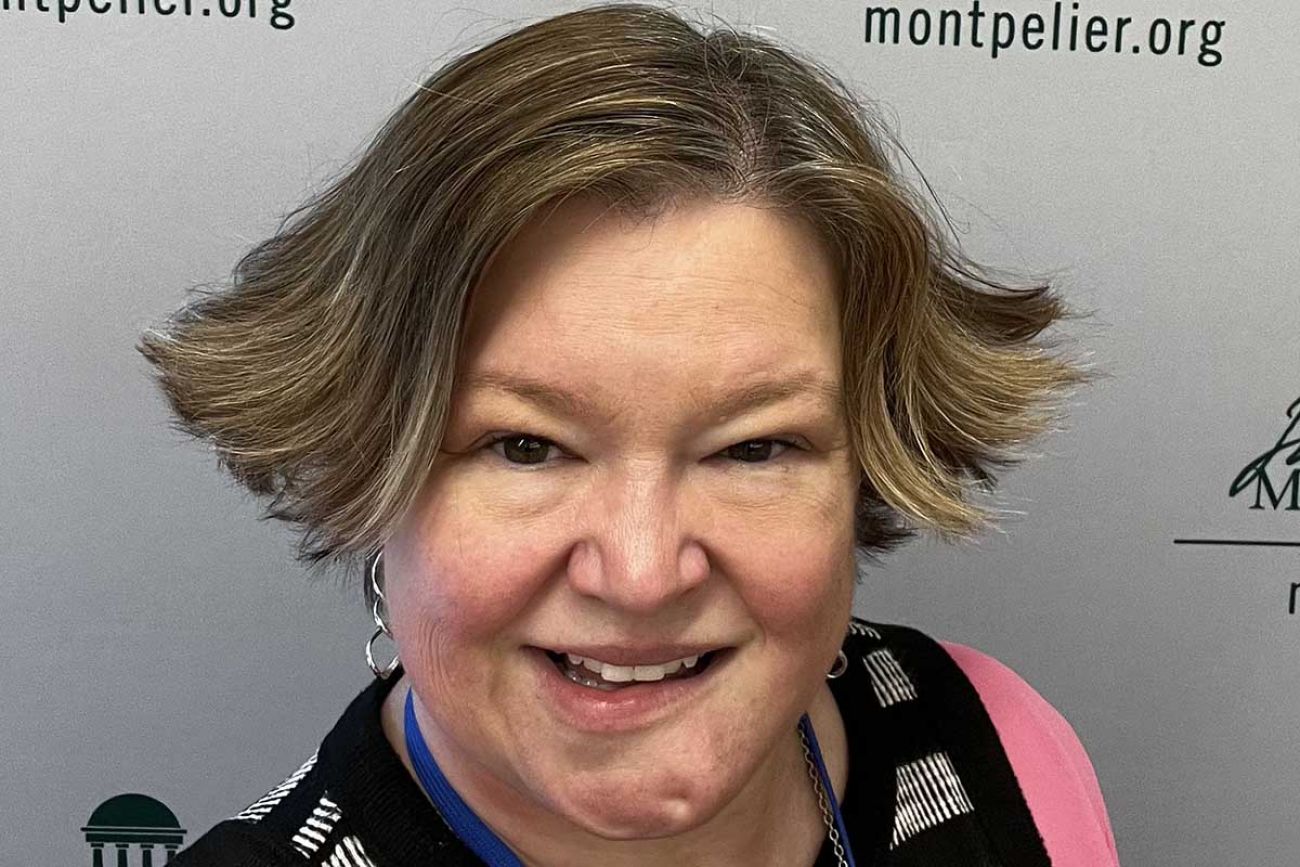 Kymberli Wregglesworth, a social studies teacher at Onaway Secondary School in Presque Isle County, said she passed on having students read a book on antiracism this year, wanting to avoid more pushback from parents. (Courtesy photo)
Her class read the book in fall 2020. Wregglesworth told Bridge that some students "grumbled," but it was more about having to read a book than anything else. She said she was very impressed with the students' writing assignments.
But during the spring 2021 semester, the district began receiving complaints from a conservative parent. The parent did not have a child in her class, but told school officials she worried the teacher's curriculum was too liberal. Wregglesworth said the district also began receiving freedom of information requests for her classroom materials.
It "snowballed," Wregglesworth said of the controversy. (Criminal charges were later leveled against the parent, accusing her of illegally recording a conversation between the then-superintendent and a school board member. The charges were eventually dropped and the parent has since sued the district alleging she was retaliated against for questioning district curriculum.)
As school opens this fall, Wregglesworth has decided not to include the antiracism book in her current events class. Partly, she said, it's because students can take her class more than once, so she rotates books so students don't read the same book twice.
But that's not the only reason.
"I'm just tired," she said. "I really don't feel like dealing with the pushback after two years of fighting for what I know is right but not necessarily being trusted."
She said she "doesn't want to give any additional fuel to the people that are already upset at the school."
'They know they're being watched'
As president of The Michigan Council for the Social Studies, Wregglesworth said she's concerned that Michigan schools or teachers will shy away from controversial topics.
Her leadership comes at a time when public schools are under more scrutiny from parents who argue schools need to be more transparent with what they are teaching and that some schools indoctrinate students with "woke" political agendas on topics like race or gender identity.
Along with bills that would limit how schools teach race and gender, state lawmakers have proposed legislation that would require school districts to publicly post textbooks, literature, research projects, writing assignments and field trips by the start of the school year.
Making schools more transparent — and more hesitant to teach certain topics — is precisely the point, said one parent who has been critical of her local schools.
"I can tell you that our administration and some of our teachers are definitely thinking twice before they post things on social media, before they assign certain assignments because now they know that they are being watched, and that we will 'out' them every step of the way," said Stefanie Boone, who has advocated against certain practices at Forest Hills Public Schools and Lowell Area Schools near Grand Rapids.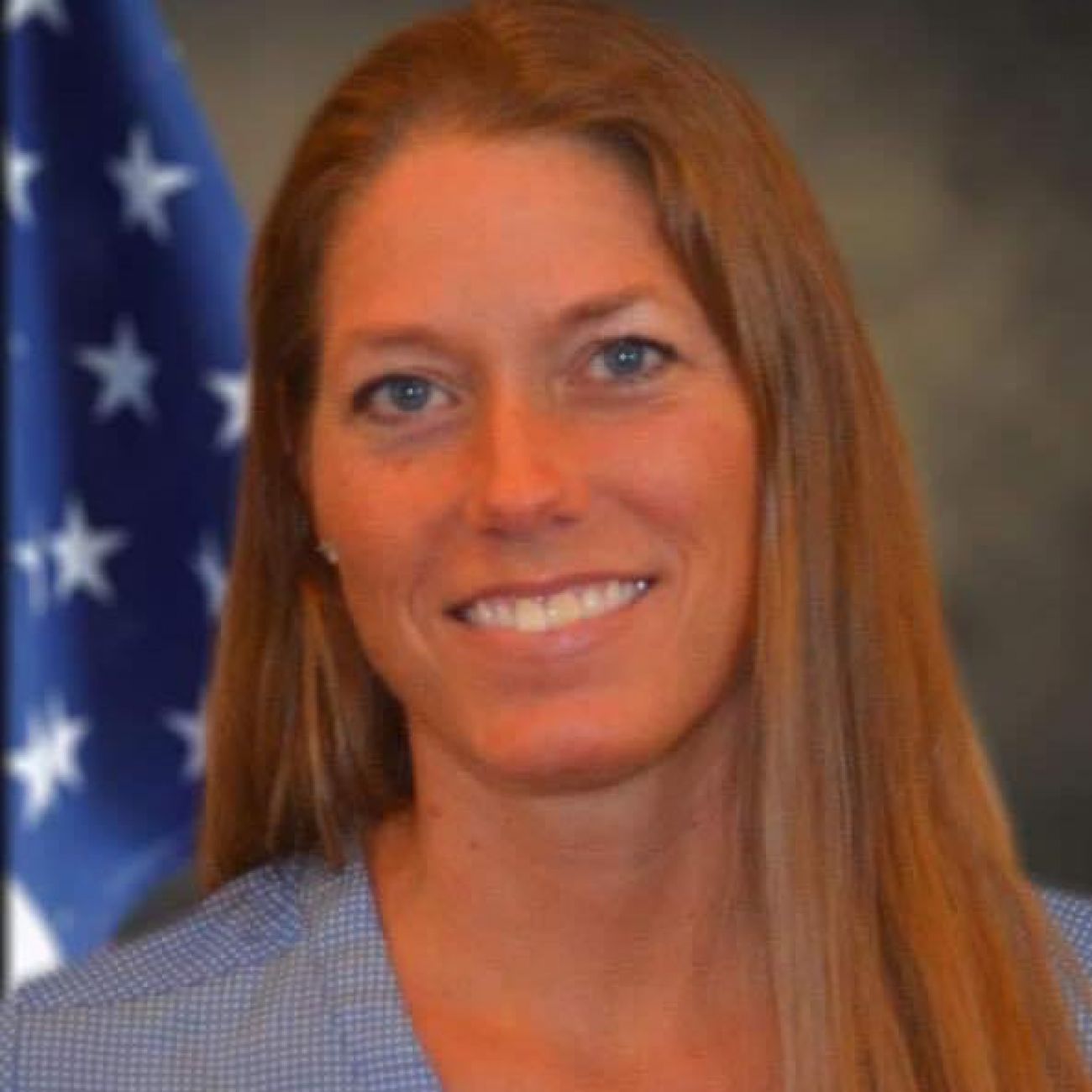 Stefanie Boone, a parent, helped lead a school board recall effort against Forest Hills Public Schools board members. She said schools must make it easier for parents to identify and oppose books that parents deem inappropriate for students. (Courtesy photo)
Forest Hills recently adopted a more formal review process for reading material. But Boone said she remains concerned because the policy does not address how parents can get books removed from individual teachers' classroom libraries.
Sen. Jim Runestad, R-White Lake, has also taken a close interest in how schools talk about race and gender. At a meeting of the Senate Education and Career Readiness Committee in June, Runestad said he believed "just about every school in the state of Michigan" is teaching students "collective guilt" and making them "profess their privilege based on race."
A week after that hearing, Runestad showed Bridge a list of what he contends are school efforts to sow distrust among students of different races — what he calls "vile, sick, psycho, hate-filled stuff" that are intended "to divide and get people at each other."
His office provided scanned documents and a spreadsheet of examples of what he sees wrong with schools.
Sen. Jim Runestad, R-White Lake, said he believes "just about every school in the state of Michigan" is teaching students "collective guilt" and making them "profess their privilege based on race." (courtesy photo)
Among them: a Holt Public Schools Facebook post from last year that encouraged people to wear "Black Students Matter" t-shirts during a "Day of Unity." His spreadsheet listed a July 2020 West Bloomfield video presentation on how parents could talk to their students about race after Floyd's killing. In the video, a diversity, equity and inclusion consultant described the U.S. and its institutions as "founded and framed around the ideologies of white supremacy."
Runestad also cited a report to Waterford Public Schools from November that included interviews with students, staff and parents on diversity and inclusion.
Runestad wants lawmakers to pass House Bill 5097, sponsored by Rep. Andrew Beeler, R-Port Huron. The measure would forbid race and gender stereotyping in curriculum standards. Schools would be barred from teaching several ideas including that "individuals bear collective guilt for historical wrongs committed by their race or gender."
Sen. Lana Theis, R-Brighton, is sponsoring Senate Bill 460 which would penalize school districts who teach critical race theory or the New York Times' 1619 Project.
Critical race theory is a way of analyzing race within institutions and is typically taught at the college level. Theis' bill defines the term as "anti-American and racist theories, reading guides, lesson plans, activities, guided discussions, and other resources that promote that the United States is a fundamentally racist nation, that the United States Constitution is a fundamentally racist document, and that certain races are fundamentally oppressive or oppressed."
As the bill is written, school districts could risk losing a portion of state funding if they are found to be discussing such concepts.
"I believe this division of getting people into different categories, judging them by the color of the skin or the gender and not by the content of the character is the worst possible thing for our country," Runestad told Bridge.
Nationwide efforts to ban similar topics
Bridge reached out to Sen. Theis and Rep. Beeler for examples of race or gender stereotyping or critical race theory being taught in Michigan schools. Theis did not respond to multiple efforts to discuss her legislation.
Beeler said in an email he heard of an instance where "a young girl was targeted with stereotypes about her race and that is wholly unacceptable." He did not provide the student's school or school district.
Beeler and Runestad said they have heard multiple complaints from constituents about how schools are handling race and gender topics. And Runestad expressed wariness of school equity efforts.
He said that if a school district hires a diversity, equity and inclusion (DEI) coordinator, he would want that person to be "treating all the students the same" where "everyone is given equal opportunities" instead of "breaking them down by categories."
But educators say that definition misunderstands the purpose of equity considerations.
Grand Ledge Schools science teacher Melissa Mazzola told Bridge that the concept of equity is nothing new in public schools, and that treating students differently, or giving them additional support or resources, does not mean other students are shortchanged.
If, say, a student has a learning disability, she may be given an accomodation where a teacher reads test questions out loud to that student. That treatment is different from the students' peers but it helps the student with a disability to equally compete for academic success.
"Within the school setting, equity has always been our goal and that's, I think, the goal of (DEI training). But again, I don't think that's the same thing as CRT," she said.
"People hear DEI and they immediately think CRT. When I say to people, 'We want students to be represented in the curriculum and read stories about people like them,' no one disagrees with that. But they hear DEI, and they recoil."
Her district has struggled through a series of racial flashpoints in recent years.
In June 2020, the Grand Ledge school board fired the superintendent after he made Facebook comments that suggested George Floyd was partially responsible for his death a month earlier. There were contentious school board meeting last summer where people spoke out against critical race theory, which district leaders said was not taught in schools.
Runestad's spreadsheet also accused Grand Ledge of paying "a critical race theorist" to advise the district in the 2020-21 school year on "how to incorporate this racially discriminatory philosophy in their schools."
The person accused is Dorinda Carter Andrews, who chairs the Department of Teacher Education at Michigan State University where she is also a professor of race, culture and equity. She told Bridge she is fine with that title but said it's "flat out inaccurate" to say she was hired to incorporate CRT into Grand Ledge classrooms.
She said she was hired to help the district address complaints of students of color experiencing racial discrimination from peers and teachers, and help "diversify their curriculum in ways that was inclusive of multiple narratives." (Carter Andrews wrote a report for the board that included recommendations from a 23-member Equity, Diversity, Inclusion Committee.)
Nikita Murry, director of diversity education at Central Michigan University, said she believes the police killing of Floyd "flipped the switch" for some people when it comes to how they think about the role of race in America.
"I think it was the first time that people were internalizing what it means to have people in the same country as you have different lived experiences on a daily basis," she said.
She said that led some schools to take a more comprehensive view of U.S. history. That then spawned a pushback to teachings that may make students uncomfortable, which she said is unfortunate.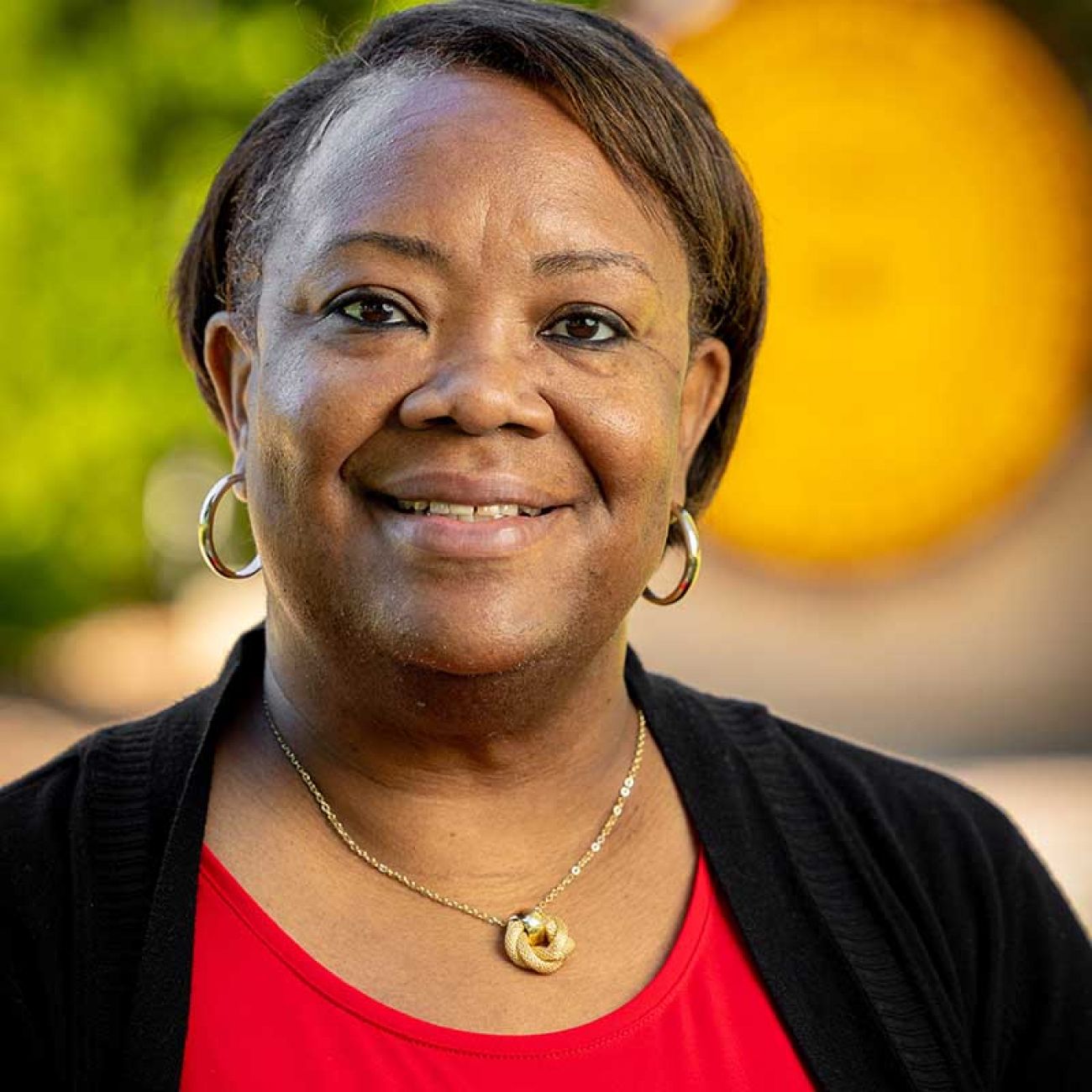 Nikita Murry is director of diversity education at Central Michigan University. She said the murder of George Floyd, an unarmed Black man, "flipped the switch" for some people to reflect and think differently about U.S. history. (Courtesy photo, Central Michigan University)
She said it's "sad to think that we want to jeopardize the potential of people to experience what they experience as they learn and as they grow because we don't believe that they are capable of handling their information."
Allowing students a chance to process their feelings is important, said Henry Ford High School ninth grade U.S. History teacher Gavin Buckley.
"I'm not standing up in front of kids and telling them what to think about history," he said. "I'm showing them the history, literally showing them, you know, 'Here's what was written down, or here's what was said,' or 'Here's how people experienced this event,' and then asking them to draw conclusions about it.
"If they happen to draw conclusions that are, you know, leave a bad taste in the mouth of a Republican, that's not really my concern. But that's my job, right? It's not to teach them a perspective of history. It's to show them history and ask them their perspective on it and teach them how to think through that."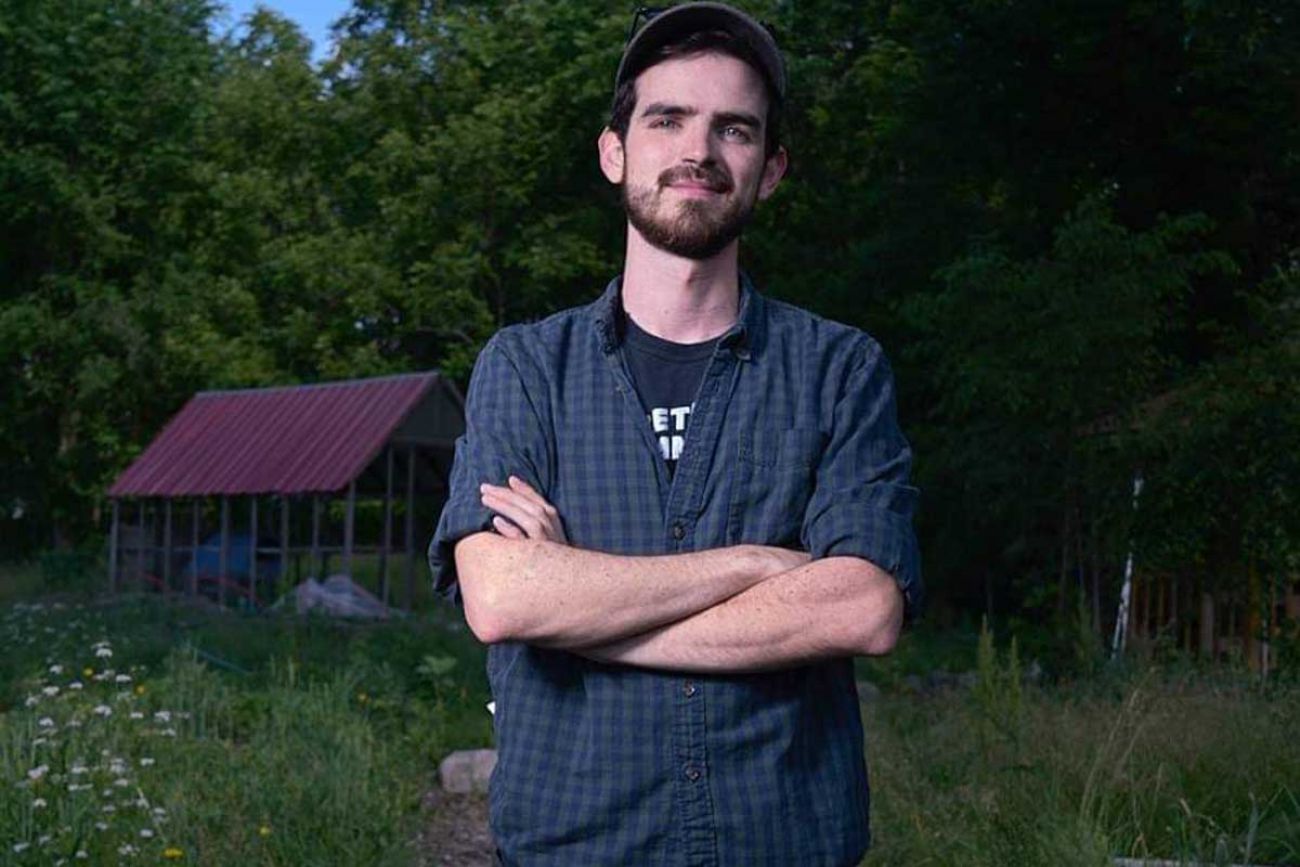 Gavin Buckley is a social studies teacher in Detroit. He said that he understands if, hypothetically, a student feels uncomfortable about learning about certain aspects of US History. But, he said, the alternative would be to lie to students. (Courtesy photo)
Buckley said he understands if someone, hypothetically, a white student feels ashamed after learning about a part of U.S. History, for example, the inequities of the Jim Crow Era.
"My response to that would be: 'Your child is having a very authentic response to the things that are ugliest and most challenging about our country, and about maybe their place in that country.'"
He said the alternative would be to lie to children and teens.
"At that point, we're talking propaganda, and I'm not interested in that and I would hope others wouldn't be as well," he said.
In Onaway, Wregglesworth said the school board recently formed a curriculum committee that reviews and approves classroom materials. She presented materials for all of her classes and said all were approved. If she were to teach the antiracism books that sit in her cabinet, she would need to present the book to that committee.
Bridge reached out to the superintendent of the Onaway Area Community School District and the principal at Wregglesworth's school, but did not hear back.
Wregglesworth concedes her teaching hasn't always been perfect. She apologized to one student after telling the class during a heated discussion "your white privilege was showing." She also had a conversation with the class about how to apologize when you say something you regret. She regrets the comment.
Setting students 'up for failure'
Over the summer, a collection of parental-rights groups — FEC United, the Michigan Liberty Leaders, the Macomb and Oakland chapters of Moms for Liberty and Stand Up Michigan Oakland County — hosted an event at a church in Livonia titled "What's Really Going on In Our Schools? IT'S TIME TO FIND OUT." Michigan Liberty Leaders founder Maria Giancotti presented.
The event covered Critical Race Theory, social emotional learning, how sex education is discussed in schools and other topics, according to presentation materials.
Bridge was not allowed to attend. But Gregory Papas, the FEC national administrator who lives in Colorado but grew up in Grosse Pointe, outlined his concerns in an interview in the church parking lot.
He said schools are teaching that there is "a fundamental difference between people based on their race and even if it's just the implication that because whites benefited from something or they are the fruits of some oppression and they're doing a disservice to all kids."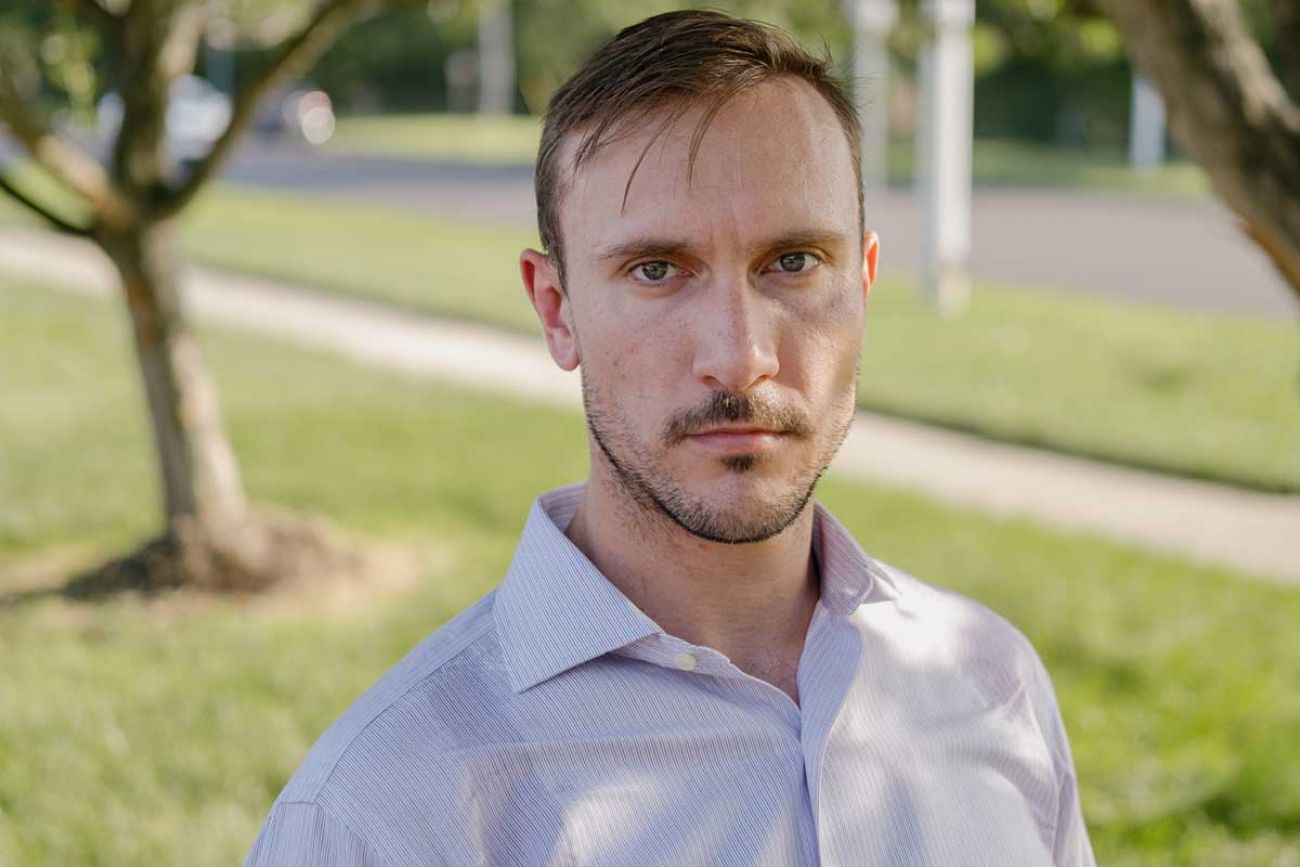 FEC United national administrator Gregory Papas grew up in Grosse Pointe but now lives in Colorado. He said he believes schools are teaching students there is a fundamental difference between people based on race. (Bridge photo by Erin Kirkland)
He said different students are being taught they are guilty for past generations' actions.
"It's dividing children, it's setting themselves up to see the world as against them. And it's setting themselves up for failure," he said.
Michigan's FEC chapter posts a list of books it deems "inappropriate" on its website. There are more than 200 titles, including many with racial or LGBTQ themes. In addition to works by Morrison, the list includes "Extremely Loud and Incredibly Close" by Jonathan Safran Foer, "The Kite Runner" by Khaled Hosseini and "The Glass Castle" by Jeannette Walls.
Against this backdrop, other districts beyond Onaway have amended policies following parental concerns about books or other classroom material.
In Forest Hills, the school board has revised its policy to clarify how parents can report a concern about reading material. For classroom materials, parents must first go to the teacher. If they are unsatisfied with the teacher's response, they can go to the principal. If the matter goes further, the policy states, an assistant district superintendent would convene a "reconsideration committee," which then makes a recommendation to the Board of Education's curriculum committee.
The district has a similar process for library books.
Forest Hills spokesperson Kyle Gilbert told Bridge in an email that "no books or materials since the policy clarification change in March have been escalated to the committee review stage."
Board President Suzanne Callahan said the reconsideration policy provides clarity for parents and teachers and "shows that more than one person is making a decision" on curriculum material.
But the pressure on school officials can be unrelenting.
Prior to the policy change, a children's book featuring a family with two moms was slated to be read aloud at a Forest Hills elementary school last December. But the school decided against including it. Some parents had complained about the book.
Gilbert, the Forest Hills spokesperson, said the change was made following the mass shooting at Oxford High School at the end of November. The school decided the book, "My Footprints," was not appropriate at the time, Gilbert said, because of the "heavy nature of the book's themes of bullying and hardships."
That disappointed Kirstin Sharma, a teacher in the district who is also a parent. She said she worried about the district's willingness to stand up to parental pressure.
Sharma and her wife have two children and she said her children deserve to see their family represented in materials they learn at school.
"Are my children right now getting bullied? No," Sharma told Bridge.
"But are my children seeing our family in the classrooms? No. Are my children seeing themselves represented in the school right now? No. So what is that saying when they don't see somebody like them in the school? In the books? In the curriculum? What is that doing to them?"
Sharma said there is a "fine line" between what Forest Hills currently teaches and what the district would teach if there were no parental pressure.
"I feel the administration still struggles to have the courage to do what is right versus giving into the pushback," Sharma said.
But Boone, the parent and district critic, called the cancellation of the book reading an "example of our efforts showing just an ounce of success." She said she does not support schools having books where there are two moms or two dads because they are "not a traditional nuclear family."
Last year, Boone was part of an effort to recall five Forest Hills school board members. The drive failed, but voters will select four school board members this November.
Boone said the failed recall was still considered a success because it prompted parents to wake up to what was happening in schools, and her group was able to collect more than 5,000 petition signatures.
"My main concerns have not changed," Boone said. "My main concerns are for our children, the future of America."
Defining what's anti-American
The Michigan Department of Education's social studies standards are set by grade level, course and the skills that students are expected to develop each year. But the state leaves it to individual school districts to decide what books, readings and other curriculum to use to teach to those standards.
The state's high school civics standards include a section on "Democratic Values and U.S. Constitutional Principles." Students should be able to "analyze how influential historical speeches, writings, cases and laws express Democratic Values" and have "influenced changes in American culture, law, and the Constitution."
Several materials are suggested as examples including Martin Luther King Jr.'s "I have a dream" speech, the Equal Rights Amendment, the Americans with Disabilities Act and several court cases including several pivotal U.S. Supreme Court cases dealing with race (Dred Scott v. Sandford, Plessy v. Ferguson, Loving v. Virginia) and the same-sex marriage case, Obergefell v. Hodges.
Buckley, the Detroit teacher, told Bridge he prioritizes sources and documents from the time period students are studying so students can "really get a feel for what the country was like during that time."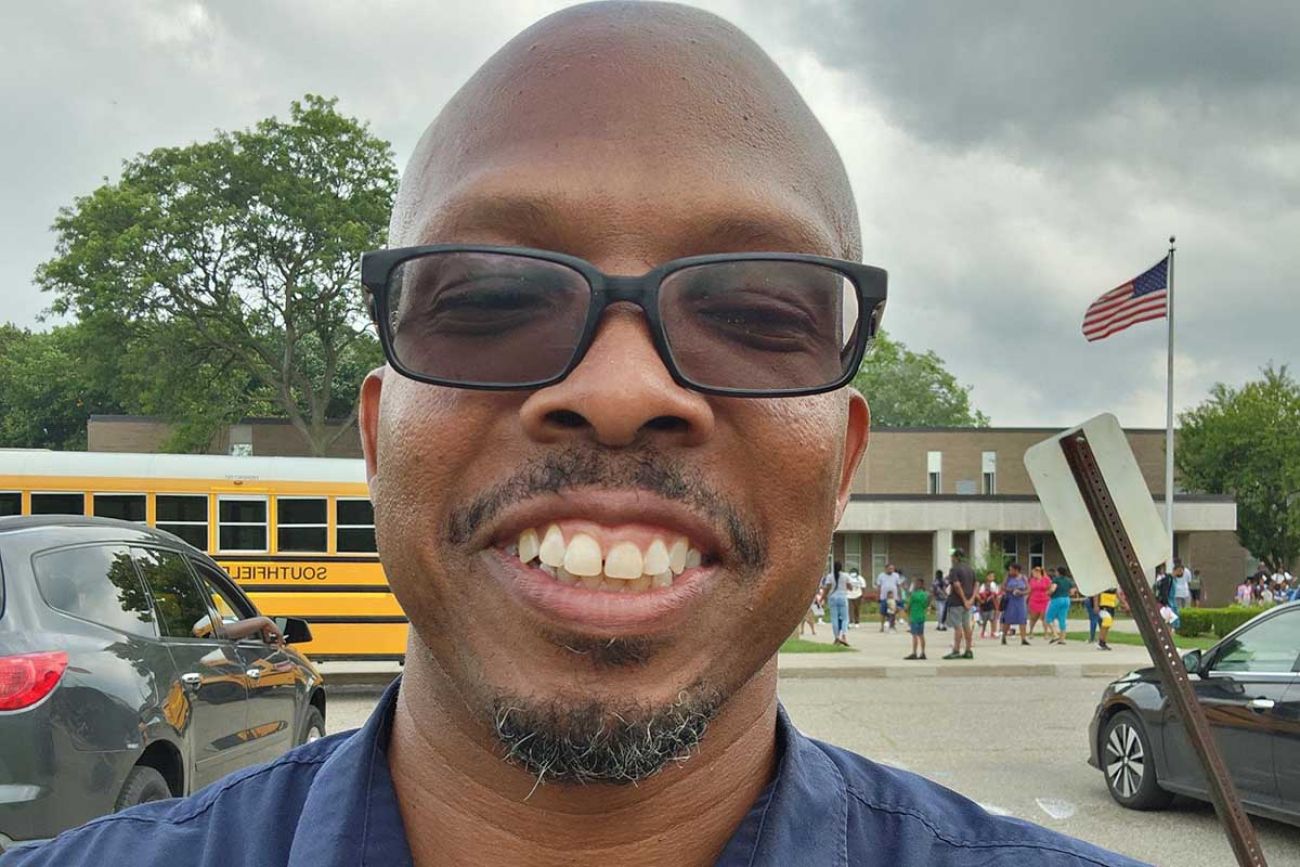 Ondrai Staley is a social studies teacher in Detroit. He is skeptical of proposals that would limit how schools can teach about race and racism. (Courtesy photo)
He learned critical race theory while in college but said he does not teach it to students. Sen. Theis' bill would ban instruction on "The 1619 Project," but Buckley said the work is one of many valuable supplemental materials for students.
Another Detroit teacher said he is skeptical about how "anti-American" ideas would be defined in Theis' school bill.
"There are certain things in American history that were anti-American, that other Americans did to other Americans," said Ondrai Staley, a social studies teacher at Pershing High School.
He wondered whether Theis' bill would prevent schools from teaching the full history of Christopher Columbus, the Trail of Tears, redlining, race riots, the Klu Klux Klan and the Great Migration.
"How are you going to just dodge some of those things in American history?" he asked.
Staley said he imagines students would likely get a less nuanced version of the past if such restrictions become law. High school students would learn history more like they did when they were in elementary school: dates of battles, a bit about the founding fathers and slavery, but without any of the messy details.
"I don't know if it's going to be a whitewashing," Staley said. "But I just think it's going to be like it's a step down from having people critically think about what has happened in America."
Only donate if we've informed you about important Michigan issues
See what new members are saying about why they donated to Bridge Michigan:
"In order for this information to be accurate and unbiased it must be underwritten by its readers, not by special interests." - Larry S.
"Not many other media sources report on the topics Bridge does." - Susan B.
"Your journalism is outstanding and rare these days." - Mark S.
If you want to ensure the future of nonpartisan, nonprofit Michigan journalism, please become a member today. You, too, will be asked why you donated and maybe we'll feature your quote next time!