Critical race theory: What you need to know in Michigan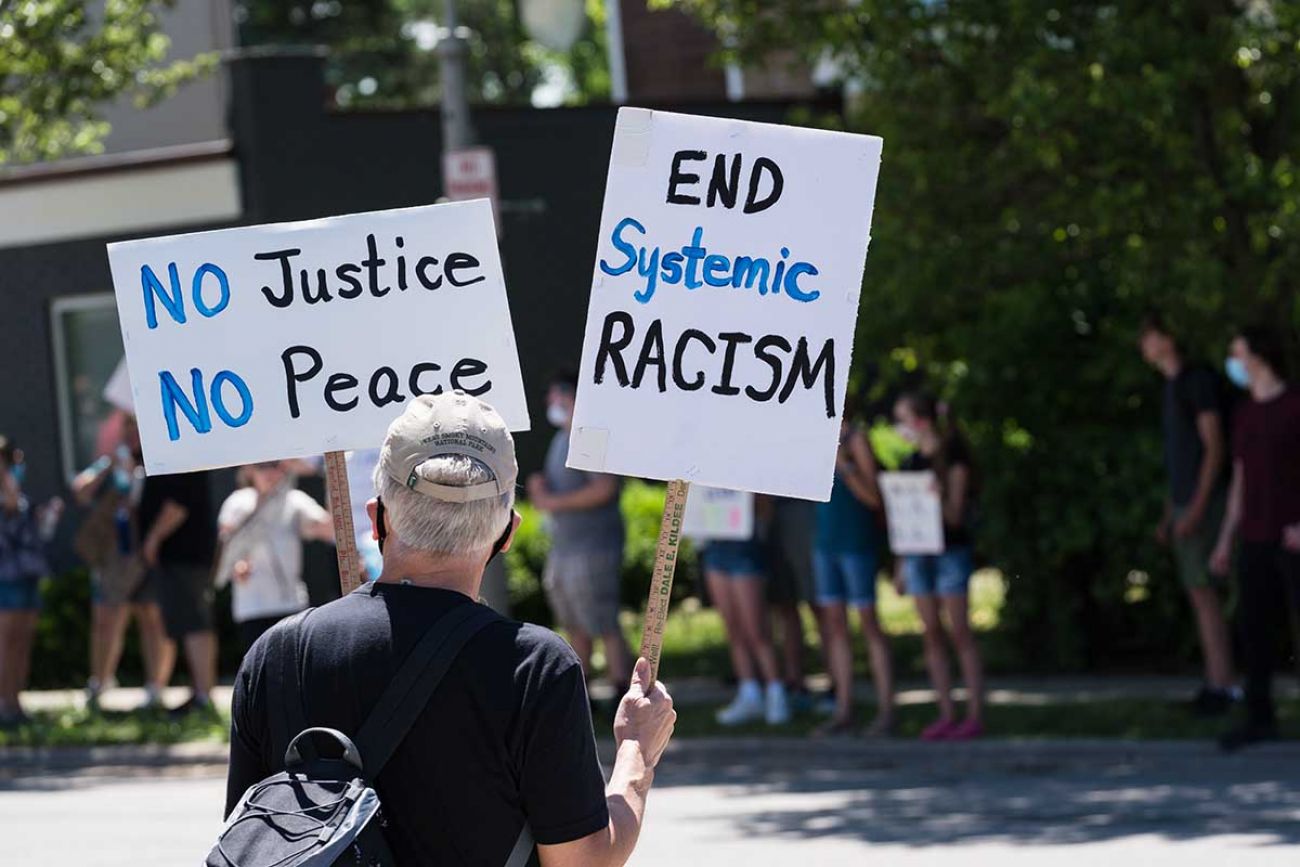 Is there systemic racism in America, and should it be discussed in Michigan classrooms? A Republican bill would ban critical race theory in public schools. (Ilze_Lucero / Shutterstock.com)
Nov. 3: Michigan House passes bill Democrats say would whitewash Black history
Sept. 22: Michigan Republicans aim to restrict school discussion of systemic racism
You'd be forgiven if you had never heard of "critical race theory" before this year. The college classroom theory from the 1970s has, in a period of months, gone from obscurity to having classroom discussion of it banned in some states.
A bill to ban the teaching of critical race theory in Michigan public schools was introduced in May, and some parents were so upset about the prospect of it being taught in high school classrooms their protest shut down a school board meeting in Grand Ledge.
Here's what you need to know about the controversy.
What is the issue?
Bills limiting discussions of how race and racism shape American history, often described as "critical race theory," have been signed into law by Republican lawmakers in Idaho, Iowa, Tennessee, Oklahoma and Texas. Similar bills are moving through various state legislatures including one in Michigan introduced May 20.
Related:
The Michigan bill, similar to some introduced in other states, is sponsored by Sen. Lana Theis, R-Brighton, chair of the Senate Education and Career Readiness Committee.
What's the complaint about critical race theory?
Conservative groups complain that anti-racism efforts in schools have gone beyond rooting out acts of hatred or discrimination by suggesting that racism in the United States is systemic and has been since the nation's founding. They also cite examples of school instruction they contend is in its own way racist. In one often-cited case, third-grade students in Cupertino, California, were asked to rank themselves according to their power and privilege.
"Critical race theory is an invention of the extremist political left that has manipulated academia for decades and is now targeting private businesses, public institutions and, sadly, our K-12 classrooms, where it is indoctrinating young minds with anti-American falsehoods," Theis said in a statement released after introducing the Michigan bill.
Theis said critical race theory divides the country and rejects its true history.
What is critical race theory?
Dorinda Carter Andrews, chairperson for the Department of Teacher Education and professor of race, culture and equity at Michigan State University, said Theis' description, in part, inaccurately implies that critical race theory is a set of programs, a formal curriculum or toolkit of resources. Critical race theory is one of many frameworks or lenses used primarily in higher education to examine race and racism.
Critical race theory is an academic concept first developed in the 1970s. It argues that racism goes beyond individual acts of bias or hatred; rather, it is baked into U.S. legal systems and government regulations and policies in ways that continue to bring about different outcomes by race. Critical race theory also states that race is not biological or natural but rather a social and political creation used to exploit people of color.
One cited example: U.S. government policies from the 1930s that made it difficult for Black Americans to obtain loans that would allow them to integrate more affluent, white-majority suburbs. Those barriers have a continuing legacy today, CRT advocates note, through such laws as single-family zoning restrictions — which may be written in racially neutral language, but can have the effect of perpetuating segregation by banning affordable housing in those same white neighborhoods.
"The framework (critical race theory) does not say people are inherently bad, but it does assume that oppressive systems and structures are bad and need to be dismantled," Carter Andrews said.
"Human beings were property for 400 years and they were used … to build a nation. And we need to think about what are the residual effects of that in 2021 and how we have not healed across communities from that."
What does the bill want to ban?
The Michigan bill seeks to ban "anti-American and racist theories, reading guides, lesson plans, activities, guided discussions, and other resources that promote that the United States is a fundamentally racist nation, that the United States Constitution is a fundamentally racist document, and that certain races are fundamentally oppressive or oppressed."
The bill would also ban materials from The 1619 Project, a Pulitzer Prize-winning New York Times initiative that places the consequences of slavery and the contributions of Black Americans at the center of the national narrative and offers lesson plans and materials for middle and high schoolers.
It reframes the foundation of America to 1619, when the first enslaved African people were taken to the Americas and seeks to help people understand how those long-ago events continue to influence the present.
The bill also bans discussions around the following ideas, which the Republican bill cites as "anti-American" and "racist":
That any particular sex, race, ethnicity, religion, color, or national origin is inherently superior or inferior
That the United States is a fundamentally racist country
That the Declaration of Independence or the United States Constitution are fundamentally racist documents
That an individual's moral character or worth is determined by their race
That an individual is inherently racist or oppressive based on their own sex, race, ethnicity, religion, color or national origin or is responsible for the actions committed by members of their same group in the past.
Why now?
The bills, which are being pushed by state and national Republican leaders, come amidst a racial reckoning in the U.S. that began over a year ago with the death of George Floyd at the hands of police in Minnesota. Floyd's death sparked protests around the country, a small percentage of which turned violent.
Critics of the measures accuse conservative groups of pushing the bills to boost its base before the 2022 midterm elections and change the subject from the Jan. 6 attack on the U.S. Capitol by supporters of then-President Donald Trump. Fox News, for instance, mentioned critical race theory nearly 1,300 times over a recent three-month period, according to one count.
Carter Andrews attributes the critical race theory bills to a backlash against the BLM protests.
"This kind of evolution and widespread societal discourse that's now finding its way into classrooms makes people feel like there's an attack on individuals who are white but the attack is not on individuals," she said. "It's about systems that have historically and persistently oppressed communities of color and how we need to dismantle those."
Is critical race theory taught in K-12 schools now?
Although some schools in other states have used lessons related to the The 1619 Project, the Michigan Association of School Boards said it doesn't know of any schools in the state teaching the 1619 Project or critical race theory, according to MASB spokesperson Shelly Davis Boyd.
Do they want schools to stop teaching about slavery or the civil rights movement? Would Rosa Parks be cut from history books?
Theis said in a press release that passage of her measure wouldn't mean classrooms would ignore subjects like slavery and Jim Crow segregation, but that schools shouldn't allow history teaching "to be distorted and politicized by an ideological and historically inaccurate agenda."
However, it's unclear how this would look in practice. Carter Andrews said she believes this bill and others across the country are intended to "ban any discussion of racism that deviates from the narrative the way that the American historical narrative has been told in schools." If the bill were to become law, she said, it will make teachers hesitant to have classroom discussions around racism.
"So what it will do is hinder healthy racial dialogue between students and between teachers as students," Carter Andrews said. "And we need healthy race dialogue in school. It helps build… their ability to engage (in) critical problem-solving."
Theis did not return a call seeking comment on the measure.
What would happen if schools don't comply with such a ban?
Under the bill, Michigan districts would lose 5 percent of their state funding for teaching any of the banned material. That being said, it's unclear who would determine whether a teacher or school district had violated the ban.
What's the status of the bill?
The bill was referred to the Senate Committee on Education and Career Readiness. No date has been set for a hearing.
If it were to pass the Republican House and Senate, is Gov. Whitmer likely to sign it?
Whitmer has not commented, but it's safe to say there is no chance the Democratic governor would sign the Republican-sponsored bill into law.
It's also unlikely that Michigan schools will start teaching critical race theory, since they haven't in the past.
Only donate if we've informed you about important Michigan issues
See what new members are saying about why they donated to Bridge Michigan:
"In order for this information to be accurate and unbiased it must be underwritten by its readers, not by special interests." - Larry S.
"Not many other media sources report on the topics Bridge does." - Susan B.
"Your journalism is outstanding and rare these days." - Mark S.
If you want to ensure the future of nonpartisan, nonprofit Michigan journalism, please become a member today. You, too, will be asked why you donated and maybe we'll feature your quote next time!