Michigan school superintendents: mostly male, nearly all white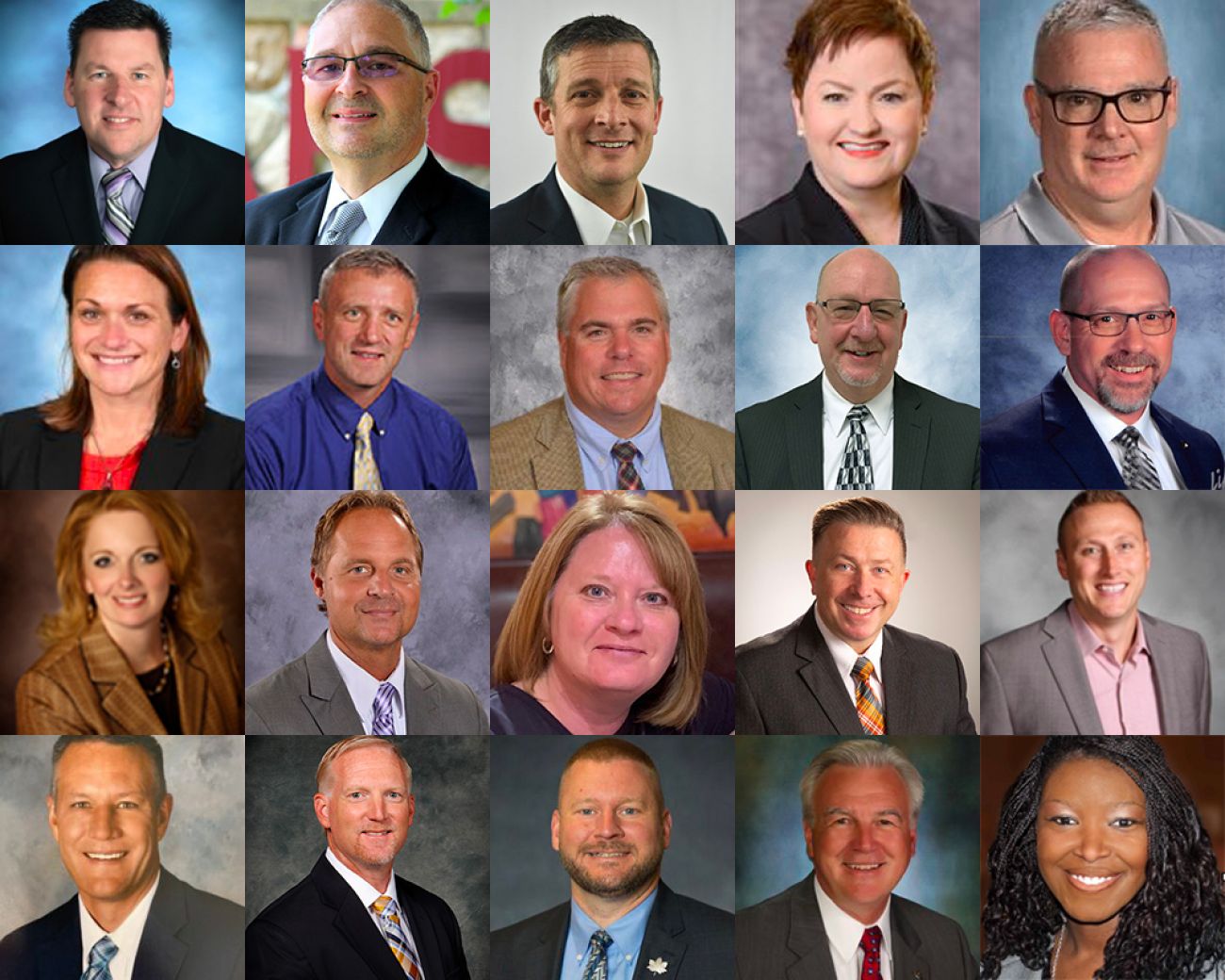 These 20 Michigan superintendents are an approximation of the demographic and gender mix of the state's 578 school leaders – overwhelmingly male and almost completely white. (Bridge photo illustration)
Wanda Cook-Robinson has always stood out in a crowd. She's won humanitarian awards and education awards. She's been a finalist for national superintendent of the year, and was recently named council president of national Association of Educational Service Agencies.
She doesn't need those accolades, though, to stand out in meetings of her peers.
Cook-Robinson, who is African American, is the only person of color among 56 superintendents of Michigan's intermediate school districts, the typically countywide umbrella organizations that provide services for the region's local school districts.
Not only is she the only minority now, she's the only one ever. Cook-Robinson is the only racial minority to serve as an ISD superintendent in the state since ISDs were created 59 years ago, in 1962.
"Welcome to my world," Cook-Robinson said.
Related:
While Cook-Robinson is unique at the ISD level, African Americans and other racial minorities also are rare at the superintendent level among the state's traditional public school districts, according to an analysis by Bridge Michigan.
While 65 percent of students in Michigan's traditional public schools are white, 95 percent of superintendents are white.
By contrast, just 4 percent of district superintendents are Black in a state where almost 18 percent of traditional public school students are Black.
And of the 22 Black superintendents in the state, most are hired into Black-majoirity, economically disadvantaged districts.
"Even though I've been successful, there are districts I just couldn't apply for," said Josah Talison, an African-American superintendent at Ecorse Public Schools, where 80 percent of students are Black and 88 percent are poor.
"There needs to be some serious conversations take place. Let's call a spade a spade, we don't get the platinum districts."
The overwhelming whiteness of Michigan's school leaders raises concerns about diversity at a time when the nation is grappling with social justice issues, and as Michigan schools continue to struggle with wide racial achievement gaps.
Black superintendents who spoke to Bridge Michigan were blunt in their assessment of the racial disparity among superintendents. One called it "unconscious bias," another labeled it "systemic racism."
Other education leaders, though, said the root of the problem lies not in racism but in a shortage of African-American teachers, the positions in which principals, administrators and superintendents generally begin their careers.
Cook-Robinson praised the board of the Oakland County ISD for having the "courage" to hire her in 2015, but acknowledged decisions to give minorities a seat in the corner office are still the exception. "We live in a world that is very divided along the lines of race," she said.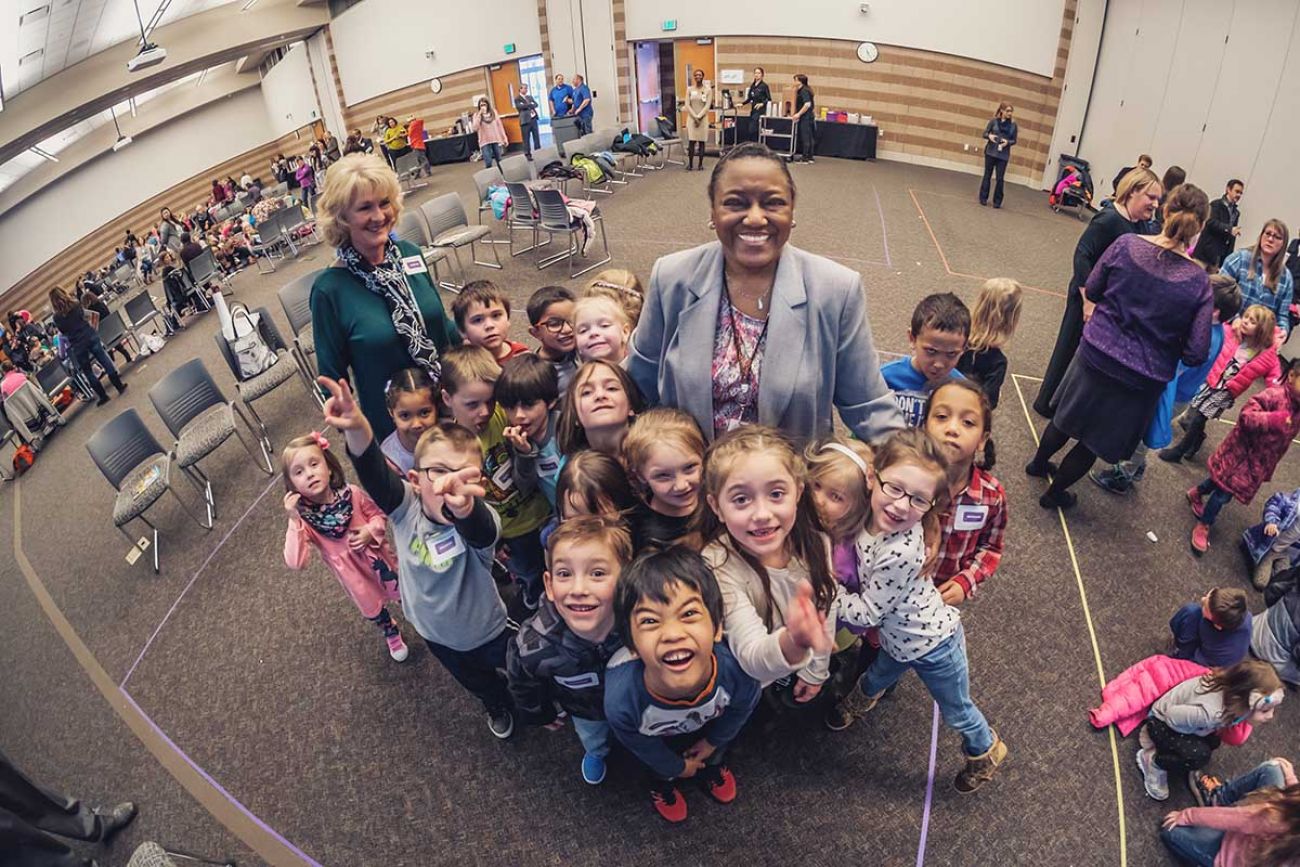 Oakland Intermediate School District Superintendent Wanda Cook-Robinson is the only superintendent of color in the history of intermediate school districts in Michigan. (Courtesy photo)
The lack of diversity among superintendents is well known among educators. Despite this, neither the Michigan Department of Education nor any state education organization tracks the race of school superintendents.
Bridge created a racial tally by examining the online photos and profiles of superintendents at the state's 578 traditional local school districts and intermediate school districts. (Bridge did not examine the racial or gender makeup of superintendents in Michigan public charter schools, and the Michigan Association of Public School Academies, the charter school industry group, said it likewise does not track the race of superintendents.)
The Bridge investigation found just 22 Black superintendents, a total that was confirmed by Oakland ISD's Cook-Robinson, who has served as mentor to a number of the state's minority superintendents. Those 22 superintendents represent less than 4 percent of the total superintendents in the state.
Gender inequity is also pronounced. While 77 percent of teachers in the state's traditional public schools are female, 77 percent of superintendents are male.
Other Bridge findings include:
There are no Hispanic superintendents in the state's traditional public school districts, despite the fact that 8 percent of students are Hispanic.
Asian-American students make up 3.5 percent of student enrollment statewide, while Asian-American superintendents account for just 0.3 percent of superintendents.
There are five Arab-American superintendents, which is about 0.8 percent of the total in the state. There are no enrollment figures for Arab-Amercian students, because they are considered white for demographic purposes. The U.S. Census estimates between 1 percent and 2 percent of Michigan's population is of Arab descent.
In school districts in which more than half the enrollment is white, 1 percent of superintendents are Black. Those districts are Cook-Robinson's Oakland ISD, and districts in Bloomfield Hills, Buchanon, Caledonia, Pennfield and Plymouth-Canton.
Among the 59 school districts in which students of color are the majority, 26 percent of superintendents are Black. Four of the five Arab-American superintendents, as well as one of the state's two Asian-American superintendents, also lead student-of-color-majority districts.
Of Michigan's 27 total superintendents of color, 20 (74 percent) lead districts where students of color are a majority.
One extreme example of the racial and gender imbalance: There are more white male superintendents named Steve or Bob (32) than the total number of minority superintendents in the state (27).
It's not just a Michigan problem — racial and gender superintendent diversity is an issue across the country. The latest survey by the American Association of School Administrators found that 91 percent of superintendents nationally are white, and 76 percent are male.
"There's a huge recognition among educators nationwide that we need to have a diverse talent pool to serve America's children," said Valerie Truesdale, a former superintendent in South Carolina and assistant executive director of AASA.
Why it matters
Just how much of an impact that lack of diversity has on students is unclear. There are no studies specifically examining student achievement by race of superintendents. But numerous studies show African-American students benefit from having Black teachers, and one study found that Black principals hired more Black teachers than their white peers.
Several Black superintendents said they try to mentor to Black principals and school administrators, who have more contact with children than superintendents and some of whom are on a career trajectory to become superintendents in the future.
"Research shows that children of color perform significantly better when they have role models of color in front of them," Cook-Robinson said. "It increased their motivation and their efficacy."
Dedrick Martin, the Black superintendent in Caledonia Community Schools in Kent County, said it's important for minority children to see people who look like them in positions of power.
"It makes you want to have more trust in the system," he said
Alena Zachery-Ross, superintendent of Ypsilanti Community Schools, says Black superintendent candidates "seldom make it past the first round" with local school boards. (Courtesy photo)
Alena Zachery-Ross, the Black superintendent at Ypsilanti Community Schools, said it's also valuable for students in overwhelmingly white school districts to see minorities in leadership. "The world isn't 95 percent white," Zachery-Ross said. "If we're preparing our students to be global citizens, we need to expose them to leaders who have different backgrounds."
Expanding the pool
Steve Tunnicliff is associate superintendent at the Genesee Intermediate School District and executive director for the Michigan Leadership Institute, which works with districts to find superintendent candidates. He said "there is absolutely a moral imperative to find a more diverse group of leaders to support children in Michigan," but that there is a shortage of minority candidates.
"Do we need a more diverse pool? Yes, we do," Tunnicliff acknowledged. "It is a challenge, because you're drawing from a pool of people who have gone through the ranks, they've been teachers, principals and assistant superintendents," and there is a lack of diversity in those jobs, too.
Tunnicliff said his organization offers training courses for aspiring superintendents in Michigan. In those courses, 21 percent of participants have been educators of color
"Although this level of diversity is not yet where we strive to be, it sounds as though it surpasses what we are seeing in terms of the data you referred to for current superintendents," Tunnicliff told Bridge Michigan.
"Michigan Leadership Institute has, and will continue to work towards identifying, encouraging, and mentoring a diverse pool of aspiring superintendents," Tunnicliff said. "We believe it is important for students to see themselves in all roles in their schools, from classroom teachers, to principals, to superintendents."
While almost 18 percent of the state's public school students are Black, just 6 percent of teachers, and 13 percent of administrators are African-American.
Among Black candidates who rise through the ranks and apply for superintendent posts, many face "unconscious bias" from school boards that often consist primarily of white board members, said Caledonia's Martin.
"A lot of it, unfortunately, is, people are comfortable with what they're familiar with," Martin said. "They've always had a male superintendent or a white superintendent."
Ypsilanti's Zachery-Ross works as a consultant for some superintendent searches, and said Black candidates "seldom make it past the first round" of candidate selection by local school boards.
"People typically want people who look like them and have the same background," Zachery-Ross said. "There's an intent for diversity, that's what they want, but the behaviors don't align with intent.
"We keep hiring the same profile," she said.
The exception is districts that have a majority enrollment of students of color.
Josha Talison is the Black superintendent of Ecorse Public Schools, where 80 percent of students are African American. Prior to coming to Ecorse, Talison was superintendent at the Beecher Community Schools District, which is 90 percent Black.
In both districts, most students are economically disadvantaged.
"Many times, when African-Americans get an opportunity, they get the districts that are the most challenging, financially and academically," Talison said. "We're expected to be miracle workers."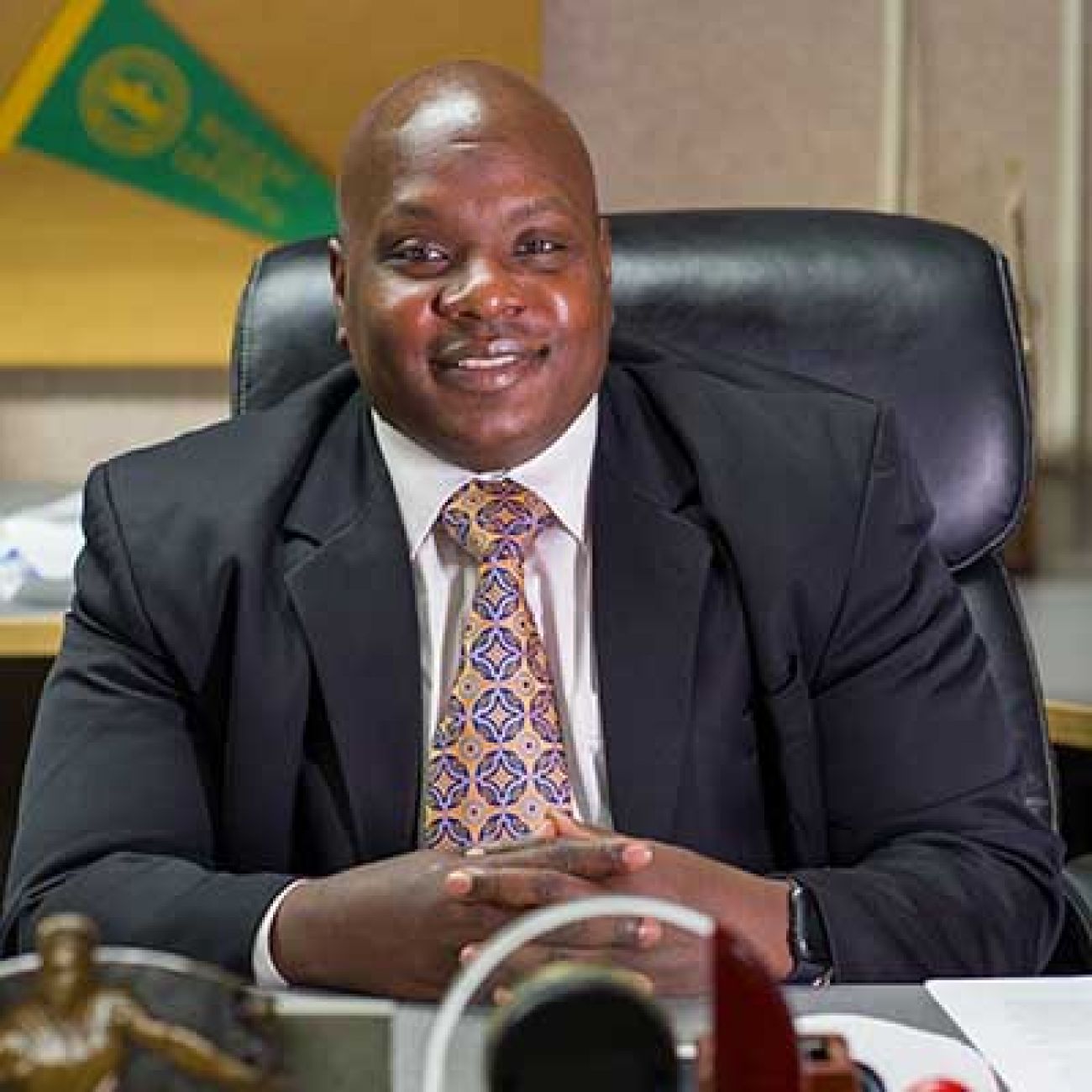 Josha Talison, superintendent of Ecorse Public Schools in Wayne County, says it's tough for Black educators to be hired as superintendents in majority-white districts. (Bridge photo by Val Waller)
And when they fail, they seldom get a second-chance, Talison said.
Even among the 59 Michigan school districts in which a majority of students are racial minorities, only 26 percent of superintendents are Black.
Four of the state's five Arab-American superintendents lead districts (Crestwood Community Schools and Hamtramck Public Schools in Wayne County, Madison District Public Schools in Oakland County and Godfrey-Lee Public Schools in Kent County ) where 50 percent or more of students are minorities. Paul Salah is superintendent of predominantly white Huron Valley Schools in Oakland County.
"For years, no one has questioned if you saw a white superintendent in a predominantly Black district," said Caledonia's Martin.
Martin has served as superintendent in two white-majority districts – Caledonia (85 percent white) and, previously, St. Johns Public Schools (86 percent white).
Bill Tennant was school board president at St. Johns when Martin was hired.
"St. Johns is a pretty conservative white district for sure," Tennant told Bridge Michigan. "But I don't remember it (race) being brought up once, by anyone in the audience or any of the board members at all. We were just after the best candidate and Dedrick rose to that level."
Tennant, who is now retired from the school board, told Bridge Michigan he is baffled by the lack of diversity among superintendents.
"Maybe we were just a unique board (but) I can't comprehend why there's been slow progress," Tennant said. "It was a bonus for our community to have Dedrick being a leader in our community."
Gearing up diversity efforts
There will be at least 80 superintendent positions that will need to be filled this year in Michigan as school leaders retire, many with start dates in the summer.
It will be up to local school boards across the state to determine whether more minority superintendents are hired.
"That's a conversation for the Michigan Association of School Boards needs to have with school board members," Martin said. "Until you have that conversation, you're always hoping to have one or two board members who have a very open view of leadership."
The Michigan Association of School Boards offers both general training for school board members hunting for new superintendents, and helps districts search for superintendent candidates.
MASB executive director Don Wotruba said more districts are making diversity in candidate pools a priority. "They're wanting to find those diverse candidates," he said, but there still aren't enough minorities in the candidate pool.
Increasingly, he said, superintendent search firms are looking out of state for minority candidates to apply for posts at Michigan schools. "You can't rely on your pool in your own state if you're looking for minorities," Wotruba said
MASB also is starting to encourage districts to "grow your own" diverse pool of candidates, by encouraging Black teachers to train and apply for administrative positions, and administrators to apply for superintendencies.
"As demographics change, we need to find and develop minority candidates," Wotruba said.
On Thursday, the Michigan Department of Education unveiled a program by New Paradigm for Education for an alternative route to teacher certification that would focus on increasing teachers of color, particularly male minorities.
Currently, just 1.6 percent of Michigan teachers are African-American men.
The four Black superintendents who spoke to Bridge agreed that there needs to be a concerted effort to groom minority educators to eventually take over the corner office.
Building that pipeline starts with hiring more minority teachers, said Caledonia's Martin
"Whenever you have opportunity to diversify your staff, that's just as important or more important as having a minority superintendent, because that building administrator and teacher interact much more with families," Martin said. "Then you build a pipeline of minority candidates for superintendents in the future."
Support can't end when a minority candidate gets his or her first superintendent job, said Ecorse's Talison. "I'm one of the lucky ones, I've been able to go to two districts," he said. "I've had colleagues who are just as bright as me who … haven't been able to navigate around the landmines" that come with being a minority superintendent.
"If we as a state say we want to embrace diversity, equity and inclusion," Ypsilanti's Zachery-Ross said, "we have to realize we have to accept some discomfort in this process."
Mike Wilkinson and Olivia Tucker contributed to this report
We're not just a news organization, we're also your neighbors
We've been there for you with daily Michigan COVID-19 news; reporting on the emergence of the virus, daily numbers with our tracker and dashboard, exploding unemployment, and we finally were able to report on mass vaccine distribution. We report because the news impacts all of us. Will you please support our nonprofit newsroom?