Deadline nears for thousands of Michigan residents offered free tuition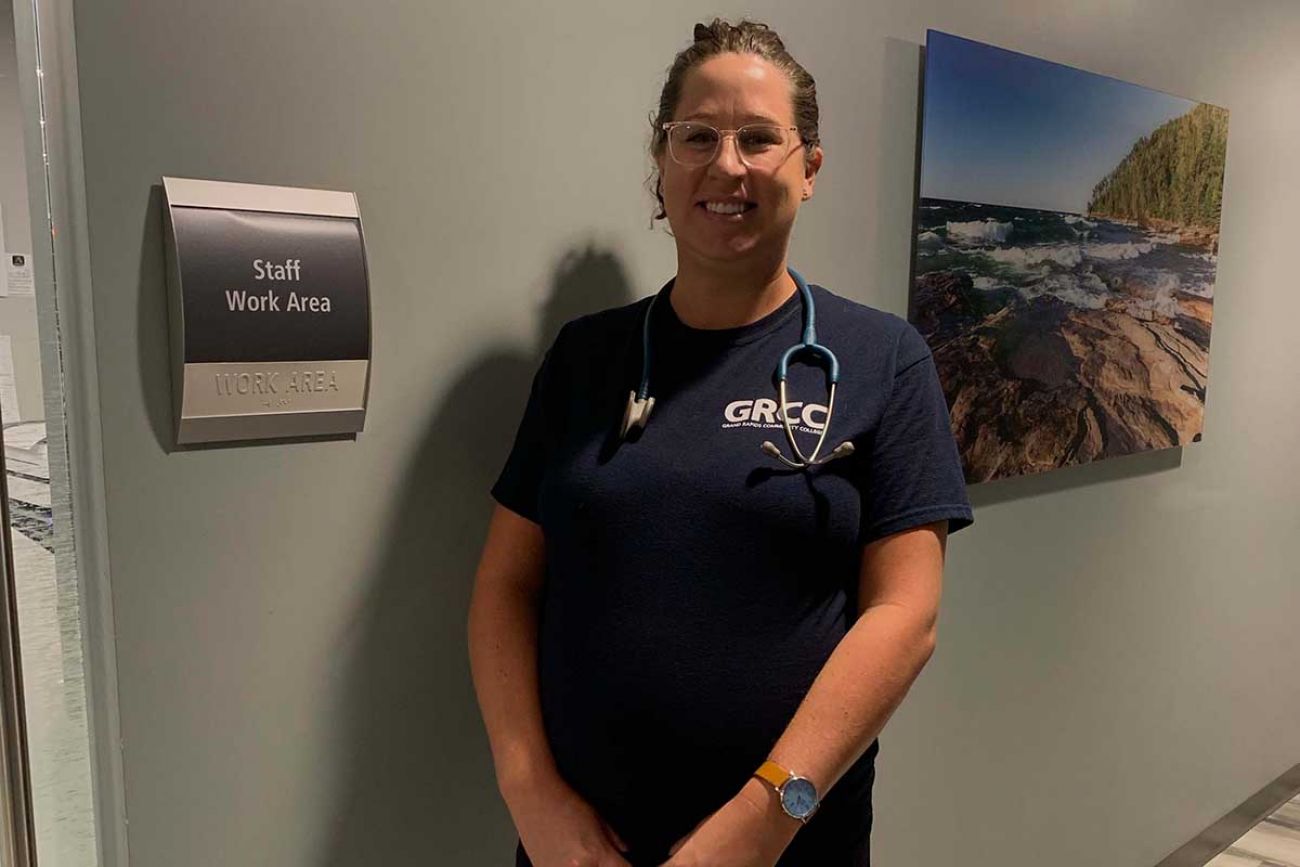 Nicole Freeman jumped at the chance to attend community college for free through Michigan's Futures for Frontliners program. (Courtesy photo)
Nov. 1: Free tuition lured Michigan adults to college. Next job: Keeping them there
Nicole Freeman didn't waste any time when she heard last September that she was eligible for free community college.
"My sister-in-law sent me a news article and my husband encouraged me," said Freeman, of Wyoming, near Grand Rapids. "I was ready for a change."
The 30-year-old is now enrolled at Grand Rapids Community College to earn certification as a medical assistant, a job she says will likely increase her annual income by about $10,000 a year, to more than $40,000.
"I would definitely say it's been life-changing," Freeman said.
Related:
Freeman is an early success story from Gov. Gretchen Whitmer's Futures for Frontliners initiative, which offered free community college tuition for Michigan residents who were considered essential workers in the early, uncertain months of the pandemic, between April and June 2020.
But she's also in the minority: Of the roughly 120,000 Michiganders who signed up for the free-tuition program by the deadline of Dec. 31, just 15,000 were enrolled in college in the spring semester that ended in May.
And with a deadline to enroll in community college this fall and a December deadline for trade schools, less than half of the frontline workers accepted for the program have filled out the financial paperwork required to go to school for free.
Where to get help filling out federal student financial aid form
The majority of Michigan adults now qualify to go to community college tuition-free. One requirement for that benefit is to fill out the Free Application for Federal Student Aid. The FAFSA form can be a bit intimidating, but there are free services available to help.
The federal government can help if you have questions with the form. Just call the FAFSA hotline at (800) 433-3243. When you are working on the FAFSA online, you can click the "Live Help" button for assistance.
In Michigan, you can call the MI Student Aid Customer Care Center, at (888) 447-2687
And here's a quick list of do's and don'ts when filling out the FAFSA.
Unless there is a flood of enrollments in the next two months, tens of thousands of Michigan residents eligible for tuition-free associate's degrees and job-related certificates will miss out on the benefit.
That could have a lifelong impact on earnings, because more education typically means higher salaries. Nationally, high school grads earned $38,792, on average in 2019, compared to $46,124 for those with a two-year associate's degree and $64,896 for those with a four-year bachelor's degree, according to data from the U.S Bureau of Labor Statistics.
Michigan is below the national average among states in the percentage of adults with college degrees, which suppresses incomes and hobbles the state's attempts to attract business.
The Whitmer administration has a goal of increasing the percentage of working-age adults with college degrees or certificates from 49 percent to 60 percent by 2030. The current national average is 52 percent.
Whitmer launched the Futures for Frontliners program in September 2020, offering free tuition for many state residents who had to leave their homes and work during the first few months after COVID-19 struck the state. The program was offered to workers in the medical field, manufacturing, nursing homes, grocery stores, sanitation, delivery, retail, and other industries.
More than 120,000 residents applied, of which 85,000 were accepted (some didn't meet the requirements, and 14,000 were transferred to another free tuition program). Among those 85,000, just 43 percent, or about 36,000, have completed the Free Application for Federal Student Aid, according to data from the state Department of Labor and Economic Opportunity, which is administering the program. The FAFSA is required because students are required to seek all federal scholarship funds before the state program kicks in the rest.
The data is somewhat similar with a separate free tuition program launched by Whitmer in February. Michigan Reconnect offers free community college tuition and funds toward private job training programs for residents age 25 and older who do not already have a college degree.
State officials said more than 4.1 million adults are eligible for Reconnect. Unlike Frontliners, Michigan Reconnect is an ongoing program — there is not an approaching deadline for applications or enrollment.
Among the 75,000 who have applied for Michigan Reconnect, just 49 percent (36,750) have filled out the FAFSA, according to the Michigan Department of Labor and Economic Opportunity. About 24,000 (32 percent of all applicants) have enrolled in community college.
That brings the total known college enrollees in the two free tuition programs to 39,000. That number is expected to increase when data is collected from summer and fall enrollment at the state's community colleges and job training programs.
Reconnect is funded with $30 million from the state, which is applied to the cost of tuition and mandatory fees after federal Pell grants, which provide scholarship money to low-income students. Futures for Frontliners is funded with $24 million in federal COVID relief.
Many community college students could have gotten tuition for free in the past, through Pell grants. The popularity of the state programs, though, illustrates that many residents weren't familiar with the often-complex financial aid system of colleges.
While applying for Pell grants has become easier in recent years, filling out the paperwork can still be intimidating, said Ryan Fewins-Bliss, executive director of the Michigan College Access Network, a nonprofit organization that works to increase access and affordability of college for low-income and first-generation students.
One in four Michigan adults have some college credits but no degree. Making community college free removes one of the barriers for adults who keep putting off finishing a degree to return to campus.
But the experience so far in Michigan's free tuition programs illustrates that money is only one of the barriers to college.
"At the end of the day, this is a population that has many barriers for getting in and staying in college, so (the Futures for Frontliners enrollment rate) is not surprising," said Fewins-Bliss.
Sometimes, adults decide they don't have the time for college classes, Fewins-Bliss said. And in the current employment market, with some businesses raising pay and offering hiring bonuses, people may not see the financial benefit of going back to school.
"Money in the hand is a lot more meaningful than money in the future," Fewins-Bliss said.
The state is reaching out through texts and emails to Futures for Frontliners applicants who haven't yet enrolled in college to remind them of the looming deadline, said Erica Quealy, spokesperson for the Labor and Economic Development department.
Some community colleges are doing the same with lists of Futures for Frontliners applicants who, in their applications, listed which schools they were likely to attend.
Grand Rapids Community College has 2,511 potential students from the Frontliners program who have not completed a FAFSA. Those potential students alone represent more than 20 percent of GRCC's current 11,000-student enrollment.
The school has set up a hotline for applicants to call who need help completing the financial aid form.
The school had 2,071 Frontliner students enrolled in the semester that ended in May, and 1,113 so far for the fall, with enrollment ongoing for the coming semester.
GRCC spokesperson David Murray said that while the school would like to enroll more students from the free tuition programs, officials there are happy to help the students who have enrolled earn degrees and certificates that will help them earn higher salaries.
"One of the most encouraging aspects of the program is how it has supported people returning to college to finish degrees," Murray said. "More than 600 students taking advantage of the program (at GRCC) last attended (college) two years ago, and about 200 of those last attended more than 10 years ago.
"Lives are going to be transformed, and community colleges are best prepared to be the institutions to help those students on these journeys," Murray said.
One of those students is Freeman. During the early months of the pandemic, she worked as a nurse tech, helping the license nursing staff in a hospital ward that included patients suffering from the coronavirus.
"I had to wear a lot of protective equipment," Freeman said. "It was scary because COVID was so new."
Freeman said she had wanted to go to college for years, but she kept putting it off. When Futures for Frontliners was announced, "I went for it."
As a certified medical assistant, her hourly earnings will increase from $12-15 an hour paid to nurse techs, to $17-20 an hour, she said. She'll also be able to work in a private doctor's office rather than a hospital, giving her more regular hours and better benefits.
"It's not a huge increase," said Freeman, who is expecting her first child, but enough to help pay for tuition to send her future children to a private Christian school.
Freeman was puzzled when told how many frontline workers haven't taken advantage of the tuition-free community college.
"If you're content where you are, I'm happy for you," Freeman said. "But if you want to better your life, you're throwing away thousands of dollars. It saved me literally $9,000 to go back to college.
"There are huge benefits from this program," she said, "and I'm so thankful."
We're not just a news organization, we're also your neighbors
We've been there for you with daily Michigan COVID-19 news; reporting on the emergence of the virus, daily numbers with our tracker and dashboard, exploding unemployment, and we finally were able to report on mass vaccine distribution. We report because the news impacts all of us. Will you please support our nonprofit newsroom?