Ann Arbor restaurant pioneer takes time reopening: 'Everyone is anxious'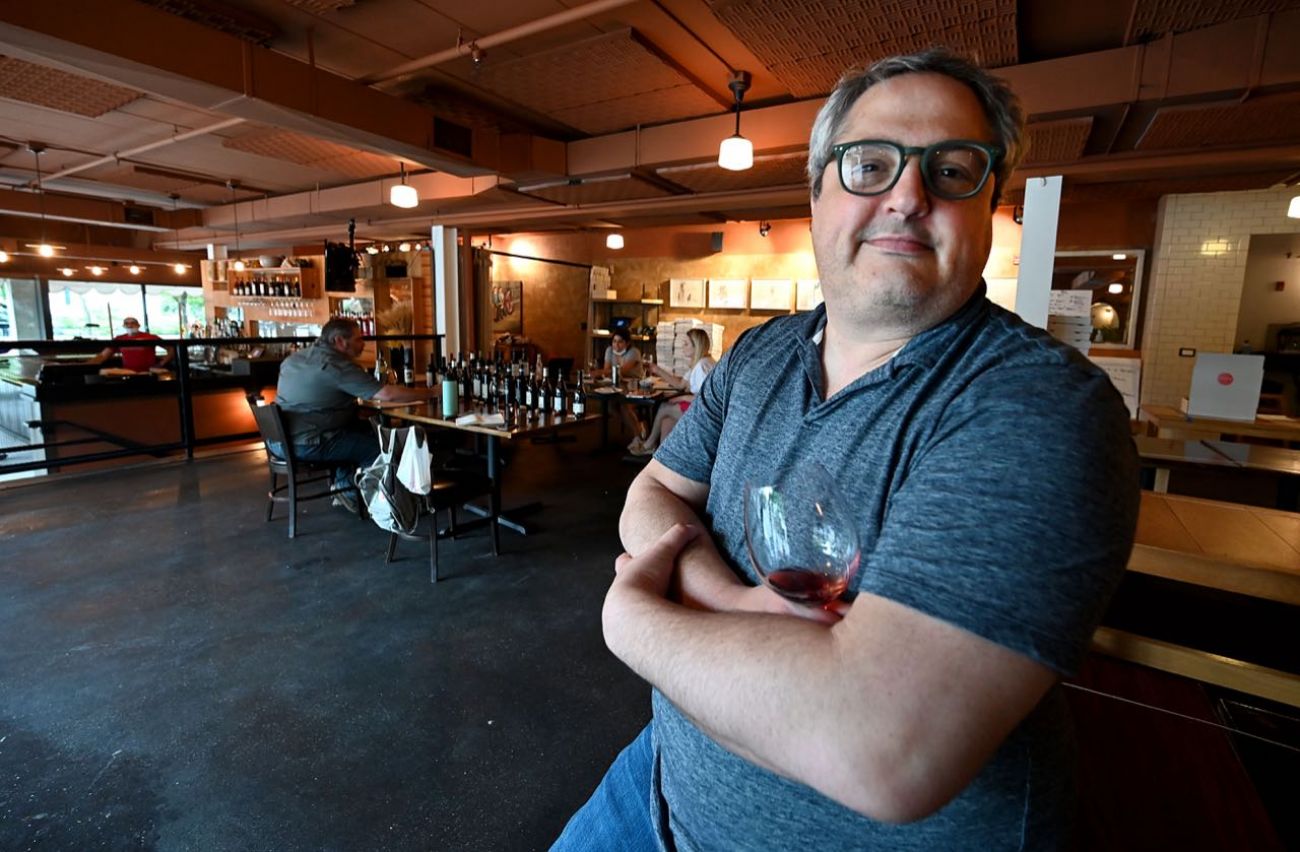 ANN ARBOR—When Adam Baru first opened Mani Osteria restaurant in Ann Arbor nine years ago, he invigorated the city's dining scene.
Now he's reopening the same restaurant in the same location, hoping that by next week servers will once again be delivering wood-fired pizzas, fresh pastas and craft cocktails to diners at his tables.
But so much will be different. For now, only the patio will be reopened as Baru and his staff members plan a slow re-entry after the coronavirus pandemic that shut Michigan's dining rooms.
Baru's success — with Mani's creative food and not-quite-Midwest setting — sometimes feels like long ago as he spends hours planning what reopening the restaurant to the public will look like. He is taking his time, even as other restaurants scrambled to open this past Monday after a state executive order was lifted. Baru is finding there's no roadmap to rebuilding a restaurant amid COVID-19.
Safety is now driving most decisions. Baru has had to worry about his curbside service staff when he couldn't buy enough face masks; he doesn't want them to feel they're taking risks by working. He's thinking about customers, too, and understands they will want to see health precautions before they are ready to return to restaurant dining.
Baru's daughter, Isabel, is going into eighth grade. She will work a few hours this summer in the restaurants. "I test my own decisions regarding safety by asking myself, 'Would I be comfortable with my daughter working in this space?'"
Restaurants have been closed for months. Now, they're allowed to reopen at reduced capacity, and owners are figuring out what they need to do to both get and keep their doors open.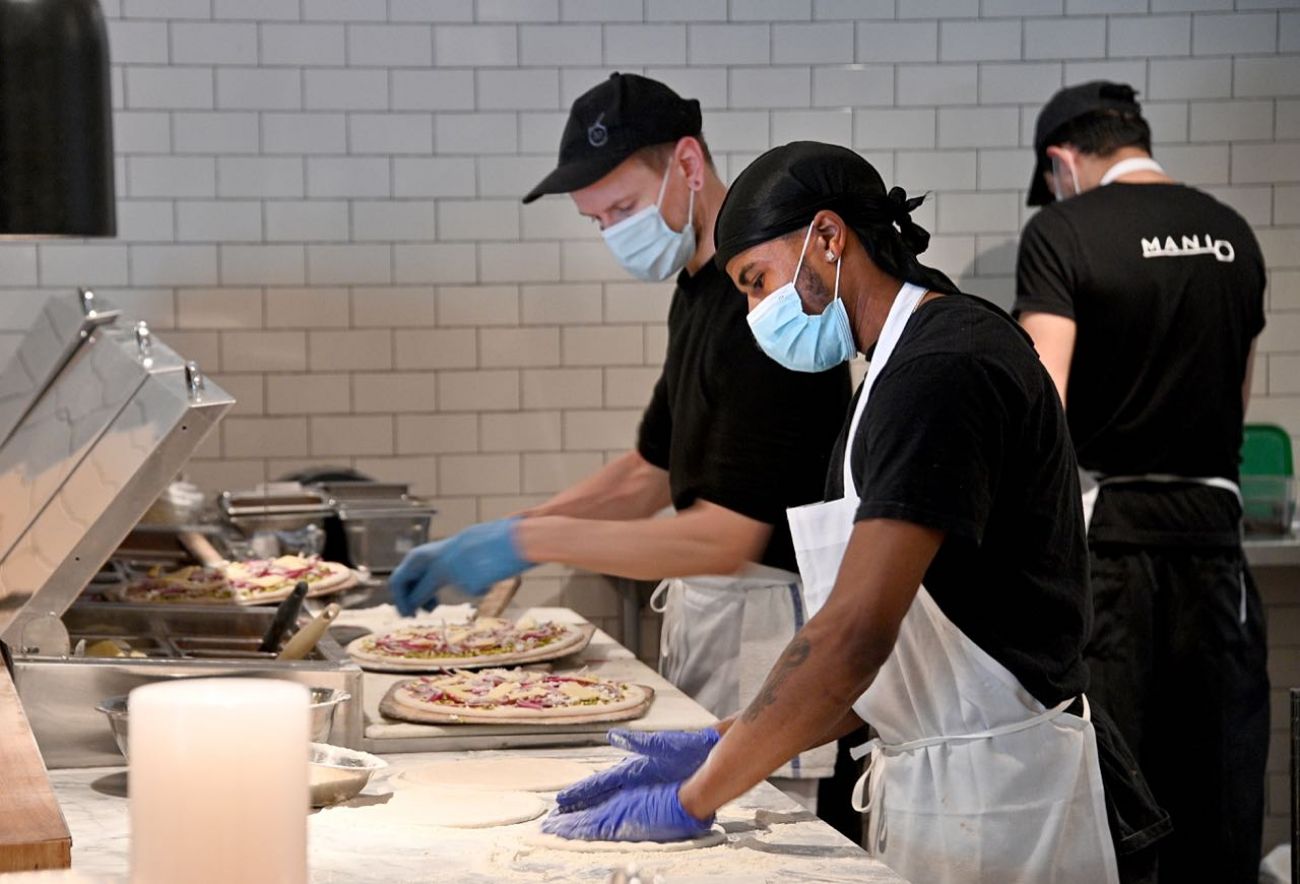 Mani's original opening aimed for success. Now, Baru said, he can't define what success would mean. He faces the same path as every other restaurant: hoping for survival.
"This is a leap of faith no matter what or how this happens," Baru said. "The decisions we make right now are ultimately going to set you up for what happens down the road."
Changing Ann Arbor
Mani opened in 2011 at the corner of East Liberty and South Division, in between the University of Michigan campus and downtown. Ann Arbor's college culture energized the near-campus area of the city, and Main Street's nightlife attracted both townies and out-of-towners. Baru's restaurant filled a former furniture store in the blocks in between, joining a wave of office development that brought employers like Google to the center of town.
No one really thought of the location as the place for a restaurant. But as Mani settled in across the street from the popular chain Bar Louie, the stretch was transformed. Within a year, Baru opened his Isalita Mexican restaurant in the same building.
"When Adam opened Mani … you could almost feel the immediate shift in the downtown restaurant scene," said Jessica Webster, former restaurant reporter for The Ann Arbor News. "Here we had an upscale casual restaurant, comfortable for business meetings and families alike. A chef-focused menu without expense account prices. Adam's East Coast hospitality training was obvious. Service, ambiance, food quality — every detail was carefully planned and monitored.
"Without Mani, and later Isalita," Webster said, "I'm not sure the downtown Ann Arbor dining scene would have evolved the way it has."
Mani's place in that transformation was not just its food, with its Italian-inspired menu and wood-fired pizza oven. It created its own street presence with outdoor tables, wide windows and a sleek look that invigorated the city's "midtown" commercial center and established it as its own destination.
Today, Baru and his staff can look out of Mani's windows every time they work in the bar area or deliver to curbside customers, where the "For Lease" sign is visible at Bar Louie. It's a tangible reminder of the fate threatening so many restaurants in the United States.
In January, Bar Louie's parent company filed for bankruptcy protection, planning to leave two-thirds of its locations open, including the one in Ann Arbor. Then the coronavirus struck the industry, and in April it closed all of them.
Opening a restaurant is risky in good times, but also energizing. Reopening amid an industry crisis is more sobering.
"It feels cavalier to say we're moving forward," Baru said. "We have no idea what our industry is going to look like. We just know there's going to be change."
The country risks permanently losing as many as 85 percent of independent restaurants by the end of the year, according to a report released Wednesday by the national Independent Restaurant Coalition.
"Independent restaurants are confronting an existential crisis," the report says. Revenue on average is 60 percent lower than a year earlier, a bump up from 70 percent in March. Many, it stressed, remained closed during the entire pandemic.
In March, 5.9 million restaurant jobs vanished within a matter of weeks, which the report says is "the highest of all industries by far."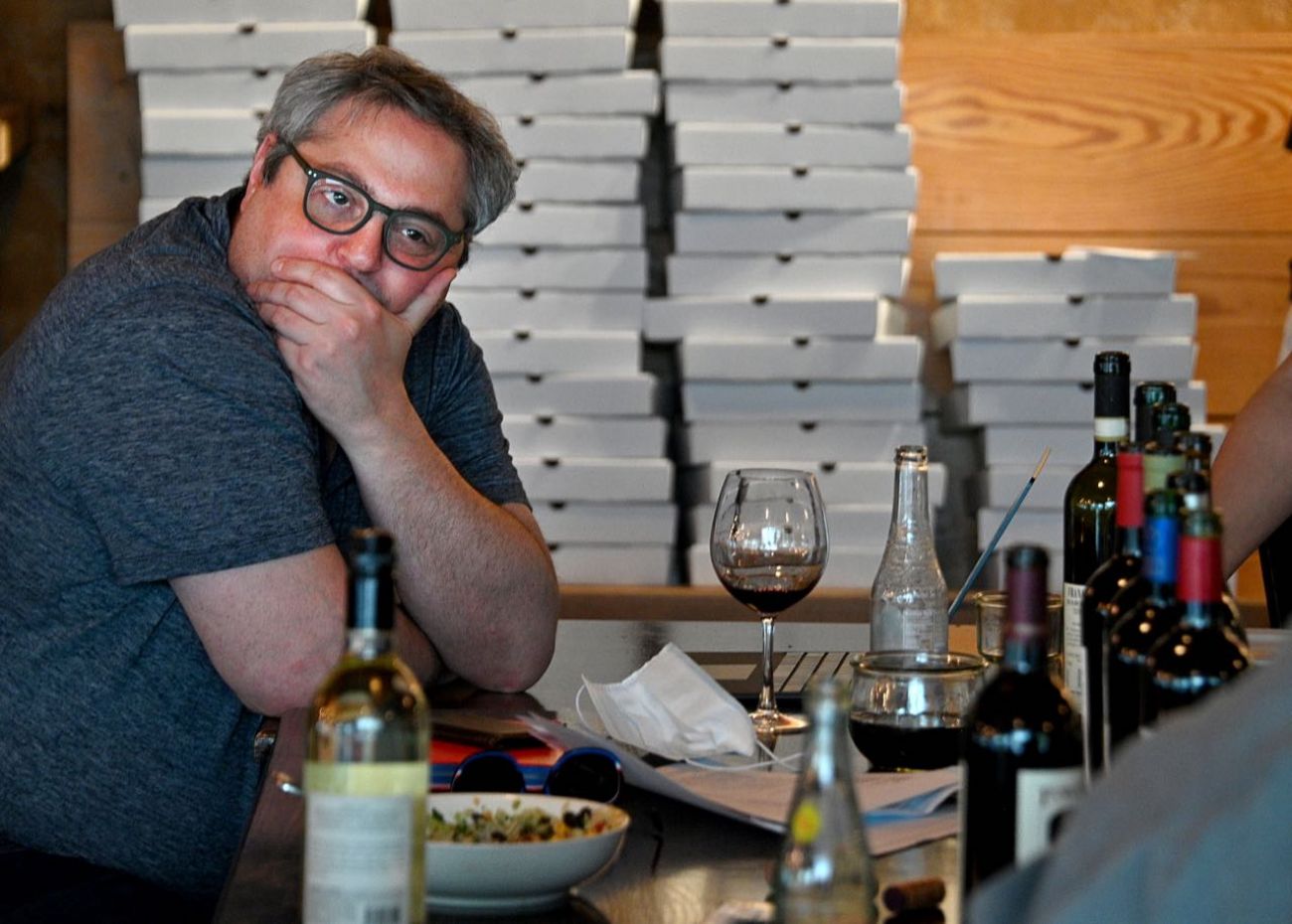 So Baru spends a lot of time looking out of his windows, thinking and working. Sometimes, he looks for bright spots. And sometimes, he said, "you just keep trying to manufacture silver linings."
When winter hadn't loosened its grip by May, Baru had enough. He called the Brush Monkeys, a window art company in Ann Arbor, and asked for a colorful, bold floral design to dominate his corner.
"Can you just paint spring on our windows?" he asked them.
Making it work
Mani, like an estimated half of Michigan restaurants during the pandemic, repositioned itself right after Gov. Gretchen Whitmer closed Michigan restaurant dining rooms on March 16, joining sister restaurants Isalita and Mikette in providing curbside service.
"We ran them independently for the first week, then realized it wasn't working," Baru said. "Too few people were being spread too thin.
"We quickly realized we couldn't work that way."
Mikette, a French bistro that opened in 2015 on the city's northside, was "closed for COVID season," Baru says. It relies on customers from the University of Michigan medical center and North Campus, and the market evaporated as employees worked from home and health care workers braced for coronavirus victims.
Isalita, with its door just a few steps west from Mani, was faring better. The pair were "doing pretty well," Baru said, but carryout came with challenges for the respective kitchens.
Soon, Baru and his staff picked favorites from all three restaurant menus and moved the carryout to Mani.
The decision stabilized the operation. It kept the food production more predictable and manageable for staff, and customers responded to the so-called "greatest hits" menu.
The menu got creative. They started to package cocktail kits, then offered take-home pizza and spaghetti kids. When Cinco de Mayo came, they sold a party in a box, with tacos and margarita mix. Its success was overwhelming, forcing the staff to confront that it may need to limit sales as it reached capacity.
"Even with adversity, we want to be great," Baru said.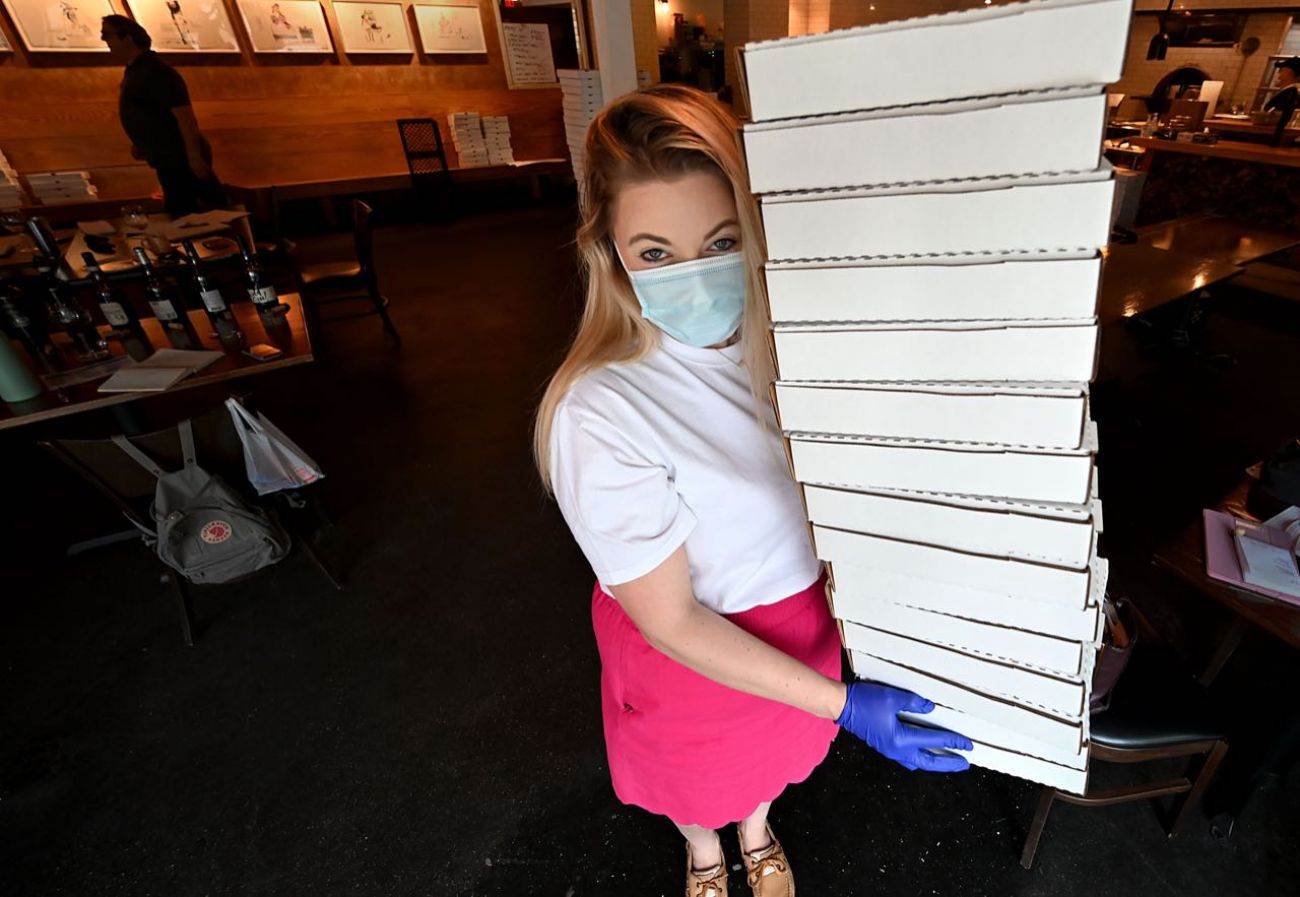 Restaurants able to build robust carryout businesses, like Mani, struggled to adapt to lower revenue in a low-margin business.
"Financially, we have been OK," Baru said, crediting the focus of the two dozen staff members that powered the carryout operation and a recent Paycheck Protection Program loan. Without providing numbers, Baru said, "sales are dramatically down and our expectations right now are low as it pertains to financial success."
Closing the dining room at Mani and his other restaurants was hard as so many questions swirled around the virus. His father is a cancer survivor, and the family quickly chose to quarantine from each other. That was painful as business started to fall.
"There's a personal piece of just feeling like you're out on an island on your own. Loneliness," Baru said. "Suddenly you find yourself having to lay off your entire team."
Within two days of starting layoffs, Ann Arbor's independent restaurant owners gathered at Zingerman's Greyline, an event space, as Paul Saginaw, co-founder of Zingerman's Delicatessen, invited them to talk through their experiences.
"It was like a therapy session," Baru said. It was also, he said, terrifying. "Nobody had any answers."
But they and other restaurateurs in southeast Michigan emerged from the session with a warning for Michigan, signing a group letter that began, "We are screwed." It urged the public to understand the struggles facing them and to seek policy reform to support them.
Justin Winslow, president of the Michigan Restaurant & Lodging Association, said both the state and local communities can help restaurants survive. One example is expanding where outdoor seating is allowed, giving the restaurant a chance to increase the number of tables even as indoor dining room capacity is reduced for social distancing.
Mani's capacity will be closer to 30 percent, Baru said. And that won't count dining room space. He's opening only the patios at first.
"The idea of seating anybody inside the restaurants and the dining room is a very, very hard thing for me to think about."
Looking ahead
Planning to reopen takes a lot of work. And the date, so far, has been a moving target. Baru now is aiming for June 16, a week after initial plans.
"There is so much more than we have time for," Baru said. "In some ways this is more intense than a regular opening. There is more pressure to do it right."
Last Friday, he met with a wine dealer. Over the weekend, returning staff members came into the restaurant to learn about the new procedures, like how they'll be asked to follow traffic patterns when walking in the restaurant and how to take an order while staying six feet from customers.
Monday remains a day off at Mani. This past Tuesday, Baru was still working out logistics for patio seating and staff traffic patterns while curbside service continues. Mani and Isalita will open their patios and return to their individual menus and staffs. Mikette will remain closed for a while.
At some point, Baru recognized he still needed more supplies to make it work, including more hand sanitizers and paper towels. He had to remove hand dryers in the bathroom and add more signs, not just on doors. And figure out if paper menus will still be inserted into clear plastic sleeves.
Those steps, along with a conversation with fellow restaurateur Jon Carlson, convinced him he and his team needed another week to pull it all together. Carlson is co-owner of several Michigan restaurants, including properties like North Peak Brewing Co. and Jolly Pumpkin in Traverse City. His experience there, as Gov. Gretchen Whitmer allowed northern Michigan restaurants to reopen on Memorial Day weekend, convinced Baru to take more time.
"I was already leaning towards a delay because everyone is anxious," Baru said, "including me."
Getting the operations down may be the easy part. New General Manager Lauren La Vigne said staff is eager to serve customers in person again, and they want to welcome back regulars, who were generous with curbside tipping. They're ready with masks and gloves, and are busy re-learning the menu.
Many laid-off staff members are returning, but they lost hours over the past three months and some struggled to make ends meet. A GoFundMe campaign raised more than $18,000 for employees.
And there's still a pandemic. While cases of COVID-19 are declining in Michigan, social distancing guidelines are in place. Restaurants face having to assure customers and staff that they're safe, both today as COVID-19 cases ebb, and if the case counts start to climb again.
"Balancing your staff, guests and the needs of the business is hard under normal circumstances, and COVID makes it even more challenging," Baru said.
That's why, amid all of the pressure to increase sales and re-build the presence of his three restaurants in Ann Arbor, Baru will reopen — but not yet in dining rooms. The PPP loan "lets us breath a little bit," Baru said, and he said his landlord is helping to make extra outdoor seating space available for Isalita.
"I'm not ready, employees aren't ready," he said. He also wonders if customers are ready. "We'll wait and see."
Business Watch
Covering the intersection of business and policy, and informing Michigan employers and workers on the long road back from coronavirus.
Thanks to Business Watch sponsors:
Support Bridge's nonprofit civic journalism. Donate today.
We're not just a news organization, we're also your neighbors
We've been there for you with daily Michigan COVID-19 news; reporting on the emergence of the virus, daily numbers with our tracker and dashboard, exploding unemployment, and we finally were able to report on mass vaccine distribution. We report because the news impacts all of us. Will you please support our nonprofit newsroom?