Last updated: Saturday, March 28, 5:10 a.m. This post will be continuously updated with Michigan coronavirus locations and updated COVID-19 news.
Michigan's stay-home order, meant to protect the health of state residents, could be a challenge to the health of recovering alcoholics and addicts who've found in-person support meetings canceled and services like methadone dispensaries modified.
Now, they'll have to navigate a world where many paths to recovery have become digital.
Many meetings are moving online, and some in recovery are trying to stay in contact through phone calls and Internet meetings. Still, some state leaders in the recovery community acknowledge that the isolation that comes from being cooped up at home sparks fears of relapse. Read the story by Ashley Wong >
At St. Peter's Episcopal Church in Detroit's Corktown neighborhood, dozens of volunteers gathered this week to unload a truck full of water bottles to distribute to those whose water remains off in the city.
The center is one of three Detroit water service stations staffed by volunteers, and all have quickly exhausted their supplies and struggled to re-stock them during the coronavirus crisis. Despite city efforts to restore service to those whose service has been disconnected for non-payment, hundreds — if not thousands — of residents remain in homes without running water, even though hand-washing is vital to slowing the pandemic. Read more >
Friday, March 28
Detroit Police Chief tests positive for the coronavirus
Detroit Police Chief James Craig has tested positive for the coronavirus and is quarantined at his home, Mayor Mike Duggan said Friday.
Craig has turned over the day-to-day operation of the department to Assistant Chief James White, who just returned from quarantine.
Duggan said Craig and 39 officers have tested positive and more than 400 officers are on quarantine who have had contact with those with confirmed cases of COVID-19.
But Duggan said the city has seen a substantial drop in emergency calls and crime reports, helping to make up for the loss of the officers.
The department has adopted strict new rules, taking the temperature of every officer at the beginning of a shift, limiting two people to an elevator and staying at least six feet apart. "Hugging is also prohibited," White said.
Duggan also said the new coronavirus testing program at the state fairgrounds went smoothly and he said he hopes to be conducting 300 tests a day. Residents in Wayne, Oakland and Macomb counties, after getting a prescription from their doctor can call (313-230-0505, from 9 a.m. to 7 p.m. every day) and get an appointment for a drive-up test.
But Duggan said the city is still scrambling to have enough swabs to do the tests.  — Mike Wilkinson
Michigan cases at 3,657; death toll rises 53% in a day
The number of confirmed coronavirus cases in Michigan rose by 801 Friday, to a total of 3,657 and 92 deaths since COVID-19  was first detected in the state.
The figures released by state officials on Friday include 32 new deaths tied to COVID-19, a 53 percent increase over the previous day. 
The average age of those who died is 68. Medical experts have repeatedly said the elderly and those with compromised immune systems are more likely to suffer life-threatening complications from the coronavirus. In Michigan, nearly two-thirds of Michigan coronavirus deaths have been men, according to the data. 
Detroit continues to be the epicenter of the virus in Michigan. As of Friday, more than 1,000 Detroiters had been sickened with COVID-19, including 23 deaths. The severity of the virus' spread in Detroit has prompted Trump administration officials to express their worries that the city has become a hot spot for the virus. In the metro area, 824 people have tested positive in Oakland County, 735 in Wayne County (not including Detroit) and 404 in Macomb County.
More than 10,500 people — or about three-quarters of those tested — have tested negative for the virus in Michigan, the state reported Friday. It didn't release additional information about those tested.
The coronavirus pandemic is ravaging the poorest big city in the nation, prompting concerns about whether a municipality still recovering from bankruptcy can provide services to its most vulnerable residents.
Michigan's surging infection rates are propelled by a startling number of cases in Detroit, which has a per capita infection rate that is among the nation's highest, exceeded only by New York and its surrounding counties and New Orleans. Read more >
Whitmer: Michigan schools unlikely to reopen this year
Michigan schools are unlikely to reopen this school year as the state grapples with a worsening coronavirus pandemic, Gov. Gretchen Whitmer said Friday.
A spokeswoman for the governor told Bridge that Whitmer will announce plans next week to ensure seniors graduate and no child is held back as a result of the COVID-19 school closure.
Speaking on WWJ Newsradio 950 AM Friday morning, Whitmer said "anyone who's watching what is happening globally with this pandemic knows it's probably very unlikely they're going to get back in school before the end of the year."
Whitmer said before making an official call to cancel the remainder of the school year, "I want to make sure we've got a plan to meet the needs of our kids." 
Michigan education officials have already asked the U.S. Department of Education for a waiver from federal regulations requiring standardized tests such as the M-STEP.
In the same radio interview, Whitmer addressed calls to extend Michigan's tax filing deadline, given the financial struggles many Michiganders are experiencing as a result of the state's coronavirus shutdown. She said her office is finalizing an order regarding the tax deadline and  "I would anticipate you will hear something definitive from me today." — Kelly House
U.S. passes $2 trillion stimulus package
The U.S. House of Representatives signed off on a $2 trillion stimulus package Friday intended to boost the economy and provide relief for Americans affected by widespread layoffs as the global coronavirus pandemic deepens. President Donald Trump signed the aid package into law.
As Bridge reported Wednesday, the stimulus package first passed in the Senate on Wednesday would mean four months of expanded unemployment insurance for unemployed Michigan residents, an extra $600 weekly in unemployment pay, and a $1,200 check from the federal government for every adult making less than $75,000 in adjusted gross income.
A record number of Michigan residents filed unemployment claims last week, after Gov. Gretchen Whitmer ordered residents to stay home and all but "essential" businesses to close in hopes of containing the virus. 
Nearly 130,000 Michigan residents filed claims last week, according to statistics from the U.S. Department of Labor. That's a 2,300 percent increase from the previous week.
The pandemic is expected to leave as many as 1.4 million of Michigan's 4.3 million workers temporarily jobless.
Whitmer to Trump: If you stand with Michigan, "prove it"
Tensions between President Donald Trump and Michigan Gov. Gretchen Whitmer flared after the president used national TV appearances to slam Whitmer for her critical comments about the federal government's coronavirus response.
Appearing Thursday night on Fox News, Trump criticized Whitmer for her repeated pleas to the federal government for more supplies and resources to fight the virus. Whitmer has appeared on national television numerous times since the global COVID-19 pandemic spread to Michigan, often using the time to stress the need for additional test kits and protective equipment such as masks for hospital workers. She has been a vocal critic of the Trump administration's response to the pandemic.
"All she does is sit there and blame the federal government," Trump said. He didn't refer to Whitmer by name, but called her "a woman governor, you know who I'm talking about, from Michigan."
Trump's comments came on the same day that Whitmer asked the Trump administration to issue a major disaster declaration for Michigan to help the state provide meals, temporary housing and other resources to Michiganders affected by the pandemic.
 Late Thursday night, Whitmer responded to Trump's attack in a tweet.
"Hi, my name is Gretchen Whitmer, and that governor is me," she tweeted. "I've asked repeatedly and respectfully for help. We need it. No more political attacks, just PPEs, ventilators, N95 masks, test kits. You said you stand with Michigan — prove it."
PS: I'm happy to work with the VP! We get along well. pic.twitter.com/OtjJa9pwhD

— Governor Gretchen Whitmer (@GovWhitmer) March 27, 2020
In a separate tweet, Whitmer added: "P.S.: I'm happy to work with the VP! We get along well. "
After calling out the govenor again in a Friday news conference for not being "appreciative," he took things up again a notch on Friday night, claiming in a Twitter message that the Democratic governor was "way in over her head" amid the coronavirus outbreak and "doesn't have a clue."
I love Michigan, one of the reasons we are doing such a GREAT job for them during this horrible Pandemic," the president wrote. "Yet your Governor, Gretchen "Half" Whitmer is way in over her ahead [sic], she doesn't have a clue. Likes blaming everyone for her own ineptitude! #MAGA"
I love Michigan, one of the reasons we are doing such a GREAT job for them during this horrible Pandemic. Yet your Governor, Gretchen "Half" Whitmer is way in over her head, she doesn't have a clue. Likes blaming everyone for her own ineptitude! #MAGA

— Donald J. Trump (@realDonaldTrump) March 28, 2020
The comments come at a time when the state's hospitals are facing a shortage in medical supplies. "What I've gotten back is that vendors with whom we've procured contracts — they're being told not to send stuff to Michigan," the governor told WWJ 950 on Friday morning. "It's really concerning. I reached out to the White House last night and asked for a phone call with the president, ironically at the time this stuff was going on."
Michigan tax filers to be granted extra time
Michigan residents will have an extra three months to file their 2019 income taxes in response to a coronavirus shutdown that has left many Michigan residents financially struggling.
Gov. Gretchen Whitmer signed an executive order Friday extending the filing deadline to July for all state and city income taxes. State of Michigan and city of Detroit income taxes will now be due July 15. In cities where local income taxes were due April 30, they will now be due July 31.
"Michiganders shouldn't have to worry about filing their income taxes in the midst of a global pandemic," Whitmer stated in an announcement Friday afternoon. "This executive order provides immediate income tax assistance to people as they continue to stay home and stay safe during this crisis."
The federal Internal Revenue Service has also extended its filing deadline to July 15. People who prefer to file immediately may still do so. -- Kelly House
Michigan releases new schedule for filing unemployment claims
After a surge in unemployment claims overwhelmed the phone lines and website for Michigan's unemployment insurance system last week, the state on Friday released a new schedule that assigns days for Michiganders to file for unemployment benefits based upon the first letter of their last name. 
"We ask Michiganders to remain patient when filing for unemployment and to please follow this schedule to make it easier for everyone to access the emergency relief they need," Michigan Unemployment Insurance Agency Director Steve Gray said in a statement.
Michigan's coronavirus shutdown has put many state residents out of work, leading to record-breaking numbers of unemployment claims. More than 129,000 Michigan residents filed claims last week, an increase of more than 2,300 percent compared to the previous week.
The agency's announcement of the new schedule notes that claims will be back-dated to the date the filer was laid off, rather than the date they filed for unemployment. The deadline for laid-off employees to apply for unemployment insurance has been extended from 14 to 28 days. 
Friday's announcement of the new filing schedule notes that due to "unprecedented demand," people who call to apply for benefits may have trouble getting through. The website application portal is also overburdened, and may take a long time to load. 
The state's new filing schedule is outlined below: 
People whose last name begins with letters A-L should file claims on Monday, Wednesday and Fridays
People whose last name begins with letters M-Z should file claims on Sundays, Tuesdays, or Thursdays.
Saturdays are open for anyone to file. 
To file by phone at 866-500-0017: 
People whose last name begins with letters A-L can call on Mondays and Wednesdays between 8 a.m. and 5 p.m.
People whose last name begins with letters M-Z can call on Tuesdays and Thursdays between 8 a.m. and 5 p.m.
Fridays are open for anyone to file between 8 a.m. and 5 p.m.
Detailed instructions about how to file for unemployment in Michigan are available on the state unemployment website.
Also Friday, the state announced expanded food assistance availability for Michigan residents who are financially struggling as a result of the pandemic. 
The move temporarily exempts about 27,000 people from federal work requirements to receive Supplemental Nutrition Assistance Program, or SNAP, benefits and enables households eligible for food assistance to receive the maximum monthly allowance for their family size. 
According to a state announcement, the additional benefits will appear on eligible SNAP recipients' Bridge Cards by Monday. The expansion is part of the federal Families First Coronavirus Response Act, which President Donald Trump signed last week.
"Families need a hand putting food on the table during this crisis," stated Robert Gordon, director of the Michigan Department of Health and Human Services, in Friday's announcement. "It's our job to offer that support as quickly and compassionately as we can." — Kelly House
Fed, local officials eye Detroit convention center for makeshift hospital
Detroit Mayor Mike Duggan and the U.S. Army Corps of Engineers have said they are looking for sites to open makeshift, temporary hospitals in advance of an expected surge of coronavirus patients, including the city's convention center.
Other sites being considered are two dormitories at Wayne State University and the Detroit Pistons Performance Center in Midtown, just south of Grand Boulevard.
Duggan, during a press conference Thursday, said the city was preparing for the kind of surge that has New York looking for similar sites around New York City, where more than 23,000 have been infected, 365 have died and  hospitals are nearing capacity.
"...now the focus is shifted as I'm sure you're aware into where do we go for additional capacity and we're in the serious conversations about things like the TCF Center looking at what they had to do in New York," Duggan said.
The U.S. Army Corps of Engineers said they have been "evaluating existing facilities in Michigan for the possible conversion into alternate care facilities as part of the nationwide federal, state and local effort to respond to the COVID-19 pandemic."
"We're going to bring the full resources of the U.S. Army Corps of Engineers and our engineering expertise to bear against this problem," said Lt. Col. Gregory Turner, Detroit District commander, in a statement. "That's our mission: to engineer solutions to the nation's toughest challenges." — Mike Wilkinson
Thursday, March 26
Coronavirus cases jump to 2,856; 60 deaths
The number of coronavirus cases jumped more than 550 on Thursday, a 24 percent increase as deaths rose from 17—  40 percent — to 60.
There are now 2,856 confirmed cases of COVID-19 in the state. Cases rose by 146 in Detroit, 125 in Oakland County and 121 in the portions of Wayne County outside of Detroit.
Five deaths were recorded in Oakland County, four in Macomb County and three in Detroit.
Seven more counties recorded their first cases: Cass, Ionia, Mecosta, Missaukee, Oceana, Ogemaw and Shiawasee. The virus has been detected in 52 of the 83 Michigan counties. — data reporting by Mike Wilkinson 
Rep. Tyrone Carter of Detroit tests positive for COVID-19
Michigan state Rep. Tyrone Carter, D-Detroit, is the first member of the state Legislature to test positive for coronavirus. 
Carter told Bridge Thursday that he started experiencing symptoms  — a fever, dry cough and no appetite — last Wednesday and went to get drive-thru testing through Wayne State on Saturday. He just learned he tested positive this morning. 
"It was a shock to the system but I'm doing better," Carter said. "Last week, not so much. But if I were to give a recovery [estimate] I'd say about 90 percent."
The House last met in person on March 17, when 94 of the chamber's 110 members came together in Lansing. Carter was present, but he said he didn't go into his office or talk to any staff members before heading to the House floor.
His wife, Lisa Carter, tested negative and their 23-year-old son isn't showing symptoms, he said.
"I am concerned for Rep. Carter and I'm praying for his speedy recovery, and for the safety of his friends and family," House Democratic Leader Christine Greig, D-Farmington Hills, said in a press release. "We all must remain vigilant in practicing social distancing and do our part to stop the spread of this virus."
Speaker of the House Lee Chatfield, R-Levering, also released a statement saying he's "praying for a speedy recovery" for Carter, adding "anyone who was within six feet of Rep. Carter during the incubation period should monitor themselves for symptoms." — Riley Beggin
As coronavirus cases continue to skyrocket in Detroit and surrounding areas, the state is asking hospitals outside of southeast Michigan to offer 10 percent of their hospital beds for Detroit-area hospitals that are overflowing with patients. 
"Many of our hospitals particularly in southeast Michigan are at or near capacity. Intensive care units are full and emergency departments are overloaded," chief medical executive Dr. Joneigh Khaldun said during a news conference Thursday morning. "The only way we're going to be able to effectively handle this outbreak is by coming together and coordinating our health care resources as a state."
Some hospitals have already offered space, which will be used for both coronavirus and non-coronavirus patients as needed, officials said. 
As Bridge reported Wednesday, Detroit has one of the highest rates of coronavirus infection in the nation, with 705 of the state's 2,294 cases as of Wednesday. Detroit coronavirus cases make up around a third of total cases in the state, despite the city having less than 10 percent of the state's population. Michigan overall currently has the fifth-highest number of confirmed cases of any state in the country.  Read more >
Michigan 'nowhere even near the apex,' Whitmer says
Michigan is facing a "dire situation" as the deadly coronavirus continues to spread across the state, Gov. Gretchen Whitmer said late Wednesday on MSNBC.
"We are at the beginning of the curve," she said of Michigan, where officials have so far confirmed 2,294 cases — the fifth highest number in the country — and 43 deaths. 
"We're nowhere even near the apex. And so it is a dire situation right now, and that's why we're calling on our residents to do their part by staying home."
Pointing to a particularly high volume of confirmed cases in Detroit and Wayne County, Whitmer noted hospital systems like Beaumont and Henry Ford are already at or near capacity and said the state is pursuing additional personal protection equipment for medical providers. 
Michigan's entire congressional delegation on Wednesday sent a request for more medical equipment to Vice President Mike Pence, who is leading the White House's Coronavirus Task Force. 
"Michigan has received two allocations of [personal protection equipment] from the Strategic National Stockpile," said the letter, signed by Democrats and Republicans in the U.S. Senate and House.
"These shipments were well short of the requests and we believe inadequate given the circumstances." — Jonathan Oosting
Michigan and the United States set records for unemployment insurance claims last week as the global coronavirus pandemic prompted a spike in business closures and wreaked havoc on the economy. 
In Michigan, 129,298 residents filed claims for the week ended Saturday, up more than 2,300 percent from the 5,338 filed the previous week, according to new figures released Thursday by the U.S. Department of Labor.
That total surpassed the state's previous recorded high of 108,572 claims in July 1992 and was higher than during any single week of the Great Recession. The jump followed Gov. Gretchen Whitmer's order closing restaurants to in-person dining, casinos and other businesses but pre-dated her broader stay-home order issued Monday.  — Jonathan Oosting  Read more > 
The former Michigan State Fairgrounds in Detroit will have a new use starting Friday: as a drive-thru testing site for COVID-19, Michigan Radio reports.
The new testing site is a partnership between the city of Detroit, three local health systems—Henry Ford Health System, the Detroit Medical Center, and Trinity Health—and Wayne, Oakland, and Macomb counties. Those three counties account for nearly 85 percent of Michigan's COVID-19 cases. Mayor Mike Duggan said the fairgrounds should be able to test up to 500 people a day. Read more >
Four months of expanded unemployment insurance. An extra $600 weekly in unemployment pay. And a $1,200 check from the federal government. 
That's what many in Michigan will see under a massive $2 trillion aid package passed by the U.S. Senate on Wednesday night. It's the largest economic stimulus bill in American history, and it's intended to keep people — and the U.S. economy — afloat as the coronavirus pandemic spreads across the country. If the bill passes, every adult making less than $75,000 in adjusted gross income would receive a one-time payment of $1,200. A married couple making less than $150,000 collectively in adjusted gross income would get $2,400.
The package still needs final approval from the U.S. House before it can go to President Trump, who has said he supports it. Democratic House Speaker Nancy Pelosi praised the package Wednesday morning but stopped short of saying the chamber would pass it as-is. If all House members agree, they could pass it as soon as Thursday. 
If it does become law, both workers and businesses in Michigan are expected to get financial help within weeks. 
— Riley Beggin
Read more >
Wednesday, March 25
Confirmed cases soar past 2,300 as deaths climb to 43
Coronavirus-related deaths rose 19 in the past day to 43 as the number of positive cases climbed over 500 with nearly 2,300 cases confirmed statewide.
The increase in cases and deaths was the largest yet since the outbreak began in Michigan on March 10.
Detroit added 142 cases and has 705 total including 12 deaths. The balance of Wayne County added 107 cases and recorded 4 more deaths while Oakland County cases increase 115 with 6 more deaths.
Two new counties in the Upper Peninsula, Luce and Marquette, each saw their first cases. Iosco, Lenawee, Sanilac and Van Buren counties also recorded their first cases.
Beaumont Health said it was caring for 558 hospitalized patients with COVID-19 on Wednesday evening — the latest among several southeast Michigan hospitals that reported another overnight surge in patients diagnosed with COVID-19 infections. 
Another 207 Beaumont patients were awaiting test results.
Meanwhile, Detroit's Henry Ford Hospital, a Level 1 trauma hospital, was caring for 152 patients by midday Wednesday — just some of the 304 patients who had tested positive for COVID-19 throughout the Henry Ford Health System, said Bob Riney, the system's chief operating officer. Another 107 patients were awaiting results, he said. 
Dr. Betty Chu, the system's chief safety officer, said this marks "the front end of the surge."
"We're anticipating a significant increase in volume in the coming weeks," she said.
The health system — among the first in Michigan to publicly acknowledge shortfalls in personal protective equipment, has received shipments of 12,000 N95 respirators and 16,000 procedure masks, among other items. General Motors and Ford Motor Co. are providing masks as well, officials said.
During an afternoon call, Henry Ford officials outlined how it was adapting to the growing demand in patients.
Among those changes:
The system converted its gastroenterology and endoscopy suite at Henry Ford Medical Center-Fairlane in Dearborn to a 16-bed inpatient unit for non-COVID patients and to accept non-infected patients from nearby Henry Ford Hospital. 
Henry Ford Macomb Hospital has converted eight operating rooms in its first-floor ambulatory surgery center into intensive care beds.
Henry Ford Wyandotte Hospital is converting its surgical units to a dedicated unit that will serve only COVID-19 patients. It also boosted its intensive care beds from 18 to 32.
Meanwhile, the University of Michigan reported it was caring for 41 hospitalized patients. 
Our deepest sympathy to the family and friends of @detroitpolice Captain Jonathan Parnell. A true leader, a true friend and a great person @ChiefJECraigDPD #DetroitPD #ProtectAndServe #OurCommunity pic.twitter.com/HjMfTHiF8D

— Detroit Police Dept. (@detroitpolice) March 25, 2020
Detroit Police captain dies from COVID-19
Capt. Jonathan Parnell, a member of the Detroit Police Department, is the second member of the department to die of the coronavirus in as many days, Chief James Craig said in a news conference.
"Our hearts are broken today," the mayor said, sitting 6 feet apart from the chief during a briefing Wednesday. The two reported that a 38-year-old dispatcher had died Tuesday.
There are 18 members of the Detroit police department who have tested positive for novel coronavirus and more than 230 have been quarantined. Officers have their temperatures taken when they come to work and anyone with a temperature of 100 degrees would be sent home. —Monica Williams
Mackinac Policy Conference delayed
The Mackinac Policy Conference, an annual island confab of Michigan business and political leaders, has been pushed back from late May to Aug. 10-13 as a result of the coronavirus pandemic. Detroit Regional Chamber CEO Sandy Baruah announced the change on a Wednesday morning call, telling reporters that organizers are still planning for a full agenda.
Tuesday, March 24
Confirmed coronavirus cases hit 1,791 as 24 reported dead
Michigan saw its biggest jump in coronavirus-linked deaths and confirmed cases in the past day, jumping 463 cases and nine deaths.
Since its first case was confirmed March 10, the state's total has risen to 1,791 cases and 24 deaths as Michigan ranks among the top five states in the country in positive coronavirus cases. It has the 10th largest population.
Five new counties have confirmed cases: Hillsdale, Isabella, Kalkaska, Lapeer and Manistee. Confirmed cases are now in 42 of the state's 83 counties.
The biggest jump again was in Detroit, which saw cases jump 152 to 563, just under one third of all cases in the state. The city has just 7 percent of the state's population.
Oakland and Macomb counties all saw substantial reported gains with Oakland's total rising 99 cases to 428 and Macomb adding 50 to 225. Wayne County, excluding Detroit, now has 310 confirmed cases as of Tuesday. Beaumonth Health, which has eight facilites in southeast Michigan, is caring for 450 patients.
The latest deaths were reported in Detroit (2), the balance of Wayne County (3), Washtenaw (3) and Kent County (1).
Patients, staff at state psychiatric hospitals test positive for COVID-19
Three patients at state psyhiatric hospitals have tested positive for COVID-19, the  Michigan Department of Health and Human Services (MDHHS) said today. The three are among patients at its Center for Forensic Psychiatry in Saline and Walter Reuther Psychiatric Hospital in Westland.
Two of the positive cases are patients at Walter Reuther and one is at the Center for Forensic Psychiatry. In addition, three staff members at Walter Reuther have tested positive for COVID-19.
"Our primary focus is the health and safety of our staff and the patients at our state hospitals," MDHHS director Robert Gordon said in a statement. "We treat the spread of COVID-19 with the greatest seriousness and are taking many steps to address it." The hospital stopped allowing visitors at the hospitals two weeks ago.
Oakland County 'essential' employees must be screened daily
Oakland County businesses that stay open as "essential" business must screen employees every day and find ways to maintain "a 6-foot isolation distance" within stores and other places of business, county officials announced Tuesday.
Those who fail to do so can face misdemeanor fines, county executive Dave Coulter said during an afternoon news conference.
The goal is not "to fill the jails with our business owners," but rather offer guidelines that will help protect employees and customers, he said.
"The sheriff in worst-case scenarios can go out and penalize [and] fine … but that's not our focus," Coulter said. "At least initially, we believe that most businesses will step up and do the right thing," he said.
Coulter said county leaders also worry that local health care systems may get overwhelmed and will be unable to restock supplies if a surge in patients with COVID-19 continues.
Asked about worst-case scenarios, he said:
"One word: Italy."
"Right now we're looking at Italy as the model for what happens when your health care system gets overwhelmed," he said, referring to the crush on Italy's health care system and the more than 4,000 COVID-related deaths the country had in one month.
Oakland's health officer, Leigh-Anne Stafford, said at least 100 Oakland County residents have been hospitalized with COVID-19 infections. The numbers are most likely higher because of a lag in reporting for test results, Coulter said.
Business owners are to set up a screening station as near as possible to the front entrance and screen both customers and employees. If possible, they are to use a touchless thermometer to take temperatures and use a short set of screening questions.
The mandates could mean limiting how many customers are allowed in a store, for example, or placing tape on the floor to encourage customers waiting in lines to maintain distance from each other, Stafford said.
The county also has established a public dashboard of the county's COVID-19 activity, tracking cases by gender, hospitalizations and deaths. The dashboard will be updated each afternoon. — Robin Erb
State orders hospitals to provide capacity information
Overwhelmed by requests for COVID-19 tests and frustrated by slow information, the state health department issued orders Tuesday to address both.
The emergency order, signed by Robert Gordon, director of Michigan Department of Health and Human Services, requires hospitals to submit daily reports about their readiness to treat increasing numbers of Michiganders infected by COVID-19.
Among the details they must provide:
Bed capacity
Patient census
Number of ventilated patients
Number of ventilators
Staffing shortages
Personal protective equipment inventory
Laboratory testing capacity
Units or areas dedicated to COVID-19 treatment
Other data that may help to support the state-wide response
John Karasinski, spokesman for the Michigan Health and Hospital Association, said hospitals previously had been required to send only basic information to the state — numbers of beds or highlights of emergency preparedness plans, for example.
A shortage of hospital supplies and personal protection equipment as Michigan cases begin to climb "is a frustration that we all share," and the new rule will speed up the state's ability to allocate resources where they're most needed, he said.
Gordon also instructed laboratories processing tests for COVID-19 to report all results — whether negative or positive — through the Michigan Disease Surveillance System within four hours of completion. Previously, the state had been able to report only on the tests it had conducted and positive cases that were reported to it by other labs.
Gordon also reminded labs that the state faces shortages not only in "laboratory capacity to quickly process" samples, but also "a limited supply of sampling materials," according to the emergency order.
He reiterated the need to prioritize testing.
The U.S. Centers for Disease Control and Prevention have prioritized testing for hospitalized patients with COVID-19 symptoms, the elderly and other at-risk individuals with symptoms, and healthcare personnel who have been exposed to an infected person.
Gordon's order also mandates that health facilities must report COVID-19-related deaths to the local health department within two hours of the death. — Robin Erb
Detroit schools scale back food distribution on employee illnesses
Detroit's public school district, crippled by coronavirus cases, is scaling back its meal distribution plan, the district said Monday.  On March 14, an employee at Osborn High tested positive for the novel coronavirus. Since then others have tested positive for disease amid rising employee concerns..
Beginning Tuesday, meals are discontinued, but will resume Thursday with a reduced schedule.  Meals will be distributed Mondays and Thursdays at 17 locations, down from 58.  Additional meals will be provided on those days. You can find the locations and schedule here. 
Ford Motor Co. to manufacture hospital equipment
Ford Motor Co., one of Michigan's Big Three automakers, will partner with 3M and GE Healthcare to manufacture personal protection equipment amid a massive shortage caused by the spread of the new coronavirus. 
Ford and 3M will build respirators, while Ford and GE will produce simplified ventilators. The company also plans to make more than 100,000 face shields per week and other component parts of personal protective equipment at Michigan factories with the UAW. The first 75,000 face shields are expected to be completed this week, the company said in a press release.
"This is such a critical time for America and the world. It is a time for action and cooperation," Bill Ford, Ford's executive chairman, said in a statement. "By coming together across multiple industries, we can make a real difference for people in need and for those on the front lines of this crisis."
President Donald Trump invoked the Defense Production Act last week, which allows the federal government to compel private businesses to help produce needed supplies during a national emergency. The administration has not yet ordered any companies to do so.
GM and Fiat Chrysler have also said they are planning to produce PPE for health care workers.—Riley Beggin
We're proud to work with @3M, @GEHealthcare and @UAW to lend our engineering and manufacturing expertise to quickly expand production of urgently needed medical equipment and supplies for healthcare workers, first responders and patients fighting #COVID19. pic.twitter.com/fzMMDjgVmS

— Ford Motor Company (@Ford) March 24, 2020
Detroit Police Department employee diagnosed with coronavirus dies
A Detroit Police Department member who was diagnosed with the novel coronavirus died Monday, the department reported Tuesday morning. The 38-year-old man, whose name was not released, was a dispatcher and an eight-year veteran of the department, Detroit Police Chief James Craig said in an 11 a.m. news conference. The man's death prompted the department to redeploy employees at Public Safety Headquarters, until the area can be cleaned.
Nine officers have tested positive for COVID-19 and more than 230 DPD officers have been quarantined, but Mayor Mike Duggan said that response time to calls was currently less than 11 minutes. There are currently no hospitalizations. 
Monday, March 23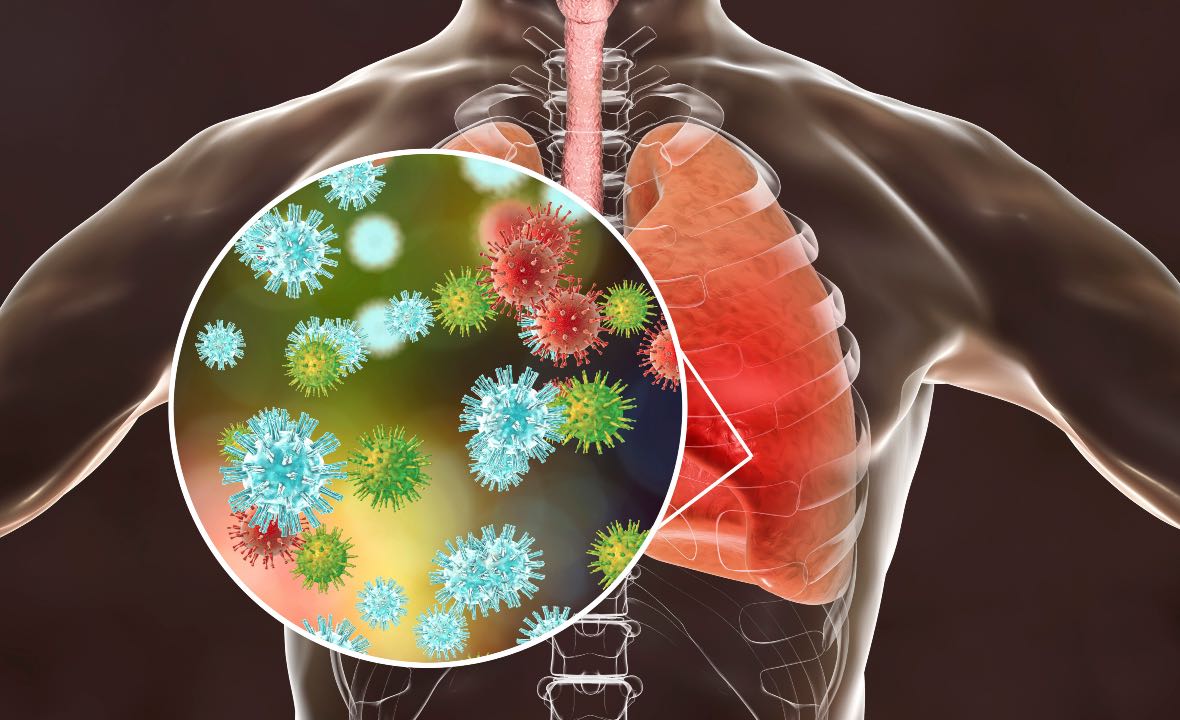 Michigan's case number rises to 1,328 with 15 deaths
The number of COVID-19-related deaths in Michigan is at 15, the state reported Monday, as the number of confirmed cases rose to 1,328. 
The report by Michigan public health officials on Monday came as Gov. Gretchen Whitmer issued a "stay at home" order for three weeks. Michigan remains eighth in the nation with reported cases of the new coronavirus.
Detroit has been particularly hard hit with 86 new confirmed cases reported Monday. Although the city's population comprises 7 percent of the state population, it's reported 31 percent of Michigan's cases.
Also in metro Detroit, the state confirmed 75 additional cases in Wayne County, 52 in Oakland and 35 in Macomb. Statewide, the cases are equally divided between men and women.
Since the first reported case Gov. Gretchen Whitmer has ordered wide-ranging restrictions on people and business in an effort to stem the spread of the novel coronavirus. -- Monica Williams
Percentage of cases by age:
0 to 19 -- 1 %
20 to 29 -- 9%
30 to 39 -- 14%
40 to 49 -- 18%
50 to 59 --19%
60 to 69 -- 20%
70 to 79 -- 12%
Over 80 -- 7 %
Small Business Association launches "Daily Briefing"
The Small Business Association of Michigan has launched a 3 p.m. "Daily Briefing" for the statewide business community. It is streamed on via Facebook Live. Daily archived shows are available here.
Already in the midst of a three-week closure to try to stem the spread of coronavirus, Michigan's K-12 schools will be closed for at least eight additional days.
The first day schools can return to class is Tuesday, April 14, after Gov. Gretchen Whitmer on Monday ordered Michigan residents to stay in their homes through midnight, April 13.
Schools previously had been ordered closed by Whitmer for three weeks, with classes possibly opening April 6. There's no guarantee schools will reopen April 13 either. Read more>
Liquor stores, home repair businesses and auto repair shops can stay open. Car dealers and most construction companies probably can't. 
Confused? 
So are many employers and residents, who are scrambling to interpret Michigan Gov. Gretchen Whitmer's Monday order that all businesses — except those deemed "essential" — remain closed until at least April 13 because of the coronavirus pandemic.
Her order, which mirrors federal guidance and orders in Ohio and other states, includes exemptions to 16 industries including energy and chemical supply, wastewater treatment, health care and more.
That means autism therapists, supermarket clerks, bankers and sanitation workers will still show up for their jobs. It's less clear whether construction workers or small manufacturers are exempt. Read more >
University of Michigan moves spring, summer classes online
The University of Michigan on Monday moved its spring and summer term classes online, the latest action in response to the coronavirus pandemic. 
The Ann Arbor campus, along with all public universities in the state, moved the remainder of the current semester classes online and encouraged students to go home. Announcing there will be no in-person classes during the spring term that was to begin May 5 or summer term (July 1), is a sobering indication that the university believes the state will still be battling the potentially deadly virus three months from now.
Current information about the likely trajectory of COVID-19 make it impossible to plan, with any confidence, a return to in-person instruction, Acting Provost Susan Collins said in an online newsletter for U-M faculty, staff and retirees.
Collins said she understands that going remote creates certain hardships for both instructors and students, and appreciates all that the academic community has done to adjust to the evolving situation.
"This is a challenging time for not only the university, but our entire world," Collins said in the newsletter. — Ron French
Gov. Gretchen Whitmer on Monday ordered Michigan residents to stay home unless they work in a "critical" industry or are engaging in permitted activities in order to slow the spread of a deadly coronavirus sweeping Michigan and the country. 
"This is a test unlike any we've seen before," Whitmer said in an 11 a.m. news conference. "We are up to it. We will get through this. But be smart, take every precaution and do your part."
The "stay home, stay safe" order takes effect one minute after midnight and will last for at least three weeks. People who do leave home for whatever reason must adhere to social distancing measures recommended by the U.S. Centers for Disease Control and Prevention.
The eight-page order, as signed by Whitmer, begins with a warning that it  "must be construed broadly to prohibit in-person work that is not necessary to sustain or protect life."
But the order includes several exemptions for residents who leave home for work that is necessary to protect life or conduct "minimum basic operations," including inventories and animal care. Businesses that employ "critical infrastructure workers" can generally continue in-person operations.
The order allows residents to leave the home for outdoor activity, and Whitmer said pharmacies and other important businesses will not close. Restaurants can continue with carry-out and delivery orders.
The order comes as Michigan's coronavirus case count continues to rise. As of Monday morning, there were 1,232 confirmed cases and 15 known deaths in the state, according to Dr. Joneigh Khaldun, the state's chief medical executive. Read more >
M-STEP appears to be on hold
Michigan students likely won't be taking standardized tests this spring.
The Michigan Department of Education announced Monday that they had received a waiver from the U.S. Department of Education of a federal requirement for standardized testing.
That means students in grades 3-8 who normally would take the M-STEP in April will likely get a one-year reprieve.
The M-STEP is used by MDE to compare student achievement between schools, and as a factor in teacher performance evaluations. This year, it was also for the first time going to be used to flag third-graders for retention in grade if their scores indicated they were more than a year behind in reading ability.
Standardized tests are also required by state law, so the Legislature will also have to grant a one-year waiver, according to an MDE release.
"We are pleased that the U.S. Department of Education heard our call to waive the federal requirement for statewide student testing," State Superintendent Michael Rice said in a news release Monday. "We now need the Michigan legislature to amend state law that requires statewide testing and accountability."
Sunday, March 22
Upper Peninsula confirms its first case
The new coronavirus has crossed the Mackinac Bridge into Michigan's Upper Peninsula, the first confirmed case in the U.P. 
Officials with the Chippewa County Health Department announced Sunday evening that an adult man in the county has tested presumptively positive for the virus. A testing sample will be sent to the U.S. Centers for Disease Control and Prevention for confirmation. 
The man is hospitalized in isolation outside of the county, the announcement states.
The county announcement notes that health officials believe the risk to the general public is minimal. Nonetheless, Chippewa County Health Officer Karen Senkus urged residents to practice social distancing, noting that "coronavirus is likely in our community and not everyone who has it will be sick."
News of the first coronavirus case in the Upper Peninsula ended residents' hopes of containing the virus within the Lower Peninsula. As Bridge reported, some Yoopers had called upon Michigan Gov. Gretchen Whitmer to close the Mackinac Bridge to traffic in hopes of preventing COVID-19 from crossing the Straits of Mackinac.
Michigan cases exceed 1,000; Washtenaw has first death
The death of man in Washtenaw County on Sunday brings Michigan's known coronavirus-related death toll to nine. The county did not release the man's age but described him as "elderly."
Officials with the Washtenaw County Health Department announced the death in a news release Sunday afternoon, noting that the man died at Michigan Medicine just a day after he was hospitalized.
"His death is an urgent reminder to all of us," said Jimena Lovelock, the county's health officer. "We must act now and act together to protect everyone's health to the greatest degree possible."
Meanwhile, the virus continued to batter Michigan's economy. According to numbers released Sunday by the State Emergency Operations Center, unemployment claims in Michigan exceeded 108,700 last week. That's a 21fold increase over the typical week. 
Michigan Gov. Gretchen Whitmer on Monday signed an executive order enabling laid-off workers to qualify for six additional weeks of unemployment insurance, up to a maximum of 26 weeks. The order also extended unemployment benefits to sick workers and those who must stay home to care for their family members during the pandemic. 
The order came in the wake of a statewide shutdown of Michigan schools, restaurants, bars that left thousands of Michigan workers out-of-work or working reduced hours. Hair salons, automakers and other businesses would join the list of closures by week's end. The resulting layoffs have resulted in a cascade of unemployment claims not seen since the Great Recession. — Kelly House
Michigan cases exceed 1,000; 4 new northern counties 
The number of cases of coronavirus in Michigan rose by 249 Sunday to a total of 1,035 cases, while the official statewide death toll stood at eight. 
New cases included 77 in Detroit alone. With 325 confirmed cases, Michigan's largest city now has 31 percent of the state's coronavirus cases, despite containing less than 7 percent of state residents.
Southeast Michigan continues to be hardest hit by the virus, but COVID-19 is steadily spreading northward. The Up North counties of Gladwin, Roscommon, Grand Traverse and Emmett all recorded their first cases Sunday, along with Allegan County in southwest Michigan. So far, the virus has not been detected in the Upper Peninsula.
In total, COVID-19 has been detected in 32 of Michigan's 83 counties, with the sickened ranging in age from an infant to a centenarian. 
As the infection rate and death toll continue to soar, Michigan Gov. Gretchen Whitmer is urging residents to stay home unless it is absolutely necessary for them to go out in public. She said Sunday morning that "additional steps" to control the virus in Michigan are likely, but as of Sunday afternoon, she had not joined the states that include Ohio, Illinois, California, New York and Connecticut in issuing formal orders to shelter in place. — Kelly House
Does Michigan compete against others for supplies?
As governors across the nation scramble to secure coronavirus test kits and medical supplies in the face of dire shortages, fears are beginning to emerge that federal inaction is pitting states against each other in a fight for resources.
State governments in Michigan and elsewhere are turning to private companies to purchase masks and other medical supplies after finding federal pandemic aid from a national stockpile is insufficient to meet their needs.
"It's a wild, wild West out there," Illinois Gov. JB Pritzker said Sunday on CNN's "State of the Union," contending that extreme competition has led states to overpay for supplies.
Michigan Gov. Gretchen Whitmer made similar comments in a slew of network TV interviews Sunday morning. In an appearance on NBC's "Full Court Press" with Greta Van Sustern, she pleaded with the Trump administration to provide states with more test kits, masks, surgical gowns and other resources. 
"I don't want to pick a fight with the Trump administration," she said. "What I want is the tools to do the job." 
It remains extremely difficult to get tested for COVID-19 in Michigan, despite the fact that hospitals and private labs have joined the state in testing people for the virus. With limited test kits, the state is prioritizing testing people over age 60 and those with pre-existing health conditions. Meanwhile, a shortage of basic medical supplies has led hospital staff to create their own DIY face masks and eye protection.
Appearing on "Meet The Press", FEMA Administrator Peter Gaynor said that if governors can find supplies on the open market, they should buy them and "FEMA will reimburse you."
"Will we ever have enough?" he said. "I'm not sure, but our goal is to make sure that we prioritize the places that need them most. And then we'll triage as we go." 
In Michigan, Whitmer said she is working with private companies to purchase masks, locate ventilators and perhaps even press "retired" ventilators into service. Without aggressive action to obtain supplies and slow the virus' spread, she said, the state's health care system could "get overwhelmed." 
With nearly 800 confirmed cases and eight deaths as of Saturday, Michigan appears to be among the hardest-hit states. However, it is likely far more people are carrying the virus but have not been tested. Whitmer warned that without additional testing resources, Michigan lacks needed information about the virus, such as where there may be clusters of contagion. 
President Trump has the power to order companies to make equipment, but Gaynor said he has not yet done so because companies are voluntarily stepping up to donate supplies. 
"If it comes to a point we have to pull the lever, we will," Gaynor said.
Trump, meanwhile, announced via Twitter Sunday morning that Ford, General Motors and Tesla had been "given the go ahead" to make ventilators and other products. — Kelly House
Whitmer says to stay home unless 'absolutely needed' 
In a string of network TV interviews Sunday morning, Michigan Gov. Gretchen Whitmer stopped short of saying whether she'll issue stay-at-home orders as the novel coronavirus continues to spread in Michigan, but she urged residents to avoid leaving their homes unless absolutely necessary.
"We are always evaluating and in ongoing debate on what the next step is," she said when asked during an appearance on Fox News Sunday whether a shelter in place order was forthcoming. "I would anticipate additional steps being taken." 
Whitmer urged residents to practice social distancing, wash their hands frequently, and "stay at home if you're not absolutely needed to be outside of your home." 
She also criticized the federal government's response to the virus, arguing a lack of national strategy from the Trump administration has left state leaders to initiate their own "patchwork" of responses. Additional testing resources are needed to better track and respond to the virus' spread, she said.
"In order to make decisions, we really need better data," she told NBC's Martha Raddatz on the network's "This Week" show. 
"We need the federal government to get us those test kits," she said. Meanwhile, Michigan is working with private companies to purchase test kits and medical supplies, and some health care providers have resorted to making homemade masks. 
When pressed on her decision to exempt places of worship from an order banning gatherings of more than 50 people, Whitmer cited concerns about the separation of church and state.
She said legislators had asked her to clarify that churches are "an area that we don't have the ability to directly enforce and control. We are encouraging people, though: Do not congregate. Do not go to church on Sunday and sit next to people." 
Despite the exemption, many Michigan churches have canceled in-person services, with some inviting congregants to tune into remote services online. Still, others continue to host in-person gatherings. — Kelly House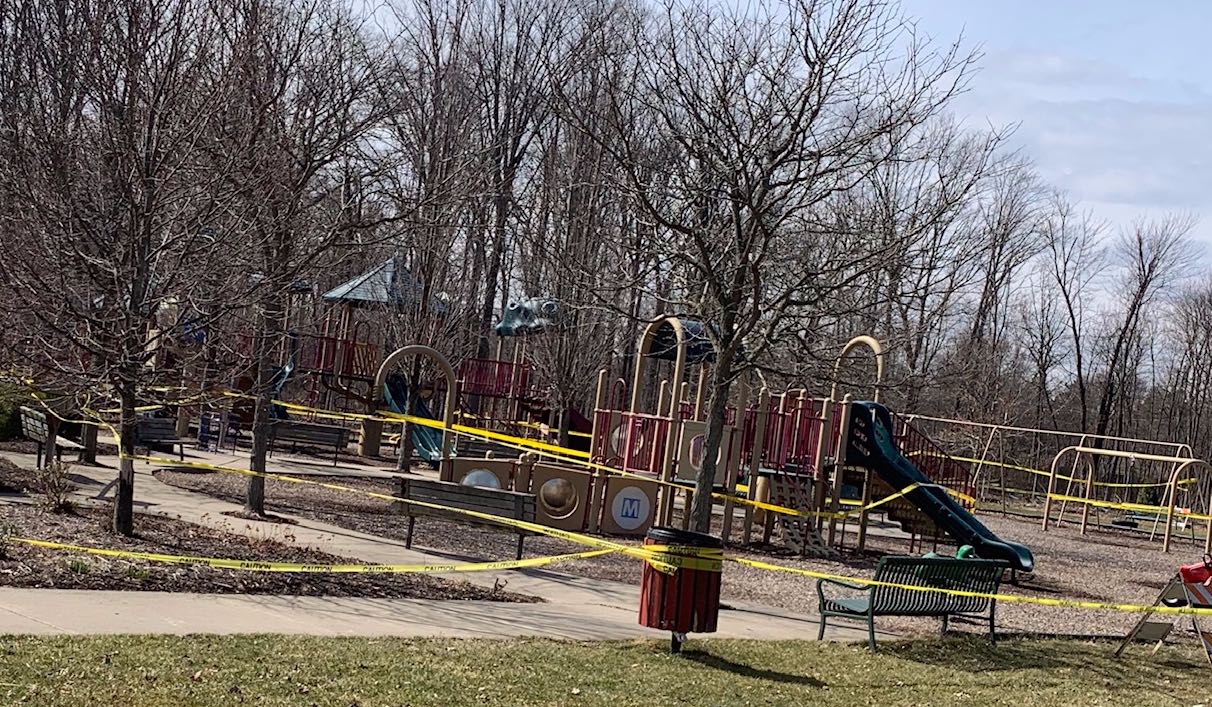 Playground equipment in Beverly Park, in the Village of Beverly Hills, was blocked off Sunday in the wake of a state order to protect against the spread of the coronavirus. Oakland County officials on Saturday ordered the closure of all malls and playground equipment and urged residents to halt non-essential travel. (Bridge photo by David Zeman)
Officials said there are now 229 people infected in the county, up nearly 50 from 184 from Friday. Nearly 20 percent are hospitalized, County Executive Dave Coulter said.
"We have people in Oakland County in critical condition," Coulter said. "This is a serious virus."
Coulter said the new orders on malls and playgrounds is imperative to stop the spread of the virus, which was first detected in the state March 10. It's now infected over 550.
"Do as little as possible," Coulter implored. "Stay home."   Read more >  — Mike Wilkinson
Saturday, March 21
Michigan death toll at 8; newborn, 100-year-old test positive
A man in his 70s died at Spectrum Health in west Michigan after testing positive for COVID-19, while a 52-year old man with underlying health issues also died Saturday from coronavirus-related complications in Macomb County, bringing Michigan's toll of coronavirus-related fatalities to eight. 
The death at Spectrum Health is the first outside of southeast Michigan, the most populous area in the state.
In a news conference Saturday, Macomb County Executive Mark Hackel also said that a 1-month-old and a 100-year-old in the county have tested positive.
Earlier in the day, health officials announced two women in their 90s died after testing positive for the illness. One was from Detroit, the other from Oakland County.
Michigan's coronavirus cases climb to 787
Michigan public health officials on Saturday reported 238 more positive tests statewide. Detroit alone reported 99 new cases, bringing the city's total to 248, nearly a third of the state's 787 total infections. 
State offiicals confirmed a fifth death, with Henry Ford Health Systems reporting a sixth later Saturday evening. Four of the deaths were in Wayne County, with three in Detroit (which resides in Wayne County). The fifth and sixth were Friday and Saturday in Oakland County.
Gov. Gretchen Whitmer has ordered wide-ranging restrictions on people and business in an effort to slow the spread of the virus. 
Oakland County officials on Saturday said 42 of their 229 cases have been hospitalized with a number of them in critical condition. Henry Ford Health System announced Saturday evening that a 90-year-old woman died from complications of COVID-19 at its facility in West Bloomfield. She is the sixth reported death.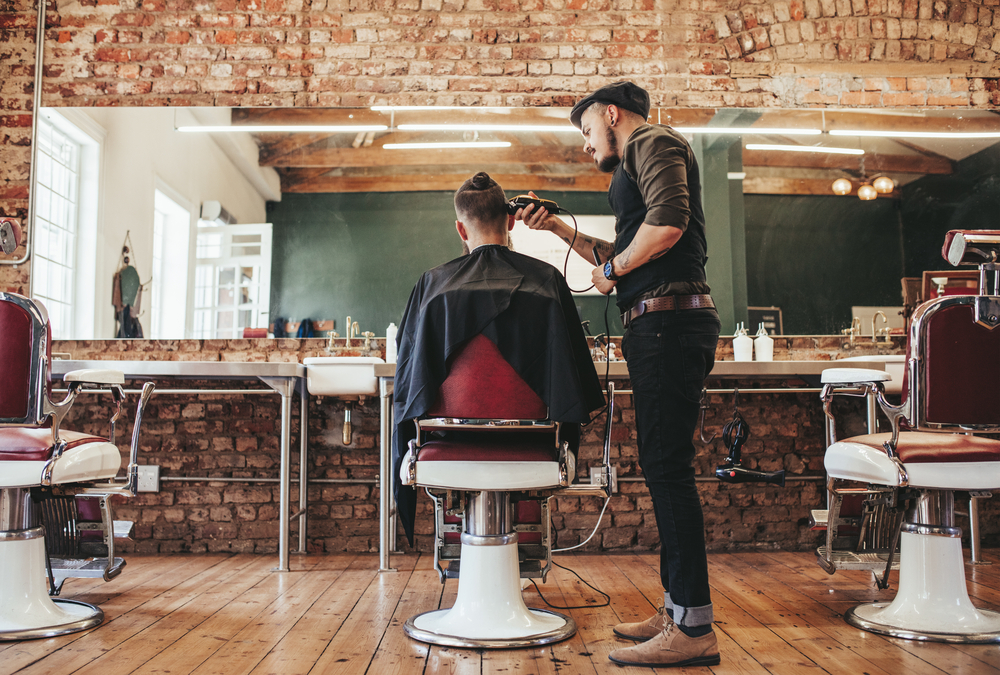 Whitmer: Barbers, hair salons, spas must close
Gov. Gretchen Whitmer issued another restriction on businesses Saturday evening, calling for the closure of personal care businesses like hair salons and tattoo parlors. 
The decision follows recommendations that people stay at least 6 feet apart — impossible for a haircut or a pedicure.
The order affects "hair, nail, tanning, massage, spa, tattoo, body art and piercing services, and similar services that require individuals to be within 6 feet of each other."
Whitmer's order also extends until April 13 her order closing fitness centers, movie theaters, bars and dine-in service at restaurants. 
Other states, including Ohio, had made similar calls several days ago as the countries across the globe battle the coronavirus pandemic.