A Michigan mall's transformation: From Macy's to self-storage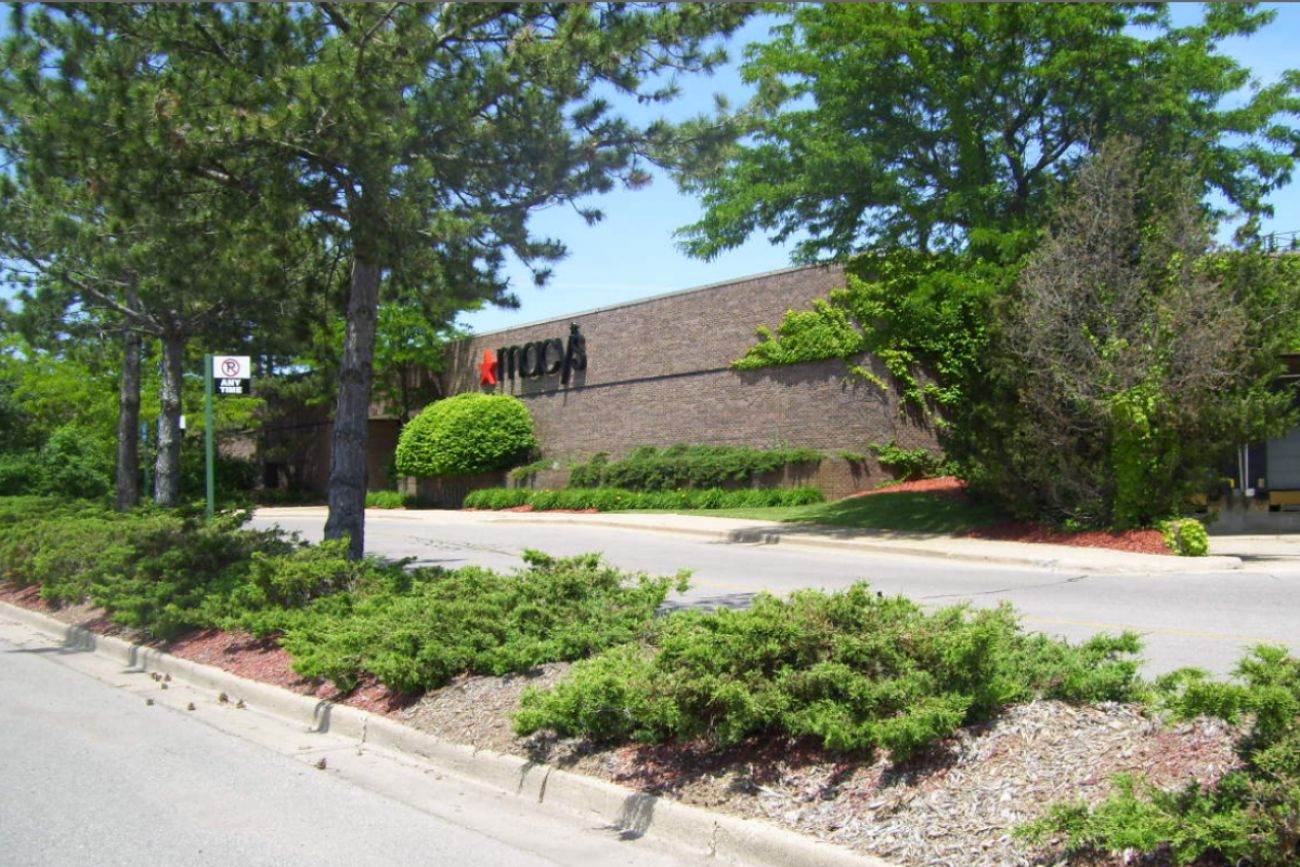 This 2009 photo shows the Macy's in Lakeview Square Mall when it was an anchor store, attracting shoppers who'd support stores throughout the regional mall. It closed in 2017 amid years-long downsizing by the national chain. (Photo courtesy the City of Battle Creek)
Sixty thousand vehicles per day pass Lakeview Mall in Battle Creek, giving drivers on I-94 a front-row view of what happens when a regional shopping center loses its anchor stores.
There, the empty parking lots and brick building shells that once housed some of the nation's largest retailers tell an old story about failing malls and struggling department stores.
But that soon will change. Two new occupants plan to move into the center, signaling just how different from department stores the largest mall occupants are becoming:
A climate-controlled self-storage developer bought the former Macy's, planning to rent storage units reached by an indoor drive-through.
Local grocery Horrocks Farm Market will move from downtown Battle Creek into the former JC Penney store, expanding its footprint and visibility.
They represent some of the new options for empty big box stores and huge unused parking lots that have lost their appeal in a changing retail economy here, and across the state.
Related:
"There's not a lot of demand for these large department stores," Ted Dearing, assistant city manager in Battle Creek, told Bridge Michigan.
Still, he said he knows that some people might be surprised that a store that once sold party dresses, high-end purses and housewares will be replaced with storage garages for overflowing stuff.
"We recognize that at this point, given the retail environment, that we're going to have to accept that there's going to be a transition with some of these spaces," Dearing said.
Those transitions are starting to become planning priorities for many communities, said Luke Bonner of the Ann Arbor-based Bonner Advisory Group, a real estate consulting firm that's been involved in several mall redevelopment projects, including plans for the former Northland Mall in Southfield.
Municipal officials and development experts are looking at what makes sense for mall properties in a world where more and more people shop online: Housing, entertainment venues, churches, medical facilities and other non-traditional mall tenants all are under consideration in many places, in addition to self-storage.
Developers also are eyeing their own opportunities, like the two Florida-based companies that, between them, bought the three mall anchors in Battle Creek.
"There's probably a common understanding among all partners – public and private – that malls will need to change … to maintain economic viability," Bonner said. "There are probably very few malls across the county that, in their current form, will continue to exist the way they are."
Early this year, mall vacancy rate across the U.S. set a new record: 11.4 percent, up almost a full percentage point from year-end 2020, according to Moody's Analytics REIS.
That is yet another signal that people need to think about malls differently, Bonner said.
Yet, he added, in many cases their locations will help them. Like Lakeview Square Mall, most have high traffic visibility and are accessible from across a region.
"These malls ultimately are in some of the best real estate locations in the community," Bonner said. "That should, by itself, give some confidence to communities and the private developer market."
Mall Changes
Enclosed malls have fallen out of favor with shoppers over many years as shopping patterns changed, including internet-based shopping and open-air retail centers, luring some favored brands from traditional malls and bringing new retailers into regional shopping mixes.
Department stores bore the brunt of the early changes, with waves of them closing in malls over the last several years. In Battle Creek, Lakeview Square Mall lost all three of its anchors: JC Penney and Macy's in 2017, and then Sears in 2019.
Smaller, so-called "in-line" mall-based stores also are closing, like The Gap and Victoria's Secret, and that wave of closing isn't over. As many as one in five stores is likely to shutter over the next five years, according to an analysis by UBS released in April. Many will be apparel, office supply and sporting goods retailers.
The best malls, or "Class A" shopping centers with unique store mixes in affluent areas, face the fewest struggles so far, Bonner said. Examples include Somerset, in Troy.
But other malls saw signs of weakness years ago, prompting the early conversations about how to repurpose the properties. Among them has been Lakeside Mall in Sterling Heights, where the community is actively engaging with mall owner Out of the Box Ventures, an entity of Miami-based Lionheart Capital, over how to adapt the 1.5 million square feet of mall space into a new function as the retail outlook – particularly for former big box anchor stores – fades.
Out of the Box also owns additional retail sites, primarily closed anchor stores, in nearly two dozen other communities across the U.S., like closed JC Penney stores in the Bay City Mall and Midland Mall in Michigan.
Entities related to Out of the Box and Lionheart also bought the two closed stores in Battle Creek that soon will see the new uses. The third anchor there, Sears, has been owned since 2019 by TF Battle Creek MI LLC, based in Bay Harbor Islands, Florida.
Changes for Battle Creek
Details on the Horrocks purchase of the former JC Penney store were not available from the grocery store or Out of the Box. However, Dearing, the city manager, said it represents an expansion for the Battle Creek store, which will grow from 35,000 square feet to 80,000 square feet.
The store, Dearing said, "is creative and innovative. We're thrilled to have had it in Battle Creek as long as we have."
Buying a mall property is not something a local store would have had the chance to do until recently. Regional malls were financial powerhouses, generating enough income that ownership in many cases were national real estate investment trusts or groups of institutional investors.
That's still the case at Lakeview Square Mall, where GK Real Estate owns the mall itself, on behalf of investors.
But the sales of the anchor stores, which were owned by their parent companies, brings different challenges and opportunities as vacancies increase, driving down the values of the structures.
In Battle Creek, Lionheart acquired the former Macy's building at auction in 2018 for an undisclosed price. Then it was sold in April 2020 for $950,000, according to city and state records.
Sixteen years earlier, as the former Marshall Field's chain was purchased by The May Department Stores Company, the parent company of Macy's, the building was valued at $4.35 million. Adjusted for inflation, that would represent $5.95 million in 2020 dollars.
The value difference affected city tax revenue, too. As the assessment fell, the former store paid $18,900 in property taxes to the city last year, down from $96,371 in 2016, the last full year the store was open.
The purchaser was Star Battle Creek LLC, according to the city's website. State records show no filing for that entity, but city planning records show that an entity of Mustard Street Management of Rochester, New York, sought the special use permit for the self-storage facility. It was approved by the city in late 2020.
The buyers, who did not respond to interview requests, told the city that most of the 100,000 square foot building on the south side of the mall will be used for self-storage, along with the sale of packing materials. Two people were likely to staff it.
The two new uses for ex-anchor stores in Battle Creek may further affect the mall, Bonner said.
"The demand for self-storage is significant," he said about people seeking spaces in them. It's popular for investors, too, with a recent survey of self-storage operators by Marcus & Millichap showing that 73 percent of them expect rental rates to increase.
However, in a mall setting, a large self-storage facility won't be the kind of place that will drive customer traffic, or be considered an amenity as new uses are found for mall space, Bonner said.
On the other hand, a grocery like Horrocks could be just the opposite, serving as a catalyst for additional activity and inspiring creative options for property owners and the community.
"In the end," Bonner said of malls with closed anchor stores, "these properties are so large, you have to find the right mix."
Business Watch
Covering the intersection of business and policy, and informing Michigan employers and workers on the long road back from coronavirus.
Thanks to Business Watch sponsor:

Support Bridge's nonprofit civic journalism. Donate today.
We're not just a news organization, we're also your neighbors
We've been there for you with daily Michigan COVID-19 news; reporting on the emergence of the virus, daily numbers with our tracker and dashboard, exploding unemployment, and we finally were able to report on mass vaccine distribution. We report because the news impacts all of us. Will you please support our nonprofit newsroom?