Ottawa County's newly named health officer spread baseless COVID-19 info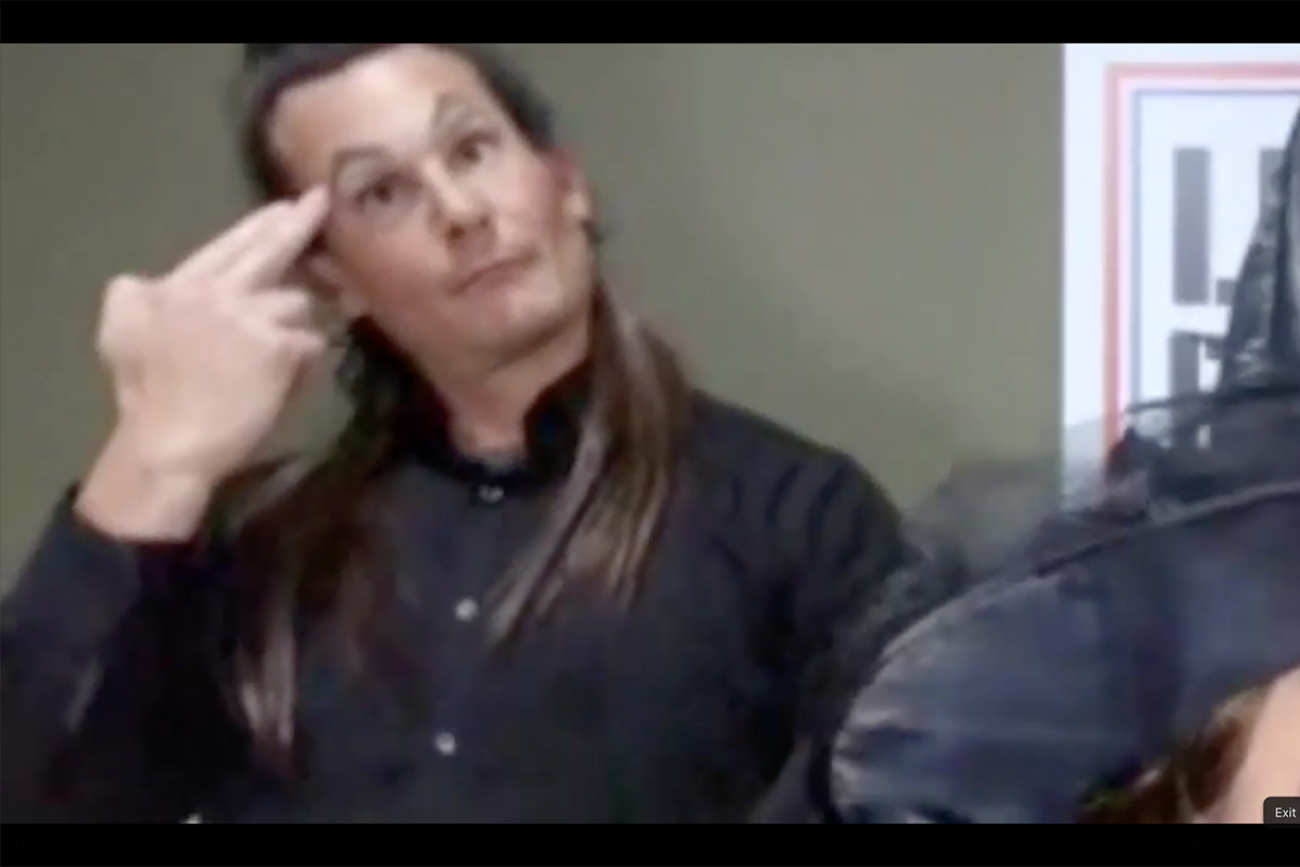 Nathaniel Kelly (left), named Wednesday as Ottawa County's new health officer, mimicked Gov. Gretchen Whitmer's sign language interpreter in a November 2021 parody video as a protest to Whitmer's pandemic lockdown orders. (screenshot)
Nathaniel Kelly, Ottawa County's newly-named health officer, has a history opposing COVID-19 regulations and pushing unproven treatments
Kelly mocked Gov. Gretchen Whitmer's sign language translator in a parody video
Critics say his hiring could undermine trust in public health
---
Jan. 10: Ottawa County hires law firm that sought to void 2020 election
LANSING — Nathaniel Kelly fought pandemic orders, spoke out against mask rules, promoted unproven treatments for COVID-19 at conservative summits and shot parody videos mocking Democratic Gov. Gretchen Whitmer's sign language interpreter.
Now, the Jamestown Township resident has been named Ottawa County's new administrative health officer pending state approval, a typically routine procedure that critics hope could still upend his surprise appointment and discourage politicization of public health offices.
Kelly, a 39-year-old self-proclaimed industrial hygienist with master's degrees in health from an online college, was given the position Tuesday during an Ottawa County Board of Commissioners meeting.
The board — dominated by conservative upstarts backed by activist group Ottawa Impact — voted to hire him as part of an aggressive overhaul of county government.
Related:
But Kelly has a history of promoting unfounded theories about COVID-19. And that has raised questions about his qualifications as county health officer.
"He's not based in reality," said Dr. Rob Davidson, an Ottawa County resident, emergency physician and executive director of the doctors group Committee to Protect Health Care. Davidson unsuccessfully ran for Congress as a Democrat in 2018.
"When we put someone like that in a position of power, it just completely undermines the whole practice of public health, and it makes the whole county look like fools."
Commissioners also eliminated the county's diversity training office on Tuesday and ousted the county's in-house corporation counsel and administrator, replacing them with a conservative law firm and John Gibbs, an unsuccessful congressional candidate who had been backed by former President Donald Trump.
The board acted with little public notice Tuesday, amending a seemingly innocuous agenda to make sweeping changes, including demotion of current health officer Adeline Hambley to an interim position until Kelly's appointment is confirmed by the state.
The actions sparked an "extensive review" from Michigan Attorney General Dana Nessel's office, Nessel spokesperson Kimberly Bush confirmed to Bridge. Nessel may be looking at whether the board complied with the state Open Meetings Act, which requires public entities to post the meeting agendas in advance and forbids meetings of a majority of members on policy matters.
The Michigan Department of Health and Human Services will review Kelly's resume and transcripts but has not yet received any evidence of his qualifications from the county, spokesperson Lynn Sutfin told Bridge Michigan. She did not respond to questions about Kelly's past COVID comments, and it's not clear if the state can even consider them in determining his qualifications.
State rules require that Kelly have a masters degree in public health and at least three years of full-time public health administrative experience, which critics say is debatable given his largely private-sector experience. If Kelly is confirmed, the county must also select a medical director with a medical degree to work with him under state law.
Kelly did not return a Bridge email for comment. Joe Moss, co-founder of Ottawa Impact and chair of the county's board of commissioners, could not be reached on Wednesday.
In November 2021, during the height of the pandemic, Kelly dressed in a parody video as Whitmer's sign language interpreter during a press conference earlier in the pandemic, when she told sports fans stadiums would be shut down. In the video, he could be seen with makeup on, miming gunshots to his head and suggesting those who took vaccine shots could fall ill or die.
During the Tuesday meeting, Kelly thanked the board for his appointment and pledged he will run the county health department free of "political bias."
"I look forward to bringing the health department into a fold where we run on completely facts and technology-driven data."
But in reality, Kelly's past claims about COVID-19 are anything but.
Unproven COVID-19 claims
Kelly has master degrees of science in public health and occupational health from Columbia Southern University, Ottawa County Commissioner Allison Miedema, who was elected in November with support from Ottawa Impact, said Tuesday.
The institution is an online college based in Orange Beach, Alabama.
Those credentials can invite challenges, Kelly acknowledged in August during the America's Frontline Industrial Hygienists & Multidisciplinary Support Summit, an anti-COVID-19 regulations conference held and attended by conservatives.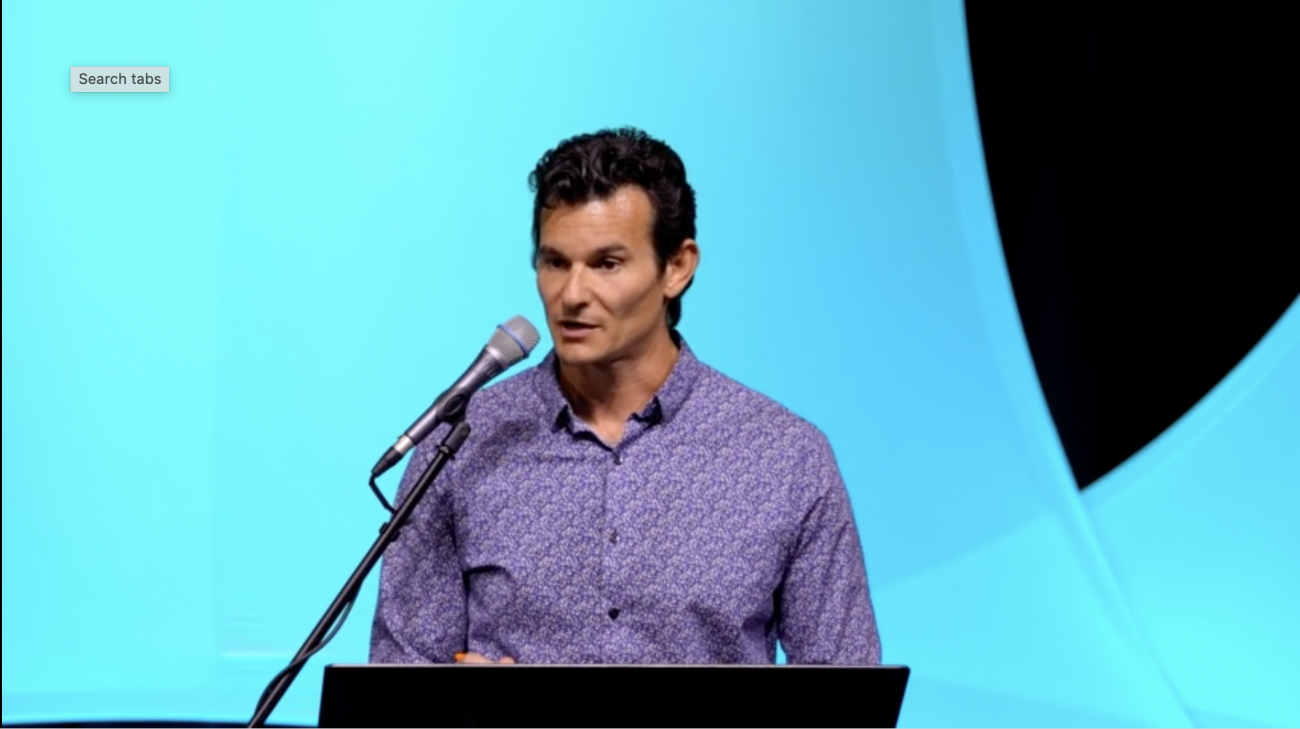 Nathaniel Kelly appears as a speaker at the America's Frontline Industrial Hygienists & Multidisciplinary Support Summit — an anti-COVID-19 regulations summit attended by conservatives — in August. He promoted unproven COVID-19 treatments and claimed without evidence masking and social distancing don't work to mitigate the spread of COVID-19. (screenshot)
"Understand my credentials and why I would put these mitigations and tactics into place and know that I would receive massive pushback," Kelly said, before giving a speech promoting unfounded COVID-19 treatment.
"I would have to stand as a rock in a storm to do what I do and put this across to you."
At the conference, Kelly said he would have "led from the front" and hold "mass trainings" as the state health director during the pandemic. He claimed without evidence that mask wearing and social distancing don't help reduce the transmission of COVID-19. He denied asymptomatic people could spread the virus, despite scientific evidence proving otherwise.
"You would see me in hospitals unmasked talking to doctors, nurses, physicians," he said.
"We would use this time to trailblaze," he added. "We do not foster fear."
Kelly said he would send each household a kit with "prophylactic medications and tools," including "Zinc, vitamin D with K2, vitamin C, ivermectin and NAC."
"A neti pot with instructions for nasal lavage would also be included," he claimed.
Kelly also suggested households should install better HVAC systems and windows must remain open at all times possible — practices also endorsed during the pandemic by public health leaders. Kelly is listed as a safety manager for Pleune Service Company, a business that offers HVAC services.
But the National Institute of Health, the World Health Organization and the Food and Drug Administration all recommended against using ivermectin — an anti-parasite drug used mostly for farm animals — to treat COVID-19, because there is no evidence the medicine is effective against the virus.
Vitamin C and zinc are supplements that are unlikely to prevent viral infections, according to the Mayo Clinic.
And there is no scientific evidence that a neti pot — a device used for nasal rinsing — is effective against COVID-19. A January 2022 study found nasal rinsing didn't help alleviate COVID-19 symptoms or reduce the viral load one carries.
Davidson, of the Protect Health Care group, told Bridge Michigan he is concerned with the hiring of Kelly. Davidson holds a master's degree in public health from the University of Michigan and is a resident of Ottawa County.
Taken at reasonable doses, supplements such as Vitamin C and D as promoted by Kelly may not do harm to human bodies but also will not cure COVID-19, Davidson noted. If Kelly is confirmed as the county's health officer, his comments about COVID-19 treatments could be particularly harmful, he said, because they could mislead the public seeking health advice.
"It gives people a false sense of security," Davidson said.
Davidson said Kelly's COVID-19 comments could have broader implications for other public health issues.
"Someone who embraces non-science-based treatments … makes me worried about other public health outbreaks," he said. "How does he feel about condoms in preventing the transmission of HIV?"
'Exposure scientist' and expert in 'industrial hygiene'
In February, Kelly co-signed a letter as one of many self-identified "professional experts in the field of industrial hygiene" to multiple federal health officials, including Dr. Anthony Fauci, former Chief Medical Advisor to the White House.
The authors opposed the Centers for Disease Control and Prevention's masking guidelines in the letter.
"The CDC is doing enormous damage to science and scientists by allowing politics to dictate public health policy rather than actual science," they wrote.
His wife, Kristen Meghan Kelly, is a self-described "exposure scientist" who also opposed mask mandates during the pandemic, The Daily Beast reported. Exposure science is the study of the effect of human contact with environmental factors by touching, swallowing or breathing, according to the National Institute of Environmental Health Sciences.
Kristen Meghan Kelly, also has described herself as a long-standing member of the far-right Oath Keepers group and a personal friend of founder Stewart Rhodes, who last year was convicted of seditious conspiracy in connection with the Jan. 6, 2021, attack on the U.S. Capitol.
The couple co-starred in the parody video in November 2021. Nathaniel Kelly dressed up in makeup to mimic Whitmer's sign language interpreter. He stood behind Tammy Clark, executive director of conservative activist group Stand Up Michigan who played Whitmer in the video, and his wife, who wore a blonde wig in front of the camera and smiled.
Nathaniel Kelly at one point aimed two fingers at his temple to mimic shooting himself in the head with a gun, as Clark read a parody speech stating the lockdown would lead to increased "blessings" such as depression, suicides, child abuse and domestic abuse, the video shows.
At another point, he mimed taking a COVID-19 vaccine shot on his left arm and leaned back, with a hand on his heart, suggesting he was falling sick or dying.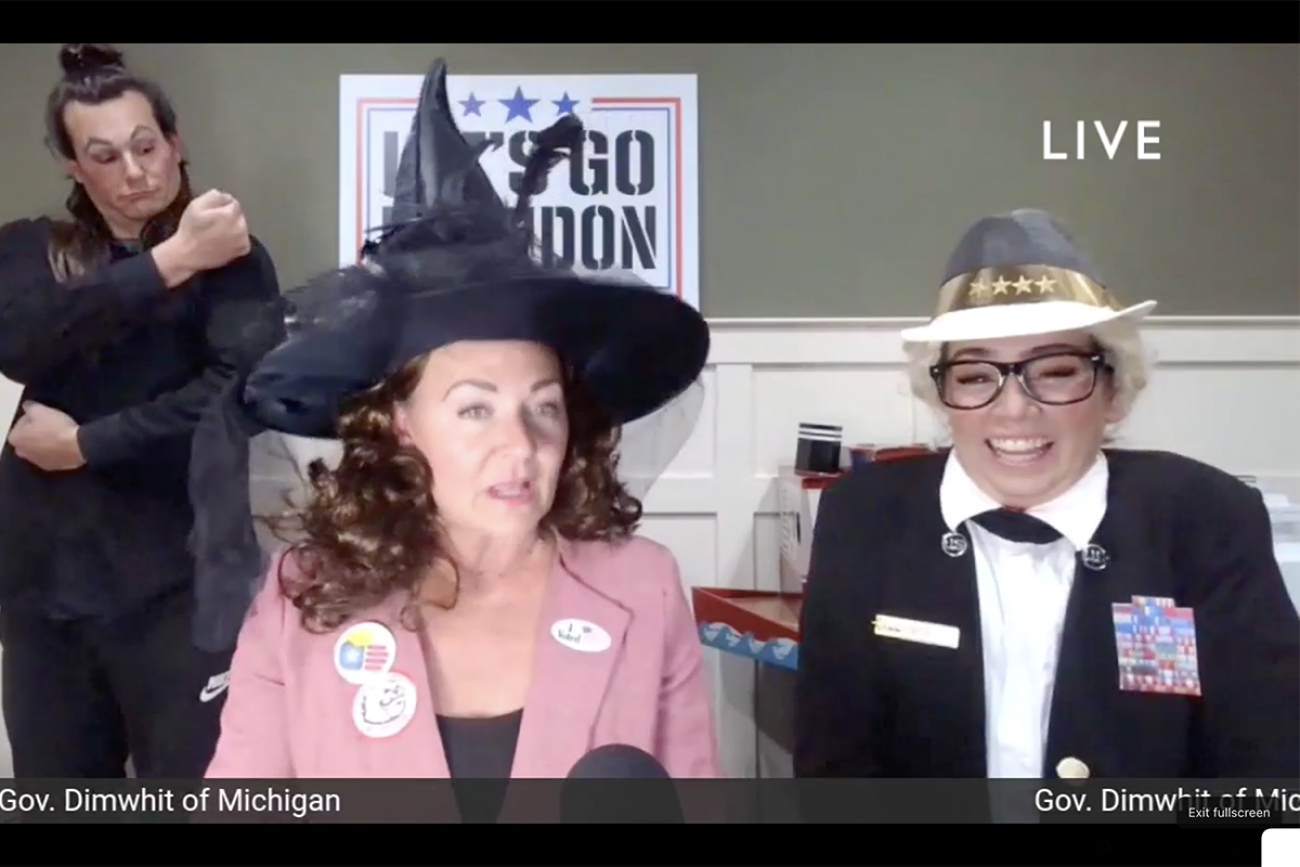 Nathaniel Kelly (left), newly named Ottawa County health officer, can be seen in this November 2021 parody video mimicking a vaccine injection and suggesting it could cause illness or death. (screenshot)
Commissioner Doug Zylstra, the only Democrat on the board, told Bridge Michigan on Wednesday he had reviewed the videos and found them "concerning."
In particular, the clip of Kelly parodying the sign language interpreter seems to be "making fun of folks who employ ASL," which "doesn't inspire confidence," Zylstra said. "To see that public officer, or potential public officer, it's disconcerting."
Reviewing credentials
Zylstra said he hopes the Michigan Department of Health and Human Services thoroughly scrutinizes Kelly's credentials and qualifications.
But he also argued the GOP majority does not have the authority to fire the current health officer, Hambley, who was appointed to the job in December and has not been cited for incompetence, misconduct or neglect of duty, requirements to fire her under state law.
"I just don't think that that's legal," Zylstra said, pointing to a 2021 analysis by former Michigan Attorney General Mike Cox, a Republican now working in private practice.
Kelly was previously an environmental health and safety specialist at Dicastal North America, an aluminum alloy wheel manufacturer, according to background information shared with commissioners prior to Tuesday's vote.
"When they talk about environmental health, obviously the air we breathe is part of that and HVACs are part of that," Zylstra said. "But … that encompasses the gamut of experience that you need to be health officer for a large county? I don't know."
The GOP majority gave other commissioners only minutes to review Kelly's background experience before voting on his appointment, which is "not the best way to do governance," Zylstra said.
The credential qualifications for a county health officer are "pretty straightforward", and the review typically involves communications between the state and local government, said Norm Hess, executive director of the Michigan Association of Local Public Health, which represents the state's county health departments.
Hess declined to weigh in on Kelly's appointment but said it is "always a concern" that such appointments may become more political in the future following battles over COVID-19 policies.
Hess noted Ottawa County had only recently hired a new health officer whose appointment was approved by the state last month. But the move to install Kelly was "not totally unexpected from Ottawa County" given the outcome of recent elections," he said.
"I think that it's always best that politics stay out of the public health arena as much as possible," Hess said. "Certainly, it's not always possible, but I like decisions to be made on the basis of public health science rather than politics."
Local public health officers have "parallel authority" to the state and have a "lot of autonomy" in the absence of state orders, Hess said.
"Later in the pandemic response, we saw that there were not as many or any statewide orders that were issued by MDHHS, so it was all about local response at that point."
Moving forward, Kelly or any other county healthy officers could choose to end free COVID-19 testing programs, for instance, Hess said. And if there was a future state mask mandate, local health officers "could definitely choose not to enforce something like that."
Only donate if we've informed you about important Michigan issues
See what new members are saying about why they donated to Bridge Michigan:
"In order for this information to be accurate and unbiased it must be underwritten by its readers, not by special interests." - Larry S.
"Not many other media sources report on the topics Bridge does." - Susan B.
"Your journalism is outstanding and rare these days." - Mark S.
If you want to ensure the future of nonpartisan, nonprofit Michigan journalism, please become a member today. You, too, will be asked why you donated and maybe we'll feature your quote next time!