New Ottawa County board ends racial diversity office, hires Trump favorite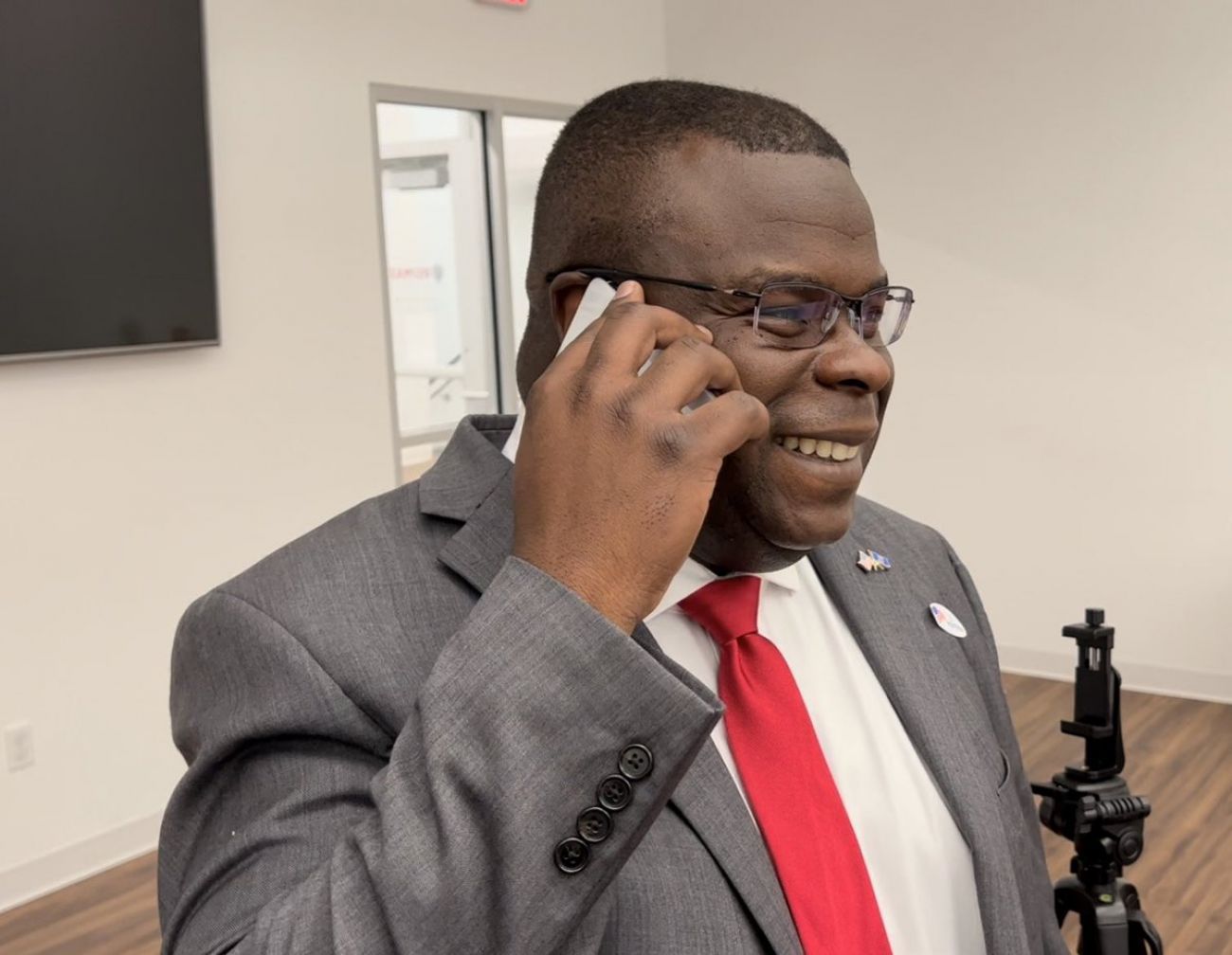 The 11-member Ottawa County Board of Commissioners on Tuesday abolished the county's diversity, equity and inclusion department and slammed it as "Marxist" teaching. Commissioners also named John Gibbs — a former President Donald Trump-endorsed congressional candidate who lost the November election — as new county administrator. (Twitter photo)
The new Ottawa County board abolished its DEI office and made other changes in line with its anti-mask, pro-freedom philosophy
The board is led by evangelical conservatives affiliated with local activist group Ottawa Impact
None of those matters were placed on public agenda ahead of the meeting
---
Jan. 10: Ottawa County hires law firm that sought to void 2020 election
Update: Ottawa County's newly named health officer spread baseless COVID-19 info
Led by grassroots conservatives opposed to pandemic mask rules and racial diversity efforts, new board members on the Ottawa County Commissioners locked in on a single agenda item Tuesday — cleaning house.
Swiftly and without notice, newly-elected Republican commissioners affiliated with the activist group Ottawa Impact dissolved the county's Diversity, Equity and Inclusion office and fired its staff. By 4:30 p.m. Tuesday, the office's website had been taken down.
The commissioners also named John Gibbs — an unsuccessful Republican congressional candidate endorsed by former President Donald Trump — as the new county administrator.
Related:
They voted to replace the in-house corporation counsel and public health officer. And they even replaced the county's motto from "Where You Belong" to "Where Freedom Rings."
"The vision statement of where you belong has been used to promote the divisive, Marxist ideology of the race equity movement," said Commissioner Sylvia Rhodea, a co-founder of Ottawa Impact, during the meeting.
Roger Bergman, former board chair and the only Republican commissioner to fend off a primary challenge from an Ottawa Impact-endorsed opponent, told Bridge Michigan the DEI office had two employees — director Robyn Afrik and her assistant.
In expectation of Afrik's firing after the new commissioners were seated, the previous board in October approved a severance package for Afrik, giving her three months of severance pay once she was terminated.
The county's longstanding public health officer, Lisa Stefanovsky, signaled last summer she too would not be around for long. Just weeks after the Ottawa Impact-backed commission candidates won their primaries in August, Stefanovsky, who had served in that position since 2006, announced she would retire.
Tuesday's vote marked the commission's first meeting since a slate of eight Ottawa Impact-endorsed commissioners assumed office Jan. 1. The commissioners — most of whom had never worked in the public sector — crushed more moderate Republican county commissioners in the Aug. 2 primary.
Their victory marked the latest turn in a civil war between two factions of Republicans in the traditionally conservative west Michigan county that has not voted for a Democratic president since 1864. With 296,000 residents, the county is the seventh largest in the state and growing fast, adding 32,000 people — or 12 percent — over the last decade.
Eight Ottawa Impact members now dominate the 11-member board. The board has 10 Republicans and a single Democrat.
The new board members ran largely on culture war issues, such as protesting mask mandates in schools, opposing diversity training, demanding more parental control over school curriculum and health decisions and increasing election security. They tout American exceptionalism and argued that diversity training and its likes threaten that notion.
Joe Moss, another co-founder of Ottawa Impact and chair of the new board, formed the organization in 2021 after Libertas Christian School, a private school his daughter attended during the pandemic, refused to comply with state mask mandates.
The group endorsed nine challengers — Moss included — running for county commissioner and helped produce political ads, develop near identical campaign websites and cover much of the campaign costs. The nine candidates raised more than $82,000 by Aug. 2 and spent over $53,000, campaign finance data shows.
During the Tuesday meeting, Rhodea moved to replace current corporate counsel Doug Van Essen with Kallman Legal Group LLC, whose founder led legal challenges against the state's pandemic policies.
David Kallman, the founder, has sued over university vaccine mandates, fought LGBT anti-discrimination policies and represented Owosso barber Karl Manke, who defied Gov. Gretchen Whitmer's pandemic lockdown orders. He also represented local prosecutors who wanted to enforce the state's 1931 abortion ban in the months after Roe v. Wade was struck down but before voters enshrined abortion rights in the state Constitution.
Rhodea called Kallman's firm a "highly respected, highly esteemed legal firm" in Michigan on Tuesday.
"They have been in the news frequently because they are so highly esteemed," she said during the meeting. "They are a constitutional law firm and have taken cases for people that have been very meaningful and important to freedom."
The board also voted to hire Nathaniel Kelly — a Hudsonville resident who protested critical race theory and accused the Hudsonville Public Schools board of "gaslighting" at a July board meeting — as the county's new health officer. The hire must be approved by the state.
In February, Kelly was one of several people who identified themselves as "professional experts in the field of industrial hygiene" who signed a letter to multiple federal health officials — including Dr. Anthony Fauci, former chief medical advisor to the White House — opposing the masking guidance of the U.S. Centers for Disease Control and Prevention.
His wife, Kristen Meghan Kelly, is a self-described "exposure scientist" and anti-mask activist in Michigan, the Daily Beast reported.
Ottawa's diversity, equity and inclusion office was established in 2018 and cost the county $630,000 in its first five years. The board's vote to defund and dissolve the office is something Ottawa Impact vehemently advocated for last year. Rhodea argued in a blog post last year the training is "a divisive Marxist ideology and the platform of progressive Democrat socialists."
None of the new board's major actions Tuesday were placed on the public meeting agenda ahead of time. The meeting was held in West Olive and streamed online.
Following the votes, multiple county residents thanked the board for closing the DEI office and the replacement of county positions. Many described the election of the board as "historic." One woman said the board's decisions on Tuesday brought tears to her eyes.
A few spoke against the decisions, with one woman calling those attending the Tuesday meeting the "vocal minority" and the meeting itself "a huge [injustice] today."
Bergman, the former board chair who remains on the board, told Bridge he was "shocked" by the abrupt decisions Tuesday to fire county officials and staff.
Bergman left the meeting following the appointment of Gibbs as administrator. He told Bridge he left because of back problems and because he was "sick about" the decision to fire now-former administrator John Shay, who became deputy county administrator in June 2018 and then the county administrator in March.
"It was like, ah, I can't believe" it, Bergman said. "I think John (Shay) was as shocked as I was."
Bergman called Tuesday "a sad day" and urged Ottawa County voters to vote out the Ottawa Impact-affiliated commissioners in 2024.
"I just hope that residents of Ottawa County speak out and say, 'This is not right. This is not who we are,'" he said. "This a vocal minority of Ottawa County that are so loud, that have gotten away with so much, and I just hope that the citizens of Ottawa County wake up and say, 'Enough is enough. This has to stop.'"
Moss and Rhodea could not be immediately reached for comments.
Jonathan Oosting and Mike Wilkinson contributed reporting.
We're not just a news organization, we're also your neighbors
We've been there for you with daily Michigan COVID-19 news; reporting on the emergence of the virus, daily numbers with our tracker and dashboard, exploding unemployment, and we finally were able to report on mass vaccine distribution. We report because the news impacts all of us. Will you please support our nonprofit newsroom?