As tensions rise, Gov. Whitmer faces Michigan showdown on quarantine order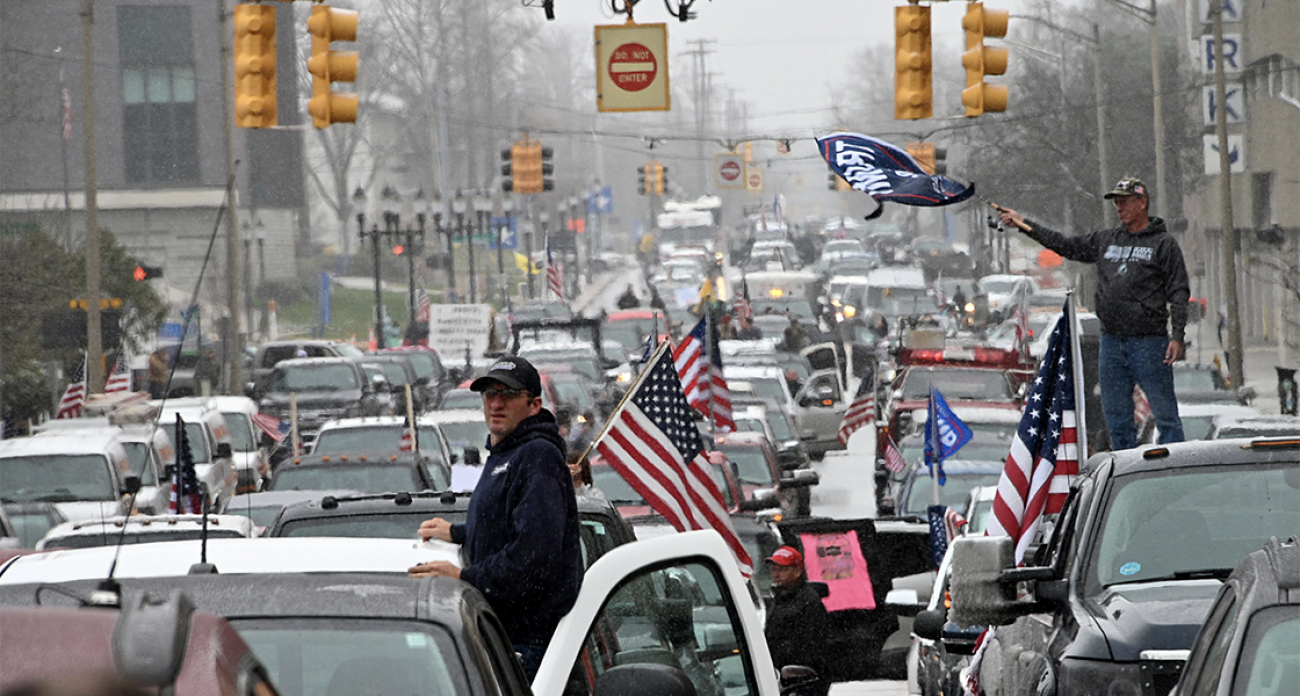 On Thursday, pro- and anti-quarantine protesters plan to face off in dueling demonstrations on the Capitol grounds in Lansing, two weeks after armed activists set off a heated debate over the limits of gun rights.
Across parts of Michigan, businesses, residents and some law enforcement agencies are openly flouting restrictions put in place by Gov. Gretchen Whitmer in order to slow the spread of the coronavirus.
And on Friday, lawyers for Republican state lawmakers will argue in court why those restrictions cross the line into unconstitutionality in one of the most high-profile showdowns yet between the Democratic governor and GOP leaders.
Strung together, the week's events put Michigan at the forefront of a combustible clash between personal freedoms and a governor's emergency powers during a once-in-a-century pandemic. It's a challenge being contemplated in states across the country as they consider whether and how to loosen restrictions in the face of public health warnings and economic catastrophe.
It's also a high-stakes political test for Michigan's first-term governor, whose response is being watched across the state and much of the nation.
"Usually in a national crisis, the country rallies. We often see this reflected in a rally-around-the-flag effect," said David Dulio, a professor of political science at Oakland University.
"The divisions that are exposing themselves in Michigan, those are due to the incredibly politically polarized times that we're living in. Everything seems to always turn out that it gets ratcheted up."
Protests ahead
On Thursday, Lansing will see the third in a series of protests against Whitmer's executive orders. The first, put on by the Michigan Conservative Coalition on April 15, was supposed to be limited to a parade of cars honking horns, sporting signs and blocking Lansing streets. Hundreds of people ended up walking on the Capitol lawn, breaking social distancing guidelines as they protested. It became one of the first of a series of similar demonstrations around the country.
The second protest was put on on April 30 by Michigan United for Liberty, a group formed in March in response to the "government overreach by Governor Gretchen Whitmer." In one chaotic day, the GOP-led Legislature denied Whitmer's request to extend her emergency powers, Whitmer signed a new declaration extending the state of emergency through May 28, and hundreds of demonstrators showed up to the Capitol carrying signs decrying Whitmer.
In attendance were members of the Michigan Liberty Militia, carrying rifles and wearing tactical gear. Organizers said they were invited to serve as security detail. Protestors, some with guns, went into the building and demanded access to the House floor, yelled at police and heckled legislators from the gallery.
Democratic lawmakers came away from the day shaken. Sen. Sylvia Santana of Detroit wore a bulletproof vest and Rep. Sarah Anthony of Lansing came to the building the next week accompanied by an armed escort to protest what she said were the protesters' tactics of "intimidation and fear." Senate Majority Leader Mike Shirkey, R-Clarklake, a vocal Second Amendment advocate, supported peaceful protesters but called the threatening demonstrators "a bunch of jackasses" on Facebook.
Photos of armed white protesters above the Senate floor drew immediate comparisons with an incident in 1999, when House Republicans installed a metal detector outside the gallery when demonstrators from the predominantly African-American city of Detroit came to the Capitol to protest a takeover of city schools.
In the days since, it's renewed a debate about whether firearms — which are currently allowed in the Capitol building — should be barred. A panel mostly appointed by Republicans decided not to act Monday, instead forming a committee to consider the question, a decision decried by Democrats who accused the commission of delaying to please Republican leadership.
Raising the political temperature further, the Detroit Metro Times reported Monday that at least four private anti-quarantine Facebook groups featured violent threats being made against officials, including Whitmer, ahead of the Thursday protest.
"We need a good old-fashioned lynch mob to storm the Capitol, drag her tyrannical ass out onto the street and string her up as our forefathers would have," one man wrote.
With all this in the rearview, it's heightened the stakes for Michigan United for Liberty's protest Thursday. Nearly 500 people have RSVP'd to the event on the group's website.
Group administrators did not respond Tuesday evening to a detailed inquiry from Bridge about the protest. But the group posted a warning to gun-carrying attendees on Facebook: "This is a reminder that if you choose to carry on the 14th, please do so responsibly!! They will be watching us. We need our 2A rights protected just as much as our 1st Amendment rights."
While certainly the largest group pledging to show up to Lansing, they may not be alone. A small counterprotest is organized by Lansing-based Democratic activist Mike McCurdy, who said he felt it was important to stand up to some protesters' use of "consistently racist symbology" like confederate flags and, in one instance from the first protest, a Republican congressional candidate who appeared in a photo with a member of the Proud Boys, a far-right "western chauvinist" group.
"It's dangerous, it's a little bit scary. A lot of angry armed people gathering together who have been making death threats against our governor and other people," McCurdy said. "Anybody we get we'll be happy to be out there."
Michael Lynn Jr. — a Lansing firefighter who was among six locals who escorted Anthony to the Capitol building with firearms last week, citing the threat of white supremacists — told Bridge his group has offered the same services to four lawmakers and will show up if they accept, though no one has yet.
"We had to do something," Lynn said. "We didn't believe that it's fair for them to stack the deck by intimidating our elected officials."
Michigan State Police, accused by a community health board in Ingham County on Monday of endangering public health by failing to enforce social distancing rules during previous protests, also expects to step up their enforcement Thursday. At the previous protests, state police did not issue any tickets but made two arrests, one for assault and one for disorderly conduct.
"It is our expectation that anyone coming to the Capitol on Thursday will adhere to the Executive Orders in regards to wearing face coverings and practicing social distancing for their own safety and that of everyone else," spokesperson Shanon Banner told Bridge in an email.
"Based on previous demonstrations over the last couple of weeks, it is evident that not all people voluntarily comply with the safety measures put in place through executive order to slow the spread of COVID-19, and for those people, we will be prepared to take enforcement action, as necessary."
A battle over enforcement
Outside of Capitol grounds and around the state, local police and sheriff's departments have been responsible for enforcing Whitmer's executive orders.
In some places, like Detroit, that's resulted in hundreds of citations for people who ignore safety measures.
But in other areas, it's clear people won't face consequences for violating the directives, at least for now. Last month, sheriffs in four northern Michigan counties — Benzie, Manistee, Mason and Leelanau — said they won't enforce Whitmer's "vague" executive orders, which they said overstepped her executive authority.
And on Monday, a Shiawassee County Circuit Court judge declined a request from the Attorney General's office to shut down an Owosso barber who has stayed open despite the shutdown orders. Members of another militia, the Michigan Home Guard, stood watch over 77-year-old Karl Manke's business Monday in case the police came to shut him down.
"I don't need the governor to be my mother," Manke told the Flint Journal as he became an unlikely folk hero to conservatives protesting Whitmer's economic lockdown. "I'll be open until Jesus walks in or until they arrest me," he vowed.
(1/2) This is Karl Manke. He owns a barber shop in Owosso & is refusing to close despite Governor Whitmer's order. #Michigan State Police issued him a Health Protection Order from the Attorney General today. Karl says he has no animosity toward the Governor, he just wants to work pic.twitter.com/3tErKC03cL

— Jonathan Deutsch (@JonathanD_TV) May 9, 2020
Asked about the barber and those like him Monday, Whitmer said her orders "are not optional" and carry the weight of law, and "I expect people to follow the law." She did not address, however, how or whether she might compel local police to enforce the law.
"It absolutely matters" whether the executive orders are enforced, Dulio of Oakland University said. Without enforcement measures, it's up to people to self-police, which can get harder over a long period of time.
The Whitmer administration may have options for Manke and others, like pulling business licenses or, in the case of Capitol protests, direct state police to step up citations. But each option carries political risks.
If the administration does nothing to enforce it, it gives people the message that it's OK to flout the rules, Dulio said. "And if you crack down, you look like a tyrant. I wouldn't want to be in her position."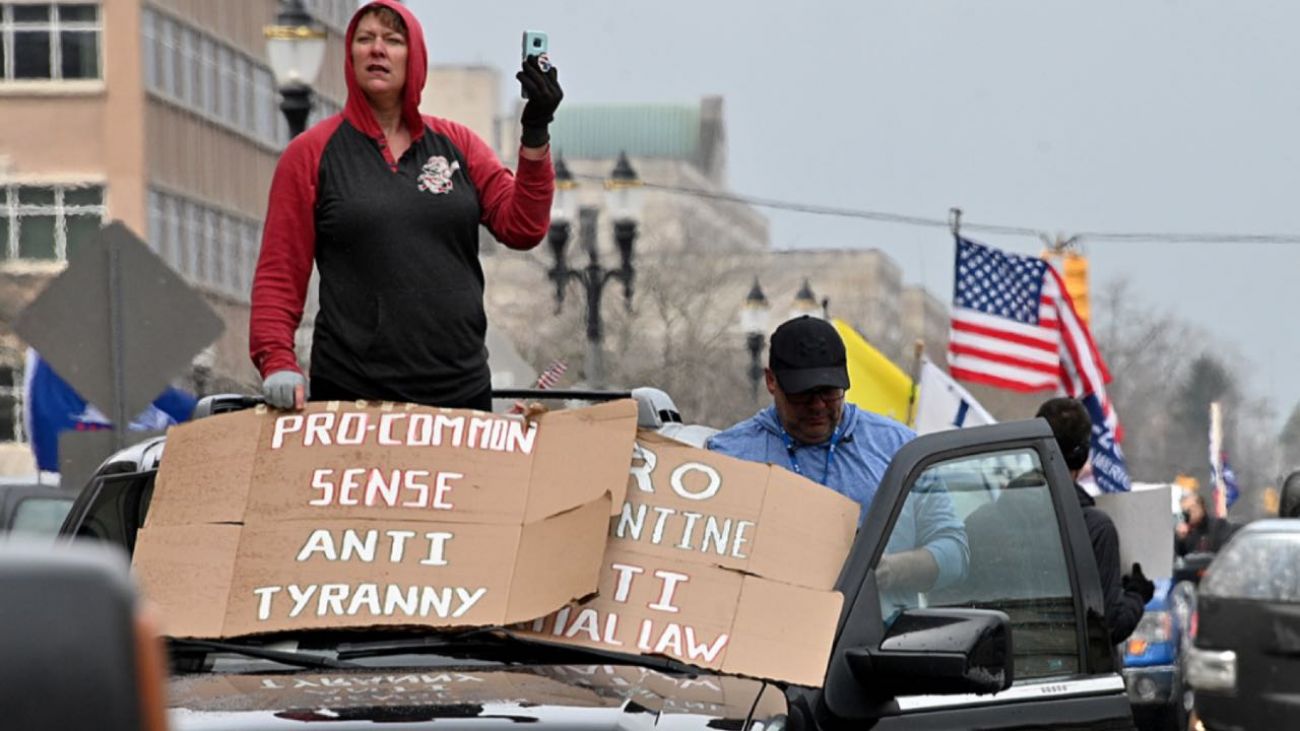 The legal fight ahead
Dulio and Matt Grossmann, director of the Institute for Public Policy and Social Research at Michigan State University, noted that while protests and civil disobedience from businesses might get a lot of attention, a majority of Michiganders still approve of Whitmer's handling of the pandemic.
"There's a lot more fury on display, but the actual public opinion data suggests that the public is supportive of the policies and in no hurry to change direction," Grossmann said.
Republicans in the state Legislature have said they at least want a say in what that direction will be — and they're taking Whitmer to court to prove that they deserve it.
The GOP-led House and Senate filed a suit against Whitmer last week, claiming her decision to extend her emergency powers without their approval is illegal and "nonsensical." Whitmer contends she does have a right to extend her powers — and the orders enabled by them, such as the stay-at-order — without their approval because of a 1945 law that doesn't require lawmakers to sign off.
The parties are set to argue their case Friday morning before Court of Claims Judge Cynthia Stephens. It's expected to eventually head to the state Supreme Court.
Some legal experts have said it seems unlikely the Legislature will prevail, with one — John Pirich, a elections lawyer who has worked for Republicans but backed Whitmer in the 2016 election — telling Bridge that Whitmer's power is "crystal clear on its face."
But that doesn't mean the GOP doesn't have a significant stake in trying: "They look at themselves as a co-equal branch of government in a system that has shared powers and I think they want to try to help, or at least influence public policy," Dulio said.
Grossmann argued that they have already influenced the governor multiple times: GOP leaders cried foul after Whitmer issued a second stay-at-home order with new limitations on retail stores and travel, and Whitmer later relaxed those rules in a later order. They also pushed for the governor to reopen low-risk industries before others, which eventually led her to open manufacturing, construction and outdoor industries.
But for both Whitmer and the GOP, the political powers and posturing will likely matter less than the outcome for public health, Grossmann said.
"People will forget the hubbub if the policy is successful or unsuccessful," he said.
"We get caught up in the messaging wars, but this is a case where people will really notice if the [COVID-19] cases start to go back up, if there has to be a change in policy again, or if it's lifted and things go back to normal. People will notice all of those different outcomes and that's far more important than the political ones."
Only donate if we've informed you about important Michigan issues
See what new members are saying about why they donated to Bridge Michigan:
"In order for this information to be accurate and unbiased it must be underwritten by its readers, not by special interests." - Larry S.
"Not many other media sources report on the topics Bridge does." - Susan B.
"Your journalism is outstanding and rare these days." - Mark S.
If you want to ensure the future of nonpartisan, nonprofit Michigan journalism, please become a member today. You, too, will be asked why you donated and maybe we'll feature your quote next time!