No, the Michigan Capitol Commission will not ban guns, at least not yet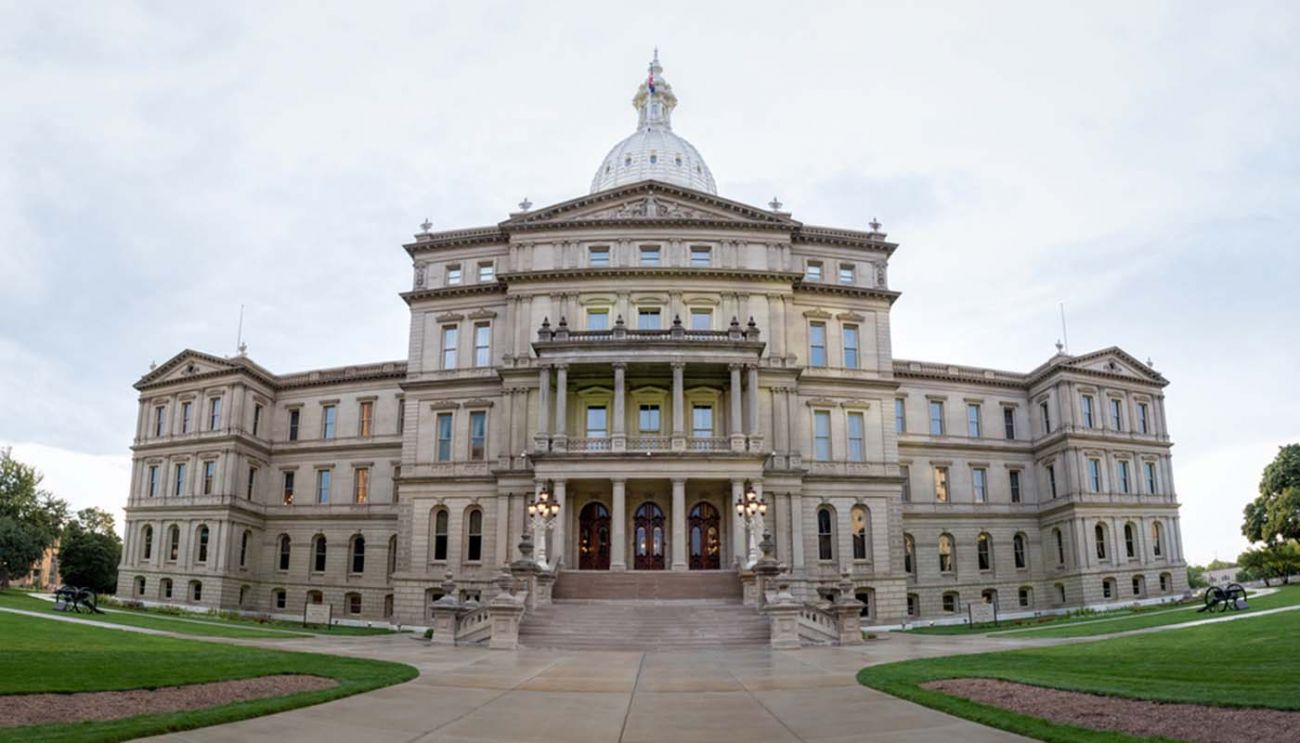 LANSING — The Michigan Capitol Commission will not immediately ban guns at the building despite the potential for more armed demonstrators this week at another planned protest over Gov. Gretchen Whitmer's coronavirus stay-at-home order.
Instead, the six-member commission voted Monday to form a new four-member committee that will study possible regulations in the wake of an April 30 protest that drew militia members and other armed activists who carried rifles into the Michigan Capitol and onto a balcony overlooking state senators at work.
The committee will consult with the Republican-led Legislature and Democratic administration before developing recommendations on how to regulate firearms in the building — or if the unelected commission even has that authority, which some members questioned despite a formal legal opinion from Attorney General Dana Nessel, who said they can and should take action.
Chairman Gary Randall said the commission, whose membership is largely decided by GOP legislative leaders, is not attempting to "stonewall" or delay debate. He promised to "set out an aggressive schedule to deal with the issue" even though there is no clear timeline for how long the committee review will take.
"I don't like seeing weapons in the building either, but I think we have to be very careful we're not overstepping our bounds," said commissioner John Truscott, who served as press secretary to Republican former Gov. John Engler.
He argued members of the commission, created under a 2013 state law, are intended to serve as "museum caretakers and gardeners" for the historic building — not to decide firearm regulations typically put into state law.
"We've been thrust into a very difficult political issue," Truscott said during a virtual meeting on Zoom that was marred by technological problems, a 100-viewer license that limited public participation and online threats that prompted commissioners to end early.
Nessel issued a formal legal opinion earlier Monday concluding the commission has the authority to ban guns at the Capitol. If commissioners don't do so, it's because they "lack the will," Nessel wrote on Twitter shortly before the meeting began.
Senate Majority Leader Mike Shirkey, R-Clarklake, also wrote commissioners before the meeting and asked them to delay any decisions until consulting with legislative leaders, Senate and House Sergeants and Michigan State Police that oversee Capitol security.
"We must work together to evaluate our options and develop a thoughtful policy for our workplace and our citizens," Shirkey said in a letter to Randall, a former Republican lawmaker who now serves as House Clerk.
"Our citizens have an expectation to freely demonstrate and redress their government at their state Capitol Building," Shirkey wrote. "Likewise, legislators, staff, and visitors have an expectation of personal safety and security while on the premises. A simple vote of the Commission will not be an adequate solution to this problem."
Current Michigan law does not prohibit openly carried or concealed guns at the Capitol, and statute also generally prohibits local governments from adopting firearm regulations that are more stringent than the state.
But the commision is not a local unit of government, Nessel wrote in her legal opinion. Rather, it is "the caretaker of the Capitol — the hub of democracy for all Michiganders."
The Michigan Supreme Court has long barred firearms in state courtrooms under an administrative rule, Nessel noted. And the first-term Democrat pointed to a 2018 Michigan Supreme Court ruling authorizing school districts to enact their own firearm regulations because state law only forbids cities, villages, townships and counties from doing so.
The commission is "vested with the exclusive, broad, authority to 'operate and manage' the Capitol site," which includes an obligation to care for and protect the safety of those working in and visiting the building, Nessel concluded.
"And in fulfilling that obligation, the commission, like the Michigan Supreme Court, is not prohibited from placing restrictions on carrying firearms at facilities under its control," she wrote.
House Minority Leader Christine Greig, D-Farmington Hills, had asked Nessel for the formal legal opinion in a Saturday letter, arguing that allowing firearms into the Capitol during recent protests has "invited armed intimidation of legislators, staff, and members of the general public."
"Such intimidation is injurious to the legislative process and undermines representative democracy," Greig wrote. "The question of the commission's authority has been given new exigency given recent disturbing events at the Capitol that have left many legislators and citizens deeply concerned for their safety and wellbeing."
Formal opinions from the attorney are generally binding on state agencies, but Nessel's opinion only authorized action by the Capitol Commission, if it chose to take it; it did not require any regulations.
Amy Shaw, a legal consultant for the Michigan Capitol Commission who works as legislative director for GOP state Sen. Peter MacGregor of Rockford, contradicted Nessel's opinion and told commissioners they cannot "change state law and affect constitutional rights."
The Capitol Commission is "in charge of restoration woodwork, historic paintings, vintage chandeliers, polishing marble floors, planting flowers and docent tours," Shaw said. It "does not set public policy. The Legislature does."
The debate followed an April 30 protest against Whitmer and her executive orders issued in response to the coronavirus pandemic, which as of Sunday had killed at least 4,551 people in Michigan. The state has confirmed 47,138 COVID-19 cases since March 10.
Organizers of that protest invited militia members to serve as their "security" force outside the Capitol, and some armed demonstrators eventually entered the building as Republican lawmakers developed legislation to challenge the governor's emergency authority.
While lawmakers sat on the Senate floor during session, men with rifles stood in the gallery above them "yelling at us," Sen. Dayne Polehanki, D-Livonia, said at the time. Sen. Sylvia Sanatana, D-Detroit, wore a bulletproof vest on the floor as a form of personal protection.
Shirkey later said many protested safely but condemned those who used "intimidation and the threat of physical harm to stir up fear and feed rancor," calling them "jackasses."
The Detroit Metro Times reported Monday that activists are planning another protest at the Michigan Capitol on Thursday. In social media postings, some users have promoted violence against Whitmer, with one commenter suggesting protesters could have "taken over" the Capitol on April 30. That was "just a display," the person said, but "next time won't be!"
In a press briefing later Monday, Whitmer said she was "very disappointed" that the Capitol Commission did not take action to "keep the Legislature safe" and urged Republican leaders to help "lower the heat" by denouncing violent rhetoric.
"In America, we respect people's right to speak out," the governor said. "Their freedom of speech is something I respect, but they have a duty do to it in a way that doesn't compromise others, or threaten others, or compromise our first responders."
Shaw, in her presentation to commissioners, said she is aware that legislators expressed "fear and intimidation" because of the armed protesters who towered over them from the Senate gallery, a demonstration she called "disturbing."
"I totally understand the passion behind those urging the commission to go beyond their authority to act in a hope that their hail mary pass quickly accomplishes their goals," she said.
Bill Kandler, a longtime Lansing lobbyist appointed to the commission by Whitmer, said he was "disappointed" by Shaw's comments, suggesting her legal advice sounded more like a "political commentary."
Joan Bauer, a Democratic former state lawmaker also appointed to the commission by Whitmer, argued the panel should regulate firearms to ensure legislators working in the building can "make decisions for the people of Michigan without fear of reprisal" from armed demonstrators.
But Bauer and Kandler were outnumbered on the commission. Membership is largely controlled by legislative leaders, who effectively decide four of the six appointments. Republicans currently control the Michigan House and Senate.
Greig, the Democratic House leader, accused commissioners of attempting to "appease Republican leadership" by delaying any vote on firearm regulations.
"With very real threats of the continued presence of assault style weapons at future meetings of the legislature, and numerous and many specific threats of violence against legislators and statewide officials, this matter is not resolved," she said in a statement. "We must ensure the safety and security of everyone who enters our state Capitol."
Shirkey and House Speaker Lee Chatfield, R-Levering, are both vocal Second Amendment advocates. They have spoken at previous gun rights rallies outside the Capitol, including an annual event where open carry advocates have routinely brought firearms into the building without incident.
"This is the people's house, and the people's Capitol, and they have constitutional rights," Chatfield said last week on a MIRS News podcast.
"You have to be very careful before you say you can exercise one constitutional right by coming in and protesting, but you can't exercise another. And so I support people having the ability to exercise their constitutional rights in a responsible way, and I'm certainly not going to say anything different than that."
However, Chatfield supports a separate rule that prohibits signs in the Michigan Capitol, which he said is "appropriate and should stay in place" despite First Amendment concerns raised by some critics.
Commissioner Kerry Chartkoff, who formerly served as the official Capitol historian, clarified that all signs are not banned inside the building — only those attached to sticks. The rule is designed to protect the building from accidental damage, she said.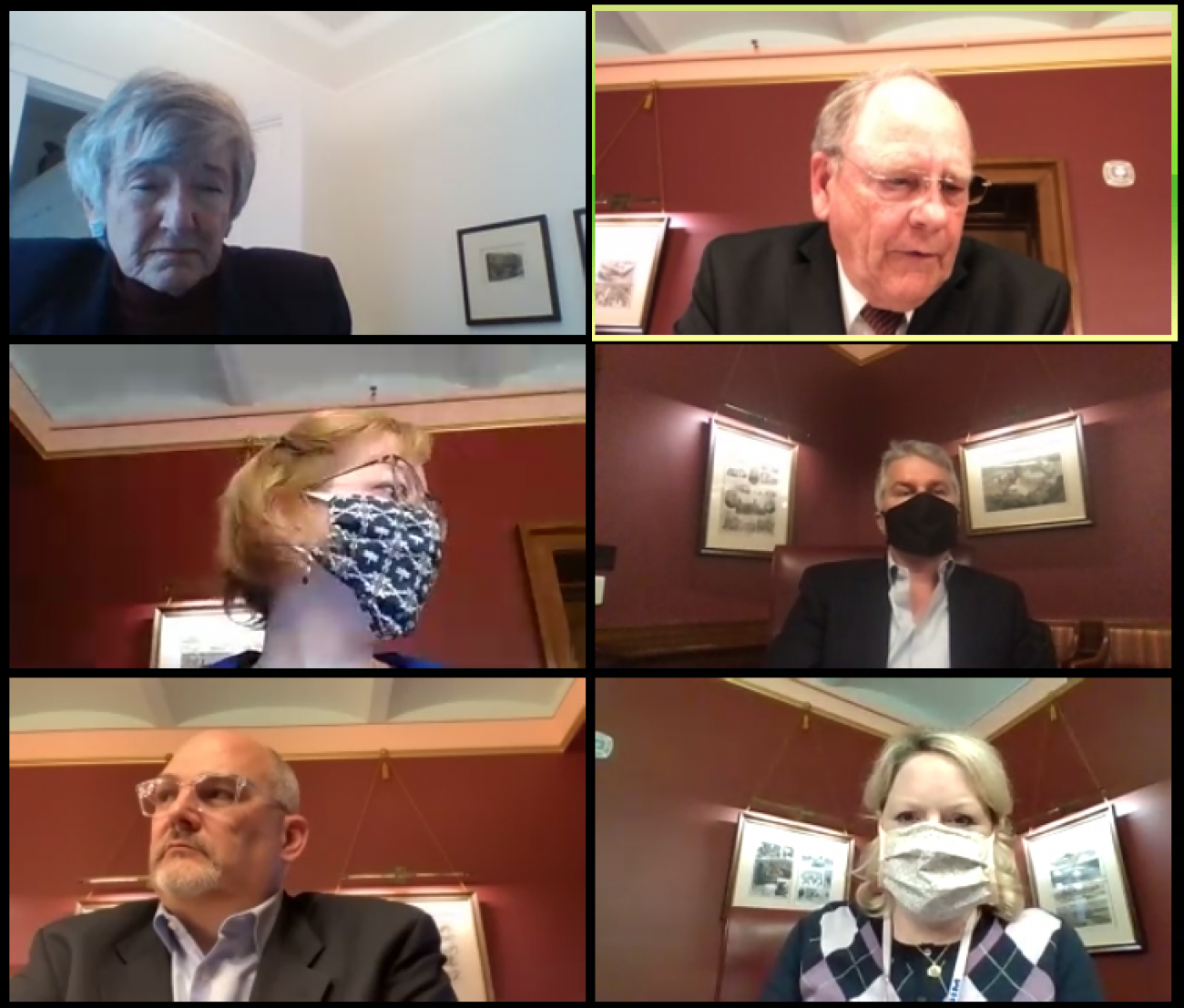 We're not just gardeners," Chartkoff said, pushing back against Truscott's assertion the commission has little power. "We have the wellbeing of the Capitol and the wellbeing of all those who come to the building under our… authority."
Chartkoff said she thinks the commission "does need to do something" about firearms in the Capitol. "But we can't do it in haste," she said before voting to create the new committee. "This just suddenly popped out of nowhere for us in many ways, and I think we need to take a little time to review it, discuss it and decide how we're going to approach it."
Michigan law generally prohibits firearms in places like banks, churches, theaters, sports arenas, day care centers, schools and liquor stores. However, in what critics call a loophole, state statutes exempt concealed pistol permit holders from related penalties.
That means permit holders can openly carry firearms in some "gun-free" zones, according to a 2018 opinion from former Attorney General Bill Schuette's office. But universities and K-12 schools can set their own policies to ban firearms, and guns are never allowed in casinos, airports, casinos or correctional facilities, the opinion said.
The federal government prohibits firearms in various government buildings, including the U.S. Capitol. And in Michigan, employers can also adopt policies to prohibit employees from carrying guns in their private facilities.
"Members of our Legislature should not have to wear bullet proof vests or be escorted by armed guards in order to serve the people of this state," Nessel said Monday in a letter to Greig that accompanied her legal opinion. "Quite the opposite. You are as deserving of safety as the teachers in our schools, the nurses in our hospitals, those who use or work in our courts, and those who attend our houses of worship."
We're not just a news organization, we're also your neighbors
We've been there for you with daily Michigan COVID-19 news; reporting on the emergence of the virus, daily numbers with our tracker and dashboard, exploding unemployment, and we finally were able to report on mass vaccine distribution. We report because the news impacts all of us. Will you please support our nonprofit newsroom?