Meet the Trump-loving group behind protest of Gov. Whitmer's stay-home order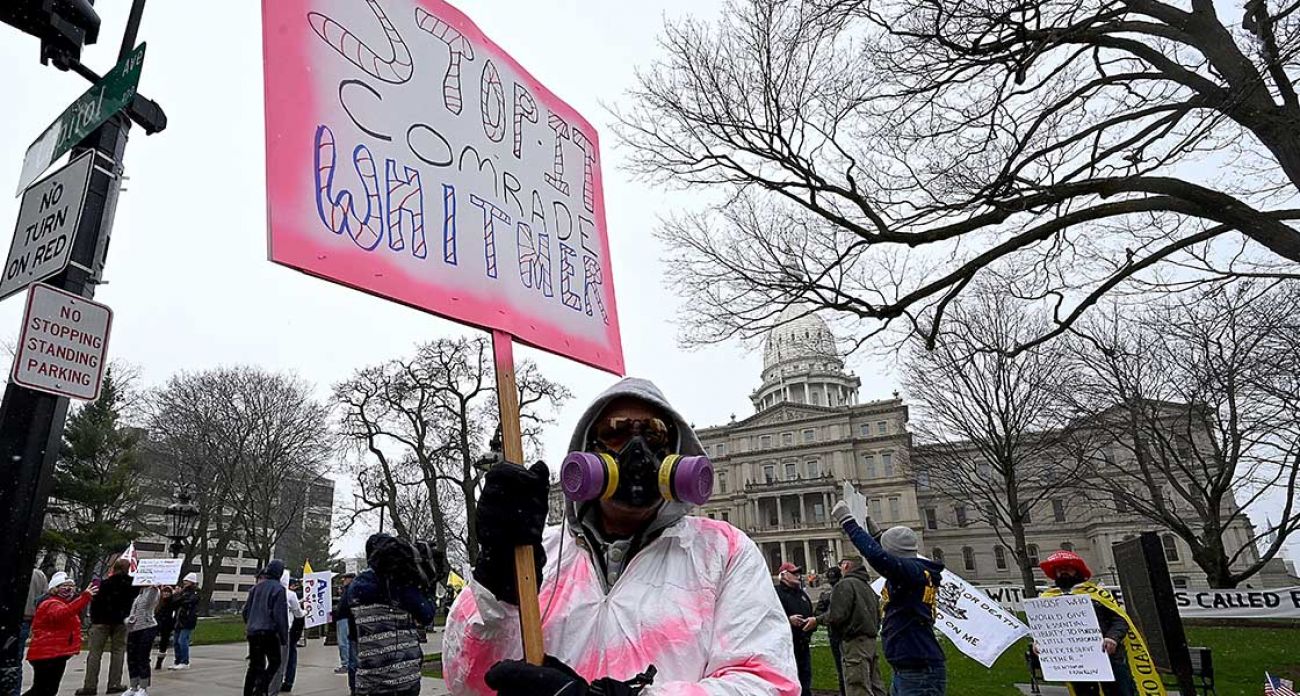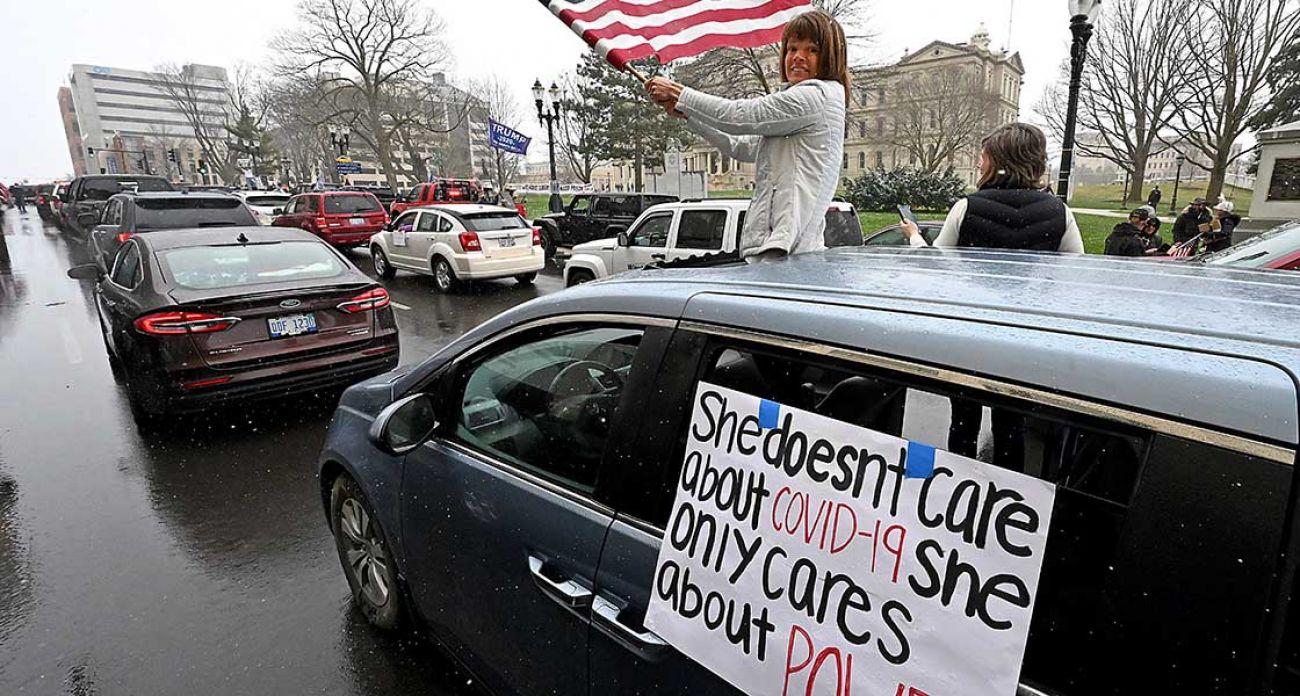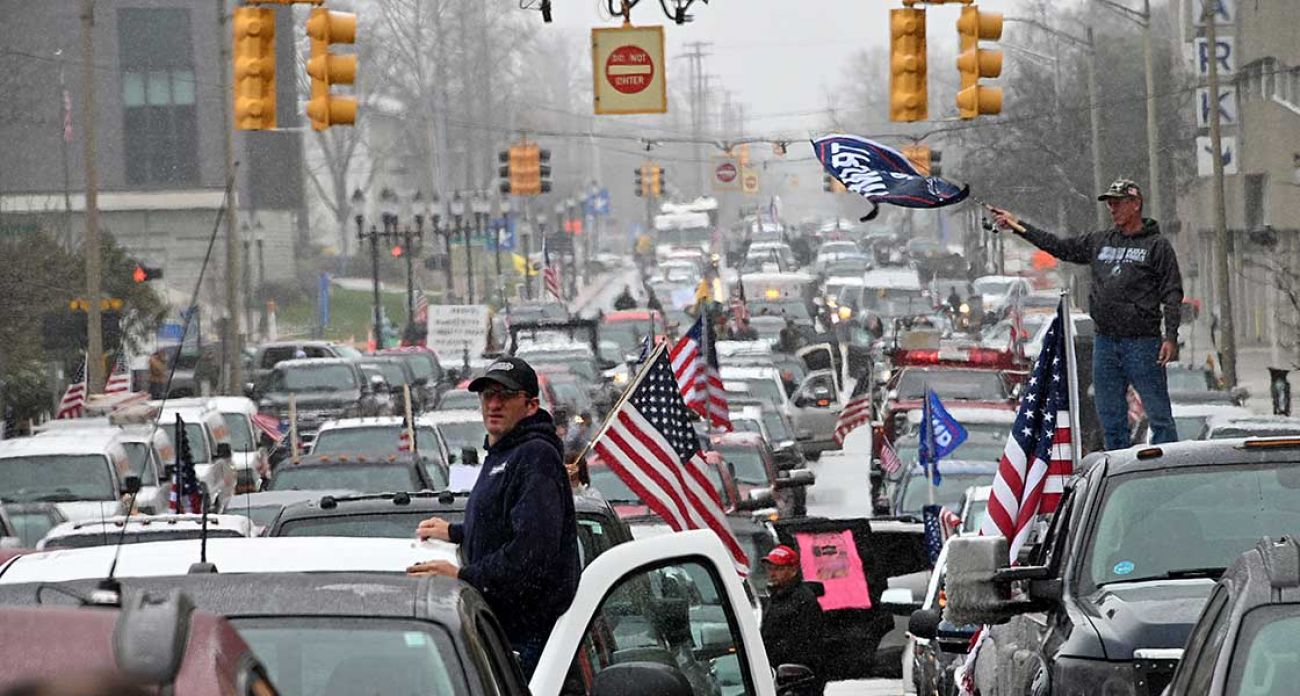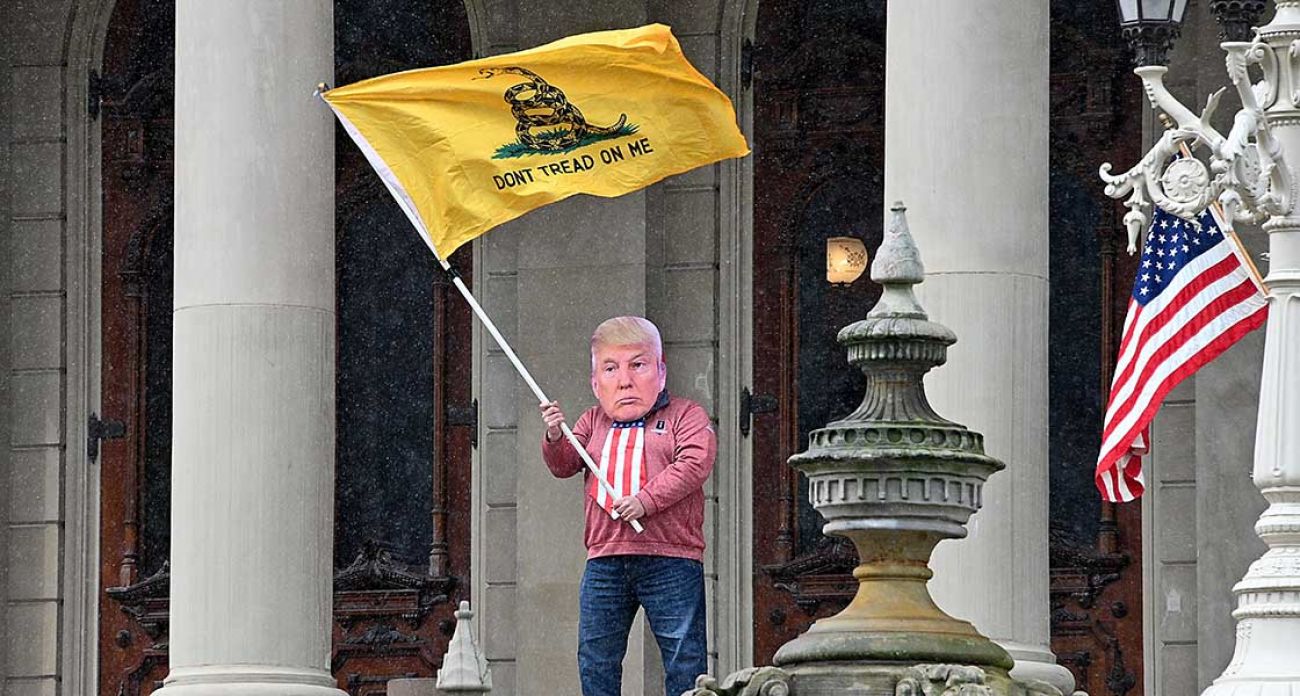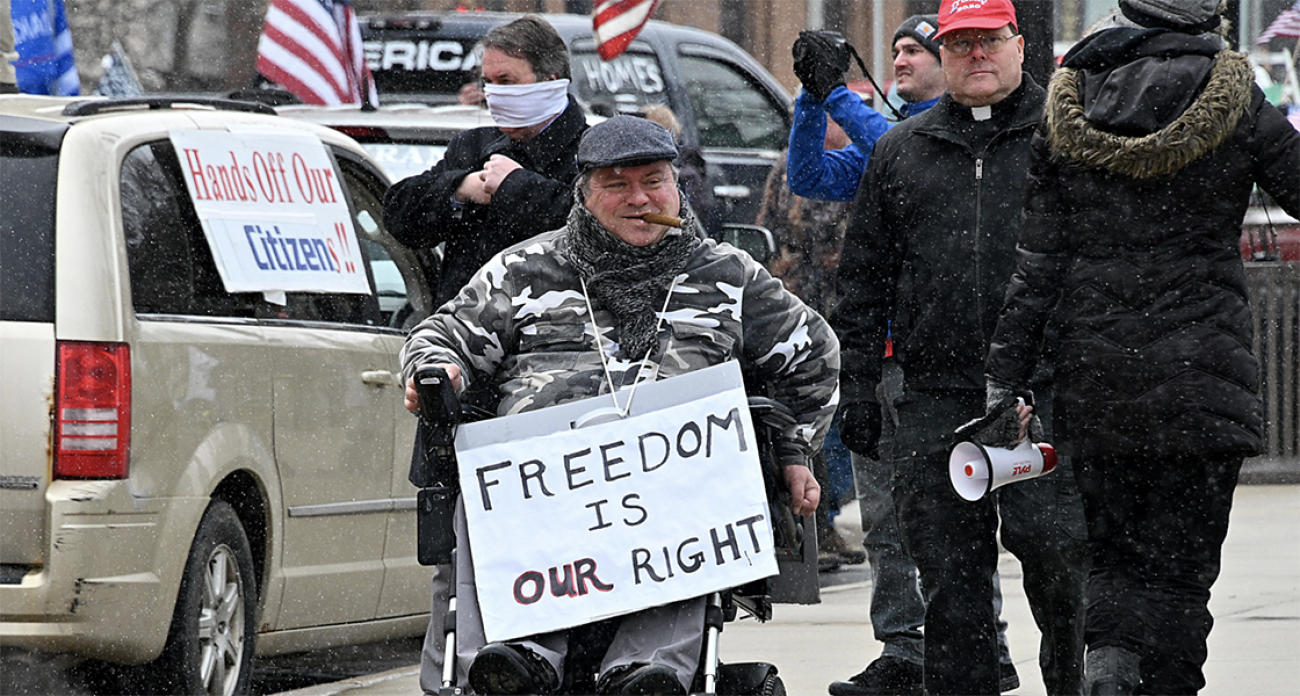 Michigan Government
Meet the Trump-loving group behind protest of Gov. Whitmer's stay-home order
Oct. 8, 2020 updates:
LANSING — Meshawn Maddock says her phone has been ringing "nonstop" since the Michigan Conservative Coalition organized a massive state Capitol demonstration to protest Gov. Gretchen Whitmer's aggressive stay-at-home order to fight the deadly coronavirus.
Activist groups across the country are asking how to pull off an "Operation Gridlock" in their own states, and reporters from around the world are "freakin' hounding me" for interviews about the event that has spawned nationwide copycats, the Republican organizer told Bridge Magazine.
Maddock is proud of the April 15 protest, calling it a "moving" demonstration that showcased economic anxiety over the ongoing state lockdown. But she said she's upset so many people got out of their vehicles, defying her group's instructions for what was promoted as an in-car event.
Indelible images from the protest include Michigan Militia members carrying firearms on the Capitol lawn, activists violating social distancing guidelines and more than one Confederate flag paraded next to a statue of Austin Blair, Michigan's governor during the Civil War and a staunch opponent of slavery.
"Of course the militia is disappointing to me, the Confederate flag — look, they're just idiots," said Maddock of Milford in western Oakland County. She also left her car during the protest to talk to reporters and direct traffic but noted most of the 4,000 protesters stayed in their vehicles.
"I don't know. Some kid with a flag that wants to make a point, I can't control people like that."
Critics contend the Michigan Conservative Coalition has tacitly encouraged similar behavior. The group, co-founded by her husband, now state Rep. Matt Maddock, promotes limited government and lobs rhetorical bombs at those who challenge President Donald Trump.
Whitmer said it is a "sad irony" that protesters may have prolonged the need for her stay-home order by spreading the virus. The state's leading health groups issued a statement supporting her restrictions, while nurses at nearby Sparrow Hospital in Lansing condemned the protest as irresponsible.
The rally is the latest headline-grabbing event for the group that last year hosted a "Squash Amash" protest in Grand Rapids targeting U.S. Rep. Justin Amash, who had recently left the Republican Party to become an independent and accused Trump of "impeachable conduct" following a probe of Russian interference in the 2016 election.
And the group was instrumental in organizing anti-impeachment protests that disrupted town hall meetings last winter hosted by Democratic Reps. Elissa Slotkin of Holly and Haley Stevens of Rochester Hills, both now up for re-election in November.
"They were always kind of around the fringes — more interested in thuggery than advancing any kind of real ideals or policy objectives," Jeff Timmer, former executive director of the Michigan Republican Party, said of the Maddocks and other Tea Party organizers that founded the group.
Trump's win four years ago "gave them what they view as some modicum of credibility, and folks like them who used to hide from the light like cockroaches now feel enabled to come out and do what they do," said Timmer, a vocal Trump critic.
Established conservative networks have launched similar protests around the country, but organizers maintain the Lansing event — one of the first and largest — was a grassroots affair despite an assist from the Michigan Freedom Fund, a Republican advocacy group tied to U.S. Secretary of Education Betsy DeVos.
In criticizing the event, Whitmer suggested organizers were "funded in large part by the DeVos family," which she called inappropriate given ongoing federal recommendations to maintain social distancing and limit travel.
But the Freedom Fund's financing was limited to a $250 Facebook ad, according to executive director Tony Daunt. In order to promote the protest, he had asked Maddock to make his group a "co-host" on the Facebook event page, Daunt told Bridge. "The governor was just flat wrong in her comments last week," he said.
The protest event page was also widely circulated within a Facebook group called "Michiganders Against Excessive Quarantine" overseen by Garrett Soldano, a former Western Michigan University football player who has reportedly and inaccurately claimed a juice drink he is paid to promote can help prevent or treat COVID-19.
The Michigan Conservative Coalition was the primary organizer, however, and while it is not planning any other protests in Lansing, it is providing tips to like-minded groups in other states and encouraging them to use the "Operation Gridlock" title, Maddock said.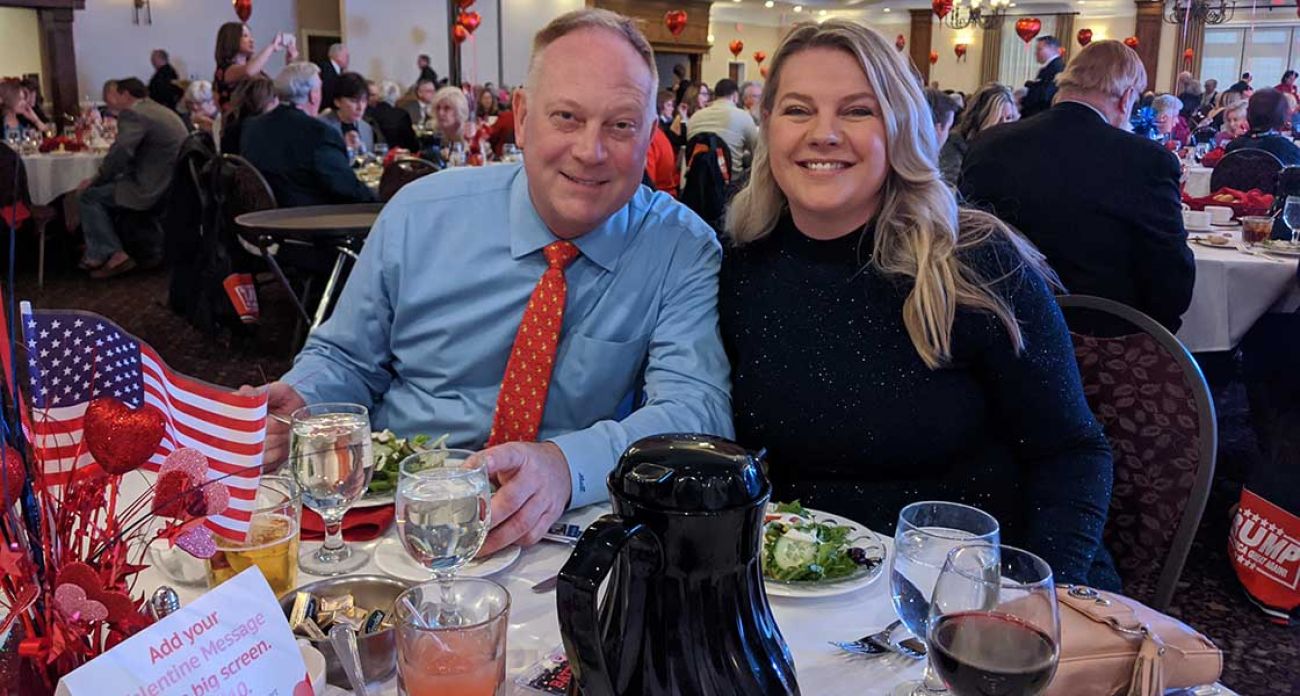 'It's our Republican Party'
Bridge has spent months looking into the Michigan Conservative Coalition, which operates two tax-exempt nonprofits, two state political action committees and also legally organizes under the trademarked name Michigan Trump Republicans.
Once a minor player in an outsider movement, the group has worked its way into the mainstream of Republican Party politics by organizing activists fiercely loyal to Trump.
The Michigan Conservative Coalition has instigated high-profile attacks against Democrats targeted by the Trump campaign, spearheaded outreach efforts to woo suburban female voters who fled the GOP after 2016 and recruited precinct delegates to reshape the party from within.
A Michigan Trump Republican endorsement, meanwhile, has become a coveted prize in GOP primaries.
"I feel like it's time for conservatives to start using the same tactics that the left has used for a long time, and I don't want to be passive about it anymore," Meshawn Maddock told Bridge in February at the group's annual Battle Cry conference.
"I'm really not interested in bipartisan or reaching-across-the-aisle politics. The world is divided right now, and I'm OK with it, because the truth is, I feel like I'm on the right side."
The Michigan Conservative Coalition began the Battle Cry conference in 2016 with a call to action: "It's our Republican Party. We're taking it back."
Four years later, "we are now party officials, so we kind of took it back," said Maddock, who now serves as chair of the 11th Congressional District Republican Party and is part of the national "Women for Trump" campaign team.
Her husband, a bail bondsman, is serving his first term in the state House. The group's co-founder Marian Sheridan is now grassroots vice chair for the Michigan Republican Party, and its president, Rosanne Ponkowski, is now vice chair of the Oakland GOP.
"The president has done something nobody thought was possible," Maddock told fellow activists. "He took the grassroots, and he made it the establishment."
More than 300 of the group's most dedicated activists paid to attend the two-day training event at the San Marino Club in Troy, where they celebrated Valentine's Day in unusual fashion with dinner and wine.
Inflatable heart balloons hovered over the white-clothed tables, while red "Make America Great Again" swag bags sat on the floor.
"I completely forgot about Valentine's Day," said Deborah Eli, laughing as she stood beside her husband. "It's really bad, but I'm doing bigger and better things."
Wine in hand, Gary Eli nodded in agreement. He pulled out his cellphone to show off pictures of the Mid-Michigan Trump Republican "store and information center" his wife runs in Saginaw County, where she is a full-time political volunteer.
"She got flowers and a card, but this is really her Valentine's Day," he said of Battle Cry.
Over two days, activists heard speakers like conservative columnist Michelle Malkin and My Pillow CEO Mike Lindell. In recent years, the conference has drawn high-profile Trump allies including Corey Lewandowski and filmmaker Dinesh D'Souza.
State officials with Trump Victory, the joint presidential campaign and Republican National Committee organization, trained activists on how to generate pro-Trump media attention by protesting Democratic lawmakers like Slotkin.
Republican candidates such as Shane Hernandez, a state lawmaker from Port Huron who is running for Congress in the 10th Congressional District, addressed the crowd, while others like U.S. Senate hopeful John James sent staff members to hand out literature at campaign booths.
Activists cheered as Malkin preached partisan purity and blasted Republican Party "phonies" like past presidential candidates Mitt "Snake" Romney and the late John McCain, who had been the standard bearers of the GOP before clashing with Trump.
"It's super important that when you find like-minded people, people who share the same principles as you, that you stick together like glue," Malkin told the already tight-knit crowd. "Like Andrew Brietbart said, this is war. We cannot trust fraggers inside the tent."
Tea Party roots
Sheridan, the group's co-founder, was involved in the Tea Party movement and told Bridge she knew the Michigan Conservative Coalition was tapping into something big when Trump supporters began flooding the group's Walled Lake office and voter information center four years ago in the run-up to the 2016 election.
"We could tell from the traffic coming in that the ground was about to shake," said Sheridan, who works as a real estate agent in West Bloomfield. "People would come in and they wouldn't leave."
The group, now primarily led by women, has held "Trumperware parties" and "MAGA home parties" as they appeal directly to female voters who fled the GOP after Trump's election and helped pave the way for Whitmer and other Democrats to win election in 2018.
The in-home events help show women that there are other Trump supporters in their neighborhoods, Sheridan said, and that's important "because so many Trump people are keeping it quiet."
Behind the scenes, helping pull the strings, is Bill Rauwerdink, a private-equity firm owner who was shunned from the Michigan Republican Party after doing time in prison for what the Detroit Free Press called "one of the largest financial frauds in Michigan history."
Rauwerdink now serves as co-director of the Michigan Conservative Coalition, which he calls the "parent company" that manages public brands like Michigan Trump Republicans, Trumperware and Women for Trump.
The group's rising profile has opened doors for Rauwerdink, who told Bridge he joined Meshawn Maddock as a VIP guest at Trump's re-election campaign kickoff last summer in Orlando and at the Republican National Committee's winter meeting at Trump's Doral resort in Miami, where they mingled with the president and Eric Trump.
"It was a big love-fest," Rauwerdink said of Miami. "We asked to be a guest, and they said sure."
Timmer, the former executive director of the state GOP who identifies as a traditional conservative, said the rise of groups like the Michigan Conservative Coalition are part of the reason he no longer calls himself a Republican.
"I put them under one umbrella of crazy," he said, suggesting the party had once worked to drown out voices "of chaos and hate and division" that have now become "key cogs" in the Trump re-election effort.
"They stand for nothing ideologically or policy-wise except Trump," said Timmer, who was a state adviser for John Kasich's presidential campaign in the 2016 GOP primary. "Trump is their wrecking ball. They always wanted one. They found one."
The Michigan Conservative Coalition has used its Facebook channel to call for a boycott of National Geographic for "promoting the idea that transgender children are acceptable" and to ridicule lawn signs declaring that "black lives matter", "women's rights are human rights" and "no human is illegal."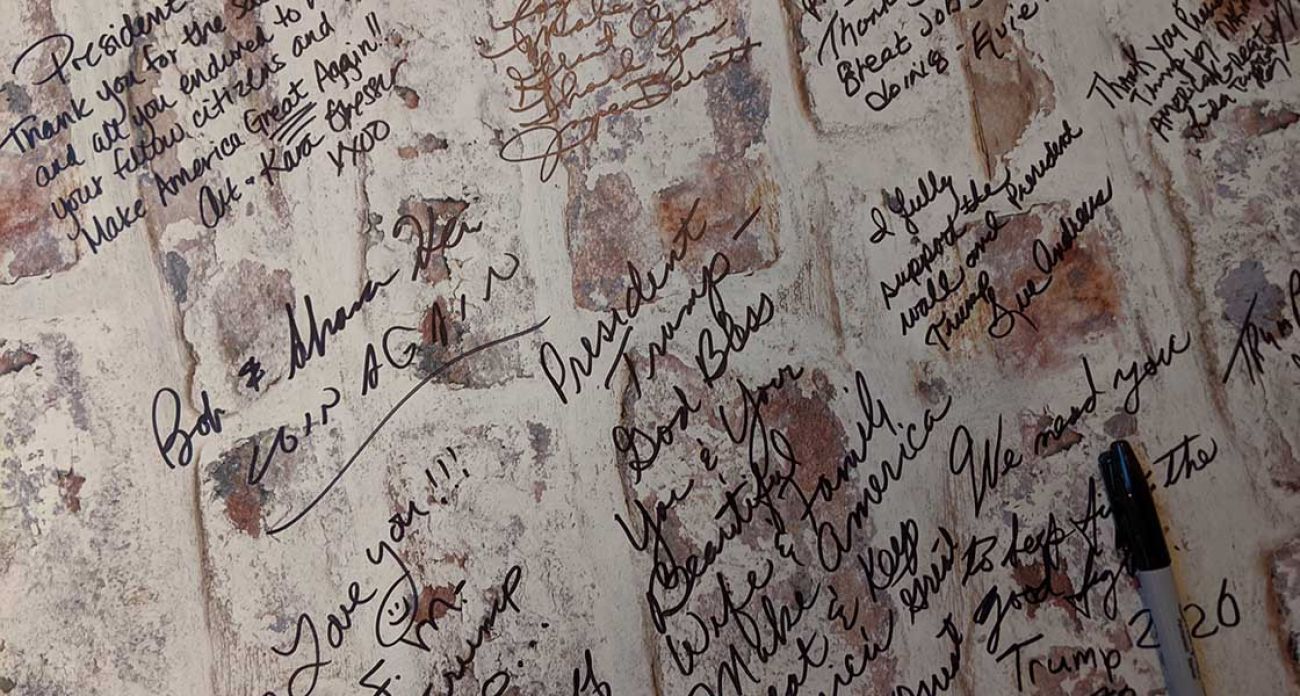 Other Facebook users have visited the Michigan Trump Republicans page to share conspiracy theories and offensive memes, including posts suggesting U.S. Rep. Rashida Tlaib is a terrorist sympathizer, former President Barack Obama was part of ISIS and that former presidential candidate Pete Buttigieg committed a "hate crime" by kissing his husband on stage.
As protesters stormed the Michigan Capitol last week, the deputy director of a liberal advocacy group resurfaced an image the Michigan Conservative Coalition had once shared of a GOP comedian suggesting "everyone who hates Trump got their opinion from pedophiles."
"That's the type of rhetoric and the ideas that we're dealing with," said Sam Inglot of Progress Michigan. "Their Facebook pages and where these groups organize and have discussions are hives of misinformation, xenophobia and anti-LGBTQ rhetoric all while licking Trump's boots."
A family affair
Activism is a family affair for Meshawn and Matt Maddock, who no longer serve on the Michigan Conservative Coalition board but remain heavily involved in the group. Their youngest of three children, 18-year-old Parker Maddock, now works as a Trump Victory organizer.
"It's really all Matt and I do," said Meshawn Maddock, who had been a stay-at-home mom watching her husband organize the grassroots before she got the political bug herself.
"He would come home from conventions, and I would listen to him complain about the establishment shutting them out," she recalled. "He did that for about six years, and I finally followed him when my kids got a little bit older and I found my own voice."
The couple owns A1 Bail Bonds, but they can largely run the company from their phones, leaving them with a "lot of free time" for politics, Maddock said. Call center employees can dispatch the company's 15 agents around the state to post bonds. They also have a group of trusted bounty hunters who they can send out to track down absconders, she said.
"We don't protect criminals," Maddock made sure to point out. "What we do is secure bonds to make sure people go to court."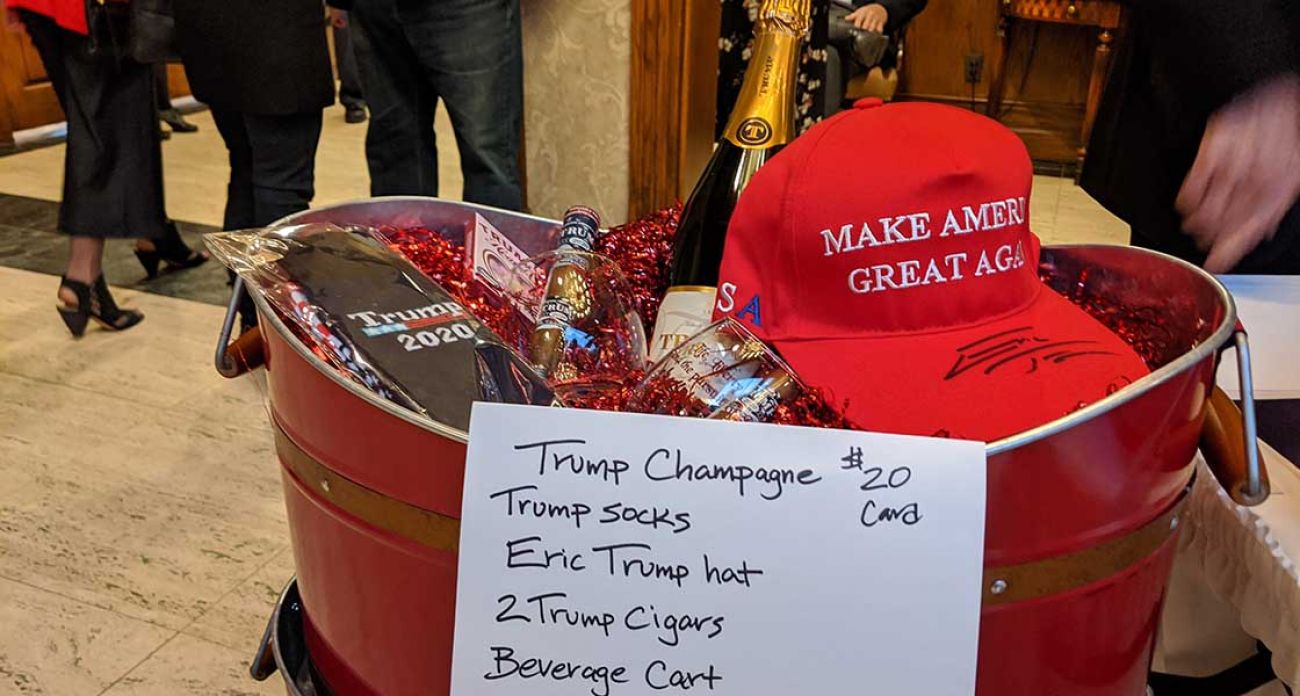 Matt Maddock helped found the Michigan Conservative Coalition and said he has been involved in grassroots politics since the mid-1990s, when he first became a GOP precinct delegate. Last year, the group helped recruit 1,200 activists to run for precinct delegates in an attempt to continue reshaping the Michigan Republican Party from within.
"A handful of us decided that we were fed up with Republicans not behaving as Republicans, so we decided to start Battle Cry as a grassroots movement in order to encourage Republicans to behave like Republicans," Matt Maddock told Bridge, explaining the annual conference.
"We are in the midst of a conservative revolution here in Michigan and the U.S. These are exciting times for the entire country. Trump is at the forefront of this movement."
Maddock is past president of the Michigan Bail Association. Before devoting himself to politics, he also occasionally worked as a bounty hunter, tracking down accused criminals who failed to show up for court after using his firm to post bail. He considers Duane "Dog the Bounty Hunter" Chapman a friend, and the reality-TV star came to Michigan in 2018 to help Maddock raise funds for his state House campaign.
"That's fun work," Maddock said of bounty hunting. "Eighty percent of the time a fugitive is not dangerous, but 20 percent of the time they can be very, very dangerous."
Now serving in the Michigan Legislature, where criminal justice reform has been a rare area of bipartisan consensus, Maddock said he is fighting "left wing" efforts to eliminate cash bail, arguing that private bondsmen provide a public service by bringing fugitives back into custody at no cost to the taxpayers.
He's also coming to grips with his new role as a party insider after years in the grassroots.
"Trump is also becoming the new establishment -- and Trump supporters," Maddock said. "We are seeing a paradigm shift within politics and throughout the nation."
Social welfare
The Michigan Conservative Coalition operates primarily as a "social welfare" nonprofit under section 501(c)(4) of the Internal Revenue Code, a status that allows it to engage in some political activities without losing its tax-exempt status but prohibits it spending directly on campaigns or political candidates.
The group is not required to disclose donors.
In a 2017 tax filing, the Michigan Conservative Coalition reported $135,356 in gross income, including $132,296 at fundraising events it spent $116,516 hosting. The group reported spending another $8,531.95 on professional fees, printing, publications, postage or shipping — none on staff salaries — and ended the tax year with $12,451 in the bank.
Organizers highlighted two major "program service accomplishments" in the 2017 tax year: Training precinct delegates at Battle Cry, and recruiting Republicans from around the state to run for local precinct delegate positions to change the party from the inside.
Little else is known about the nonprofit's finances because it reported less than $50,000 in gross receipts for 2016 and 2018, which exempted it from detailed IRS reporting requirements, and the group's 2019 tax year filing is not yet due.
A separate Michigan Conservative Coalition Foundation, organized as a 501(c)(3) nonprofit, has reported less than $50,000 in gross receipts each year since earning tax-exempt status in 2015.
The MCC also operates a state-level super political action committee that allows it to spend directly on political campaigns. It has reported $70,013 in contributions since 2015, but many of those donations appear to actually be ticket sales or fees for Battle Cry conferences.
The super PAC paid a $3,000 speaker fee to conservative comedian Steven Crowder and also transferred another $10,000 to separate Michigan Trump Republicans PAC, which spent about $9,000 on political mailers and text messages supporting legislative candidates, including Reps. Maddock and Steve Johnson and Sens. Tom Barrett and Jon Bumstead.
"This is all a volunteer organization," said Ponkowski, the vice chair of the Oakland GOP who is listed in tax filings as the president of the Michigan Conservative Coalition. "We put this time in because we love our country and we love our kids."
But the group's activities — and vocal support for Trump in an election year — appear to at least blur legal lines, said Mark Brewer, an election attorney who advises nonprofit clients and is a former chairman of the Michigan Democratic Party.
Recruiting precinct delegates is "what a political party does," Brewer told Bridge. "That's not what a (c)(4) does. That's not social welfare in my view. Precinct delegates are party people. They perform party functions."
The Michigan Conservative Coalition is not doing anything wrong by training activists or advocating on issues, Brewer said. But urging residents to work for Trump's re-election, as organizers did during Battle Cry "crosses the line, in my view," he said.
"An incorporated entity can't be doing that," Brewer said.
RESOURCES:
Only donate if we've informed you about important Michigan issues
See what new members are saying about why they donated to Bridge Michigan:
"In order for this information to be accurate and unbiased it must be underwritten by its readers, not by special interests." - Larry S.
"Not many other media sources report on the topics Bridge does." - Susan B.
"Your journalism is outstanding and rare these days." - Mark S.
If you want to ensure the future of nonpartisan, nonprofit Michigan journalism, please become a member today. You, too, will be asked why you donated and maybe we'll feature your quote next time!