Whitmer extends Michigan emergency to May 28, as GOP threatens lawsuit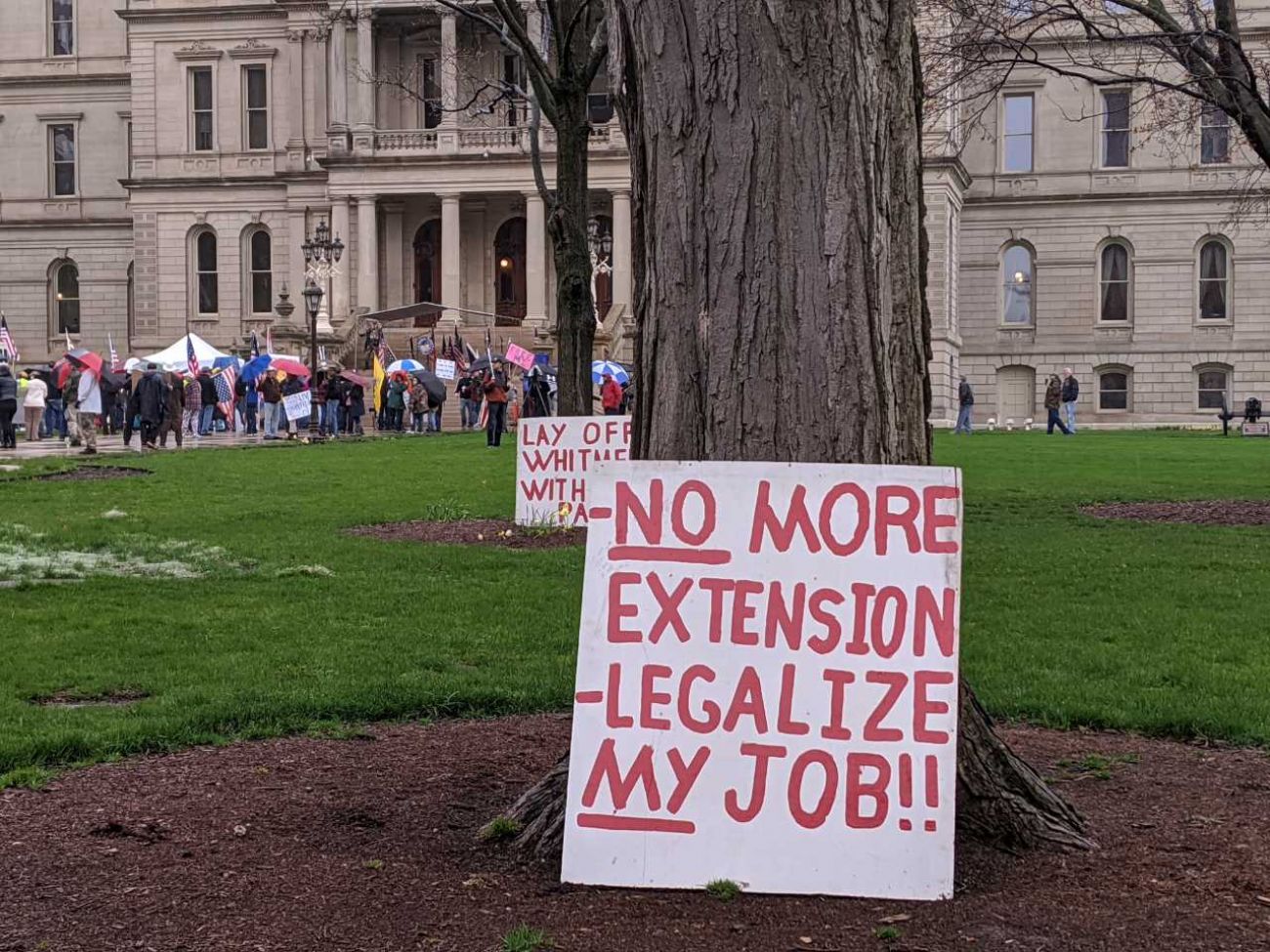 May 7 update: Michigan stay-at-home order extended to May 28
May 6 update: GOP-led Legislature sues Michigan Gov. Whitmer over emergency powers
May 4 update: Mike Shirkey: Heed Gov. Whitmer's COVID orders now. We'll sue later.
LANSING — A dramatic standoff between Democratic Gov. Gretchen Whitmer and Republican lawmakers over her emergency powers during the coronavirus pandemic appears headed to the courts after a dizzying day at the Michigan Capitol.
Late Thursday, Whitmer signed new declarations extending Michigan's state of emergency until May 28, and continued the closure of bars, casinos and restaurant dining rooms through that same date.
The actions came shortly after the GOP-led Legislature denied her request to extend an expiring emergency declaration and authorized legal action to challenge the governor's authority.
The marathon day began with another protest at the Capitol over Whitmer's stay-at-home orders, including some militia members who carried long guns.
They sided with Republican lawmakers, who contend Whitmer has abused her powers by refusing legislative input on plans to reopen the economy. The Legislature will take Whitmer to court "if she does not recognize the end of the emergency declaration" under a 1976 law, said Senate Majority Leader Mike Shirkey.
"We can no longer allow one person to make decisions for 10 million people," Shirkey, R-Clarklake, said in a floor speech concluding a nine-hour session.
"Citizens count on a government structure of checks and balances. The Legislature is the voice of the people and we must have a seat at the table to ensure the concerns of our constituents are considered as part of every decision-making process."
Democrats blasted the action as political theater because a 1945 law appears to give the governor authority to continue emergency action without legislative approval.
Whitmer accused Republicans of "putting their heads in the sand" and "putting more lives and livelihoods at risk."
"We remain in a state of emergency," Whitmer said in a virtual town hall on mid-Michigan television stations. "That is a fact. For anyone to declare, 'Mission accomplished,' means that they're turning a blind eye to the fact that over 600 people have died in the last 72 hours."
Both chambers approved legislation that would extend some of the individual orders Whitmer has issued amid the crisis — but not her stay-at-home order set to last through May 15, nor an order prohibiting "non-essential" medical procedures during the pandemic.
"The entire framework of our system of government was built on the idea of separation of powers," said House Speaker Lee Chatfield, R-Levering, who has urged Whitmer to relax business rules and speed economic recovery plans she previewed earlier this week.
"We believe you can prioritize public health, yet be reasonable in your approach to fighting COVID-19," he said.
The back and forth came as COVID-19 cases appear to have plateaued at nearly 42,000 cases statewide. But Whitmer said the numbers are growing in some parts of the state and vigilance is warranted to avoid a second wave.
"I am not going to make decisions about our public health based on political games," she said. "I'm going to make them based on the best science, the best data, what the epidemiologists and public health experts are telling us."
Despite the legal threat from GOP leaders, attorneys who spoke with Bridge Magazine questioned whether the Legislature has any recourse to challenge Whitmer in court.
The governor's "statutory authority seems to me at least, crystal clear on its face," said John Pirich, a elections lawyer who has worked for Republicans but backed Whitmer in the 2016 election. He added the pandemic is "the equivalent to a wartime situation. These are extraordinary circumstances."
Steve Liedel, a government policy attorney who served as chief legal counsel to former Gov. Jennifer Granholm, said the law gives Whitmer broad emergency powers, but the Legislature can shape policy during the pandemic with appropriations and hearings.
"It's one thing to saber rattle and threaten to sue someone," Liedel said. "It's another thing to have a recognizable legal claim of action."
Directly above me, men with rifles yelling at us. Some of my colleagues who own bullet proof vests are wearing them. I have never appreciated our Sergeants-at-Arms more than today. #mileg pic.twitter.com/voOZpPYWOs

— Senator Dayna Polehanki (@SenPolehanki) April 30, 2020
No negotiations
The drama came one day after negotiations broke down between Whitmer and Republicans over her handling of the virus that has killed nearly 3,800 state residents as of Thursday.
Republican leaders have asked Whitmer to reopen the economy by region and business sector, an approach she appears to be taking in a plan she is developing with business, labor and health advisers.
But negotiations faltered Wednesday after Whitmer's office released an email in which she rejected Shirkey's offer of two, one-week emergency extensions. He argued the move amounted to a "double middle finger" and showed the governor has grown "comfortable being a dictator."
Before Whitmer's orders on Thursday night, Republicans approved legislation that would allow dine-in restaurants, bars, theaters, gyms, casinos and yacht clubs to reopen by May 15, but require them to enact social distancing policies until May 30.
Senate Minority Leader Jim Ananich, D-Flint, argued Republicans were attempting to strip power from Whitmer because of "perceived slights" dating back to a tense budget battle last year.
"In the middle of a global pandemic are we that petty? Is our ego that fragile?" he asked. "Can't we find ways to sit down and reason as men and women cross the aisle and find solutions?"
But Republicans accused Whitmer of refusing their recommendations during the pandemic, arguing she has ignored the voice of the people they represent.
"The arrogance is shameful and beneath the dignity of the office of governor," said Sen. Aric Nesbitt, R-Lawton. "If the governor vetoes this legislation, it's simply because she wants 100 percent control over all the decisions in the state."
State Rep. Tyrone Carter who contracted COVID-19 last month, applauded Whitmer's stay-at-home orders.
"Maybe I would have spread it, but [did not] thanks to decisive action by the state — not the federal government," said Carter, D-Detroit.
Detroit has been among the hardest hit cities in the country, and although coronavirus cases have slowed there, lawmakers from the city accused rural Republicans of failing to appreciate the magnitude of the pandemic.
"In my district, colleagues, there are trailer coolers in hospital parking lots where deceased loved ones are stored," said state Rep. Leslie Love, D-Detroit. "There are funerals being held in church parking lots because the pastor is afraid to allow parishoners to congregate inside."
"I'm glad I have a governor who cares about all lives," Love continued. "Offering this bill in the midst of a planet pandemic is like offering a person four squares after the bad diarrhea episode. It's useless."
State Rep. Lynn Afendoulis, R-Grand Rapids Township, argued that "power rests in no single individual" and called Whitmer's unilateral actions "un-American."
"I'm disappointed in the governor, and I think shame on her for stoking the fear she has been stoking when she could be reassuring the masses," Afendoulis said.
Protests
Hundreds of protesters began gathering on the Capitol lawn at around 9 a.m. Thursday, urging the Legislature to fight Whitmer's emergency authority and reprising the "lock her up" chant President Donald Trump encouraged in his 2016 campaign against Hillary Clinton.
Many carried signs criticizing the governor, including one that read "Tyrants Get the Rope." Fewer wore the kind of face coverings that local, state and federal health officials continued to recommend.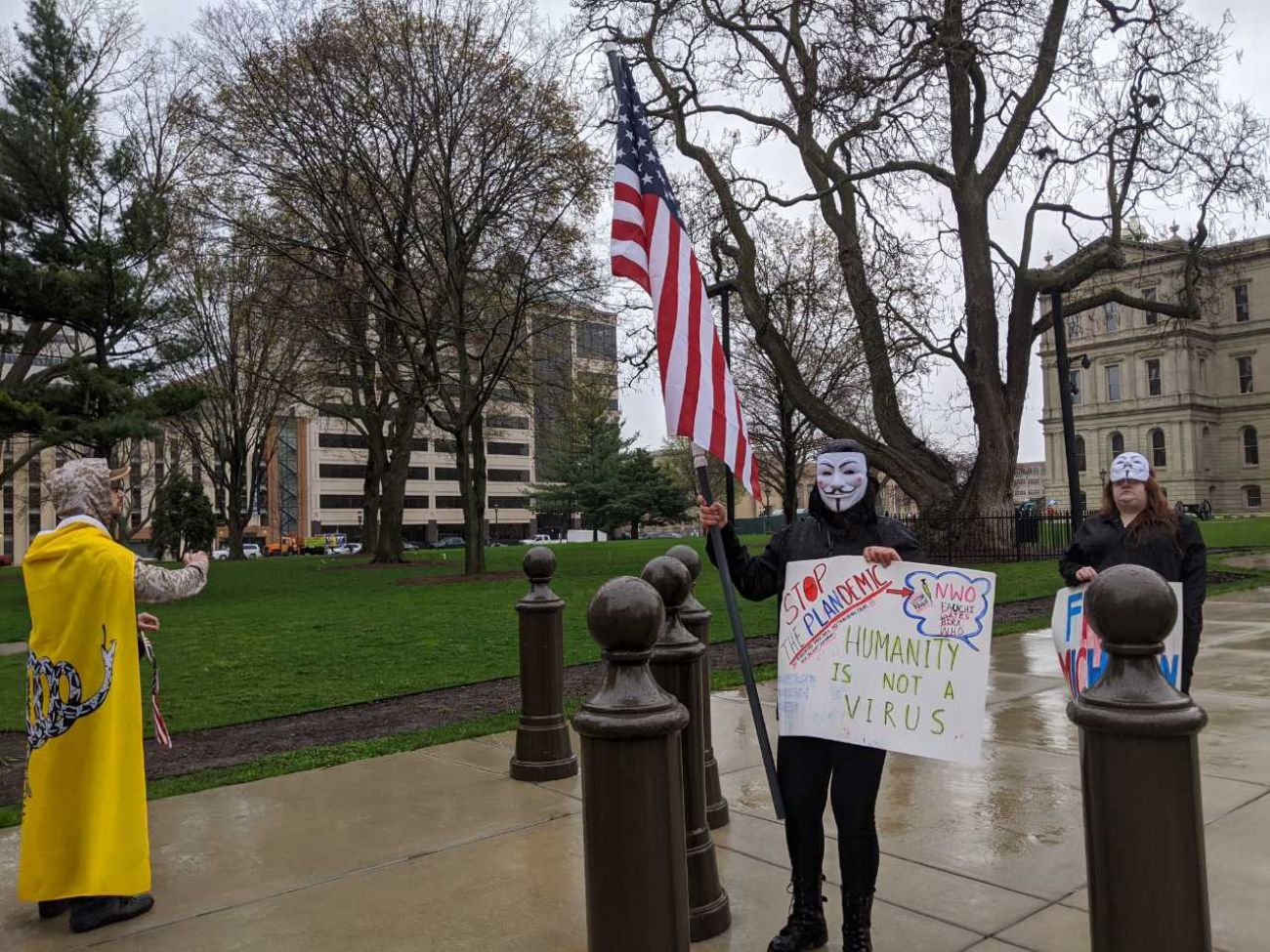 Militia members walked the grounds with long guns and walkie talkies, acting as what organizers touted as a "security detail." Some protesters openly carried guns into the Capitol, where Sen. Dayna Polehanki, D-Livonia, said colleagues who own bulletproof vests had chosen to wear them.
Speakers outside the Capitol disputed publicly reported data on Michigan deaths, offered legal theories on Whitmer's emergency authority and preached civil disobedience.
"I just feel that our civil liberties and our constitutional rights are being taken from us one by one," said Wendy Ensing, a protester from Grand Rapids. "I'm just out here to defend those, even for those that don't feel the same way. We're all in the same boat here."
Ensing said she's been personally impacted because she and her husband own two companies, including a real estate firm that is no longer allowed to "conduct business as usual" under Whitmer's stay-at-home order.
"I understand that there are health issues that we need to be concerned about, but I think it could have gone a long better and not been so stringent," she said. "I want to see Whitmer and our government open everything up."
Karl Haus of Fraser carried a rifle and protest sign as he demonstrated outside the Capitol without a mask.
"It's my right, as is my right to go out as I please," he said. "If you don't exercise your rights, you don't know that they exist."
Haus said he works in landscaping and did not stop last month despite Whitmer's previous order that had prohibited landscaping companies from operating under threat of a misdemeanor charge or fine.
"I had some work to do," he said. "It was disobedience. Illegal laws are not supposed to be adhered too."
Whitmer has already faced a series of lawsuits over her emergency actions. She prevailed in one case on Wednesday in the Michigan Court of Claims, where Judge Christopher Murray said her stay-at-home orders were "necessary" to combat the public health crisis.
"Although the Court is painfully aware of the difficulties of living under the restrictions of these executive orders, those difficulties are temporary, while to those who contract the virus and cannot recover (and to their family members and friends), it is all too permanent," wrote Murray, who was deputy legal counsel to Republican former Gov. John Engler.
— Staff reporter Riley Beggin contributed to this article.
RESOURCES:
Only donate if we've informed you about important Michigan issues
See what new members are saying about why they donated to Bridge Michigan:
"In order for this information to be accurate and unbiased it must be underwritten by its readers, not by special interests." - Larry S.
"Not many other media sources report on the topics Bridge does." - Susan B.
"Your journalism is outstanding and rare these days." - Mark S.
If you want to ensure the future of nonpartisan, nonprofit Michigan journalism, please become a member today. You, too, will be asked why you donated and maybe we'll feature your quote next time!