Emails: Michigan sheriff sought to seize voting machines amid Trump claims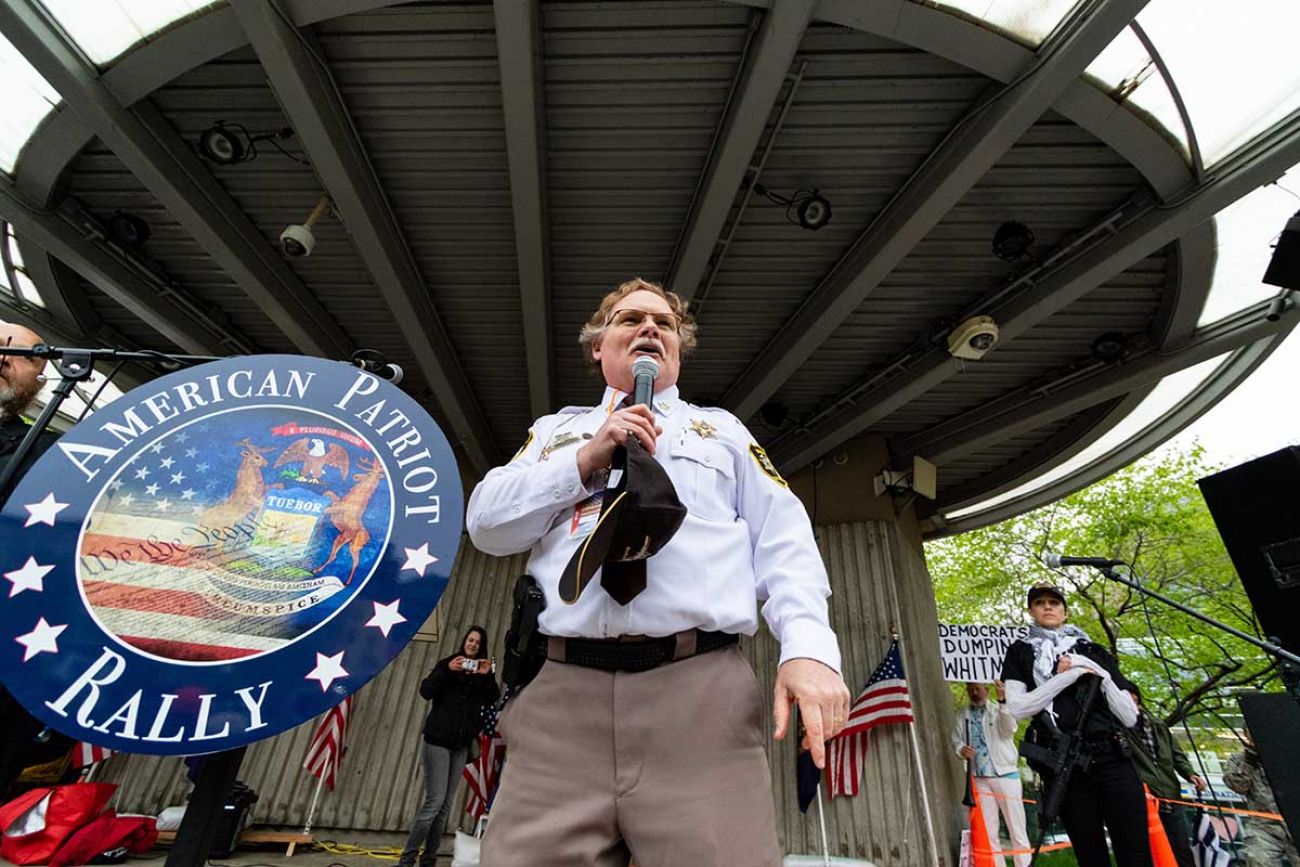 Barry County Sheriff Dar Leaf, seen here at a May 2020 rally opposing Gov. Gretchen Whitmer in Grand Rapids, contemplated seizing voting machines last year after Donald Trump lost the November election, emails show. (Photo courtesy of Chris duMond)
About this story
This story is supported by a grant from the Fund for Investigative Journalism. Bridge Michigan obtained hundreds of pages of emails from Barry County Sheriff Dar Leaf through the Freedom of Information Act as part of its ongoing reporting into the aftermath of the 2020 election.
Bridge obtained emails from Leaf that detail his unsuccessful efforts to obtain voting machines and inspect them. The records indicate that Leaf's attorney provided updates on the effort to Trump allies including attorney Sidney Powell and a contact for former National Security Advisor Michael Flynn.
Related:
Leaf told Bridge in a brief interview that he worked with other Michigan sheriffs on what he called an "ongoing" matter after the election, but would not divulge specifics.
"It is our job to investigate all acts of voter fraud," said Leaf, a Republican who made national headlines last year for joining armed militia members on stage at a protest against Democratic Gov. Gretchen Whitmer's COVID-19 pandemic orders.
The emails, which are coming to light as conservative activists continue to call for a forensic audit of Michigan's election, describe a plot more befitting a "banana republic" than a stable democracy, said David Becker, executive director of the Center for Election Innovation and Research.
Talk of seizing voting machines is "tinpot dictator stuff," said Becker, whose nonprofit aims to improve voter confidence, participation and election administration
"It's obviously extremely concerning, especially given the fact that the ballots in Michigan, which are all hand marked paper ballots, were audited extensively."
Trump's own Department of Justice said there was no evidence of widespread voter fraud, but the former president has continued his claims. Last week, he lambasted Michigan Republican senators for an exhaustive report that debunked lingering conspiracy theories about last year's election.
The Barry County records obtained by Bridge show Carson Tucker — an Ann Arbor attorney who represented Leaf and included him on numerous election related emails — asked Trump allies for information that might justify voting machine seizures by his client and other sheriffs "expressing an interest" in St. Joseph, Shiawassee, Lake and Jackson counties.
On Dec. 15, Tucker emailed Carissa Keshel at the Fight Back Foundation, a nonprofit chaired by pro-Trump attorney L. Lin Wood, and asked for information about "counties that have been potentially compromised" in the Nov. 3 election.
"My client Barry County Sheriff and several other county sheriffs in Michigan would like to consider issuing probable cause warrants to sequester Dominion voting machines if there is evidence of criminal manipulation," Tucker wrote.
In an earlier, Nov. 20 email to Powell — who later filed failed lawsuits seeking to overturn Trump losses in Michigan and other swing states — Carson Tucker claimed Leaf had already seized voting machines and ballots in Barry County.
But that did not happen, according to local election officials and Leaf, who told Bridge he did not recall why his attorney told Powell it had.
Constitutional sheriffs
Lake County Sheriff Rich Martin confirmed Leaf contacted him last year as he tried to get other sheriffs to investigate potential "impropriety with those machines."
But Martin said he never signed on, telling Bridge he "didn't want any part of it."
"He does kind of his own thing," Martin said of Leaf. "I'm friends with him, so he usually calls me first on some of these things, but I don't have anything to do with that."
St. Joseph County Sheriff Mark Lillywhite told Bridge he has talked with Leaf in the past but was not involved in plans to seize voting machines. "Dar's in his own little world," he said.
Shiawassee County Sheriff Brian BeGole did not return voicemails from Bridge Michigan. The fourth sheriff mentioned in the emails, Steven Rand of Jackson County, did not seek re-election and is no longer in office.
Leaf is among a handful of self-described "constitutional sheriffs" in Michigan who contend they are the highest level of governmental authority and have the power or duty to defy or disregard laws that they find unconstitutional.
"Constitutional Sheriffs have a legal obligation and duty to ferret out criminal activity in the county on behalf of the citizenry," Tucker wrote in the Dec. 15 email to the Fight Back Foundation. "And they are the chief law enforcement officers."
Leaf described Tucker as his personal attorney and confirmed they have also worked together on legal theories that informed his decision to not enforce COVID-19 orders issued by Whitmer and her administration.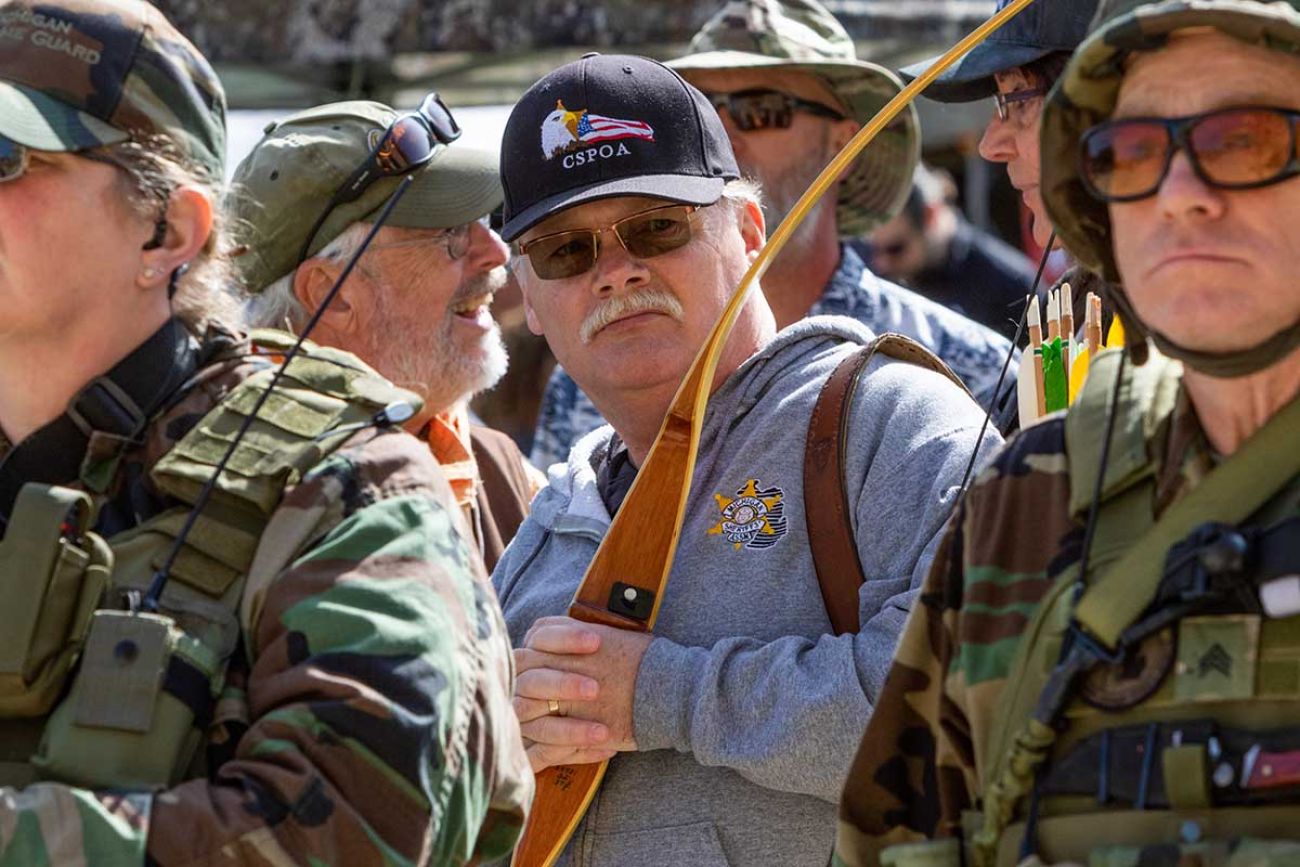 Barry County Sheriff Dar Leaf, seen here last year during a Second Amendment Rally at the Michigan Capitol last year, is a member of the Constitutional Sheriffs and Peace Officers Association. (Photo courtesy of Chris duMond)
In a brief phone interview, Tucker said the emails obtained by Bridge through the Freedom of Information Act were protected by attorney-client privilege and shouldn't have been disclosed by the Barry County Sheriff's Office.
Asked his view on the role of a "constitutional sheriff," Leaf told Bridge it's important for elected county law enforcement leaders to "exercise their authority" so that it does not get "diluted."
"It's just a matter of us harnessing it and getting the office of sheriff back on track and where it's supposed to be," he said.
Martin, the Lake County sheriff, said he had been part of the national Constitutional Sheriff and Peace Officers Association but has "kind of backed out of it because it's become so controversial."
While he took an oath of office to uphold the federal and state constitutions, "I'm not by far a fanatic like a lot of people in that organization are," Martin said.
From Antrim to General Flynn
The emails obtained by Bridge show Leaf and Trump allies were fixated on Dominion voting machines.
On Dec. 15, Keshel from the Fight Back Foundation, responded to Tucker and Leaf with a document she said came from Flynn, the former national security adviser who twice pleaded guilty to lying about Russia but was pardoned by Trump following the 2020 election.
"Hi Carson and Dar, General Flynn wanted ya'll to see the Antrim Forensics analysis, and we believe all 48 counties are affected the same," Keshel wrote, referencing a factually challenged report on Dominion voting machines used in Antrim and dozens of other Michigan counties.
"I am in contact with the team to be able to coordinate our next steps with these Dominion machines," she added.
Antrim County, about 200 miles north of Barry, emerged as an unlikely focal point in Trump's fraud claims after a programming error by the Republican clerk led to initially skewed results indicating Biden had won the heavily conservative region.
The error was quickly fixed, and the state eventually conducted a hand recount of ballots that confirmed Trump dominated the region despite losing statewide to Democratic President Joe Biden by 154,188 votes.
The "forensic audit" that Keshel shared with Leaf and Tucker was prepared by a pro-Trump group called Allied Security Operations and has been widely criticized by election experts.
It contained an "extraordinary number of false, inaccurate, or unsubstantiated statements and conclusions," according to University of Michigan University of Michigan computer science professor J. Alex Halderman.
Michigan Secretary of State Jocelyn Benson and Attorney General Dana Nessel had already called the report "another in a long stream of misguided, vague and dubious assertions designed to erode public confidence" in the election.
But Trump, like his allies, was attempting to use the Antrim County report to justify an unprecedented criminal investigation.
In a Dec. 14 email recently released to Congress, Trump's attorney forwarded the report to Acting Attorney General Jeffrey Rosen with the subject line: "From POTUS.
Flynn, Wood and Powell are Trump loyalists who continue to claim the 2020 election could still be overturned, putting Trump back in the White House.
Leaf told Bridge Michigan he did not personally speak with Flynn or Powell about voting machines and did not seize any, as his attorney suggested. The sheriff said he asked some clerks to keep voting machines "secure," he said, which is "a normal protocol for them anyway."
'Balanced to the ballot'
If Leaf had followed through on his "highly partisan" plot to seize voting machines, it may have been illegal, said Becker, with the Center for Election Innovation and Research.
That's because federal law requires election officials to maintain exclusive control over records and equipment for 22 months.
"Every single person knew the rules of the election going into the election, and to try to seize voting machines in contravention of federal law shows a fundamental disrespect for the rule of law," he said.
Trump dominated Barry County last fall, but seven months after the presidential election, Leaf told Bridge he remains concerned about what he called "reports" questioning whether votes may have been "flipped" or "if we got hacked."
Local clerks say there is no evidence that happened in a county where Trump won 65 percent of the vote, up from 63 percent in 2016.
Instead, election officials who spoke with Bridge said local administration went smoothly, and they never gave up possession of their voting machines to Leaf or anyone else.
"I don't know what Dar is digging for," said Barry County Clerk Pamela Palmer, who is a Republican and said there was no indication of local vote manipulation last year.
In Hastings, the largest city in Barry County, the 2020 contest "went great," said Clerk Jane Suarman.
"We didn't even really have any issues with the marker situation," she said, referencing a debunked Sharpie marker conspiracy theory Leaf previously promoted in a failed lawsuit.
In fact, clerks said giving Leaf access to their voting machines would have created security risks and barred the use of those tabulators in future elections, which would have created new and additional costs for taxpayers.
"We wouldn't give ours up without a court order or something like that," said Yankee Springs Township Clerk Mike Cunningham, who won election in November. "As far as I know, (Leaf) had no contact with our township office and state law requires that we keep them secure."
Barry County clerks did a "stellar" job in the presidential election, but various individuals and organizations urged him to investigate, Leaf told Bridge, declining to divulge the source of those complaints.
"I'm not giving out any names because of the death threats and harassment that people get," he said.
Martin, the Lake County sheriff who Leaf had attempted to recruit for an election investigation, said he had not seen any evidence of fraud in his county, which Trump won with 62 percent of the vote.
"I've never said that there was any impropriety in the election at all," Martin said. "So it is what it is. I guess we've moved forward."
'Hazy and nebulous' claims
Leaf is no stranger to controversy.
In May 2020, the Barry County Sheriff appeared on stage with armed militia members at a Grand Rapids rally protesting Whitmer's COVID-19 response.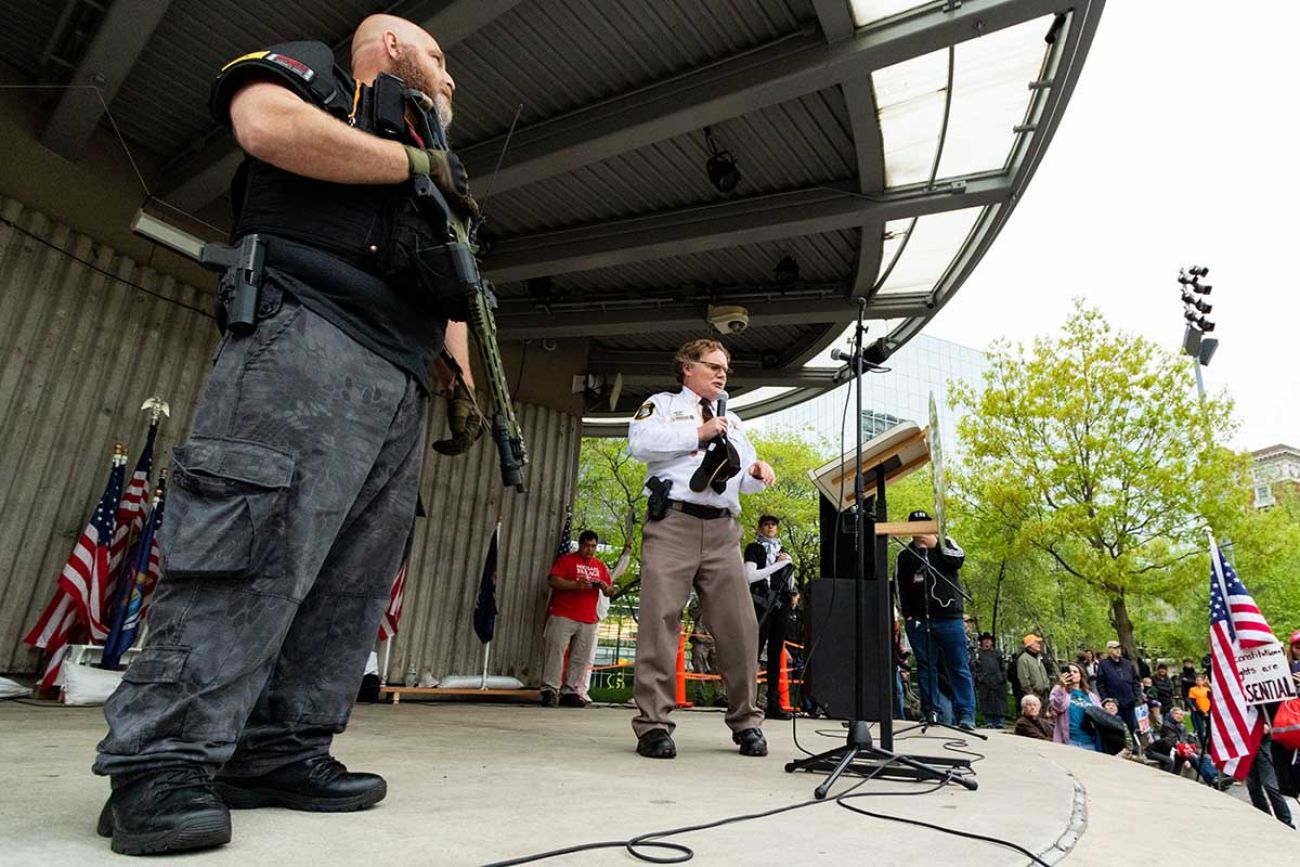 Barry County Sheriff Dar Leaf, flanked by Phil Robinson of the Michigan Liberty Militia, addresses the crowd as protestors attend the "American Patriot Rally-Sheriff's Speak Out" event at Rosa Parks Circle on Monday, May 18, 2020 in Grand Rapids. (Photo courtesy of Chris duMond)
When two of those militia members were later arrested in an alleged plot to kidnap Whitmer, Leaf questioned whether they had simply tried to make a citizen's arrest.
And in December emails first reported by The Detroit News, Leaf told a Genesee County resident there were "a handful of violations that could be used" to prosecute Democratic Secretary of State Jocelyn Benson for election crimes.
Leaf also tried to use the courts to seize election equipment.
He was the lead plaintiff in a Dec. 7 lawsuit seeking an immediate order to impound all voting machines and software in Michigan for "expert inspection."
Among other things, Leaf claimed in the suit that Sharpie ballot markers used in conjunction with Dominion voting machines "likely" impacted the accuracy of the election and said his office "intends to conduct a full investigation into reports."
U.S. District Court Judge Robert Jonker, a Republican nominee, dismissed the complaint just a day after it was filed.
Leaf and his attorney in that case, Stefanie Lambert of Detroit, asked the judge to make "speculative leaps towards a hazy and nebulous inference that there has been numerous instances of election fraud and that defendants are destroying the evidence," Jonker wrote.
It was just one week later that Leaf and other sheriffs considered taking matters into their own hands by seeking probable cause warrants to seize Dominion voting machines, Tucker said in an email to the Fight Back Foundation.
"Dar Leaf is point of contact," he wrote.
Only donate if we've informed you about important Michigan issues
See what new members are saying about why they donated to Bridge Michigan:
"In order for this information to be accurate and unbiased it must be underwritten by its readers, not by special interests." - Larry S.
"Not many other media sources report on the topics Bridge does." - Susan B.
"Your journalism is outstanding and rare these days." - Mark S.
If you want to ensure the future of nonpartisan, nonprofit Michigan journalism, please become a member today. You, too, will be asked why you donated and maybe we'll feature your quote next time!