A U.P. senator stood up to Trump. His career may suffer. His cows don't care.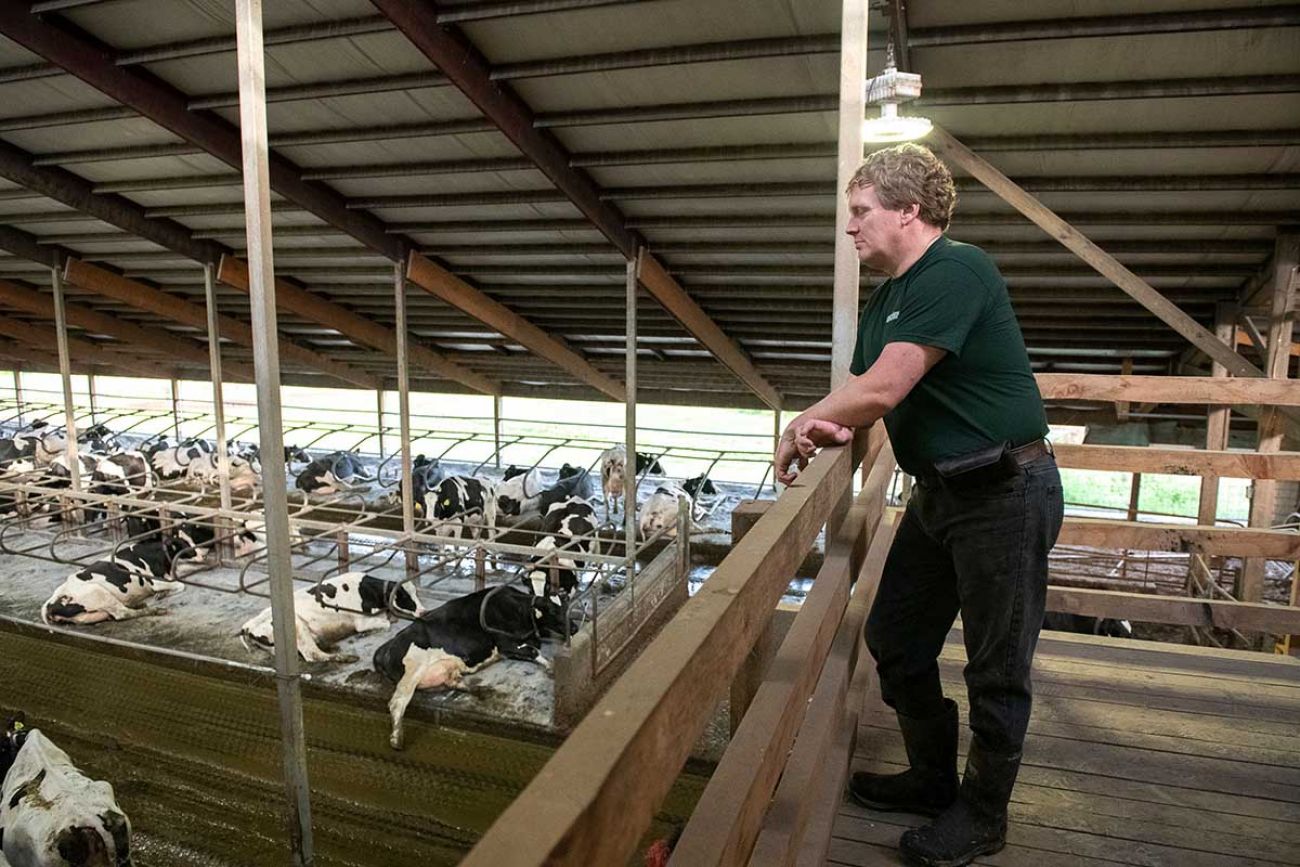 Sen. Ed McBroom, 40, owns a dairy farm near the Wisconsin border, and drives seven hours to Lansing to represent the Upper Peninsula. He's become divisive for a report he authored debunking voter fraud claims from former President Trump and his supporters. (Photo by David Hakamaki/Cutting Edge Photography for Bridge Michigan)
Michigan Government
A U.P. senator stood up to Trump. His career may suffer. His cows don't care.
VULCAN — Michigan state Sen. Ed McBroom had just pushed a reluctant cow into a robotic milking machine when he addressed the elephant in the room: Donald Trump, who has taken to calling him a "RINO."
It's been "surreal" to hear the former president invoke the name of a western Upper Peninsula dairy farmer, even if Trump is calling him a Republican in name only, McBroom told Bridge Michigan this week after completing morning chores with his wife and some of the 13 children they are raising with his sister-in-law.
"I can't say (Trump's) negative reaction was a surprise for me, but I don't think he's taken a second to read the report," said McBroom, who lives outside Vulcan, a town of about 1,500 residents along the Wisconsin border.
That report, authored by McBroom and adopted last week by the Republican-led Senate Oversight Committee, capped a nearly eight-month investigation into the 2020 election by diving deep into conspiracy theories and debunking them with devastating specificity.
There is no evidence of widespread or systematic fraud in Michigan, and people should be confident in the results, McBroom wrote. The dead didn't vote, ballot machines weren't manipulated and the attorney general should investigate those making false claims for personal gain, he added.
Related:
Trump, who continues to claim the election was "rigged," responded in predictable fashion: Over three consecutive days, he accused McBroom of a "cover up," suggested he may be "corrupt" and urged supporters to "overthrow" the first-term senator in the 2022 election.
But on Monday morning in rural Dickinson County, McBroom had more pressing concerns: He'd woken up at 3 a.m. to care for a cow sick with mastitis, another calf had just been born and one of the children had failed to wake up on time to perform his morning tasks.
Later, over coffee at a 20-seat dining room table large enough to accommodate his entire family, McBroom acknowledged Trump's criticism might have rattled him at a younger age. But after months of painstaking investigation, he said he's confident in both his work and conclusions.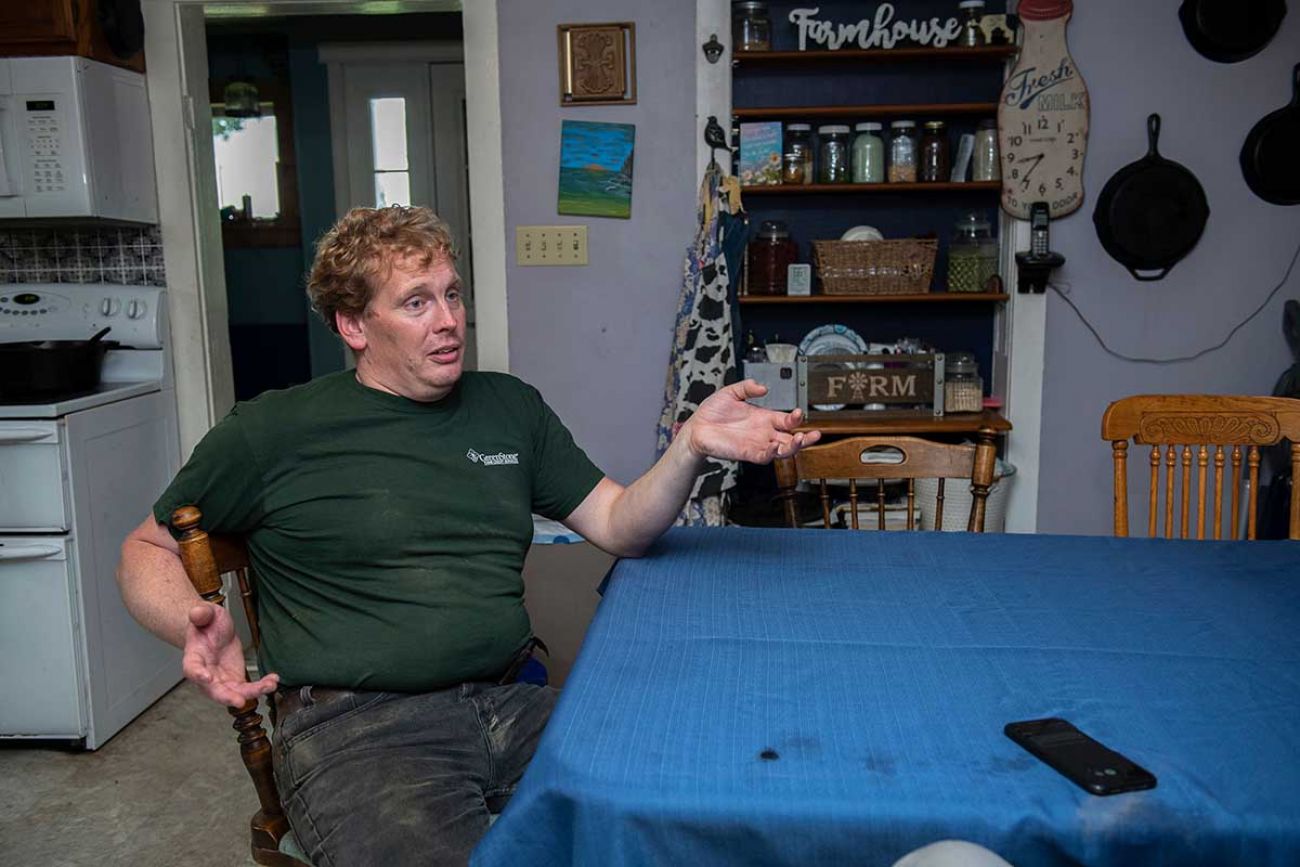 Sen. Ed McBroom relaxes at a dining room table that seats 20 at his home outside Vulcan in the western Upper Peninsula. He and his wife are helping raise his nieces and nephews after his brother died in 2018. (Photo by David Hakamaki/Cutting Edge Photography for Bridge Michigan)
"I fundamentally believe that the consequences of telling the truth are never as bad as the consequences of telling a lie or trying to cheat," said McBroom, who recently turned 40.
A conservative family man and devout Baptist who is rooted in his rural community but drives seven hours south to represent Yoopers in the Michigan Senate, McBroom is the latest in a series of unlikely punching bags for Trump.
After serving six years in the House and three in the Senate, his re-election campaign is suddenly shaping up to be another loyalty test for supporters of the former president. They are scrambling to recruit a GOP challenger to take on McBroom in a Senate district Trump won by 14 percentage points last fall.
Michigan Republican Party co-chair Meshawn Maddock last week criticized the timing of the Senate Oversight Committee report, and state Rep. Daire Rendon, R-Lake City, has accused McBroom and his colleagues of ignoring evidence of election fraud that she claims to possess.
Democrats, meanwhile, praised McBroom's debunking but blasted the report's suggestions for election reforms, calling them "voter suppression."
McBroom said he is not fazed by the criticism or the prospect of a primary challenge, which he was already expecting.
"I've been totally honest and up front, and if (voters) judge that's not what they want, and if the majority of them want a different course of action, that's OK," he said.
"I'm very content milking cows the rest of my life, and raising these kids and living here."
Farm life
McBroom, who was a Trump delegate at the 2016 Republican National Convention, lives the kind of throwback lifestyle the former president had put on a pedestal with his pledge to "Make America Great Again."
Back home, McBroom directs the Norway City Band, an adult ensemble that has performed patriotic tunes for the community since 1882. And in Lansing, he's known to play church hymns on a piano in the Capitol rotunda during lulls in late-night sessions.
McBroom's 320-acre family dairy farm, purchased by his Swedish immigrant great grandfather in 1917, is one of only four left in Dickinson County and roughly 60 left in the U.P. They currently own 120 milking cows, and almost 300 in total.
Mega farms have swallowed smaller operations, productivity has outpaced demand and Michigan's mismanagement of bovine tuberculosis means local farmers can't sell cows to Wisconsin meat markets after their dairy days are done, cutting into profits, McBroom said.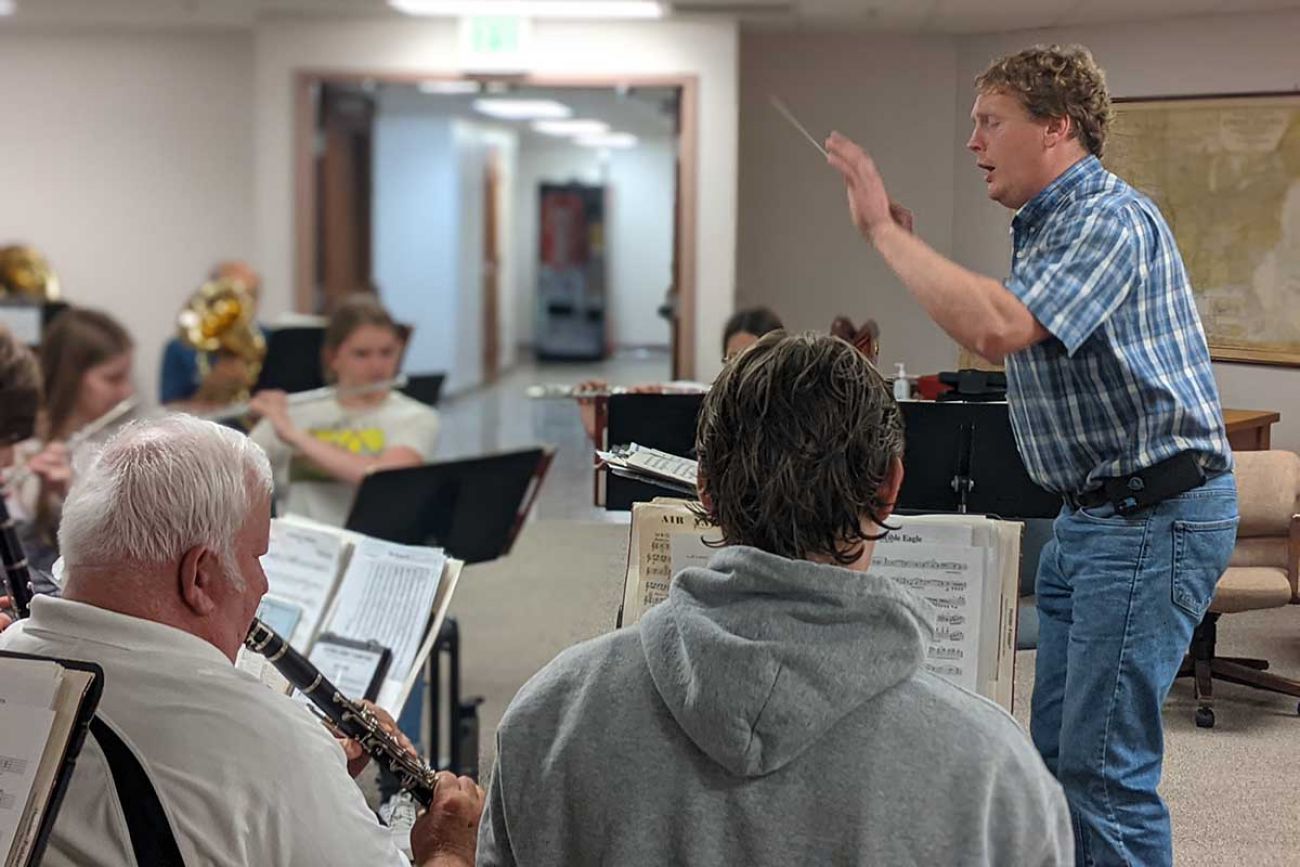 Sen. Ed McBroom directs the Norway City Band this week in the Upper Peninsula. He's known to play church hymns in the Capitol during late-night sessions. (Bridge Michigan photo by Jonathan Oosting)
It can be a challenging life, but one he chose to live with his brother, Carl.
After marrying sisters, they had taken over the farm together and lived in side-by-side houses on the property until 2018, when Carl died in a car crash, leaving behind a wife and eight children.
"He and I wanted this, because we just love raising kids on a farm setting and just think it's the best place for instilling the values that we have," McBroom said. "A farm gives you so many opportunities to teach kids about life, death, hard work, responsibility, accountability."
A 'hit piece' and recall threat
Locals describe McBroom with almost saint-like reverence for keeping up the farm despite Carl's death, helping raise his own five kids and the eight that his brother left behind — all between the age of 2 and 14-years-old.
"He is probably one of the finest, most upright Christian men I've ever met," said Barb Kramer, a Dickinson County commissioner and chair of the Dickinson County Republican Party.
"He will do what is right, and he will not give in to quocker-wodger," added Kramer, using an archaic term for a political puppet.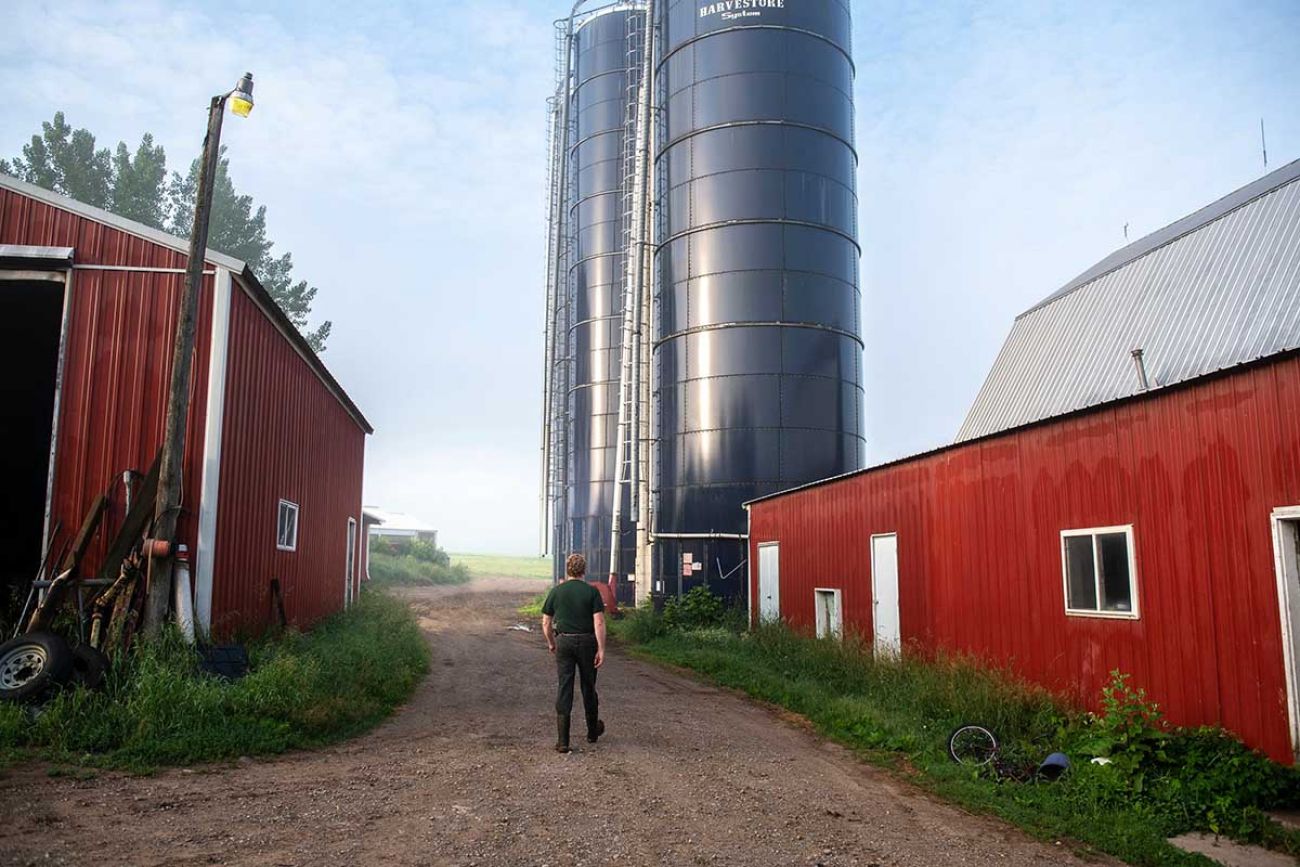 Ed McBroom is a devout Baptist, family man and data nerd. One thing he is not, says U.P. Republican Barb Kramer, is a "quocker-wodger," or marionette for powerful interests. (Photo by David Hakamaki/Cutting Edge Photography for Bridge Michigan)
Outside of his inner circle, McBroom has a large and growing list of detractors: On social media, some local conservatives have called him a "POS" and lambasted his committee's investigation. On Telegram, a right-wing networking site, pro-Trump activists have taken to calling him "McBum."
"His report is a hit piece against people he doesn't agree with," attorney Matthew DePerno, who has perpetuated fraud claims in Antrim County, said in a statement last week.
"We fully expect this unlawful report and its suppressive content will lead to the recall of Sen. McBroom in due course."
The demands of farm life made it difficult for McBroom to work on the election investigation from home, which is part of the reason it took him so long to complete. There were delays in obtaining subpoenaed records too, he said, and new conspiracies kept emerging for him to probe.
He wrote most of the report from Lansing, he said, often working late into the night in his legislative office or in a room that he rents from a retired school teacher. He'd finished a "rudimentary" draft by late January or early February but continued to investigate various claims for several more months.
"I wanted to get it out sooner, but it never worked out that way, and I'm not convinced whether it would have helped" slow the steady stream of misinformation that had continued since Nov. 3, McBroom said.
"I think the audience that the report primarily reaches and is impactful on are those that had some questions, had fears and doubts, but also went back to work and moved on with life," he added. " It's not really reaching those who continue to let this whole fear and distrust of the system dominate their lives."
Deep in Trump country
McBroom's 38th Michigan Senate district is deep in the heart of Trump country: The former president won 11 out of 12 counties here, most by decisive margins. President Joe Biden's only win came in Marquette County, home to Northern Michigan University and one of the last remaining Democratic strongholds in the Upper Peninsula.
But political insiders and experts from both major parties say Trump and his supporters aiming to topple McBroom in next year's GOP primary appear oblivious to unique dynamics in the U.P., where McBroom has spent years cultivating close, personal connections with voters.
Some Republicans fear Trump's attacks could jeopardize hard-fought gains in a region that had historically elected "conservative Democrats" like former U.S. Rep. Bart Stupak. He served for nearly 20 years until 2011 and supported gun rights and opposed abortion, positions now anethema to Democrats.
"If they go after Ed McBroom, they're just going to lose the seat to the Democrats and undo all this that we've worked for all these years," said Delta County Clerk Nancy Przewrocki, a fixture in local Republican Party politics.
"Because I can tell you 20 years ago, every seat in Delta County was held by a Democrat except for maybe one or two, and that's all changed."
Trump likely "added" to Republican momentum in the region by attracting blue-collar workers who had voted Democratic in the past, according to Przewrocki, who supported the former president in 2016 and 2020.
In 2016, enthusiasts for Donald Trump painted his name on a local landmark in Vulcan. The bear statue has since been covered with a tarp.
But Trump also benefited from a political evolution that predated his presidential campaigns, she said.
McBroom's political mentor, the late Tom Casperson of Escanaba, ended a decades-long Democratic stranglehold on the 108th state House district in 2002, and he later flipped the 38th Senate district in 2010.
A Democrat had briefly reclaimed the House seat in 2008, but McBroom defeated her two years later to win his first election.
Twelve years later, the district is now reliably Republican: state Rep. Beau LaFave of Iron Mountain, who succeeded McBroom in the House, won re-election by a nearly 2-1 margin in 2020.
The Senate seat, which includes Marquette County and a wide swath of the U.P., remains more competitive. McBroom won a tough but collegial race in 2018, defeating then-state Rep. Scott Dianda by 11 percentage points in a district Trump would win by 14 points two years later.
Trump's attacks on McBroom are "very disappointing" and threaten to "wipe out" GOP progress, said Przewrocki, who oversaw Delta County's 2020 election and verified results through random audits of three local townships.
"There's a group of Republicans out there that are kind of off the deep end. I don't know where any of them are coming with these accusations."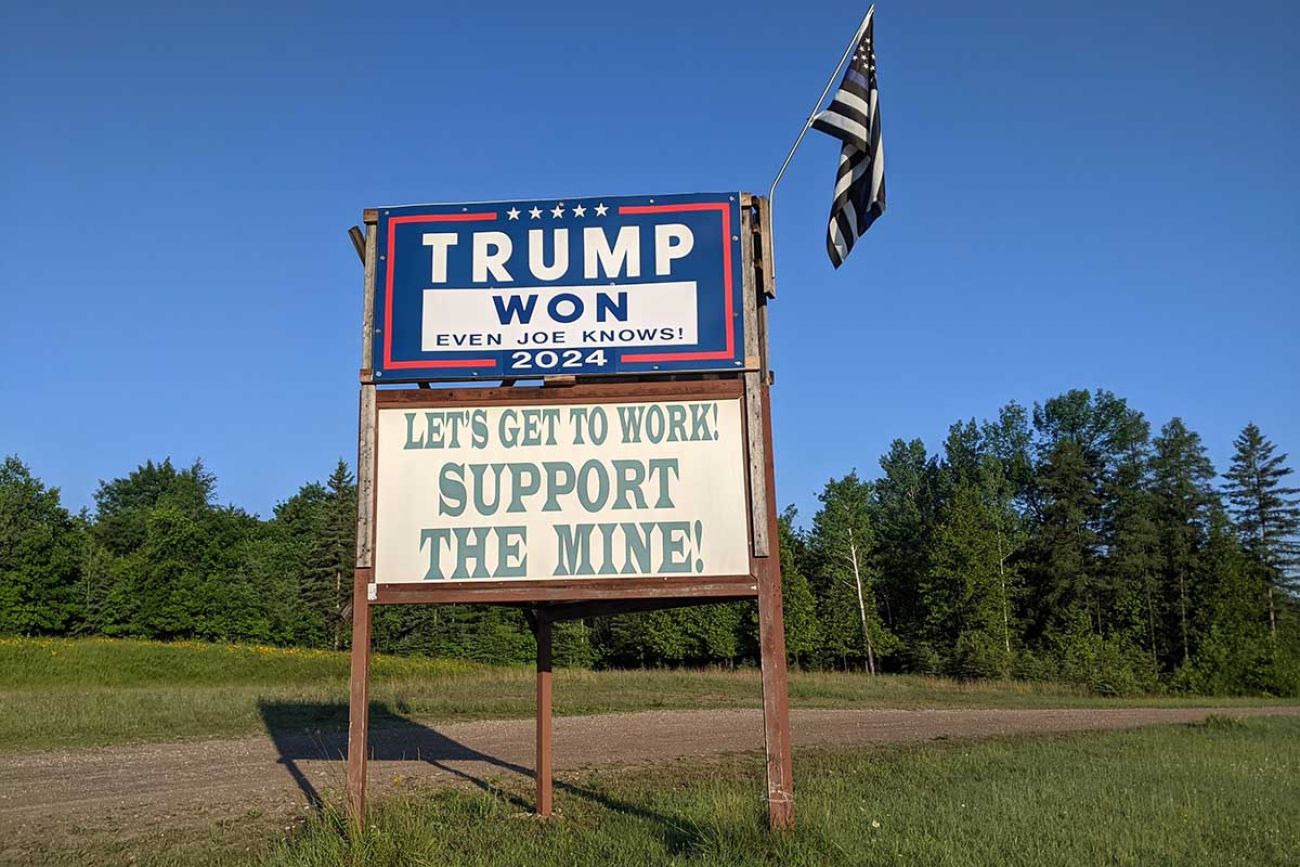 There is no evidence of fraud in the 2020 election, according to Michigan state Sen. Ed McBroom. But some constituents clearly disagree, including a landowner in Hermansville who has erected this sign along McBroom's route to Lansing. (Bridge Michigan photo by Jonathan Oosting)
Manure politics
McBroom might not have gone into politics were it not for cow manure.
In the 2000s, former Gov. Jennifer Granholm's administration proposed new regulations for manure storage systems of 1 million gallons or more, which would have had a direct impact on McBroom's farm and 1.5 million gallon pit.
His dad, Ken, who was running the farm at the time and still helps out, did something McBroom had never seen him do before: Call up a local state lawmaker, Casperson, who proceeded to lead a successful fight to stop the manure rule.
So when Casperson approached McBroom after hearing him speak at a 2009 Farm Bureau event and suggested the young farmer run for state House, his dad recommended he heed the advice.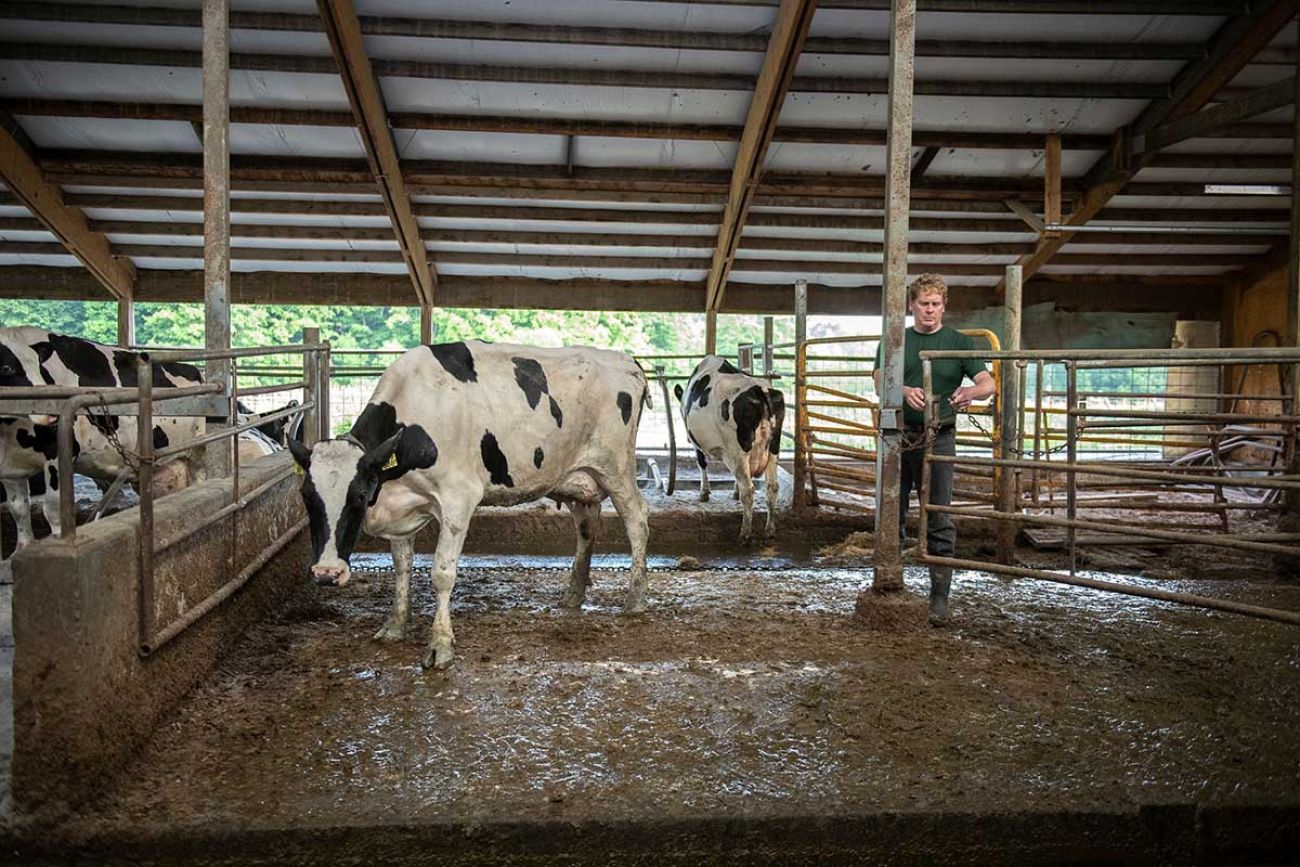 Mega farms, dropping prices and other pressures have made dairy farming difficult in Michigan. Ed McBroom's family dairy farm is one of about 60 left in the Upper Peninsula. (Photo by David Hakamaki/Cutting Edge Photography for Bridge Michigan)
"Before then, I had secret dreams of someday running for Congress, but I had never really thought about being involved in state politics," McBroom said. "People here in the U.P. generally try not to think about Lansing very often."
After three terms in the House, McBroom left office for two years before running for the Senate seat that Casperson was vacating in 2018. He nearly dropped out of the race less than a month before the GOP primary, when his brother died.
"Without robots, I wouldn't be in the Senate," McBroom said, explaining how his brother's push to modernize the farm ultimately afforded him enough flexibility to have it all: The farm, the family and the continued career in Lansing.
His cows wear radio-frequency identification collars that track their movements and how much they eat. Automated milking robots predict how much a cow should produce. A centralized computer system uses algorithms to parse the data and flag potentially sick cows or those going into heat.
Sitting at a computer desk in his unfinished barn office, McBroom surveyed charts detailing more than a dozen metrics about his cows. He clicked on individual cows to assess their feeding, birthing and milking histories.
And he can do the same from Lansing via remote login.
Reformers, nerds and blatherskites
That fondness for data, and McBroom's appetite for analyzing it, is evident in his Senate Oversight Committee report on the 2020 election.
Rather than simply dismissing some of the more bizarre claims made by Trump loyalists, McBroom dove into the data to search for weaknesses in the election system, much like he does on a daily basis with his cows.
"The law is not perfect, and the system is not perfect," he told Bridge from the floor of his milking barn. "We should not want to burn it down just because the system has imperfections."
Over the course of six years in the House and now three in the Senate, McBroom has earned a reputation as a reformer.
Among other things, he's fought to expand open government laws by subjecting the Legislature and governor's office to public records requests, and he's proposed repealing or modifying legislative term limits, which he believes have sapped Lansing of institutional knowledge needed to address the state's biggest challenges.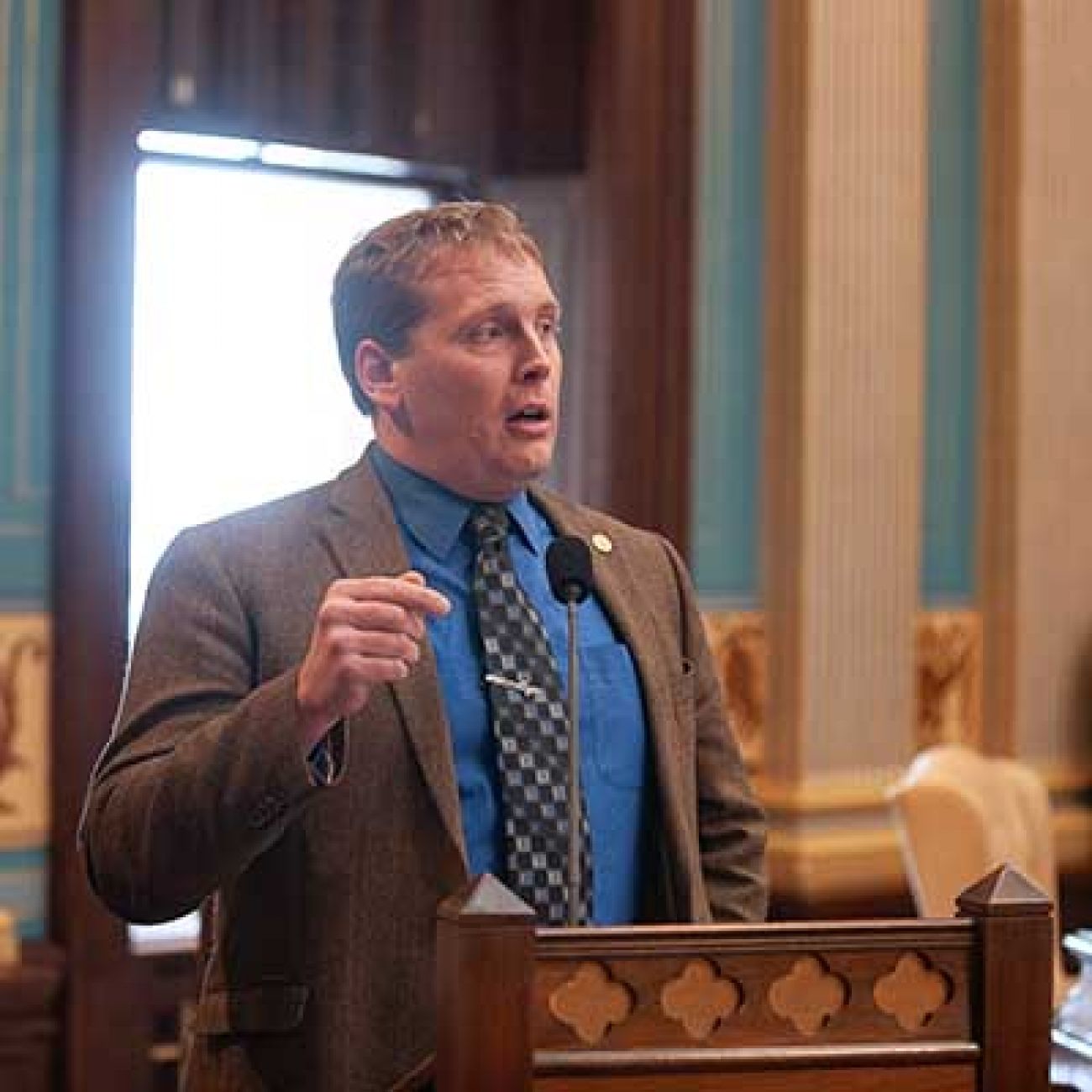 Sen. Ed McBroom, seen here in the Legislature, has angered Democrats over the years for espousing conservative causes and could attract a primary challenge from Republicans because of a report he wrote debunking voter fraud. (Photo by David Hakamaki/Cutting Edge Photography for Bridge Michigan)
"The way things ought to be is always on my mind," McBroom told Bridge Michigan.
"I really enjoy studying people who are reformers — Teddy Roosevelt in particular, but any others who recognize the American system of government is a really good foundationally, but from time to time needs reform. It doesn't need revolution."
That too is evident in his investigative report, which found no evidence of fraud in the 2020 election but nonetheless advocated for new laws to deter potential cheating, a position that has enraged Democrats.
"The fact that anyone could author this report and still move forward with changes that aren't substantiated or aren't necessary is kind of mind-boggling, to tell you the truth," Gov. Gretchen Whitmer said last week.
"I don't think it makes a lot of sense to fix something that ain't broke."
Democrats have other long-running feuds with McBroom, who has been a vocal critic of Whitmer's pandemic orders, has pushed for a controversial wolf hunting season rejected by statewide voters and is a proponent of the Line 5 oil pipeline, issues that resonate deeply with independently minded voters in the U.P.
McBroom describes himself as a political "nerd" who grew up reading encyclopedias and presidential biographies on the family farm.
He's also a self-described logophile — a lover of words — which is also evident from his report, which characterizes continued claims by DePerno, the Antrim County attorney, as "blatherskite."
That means nonsense, or foolish talk, a term McBroom learned in middle school from a "DuckTales" cartoon and has used before in the Legislature without much notice, he said.
"I'm always looking for the right word. I know it's there, but it just needs to be found to give full context to what I'm trying to express."
Taking a beating, doing what's right
Local experts say LaFave, who is term-limited and cannot seek re-election to the House, would be one of the only Republicans capable of taking down McBroom in a Senate primary.
But he's not even entertaining the idea of challenging a fellow GOP member of the U.P. delegation, which has historically shared tight bonds regardless of ideological differences.
"Anyone who thinks they can be successful (in a primary against McBroom) is woefully underestimating the amount of work that Ed has and will do for the Upper Peninsula," LaFave told Bridge Michigan.
Democrats, meanwhile, have yet to field a 2022 Senate candidate of their own. And state Rep. Sara Cambensy of Marquette, who is also term-limited and cannot run for re-election in the House, said she has no interest in running against McBroom either.
"Whether I agree with Ed or not, he is trying to do his best for the U.P., and it's really hard to think about running against someone who really has the best interest of people up here at heart," Cambensy told Bridge.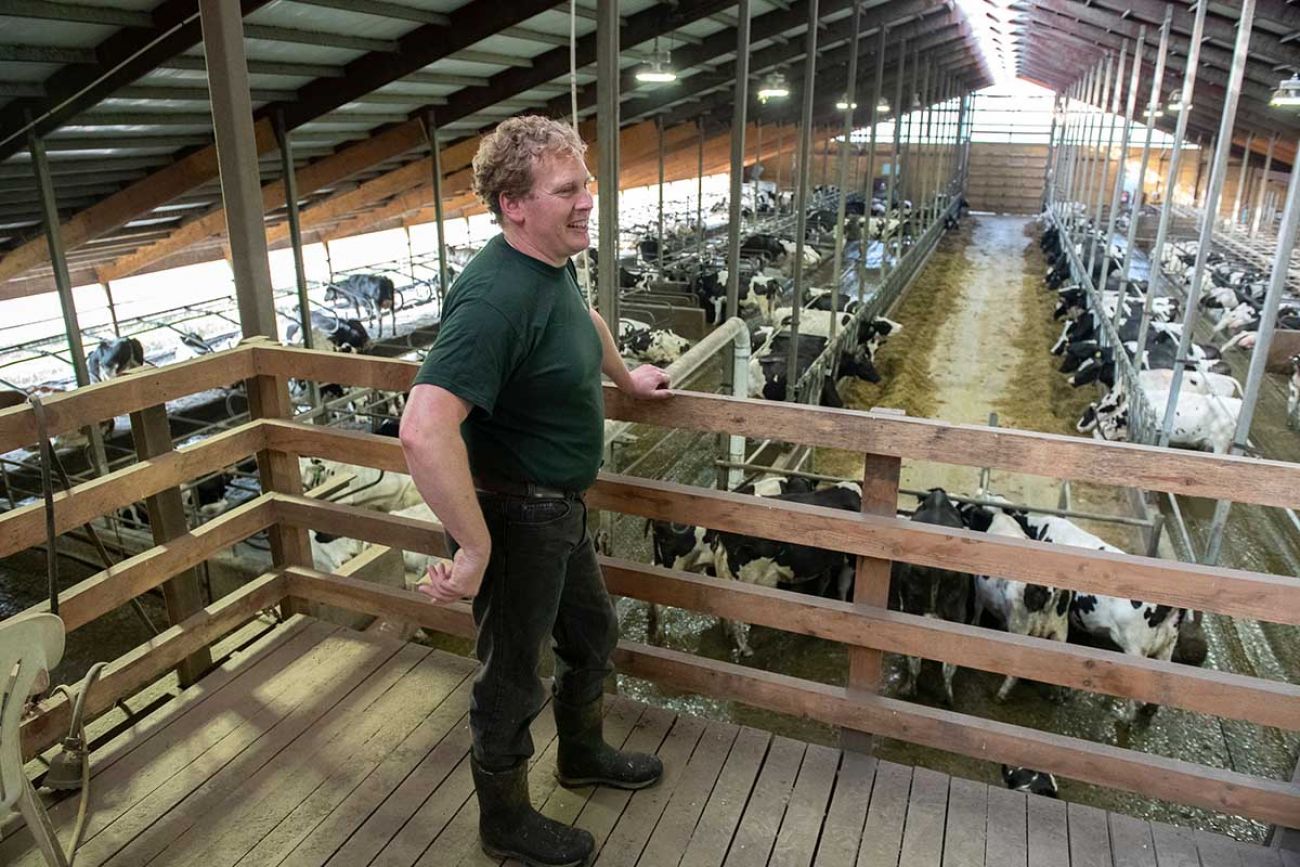 Sen. Ed McBroom is philosophical about the attention that he's received, good and bad, for authoring a report debunking voter fraud in 2020. If voters "want a different course of action, that's OK," he said. (Photo by David Hakamaki/Cutting Edge Photography for Bridge Michigan)
McBroom is "taking a beating" from some of his fellow Republicans, Cambensy added, but he seems to be "driven by doing what's right — he's always shown that in his legislative tenure — rather than doing what's politically popular."
Some critics are now urging Dianda, the former state lawmaker who ran against McBroom as a conservative Democrat in 2018, to switch parties and challenge him again in the GOP primary.
Dianda did not respond to a voicemail from Bridge Michigan but in a recent radio interview backed Trump's call for a "forensic audit" of the 2020 election, which he said could "put this to rest."
McBroom supporters say it is the former president and his supporters who should move on.
"It's time to get past all this and stop acting like a sore loser," said Kramer, who chairs the Dickinson County GOP.
"And I don't just mean Trump."
Only donate if we've informed you about important Michigan issues
See what new members are saying about why they donated to Bridge Michigan:
"In order for this information to be accurate and unbiased it must be underwritten by its readers, not by special interests." - Larry S.
"Not many other media sources report on the topics Bridge does." - Susan B.
"Your journalism is outstanding and rare these days." - Mark S.
If you want to ensure the future of nonpartisan, nonprofit Michigan journalism, please become a member today. You, too, will be asked why you donated and maybe we'll feature your quote next time!