Judge eyes sanctions in 'Kraken' case that sought to overturn Michigan vote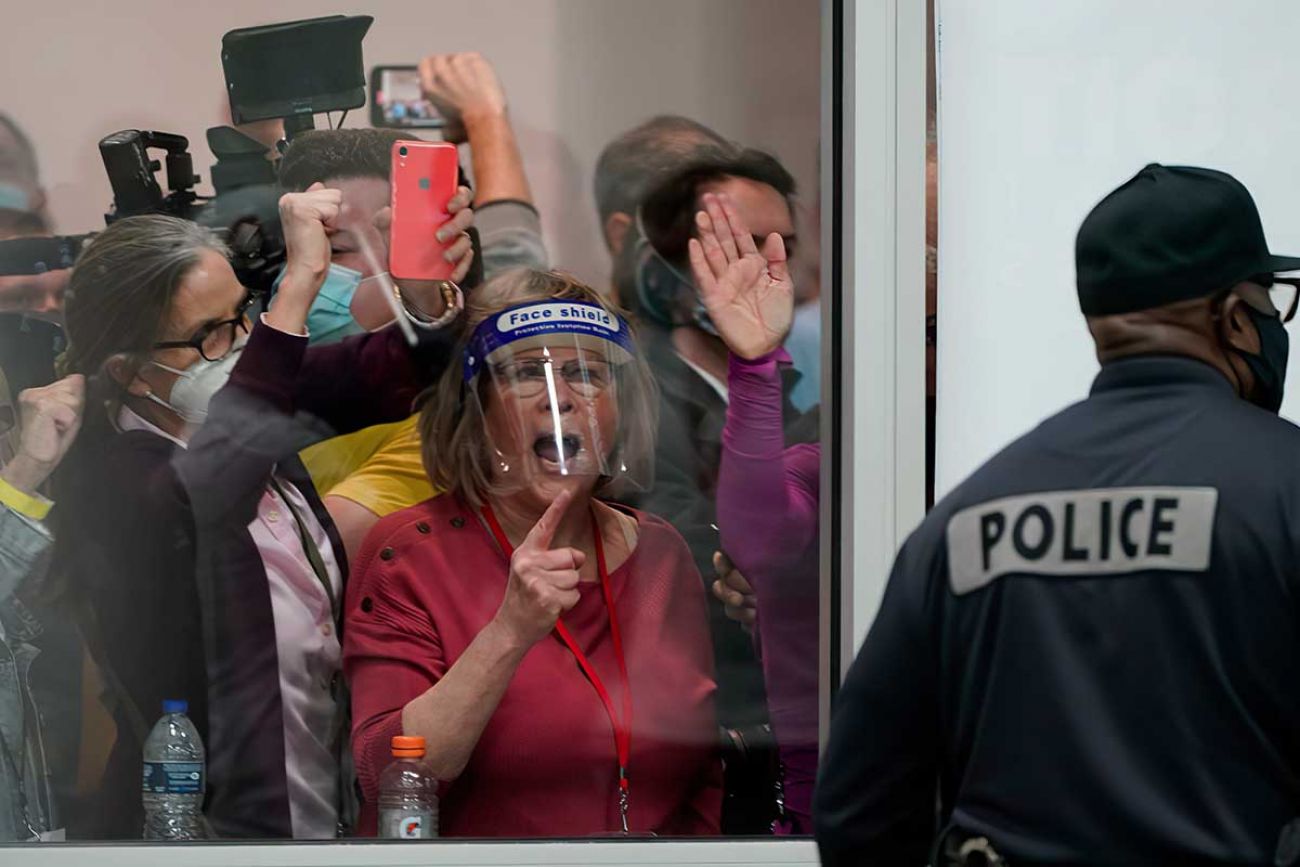 Sidney Powell was among a slew of attorneys sanctioned by a federal judge Wednesday for pursuing a meritless lawsuit aimed at overturning the election defeat of President Trump last November. (Devi Bones / Shutterstock.com)
LANSING — A federal judge said Monday that Sidney Powell and other attorneys had a professional responsibility to vet "fantastical" witness claims before citing them as evidence in a lawsuit that sought to overturn Michigan's presidential election.
U.S. District Court Judge Linda Parker demanded the attorneys appear for a sanctions hearing by Zoom as she considers whether to penalize them. She did not rule Monday, but she spent more than five hours questioning conspiracy allegations they had advanced in support of former President Donald Trump.
Parker appeared especially interested in whether the attorneys had reviewed or fact-checked error-filled reports from "expert witnesses" before including them in a failed lawsuit that made national headlines and was eventually appealed to the U.S. Supreme Court.
Related:
"There is a responsibility, there's a duty that counsel has to ensure that when you're submitting a sworn statement… as evidentiary support of your claims, that you have reviewed it, that you have done some minimal due diligence," Parker told the attorneys and their legal counsel in a Zoom hearing.
Parker, a Democratic appointee, rejected the underlying lawsuit in December, calling it an "amalgamation of theories, conjecture, and speculation." The complaint had urged her to de-certify President Joe Biden's election and name Trump the winner, or void the entire election and order a new one.
Michigan Gov. Gretchen Whitmer, Secretary of State Jocelyn Benson, the city of Detroit and serial litigant Robert Davis of Highland Park have each urged Parker to sanction the pro-Trump attorneys.
Requested penalties include fines large enough to "deter future misconduct," reimbursement of all city and state legal fees, potential disbarment or a ban from practicing in Detroit federal court.
The sanctions hearing came more than six months after Trump supporters stormed the U.S. Capitol in an attempt to block congressional certification of Biden's win, including his 154,188 vote victory in Michigan.
"That insurrection can be directly linked to the lies that were spread by the attorneys in this litigation, shielded by the sanctity of judicial proceedings," David Fink, an attorney for the City of Detroit, argued in support of sanctions.
"These attorneys wielded the weapons afforded to them by the privilege of being admitted to the bar...to abuse the processes of this court in a devastating way," he said.
But Donald Campbell, an attorney for Powell and other attorneys in the hearing, argued that punishing lawyers for representing Michigan voters who questioned election integrity would set a "dangerous" precedent.
"This case was driven by doubts arising from the eyewitness accounts in the statistical evidence, and it was merely part of the necessary and proper process, intended to settle such doubts," Campbell said.
"Civil complaints do not foment revolution. Bringing claims based on affidavits from those who were there, and others who were able to study the available information, does not provoke insurrections."
Parker did not rule Monday, concluding the occasionally fiery hearing by giving attorneys additional time to file response briefs before she issues a decision.
'Improbable' claims
The so-called "kraken" lawsuit relied, in part, on testimony from "Spyder," who Powell and colleagues described anonymously as a former "Military Intelligence expert."
The Washington Post later revealed the witness as Joshua Merritt, a 43-year-old information technology consultant who had once enrolled in but never completed entry-level military intelligence training.
The Michigan complaint also cited evidence from security analyst Russell Ramsland, who falsely claimed 781 percent voter turnout in North Muskegon (actual turnout was 78.1 percent) and referenced "hand counts" in Antrim County even though a hand recount was not conducted there until the following month.
"Did anyone question the improbable turnout numbers," Parker asked, "as shown in his declaration, which was attached to the original complaint?"
In both instances, attorney Howard Kleinhendler, who represented plaintiffs in the suit and is facing possible sanctions, said he had personally spoken with the witnesses before including their testimony in the Michigan lawsuit.
Plaintiffs had a "good faith basis" to present the claims, and "no reason not to believe them," he told Parker, disputing suggestions the pro-Trump legal team sought to "disenfranchise millions of voters" by overturning the election.
"I reject categorically the mantra you've heard in the papers and you're hearing again now that we did this as a publicity stunt," Kliendhendler said of the lawsuit.
"We did not. We filed it on behalf of plaintiffs who asked us to file it."
But including unsubstantiated claims in the lawsuit was far from "some kind of harmless error," said Fink, the Detroit attorney.
"These lies were put out into the world. And when they were put out into the world, they were adopted, and believed and believed by some."
Fink noted that Trump cited false Detroit voter turnout numbers from the Michigan lawsuit in a Jan. 2 phone call in which he pressured Georgia's Secretary of State to "find" enough votes to overturn that state's election.
"Unfortunately, this kind of case is going to make people around the world believe that lawyers can say or do whatever they want," Fink said. "And it doesn't have to be true, they don't have to inquire. It isn't that way. You can't put something in a pleading that you know to be false."
Powell, who sued multiple states in a failed attempt to overturn the election, said little during the hearing and at one point turned off her camera.
But Powell ridiculed the proceeding in a closing statement, arguing it "leaves the American public with no confidence either in our election system or in our judicial system."
"The duty of lawyers of the highest tradition of the practice of law to raise difficult, and even unpopular issues," Powell said. "We would file these same complaints again."
Powell told Parker she had spoken to Ramsland, the witness who published false turnout numbers, but said she could not recall if those discussions occurred before or after reviewing his affidavit and including it in her Michigan complaint.
L. Lin Wood, a Powell ally, sought to distance himself from potential sanctions by telling Parker he had nothing to do with the lawsuit.
He did not review any evidence and did not know Powell would put his name on legal briefs, he claimed.
"I actually did not know at the time that my name was going to be included, but I certainly told Sidney Powell in discussions that I would help her if she needed me in any of these cases," Wood said. "I just didn't have anything to do with this."
Powell acknowledged there may have been a "misunderstanding." But, to the best of her recollection, she "did specifically ask Mr Wood for his permission" to put his name on the lawsuit, Powell said.
"I take full responsibility for the pleadings in this case."
'Due diligence'
The complaint also relied heavily on affidavits from Republican poll challengers who had worked at Detroit's absentee counting board at the TCF Center, some of which Parker called "fantastical" and full of hearsay.
Powell and other attorneys told Parker they did not personally prepare or vet the claims because they had already been submitted in a separate lawsuit.
Among them, Dominion Voting Systems contract employee Melissa Carone speculated that she may have witnessed election fraud at the TCF Center because a food van arrived but she never saw any food brought inside.
Fink, the Detroit attorney, noted that Wayne County Judge Timothy Kenny, a Republican appointee, had already dismissed such claims as "incorrect and not credible" when he rejected the earlier lawsuit seeking to block certification.
Powell, in one of her only unprompted statements, argued that including 960 pages of affidavits to an already "massive" complaint showed "extraordinary due diligence" on the part of the pro-Trump legal team.
"The only way to test (the claims) is in the crucible of a trial or an evidentiary hearing, which the court has denied at every stage," Powell said.
Parker responded: "Volume in this court certainly doesn't equate with legitimacy or veracity," she told Powell. "So please understand that."
Attorney Julia Haller, a former Trump campaign staffer who worked on the Michigan lawsuit, argued the legal team did not have a responsibility to fact-check affidavits prepared by other attorneys.
She urged Parker to take testimony from witnesses who were cited in the lawsuit but never got their day in court, asking the judge to hold an "evidentiary hearing" before deciding to "impugn" the credibility of witnesses.
"We did not submit falsehoods, and we have not had an opportunity to have our witnesses examined," Haller said.
But Parker repeatedly questioned whether the pro-Trump legal team had done enough to vet affidavits and reports before including them in an explosive legal complaint designed "make the public believe there was something wrong" with the Michigan election.
"Every lawyer has that duty to do a minimal amount of investigation before filing evidence, or what's purported to be evidence, to this court," Parker said.
Only donate if we've informed you about important Michigan issues
See what new members are saying about why they donated to Bridge Michigan:
"In order for this information to be accurate and unbiased it must be underwritten by its readers, not by special interests." - Larry S.
"Not many other media sources report on the topics Bridge does." - Susan B.
"Your journalism is outstanding and rare these days." - Mark S.
If you want to ensure the future of nonpartisan, nonprofit Michigan journalism, please become a member today. You, too, will be asked why you donated and maybe we'll feature your quote next time!