Trump fraud claims make Michigan clerks fact-checkers as lies spread online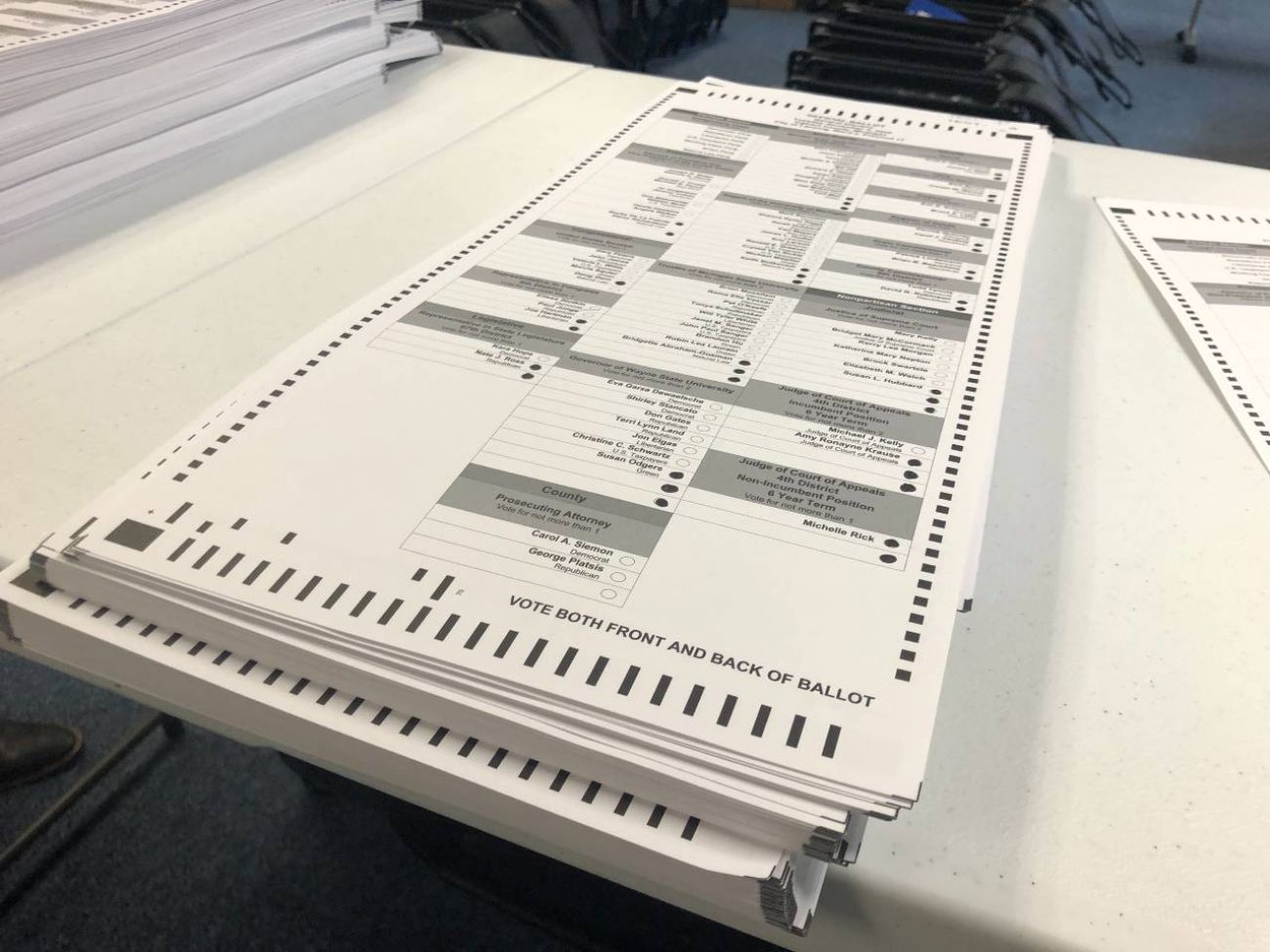 The Secure MI Vote initiative would add several measures that supporters call reforms to enhance ballot security, but foes say are naked attempts to make it harder to vote. (Bridge file photo)
June 23 2021: GOP investigation finds no Michigan vote fraud, deems many claims 'ludicrous'

The conspiracy claims began as North Muskegon City Council members were discussing tree plantings and other mundane matters.
Internet sleuths took to the comments section of the city's Facebook stream and demanded explanations for purported anomalies that could prove President Donald Trump's erroneous claims the Nov. 3 election was "rigged" against him.
"I would like an answer as to how your precinct had a voter turnout of 781%," wrote one man during the Nov. 16 hearing. "There is 100% major problems with your votes."
"Anywhere you have Democrats in charge corruption runs rampant!!" wrote another, berating nonpartisan officials in a community that is almost evenly divided along party lines.
It didn't take long for City Manager Sam Janson to refute the voter turnout claims, which had spread through YouTube videos: North Muskegon, a city with 3,390 registered voters, counted 2,648 ballots in the Nov. 3 election, according to official results.
Citywide turnout was 78.1 percent, not 781 percent, Janson told Bridge. Turnout was 74 percent in one precinct and 82 percent in the other.
"It's amateur hour," he said of the Facebook commenters. "I don't know a better way to say it."
Yet those same claims took on new life last week when they were included in a lawsuit filed by attorney Sidney Powell, a Trump ally who is requesting an unprecedented judicial order to void and redo the Michigan election that Democrat Joe Biden officially won by 154,188 votes.
The claims were repeated Wednesday in the Michigan House Oversight Committee, whose Republican chair gave Trump attorney Rudy Giuliani a 4½-hour platform to call his own witnesses, including a Texas-based distillery founder who alleged a global conspiracy involving Dominion Voting Systems equipment, which the company has categorically denied.
Powell's federal lawsuit leans heavily on analysis from Russell James Ramsland Jr, a former restaurant and bar owner who now runs an outfit called the Allied Security Operations Group that claims to have uncovered "impossible" anomalies in Michigan election results.
Among the statistical "red flags" highlighted the Ramsland report: 781.91 percent voter turnout in one North Muskegon precinct, a claim wildly out of line with official results canvassed by Muskegon County and certified by the state.
"The numbers don't seem to line up," Janson said, telling Bridge that despite the conspiracy theories, "this was the smoothest election I've ever been a part of."
Misinformation wars
Local officials across Michigan have been thrust into an unexpected fact-checker role this fall as Trump supporters repeat the president's unsubstantiated claims of widespread voter fraud in an election he has refused to concede.
In Rochester Hills, it was GOP Clerk Tina Barton, who last month said she was "distrurbed" that Repubican National Committee Chair Ronna McDaniel mischaracterized a clerical error in her office "to undermine the election process."
Antrim County Republican Clerk Sheryl Guy, meanwhile, has repeatedly admitted that human error caused an initial election result reporting mistake that has fueled a global conspiracy about Dominion Voting Systems equipment used in parts of Michigan and two dozen states.
"Unfortunately, a lie can get halfway around the globe before the truth puts his pants on in the morning," said Canton Township Clerk Michael Siegrist.
Siegrist, a Democrat, last month alerted authorities to what is so far one of the only credible allegations of voter fraud in the Nov. 3 election: A dad who forged his daughter's signature on her absentee ballot, with her permission, which is nonetheless illegal.
Clerks statewide have been flooded with false claims that dead voters cast ballots in the election, Siegrist told Bridge, calling it a "good waste of time for elected officials" to debunk what have largely just been cases of mistaken identity.
"Not only is voter fraud extremely difficult to do, it's statistically insignificant, and it's not an effective way to change the outcome of an election," he said. "People are better off to just campaign."
The fraud claims have persisted, however.
Powell's lawsuit repeats falsehoods about Antrim County, cites a "dead" voter claim already debunked and includes other allegations with no basis in fact.
In one filing, computer engineer Navid Keshavarz-Nia even claimed that Biden received "more than 100 percent of the votes" in Edison County, MI, which is not a real county in Michigan or any other state.
Giuliani, in his testimony before the House Oversight Committee on Wednesday, claimed that "massive fraud in Detroit" was responsible for between 500,000 and 700,000 votes for Biden, a dubious claim given that only 256,514 Detroiters voted in the presidential race, a turnout of about 51 percent.
The Ramsland analysis — which Powell told the court proves "the injection, or fabrication, of 289,866 illegal votes in Michigan" — is riddled with misinformation.
The report claims 460.51 percent voter turnout in Zeeland Charter Township in Ottawa County, where 6,975 of 8,740 registered voters actually cast ballots, about 80 percent, according to canvassed and certified results.
Turnout ranged from 74 percent to 85 percent across the township's four voting precincts, according to official numbers accessible online through a simple Google search.
False narratives
Ramsland did not respond to a voicemail seeking comment from Bridge Michigan, but Ottawa County Clerk Justin Roebuck said it appears the report confused full Zeeland Township precincts with "splits," partial precincts separated in data files because of county commission and school district boundaries.
There was a human data-entry error in one of those precincts, Roebuck acknowledged. He suspects a local election worker transposed voter registration numbers across two portions of the same precinct, which means turnout appeared unusually high in one "split" and unusually low in the other.
But that small error is not evidence of a big conspiracy, said Roebuck, a Republican, who told Bridge that turnout across the precinct was accurately reported at 84.8 percent. Trump dominated there, winning 904 of 1,239 votes.
Fake Michigan turnout numbers cited in Sidney Powell lawsuit vs. actual Michigan turnout numbers compiled by director of Standford University's Spacial Social Science Lab. pic.twitter.com/LjIFLZmhcP

— Jonathan Oosting (@jonathanoosting) December 3, 2020
"The narrative they want is to assume that more people voted than were registered, but that's actually not true" Roebuck said.
"Our voters deserve transparency and accuracy, and they also deserve honesty. We welcome any questions about the specifics of the elections process, but (it) is critical that we adhere to facts and fully vet information before making accusations that undermine trust in our democratic process."
Zeeland Charter Township Clerk Kate Kraak, a Republican, said she's received multiple calls from citizens who read the Ramsland report and suspect foul play. The actual voter turnout numbers were up slightly over 2016, but that was anticipated because of voter enthusiasm, she said.
"It's frustrating that there's so much misinformation out there that's just eroding the confidence of what was a very well run election," she said.
The Ramsland report "lacks a basic level of clarity or transparency about research methods or data sources that would be expected in a scientific communication," Jonathan Rodden, director of Stanford University's Spacial Social Science Lab, said in his own court filing. In any event, it contains no evidence of "anomalies" or fraud, he wrote.
'That's just how it works'
Beyond false voter turnout numbers, experts say the Ramsland report also reveals a "profound" misunderstanding of how election results are reported in Michigan, which Trump has falsely claimed he won because he was leading in early returns that did not include absentee ballots.
The analysis alleges a "physically impossible" vote spike in Michigan's four largest counties — Wayne, Oakland, Macomb and Kent — claiming they counted a combined 384,733 ballots in less than three hours on election night.
"The existence of the spike is indicative of a manual adjustment either by the operator of the system or an attack by outside actors," Ramsland declared in the report.
But officials say the purported vote spikes have nothing to do with when ballots were actually processed and counted. Instead, they reflect when a local jurisdiction actually reported results, typically in full or partial batches.
When large communities like Detroit or Grand Rapids reported a large batch of previously counted ballots, unofficial vote tallies understandably jumped.
"When they came out, they came out as a lump," said Chris Thomas, a Detroit senior adviser and former director of the Michigan Bureau of Elections. "They don't come out in real-time as they're being tabulated. They're accumulated.
"That conspiracy nonsense is just ridiculous."
Because Trump had spent months railing on mail-in ballots, officials say it is no surprise that absentee ballots, which took longer to process and report, favored Biden.
"Trump was ahead in early counts because in-person precincts reported first," Roebuck, the Republican Ottawa County clerk, pointed out this week on Twitter, where he and other local officials provided live fact checks during Giuliani's testimony.
"Absentee ballots take longer to count — and since Trump spent a year discouraging his supporters from voting absentee, I don't see it as rocket science that absentee totals broke for Biden," he wrote.
Phil Waldron, a military veteran turned Texas distillery CEO who testified before the Michigan House committee at Giuliani's behest, told state lawmakers he was part of the "forensics team" responsible for the Ramsland report.
At one point, Waldron said the analysis was based on data provided to the New York Times and other media outlets by Edison Research, a reference that could explain the origins of the non-existent Edison County, which was highlighted in a separate report.
At another point, he claimed the data was "from Dominion and published in open source," an obvious falsehood because Oakland and Macomb counties do not use Dominion equipment.
Rep. Steve Johnson, a Wayland Republican and one of the most conservative members of the state Legislature, pressed Waldron on his false claim that results reported on election night were the equivalent of real-time ballot counts.
"I don't think that's accurate, and I don't think they upload results until after everything is done," Johnson said. "I don't think that's proof of a fraud or anything. I think that's just how it works."
Only donate if we've informed you about important Michigan issues
See what new members are saying about why they donated to Bridge Michigan:
"In order for this information to be accurate and unbiased it must be underwritten by its readers, not by special interests." - Larry S.
"Not many other media sources report on the topics Bridge does." - Susan B.
"Your journalism is outstanding and rare these days." - Mark S.
If you want to ensure the future of nonpartisan, nonprofit Michigan journalism, please become a member today. You, too, will be asked why you donated and maybe we'll feature your quote next time!