Health board accuses Michigan State Police of being lax on Capitol protesters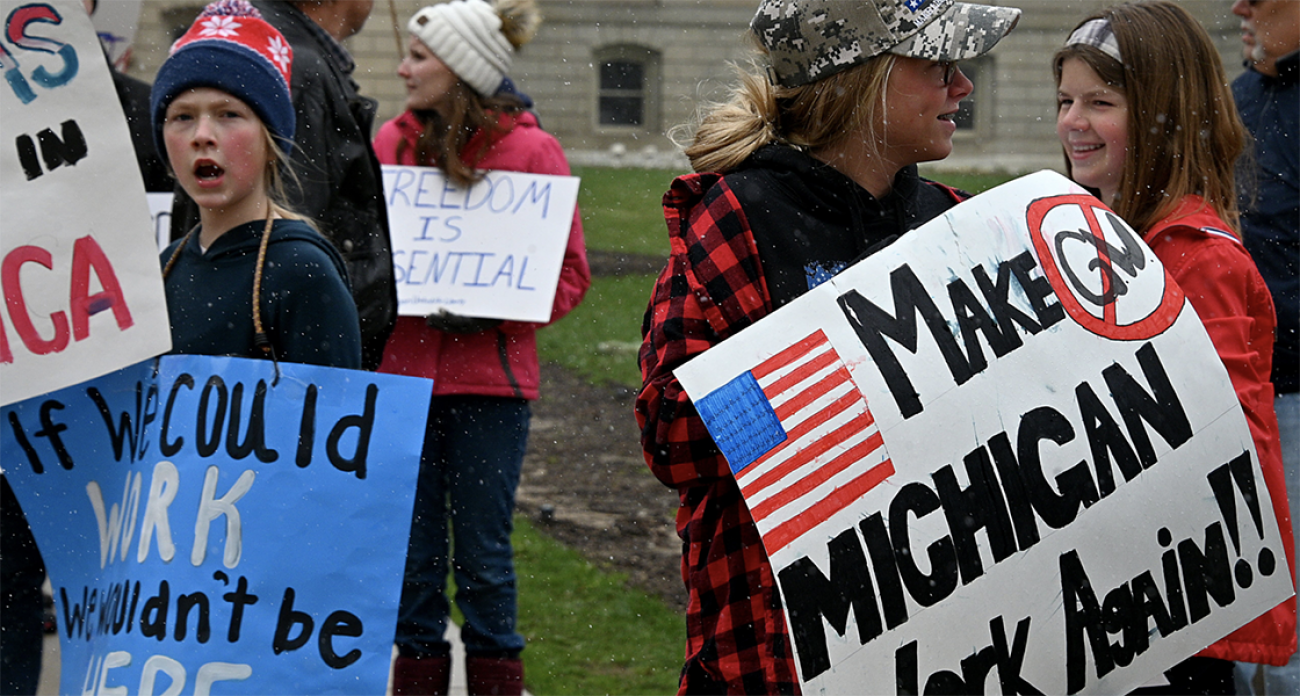 A community health board in Ingham County has accused Michigan State Police and Lansing officials of endangering residents and undermining public health by failing to adequately control crowds at the state Capitol protesting coronavirus lockdown measures.
The complaints, in letters sent Monday to Michigan State Police and Lansing Mayor Andy Schor, came three days before another planned protest of Gov. Gretchen Whitmer's executive orders intended to slow the spread of the coronavirus by severely limiting Michiganders' movements and shuttering non-essential businesses.
Todd Heywood, chair of Ingham Community Health Centers' Board of Directors, wrote that the organization was "deeply troubled" by how Michigan State Police has responded to anti-Whitmer protests that began April 15.
"Not only have these protests brought people into Lansing who then gathered on our streets (at the Governor's residence) but they did so without practicing social distancing or wearing facemasks," Heywood wrote.
Despite videos, photos and social media images of the protest, WZZM-TV in Grand Rapids quoted the agency as saying there were no violations of social distancing orders, Heywood noted in his three-page letter.
Those reports and witness statements — in contrast with the WZZM report — leaves "the public to draw the conclusion that you provided inaccurate information serving to minimize a very real public health threat and concerns that protesters were flaunting social distancing requirements," Heywood wrote.
In the letter to Schor, Heywood wrote: "While we have great respect for the men and women of the Lansing Police Department who work day and night to protect our community, we cannot support the city's failure to enforce public health orders specifically designed to protect the health of our community."
The board members said "we implore you to actively and aggressively enforce" the executive orders during future protests.
The health board is a partner of the Ingham County Health Department and provides primary care to county residents. Heywood sent a copy of the letter to Ingham County Health Officer Linda Vail.
Vail said she took no position on the letters. But she said she, too, was concerned about a lack of enforcement and was surprised there were "no citations, nothing," during the earlier protests.
Vail, a long-time public health officer and former research scientist, said she supports a process in which violators of safety protocols first receive warnings, but that citations are important for those who blatantly disregard orders — whether during protests or if businesses reopen in violation of Whitmer's orders.
Those violations, she said, create "a relatively porous lock-down," she said.
Heywood told Bridge the organization has had "ongoing conversations" with the mayor about the earlier protest. However, he said he was not authorized to speak further about the letters. Valerie Marchand, spokesperson for Schor, said the city "appreciates" the letter from the board and said the city first issues a warning before issuing a citation when people violate the executive orders. She noted that the Capitol building and lawn is under the jurisdiction of the state police, and added "for Thursday, we will continue to work the State Police and other agencies to ensure safety."
The letters come as Lansing braces for yet another protest against state policies. A group calling itself Michigan United For Liberty is planning a "3 in 1 protest" on Thursday outside the Capitol, Whitmer's office and the office of Attorney General Dana Nessel. The demonstration will include speakers and tacos, according to an advisory.
Lansing City Council President Peter Spadafore said he's been a "vocal critic" of Capitol protesters who "blatantly violate" the governor's executive order by ignoring social distancing protocols or refusing to wear masks, and he's been "very discouraged, and quite angry, that it's turned into armed protests in an effort to intimidate lawmakers."
The Lansing Police Department does not have jurisdiction on Capitol grounds but has patrolled streets near the building at recent protests. During an April 30 demonstration, officers from East Lansing and the Ingham County Sheriff's Office assisted Lansing Police, according to Spadafore.
But enforcing the governor's stay-at-home order is a challenge, and something officials at all levels are "grappling with," he said.
To cite someone for a social distancing violation, for instance, local police are first expected to talk to the person and issue a warning if they refuse to comply. The officer would then have to "stand there" to make sure the same person doesn't violate the order again before issuing a citation or fine, Spadafore said.
"It's not an excuse, really, it's just a reality," he said. "It's a lot more complicated than just saying, 'You're not six feet apart.' People still do have that due process right."
Protesters who ignore safety protocols may have inadvertently carried the virus to or from Lansing, "but I think our community members are by and large smart about things, which is why you don't see a huge spread here," Spadafore said.
Michigan State Police spokesperson Shanon Banner told Bridge via email that at the two demonstrations on April 15 and 30, police didn't issue any tickets or violations but made two arrests, for assault and disorderly conduct.
"Based on previous demonstrations over the last couple of weeks, it is evident that not all people voluntarily comply with the safety measures put in place through executive order to slow the spread of COVID-19, and for those people, we will be prepared to take enforcement action, as necessary," she said.
A spokesperson for the Lansing Police Department did not immediately return a request for comment Tuesday.
Ingham County Prosecutor Carol Siemon's office has not filed charges against protesters at any of the Capitol demonstrations, and only one related case has been referred by local police, said spokesman Scott Hughes.
The owner of Classic Barber Shop, located less than a mile from the Capitol, violated Whitmer's order by opening the day of the April 30 protest and reportedly giving a haircut to West Michigan GOP congressional candidate Tom Norton, among others.
But Siemon, in a statement issued May 1, said she did not file charges against barbershop owner Brian Caskey because he had "ceased any activities that would have been in violation" after a warning from Lansing police.
"That is consistent with our policy regarding the executive order and its enforcement," she said. "Primarily, it is to be used as a tool of education as well as enforcement, and we have stated that we will take court action for those who ignore or dismiss warnings."
Facts matter. Trust matters. Journalism matters.
If you learned something from the story you're reading please consider supporting our work. Your donation allows us to keep our Michigan-focused reporting and analysis free and accessible to all. All donations are voluntary, but for as little as $1 you can become a member of Bridge Club and support freedom of the press in Michigan during a crucial election year.