Can magic mushrooms help fibromyalgia? U-M wants to know, needs volunteers
Kevin Boehnke, a University of Michigan researcher, addressed attendees Sunday at an Entheofest event in Ann Arbor, celebrating the city's decriminalization of psychedelics three years ago. (Bridge photo by Pattrick Yockey)
U-M research is examining the effects of psilocybin, a psychedelic, on pain and other symptoms of fibromyalgia
There's growing interest — and acceptance — of the therapeutic potential of psychedelics in the medical world
The research trial is now recruiting participants
---
ANN ARBOR—To unlock the potential of magic mushrooms against pain and suppressed secrets of the brain, University of Michigan researchers are turning their gaze to a small lab with a decidedly unscientific feel — one with thick carpeting, a Himalayan salt lamp and a moody music playlist tailored for a psychedelic experience.
The new study at the also-new Michigan Psychedelic Center at U-M will research whether oral psilocybin — a synthetic form of the main component found in a psychedelic form of mushrooms — can relieve symptoms among people with the complex chronic pain disorder, fibromyalgia.
Coupled with psychotherapy, those psychedelic experiences may reveal deeply spiritual and psychological insights for patients, enabling them to better understand and control symptoms including pain, stiffness, fatigue, anxiety and depression.
Psilocybin and other psychedelics disrupt the brain's chemistry, releasing some of the rigidity of its everyday circuitry — revealing thoughts, experiences and emotions that a person might otherwise suppress. It can bend reality at times.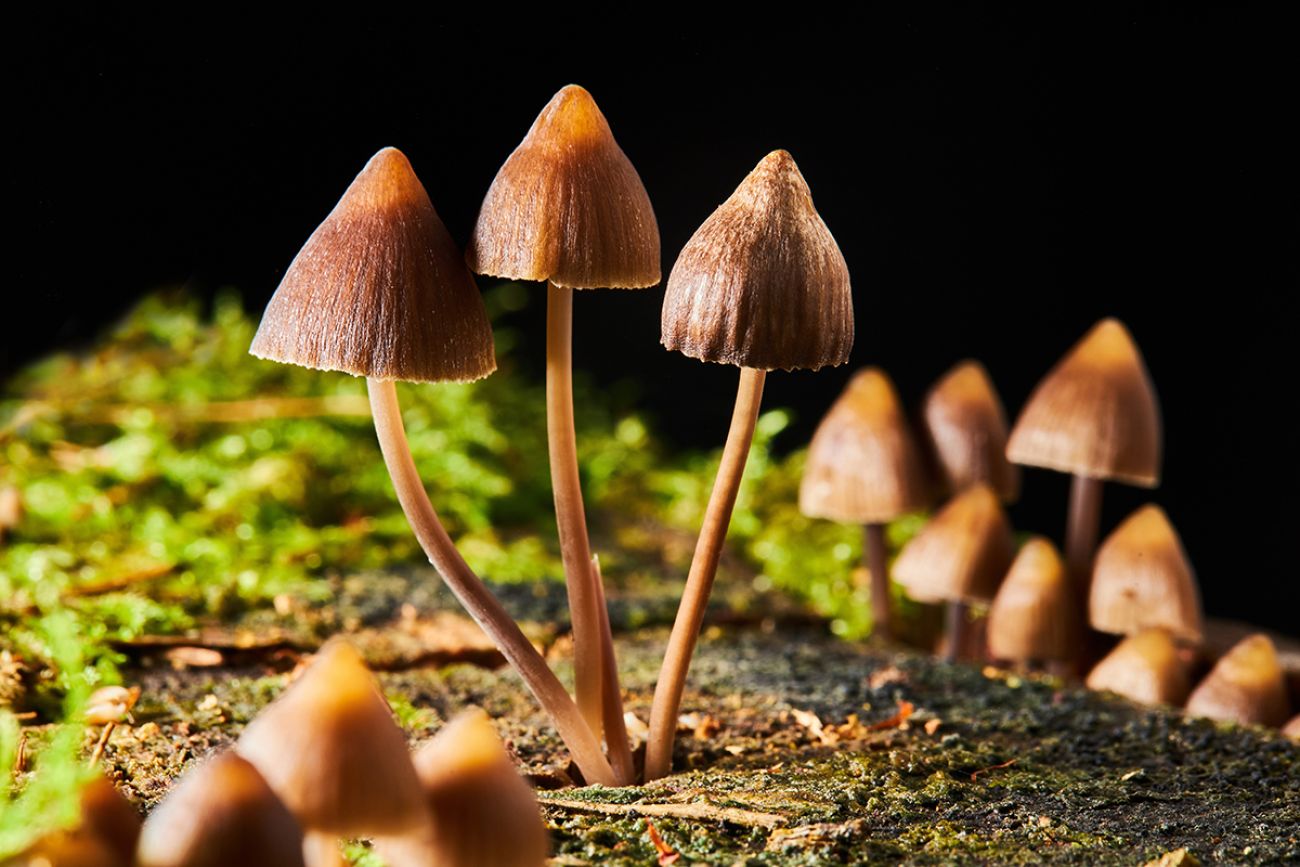 A University of Michigan study is just one piece of a growing body of research into the effects of magic mushrooms as a therapy in improving mental and physical health. (Shutterstock)
In other words, the drug may help give shape or substance to the pain and other symptoms, said Kevin Boehnke, principal investigator whose research focuses on therapeutic applications of cannabis and psychedelics, and has fibromyalgia.
Related:
"I think of this like a chemical nudge," said Boehnke.
"Psychedelics — or maybe cannabis — helps you look with and be present for something that you've been avoiding. It gives you a little space and perspective because it gives you a little bit more comfort or a kind of edge that allows it to become more available. Then you can do work on something that was previously inaccessible," Boehnke, who is an assistant professor at U-M's anesthesiology department and in its Chronic Pain and Fatigue Research Center.
When complete, the study will build upon a growing understanding of the potential use of psychedelics to address conditions as wide-ranging as depression, post-traumatic stress disorder, anxiety and anorexia. Early research has suggested they also may help smokers and heavy drinkers kick the habits. And researchers at the University of Washington are investigating whether psychedelics may help frontline health workers deal with the COVID-related distress.
All of this has fueled a growing acceptance of drugs that had been shelved in medicine, in part, by the federal crackdown on drugs which included the 1970 Controlled Substances Act. It lists psilocybin as a Schedule 1 drug, meaning it has both a "high potential for abuse" and "no currently accepted medical use."
Researchers acknowledge that psilocybin, even in controlled settings, can trigger elevated blood pressure, nausea, vomiting — generally temporary conditions. More worrisome, perhaps, is that there's little data about how common psychiatric medications may interact with psychedelics.
But others have believed for years that the same psychedelic effect that drove the drug to the legal sidelines may also be the key to revealing the mind's secrets in mental and physical health matters.
In June this year, the U.S. Food and Drug Administration released its first clinical trial guidelines for research into psilocybin, citing risks with the drugs, but also acknowledging their "initial promise as potential treatments for mood, anxiety and substance use disorders."
Dr. George Mashour is a researcher in neurobiology of consciousness — the different states between, say, wakefulness and the sleep caused by anesthesia. He's also the founding director of the Michigan Psychedelic Center, a collaboration of researchers from several disciplines that's also backing the fibromyalgia study.
"If I give you the psychedelic, your level of consciousness isn't dramatically changing the way it does if I give you an anesthetic," he said.
But other things notably do change — "the content of your experience, the quality of the experience," he said.
"I don't mean getting high, but what does the music sound like under the influence of that drug versus when you were in an ordinary waking state of consciousness? What does the tree look like?"
"These changes in perspective (and) how the brain changes can help us understand something about normal conscious experiences," he said.
Policy matters
Research like that at U-M is expanding even as American cities begin grappling with a growing interest in psilocybin and other substances. In 2020, an estimated 1.4 million people in the U.S. tried hallucinogens for the first time, according to the National Survey on Drug Use and Health.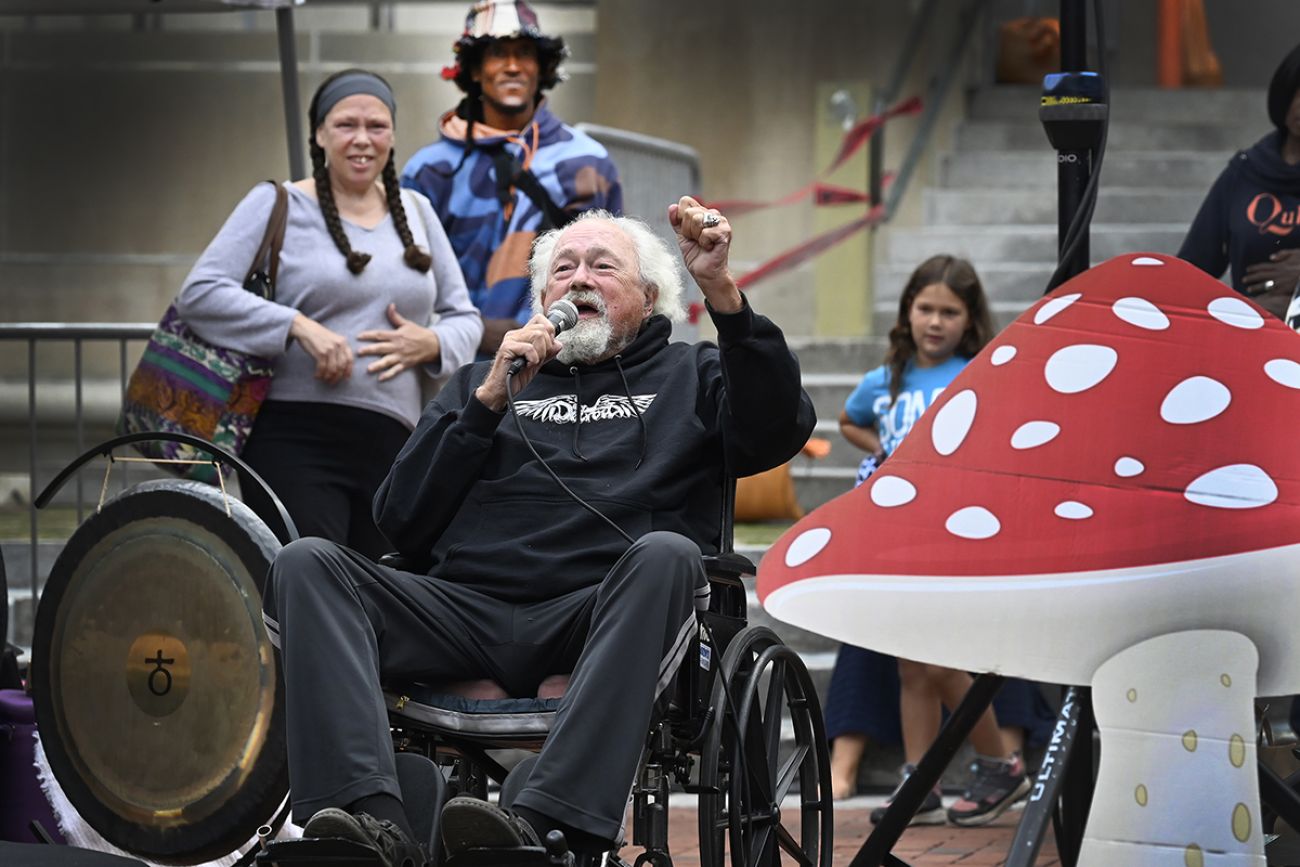 Longtime political activist John Sinclair of Flint addresses a group of nearly 200 people on the campus Diag at the University of Michigan on Sunday. (Bridge photo by Pattrick Yockey)
Some see a "revolution" that echoes the similar wave of state law changes legalizing marijuana. Oregon and Colorado have both legalized psilocybin and set up a regulatory structure for its use. (In Oregon, the first licensed psilocybin service center already has a 3,000-person wait list, including people with depression, post-traumatic stress disorder, or end-of-life dread.) California is poised to do the same.
Last week, Michigan Sen. Jeff Irwin, D-Ann Arbor, reintroduced a bill that he originally introduced in 2021 that would change state law to allow individuals to grow or possess an "entheogenic (psychoactive) plant or fungus." Already, Ann Arbor and three other cities — Detroit, Hazel Park and in February, Ferndale — have decriminalized psychedelics. Grand Rapids city council has toyed with the idea as well.
In Ann Arbor Sunday, participants gathered at the annual Entheofest to celebrate the third anniversary of a unanimously-approved resolution by the city council decriminalizing magic mushrooms.
On the speaking schedule were artists or those with a more mystical, existential bent, including the keynote, the Rev. Mariela Perez Simon, a spiritual teacher whose work is "dedicated to returning humanity to our original goodness and our divine essence, by restoring our sacred connection with the natural world."
Also scheduled were mainstream political figures whose work is more policy-focused, including Irwin and Washtenaw County prosecutor Eli Savit.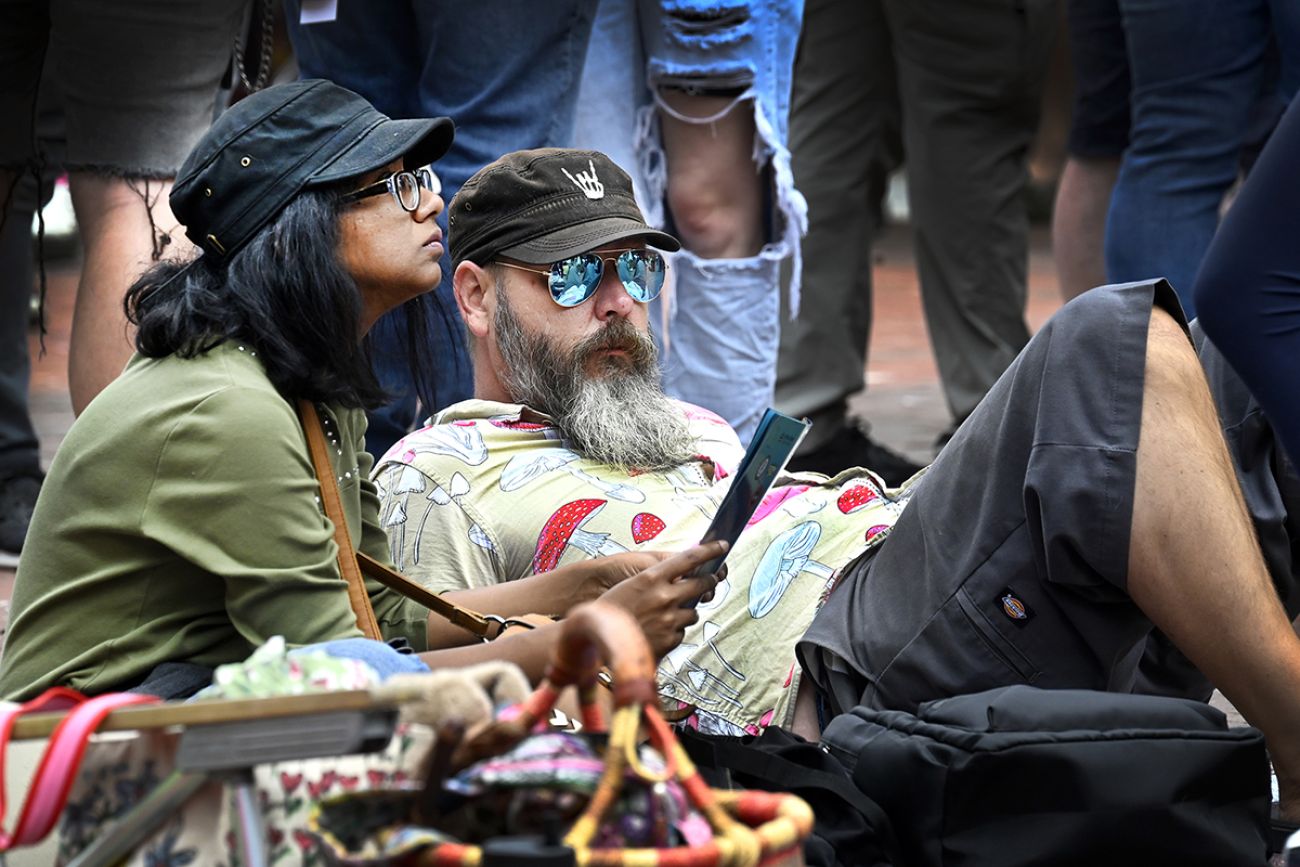 The Entheofest Sunday celebrated the anniversary of the decriminalization of "magic mushrooms" in Ann Arbor. (Bridge photo by Pattrick Yockey)
The growing acceptance of cannabis may have paved the way for a greater acceptance of psychedelics. Still, said the center's Mashour, there remains "a lot of baggage associated with the word psychedelic." And to be sure, there are limits in treatment. There is some evidence, for instance, that psychedelics like psilocybin or ketamine can create an elevated risk of a psychotic or manic episode in patients who have a personal or family history of schizophrenia or bipolar disorder.
Mashour said research is still tenuous and must adhere to the most rigorous guidelines.
"This is serious science, and a really serious, rigorous effort to try to help patients," he said. Anything less than that, and "we're going to lose this bigger picture, long term, potential for impact."
Confronting pain
When it comes to pain and the present study, researchers are focused on an area little understood. A constellation of treatments address the symptoms of fibromyalgia, which has an estimated 5-8 million U.S. sufferers, but they vary in effectiveness.
Boehnke said he was diagnosed with fibromyalgia more than 14 years ago.
He has spent much of his postdoctoral career researching the therapeutic benefits of cannabis, especially for chronic pain management.
In more recent years, he developed an interest in the potential therapeutic uses of other psychoactive drugs, including psychedelic mushrooms and the drug, MDMA, also known as "Molly" or "ecstasy," for the euphoric experiences it triggers.
While prescription drugs for fibromyalgia generally work by suppressing symptoms, psychedelics work by opening the mind to confront the pain head-on.
Among his first interests was how often people who use these drugs talk to their doctor about their use for physical and mental health. As it turns out, not much.
In fact, people who use psychedelics generally don't mention them to their doctors, he found.
Nearly 3-in-4, 72.5 percent, of 1,435 psychedelics users who responded to an anonymous, online survey had never discussed their use with a primary care doctor, according to Boehnke's research. Less than 5 percent used psychedelics under the guidance of a therapist, according to his 2022 study published in the peer-reviewed Journal of Psychoactive Drugs.
Psilocybin has been used for thousands of years by Native Americans in South and Central Americas, and around the world in a variety of religious ceremonies. Mushrooms containing psilocybin — more than 100 species in all — can be found on every continent except for Antarctica.
Some of the hesitation to talk about the use of psychedelic substances likely is linked to the drug's status as a Schedule 1 drug under the U.S. Controlled Substances Act and the stigma around it, said Boehnke, who along with other researchers, sees as untapped potential of psychedelics in both physical and mental health. It underscores the need to better understand the drugs' use among patients and its benefits in health care that's otherwise dominated by Western medicine, he said.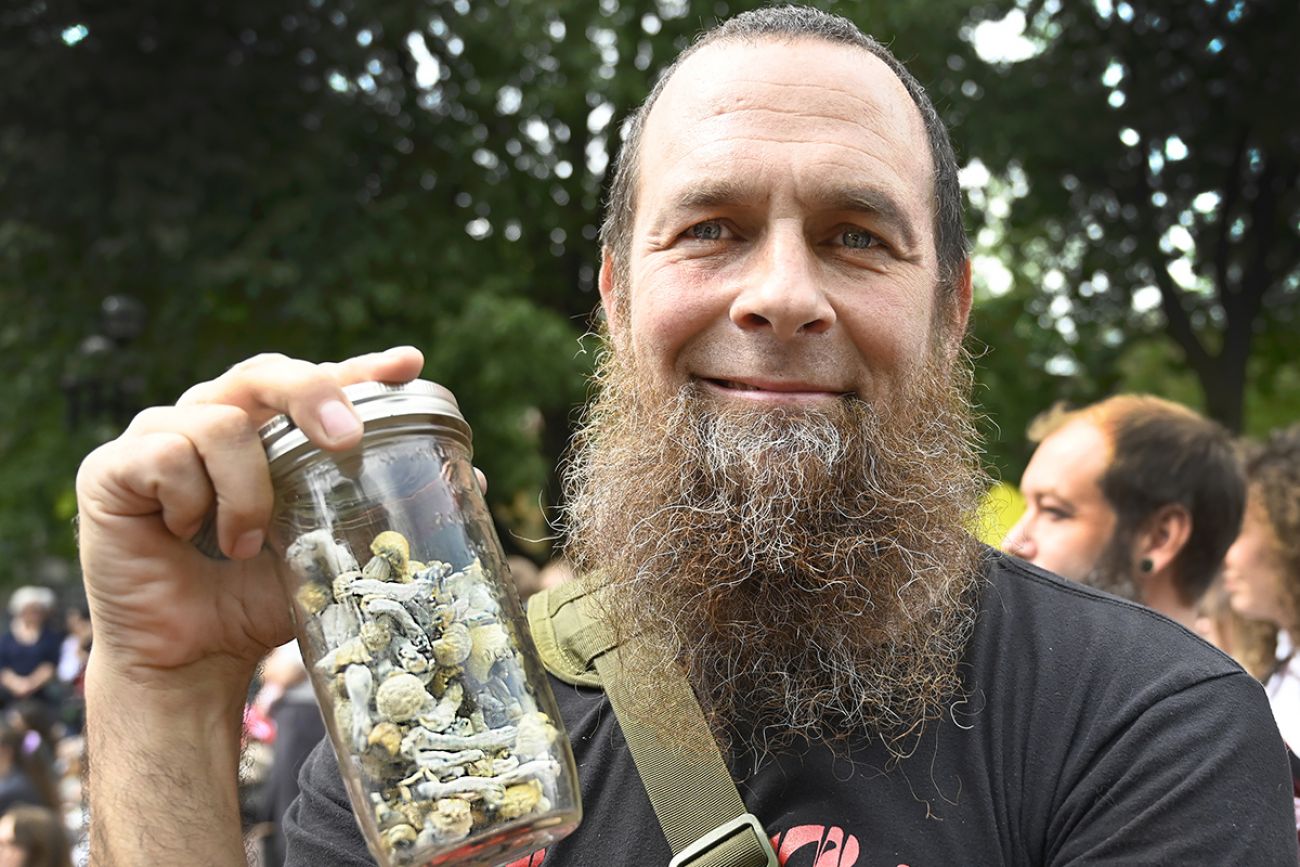 Josh Man, of Detroit, shows off a jar of The Entheofest Sunday celebrated the anniversary of the decriminalization of "magic mushrooms" at Sunday's Entheofest in Ann Arbor, which celebrates the city's decriminalization of psychedelics three years ago. (Bridge photo by Pattrick Yockey)
That's what brought Boehnke Monday into a sound-proof sleep study room at U-M's sprawling Rachel Upjohn building, home to the university's depression center and outpatient psychiatry services. There are three reclining chairs in this room, an adjoining bathroom and an adjoining bedroom. It's here, he said, that the clinical trial researchers "hold space" for the "internal experience" of psilocybin to play out among 10 patients with fibromyalgia Boehnke is now recruiting for the research.
There are cameras here. Two therapists in the room, alongside the participant, will ensure his or her safety. A doctor is on-call in case medical support is needed.
For the study, participants will receive two separate doses of psilocybin, taken as a gel capsule, then settle in for the next seven to eight hours as psilocybin sets loose experiences or thoughts they might have otherwise suppressed or left unexplored, or at least that's the aim.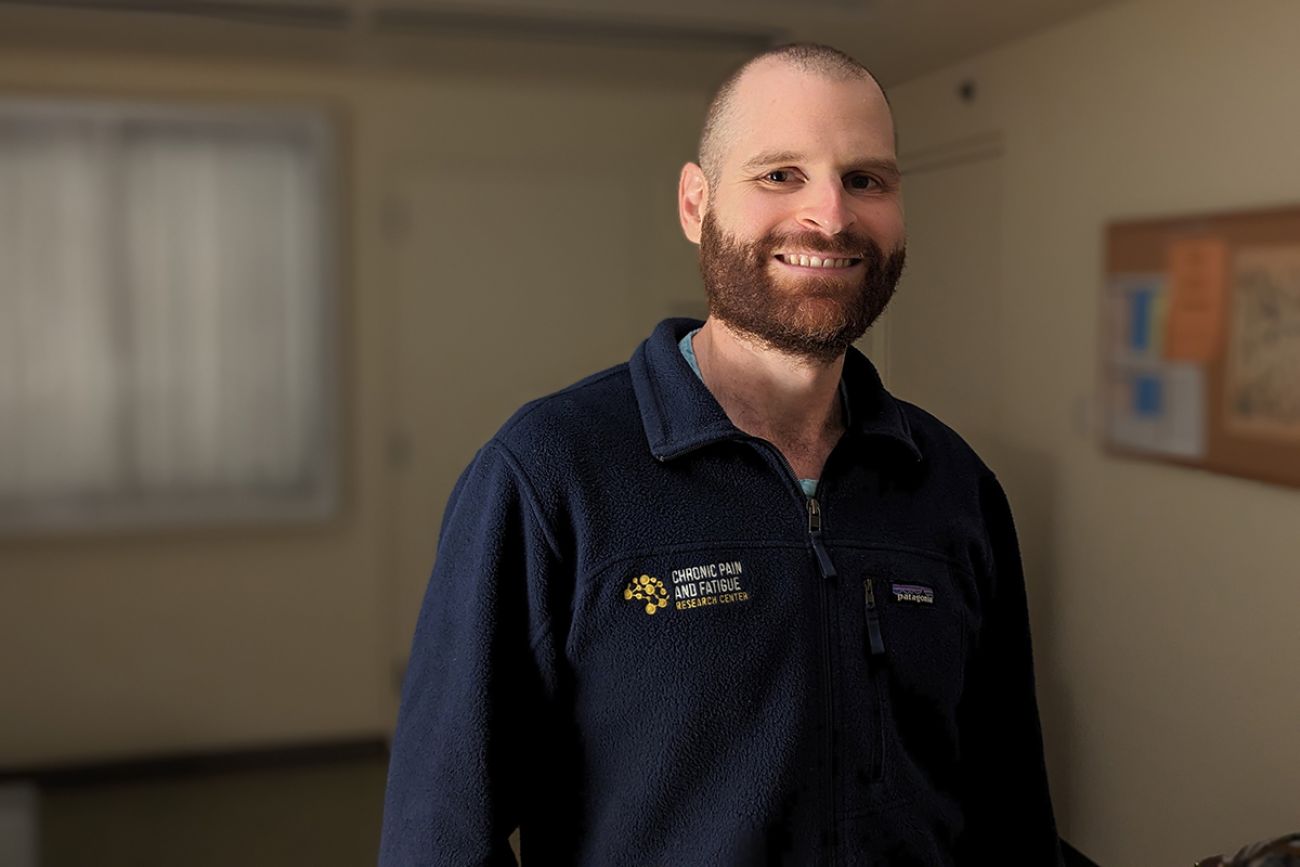 In a sound-proof sleep study room at the University of Michigan, researcher Kevin Boehnke will study the effect of psychedelics on pain and other symptoms of fibromyalgia. (Bridge photo by Robin Erb)
Since the trial is focused on people with fibromyalgia, "they might encounter pain in some form — be it as visual imagery, experience or representation that they believe is linked to their pain or precipitated it," Boehnke said.
He said he has found relief over the years from a mix of therapies outside of Western medicine — yoga and meditation, for example. Asked about whether he has turned to psychedelics, himself, to manage pain, Boehke declined to answer.
What he will say, though, is there is simply not enough help for patients of fibromyalgia.
"I think everybody acknowledges, at least in the chronic pain space, that current options aren't very good, and there are a lot of people suffering," he said.
Only donate if we've informed you about important Michigan issues
See what new members are saying about why they donated to Bridge Michigan:
"In order for this information to be accurate and unbiased it must be underwritten by its readers, not by special interests." - Larry S.
"Not many other media sources report on the topics Bridge does." - Susan B.
"Your journalism is outstanding and rare these days." - Mark S.
If you want to ensure the future of nonpartisan, nonprofit Michigan journalism, please become a member today. You, too, will be asked why you donated and maybe we'll feature your quote next time!