Marijuana 101: How Michigan colleges work around federal ban to teach pot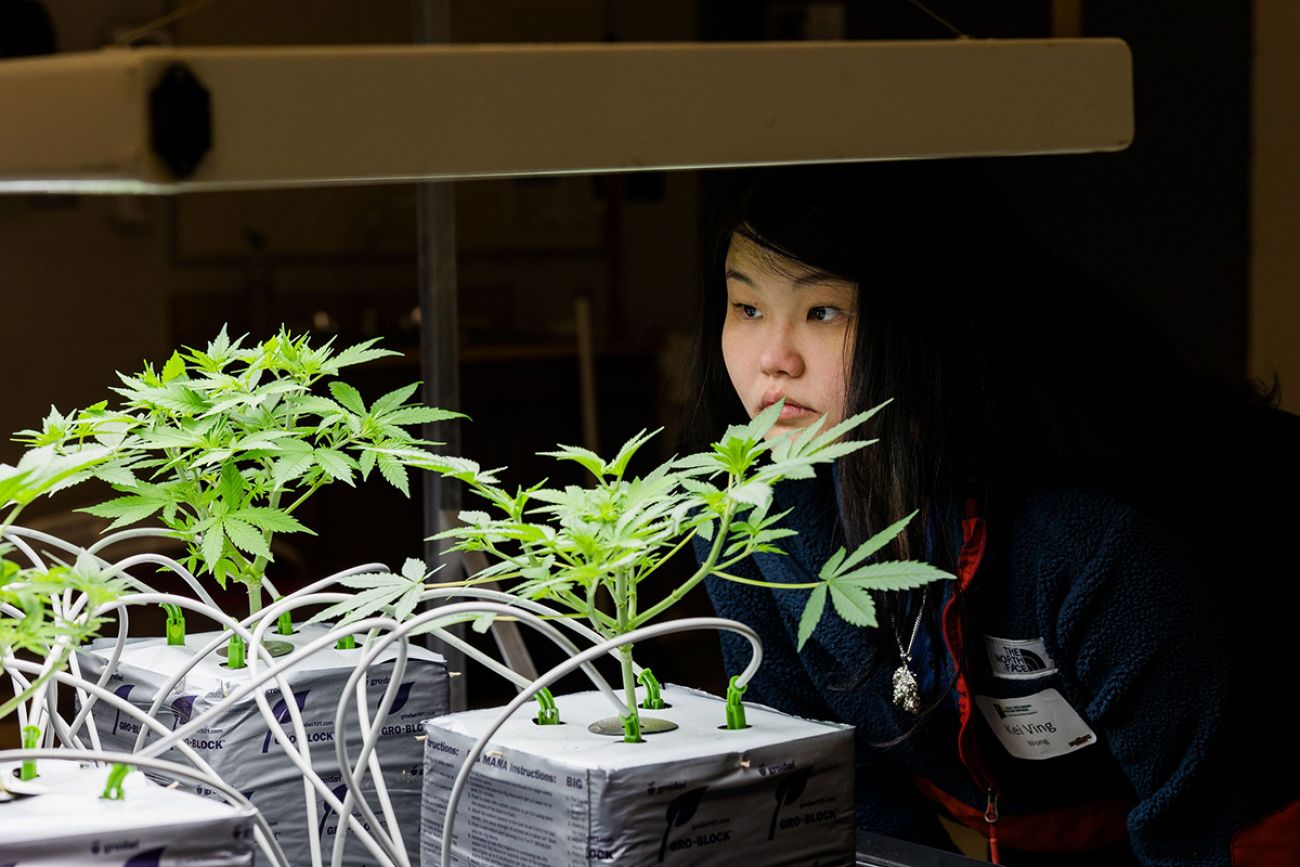 At the April "Great Lakes Cannabis Education Conference" at Northern Michigan University, industry leaders like Kei Ving Wong, a field support specialist with the Shimadzu Corp., talked to students about the business. They had to be careful not to actually recruit students for jobs. (Bridge photo by Curtis Aho)
MARQUETTE — Melanie Combs was driving in southern California on vacation in 2018 when her eyes widened at the sight of a billboard advertising marijuana.
The sign not only caught her eye, but it showed the Lake Orion teen — then 18 — that attitudes about marijuana were changing. Maybe, she recalled, she could make a career out of pot.
"I saw how California's cannabis industry was prevailing, and I knew that's where we are heading, as a nation, let alone Michigan," Combs said.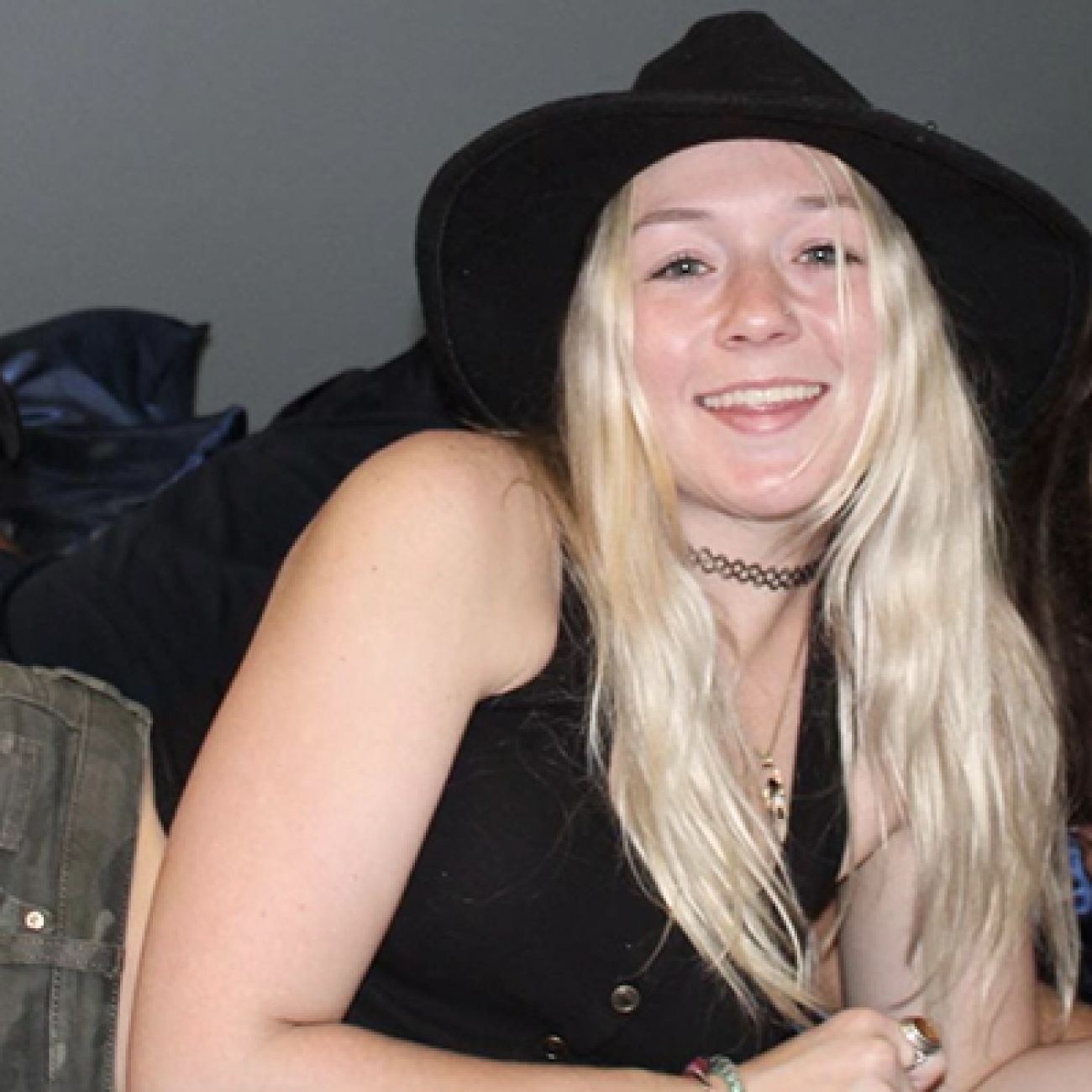 Melanie Combs is a 23-year-old digital marketing coordinator for High Life Farms, a growing operation based in Michigan. She graduated from Northern Michigan University's indoor agriculture program in 2020. (Courtesy photo)
Related:
When Combs returned home, she scrolled through Facebook and noticed an ad for Northern Michigan University's cannabis degree program, the first of its kind in the nation.
It seemed like a sign. Her parents were another story.
"They were not very supportive of it as a whole," said Combs, now 23, who says she has long had a "personal interest" in marijuana. "However, once they saw that it could be a successful career path, they never turned back and have always been supportive of me."
Three years after recreational marijuana became legal, pot has grown to a $2 billion annual industry in Michigan, employing some 32,000 workers and becoming the nation's fourth-largest marijuana market.
Last year, jobs increased 33 percent in Michigan — and universities are rushing to supply the industry with workers like Combs. Northern led the way in 2017 with a Cannabis Studies program that offers bachelor degrees, followed in 2019 by Lake Superior State University.
They are among just 22 universities nationwide that offer cannabis degrees, while Grand Valley and the University of Michigan also offer classes about cultivating the plant.
One big problem: Marijuana is still federally banned, forcing universities to get creative about how they teach the chemistry, cultivation and marketing of what the U.S. government deems a Schedule I narcotic.
That means Combs and other students can't grow pot, get university credit for interning in marijuana businesses or attend cannabis job fairs on campus.
Doing so could jeopardize university federal funding, which comprises about 2 percent of university funding nationwide. More than 90 percent of student loans are backed by the federal government, and could be in jeopardy if universities violate federal rules.
"No one wants that, especially when so many of our students are from out of state and receive that funding," said Professor Mark Paulsen, who heads NMU's Chemistry Department.
'It's complicated'
The federal ban means students can't even touch marijuana on campus, so instructions involve locally grown hemp, a type of cannabis that is legal because it contains a very low dosage of the psychoactive chemical THC.
While the marijuana industry has to remain at arm's length from Northern, its connections run deep.
The university has an advisory council made up of cannabis industry leaders that weigh in on which curriculum structures would make students the most employable after graduation.
The cannabis program's lab is named after Shimadzu Corp., a Japanese company that builds cannabis testing equipment and in 2019 donated nearly $1 million in technology to the school's medical plant chemistry program.
In April, over concerns from university lawyers, Northern hosted the "Great Lakes Cannabis Education Conference," which facilitated conversations between students and marijuana industry leaders.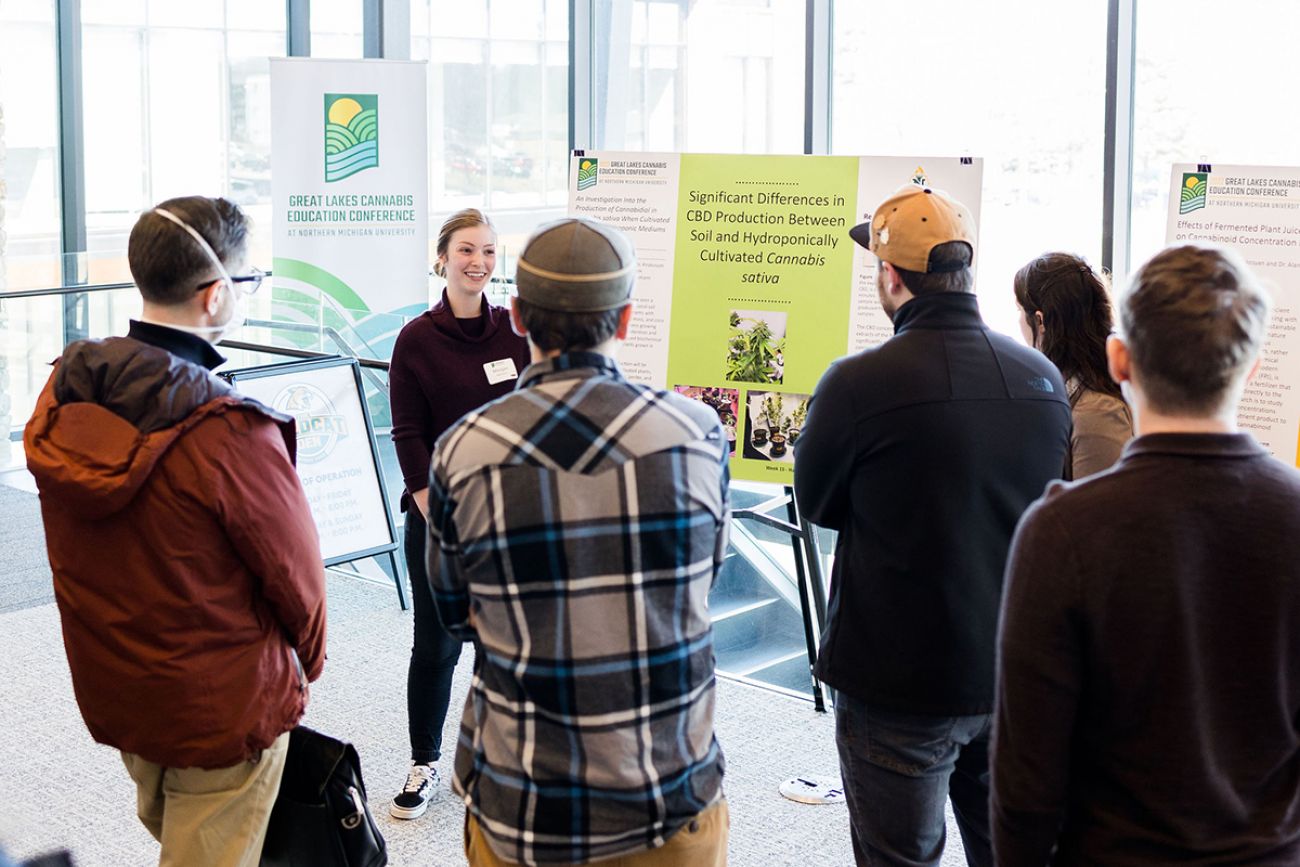 Industry leaders met with students at the Great Lakes Cannabis Education Conference at Northern Michigan University in April. (Bridge photo by Curtis Aho)
Employers were forbidden from advertising jobs and distributing merchandise at the daylong conference, which was billed as an educational event rather than a job fair.
Paulsen said the university gets many calls from cannabis employers wanting to know if they can host students as interns or hold job fairs, but he turns them away.
"It's complicated to try and facilitate networking," Paulsen said.
Northern offers three cannabis-related programs: chemistry, agriculture and marketing. Courses run the gamut from chemistry, biology, botany to risk analysis, regulatory compliance and law and history.
Students from every state have applied to enroll in Northern Michigan's medicinal plant chemistry program, attracting nearly 500 applicants in 2020 before the pandemic hit, according to Paulsen. The program has grown from 13 students in 2017 to 287 this year.
"A lot of the students in the program are interested in the cannabis space but a lot are also just interested in human-plant interactions in general," Paulsen said.
After enrolling in Northern following her trip to California, Combs graduated in 2020 with a degree in indoor agriculture, where students learn to grow hemp.
"After graduating … I realized my personality and I knew I wanted to be the face of a cannabis company," said Combs, who now works as the digital marketing coordinator for High Life Farms, a growing operation based in Michigan.
Marketing salaries range around $50,000, while medicinal cannabis chemists in Michigan make $55,000 to $77,00, and growers make up to $62,000 per year, according to Northern's website.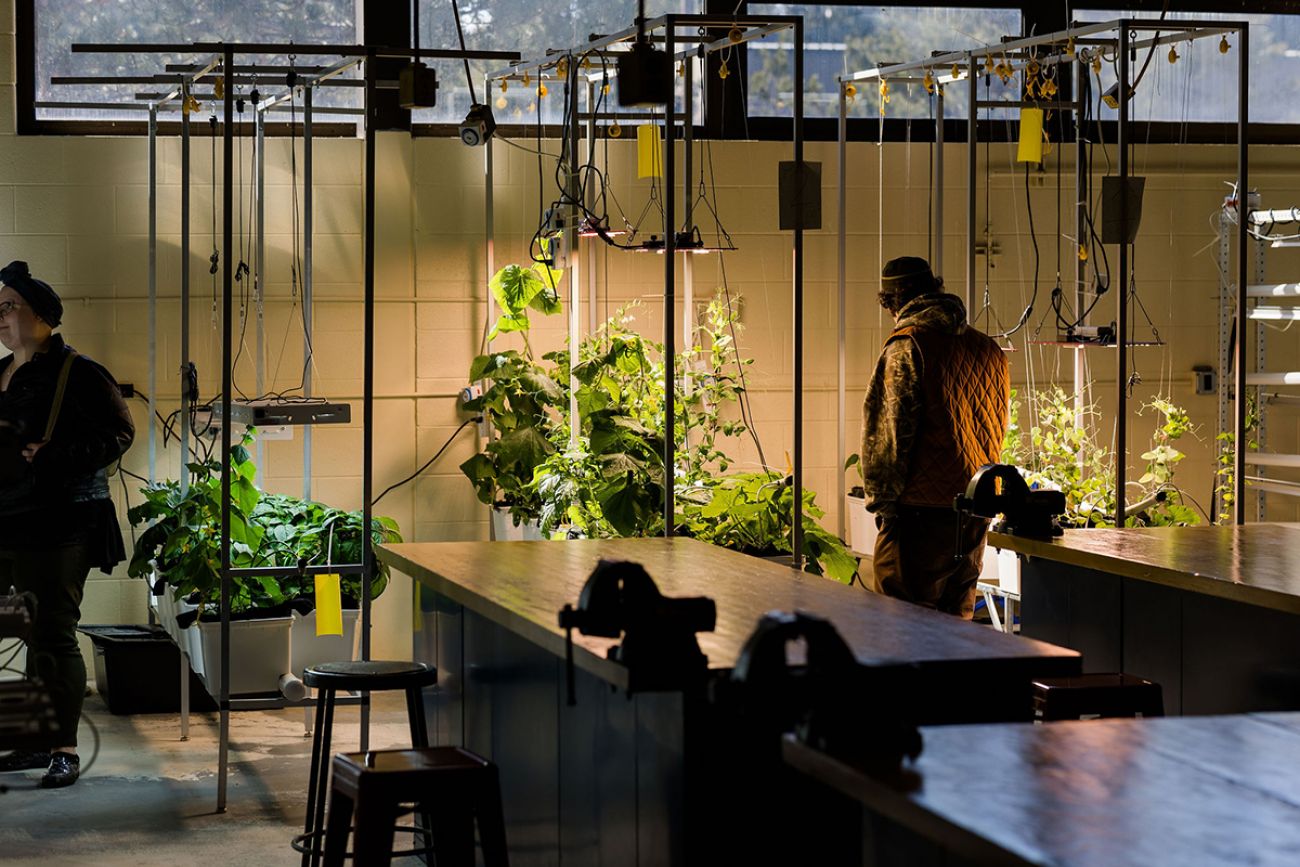 Northern Michigan University teaches cannabis studies students using hemp, a similar plant to marijuana that has very low amounts of THC, the chemical that causes intoxication. (Bridge photo by Curtis Aho)
"At this rate, we're having trouble graduating students fast enough. Students are being hired pre-graduation, which doesn't happen in chemistry very often," said Benjamin Southwell, a chemistry professor at Lake Superior State University.
Students like Jacie Duranso are in hot demand. She graduated from Northern's medicinal plant chemistry program in 2020 and is now the director of licensing and compliance for Fire Station, an Upper Peninsula dispensary. Similar jobs pay $80,000.
Duranso started as a receptionist at the company, owned by Stosh Wasik and Logan Stauber, but quickly moved up because of her knowledge of cannabis.
"We're extremely proud of what she was able to accomplish and what she was able to do in such a little time," Wasik said. "There's so much room for opportunity in this industry to be able to move up in these companies."
Michigan is at the forefront
While Michigan is considered a leader in marijuana education, research in the drug lags because of the federal prohibition, said Andrew Brisbo, executive director of the Michigan Cannabis Regulatory Agency, a state agency.
The U.S. Federal Drug Administration has to approve any university research of marijuana, a cumbersome process that involves a host of regulations and monitoring. The application process takes years, Brisbo said.
Among other things, universities have to procure marijuana sanctioned by the federal government — which is grown at the University of Mississippi — and house the drug off-campus in secure, locked locations that are monitored by security guards. It's so costly that most universities don't bother, Birsbo said.
The only Michigan university approved to use marijuana is Wayne State, which doesn't offer classes in cannabis, but was awarded a $7 million state grant in 2021 to investigate the therapeutic use of marijuana for veterans.
To ease the process, Michigan cannabis regulators this year created a license that would allow universities to handle and research marijuana if the U.S. government legalizes the drug or reclassifies it as a lesser narcotic.
Marijuana is legal for medical use in 37 states and recreational use in 18, but the prospects of national legalization are murky.
The U.S. House in April voted to remove marijuana from the list of scheduled substances, end criminal penalties for it and eventually impose 8 percent taxes. , but the bill is seen as a nonstarter in the U.S. Senate.
Brisbo said he believes national legalization is inevitable, however, and it's important for Michigan universities to be ready to "grow marijuana on campus, have access to production markets, run tests and do other hands-on, real word activities."
The state's new license also would allow universities to partner with marijuana businesses to refine the product and develop a standard method for safety compliance when the federal ban ends.
"Partnerships could also present different product development opportunities from a business side as well as a scientific side," Brisbo said.
Industry leaders from Lume Cannabis Co. and Pure Options who spoke at Northern Michigan's cannabis conference said establishing relationships with universities has been difficult and when they do propose partnerships, they are often turned down.
"If universities were able to partner with cannabis companies, the number of people getting jobs would be exponential," said Stauber, co-owner of the Fire Station dispensary that employs Duranso.
"They would learn a lot from the experience they would get because they could, just like any other industry, be interning and receiving credit while they're in school."
Stauber's company has a partial relationship with Northern Michigan University, it sponsored its recent educational cannabis conference, but he does not expect a full partnership until the plant is federally legalized.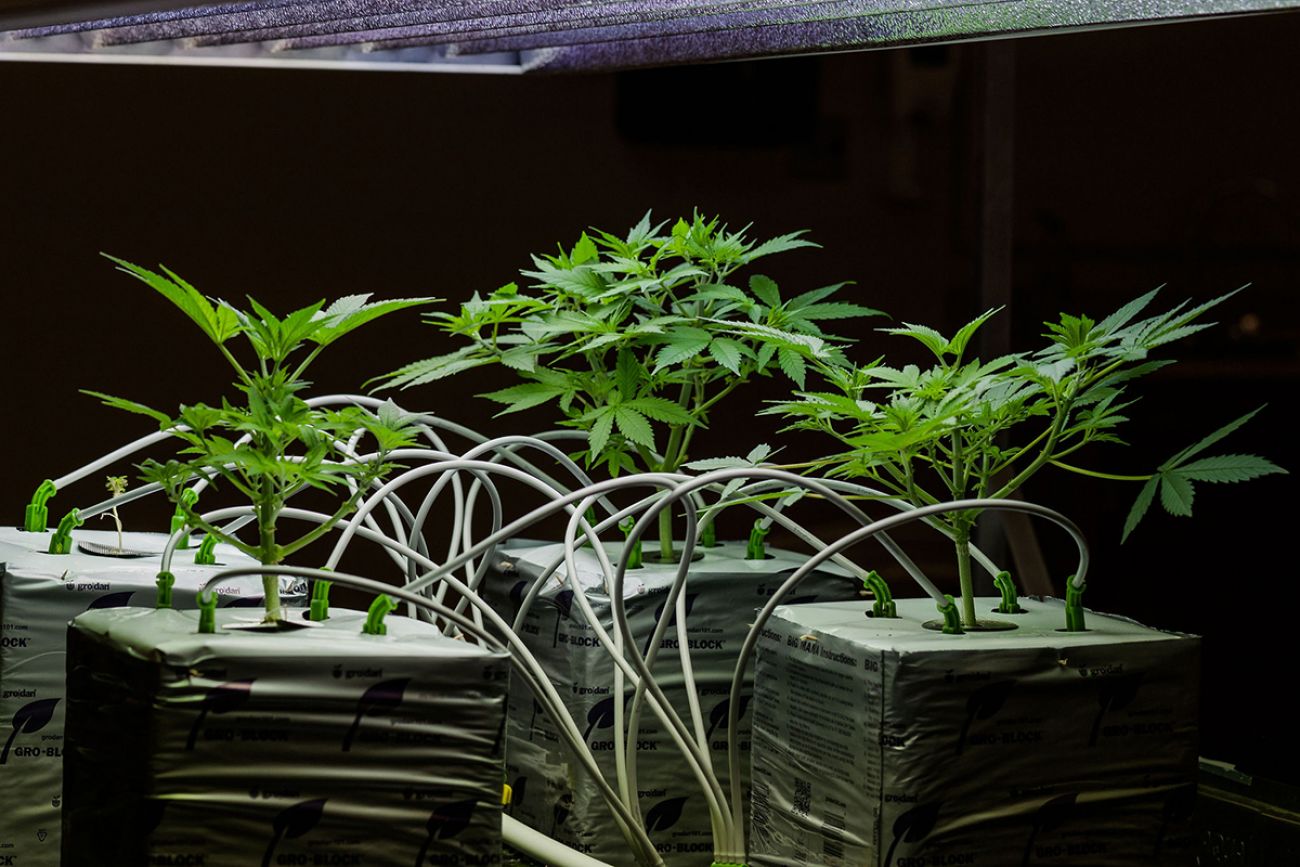 Students at Northern study cannabis chemistry, agriculture and business in Michigan, but do so with hemp, not marijuana, because of the federal prohibition on the drug. (Bridge photo by Curtis Aho)
Catch-22
While marijuana legalization has momentum, there's no clear path to end the 85-year federal prohibition of the drug, said Doug Mains, a lawyer who helped draft Michigan's marijuana laws.
The House passed the same legalization bill last year, but it died in the Senate.
"It's a Catch-22," Mains said. "As more states pass their own laws, they independently create regulatory structures to have businesses set up and it becomes more complicated at a federal level to legalize it."
"It will happen sooner or later, but it's something that needs more consideration than what's been given to it by Congress," he said.
Brisbo and Mains said one of many barriers in the way of ending the federal prohibition of marijuana is ensuring equity. Once marijuana is federally legalized, the product can be moved across state lines which gives states who have grown their market into multi-billion-dollar industries a huge leg up.
"If everything's legal tomorrow and no one has a business in Indiana, well everybody that's up and open for business in Michigan, Illinois and California is immediately going to take over the Indiana market," Brisbo said.
Marijuana legalization enjoys broad public support: A 2021 Pew Research study found that 60 percent of adults say marijuana should be legal for medical and recreational use, while 31 believed it should just be medically legal. Less than 8 percent of adults believed pot should be illegal.
Even with the issues that need ironing out, Southwell, the Lake Superior chemistry professor, said federal legalization would solve a lot of issues.
According to Southwell, the most important benefit is the uniformity federal regulations would create among different state's cannabis markets. Universities could run marijuana testing labs and develop federal quality standards.
"The longer the federal prohibition continues to exist, the more desperate all these state regulations become," Southwell said. "(Different regulations and standards) creates a very complicated environment for labs and businesses to live in because state-to-state regulations are very different from one another."
While state and federal laws remain conflicted, university students are preparing to enter the cannabis industry the best they can.
Bella Apostolides of Chicago is studying indoor agriculture at Northern and learning how to operate hydroponic systems, a type of horticulture that involves growing plants without soil using minerally and nutritionally enriched liquids.
"The program does a really great job setting students up to grow on a commercial scale and familiarizing students with the mechanical operations of indoor growing facilities," Apostolides said.
Apostolides said she is able to integrate the material she learns in lectures and apply them to a hands-on classroom where she grows hemp and other plants.
"Truthfully, I do not know my plan when I graduate in two years, but this program has prepared me to enter any growing position confidently," Apostolides said.
Only donate if we've informed you about important Michigan issues
See what new members are saying about why they donated to Bridge Michigan:
"In order for this information to be accurate and unbiased it must be underwritten by its readers, not by special interests." - Larry S.
"Not many other media sources report on the topics Bridge does." - Susan B.
"Your journalism is outstanding and rare these days." - Mark S.
If you want to ensure the future of nonpartisan, nonprofit Michigan journalism, please become a member today. You, too, will be asked why you donated and maybe we'll feature your quote next time!