Five ways to open Michigan nursing homes for visits during COVID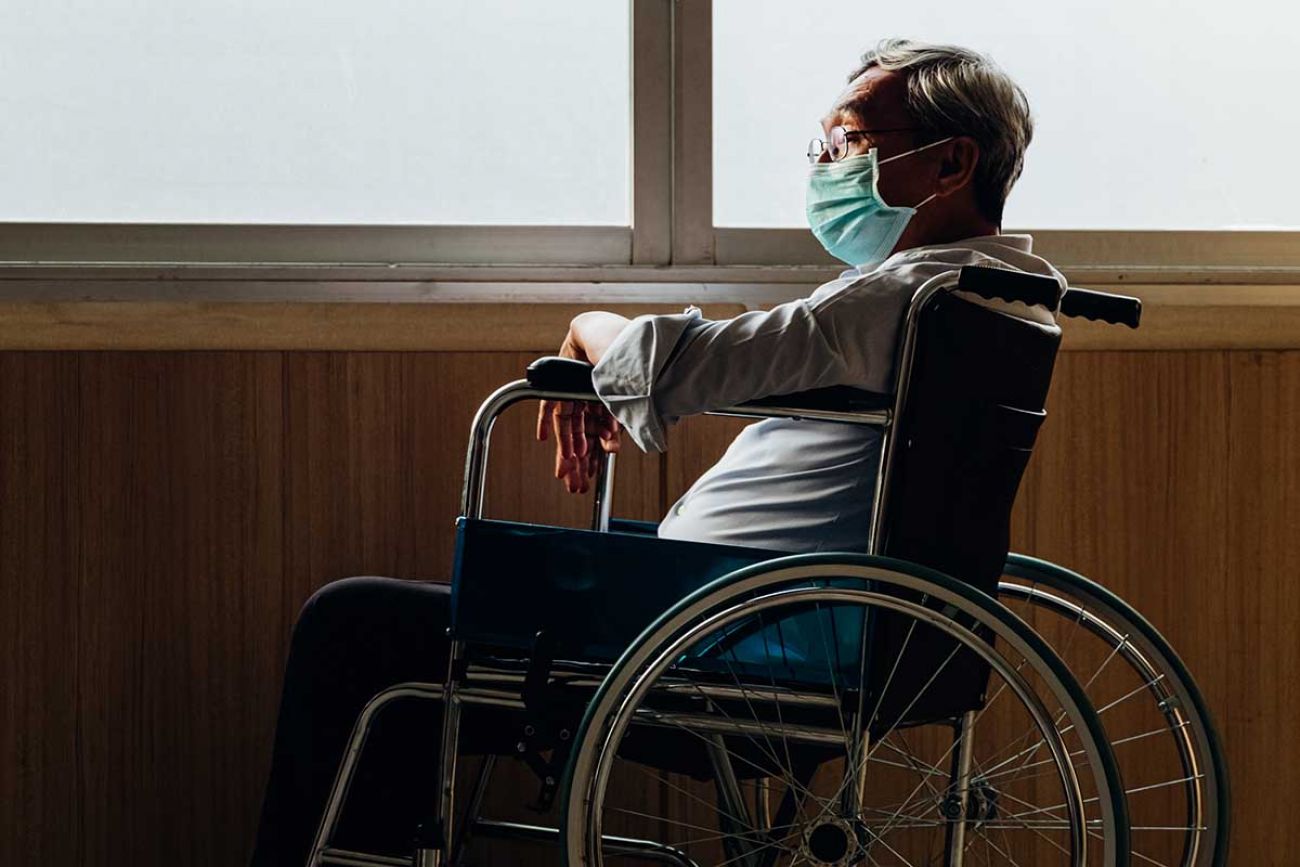 Nearly a year into the COVID-19 pandemic, nursing home residents and their families are urging facilities to find more options for visitation. (Shutterstock)
The spread of COVID has slowed enough in nearly half of Michigan's 83 counties to allow nursing homes and other long-term care facilities to once again allow indoor visits. Yet few homes are doing so.
Many facilities appear to be latching onto the caveat that they should only reopen if they feel safe enough to do so. That leaves a lot of leeway for facilities to keep their doors locked, said Melissa Seifert, associate state director of AARP Michigan.
"There was an executive order saying that (the state would) encourage in-person visits if they are able to do so. That 'able to do so' is a very broad definition."
A few places are getting creative, employing hugging stations or visiting booths to help alleviate the isolation and loneliness felt by residents. But some argue more is needed.
Mary Daniel, the inspiration behind the Facebook page Caregivers for Compromise and its Michigan chapter, argues that makeshift visitation enclosures are no longer enough.
"The hugging booths, the plexiglass — that's not cute anymore. That's not fun," she said. "These people are being deprived of the human sensation of touch by their loved ones, and it's killing them."
Here are five additional options for connecting nursing home residents to loved ones.
Release $25 million in nursing home funds
Long-term care facilities that violate federal safety and quality-of-life standards must pay fines into what has now grown in Michigan to a $25 million Nursing Facility Enrichment Program, formerly known as the Civil Monetary Penalty Fund.
The money collected is available to nursing homes as grants to cover costs of "projects and activities" that improve quality of life for residents.
So far this year, nearly $900,000 of Civil Monetary Penalty funds has been distributed to purchase tents and other equipment for outdoor visitation and the purchase of more than 2,000 devices for virtual visits, according to the Michigan Department of Health and Human Services.
Some argue the fund ought to be paying out many more millions of dollars to help nursing homes in a pandemic — for rapid testing visitors, buying construction material for outdoor spaces or plexiglas shields for indoor visits.
Linda Beaudoin, 75, said last week she could no longer visit her mother at her Clarkston nursing home because she couldn't get her walker through the snow to her mother's bedroom window.
Even when she reached the window, her 96-year-old mother, Frieda, who is blind, got little from the visit. Linda Beaudoin said she wonders what happened to facilitating outdoor visits.
On Tuesday, the facility, Wellbridge of Clarkston, began to allow indoor visits. The Beaudoins are scheduled to see each other this week — visits long overdue, but for too long not possible because of the lack of outdoor options, the younger Beaudoin said.
"There were supposed to be tents. There were supposed to be heaters," she said. Making sure nursing homes have funds to buy them eliminates obstacles to arranging outdoor visits.
"We're all getting pretty fed up with it," she said.
Vaccinate loved ones and make them essential.
Family members get it: There's a priority list for COVID vaccines.
But when they haven't seen loved ones or held their hands for 11 months, shouldn't they shoot to the top of the priority list?
Michele Thompson, a former customer service representative at an insurance company, said her mother, Norma Thompson, 87, doesn't need parties or lots of visitors at her Grand Rapids nursing home. What she needs is family.
She and others say nursing homes could tap one or two members of a family as essential caregivers, testing them and requiring masks and other safety protocols — just as they would any other staff.
Deputizing one or two loved ones also would provide critical support for overwhelmed staff. They can help residents eat and dress, keep them socially engaged, freshen their water, even tidy up rooms and closets.
"We're not asking for much," Thompson said. "Why is this so hard?"
Empower families as volunteers
The Michigan Nursing Homes COVID-19 Preparedness Task Force, created by Gov. Gretchen Whitmer, issued 28 recommendations in August, including encouraging nursing homes to recruit "Visitation Volunteers."
This would allow nursing homes to enlist visiting family members to help the nursing home with other visits. They might, for instance, clean visitation areas or help schedule visits by other families.
So far, that plan hasn't gone anywhere.
Test, test, test.
Rapid COVID tests are readily available, affordable and easy to use, said Brian Lee, Executive Director of Texas-based Families for Better Care, which advocates for residents of long-term care and their families.
With only a 15-minute turnaround time, these tests could be mandatory for any visitor. Reliability of results vary depending on the test. Still, along with masking, cleaning and other protocols, they can offer facilities another layer of protection to keep COVID at bay, Lee said.
It's important to get the most reliable tests from the get-go, he said.
Michigan could ask the U.S. Centers for Medicare & Medicaid Services to relax rules around the Nursing Facility Enrichment Program, so money from that fund can be used for COVID tests. Lee and others said they do not believe federal rules don't currently allow the funds to be used for testing.
"They can use those funds right now to get those (testing) machines in those facilities," he told Bridge Tuesday. "People are still operating in the same old bureaucratic rules book that they've had for years. For the safety of people's lives, push aside those rules temporarily."
Ask the right questions
On Tuesday, COVID risk levels had lowered enough in 45 of the state's 83 counties and the city of Detroit for the state to permit indoor visits at care facilities, unless they had a new infection in the past 14 days or otherwise determined they couldn't safely reopen. To see if your county is among those eligible to reopen care facilities to visitors, check this map.
People with loved ones in nursing homes shouldn't assume state pandemic restrictions are the reason for facilities remaining on lockdown, said Seifert at AARP.
Among the questions to ask of a facility that remains closed to visitors:
What is it doing to help make it safe for visitors to come back? What kinds of health checks will be required for visitors? Are visits restricted by time and place? What protective and social-distancing measures are in place?
If a facility refuses visitors even though it appears it's legal to permit them, loved ones can contact the state's Long-Term Care Ombudsman program to ask for help.
"It is really important to empower yourself and know that you are an advocate for your loved one in that nursing home," Seifert said.
Elizabeth Hertel, director of the Michigan Department of Health and Human Services, told Bridge last week that staff will be contacting facilities in the coming days to remind them of opportunities to reopen for visitation. MDHHS spokesperson Bob Wheaton said those reminders would be sent out by email.
"Under the previous visitation order and with the case rates decreasing, we know that there are a number of counties where visitation can be reengaged with appropriate testing and" personal protective equipment, Hertel said. "We need to make people aware of that."
We're not just a news organization, we're also your neighbors
We've been there for you with daily Michigan COVID-19 news; reporting on the emergence of the virus, daily numbers with our tracker and dashboard, exploding unemployment, and we finally were able to report on mass vaccine distribution. We report because the news impacts all of us. Will you please support our nonprofit newsroom?