Whitmer Kidnap Case | Alleged conspirators indicted, face hearing Thursday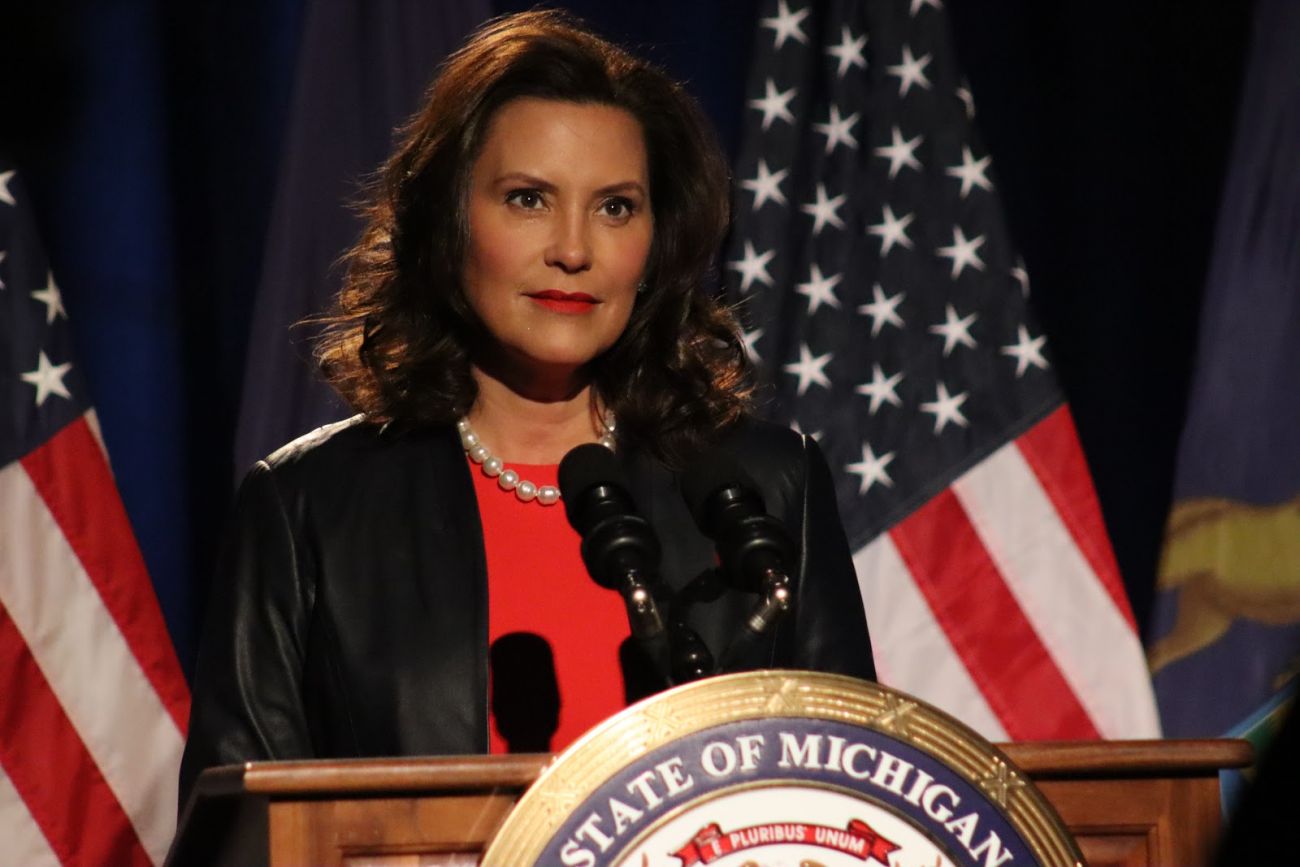 Last updated: Thursday, Nov. 17, 10 a.m. This post will be regularly updated with news on the case.
A federal grand jury has indicted six men on charges of conspiracy to kidnap Gov. Gretchen Whitmer ahead of a hearing set for Thursday in federal court.
They were arrested in October, after a months-long FBI investigation into militia activity that included the use of multiple inside sources. The men are expected to appear at 10 a.m. Thursday at federal court in Grand Rapids.
Prosecutors say the conspiracy began in June and involved kidnapping Whitmer at her Antrim County vacation home, and either leaving her on a boat in the middle of a lake or holding a "trial" for her alleged crimes and executing her.
In September, a group of the men "conducted nighttime surveillance" of her home and began forming plans to kidnap her and use explosives on a nearby bridge to limit local police response, according to the indictment.
During bail hearings in mid-October, attorneys for the men argued they were never serious about carrying out any plot and are "big talkers". Attorneys also argued the men were entrapped by the FBI informants who pushed the plot along.
All of the men were denied bail on kidnapping charges that are punishable by life in prison. They are: Adam Fox, 37, of Potterville; Barry Croft, 44, of Delaware; Ty Garbin, 25, Hartland Township; Kaleb Franks, 26, of Waterford Township; Daniel Harris, 23, of Lake Orion; and Brandon Caserta, 32, of Canton Township.
Eight other men were charged with state-level felony charges for their alleged involvement in the conspiracy. — Mansur Shaheen
---
Friday, Oct. 16, 2020
Five men set to stand trial in the case
Five men facing federal charges in the conspiracy to kidnap Gov. Gretchen Whitmer will stand trial in the case, U.S. Magistrate Sally Berens decided Friday in a second day of hearings.
Berens determined there was enough evidence for the case to go to trial based on encrypted chats and the September surveillance of the governor's Antrim County vacation home to show that the men allegedly participated in the conspiracy.
The decision came the same day that two of the men, Adam Fox, 37, and Ty Garbin, 24, were arraigned in the U.S. District Court in Grand Rapids.
Fox, Garbin and three other federal defendants — Brandon Caserta, Kaleb Franks and Daniel Harris — will now face trial at a later date. A sixth man in the case, Barry Croft, is awaiting extradition from Delaware to Michigan, after which he will face a similar hearing. Eight other men are facing domestic terrorism charges in state court based on their alleged roles in the plot.
Fox waived his right to a bond hearing on Friday, while Garbin was denied bond on the grounds that he is a danger to the community. None of the five men who've appeared in court were allowed to be released on bond pending trial.
On Friday, attorneys for Fox and Garbin were given the opportunity to cross-examine FBI Special Agent Richard Trask based on his testimony Tuesday, including allegations that upon his arrest, Fox told the FBI he had planned to abandon Whitmer on a disabled boat in Lake Michigan after kidnapping her, rather than following earlier plans to put her on trial for "treason" for the statewide COVID restrictions the governor implemented last spring.
According to the government's case, Garbin was an alleged leader of the Wolverine Watchmen, a Michigan-based militia group. But the Watchmen was just a Facebook group, according to Garbin's attorney, Gary Springstead. Garbin was not a militia leader, just a Facebook page administrator, he argued in court Friday.
Springstead suggested his client was disinterested in the plot. Instead, he was just interested in the training exercises that organizers conducted, his attorney said, comparing those exercises to training for paintball or the FBI.
Springstead also appeared to set up a defense for possible entrapment, questioning whether one of the FBI informants, who went by "Mark," played a key role in setting up the plot.
Trask and U.S. prosecutor Nils Kessler disputed that suggestion, saying the plot to potentially overthrow the government began before the FBI informant joined the group. "Mark" had also not yet joined when the plotters first met in Dublin, Ohio, in June to discuss potentially kidnapping either Whitmer or Virginia Gov. Ralph Northam, the federal officials said.
Garbin's attorney hinged his argument on his client's apparent ignorance of the scope of the plot. He argued that Garbin did not know where the group was heading the night they traveled to the governor's vacation home in apparent preparation for the planned kidnapping.
He also argued that while his client was at a meeting with an informant known as "Red," at which the FBI made arrests, he was there to obtain free tactical gear the informant had offered, not to purchase explosives.
Springstead called Garbin a "laissez faire" libertarian who thought the government would just collapse on its own.
Kessler, the federal prosecutor, disputed those claims, saying Garbin had many opportunities to walk away from the plot but did not do so, as a few others had done, making him a willing participant.
Kessler also argued it was "absurd" to explain away the defendants' recorded conversations as being protected by freedom of speech; it was obvious the men were doing more than "free talk," an argument used by defense lawyers on Tuesday, and again by attorneys for Garbin and Fox on Friday.
"If you're not in on the plan," Kessler argued, "you dont 'case' the governor's house." — Mansur Shaheen
---
Thursday, Oct. 15
Wisconsin man is 14th charged in alleged plot
Michigan Attorney General Dana Nessel on Wednesday announced charges against a 51-year-old man from Wisconsin Dells, Wisconsin, in the alleged conspiracy to kidnap Gov. Gretchen Whitmer.
Brian Higgins is the 14th person overall to be charged in the case. He and seven others face state charges, while six face federal ones.
Higgins was arrested Thursday on a charge of supporting terrorism, a 20-year felony, on claims he helped surveil Whitmer's vacation home in Antrim County in northern Michigan as part of the plot.
"Brian Higgins, while on a nighttime surveillance of the Governor's home, provided the use of his night-vision goggles for the surveillance," according to an affidavit filed by state police Detective Sgt. Michael Fink.
"Additionally, he used a mounted digital dash camera located in his vehicle to record the surveillance of the Governor's home in order to aid in kidnapping plans."
Higgins is set to be extradited to Michigan and face arraignment in 86th District Court.
Law enforcement alleges a group of plotters, some of whom were in a militia-type paramilitary group called the Wolverine Watchmen, planned to hold Whitmer hostage, storm the Michigan Capitol and target law enforcement.
Fink's affidavit alleges the group "performed tactical training" in Munith, a community in Jackson County, as well as "field training exercises" on private property in remote areas.
The goal: Ignite a "'boogaloo,' a term referencing a violent uprising against the government or impending politically-motivated civil war," according to the affidavit.
The affidavit alleged the Wolverine Watchmen collaborated with the "Michigan III%ers," a group described by the Anti-Defamation League as "anti-government extremists who are part of the militia movement." The group takes its name from the false belief that only 3 percent of Americans fought in revolution against Britain.
Federal authorities allege the group was led by Adam Fox, 37, of Grand Rapids, who is described in court papers as a ringleader of the alleged conspiracy.
In court testimony this week, FBI agents claim Fox told them after his arrest he planned to take Whitmer on a small boat in Lake Michigan, disable the engine and leave her there.
"These were very credible, and very serious threats to our elected officials and the public in general, and the swift actions taken by state and federal authorities this past week are nothing short of heroic," Nessel said in a statement.
The case continues at 10 a.m. Friday in the U.S. District Court in Grand Rapids, for the arraignment of Fox and Ty Garbin, 24. They face charges of conspiracy to commit kidnapping and could serve up to life in prison if convicted. — Mansur Shaheen
Previous coverage:
We're not just a news organization, we're also your neighbors
We've been there for you with daily Michigan COVID-19 news; reporting on the emergence of the virus, daily numbers with our tracker and dashboard, exploding unemployment, and we finally were able to report on mass vaccine distribution. We report because the news impacts all of us. Will you please support our nonprofit newsroom?