FBI: Whitmer conspirators wanted to leave her in lake, kidnap Va. governor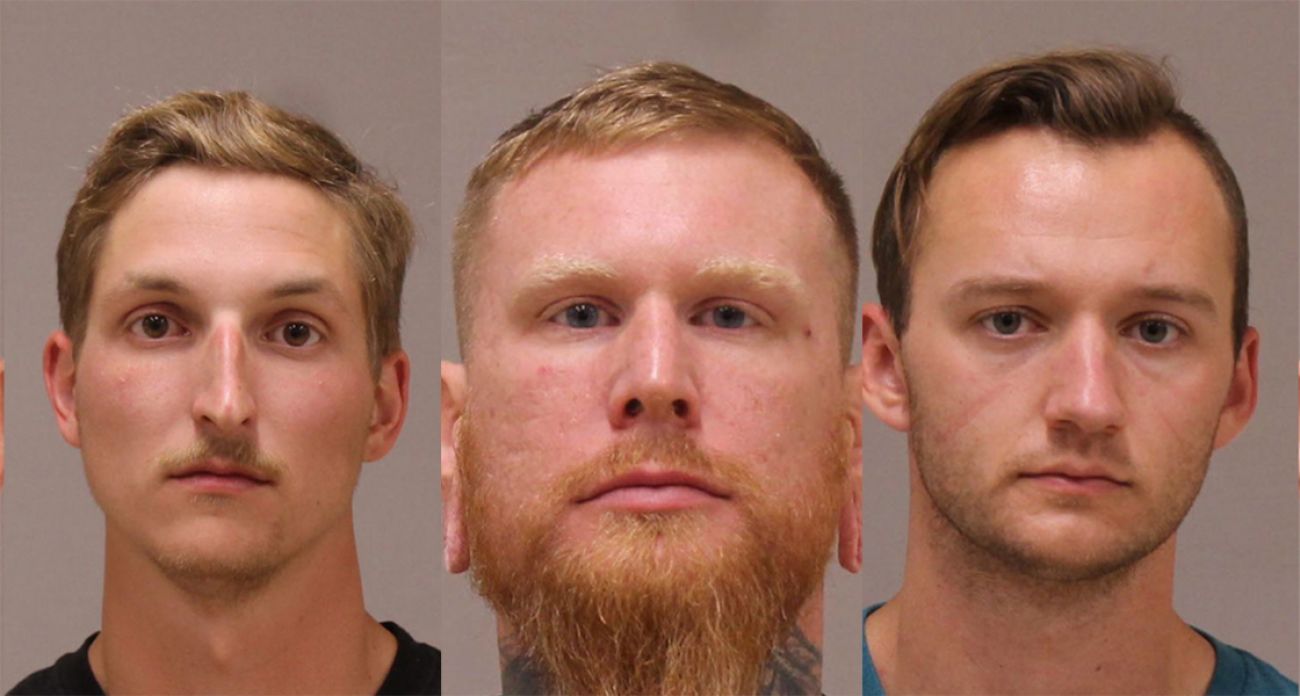 The men who allegedly conspired to kidnap Michigan Gov. Gretchen Whitmer also had ambitions to take out another Democratic governor: Ralph Northam of Virginia.
And one of the men confided after his arrest of a plan to abandon Whitmer on a disabled boat in Lake Michigan rather than put her on trial for "treason," as they had discussed earlier.
Those were among new allegations that emerged from an FBI special agent's testimony Tuesday during a bond hearing for three of six men facing federal conspiracy charges in Grand Rapids. U.S. Magistrate Judge Sally Berens, a former prosecutor, denied bond requests involving three of the defendants.
The conspiracy case has drawn national attention as a symbol of the acrid political divisions that many fear could result in violence around the Nov. 3 election. The prosecution is based on reams of secret recordings and confidential informants after the FBI infiltrated antigovernment groups and self-proclaimed militia members across several states since the spring.
Tuesday's hearing was also the first opportunity for the defendants' lawyers to raise doubts about the prosecution, with at least one suggesting that while the men may have talked big, it was undercover FBI informants who urged them to pursue plans they would not have initiated on their own.
Five of the six defendants were in court Tuesday: Ty Garbin, Brandon Caserta, Daniel Harris, Kaleb Franks and Adam Fox with the magistrate considering only the bonds of Harris, Caserta and Franks at the hearing. A sixth man, Barry Croft, was arrested in Delaware and is awaiting extradition to Michigan.
The defendants are charged with conspiracy to commit kidnapping and, if convicted, could face up to life in prison. Seven other men are facing antiterrorism charges in state court for alleged plots to storm the Michigan Capitol in Lansing and take hostages, including Whitmer.
Special Agent Richard Trask of the FBI laid out the bureau's findings in testimony, which is described below.
Virginia Gov. Ralph Northam was a potential target
According to Trask, Fox and 12 others met on June 6 in Dublin, Ohio, to hatch a plan to overthrow the government. They discussed kidnapping an elected governor who they believed was a "tyrant." While Whitmer was the target they landed on, Gov. Northam of Virginia was discussed as another potential target, Trask alleged.
Northam's office issued a statement Tuesday saying the governor's security team was earlier alerted to the alleged plot.
"Per security protocols for highly-classified information, neither the governor nor other members of his staff were informed. At no time was the governor or his family in imminent danger. Enhanced security measures have been in place for Gov. Northam and his family for quite some time, and they will remain," press secretary Alena Yarmosky said.
Northam, like Whitmer, had put his state under strict lockdown measures in the wake of the COVID-19 outbreak.
And like Whitmer, Northam blamed President Trump for dangerously inflaming passions that would inevitably incite fringe groups bent on violence.
"Here's the reality," Yarmosky said Tuesday: "President Trump called upon his supporters to 'LIBERATE VIRGINIA' in April — just like Michigan. In fact, the President regularly encourages violence against those who disagree with him. The rhetoric coming out of this White House has serious and potentially deadly consequences. It must stop."
Infiltrating communications, finding informants
The men charged in the conspiracy allegedly used encrypted chats to communicate with one another, though at one point they feared they had been infiltrated by a mole and moved to a different encryption service. A confidential informant was part of chats on both services.
The suspects initially used an app called Wire, where they had a chat titled "F--- Around and Find Out."
Each member had an alias they used in the chat logs. The leader of the group, Fox, went by "Alpha F--- You".Caserta went by "Debased Tyrant", Harris went by "Beaker", Franks's alias was "Red Hot," according to the FBI.
In the chats they discussed potential strategies, the government claims, using codewords. One plan included "making a cake and sending it" or "sending cupcakes", which Trask said were codes for creating and sending an explosive to their target. They also suggested posing as a pizza man, and assaulting the governor when she answered the door, he testified.
On Aug. 18, with the chat title now changed to "Bonfire," a member of the group who went by "Doc" had potentially been compromised. Franks, Garbin and "Doc" all feared the FBI had infiltrated their group and gotten a hold of their communications. They agreed to meet in person, with each member of the group bringing three forms of identification to confirm their identity.
They later switched to another end-to-end encrypted communications platform, Threema. One of the men, "Mark", who turned out to be a government informant, was also invited to the Threema chat, giving the FBI access to those communications as well.
On Sept. 12, another FBI informant, "Red", was introduced to the group. He posed as an explosives expert, and worked and trained with the team over the next few weeks. Red was present when some of the suspects surveilled the governor's lakefront vacation home north of Traverse City, and informed the group how they could potentially thwart a police response to the kidnapping by destroying a nearby bridge.
The meeting on Oct. 7, which was raided by the FBI and led to the men's arrest, was set up by Red under the guise of the informant delivering explosives and tactical gear to the group.
Attacking police, disposing of Whitmer
The men hatched a plan to kidnap Whitmer as early as June 18, at a protest at the state capitol. Fox met with members of the Wolverine Watchmen, a self-proclaimed militia group, to discuss carrying out the scheme before the Nov. 3 election, Trask testified.
According to the FBI, Fox told the bureau after his arrest of a plan to leave Whitmer on a boat in the middle of Lake Michigan, disabling the boat's engine to strand her.
Fox and members of the Watchmen, who were already under FBI surveillance, also discussed storming the state capitol. They concluded they needed at least 200 men for the attack, and planned to fire bomb police officers stationed in a nearby lot to prevent their response.
Fox, who lived in the basement of a vacuum repair shop in Grand Rapids at the time, met there with Garbin and members of the so-called militia to discuss the plan June 20. Over the course of the next few months, they periodically held training sessions and eventually decided to kidnap Whitmer from her vacation home in northern Michigan.
Their post-kidnapping plans were murkier, testimony Tuesday indicated.
The men never settled on what to do with Whitmer once they seized her. They wanted to place her on trial for treason for her lockdown orders, which they deemed unconstitutional, but kept shifting a decision on where to keep her. Plans were discussed to take her to Wisconsin or other out-of-state areas.
Then there was the boat plan.
"Mr. Fox stated his plan or his idea was to take her out on the boat and leave her out in the middle of Lake Michigan," Trask said.
On the weekend of Sept. 12, three cars left an encampment Garbin owned in Luther, Michigan, and drove late at night to Whitmer's family vacation home. Nine men, one of whom turned out to be an FBI undercover employee, had cased out the home for a potential attack and kidnapping.
Preparing a defense
Defense attorneys appeared to be previewing an "entrapment" defense. The lawyers said their clients were not leaders of the alleged conspiracy, and may have been pressured to take part in the plot by someone who turned out to be an FBI informant.
Scott Graham, Franks' attorney, argued that many militias are actually "crack pots" and "military wannabes." He said the group would not have taken drastic action had the FBI informants not pushed them toward it.
Michael Darragh Hills, counsel for Caserta, argued that his client had not done anything illegal. The weapons Caserta owns were legal, and he had a permit to carry. His client was not present when the group scouted the governor's vacation home, and he said there is no proof Caserta was present when explosives were discussed or tested.
Thomas William Parker Douglas argued that his client, Harris, also was not present during the trip to the governor's vacation home.
A 'danger to the community'
In denying Harris, Caserta and Franks pretrial release on bond, the magistrate found that none of them posed a flight risk. Instead, she found that all three were a danger to the community if they were released.
The magistrate cited Harris's reckless behavior, which includes a plot (he never acted upon) to kill a police officer and the officer's wife in Maine, after a conflict with one of his friends.
Caserta was deemed a risk based on comments he had made in unrelated videos about wanting to kill law enforcement. The magistrate said such sentiments made it unreasonable for a parole officer to be assigned to him while he was out on bond.
Franks was denied bond due to his alleged significant involvement in the conspiracy, which included being part of the group that cased the governor's vacation home.
Attorneys for Fox and Garbin are expected to make their arguments for bond at a hearing on Friday.
Only donate if we've informed you about important Michigan issues
See what new members are saying about why they donated to Bridge Michigan:
"In order for this information to be accurate and unbiased it must be underwritten by its readers, not by special interests." - Larry S.
"Not many other media sources report on the topics Bridge does." - Susan B.
"Your journalism is outstanding and rare these days." - Mark S.
If you want to ensure the future of nonpartisan, nonprofit Michigan journalism, please become a member today. You, too, will be asked why you donated and maybe we'll feature your quote next time!