With insulin prices skyrocketing, Michigan may go DIY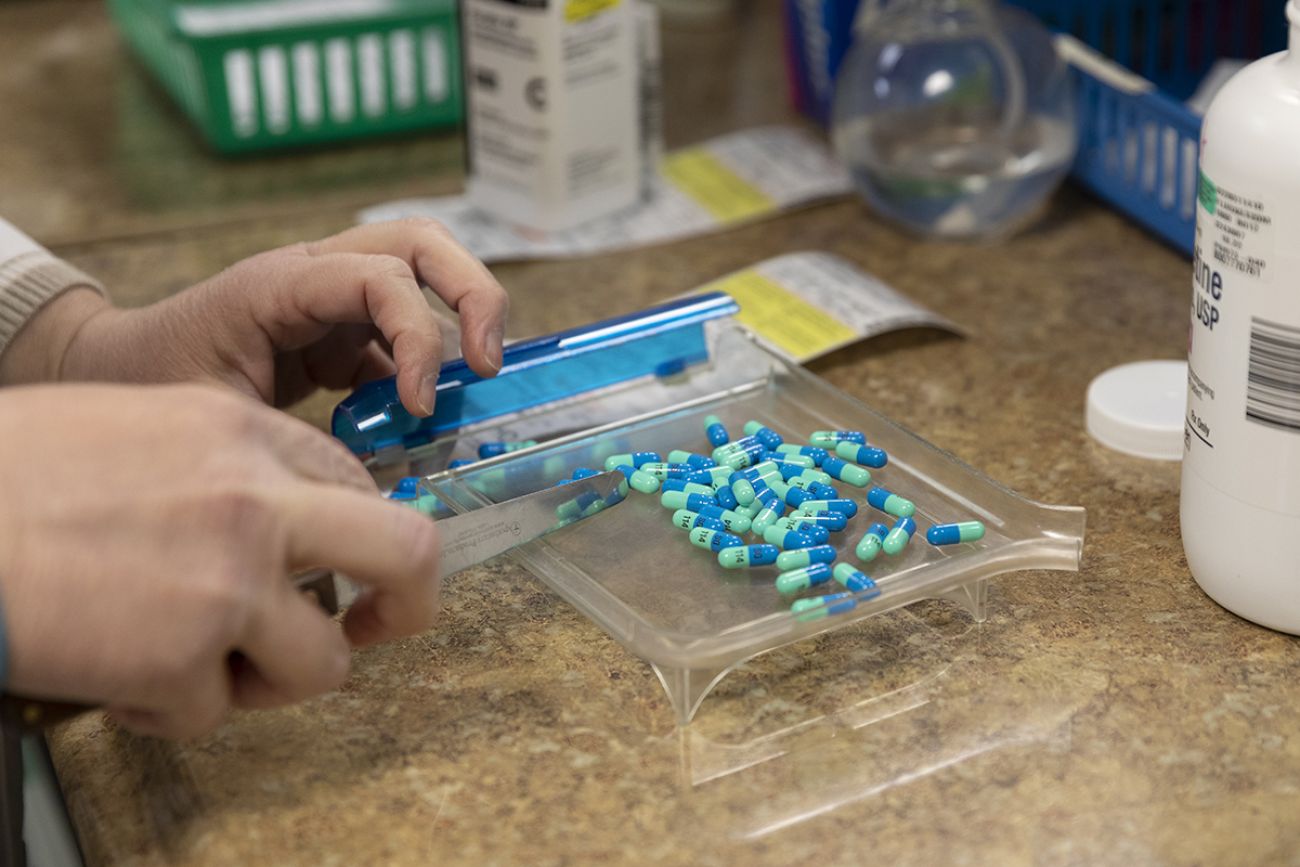 Several efforts are underway to tighten control over drug costs in Michigan. (Bridge photo by Elaine Cromie.)
If drugmakers won't lower insulin prices, maybe Michigan should make its own.
That's the thinking of a small group of lawmakers and others, led by Sen. Curt VanderWall, R-Ludington, who have been meeting with drugmakers and university representatives to determine whether Michigan can make its own insulin to sharply reduce costs for the life-saving drug.
The talks are preliminary, with many questions lingering, said VanderWall, who chairs the Senate's Health Policy and Human Services Committee.
Related:
"Can we bring manufacturers to the table … to say 'I'm willing to sell this product at this cost?' That's one option. The other option is: Do we actually bring the state … into being a manufacturer of insulin and sell that product at our cost?"

VanderWall said he's approached drugmakers, including Pfizer, as well as the University of Michigan and Michigan State University.
MSU is particularly well suited, because it likely has the facilities to manufacture the products, said Dominick Pallone, executive director of the Michigan Association of Health Plans, which represents 11 Michigan insurers. Pallone said his staff has been part of initial discussions, too.
MSU spokesperson Emily Guerrant confirmed that the university, in East Lansing, "has discussed the idea of helping the state with insulin production," with a focus on providing space for the operation. Guerrant, too, called discussions "preliminary."
VanderWall's idea is one of several efforts to lower the price of insulin and other critical medications in Michigan, and across the country. Lawmakers from both parties have taken recent steps in Lansing to lower costs, part of a growing movement across the nation to provide relief to consumers.
There are several hurdles to Michigan making its own insulin, not the least of which would be federal approval for any manufacturing process, Pallone and VanderWall told Bridge Michigan.
A key, Pallone said, is in making sure that if Michigan wins approval to produce insulin that it retains intellectual property rights to keep consumer prices low.
"The thinking is, 'If we can build it in the state, let's build it,'" Pallone said. "Or, if we can't, how do we partner with somebody to do it for us?"
Higher prices for critical medications
Tamping down drug prices is getting lots of attention in Congress these days and is a major concern for Americans, according to a poll last month by KFF, a San Francisco-based health care research nonprofit.
National drug spending jumped 7.7 percent in 2021, growing to $576.9 billion, according to a study released this month by the American Society of Health-System Pharmacists.
The rising price of insulin — a diabetes drug that's been around 100 years — has been well documented and widely criticized. Solutions, though, have proven elusive.
Prices for some insulin tripled between 2002 and 2013, according to one peer-reviewed study published in the Journal of the American Medical Association. They jumped another 54 percent in the years since. Much of the ire is directed at the three drug companies that have dominated production.
About 7.4 million people in the U.S. have insulin prescriptions out of more than 30 million people diagnosed with some form of diabetes.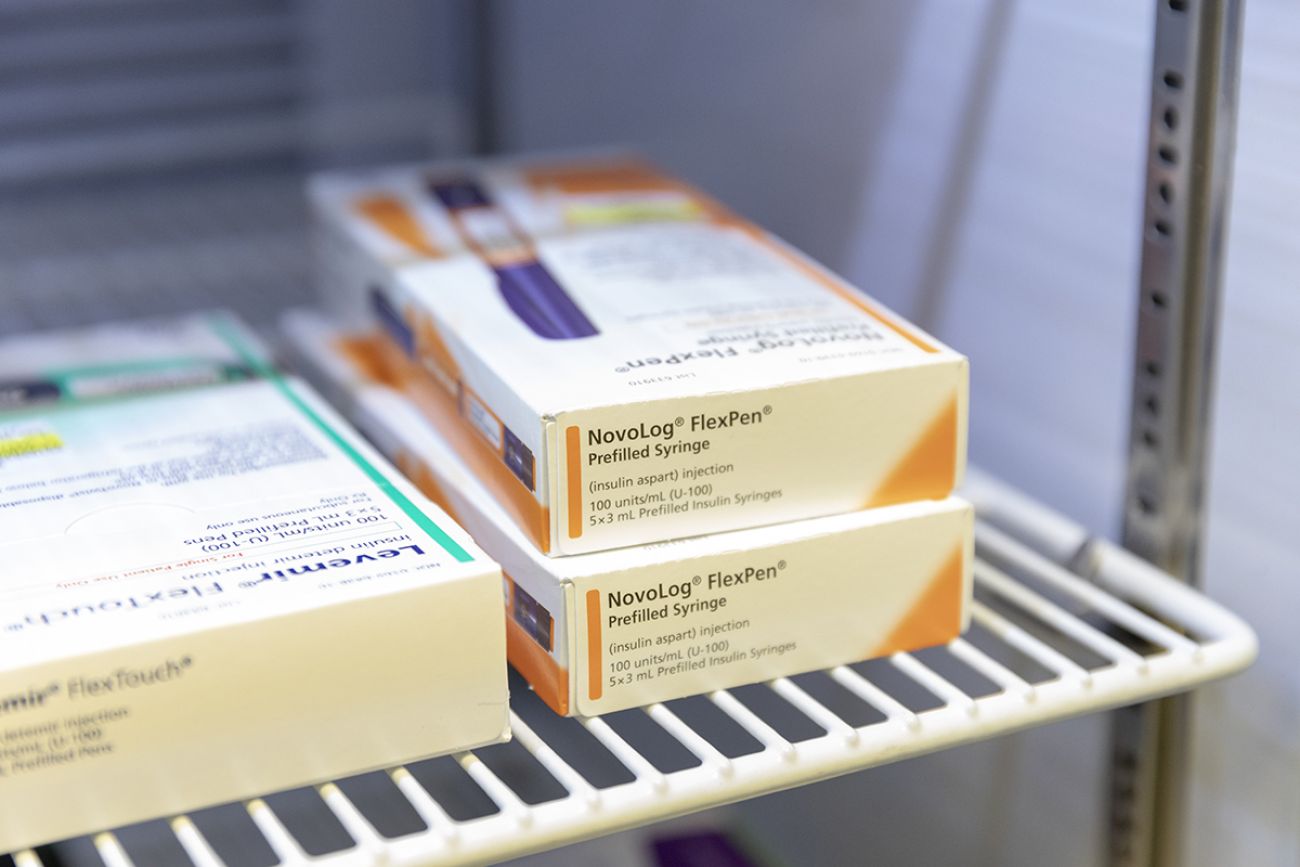 A federal bill would cap costs of insulin at $35 a month for most people with Medicare or private insurance. In Michigan, two lawmakers are exploring what the state can do, including the possibility of a state facility making its own insulin. (Bridge photo by Elaine Cromie.)
The toll is clear: In a separate KFF survey, 1-in-4 diabetes patients said they had skipped doses because of the high cost of insulin, which is more than three times higher in the U.S. than in other leading developed nations.
Soaring drug prices go beyond insulin, of course. Medicare patients without drug coverage subsidies reported skipping anti-cancer drugs (30 percent of beneficiaries), immune disorders (50 percent) and hepatitis C treatments (22 percent), according to another peer-reviewed study, published this month in Health Affairs.
For years, Rachael Lockwood of Gowen, near Grand Rapids, battled Medicaid over shifting coverage for her three children with Type 1 diabetes, which forced them to switch insulin brands.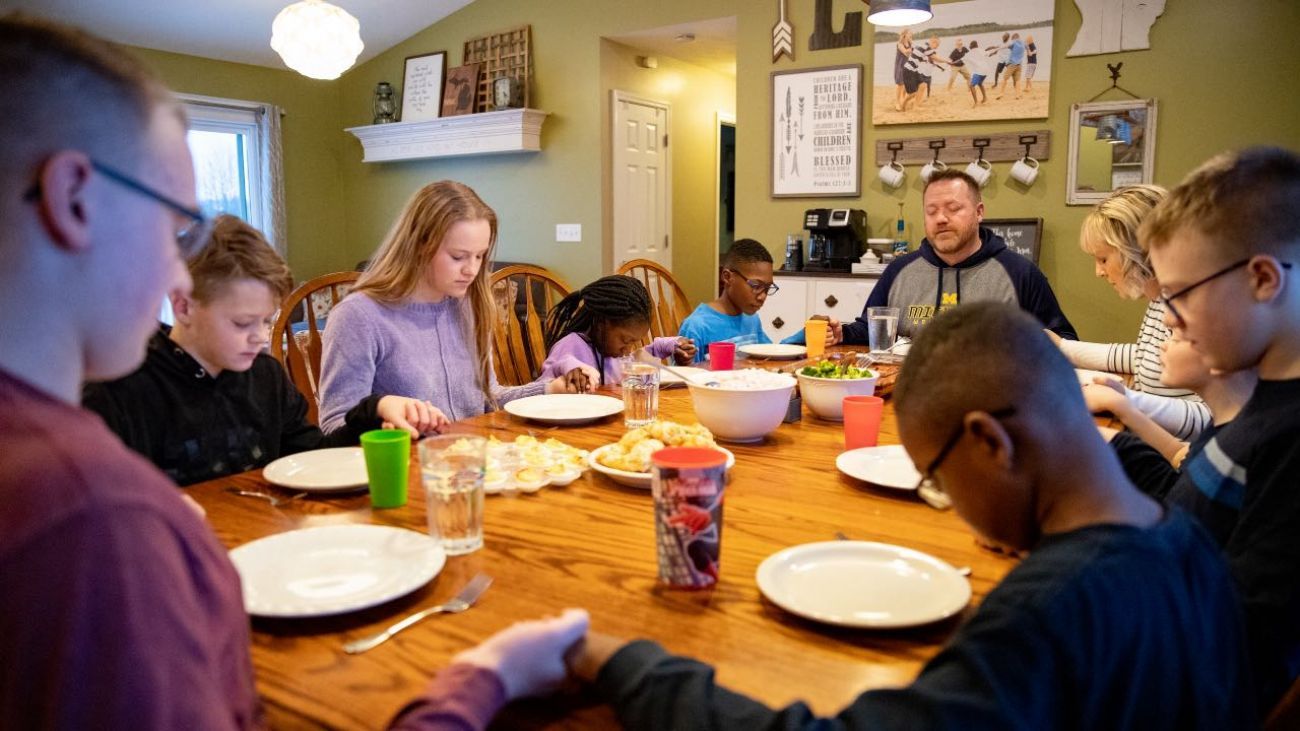 When the pandemic hit and they could no longer reliably get insulin from Canada for their three children with diabetes, Rachael and Jim Lockwood moved from Michigan to Ohio for better health coverage. (Bridge file photo by Daytona Niles.)
That meant extra trips to the doctor to adjust doses, calls from school nurses about volatile blood-sugar levels, and a heightened threat of serious complications for the children.
"It's like a science experiment. 'Let's see what happens,'" she said. "No parent wants that for their kids."
When the Novolog brand was no longer covered, the cost shot up from a zero dollar-copay to about $600 for about a month's supply for each child. That prompted the Lockwoods to drive to Canada for discounts — just $71 for five Novolog PenFills that cost about $600 in the U.S., Rachael Lockwood told Bridge in 2020.
Then COVID struck and, following further complications, the family was forced to move to southwest Ohio.
Lockwood said the constant quest for affordable insulin and the necessary equipment — continuous glucose monitors and insulin pumps — was exhausting. Her husband, Jim Lockwood, took a government job with health coverage that reliably covers the insulin her children need, she said last week.
"We just needed to find somewhere with good coverage and less stress," Rachael Lockwood said.
Back in the game
Turning Michigan into a drug manufacturer is not as far-fetched as it sounds.
The state opened its own drug manufacturing facility in the 1920s, following a diphtheria outbreak. The facility, in northwest Lansing, later made other vaccines, too, to protect against typhoid, tetanus, rabies and anthrax, according to a 1999 budget briefing.
Indeed, Michigan was the last U.S. state to own its own vaccine laboratory. The money-losing operation was the sole producer of an anthrax vaccine when, in 1998, the state sold the business to Bioport, a private company.
As Michigan looks to get back into production, California is exploring a similar plan to produce its own, low-cost insulin.
And the nonprofit generic drug maker, Civica Rx, said it plans to manufacture and sell insulin for no more than $30 a vial as soon as 2024. Among Civica's partners are Blue Cross Blue Shield members, including BCBS of Michigan.
With drug prices out of control and federal COVID dollars in Michigan, it's time to revisit the possibility of manufacturing insulin here, VanderWall said.
"I'm kind of excited about even attempting to put something like this together."
His plan is just one effort in Michigan and beyond to tamp down insulin prices.
In Washington, the U.S. House last month approved the Afford Insulin Now Act, which would cap monthly insulin copays at $35 for people on Medicare or with private insurance.
An analysis of insurance claims data by KFF found that a $35 cap would save money for at least 1-in-5 insulin users who now pay more. About half of those with private insurance would save at least $19 a month; about a quarter would save $42 a month or more. Among those who purchase coverage through the online marketplace, 1-in-4 would save at least $71 a month, KFF found.
The federal bill would take effect next year, but is expected to encounter resistance in the U.S. Senate.
If it fails, a measure now pending in the Michigan House could serve as a backstop. Michigan State Rep. Sara Cambensy — D-Marquette — has introduced a bill that would cap out-of-pocket insulin costs at $50 a month.
A copay cap provides some consumer relief, but Cambensy acknowledged it wouldn't "get to the root bottom" where manufacturers set prices.
It's possible, she and others said, that capping out-of-pocket costs would result in insurers simply passing on the expense to consumers through higher premiums.
Consumers are better served if drug reform laws address the manufacturers' prices, said Pallone, of the insurers' association.
"We agree that you're paying too much for your drugs," he said. "And your insurers are paying too much, too."
On yet another front, Gov. Gretchen Whitmer is supporting state Attorney General Dana Nessel's plan to investigate drugmaker Eli Lilly over insulin pricing, spokesperson Bobby Leddy said in an email to Bridge.
Leddy would not say directly whether Whitmer also supports a state-owned drug-making facility, writing that she will "continue to be a partner with the legislature to build on these efforts to lower the cost of prescription drugs."
Transparency and oversight
Other efforts are also underway. A bipartisan bill Whitmer signed in February is intended to contain pricing on a variety of drugs, not just insulin.
Effective in 2024, the law will rein in what Rep. Julie Calley, R-Portland, called "unregulated middlemen," the benefit managers who set drug policies for pharmacies.
Introduced by Calley, the law will require these managers to report the cost of the drugs they purchase, rebates they receive from manufacturers, and prices they charge insurers. That will allow regulators with the Michigan Department of Insurance and Financial Services to assess what kind of "spread" or "profit" they glean from the business.
The current system is complicated and opaque and leaves the independent pharmacist with no control over prices, said Adrea Rowinski, owner of Sunshine Pharmacy in Sterling Heights.
"When I tell customers at the counter what's going on, they are shocked," Rowinski said.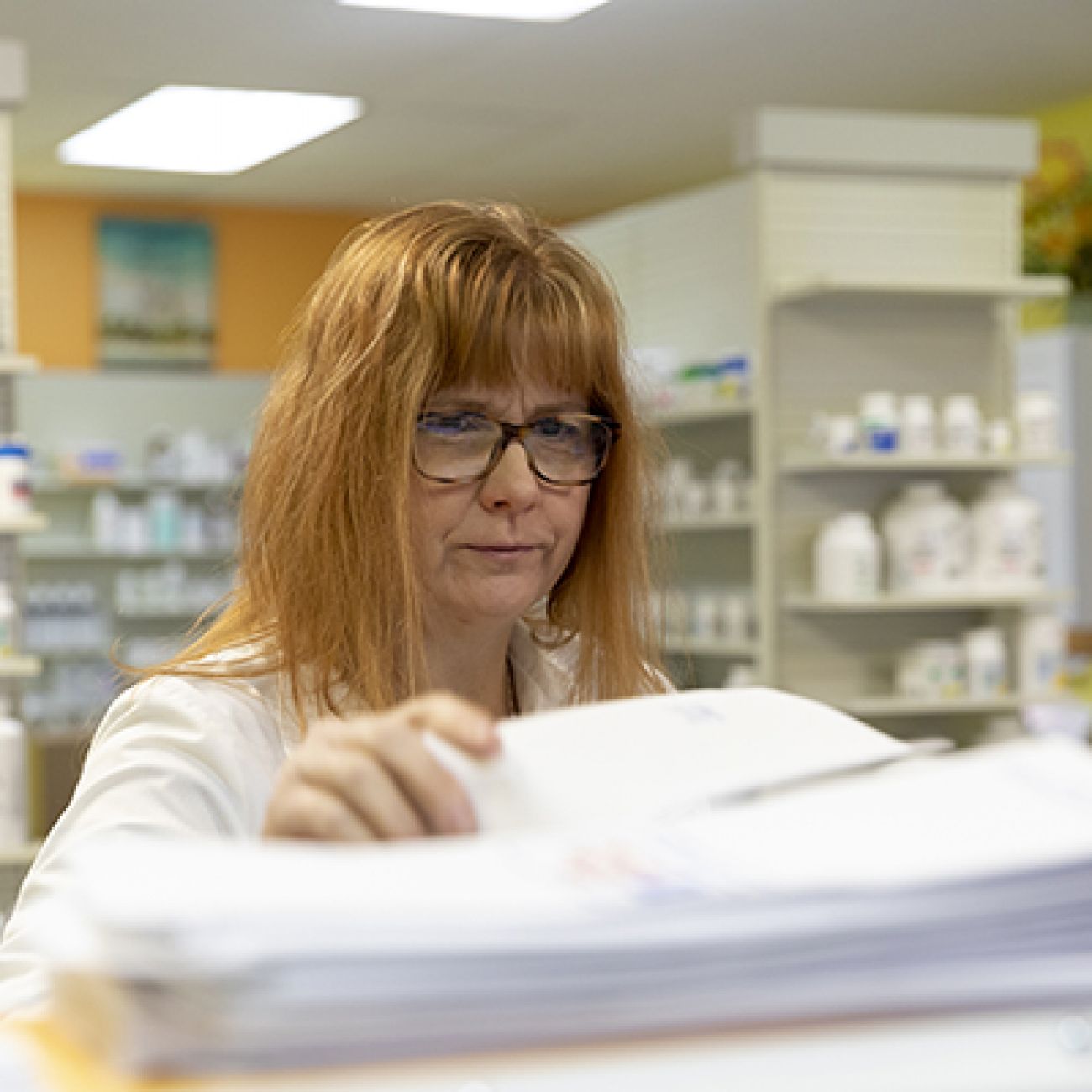 Customers are "shocked" to learn about the complicated process for pricing drugs, said Andrea Rowinski, pharmacist and owner of Sunshine Pharmacy in Sterling Heights. (Bridge photo by Elaine Cromie.)
Theresa Cole of Grand Rapids, who has Type 2 diabetes, said she was frustrated and bewildered by the price swings for her medication.
Her prescription for Victoza, a non-insulin drug that helps lower blood sugar, was $954 a month when she purchased insurance from the online marketplace. She qualified for Medicare after her 65th birthday, but the drug's price jumped to $1,094 because of a coding glitch, she said.
That was in January. Then it then fell to $94 in February for a month's supply, then changed again to $129 for a three-month supply.
"I've got the chutzpah and the gumption to call and say 'This is your problem. Fix it,'" said Cole, a retired systems manager for a building materials distribution company. "But I've had friends who didn't take their arthritis medication because they can't afford it, or they take a pill every other day or every three days."
The Calley law also lifted a "gag" on pharmacists from telling customers about cheaper versions of drugs, said Brian Sapita, director of government affairs for the Michigan Pharmacists Association.
While the state's ability to control prices is limited, requiring transparency is a first step, he said.
"Fingers crossed, the price of your medication will come down," Sapita said.
If they don't, VanderWall said: "then it's our obligation to go back and make sure we fix that.
"We need to start delivering true cost reductions to our consumers, our constituents."
Only donate if we've informed you about important Michigan issues
See what new members are saying about why they donated to Bridge Michigan:
"In order for this information to be accurate and unbiased it must be underwritten by its readers, not by special interests." - Larry S.
"Not many other media sources report on the topics Bridge does." - Susan B.
"Your journalism is outstanding and rare these days." - Mark S.
If you want to ensure the future of nonpartisan, nonprofit Michigan journalism, please become a member today. You, too, will be asked why you donated and maybe we'll feature your quote next time!