Michigan Ladder Co. thrived for 120 years. Then the pandemic struck.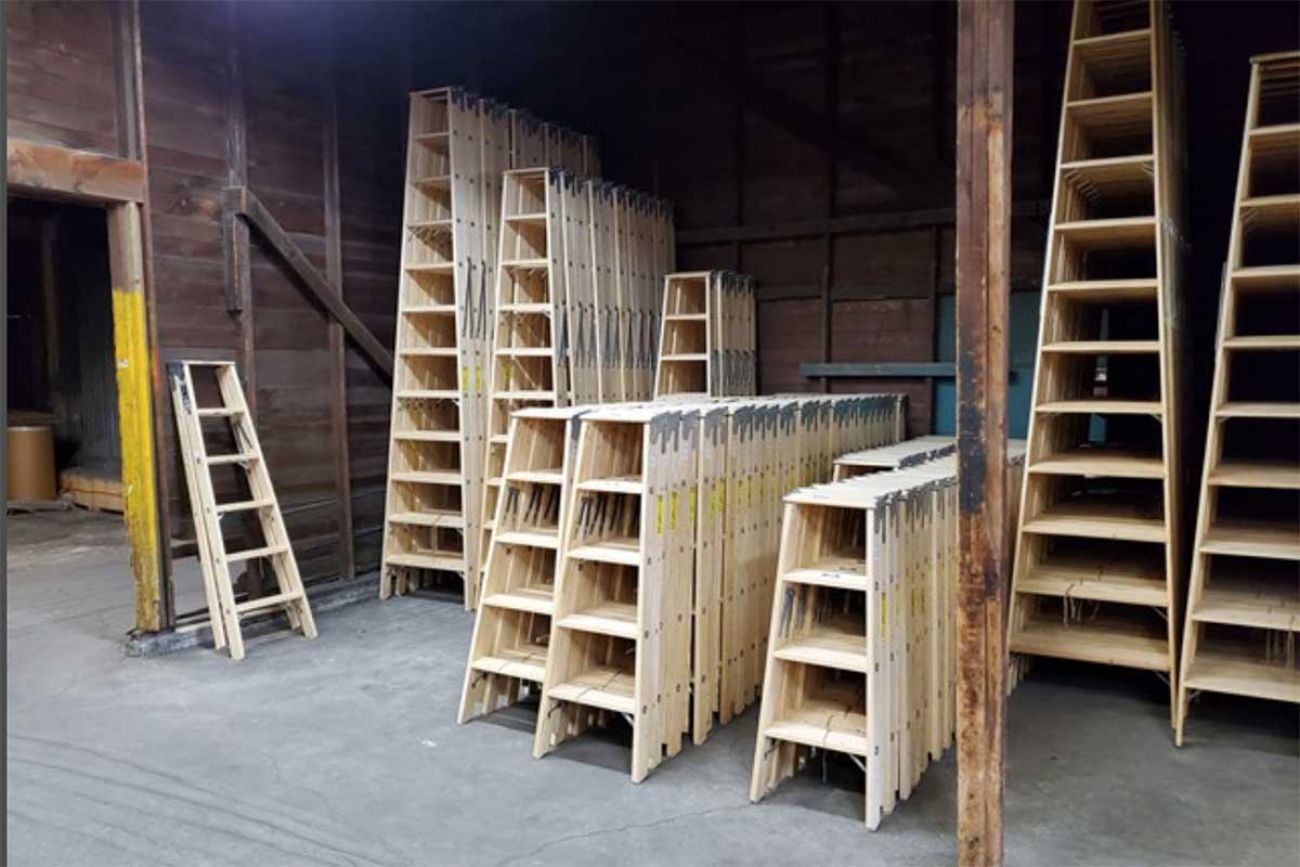 Michigan Ladder Company, founded in Ypsilanti in 1901, closed this spring. It was the last wooden ladder manufacturer in the United States. (Courtesy photo)
YPSILANTI —Ladders are still stacked along old plank walls of a small factory where an idea for how to improve the construction devices turned into a 120-year business. But they won't be there for long.
Michigan Ladder Company, the last wooden ladder manufacturer in the United States, closed its doors for good this spring.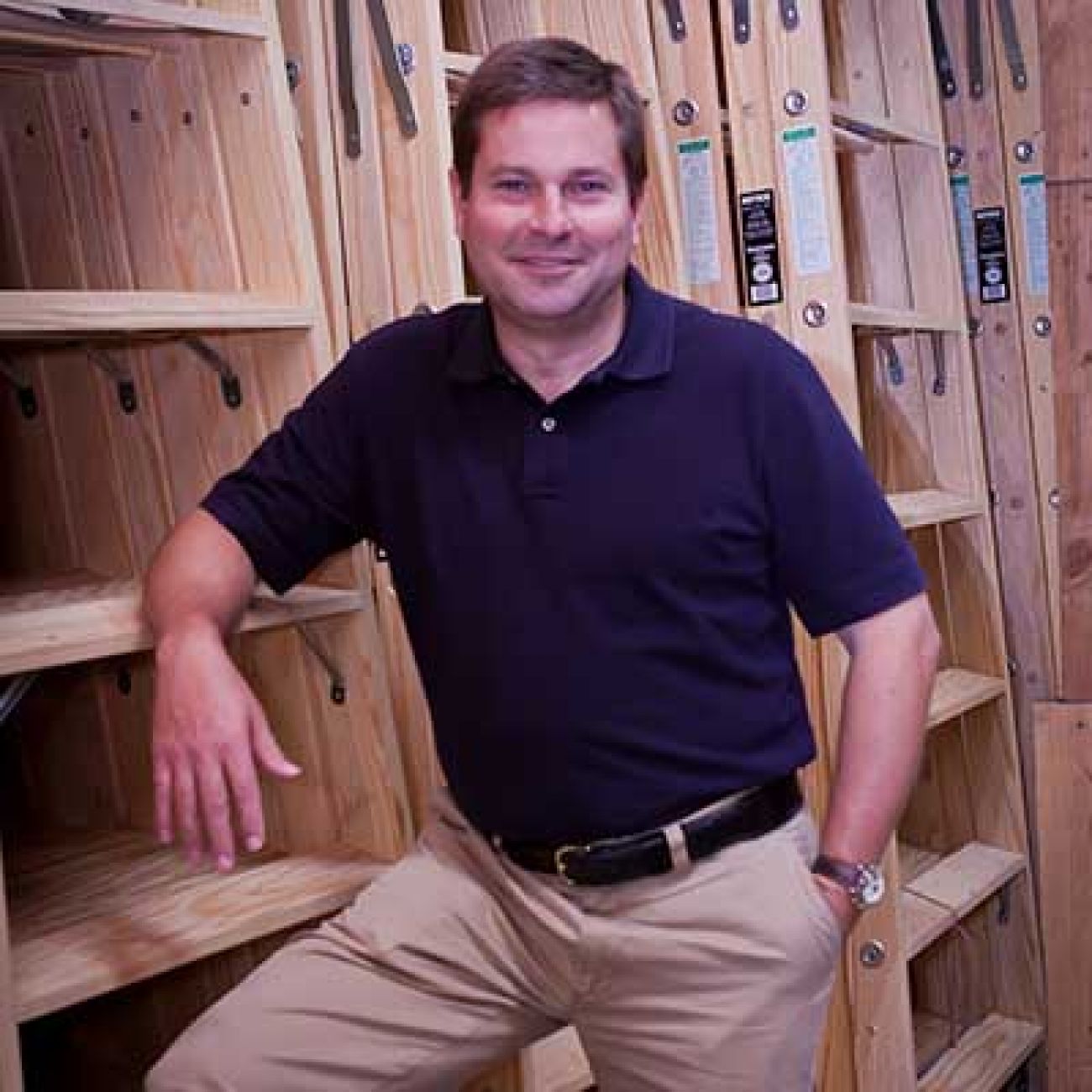 Tom Harrison bought Michigan Ladder Company in 2005 from the family that ran it for decades. Harrison, the company's president and CEO, decided to close the business this year. (Courtesy photo)
Shutting down the business was not a decision that Tom Harrison, Michigan Ladder Company's fourth owner and CEO, thought he'd ever have to make.
Related:
Over its history, the ladder company expanded production into aluminum and fiberglass versions, all of them using the same patented design created by a founder. Eventually, deliveries were made by cars instead of horses, yet changes weren't common at the low-ceilinged factory on the edge of railroad tracks.
But during 18 months, pressure mounted: Supply chain disruptions. A government shutdown. Fixed costs even without products to sell.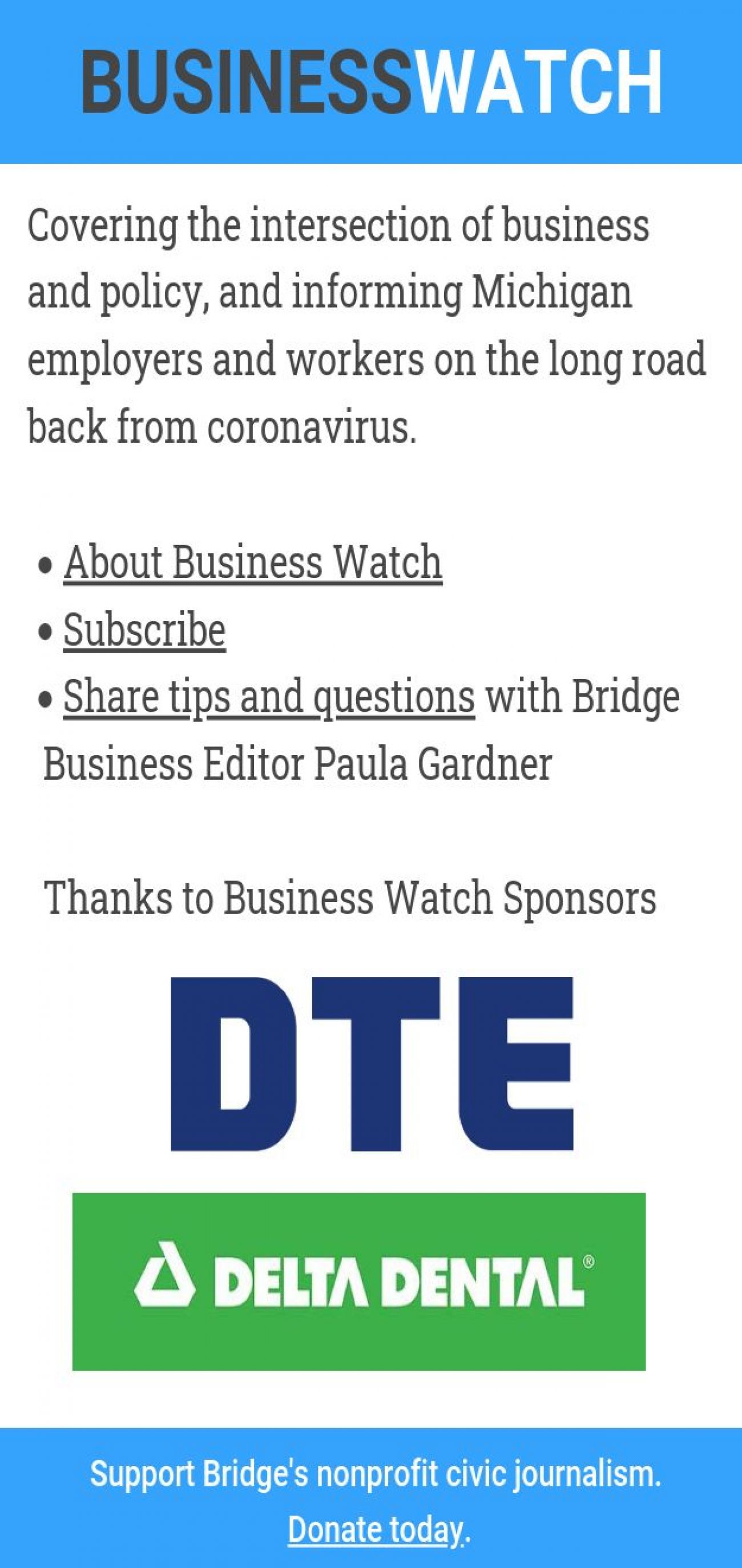 And in the end, not even a global recession, wars, or the Great Depression — a time when the company proudly never laid off a worker — caused the damage wrought by the pandemic on the small company.
Harrison said he wished for months that it could have been different. Instead, all of the remaining equipment will be auctioned off online starting Saturday.
"This is one of those things that will haunt me forever," he said.
The end caps a century-long success story in which Michigan Ladders were known worldwide, before competition heated up globally in the ladder industry and manufacturers increasingly turned away from wood to other materials.
Harrison said he's proud of the company's connection to so much history: Target store shelves are restocked by workers standing on Michigan Ladders, which were also used to decorate the White House during the holidays and build the McNamara Terminal at Detroit Metropolitan Airport.
This photo from 1916 shows the company's factory as production took off during its early years. (Courtesy photo)
"Much of the nation has been built on the steps of Michigan ladders," the company notes on its website.
Other U.S. companies, including Cotterman Co. in Crosswell in Michigan' Thumb, manufacture metal products like rolling ladders.
Over the years, Michigan Ladder took stabs at diversification, producing toys, ironing boards, boats and ping pong tables at the Ypsilanti factory that was updated 25 times. Among them were "The Detroiter" ping pong tables, used for shipboard entertainment by the U.S. Navy and during halftime competitions during Harlem Globetrotters basketball games.
But the company kept going back to its core business: The ladder, with its innovative automatic locking catch.
Signs of trouble emerged in late 2019, Harrison said. The factory sourced parts for its ladders — all sold to commercial clients, like building companies and utilities, not through retail channels — from the United States, China, Mexico and Canada.
Supplies from China started to slow amid rumors of worker illnesses. That halted production while concerns about COVID-19 grew and the virus finally made it to Michigan in early March 2020.
Weeks later, Gov. Gretchen Whitmer ordered nonessential business closed.
"Just as we were getting ramped up again, we shut down," Harrison said. "Those shutdowns cost us a great deal of capital."
"The other thing it cost us was customers," he added. "Our competitors were not shut down."
Reopening by summer 2020 was possible as the virus ebbed and the company received federal CARES Act loans. Still, only some of the 25 employees were called back to work.
Demand was good and "the year was getting back on track" when parts once again became hard to source. The seasonal business needed to generate inventory to sell this spring, but it couldn't produce it.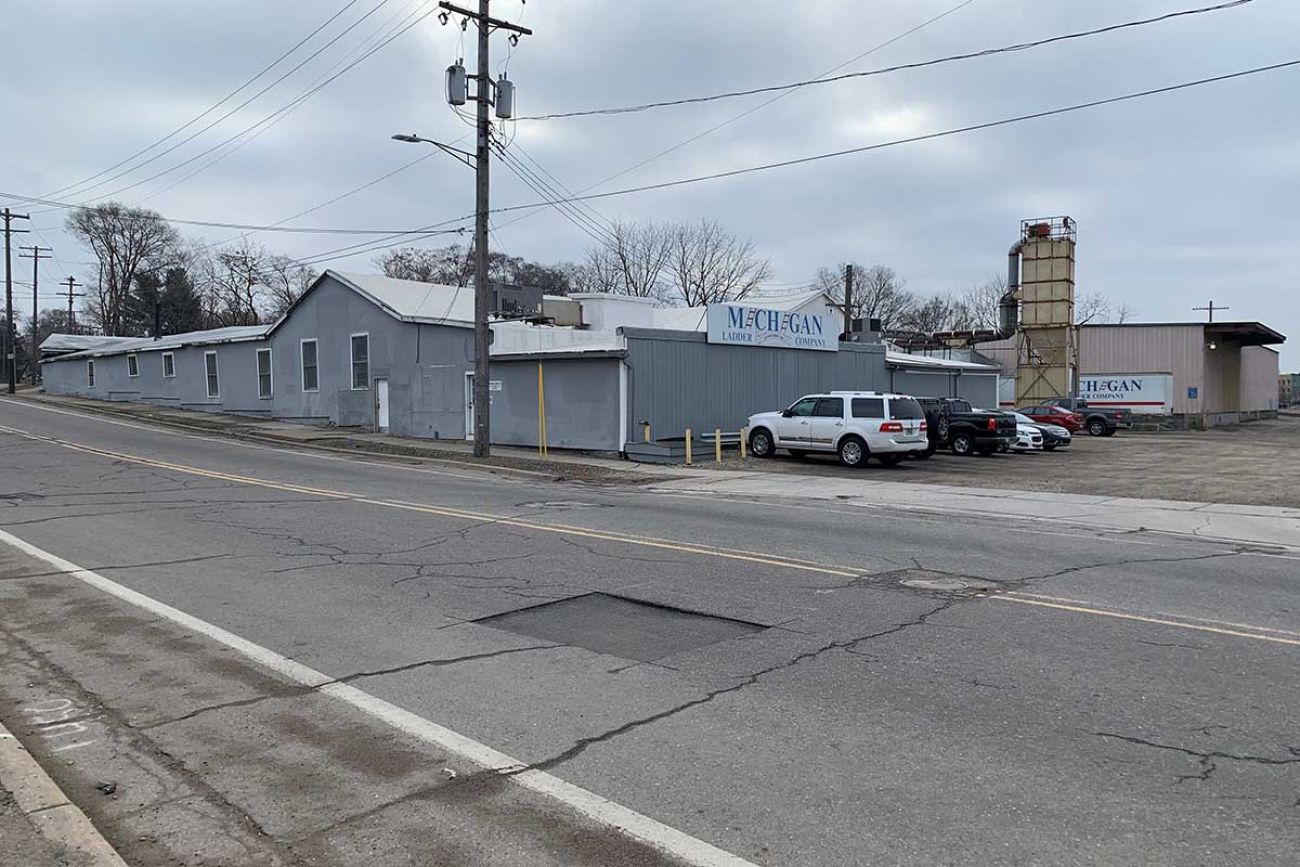 Michigan Ladder Co. grew until it occupied 60,000 square feet on its original site in Ypsilanti. (Courtesy photo)
"If you're missing one part, you can't make a ladder," Harrison said.
And by the end of 2020, Harrison said, "I didn't know how we'd come out of this thing."
Facing the dilemma head-on, after a 25-percent decline in sales, Harrison decided to close, choosing what he described as "an orderly wind-down."
Harrison still goes to his office every morning, but his work is different.
The machinery that once made ladders shipped around the world is silent. The "good, hard-working people" who'd joined him every weekday are no longer needed.
Many had developmental disabilities or were recovering from closed head injuries. Some had prison records. All were welcomed into the employee base, where some workers had 30 years of seniority.
Harrison's biggest worry was how the employees would fare when he closed the plant, among the last manufacturers in the city just east of Ann Arbor. He told them in January and asked them to keep it quiet while they had time to look for a new job.
Harrison won't discuss his views on how politics may have shaped the state's decisions, but he does say the pandemic could be an "eye-opener" for how elected officials cannot be ready for everything.
Closing the manufacturing company that Harrison bought in 2005 was difficult, but it's also not unique among small businesses that are struggling with circumstances created by COVID-19.
Michigan businesses are facing a "very, very uneven recovery," said Brian Calley, president of the Small Business Association of Michigan.
"Larger businesses are doing better than smaller businesses. And industries dominated by smaller businesses are generally more negatively impacted by the pandemic."
There's no way to tell how many businesses have closed so far in real time, Calley said, but the number is significant. An estimated 45.3 percent fewer businesses were open at the end of March in Michigan compared to January 2020, according to an online database from TrackTheRecovery.org.Older businesses, like Michigan Ladder, are just as vulnerable as newer ones.
"We see multigenerational businesses (and) second-stage, mature businesses pulling the plug in addition to newer businesses," Calley said.
Unclear is whether the building will remain a factory. It's for sale, and the listing agents at NAI Farbman note that its zoning could be used in the marijuana industry.
Harrison said he hopes that people will remember the company's long history on the exact same property in Ypsilanti, and the role its products played in developing the nation over more than a century.
Some artifacts will be donated to the Ypsilanti Historical Museum.
"In no way is this a positive experience," Harrison said. However, he added, the support that he's received since from people who also feel the sense of loss has helped "restore my faith in humanity."
RJM Auctioneers is coordinating the asset auction, and owner Rick Montgomery expects sales to be strong. Vintage equipment — including industrial carts that people now make into coffee tables — is on site. So are general shop equipment, vehicles and office machines.
And the last of the Michigan Ladders.
Business Watch
Covering the intersection of business and policy, and informing Michigan employers and workers on the long road back from coronavirus.
Thanks to Business Watch sponsors:
Support Bridge's nonprofit civic journalism. Donate today.
We're not just a news organization, we're also your neighbors
We've been there for you with daily Michigan COVID-19 news; reporting on the emergence of the virus, daily numbers with our tracker and dashboard, exploding unemployment, and we finally were able to report on mass vaccine distribution. We report because the news impacts all of us. Will you please support our nonprofit newsroom?