Michigan to trim offices in Lansing, whose downtown struggles amid pandemic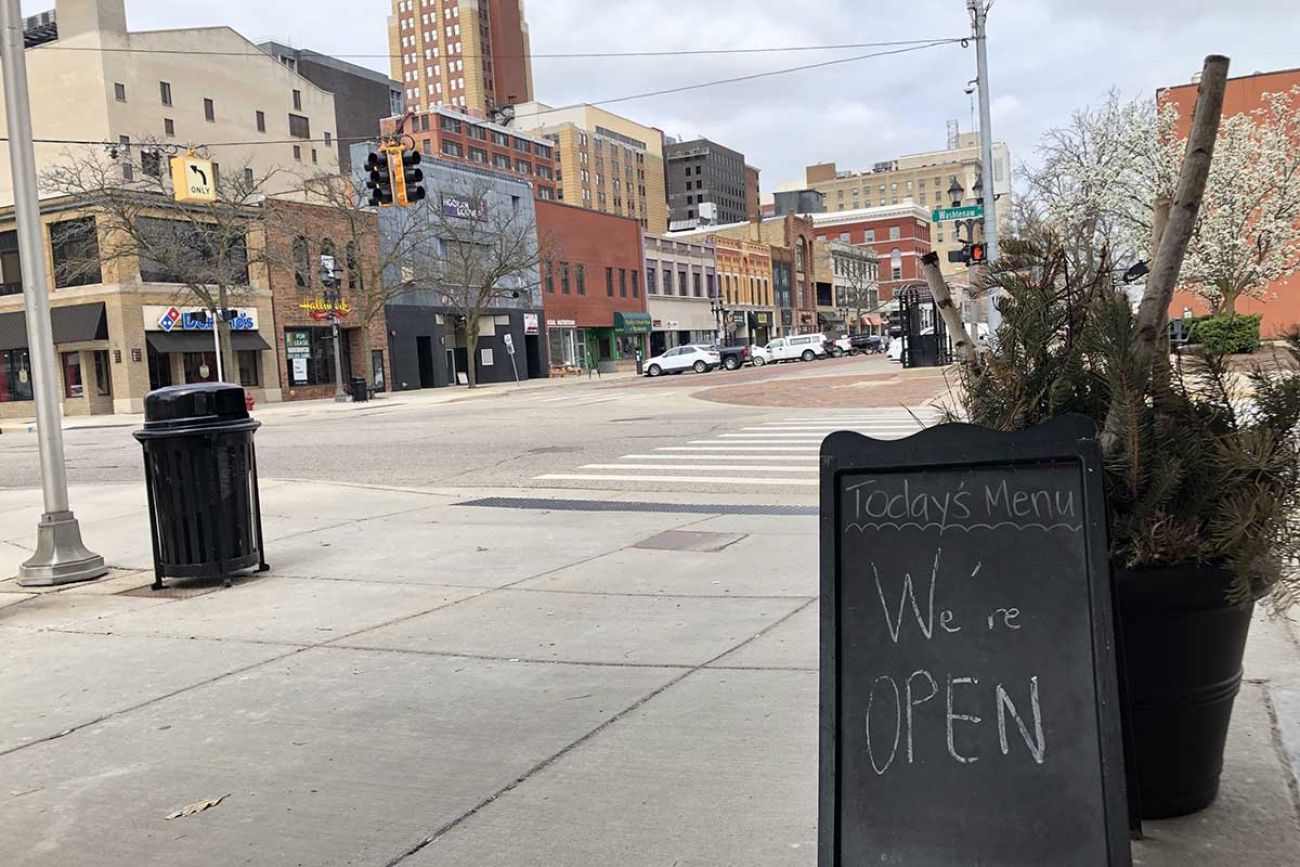 Federal legislation could make it easier for developers in cities like Lansing to convert empty office space to residential housing. (Bridge photo by Paula Gardner)
Ali Akasti can do it all at Sahara Delight. Lately, the owner of the Middle Eastern restaurant in downtown Lansing simply has to.
He takes orders, cooks, serves and cleans up at the once-busy lunch stop that, until the pandemic, was filled on weekdays with state workers and other employees from the blocks of office buildings surrounding the Michigan Capitol.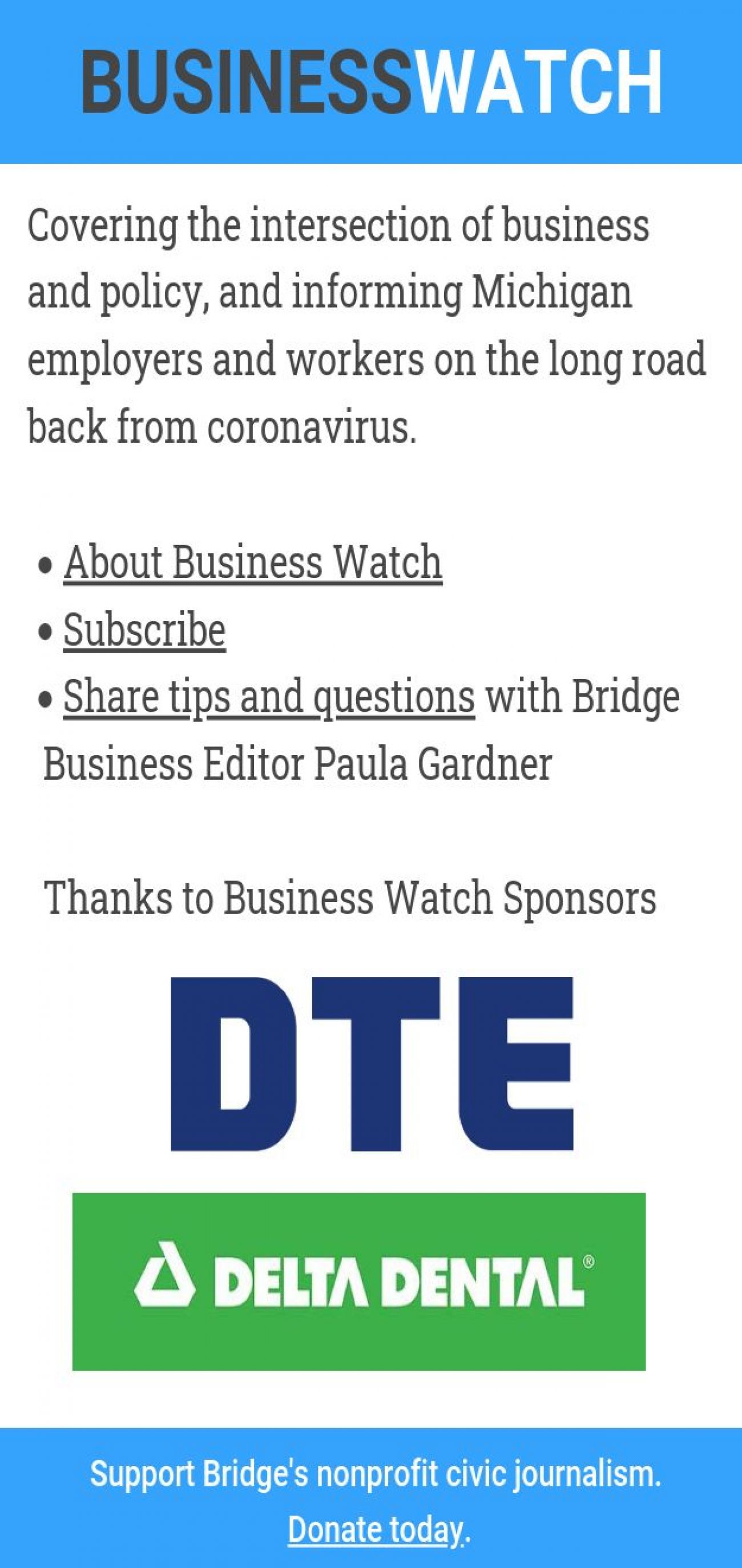 Today, there aren't enough customers to make paying staff worth the cost.
"We'll be lucky if we have 10 people at lunch hour," Akasti said.
Related:
But he looks toward a time — and he hopes it's soon — when the state's office workers return to the city.
"Then we'll have more business," Akasti said. "Other than that, there's nothing."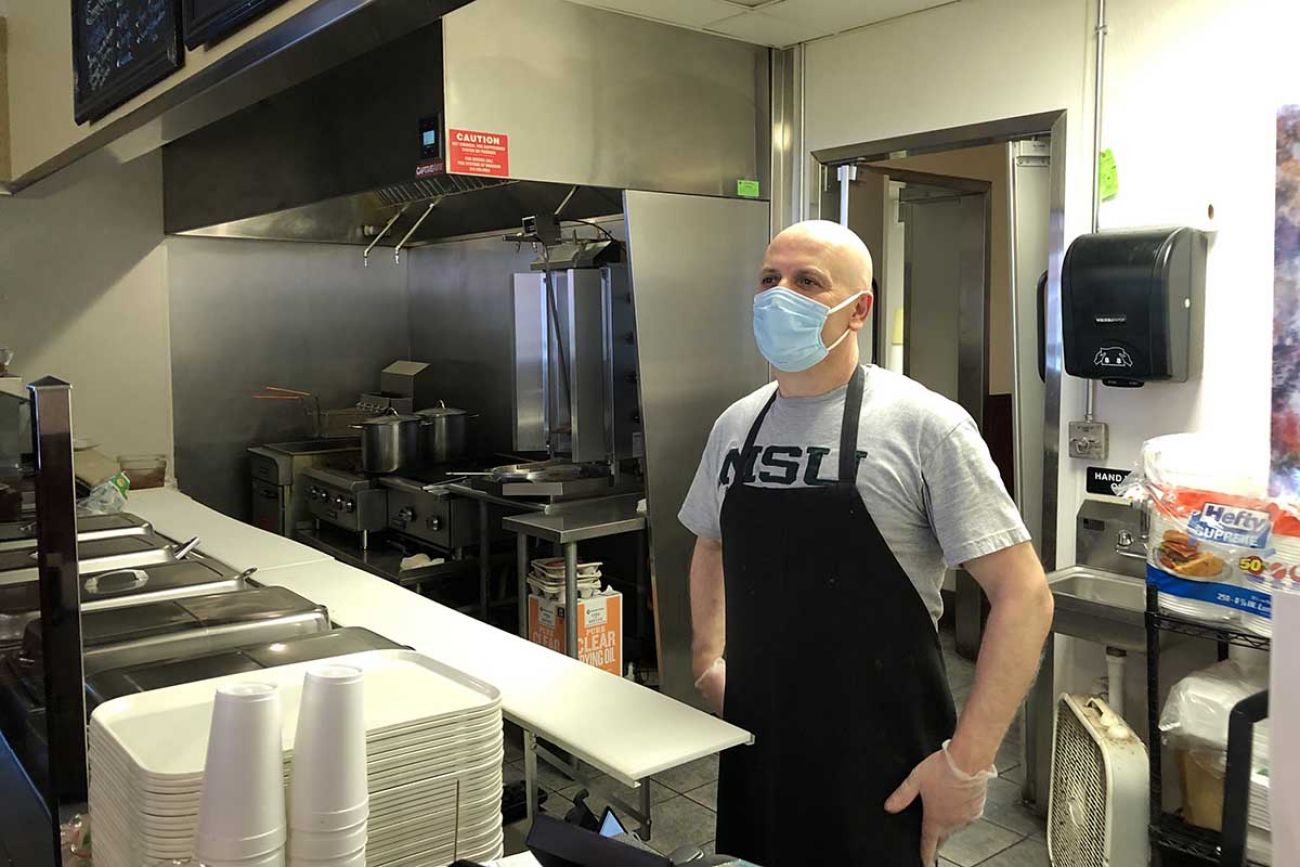 Ali Akasti says he is "praying for customers" at his Sahara Delight restaurant in downtown Lansing. (Bridge photo by Paula Gardner)
Downtowns across Michigan are experiencing slowdowns during the pandemic after companies shifted office employees to work from home, where most remain. And with the state health workplace safety department's latest emergency health order that extends the request to businesses to limit workers in offices, that slowdown — affecting municipal parking revenue, central business district stores and nearby restaurants — now extends up to six more months.
But in Lansing, the situation is more acute, thanks to downtown's reliance on a single large employer: This is the State of Michigan's office hub, occupying 3.3 million square feet that before the pandemic housed 13,000 workers. And, until the pandemic, it leased another 1 million square feet from private landlords that housed still more office workers there.
Yet while struggling businesses that have lost up to 90 percent of their sales wait for thousands of state workers to return to the office, far fewer state employees will be there on a daily basis once the pandemic fades.
Officials are evaluating all of the state's office space needs this spring, already canceling leases, moving some offices and reducing its office footprint.
The result, said Brom Stibitz, director of the Michigan Department of Technology, Management and Budget, will be a "drastic reduction in the state's footprint."
"We know that our need for facilities will change," he said.
The state has two goals when it comes to its office footprint in Lansing, Stibitz told Bridge Michigan: Realigning space to adapt to the likelihood that thousands of state office workers could retain partial work from home schedules, and reducing state costs for leased office space.
With an estimated 25 percent of Lansing's offices leased by the state, the prospects scare the downtown boosters. Office vacancy before the pandemic was at least 15 percent, and commercial real estate brokers say it's already approaching 18 percent and likely will climb still higher.
The state "is the largest employer down there," said Scott Ellis, executive director of the Michigan Licensed Beverage Association and an owner of MichiGrain Distillery, located a few blocks northeast of the Capitol.
"The devastation to that downtown with them not coming back to office work will cripple downtown Lansing."
The state's decision
A year ago, if any of the 3,000 employees in the state Department of Transportation, Management and Budget had asked to work from home for three days a week, it would have been unlikely.
However, Stibitz said, businesses changed how they view employees working from home, and so has the state.
After more than a year with very few workers returning to Michigan's offices, department heads expect work from home to become common among some state workers, Stibitz said. Now it falls to his department, as the procurement team for Michigan-run facilities, to figure out what that means for the offices themselves.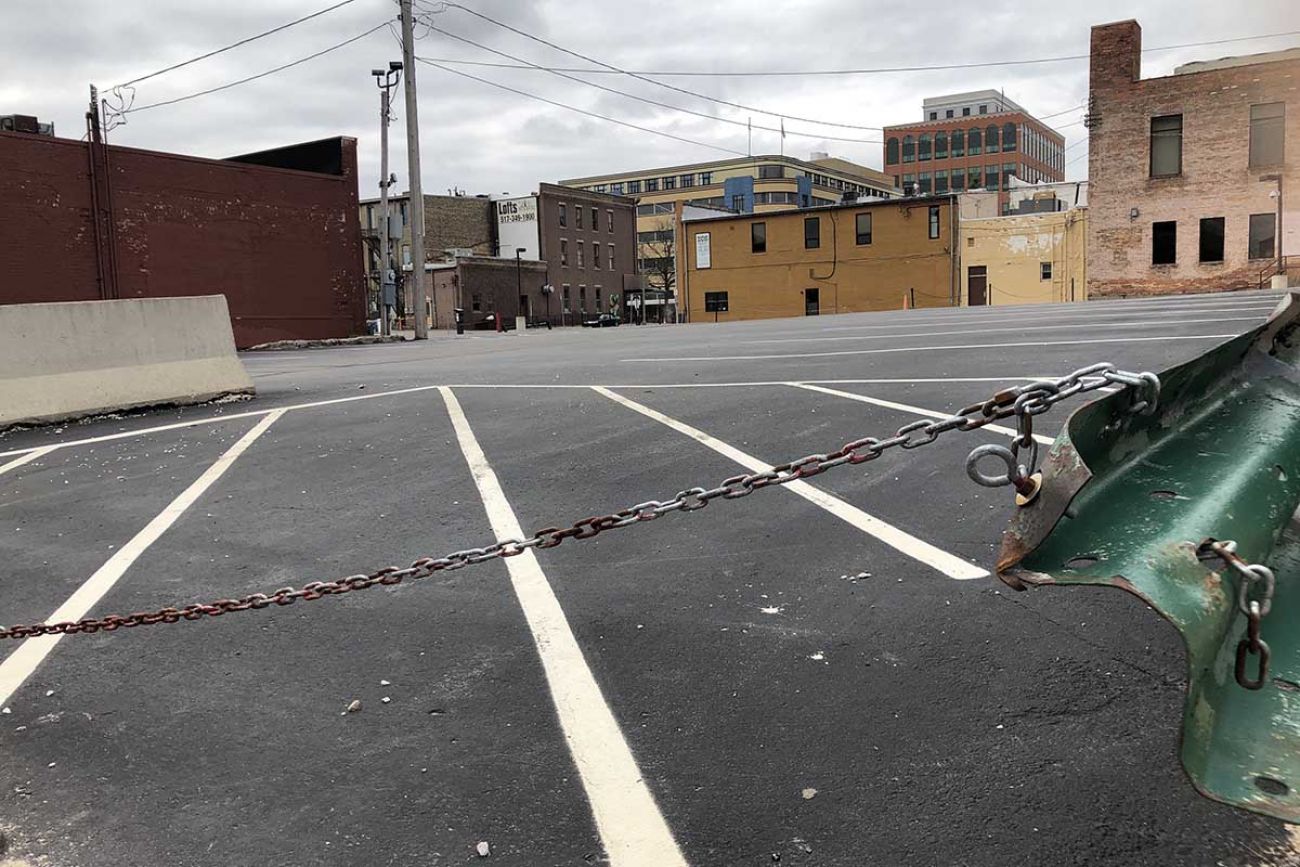 The lack of office workers downtown is obvious on a daily basis. (Bridge photo by Paula Gardner)
Soon, he said, he'll be looking at state office configuration like a big jigsaw puzzle where the shapes of the pieces are shrinking.
"If I can reduce my footprint in state office space, then I can look at people in leased space and bring them into state buildings," Stibitz said.
The first step is to ask every agency for a proposal for how many workers will remain working from home for part of the week and on which days, then translate that into the most efficient new office configuration.
Among the next steps, Stibitz said, is to figure out where the new office requests will fit: Into existing state-owned buildings, existing leased space or — possibly a rare scenario — in a new leased space. The state leases 920,000 square feet in the city among 38 rental agreements that include both offices and warehouses. Statewide, 372 leases representing 4 million square feet will be evaluated.
"We're here to work with agencies to get the space they need — and also here to nudge it along and say, 'Do you really need that space?' " Stibitz said.
That question already resulted in the state canceling four leases in Michigan and one small one in Texas used by the Michigan Department of Treasury. Michigan also reduced space in a sixth building, for a total reduction of about 87,000 square feet of space in Lansing.
Move outs totaled 65,680 square feet in the Victor Building at 201 N. Washington and 21,447 square feet at One Michigan Avenue at 120 N. Washington Ave.
Those moves saved the state $2.69 million on lease expenses starting in 2020.
Five more leases will end by July, Stibitz said, including two totaling 28,000 square feet in Lansing's Phoenix Building at 222 N. Washington Square. Those two moves canceled payments of $351,391 per year on the leases.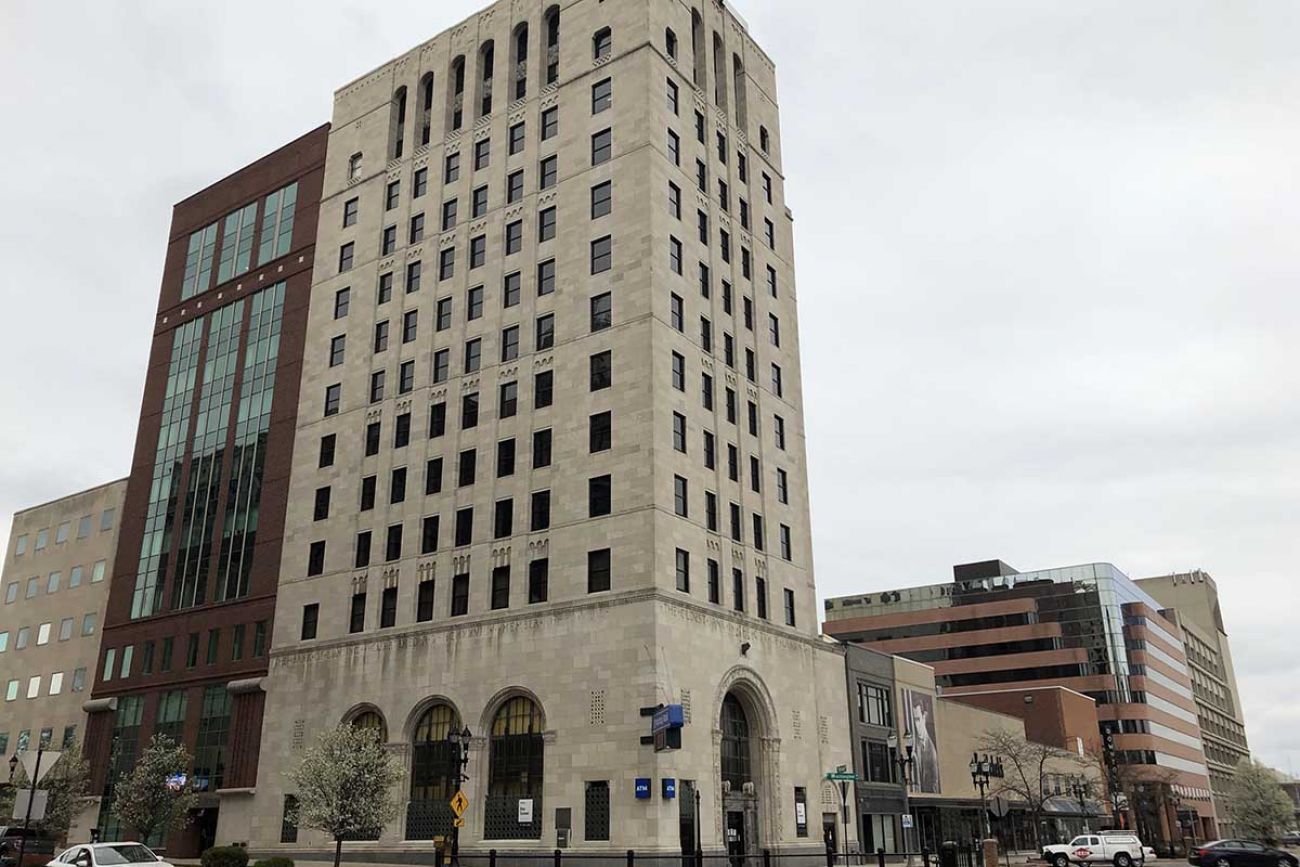 "For lease" signs are visible around Lansing. About 40,000 square feet is available in the Comerica Building, but not as a result of the state leaving. (Bridge photo by Paula Gardner)
"I would expect to see a lot more to come," Stibitz said.
Besides the state, private businesses have left another 40,000 square feet of offices in downtown Lansing, said Eric F. Rosekrans, senior vice president at Martin commercial real estate firm in Lansing.
Building owners in Lansing so far are absorbing the $2 million in rent they've lost from the state. Many expect rates to decrease as potential new tenants find multiple competing options for their businesses, he added.
With 2.7 million square feet of office space in the entire Lansing market, Rosekrans calls the downtown reduction "significant." So far, he added, many of the private businesses that want access to the Capitol — like trade associations — remain in their pre-COVID footprints, even if employees remain at home.
But the future of Lansing offices remains unclear amid the reductions already announced.
"The question is," Rosekrans said, "will there be more?"
Downtown, he said, is a "finicky area" due to the heavy reliance on government and government-related businesses. That it's been a "ghost town" for a year prompts many people in the city to look to the state for a solution.
Stibitz has met with city officials, who have written letters and set up committees, including with the Downtown Lansing Inc. business district, to focus on the issue.
"If the state can get back to work. … it's bound to rebound to some degree," Rosekrans said. "People are living on optimism that things will bounce back."
What it means for Lansing
Even with the office vacancies, Cathleen Edgerly said she was surprised when Los Tres Amigos Mexican restaurant closed in downtown Lansing. It had occupied three storefronts on a block between a parking structure and the hub of Washington Square.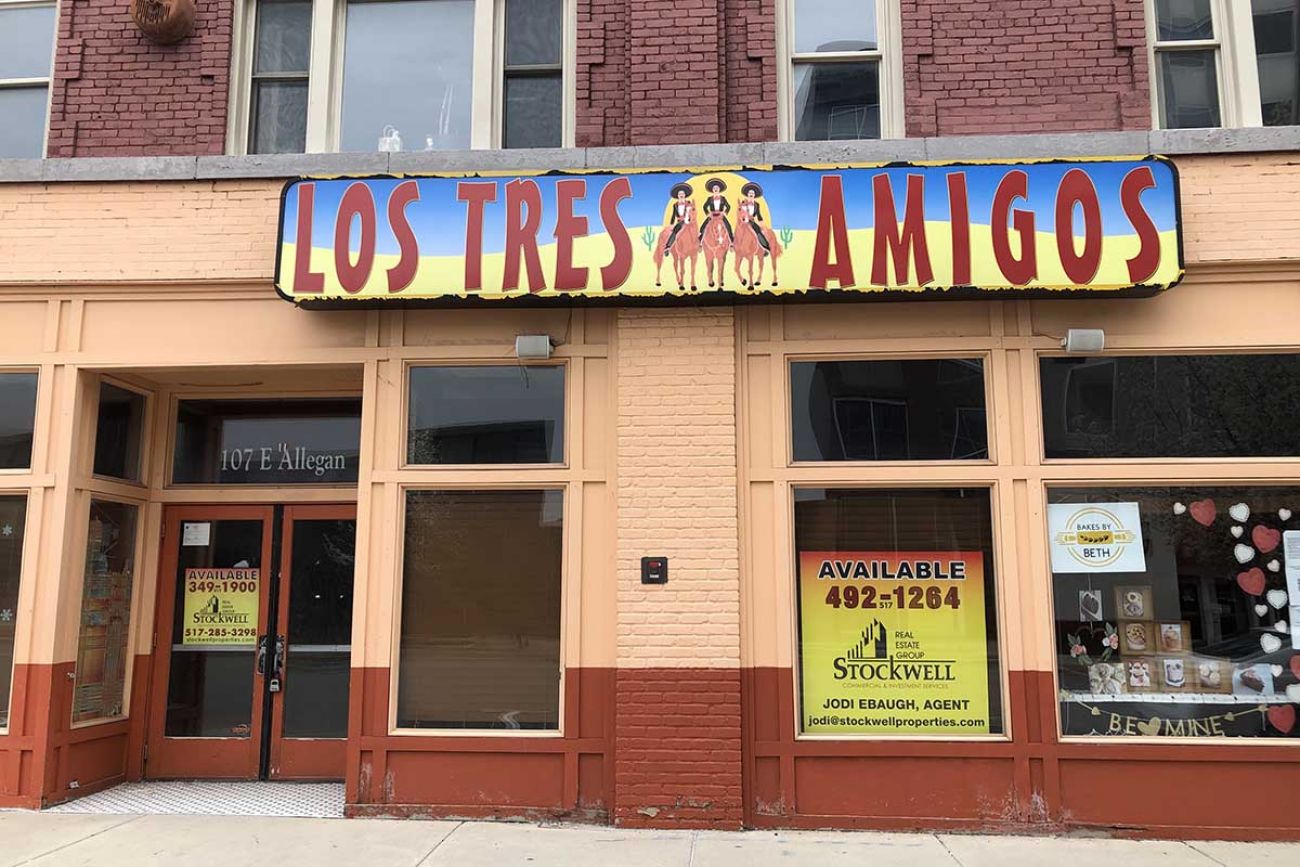 One of the recent closures in downtown is Los Tres Amigos Mexican restaurant. (Bridge photo by Paula Gardner)
The executive director of the Downtown Lansing Inc. business improvement district said she understands why the owners decided to consolidate their local operation and close downtown after the customer base eroded during the pandemic.
But every closing, she said, is "still heartbreaking for our district."
Downtown Lansing has ebbed and flowed for years, but things were looking up before the pandemic, with new projects and fill storefronts, Edgerly said. Regularly scheduled events like Lansing Winterfest brought people downtown.
At the time, there were big-picture discussions about how to attract more residents downtown and better use the many surface parking lots that add little to the business diversity in the district.
Now, Edgerly said, she faces conversations about survival.
"Our focus is shifting away from one-off events to prioritize small business support and retention," Edgerly said.
"The threat is real for any business right now," she said, "but especially in downtown Lansing."
Visitors downtown feel it, they said. Before the pandemic, sidewalks were crowded, especially at lunch time. On a recent weekday, a few dozen people walked past Sahara Delight over several moments of the lunch hour. Even fewer might be spotted after 5 p.m.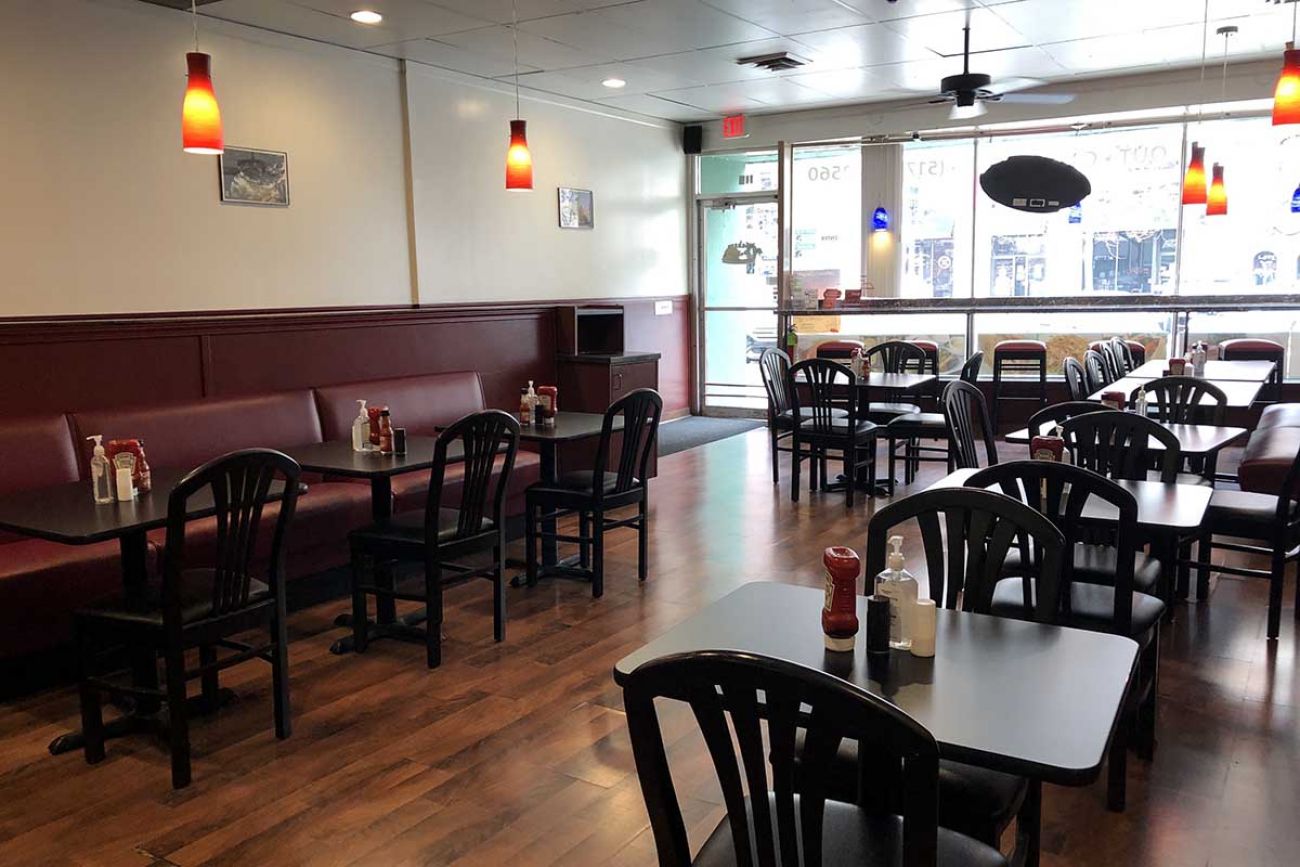 Sahara Delight's sharp decline in business means owner Ali Akasti no longer can afford staff. (Bridge photo by Paula Gardner)
There are some contrasts: The Social Sloth Cafe and Bakery, which opened during the pandemic, was busy. Yet, down the street, crews were busy dismantling Edmund's Pastime, a closed sports bar.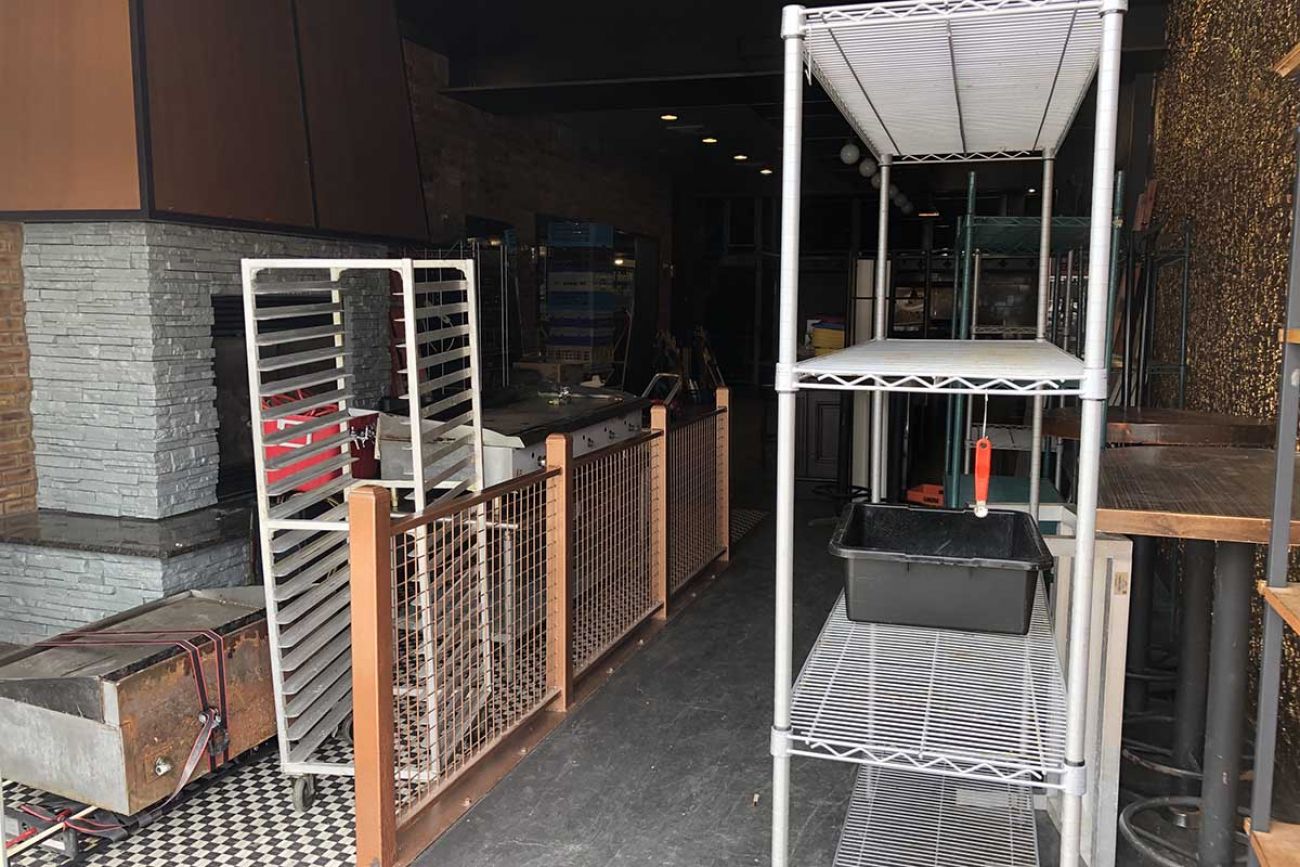 Crews dismantled the closed Edmund's Pastime sports bar in early April, emptying the building on South Washington Square. (Bridge photo by Paula Gardner)
Chad Ross, who works downtown at the corporate headquarters for The Christman Co. builders, was supposed to be at a meeting recently at Troppo, a popular downtown dinner spot, but it was closed.
It's unclear whether the closure is permanent, but Ross said it's another sign that what businesses are going through is "drastic."
As a result, Ross said while walking back to his Lansing office, he's eating out more and "supporting my favorite restaurants."
The Peanut Shop on South Washington Square sees similar support from regular customers, said owner Tammy Melser.
"Our regulars are keeping us afloat," she said from behind the counter at her candy and snack store. Office workers normally account for 40 percent of her revenue, she said, but sales are only down about 25 percent thanks to people who drive in and buy more than they used to.
"That's better than a lot of places," she said.
Edgerly, the downtown director, said she fears as many as 10 more businesses could close by fall if offices remain closed until then.
Many are talking about the district's future, while other businesses are innovating. Edgerly said developing an economy that goes beyond the 5 p.m. workday will make Lansing stronger.
The driving question isn't new to Lansing, but it's gained urgency, she said: "How do we plan for a more flexible downtown experience?"
Meantime, at Sahara Delight, 13 of 14 tables were empty during a recent lunch hour. Akasti said he's relying on his savings while waiting for office workers to return.
"They ask me, 'How's business?'" he said. "I'm praying to have some customers come into the store."
Business Watch
Covering the intersection of business and policy, and informing Michigan employers and workers on the long road back from coronavirus.
Thanks to our Business Watch sponsors.
Support Bridge's nonprofit civic journalism. Donate today.
Only donate if we've informed you about important Michigan issues
See what new members are saying about why they donated to Bridge Michigan:
"In order for this information to be accurate and unbiased it must be underwritten by its readers, not by special interests." - Larry S.
"Not many other media sources report on the topics Bridge does." - Susan B.
"Your journalism is outstanding and rare these days." - Mark S.
If you want to ensure the future of nonpartisan, nonprofit Michigan journalism, please become a member today. You, too, will be asked why you donated and maybe we'll feature your quote next time!