DETROIT –  Everywhere he goes, there's concrete. On his driveway to get his car to go to breakfast. Driving on the road. In the parking lot of the coney island where he eats his eggs.
So when Russ Bellant sits down over his omelette at the Motown Cafe and Grill in one of America's most industrialized cities, he has one question for its owner.
"Has your water and sewer bill gone up?" asks Bellant, a retired city employee and neighborhood activist with a salt-and-pepper beard and a knack for annoying City Hall.
Of course the bill has gone up.
Because Detroit, desperate for cash and facing a host of infrastructure woes, is now charging residents and businesses for rain that falls atop all that concrete before wending its way through the municipal sewer system.

August 2019: Detroit shut off water to 11,800 homes this year. Most are still off.
May 2019: She was born to fight – and did for 3 years without water in Detroit
In the past year, monthly water and sewer bills for the small restaurant have jumped to $284 from $90, owner Luljeta Duhani tells Bellant. Of that, $131 is for what the city calls a drainage fee but what critics contend is a tax on rain.
"It's incredible. That means, every year, I'm paying $1,572 for rain," she says.
She lets the word linger.
"For rain."
Similar tales of outrage have abounded since last July, when Detroit completed the rollout of changes to the fee it's charged since 1975 to treat stormwater before it's released into the Detroit and Rouge rivers.
For years, Detroit charged residents a flat drainage rate, while businesses were supposed to pay based on the diameter of their water pipes or the amount of their properties' "impervious acreage" ‒ that is, hard surfaces like concrete, roofs and hard gravel that don't absorb water.
That led to a pell-mell system where rates varied wildly and large property owners had relatively low drain bills – or were never charged at all because they lacked water accounts, city officials say.
Now, all pay $598 per month per impervious acre. Owners of less than 0.02 acres are exempt from the fee, while others have gone up astronomically.
'You can't shut off the sky'
It's a radical change for a city built on concrete.
Half of Detroit's land is impervious, according to a 2013 report by the Southeast Michigan Council of Governments: 70 square miles, or almost as many as there are in all of Washtenaw and Livingston counties combined.
City budget documents project all that concrete will help Detroit increase the amount of money it collects from drain fees by 27 percent to more than $150 million per year.
But the extra money has also brought an ongoing lawsuit before the Michigan Supreme Court and big questions about fairness in a city whose aggressive bill collections also have led to more than 100,000 water  shutoffs for nonpayment in five years.
Jonathan Kinloch, a Detroit water commissioner, said Detroit needs help from the state and federal governments as it addresses drainage issues.
"This fee seems like it was created by Mike Duggan and [Water and Sewer Director] Gary Brown throwing darts at a board," said Tom Petzold, owner of the Belmont Shopping Center on Eight Mile Road whose drain charges jumped from $400 a month to $7,500 in July.
"Everyone is suspicious about this because it seems like the Wild West. … You can shut off people's water if they don't pay the bill. You can't shut off the sky."
Detroit officials say the rates are fair, lowering fees for 56 percent of all residents and equitably spreading the cost of treating wastewater. The change also allowed the city to increase its customer base for by 12 percent, some 22,000 customers who had never paid for drainage.
"The drainage charge is necessary in order to meet federal and state regulations to manage stormwater," Bryan Peckinpaugh, a spokesman for the Detroit Water and Sewerage Department, wrote in an email.
"DWDS had several customer stakeholder meetings to get feedback prior to the drainage charge rate method transition. … [The charge] is equitably spreading the costs."
Cities vexed by rising costs
Like many cities, Detroit's sewers are combined, meaning rain, toilet water and industrial wastewater flow into the same pipes before they are treated at plants.
Detroit's wastewater treatment plant is the second-largest in the world, expanded in 2006 to handle as much as 1.7 billion gallons per day. But the 3,000-mile network of pipes leading to the plant is showing its age, averaging 200 sinkholes and cave-ins per year in the past five years, city records show.
The drain fee helps repay $1 billion in upgrades Detroit has made to treatment facilities in recent years to satisfy state and federal requirements that are intended to prevent raw sewage from reaching rivers during heavy rains.
It's an issue vexing older cities and increasing sewage bills, said Aaron Renn, a senior fellow at the Manhattan Institute, a New York-based free-market think tank that focuses on domestic policy and urban affairs.
Detroit is one of 31 cities nationwide that were required by the U.S. Environmental Protection Agency to invest a total of $29 billion to retrofit combined sewer systems, which are used by 772 cities nationwide, mostly in the Northeast and Midwest, according to a report Renn wrote in 2016 called "Wasted: How to Fix America's Sewers."
"There's no federal help, usually only limited help from states, so all of it has to be paid by ratepayers," Renn told Bridge Magazine.
"Sewer bills are doubling and tripling, and mayors and politicians don't want to talk about it. Who wants to talk about projects that voters can't see? So if you're a mayor, your only incentive is to be as quiet as you can, hold your nose and do it [raise the rates.] You have no choice."
Jonathan Kinloch, a member of the Detroit Water Board of Commissioners, said Detroit can't simply solve its problem by raising rates and needs help from federal and state lawmakers.
"We have to find a way as the City of Detroit continues to make its rebound to take into account the poor and disadvantaged. Not everyone is rising in Detroit's resurgence," Kinloch said.
"The current funding model is destined to fail. We cannot continue to raise revenue on the backs of the population and business community least able to afford them. Public utilities are a necessity and we're going to have to find a way to work with state and federal legislators to deliver clean and safe water and sewerage," Kinloch added.
'Screwed, no matter what'
In Detroit, the change has yielded eye-popping and sometimes questionable bills.
One defendant in the lawsuit challenging the fee is Detroit Boat Yard, a funky marine storage facility on the city's east side that's known as the Goat Yard.
Locally famous as a "hippie boat yard" and the subject of a documentary, the facility has 1.73 acres and, when rain falls,  it goes directly off its docks onto the Detroit River, said its attorney Lisa Walinske.
Even so, the Goat Yard is billed more than $600 a month for drainage, she told Bridge.
"Other people with small lots are getting charged $3,000 a month. It's crazy," Walinske said.
"There's a feeling that, in Detroit, we are going to get screwed no matter what they do because it's Detroit … and they're used to the city doing things wrong."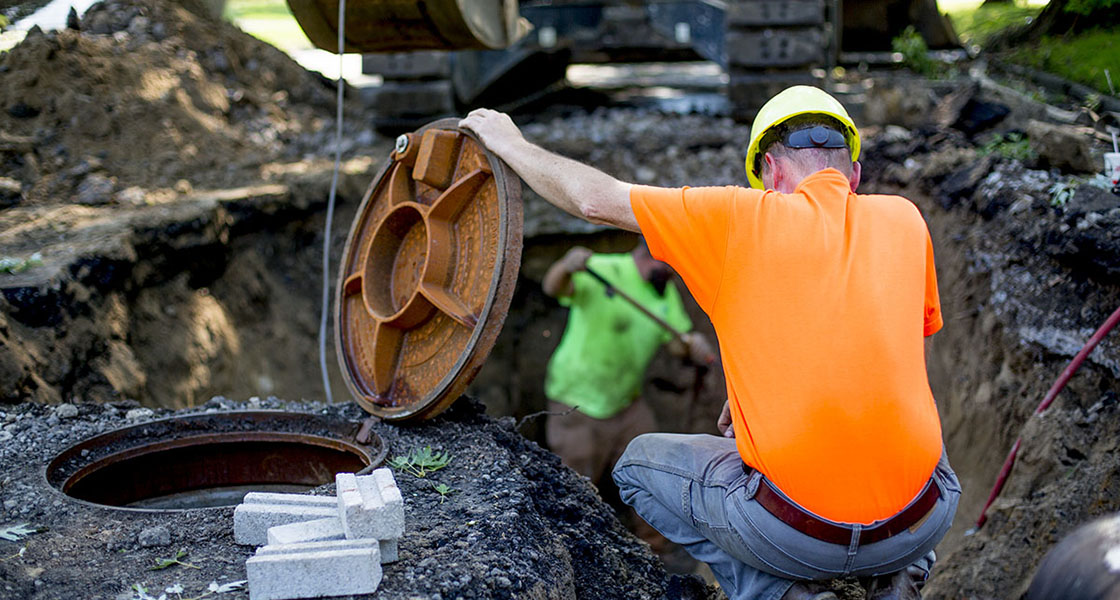 A worker last fall helps replace a water pipe in Detroit. The city faces an infrastructure crisis because it delayed maintaining its sewer and water pipes for years as Detroit slid toward bankruptcy. (Bridge photo by Anthony Lanzilote)
Walinske is leading the Goat Yard and other Detroit residents in a lawsuit against the charge, claiming the fee is a tax increase that under Michigan law should have required approval by the voters.
The state Court of Appeals in November sided with the city, ruling the fees are "reasonably proportionate to the necessary cost of service." The ruling  was appealed in February to the Michigan Supreme Court.
The case hinges on whether Detroit's drainage rates are a fee or a tax.
In a 1998 landmark case involving stormwater fees, Bolt v. Lansing, Michigan's high court ruled that municipal utilities can only levy fees if they fund specific services; are proportional to the cost of delivering that service, and allow users to opt out. Otherwise, the rate is considered a tax that requires voter approval, the court ruled.
The Court of Appeals ruled that while Detroit's storm fees are involuntary,  the city met the other criteria for fees.
Questions of equity
Detroit officials contend there's plenty of misinformation about the drain fee. They've hosted hearings, worked with customers on compromises and created a fact sheet to dispel what they contend are "myths" about the fee.
No, rain water isn't "clean." No, the charge isn't a "money grab." And yes, the city, believe it or not, can create a fair billing system even though rain and snowfall levels vary wildly from month to month, Detroit officials said.
Before rolling out the fee, the city conducted surveys of Detroit's 139 square acres with airplanes, calculating each property owners' impervious acreage. Fees are calculated based on the city's annual volume of flow.
The city also has made several changes since first announcing the fees in 2016. Beyond delaying their rollout to many customers, the city agreed to phase in the fees over five years for owners of 22,000 parcels that hadn't paid the storm charge; give property owners up to 80 percent credit for installing green infrastructure and create an independent process to contest the rates.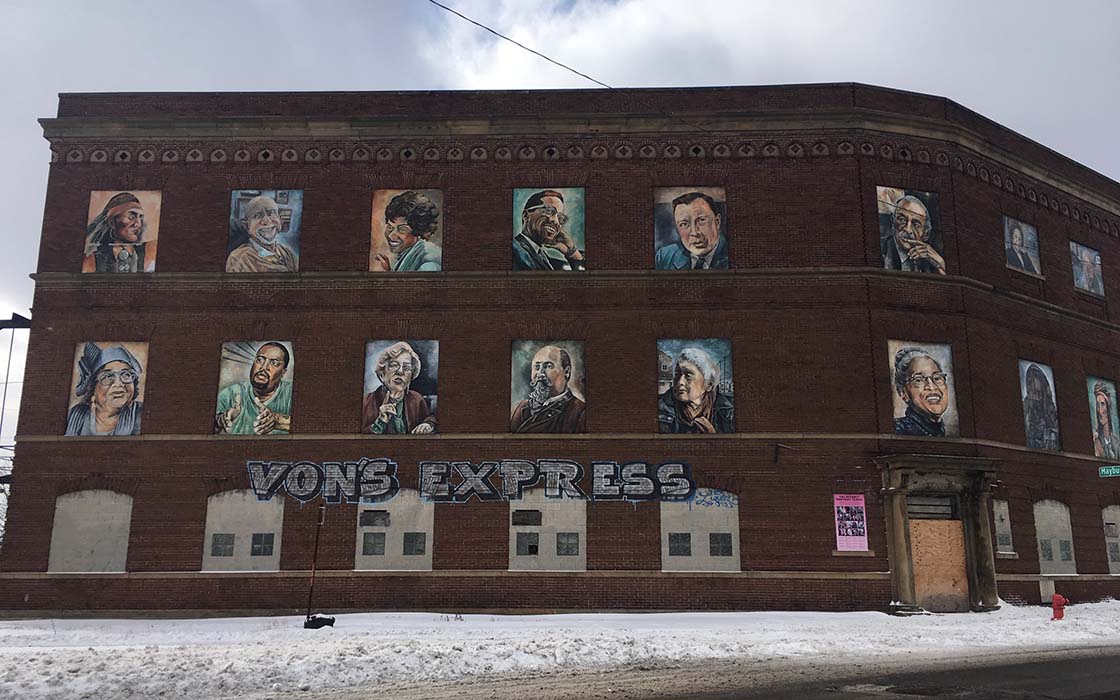 Detroit artist Aaron Timlin owns this former print shop on the city's west side. It lacks a roof, hasn't had running water in more than a decade, and is in foreclosure over $5,000 in drainage fees. (Bridge photo by Joel Kurth)
That may sound good, but the system is riddled with inconsistencies, said Petzold, the owner of the shopping center on Eight Mile and member of the Detroit Alliance Against the Rain Tax that is fighting the charge.
"It seems like every single person in Detroit has a deal. How is that equitable?" he asked.
Among other things, the biggest conduit of rainwater – miles of roads and freeways –  aren't charged the fee, nor is the Detroit Land Bank, which owns 100,000 properties.
Then there's Aaron Timlin, who owns a block-long brick behemoth former print shop on the west side that is now in foreclosure because of an unpaid $5,000 drainage fee.
An artist, Timlin said he plans to one day convert the building into a community center. Its boarded windows are decorated with portraits of Rosa Parks, former Mayor Hazen Pingree, Malcolm X and other civil rights leaders.
He contends the rain fee unfairly targets members of Detroit's creative community, who have converted empty warehouses and industrial buildings into studios and are now hit with big fees.
Timlin, executive director of the Contemporary Art Institute of Detroit, said he's in disbelief because, not only was his building unconnected to the city's water system, it hasn't had a roof since he bought it in 2005.
Nor does it have a parking lot. So where is it draining water?
"This is a city built on cars and freeways," Timlin said.
"And now the city is taxing us for concrete."