Where Michigan GOP governor candidates stand on abortion, race, gender issues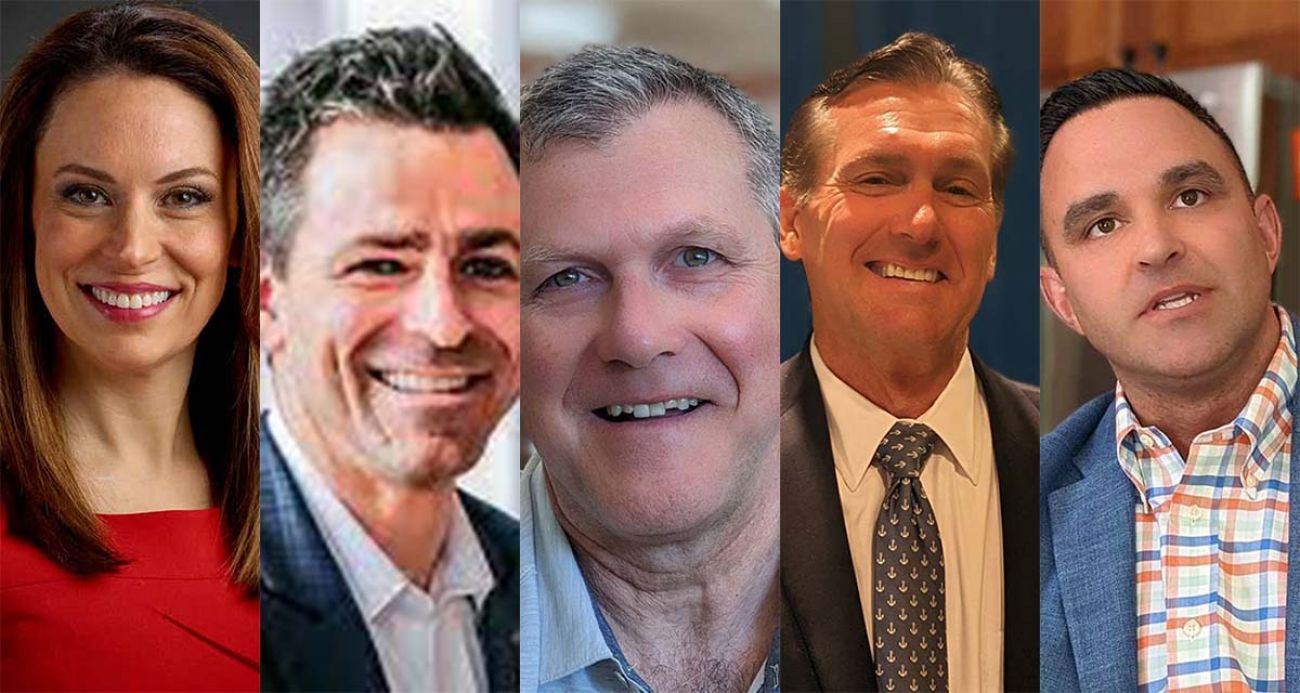 Michigan Republican gubernatorial candidates all agree abortion and critical race theory should be banned.
Michigan Government
Where Michigan GOP governor candidates stand on abortion, race, gender issues
All five Republican gubernatorial candidates want to ban abortion schools from teaching critical race theory

Some go further, saying they want to prohibit the teaching of diversity and equity in schools

Some candidates also have spoken out against same-sex marriage
---
Aug. 2: Tudor Dixon: What to know about the Republican taking on Michigan Gov. Whitmer
The five Republicans vying in Tuesday's primary to take on Gov. Gretchen Whitmer in the general election in November have all leaned into hot-button cultural issues during the campaign.
As with many other issues, the candidates share more similarities than differences: conservative commentator Tudor Dixon, real estate broker Ryan Kelley, retired pastor Ralph Rebandt,businessman Kevin Rinke and chiropractor Garrett Soldano all want to ban abortion and prevent schools from teaching about critical race theory.
But there is some nuance to the candidates' views on these subjects, as well as LGBTQ issues.
Here's want you need to know about where they stand:
Tudor Dixon
Dixon, 45, lives in Norton Shores with her husband and four daughters. She says she is running for governor to fight the liberal "indoctrination" in public schools, cut income taxes and keep jobs in Michigan.
Dixon worked in the steel industry until 2017, when she co-founded a subscription-based news service, Lumen Student News, that provided content and promoted American exceptionalism. She also was a commentator on Real America's Voice, a streaming news service.
Dixon is endorsed by Right to Life of Michigan for her stances on abortion and has said she believes the only exception should be to save the life of a mother.
Dixon has proposed a "Parents Right to Know Act" that would make schools post their curriculums and teaching materials online and publicize any diversity, equity and inclusion programs or consultants.
She also wants to make it a crime for parents to take their children to drag shows. In June, Dixon joined a group of Republican state representatives in announcing the introduction of a bill that would allow parents to sue public schools that expose students to drag shows.
Dixon also supports a Michigan-version of Florida's Parents Rights in Education law, which bans schools from teaching students about sexual orientation or gender identity before fourth grade.
She has also spoken out against critical race theory, a framework used mostly in colleges and law schools that examines U.S. history through the context of race and believes racism is embedded in the nation's institutions.
Ryan Kelley
Kelley, 40, is an Allendale real estate broker and father of five who organized protests against the COVID lockdown. He is also a well-known YouTube content creator who was arrested in June on misdemeanor charges related to the Jan. 6, 2021, Capitol riots. He has pleaded not guilty.
Among Kelley's six political proposals, one focuses on realigning "our country's values with our education system."
Kelley wants to ban schools from teaching critical race theory, which he regards as a method of teaching "minoritized racial groups are victims of a system rigged against them and undermines the declaration that 'all men are equal'."
He also wants to ban the teaching of diversity, equity and inclusion and social-emotional learning, which stresses emotional skills but has become controversial among conservatives on claims that it leads to teaching of critical race theory.
Kelley said he wants to ban abortion because "a new body, and a new strain of DNA begins at conception." He supports an exception to save the life of a mother.
"Michigan law must uphold this basic biological principle," according to Kelley's website.
After Roe v Wade was overturned, at a debate in Warren, Kelley said he wants the U.S. Supreme Court to reverse its landmark 2015 ruling to allow state-level bans on same-sex marriage.
"I think there are many people that want to be able to sleep with whoever they want to, and that should be their right" but "should not be pushed on our children and made mainstream," Kelley said.
Garrett Soldano
Soldano, 43, is a chiropractor and self-help author who lives outside of Kalamazoo with his wife and two sons.
Soldano turned to politics in 2020, when his Facebook group that opposed Whitmer's "excessive quarantine" orders grew in population, from 500 people who joined the group the first night to more than 400,000 members.
Facebook shut down the group after members threatened violence, so Soldano helped found Stand Up Michigan, an activist network that played a key role in repealing a 1945 law Whitmer used to issue pandemic orders.
Soldano says there is "no issue more important than protecting the right to life" on his website. He contends that he will "do everything" to "protect life and push back against the abortion lobby in Lansing and President Biden's radical anti-life agenda."
Soldano believes the only exception to an abortion is to save the mother's life and wants to ban critical race theory from being taught in school.
At a debate in Warren, Soldano said he does not oppose same sex "unions" that provide the same benefits as marriage and wished "they would have respected my (Catholic) religion and called it something else (other than marriage.)"
In an ad, Soldano promised to make Michigan the "parents' rights capital of America," an apparent reference to a movement that believes there is too much emphasis on sexual relations in public schools and opposes efforts to install gender-neutral bathrooms.
The Parents' Rights in Education website claims "the LGBTQ+ advocates groom preschool children at libraries (and) indoctrinate students grades K-5 in public school."
Soldano's ad uses some of the language of the movement, saying it's "time to fight back against the woke groomer Mafia," identifies his pronouns as "conservative and patriot" and says he wants to "transition" Whitmer out of office.
Ralph Rebandt
Rebandt, 64, is a retired pastor from Farmington Hills who wants to bring "Judeo-Christian" values back to Michigan.
Founder of Oakland Hills Community Church, Rebandt is banking on the Christian population to vote him into office. He and his wife live in Oakland County where they raised four children and have sixteen grandkids.
Rebandt previously told Bridge Michigan he does not believe the Bible should be the main textbook in schools, but that it can be incorporated in history lessons. He wants to rebuild public schools' curriculums by excluding critical race theory and social emotional learning.
On Twitter, Rebandt has said if elected governor he would pull Michigan's colleges out of the NCAA if "biological men were allowed to compete against biological women," referencing an article about a transgender athlete.
Rebandt was among the candidates at a Warren debate who said the U.S. Supreme Court should allow state-level bans on same-sex marriage, noting that he supports Michigan's ban that state voters approved in 2004.
It remains on the books and would take effect if the U.S. Supreme Court reversed a 2015 decision that guaranteed same-sex couples nationwide the right to marry.
At the debate, Rebandt paraphrased the state amendment to say, "the Michigan Constitution says that for the betterment of society, marriage is between a man and a woman."
Rebrandt supports an abortion ban without any exceptions, but he has said he'd also be OK with Michigan's 1931 law that allows the procedure to protect the life of a mother.
A judge suspended enforcement of that law, but that decision has been appealed.
Kevin Rinke
Rinke, 61, is a Bloomfield Hills businessman and father of three who owned a car dealership and other businesses.
Rinke is the only GOP candidate that who not only supports an exception to abortion to save a mother's life but also in the cases of rape and incest.
Like other candidates, Rinke opposes schools teaching critical race theory. According to his website, he believes schools should prepare students for life not "to indoctrinate them with politically racially motivated courses like CRT that deny our state and country's progress and history."
At one debate, Rinke said that in his world "there's boys. There's girls. There's men. There's women. And I will not negotiate. I will not give an inch on these woke issues."
We're not just a news organization, we're also your neighbors
We've been there for you with daily Michigan COVID-19 news; reporting on the emergence of the virus, daily numbers with our tracker and dashboard, exploding unemployment, and we finally were able to report on mass vaccine distribution. We report because the news impacts all of us. Will you please support our nonprofit newsroom?