Kevin Rinke channels Trump's business outsider label in MI governor's race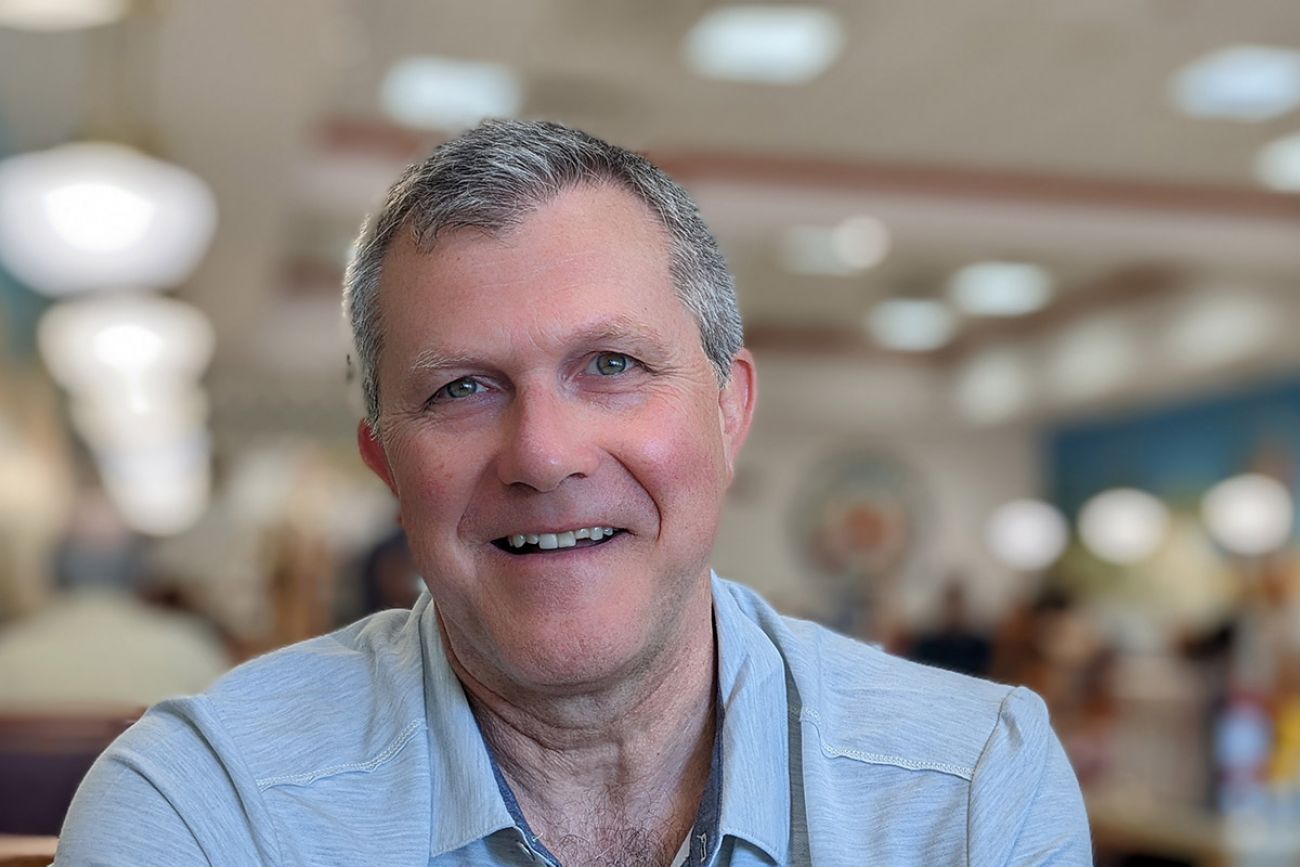 Kevin Rinke is positioning himself as an "outsider" businessman who can deliver results in the mold of former President Donald Trump. (Bridge photo by Jonathan Oosting)
July 15: Tudor Dixon to Kevin Rinke: I know you are desperate, but stop lying about me
BLOOMFIELD TOWNSHIP — Kevin Rinke isn't buying Donald Trump's claims that the 2020 election was "stolen," but the Michigan gubernatorial hopeful is spending millions on ads comparing himself to the former president and echoing unsubstantiated claims about "dead" voters.
With less than a month until the Aug. 2 primary election, the wealthy Bloomfield Hills Republican is channeling Trump as he seeks the nomination of a party the former president redefined, re-introducing himself to television viewers as another "outsider" businessman who can "restore Michigan's greatness."
In a field of five candidates who have never held elected office, "there's no question" he is the most prepared to govern a state of 10 million residents, Rinke argued in a recent interview with Bridge Michigan.
Related:
"The job," he said, "is running the business of the state."
Rinke, 61, made his fortune in Michigan auto dealerships and is touting his business acumen in the race to take on Democratic Gov. Gretchen Whitmer, who angered many business owners with shutdown orders early in the COVID-19 pandemic. He's pledged to spend $10 million of his own money, making him the biggest spender left in a GOP primary rocked by disqualifications.
After buying the family business from his dad in the late 1980s, Rinke expanded Pontiac/GMC, Toyota and later Cadillac franchises into what he called "probably the most successful private auto dealership group in Michigan" before selling the company to Roger Penske in 2003.
Terms of the sale were not disclosed, but Rinke told Bridge the deal made him "one of the larger private shareholders" in Penske's firm, UnitedAuto Group, which he then worked for as an executive. Rinke later bought and grew a Michigan company that ran traumatic brain injury rehabilitation centers and eventually sold it for $24.3 million, according to federal records.
"All that experience is applicable at the state level and how you solve problems," Rinke told Bridge. "How an effective business leader pivots to be able to address and create a good outcome is learned over many years, not on the job."
Rinke's business record is not without blemishes, however.
In 1992, four former employees sued Rinke and Pontiac/GMC, alleging he discriminated against them on the basis of sex, race and age, accusations he denies, though he paid a settlement to dismiss one of the cases at the time. Two decades later, Rinke and related companies lost properties in a condominium development to foreclosure, which he chalked up to a problematic investment deal managed by his brother-in-law.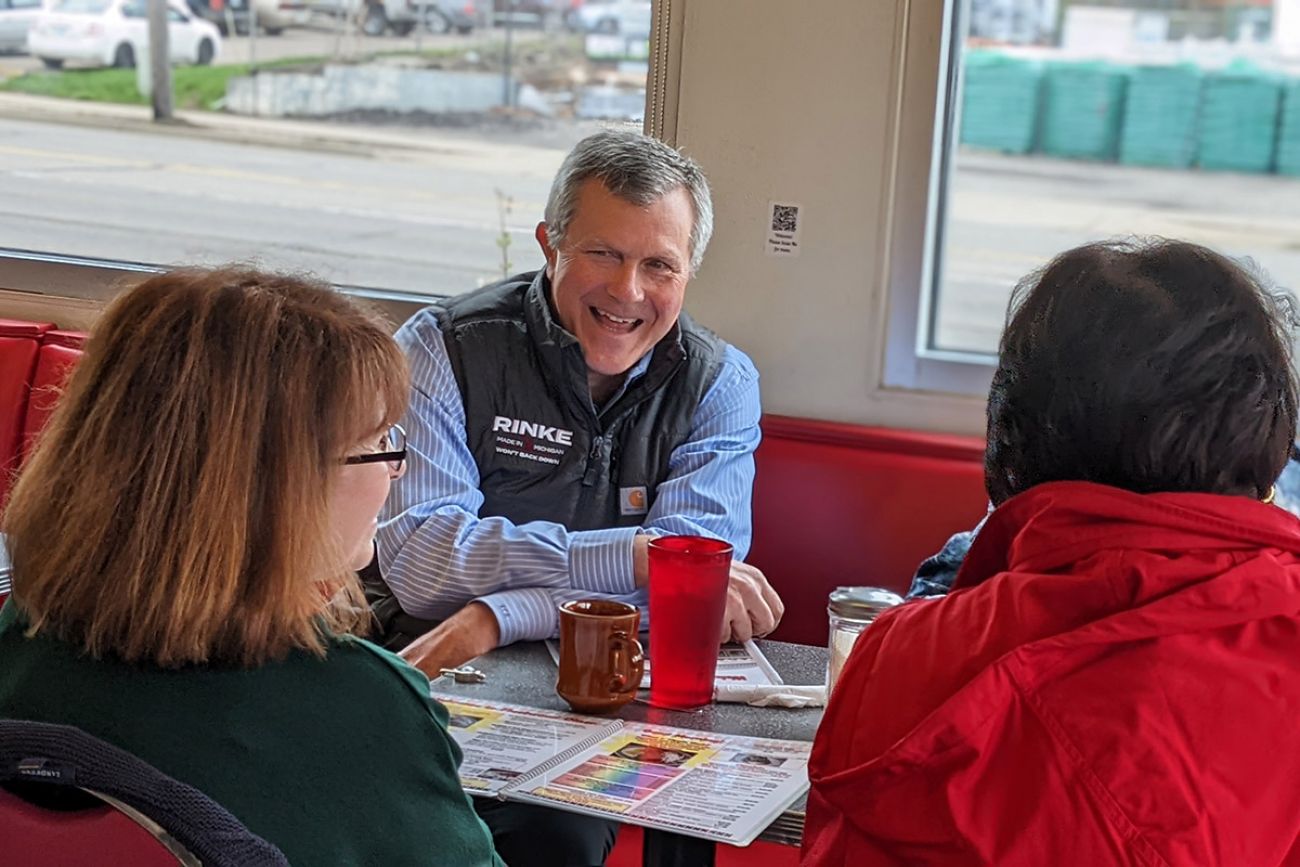 Kevin Rinke made his fortune in Michigan auto dealerships and later bought a traumatic brain injury treatment firm. (Bridge photo by Jonathan Oosting)
While he has never held elected office, Rinke contends his business success stands out in a primary race against chiropractor Garrett Soldano, real estate broker Ryan Kelley, pastor Ralph Rebandt, and Tudor Dixon, who worked in the steel industry before becoming a conservative media personality.
They might be "great" at what they do professionally, but they'd also be "learning on the job" if elected governor, Rinke said of his GOP competitors.
"I've been involved in public companies that have had tens of thousands of employees, similar in size to the government of the state of Michigan. And because I represented automotive and health care in the state of Michigan, I worked with the Lansing bureaucracy for over 30 years," he added.
"I know it, I understand it, and I'm qualified to do the job."
'Dead' serious
Rinke may be the closest thing to a traditional moderate left in the primary field: He is the only candidate who has not fully embraced Trump's false claims that the 2020 election was "rigged," and he's the only candidate who supports potential abortion ban exceptions for pregnancies resulting from rape or incest.
But he's also staked out aggressively conservative positions on several fronts: He wants to eliminate state income taxes, scrap concealed pistol permits to make Michigan a "constitutional carry" state, use armed military veterans for school security rather than enact gun control measures, and he wants to limit school discussions about race and sexual orientation.
In a television interview last fall, Rinke said he had "not seen anything to indicate" voter fraud decided the 2020 presidential election in Michigan, which Democrat Joe Biden won by 154,188 votes, a result that voters should trust, according to a GOP-led Senate panel that debunked many of the Trump camp's conspiracy claims.
Rinke has subsequently seen more evidence of how fraud "could have occurred," he told Bridge, but he is not yet convinced it happened on a scale that would have tipped the election.
"Forget about the audits and all that stuff — those are bubble words, those are smokescreen words," he said. "I got to see the ballots, and then we'd have to go to the other states that purportedly had the same situation."
Rinke's reluctance to embrace Trump's election conspiracies "will hurt him" in a GOP primary decided by voters who believe the former president, said GOP pollster Steve Mitchell, whose most recent survey showed Rinke polling at 15 percent, a statistical tie with Dixon and Kelley for the lead.
"It is a deeply held belief by these voters, and there is no amount of logic that's going to dissuade them," Mitchell said.
Rinke has used statewide TV ads to cater to voters who believe Trump's claims, however, in one, he suggests "dead people always vote Democrat" before promising to clean up Michigan voter rolls and tighten the state's voter ID law.
The zombie ad was ridiculed by fact-checkers, who called its dead voter claim "flat-out false," but Rinke insists it was a "tongue-in-cheek" joke meant to grab viewers' attention before telling them about serious election reform proposals.
"My ad isn't about dead people voting or not voting. My ad isn't about the Trump election. My ad is about election integrity, and the citizens of Michigan deserve that," he told Bridge. "I want voter IDs and so do people in Michigan and so do people in America. It's not racist. It's common sense."
Despite pouring millions into television ads, Rinke "has not been able to gain as much traction as you think he would, given the amount of expenditures," Mitchell said. "He still has not been able to move himself away from the rest of the pack."
It makes sense for Rinke to start comparing himself to Trump because he had seen only a "middling" return on his early campaign messaging that had primarily focused on leadership, said John Sellek, a GOP strategist with Harbor Strategic Consulting.
"To win the GOP primary, you'd can't avoid it," Sellek said of Trump's lingering influence. "That's just how it works right now."
Trump has not endorsed in the gubernatorial race, and Rinke declined to say whether he has actively sought the former president's backing, as other candidates have done.
But, Rinke said: "I'm looking forward to having (Trump's) endorsement after the primary, and if he wants to give it to me before the primary, that's okay, too."
Tax cuts
Rinke has turned heads with what he calls a "bold" policy proposal to eliminate Michigan's personal income tax, which is currently set at 4.25 percent and generates nearly $12 billion in annual revenue for state and local governments.
Whitmer's campaign has argued the plan would slash funding used to pay for "critical services," including education, infrastructure and public safety, but Rinke contends the state could afford to put more money back in people's pockets.
Speaking to Bridge, Rinke refused to name a single thing he'd cut from the state budget, which will grow to nearly $77 billion next year under a deal between Whitmer and the GOP-led Legislature that includes a surplus resulting from federal COVID stimulus funding and unexpectedly large tax collections.
Instead, Rinke said, he'd delay a tax cut for one year, giving himself and lawmakers time to negotiate any necessary spending cuts, which he called a "good-faith gesture" that is emblematic of "how a leader works with his team."
Under Michigan's current tax structure, a family earning $60,000, which is roughly the state median, would save $2,338 if the state income tax was eliminated. A family that earned $1 million would save $42,288.
Rinke said he trusts Michiganders to spend their money more wisely than the government. And axing the tax could help Michigan reverse population losses and compete with states like Texas and Florida that don't tax income, he argued.
"We have the largest pre-COVID budget in the history of our state, by over eight billion dollars," Rinke said. "So like Ronald Reagan says, 'You want to control government, you starve it'. And I happen to believe in the people of Michigan."
Discrimination complaints
While he touts his business record, Rinke's campaign has been dogged by a pair of 1992 lawsuits from four former employees who alleged he effectively forced them to quit by making their workplace unbearable at Rinke Pontiac/GMC in Macomb County, accusations he has repeatedly denied.
One woman alleged Rinke made a series of "offensive and disgusting" comments. Among other things, she claimed Rinke, in front of co-workers, asked her if she was wearing a matching bra and panties. He would also call her after hours at home to ask what "young stud" she was with, she claimed.
Another former employee, who is Black, accused Rinke of using the n-word repeatedly at a 1991 Christmas party, making him feel "extremely embarrassed, humiliated and outraged." Rinke, the man alleged, accused him of stealing cars like the "rest of the n-" and speculated about the size of the employee's penis.
Those claims "weren't true" three decades ago and "they're not true today," Rinke told Bridge.
Rinke and plaintiffs eventually agreed to dismiss both suits, with court records indicating a $15,000 settlement in the sex and age discrimination case. Rinke called that a "nuisance settlement" to end litigation that could have cost him up to $200,000 in attorney fees and related costs had it gone to trial. There was no financial settlement in the race discrimination suit, he previously told Bridge.
Jamil Akhtar, an employment discrimination attorney who represented the former Rinke Pontiac/GMC workers, stood by the allegations. Rinke had an "inability to control himself," Akhtar said. "He was a liar when I took his deposition, and he's a liar now."
GOP rival Tudor Dixon has also used the allegations to attack Rinke, calling him "pervy." A super PAC supporting Dixon published online ads arguing the lawsuits make Rinke "unelectable" in a general election matchup with Whitmer.
Rinke has downplayed the criticism, arguing political foes don't have much to attack him with if they continue to cite 30-year old allegations that were never proven true in court.
The lawsuits were "not accurate and did not represent who I am or how I interacted" with employees, Rinke told Bridge Michigan. "That's all a competitor has to talk about? Maybe they should get on their own game."
Records reviewed by Bridge show Rinke was also part of a real estate investment gone bad that resulted in at least eight foreclosures on property in the Uplands condominium development in Plymouth Township.
Wayne County cited Rinke and OOUPLANDS LLC for failing to pay property taxes on time in 2008, 2009 and 2010. The county eventually foreclosed on OOUPLANDS, which Rinke signed other paperwork for as "its member."
Rinke told Bridge he was "not aware" of the foreclosure notices and was merely a "financial investor" in a project managed by his wife's brother, who he suspects lost money on the deal.
"For me, I got my money back, and I was trying to help my brother-in-law," Rinke said.
Creating 'miracles'
Rinke has deep roots in metro Detroit. He was born in Wayne County, worked in Macomb County and now lives in Oakland County. "My family," he said, "was in Michigan before Michigan was even a state."
Rinke went to work for his family's auto dealership business full-time in 1983, after graduating college. He started as a Toyota salesman, but has been around the company his entire life doing odd jobs, joking, "Man, can I polish a toilet."
He effectively took over the company in 1988, when his brother — a leading executive who had groomed for the role — was killed in a plane crash shortly after taking off from the ​​Oakland-Pontiac airport. Rinke had "missed the flight," he said, but was "at the crash site taking the bodies out."
Rinke didn't just inherit the company, he said, telling Bridge he insisted his dad sell it to him as a vote of confidence. His dad agreed, staying on as a "consultant" while enjoying semi-retirement in Florida, he said.
"And fortunately the company — maybe because of my leadership, but certainly because of the actions of our employees — exploded in a good way," Rinke said.
In roughly a year and a half, Rinke Pontiac/GMC went "from something like 27th (largest) in the country to number one or number two. Our financial numbers and our growth was staggering," Rinke said, noting he bought Rinke Cadillac a few years later, adding it to a portfolio that also included Rinke Toyota.
But on April 1, 2000, Roger Penske came knocking. Rinke thought the alert from his secretary was an April Fool's joke, he recalled, so told her that Penske would need an appointment first. Two weeks later, "in walks Roger" for the appointment he had scheduled, Rinke told Bridge.
"He's probably the only person in America that I would have sold my business to, because I believed in his results and what he accomplished," Rinke said of Penske, whose UnitedAuto Group was already the third-largest dealer group in the country. "We negotiated for over a year."
Rinke went on to work for Penske and Sonic Automotive, but his career took an unexpected turn in 2009 when a friend asked him to consider buying a Michigan-based company that operated two traumatic brain injury centers.
On his first visit, I was "completely freaked out," Rinke recalled, saying he became dizzy and nearly passed out when confronted by the lived reality of patients who had suffered catastrophic brain injuries.
He excused himself to the bathroom, where a man in a wheelchair told him the business was "the greatest place in the world," Rinke said. "He says, 'It gives me purpose. It gives me hope,'" Rinke recalled, describing the chat as an epiphany.
"I walked out of the bathroom and bought the business because I could," he said.
"And within five years, it was the biggest in the state of Michigan and the largest in the Midwest for what we did. We created miracles. It was fabulous. Arguably the most compelling work I've ever done in my life."
Only donate if we've informed you about important Michigan issues
See what new members are saying about why they donated to Bridge Michigan:
"In order for this information to be accurate and unbiased it must be underwritten by its readers, not by special interests." - Larry S.
"Not many other media sources report on the topics Bridge does." - Susan B.
"Your journalism is outstanding and rare these days." - Mark S.
If you want to ensure the future of nonpartisan, nonprofit Michigan journalism, please become a member today. You, too, will be asked why you donated and maybe we'll feature your quote next time!