Ralph Rebandt: I'd bring back 'Judeo-Christian' values as Michigan governor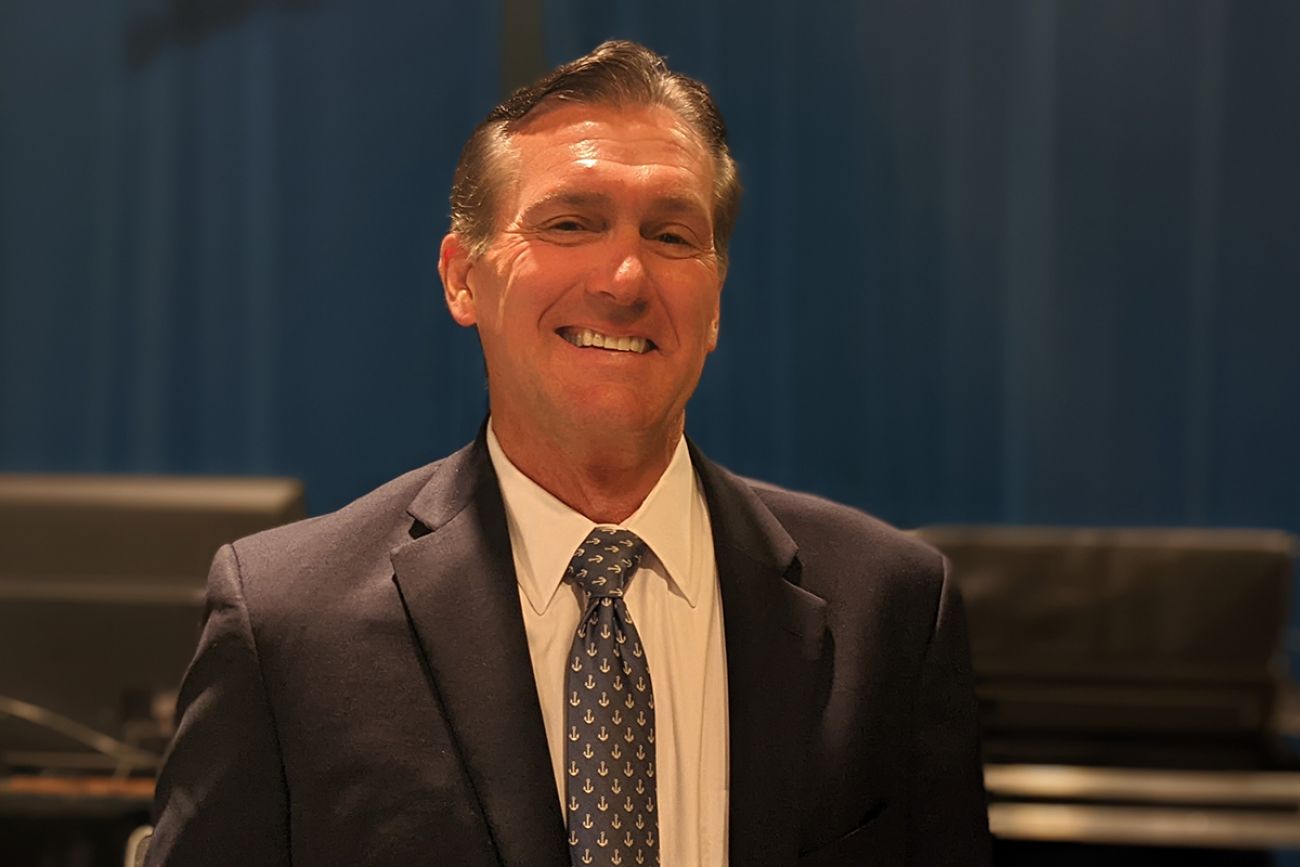 Republican governor hopeful Ralph Rebandt says he'll create an "anti-appropriations committee" of citizens to help him cut the Michigan budget. (Bridge photo by Jonathan Oosting)
LANSING — Ralph Rebandt doesn't have the most endorsements or the most money as he competes in Michigan's five-candidate Republican gubernatorial field. But the recently retired Farmington Hills pastor said he believes he has the "biggest lane" toward possible victory:
"The church lane," he told Bridge Michigan, adding he's met with pastors and congregants across the state ahead of the Aug. 2 Republican primary, which will decide who takes on Democratic incumbent Gov. Gretchen Whitmer in the November general election.
"If my memory serves me right, 32 percent of the voting population are Christians, and I only need like 22 percent to win this," Rebandt said, telling Bridge that his message of "bringing Judeo-Christian values back to the culture" is "resonating" with those voters.
Related:
Rebandt, 64, founded and ran Oakland Hills Community Church until his recent retirement. He's also served as a chaplain for various law enforcement groups, including the Southeastern Michigan Chiefs of Police, which is backing his bid for governor.
Reband outlined his vision for the state in a recent interview with Bridge Michigan. It was edited for brevity and clarity.
None of the Republican candidates for governor have held elected office, so we're asking everyone the same question: What do you think makes you qualified to lead a state of 10 million people?
A pastor is a CEO of a church. (Former Arkansas Gov.) Mike Huckabee pointed that out over a year ago when I spoke with him and he said, 'Most people are going to dismiss you as a pastor and think, you know, why don't you pray in the corner? We'll take care of the business.' But he said, 'as a pastor, you're a CEO, you deal with people, budgets and issues.' The only difference is when you're governor — he went from being a pastor to a governor — there are a lot more zeros on the end of the budget. But the principles are still the same. So that's one thing that qualifies me.
The other thing is that I have dedicated 35 years of my life to the citizens of Michigan. Not only in my community here in Farmington Hills serving on just about every conceivable commission committee, family group, whatever it is, and even serving for Gov. Engler's (Sex and Drugs Education Task Force). I've had experience serving the citizens and making decisions that would affect the lives of the community and people in it.
What would your top priorities be as governor?
I want to make Michigan an open records state, which means I will sign legislation or issue an executive order (to expand the Freedom of Information Act to the governor's office). I am all about truth, transparency and accountability.
I'm really concerned about the education of our children, from everything from their safety to the sex education — which I've seen the materials, and it's pornography. So those things I would immediately address. I would also address the issues of our budget and taxes.
You told the Detroit Free Press that you think the Christian Bible should be a main textbook in Michigan schools. Would you push for that as governor?
What I said, and I think it may have been missed, I mentioned that Fisher Ames who wrote the First Amendment to the Constitution, the final draft, he said that the Bible should be the chief textbook in public schools. … Historically, our founders believed in the impact of the Scriptures, or Judeo Christian principles in culture, and so much so that they saw it as part of the public school curriculum.
I don't believe the Bible should be the main textbook, but in 1979, there was a case in Tennessee in a U.S. District Court where somebody brought a case against a school because they were teaching the Bible, and the judge ruled that the Bible could be taught as long as a certain religion wasn't being taught. (The Wiley v. Franklin case) So what I'm sharing with people… was that I can see the Bible being used either in a history course, as it was foundational to our nation and its founding, or in a literature course, because when I was growing up, we read sermons from pastors, we read the Bible, because that was early American literature.
You've said you don't support any exceptions to an abortion ban. Would you move to toughen Michigan's (currently suspended) 1931 abortion ban, which includes an exemption for the life of the mother?
At conception, there is a person, and we need to do everything we can to protect that little child and the mother. So if a mother's having a problem pregnancy, she doesn't go to Planned Parenthood and then have them deal with it. She goes to the emergency room. When the doctors figure out what the problem is, and if it's an ectopic pregnancy, that is not a viable pregnancy any more than a miscarriages, and so obviously the life of the mother would be saved in that circumstance.
My concern is that … the life of the mother in 1931 is defined differently today, I envision situations in the future where a woman would say, 'I'm stressed out I have a mental illness because I'm going to have a baby and I feel like I'm going to die if I don't have this baby, abort it.' Well. I don't see that as being the intent of 1931. I see it being a life and death issue in 1931.
You've also said you want to eliminate funding for public universities? Why, and wouldn't that run afoul of the Michigan Constitution, which says that the Legislature "shall appropriate monies to maintain" public universities?"
The reason why we have to look at that is because we have colleges and universities that have huge endowments, and they could exist for 50 to 75 years without the state budget giving them another dime. My concern is that right now, in our economy, we are struggling on the street. We have people whose savings accounts are being depleted, because gas is $5 a gallon and taxes continue to go up. And so my point is, why should we fund the savings account of our colleges and universities when all the citizens are struggling? … I would want the colleges and universities to present a case if they actually need money, that they won't be able to exist.
I mean, I'm all about education. I have PhD credits. I've worked on a doctorate. So it's not like I'm against education. I'm against finding something that could be self-sustaining by itself when everybody else is struggling.
When it comes to the Constitution, my approach would be that we obviously don't have to fund it at the current levels.
You've said you oppose same-sex marriage and would support an existing ban if the U.S. Supreme Court ever returns the issue to the states. But would you support anything like a civil union that confers the same sort of legal benefits?
I recognize that the state is not my congregation, and so the answer to that is, I can live with that. But I wouldn't stop saying what I believe is true, that God has defined marriage as between one man and one woman, and the Michigan Constitution, Article I Section 25, says the same thing, that marriage is between one man and one woman for the benefit of society.
You've said you believe Donald Trump actually won Michigan's 2020 election even though he officially lost to Joe Biden by 154,188 votes. A Republican-led state Senate committee spent months investigating 2020 election claims and found no evidence of widespread fraud. Why don't you believe them?
Based on the data they've looked at, they're coming to the conclusion they have. If we did a full forensic audit, I'm convinced that we would find the fraud. I would do an investigation on the 2020 election. … and that's why we want a forensic audit.
I just can't believe that a guy like Trump who filled stadiums with 100,000 people and Biden can't get six cars outside of his house honking, I find it extremely hard to believe that Biden could have ever won.
One of the biggest challenges facing Michiganders, and Americans writ large, is inflation and gas prices. What would you do to address those issues?
The (state's 27-cents-per-gallon) gas tax is one thing. But I've also mentioned… I would immediately suspend the property tax for people who are 65 and older on their primary residence, because that would give them immediate relief.
But property taxes fund local governments, which would take a big hit?
Yes, you're right. It's a multifaceted perspective on how to handle all this. … And what I'm looking for is the citizens of Michigan to weigh in on what they think is important in the budget. In fact, I told people that I'm going to establish an anti-appropriations committee made up of citizens who are going to come to the budget to look at ways that we can cut it.
What would you do to improve the business climate of the state?
Drop the corporate tax (from 6 percent) to 2.5 percent. The only way we can do that is by dropping the budget expenses, and that's why we need to go in and look at the budget very very carefully. When that happens, it will create an environment where people want to come. Another thing I will do is not only reduce the regulatory state, but there are people who are hired by the health department, OSHA, all these departments that are unelected bureaucrats that run around like they own the world. I will reduce that by attrition. I'm going to encourage at least 1,000 of them to retire in the first six months with incentives and buyouts.
You've said you helped counsel community members after last year's student shooting at Oxford High School. What, if anything, do you think needs to change in Michigan to prevent another deadly school shooting?
I want to see the culture of Michigan change, because this is a heart issue. And when we try to solve it with more legislation, it doesn't work. When we tried to make more gun-free zones, that doesn't work. And when we try to solve it with education, or just throwing more money at it, that hasn't worked. So we have to look at a deeper problem. And for me, the deeper problem is dealing with the heart issue. So that's one thing that's more philosophical, but it does play out into society.
And the more practical ways to protect our kids, I would encourage getting rid of the gun-free zones in school because historically gun free zones are killing zones. I would put retired law enforcement and military with a gun sniffing dog in the school and a single entry entrance.
What policies do you support do improve student performance in K-12 schools?
We have so many things that are cluttering the school curriculum that the students aren't learning the basics anymore. So for example, they're learning critical race theory. They're learning social emotional learning. They're learning all these things that really have nothing to do with reading, writing and arithmetic. ... I think we need to dismantle the public school curriculum and let it be rebuilt, according to Michigan (law), with parents and legal guardians deciding what is in that curriculum.
You talk about bringing Christian values to government. But could you adequately represent Muslim Americans in Michigan, or members of other faiths?
I definitely could… As a governor, I'm not looking to turn Michigan into a theocracy. I realize that our founders had the First Amendment in place because there was an institutional separation between the government and the church.... For me, the First Amendment means that I have the right to worship how I want, where I want, when I want it. It means that anyone else who wants to be Muslim or Sikh or Buddhist, they're welcome to worship the way they want to.
Only donate if we've informed you about important Michigan issues
See what new members are saying about why they donated to Bridge Michigan:
"In order for this information to be accurate and unbiased it must be underwritten by its readers, not by special interests." - Larry S.
"Not many other media sources report on the topics Bridge does." - Susan B.
"Your journalism is outstanding and rare these days." - Mark S.
If you want to ensure the future of nonpartisan, nonprofit Michigan journalism, please become a member today. You, too, will be asked why you donated and maybe we'll feature your quote next time!