Garrett Soldano walks on fire. Running for Michigan governor may be harder.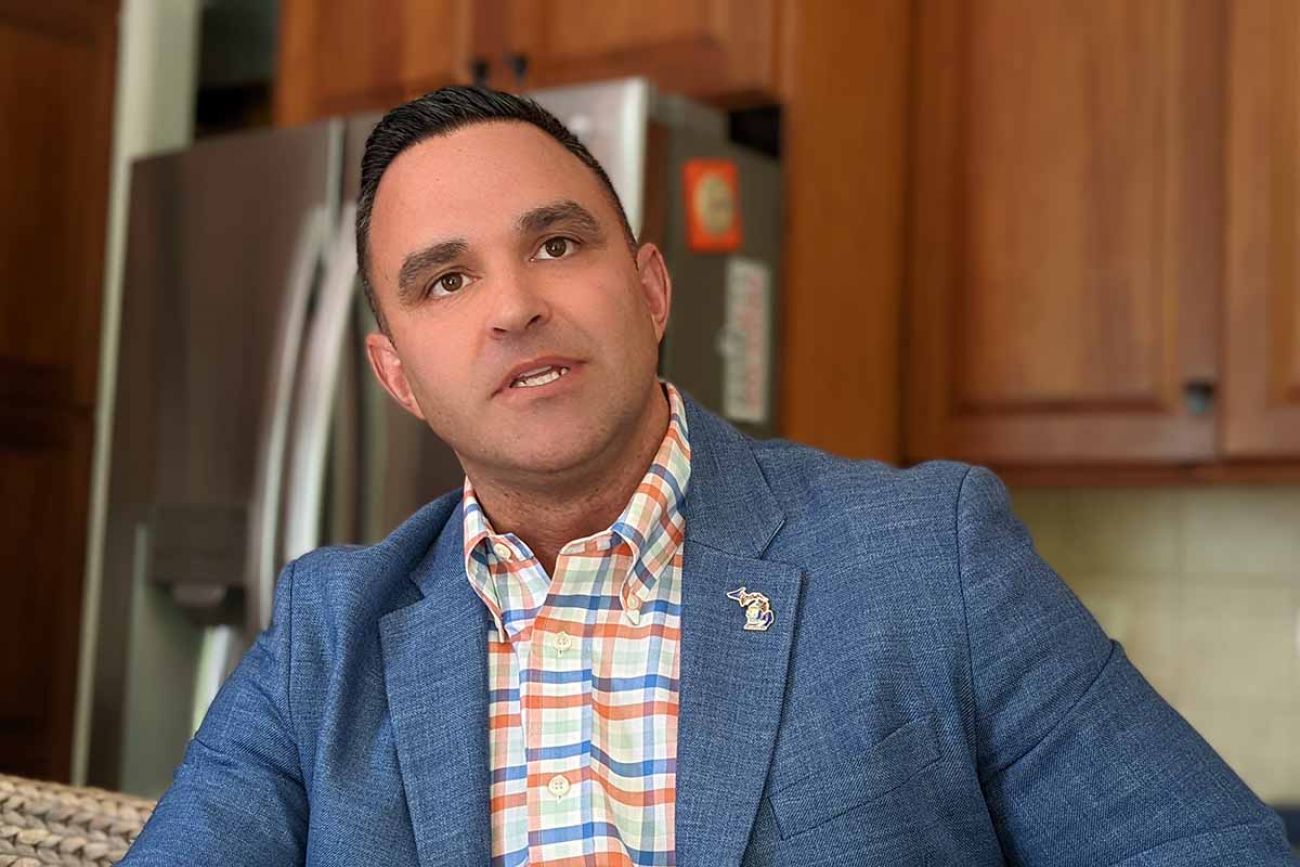 Garrett Soldano, candidate for Michigan governor, has consistently polled second or third in the GOP primary. (Bridge photo by Jonathan Oosting)
July 20: Garrett Soldano to Donald Trump: Stay out of the Michigan governor's race

MATTAWAN — Garrett Soldano has been many things in his 43 years: A football star, a chiropractor, self-help author, motivational speaker, firewalking instructor, supplement salesman and most recently, a pandemic lockdown protestor.
Now, Soldano wants to be Michigan's next governor. And as he finds himself near the top of a field of Republicans competing to take on Democratic incumbent Gretchen Whitmer this fall, he's surprised, too.
"If you would have told me 2-½ years ago that I would be running for governor, I would have laughed you out of the room," Soldano told Bridge Michigan in a recent interview at his family home in Mattawan outside Kalamazoo, where he lives with his wife and two children, ages 12 and 14.
"I never wanted to have anything to do with politics. I was your typical person who fell asleep on the watch — vote straight ticket, go back to my lifestyle, which I earned, and then forget about it until the next race."
Soldano is an outsider in a Republican primary field that is full of them. Four years after three longtime politicians competed for the GOP nomination, Republican voters will choose between businessmen like Perry Johnson and Kevin Rinke, law and order candidates like James Craig and Michael Brown, and activists like Soldano, Ryan Kelley and Tudor Dixon.
Related:
Only one of the 10 — Brown— has ever held elected office. The state police captain served on the Berrien County Board of Commissioners two decades ago.
Soldano's turn to politics began in 2020 when started a viral Facebook group opposing what he called Whitmer's "excessive quarantine" policies early in the pandemic. Five hundred people joined the first night, 300,000 by the third day and the group soon boasted more than 400,000 members, some of whom reportedly threatened violence against Whitmer.
When Facebook shut the group down, Soldano helped found Stand Up Michigan, an activist network that played a key role in repealing a 1945 law Whitmer had used to issue early pandemic orders. He organized "freedom festivals" and emerged as a conservative star in near-daily videos railing on "face diapers" and "smoothies," code words he used to avoid censorship while bashing COVID-19 mask and vaccine policies.
Garrett Soldano, candidate for governor, led Western Michigan University football coaches through firewalking and other motivational exercises in 2013.
In the process, Soldano built what he calls a "grassroots army" of supporters who flock to his campaign events and helped him stay near the top for both polling and fundraising in the GOP gubernatorial primary.
"There was a lot of engagement, passion, frustration, anger," Soldano said of his anti-lockdown Facebook group, telling Bridge he has always stressed non-violence. "It was my job to direct this unbelievable force, this power, this movement, into a positive direction to get things done."
His claims about pandemic powers and COVID — which has killed more than 33,000 Michigan residents — have drawn criticism from both medical experts and Democrats, who have blasted Soldano as an "anti-science" "snake oil salesman."
Unvaccinated himself, Soldano now acknowledges the shots likely saved lives among elderly and obsese people who were infected. But he contends many of his controversial positions have been proven right: The vaccine is less effective at preventing infection than initially advertised, school closures led to learning losses and lockdowns ravaged the economy.
Scientific consensus evolves, Soldano acknowledged, and so has his messaging on the pandemic.
In 2020 Facebook videos, he compared Michigan under Whitmer to "Nazi Germany" and urged supporters to ditch "dirty nasty masks." Now, he told Bridge, Whitmer may have been unbeatable if she had not closed high schools and restaurants a second time in November 2020, when other governors like Ron DeSantis of Florida had fully reopened their states.
"In the beginning, nobody knew what this was going to do," Soldano said. "But true character was defined in those next months of what you're willing to do, what you're willing to stand up for."
A passion
Soldano entered the gubernatorial race as a longshot candidate, but he parlayed his social media stardom into an upstart campaign.
He's placed second or third in most polls behind Craig, the former Detroit police chief who is battling allegations of petition signature forgery that could keep him off the August ballot.
"If James Craig is out of the race, there is no clear front runner, but Garrett Soldano clearly becomes a candidate that has to be taken seriously because he has the connections in the grassroots community," said pollster Richard Czuba of Glengariff Group Inc.
In Czuba's late May polling, 8.2 percent of likely GOP voters said they plan to vote for Soldano. In a big field, that was good for second place, behind Craig but ahead of bigger-spending candidates like Johnson and Rinke, millionaires who have already aired TV ads across the state.
Through the end of 2021, Soldano raised $1.3 million, trailing only Craig and Rinke. Soldano told Bridge he's now raised closer to $2 million.
The "passion of Garrett Soldano supporters" is clear, Czuba said.
It's clear at campaign events too. He drew thousands to an Antrim County farm last fall while boycotting the Mackinac Republican Leadership Conference. He garnered the loudest applause at the first GOP gubernatorial debate last week in Livingston County.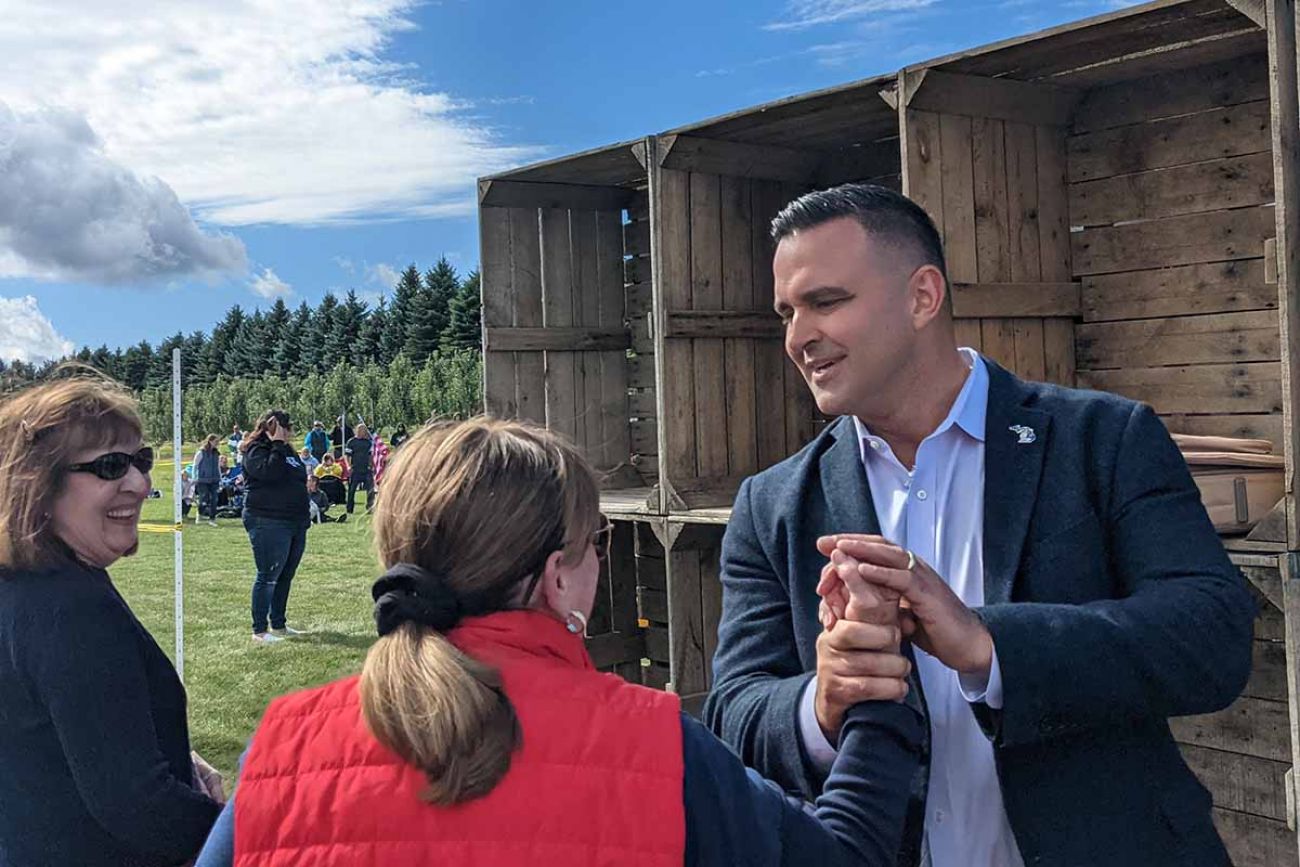 Michigan gubernatorial candidate Garrett Soldano drew thousands of supporters to a farm rally in Antrim County last fall. He calls them his "grassroots army." (Bridge photo by Jonathan Oosting)
"We follow his Twitter, his Facebook, his Instagram — everything," Lisa Throop said after attending a Soldano meet-and-greet at a Grand Rapids pastry shop. "We just kind of started following and listening because we weren't really happy with the direction things were going."
Soldano's initial group, Michiganders Against Excessive Quarantine, "made us feel like we were not alone," Throop told Bridge. "And then everybody started joining and it kind of gave us a little more motivation to speak out."
In Facebook videos no longer online, Soldano questioned former President Donald Trump's claims the 2020 election was rigged, saying he didn't have time to go down "rabbit holes". He criticized riots in the U.S. Capitol on Jan. 6, 2021, saying "hate can't drive out hate — only love can do that."
Soldano has more recently described the 2020 election as "a disaster" and called for a "full forensic audit." Trump is "still my president," he said in last week's GOP debate.
His campaign has largely focused on other issues, including reforming pandemic policies, improving education, helping small businesses and supporting "energy-dense" power like nuclear and gas.
Garrett Soldano, a GOP candidate for governor in Michigan, says we must inspire women who have been raped to understand how heroic they are in giving birth and see that "God put them in this moment."

They don't know "that baby inside them may be the next president." pic.twitter.com/uVVqX2G54S

— Heartland Signal (@HeartlandSignal) January 31, 2022
Soldano made national news in February when he said he thinks women who are raped should not have abortions because "that little baby inside them might be the next president." That infuriated abortion rights activists, but he said the attention was "great news" that exposed him to a national audience.
Soldano is "a very strong candidate, because he came in early, has had enough money and has a compelling message to hardcore conservatives," said GOP pollster Steve Mitchell of Mitchell Research and Communications.
"If you're going to establish a niche in the primary, you want to try to become the most conservative candidate out there. And he's done that."
A death threat, from within
In Facebook videos and campaign speeches, Soldano has claimed his work in Stand Up Michigan made him a target of the "woke left and their cancel culture."
He has twice had to move his wife and kids to undisclosed locations "because we had a guy on video saying he's gonna come shotgun me dead in the streets," Soldano told Bridge, repeating the claims.
He claimed he lost 50 percent of the revenue at his chiropractic clinic in Kalamazoo as online commenters left negative reviews, and someone destroyed his business sign.
"That was all for standing up for the Constitution," Soldano said.
Bridge reviewed records and confirmed that Soldano reported an alleged death threat to police in October 2020, but the man who made the shotgun threat was a fellow Stand Up Michigan activist — not the "woke left mob," according to a Kalamazoo County Sheriff's Department report obtained through a Freedom of Information Act request.
At the time, Soldano told a deputy the man had lashed out after he was fired from Stand Up during a dispute over a video encouraging parents to speak to teachers about masks in schools.
The man thought the video, posted on Stand Up social media accounts, was a "direct attack towards teachers," including his daughter, and deleted it without approval from colleagues, according to deputy interview notes.
The case was ultimately closed without any criminal charges. The man's wife told police he was "hot headed" but "had no intentions of harming anyone," Kalamazoo County Sheriff's Deputy Paul Kidd wrote in the incident report.
Kalamazoo and Mattawan police did not have any other records of alleged crimes at Soldano's home or chiropractic clinic in either 2020 or 2021.
In an interview with Bridge, Soldano acknowledged the shotgun threat came from a colleague but said he was the target of additional death threats that he did not report to police. Instead, he said, he called old police academy friends (he had considered becoming an officer several years earlier) and asked them to increase patrols in his neighborhood.
Other records show Soldano was charged with drunk driving in April 2009. He pleaded guilty to operating a vehicle while visibly impaired and refusing a preliminary breath test in Kalamazoo Township. He paid $625 in fines.
"I'm going to make mistakes going forward as a human being, as a dad, as a governor," Soldano told Bridge, noting he has discussed the incident in social media videos.
"I'm going to come on, and I'm going to be transparent about it, and I'm going to address it. That's what you have to do with those things. Nobody's perfect."
Wishful thinking
Soldano believes in the power of wishful thinking, a philosophy he describes at length in his 2013 book, "God's True Law: A Parent's Guide to Raising Successful Children."
The spiritual guide borrows heavily from the New Thought Movement's Law of Attraction, which holds that positive thinking produces magnetic energy that leads to positive experiences, whereas negative thoughts lead to negative experiences.
The theory was popularized in 2006 by self-help guru Rhonda Byrne, who published a book and movie called "The Secret" that was endorsed by the likes of Oprah Winfrey and Larry King. It's largely derided as pseudoscience, although research has shown a link between health and positive thinking.
"The time it takes for true desires to turn into reality varies from person to person depending on how much garbage (limiting beliefs) is in the subconscious mind," Soldano wrote.
Soldano told readers he recites daily affirmations like: "I am so happy and grateful now that money comes to me in increased quantities from multiple sources on a continued basis" and "I am so happy and grateful now that I can feel my abundance growing daily."
Likewise, Soldano explained that he had his sons — 2 and 4 years old at the time — repeat affirmations like "I'm smart!" and "Money comes easy to me!"
"God speaks to us through the Law of Vibration and when you have these feelings you must follow them," Soldano wrote. "When you meet someone for the first time and you get a bad feeling about the person, you should follow what God is trying to tell you and stay away."
Now, as a gubernatorial candidate, Soldano told Bridge he has a new daily affirmation that his campaign has printed on T-shirts and coffee mugs: "The power of one can lead to the power of many."
"You never know what one small act that you may do or say or video you may make, that may change lives of millions tomorrow," Soldano said. "I remind myself of that daily."
A chiropractic adjustment
Soldano was born in Cincinnati but moved at a young age to Coldwater, a southern Michigan city of about 10,00 people, where he says he lived in a trailer and grew up relatively poor until his dad earned promotions and better pay in the National Guard. The family later moved about 50 miles east to Onsted, in Lenawee County, where Soldano graduated from high school.
He was a star linebacker on the Western Michigan University football team. As a senior in 2000, he recorded 115 tackles, was named team MVP and selected a First-Team All-Conference player in the Mid-American Conference.
In his book, Soldano wrote that Black teammates at Western helped him overcome his own "racist belief" that was instilled in the overwhelmingly white rural Michigan towns of his youth and trips to Ohio, where a relative had criticized "stupid n*****" in his presence. (In the book, Soldano did not use asterisks)
"I never ever had a conversation with a Black American before" going to college, Soldano told Bridge, noting his prior exposure to African American culture had been limited to rap music and movies like "Boyz N The Hood."
"Racism is taught," Soldano said.
Soldano dreamed of the NFL and was invited to the Chicago Bears training camp in 2001. But he was cut before the season began. He returned to school at Palmer Chiropractic College in Iowa and eventually opened his own business, a clinic in Kalamazoo with plans to expand.
Soldano and his wife moved to Florida in 2016. There, he opened a "few" chiropractic clinics as part of a "20-year-plan" to move into a strictly management role, he said. But he missed working with patients and he missed Michigan, Soldano explained, so his family moved back home.
Secretary of State records show Soldano re-registered to vote in Michigan in March of 2018, making him eligible for both the August primary and November general election under the Michigan Constitution, which requires gubernatorial candidates be "qualified electors" of the state for four years before taking office.
Soldano closed other clinics in Mattawan and Richland too, and he now operates the single facility in Kalamazoo, where he applied for and received roughly $228,000 in forgivable COVID loans to continue employing nine people through the federal government's Paycheck Protection Program.
Online reviews for the Soldano Family Chiropractic Center are largely positive, although some Yelp users say the clinic does not take COVID seriously. Former patient Carina Hilbert told Bridge that Soldano "was helpful," but she got a "weird vibe" from his clinic.
"You get the feeling that he's a salesman," she said. "He's selling his book. He's selling the supplements. He's got posters up with his own quotes on the wall."
'An environment of greatness'
Soldano's money-making ventures include his work as a national marketing director for Juice Plus, a health supplement that clients say he also sold at his chiropractic clinics. The fruit and vegetable capsules are sold through a multi-level marketing company that relies on sellers recruiting other sellers.
When the pandemic hit Michigan in spring 2020, Soldano reportedly claimed on his since-deleted podcast that if his family got COVID-19, they could "get over it" because they were already taking Juice Plus to boost their immune systems.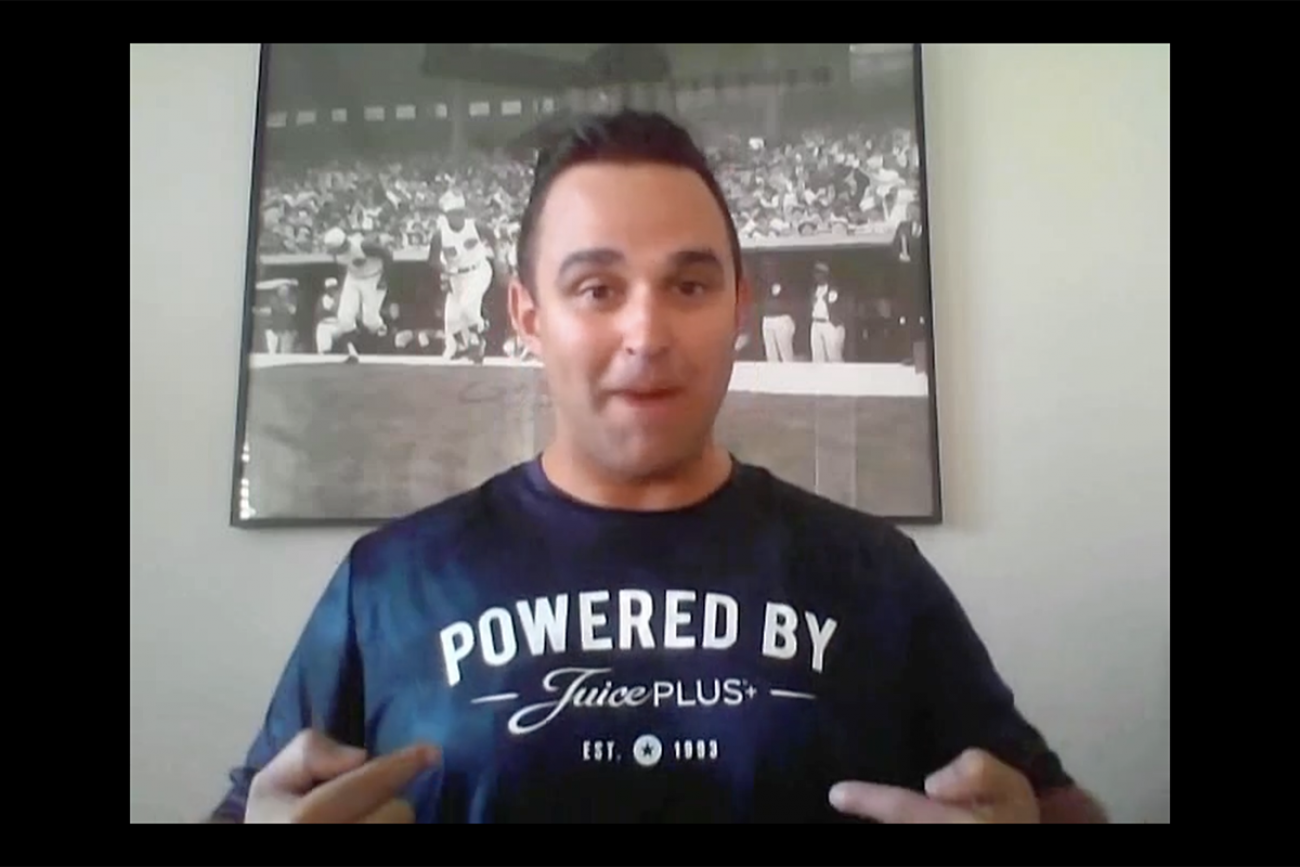 Before he was a candidate for governor, Garrett Soldano as a national marketing director for Juice Plus, a supplement clients say he als pushed at his chiropractic clinics (Facebook screenshot)
Similar claims by other Juice Plus representatives prompted warnings from the U.S. Federal Trade Commission, which reminded that it is a federal crime to advertise that a product can prevent or cure a disease "unless you possess competent and reliable scientific evidence."
But Soldano contends initial reporting on his comments, as published by The Daily Mail, were not accurate. He would have had his chiropractic "license ripped up" and been fired from Juice Plus if he had suggested the supplements were a COVID cure, he told Bridge.
In a 2016 video posted by his Florida chiropractic clinic, Garrett Soldano said Juice Plus supplements will "change the biochemicals in your body" and "create an environment of greatness" in children.
But Soldano stood by his larger argument that a strong immune system is beneficial to mitigating the impact of viruses, even COVID. "I would say if you turn your body into an environment of greatness, you would dominate that," he reiterated this week.
Soldano's "Change Your Best" podcast is no longer available online. He told Bridge he deleted it as part of an effort to take his "whole life off social media" amid online attacks. He stopped working for Juice Plus because of his gubernatorial campaign but still uses the product, he said.
Podcast episode descriptions that remain online indicate he urged listeners to "chill out" about COVID-19 and "resist" fear about COVID.
"In the back of my head right now, I'm thinking holy cow, what if you're wrong?" Soldano said in one episode, according to an archived recording reviewed by Bridge. "What if millions of people started to die? It could happen in two weeks. I may look like a clown."
In a 2019 YouTube video, also recently deleted, Soldano said he began using and selling Juice Plus in Florida after he moved next door to a salesperson who turned him onto the fruit and vegetable capsules.
At first, he "thought it was a pyramid scheme," Soldano acknowledged in the video. "I thought it was just normal to have watery stools for all my life." But a week into taking the supplement, "I started having great bowel movements."
Soldano has led motivational seminars here and in Florida where firewalking — teaching people to walk over hot coals — was featured as a final "breakthrough event," a technique borrowed from self-help guru Tony Robbins, he said.
Running for governor is harder than firewalking because of the toll it takes on "family time," he told Bridge, referencing his kids and wife, who encouraged him to run for governor after watching him emerge as pandemic protest leader.
"They all know what we're doing this for," Soldano said of his family. "We're in this thing to win it."
Only donate if we've informed you about important Michigan issues
See what new members are saying about why they donated to Bridge Michigan:
"In order for this information to be accurate and unbiased it must be underwritten by its readers, not by special interests." - Larry S.
"Not many other media sources report on the topics Bridge does." - Susan B.
"Your journalism is outstanding and rare these days." - Mark S.
If you want to ensure the future of nonpartisan, nonprofit Michigan journalism, please become a member today. You, too, will be asked why you donated and maybe we'll feature your quote next time!