How one firm in a 'Wild West' industry upended the Michigan GOP governor race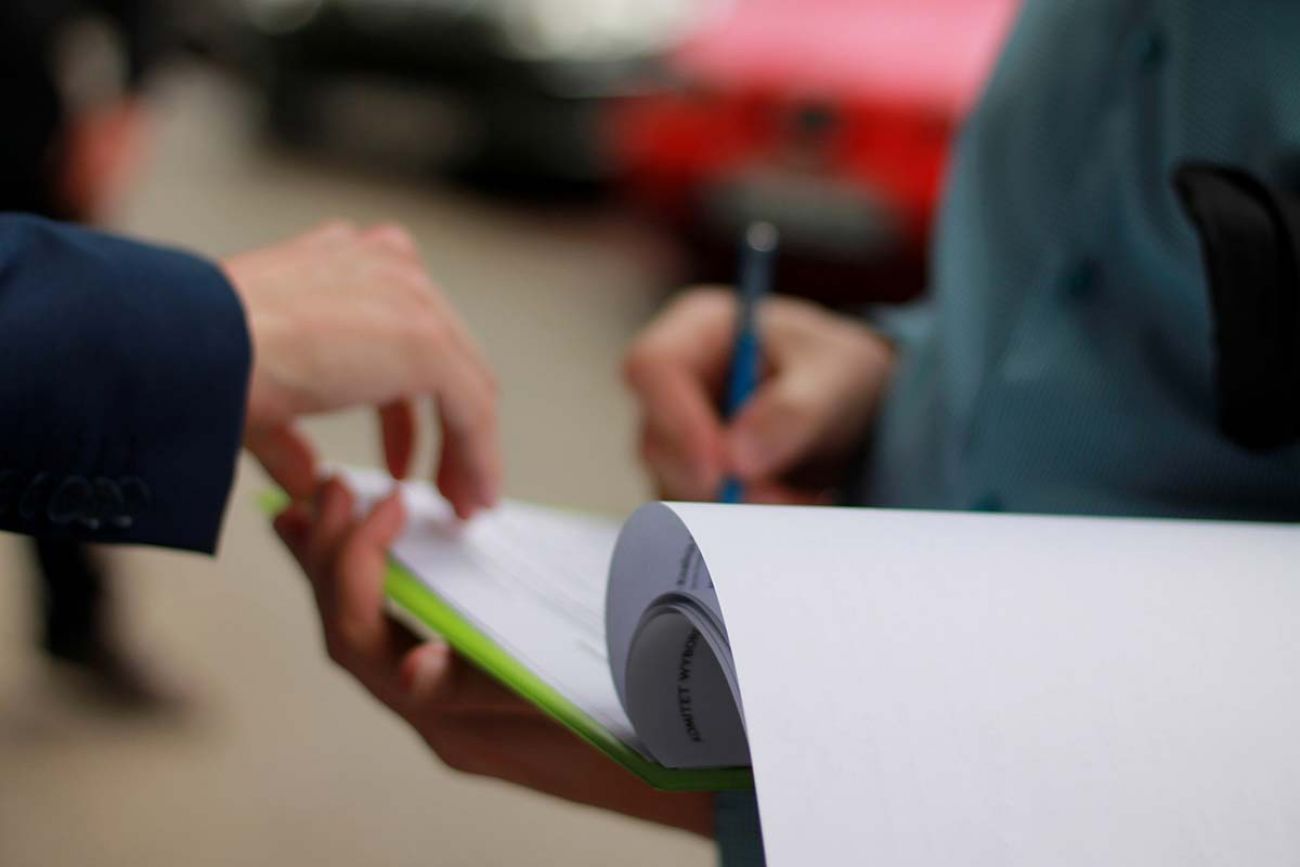 Michigan's signature gathering industry is under scrutiny amid a fraud scandal that is under investigation by state attorneys. One firm is linked to five campaigns that were disqualified. (Shutterstock)
Michigan Government
How one firm in a 'Wild West' industry upended the Michigan GOP governor race
LANSING — Stephen Tinnin Jr. was at a smoothie shop in Ferndale when a stranger asked him a question: Have you ever gathered signatures for political candidates?
No, he told Shawn Wilmoth, owner of First Choice Contracting, he had not, Tinnin recalled to Bridge Michigan. Tinnin said he agreed when he learned he could make $3 for every signature he collected to help candidates make the ballot.
"He was asking everyone, like pulling them off the street, saying you get paid half up front and half the next day after the signatures are verified," said Tinnin, who has a spinal injury that limits his mobility and who was still on probation following a 2018 conviction for carrying a concealed weapon.
Related:
The chance meeting this year introduced Tinnin to what some call the "Wild West" side of politics — signature gathering for candidates to qualify for the ballot — and to a man whose firm has dramatically reshaped the Republican campaign for Michigan governor.
A now-inactive website for Wilmoth's First Choice Contracting claimed the firm was "your best chance at getting on the ballot."
Instead, it was anything but.
Fraudulent signatures disqualified five of 10 Republican gubernatorial candidates from the race, and a Bridge Michigan investigation found that Wilmoth's firm worked for all five campaigns.
In all, 36 signature gatherers — known as circulators — were identified by the Bureau of Elections as submitting at least 68,000 invalid signatures for the candidates, as well as three judicial candidates.
And 30 of them, including Tinnin, had ties to Wilmoth's firms, according to a lawsuit filed this week by Republican gubernatorial candidate James Craig and a separate interview with former GOP candidate Michael Brown.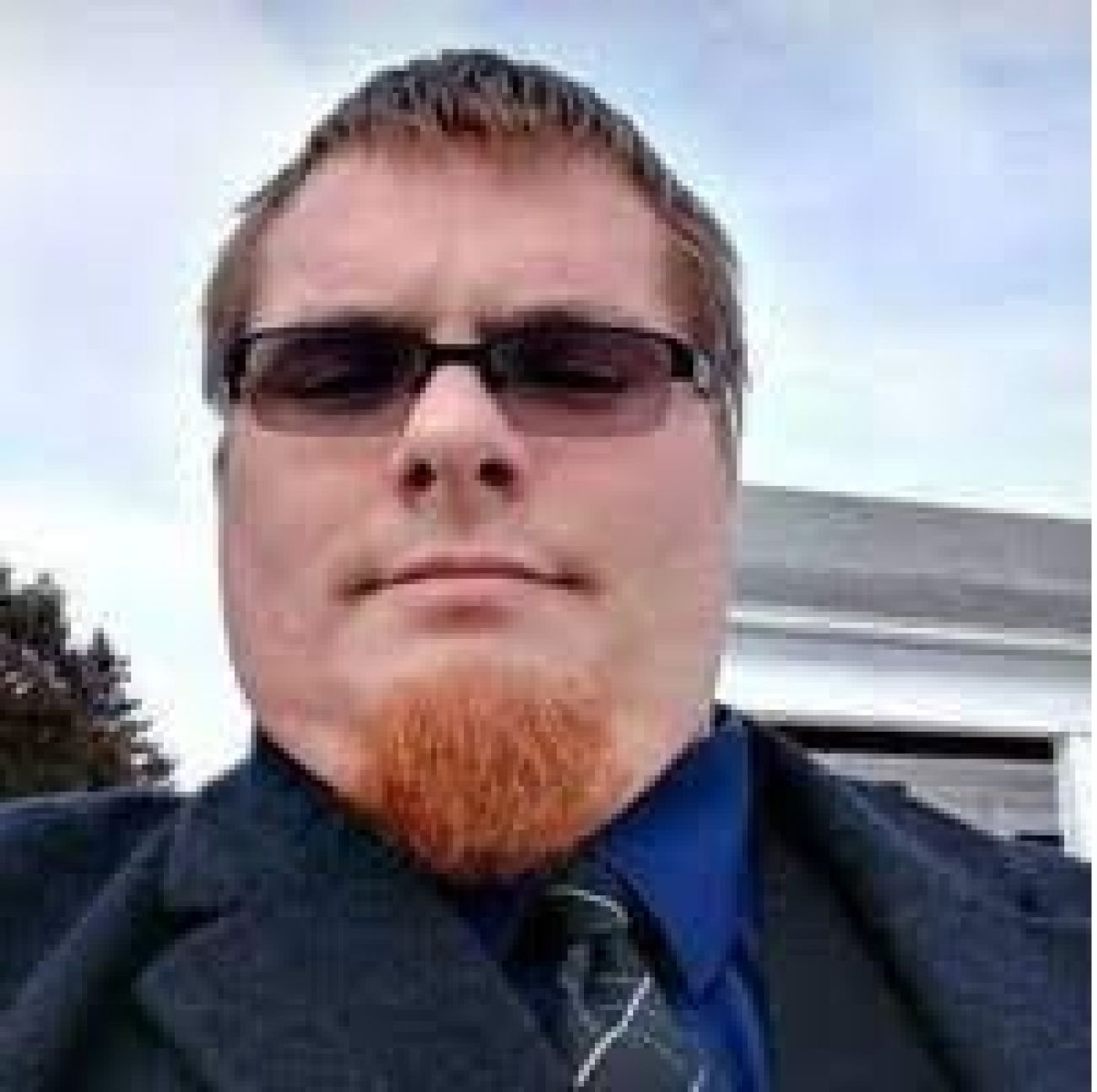 Shawn Wilmoth of Warren is owner of First Choice Contracting. His firm is linked to signature gathering for five gubernatorial campaigns that were disqualified for submitting fraudulent signatures in nominating petitions. (LinkedIn photo)
Both candidates worked with Wilmoth. Both were disqualified from the Republican primary field, although Craig is now running as a write-in candidate.
Wilmoth, 35, of Warren is a veteran of the industry who identified himself as a dues-paying member of the Michigan Democratic Party in court papers in 2016. He did not return multiple messages from Bridge seeking comment.
Campaign consultants and former candidates say the scandal is a cautionary tale of how lax regulations, a worker shortage and huge field of candidates and ballot measures in Michigan created a fertile ground for fraud.
Elections officials have submitted their findings of fraud to the office of Attorney General Dana Nessel for a criminal investigation.
In recent days, the investigation appears to have heated up.
On Tuesday, Brown told Bridge he has provided the attorney general's office with his contract, emails and text messages with Wilmoth and First Choice. On Thursday, the Detroit Free Press reported the Attorney General Office raided Wilmoth's home in Warren.
At the center of the storm is the multi-layered, mostly hidden world of petition circulators that often relies on an army of people found on the street, in homeless shelters and online.
Political consultant and former Michigan Republican Party executive director Jason Roe called it the "least glamorous job in all of politics" and one that does not attract "the best and the brightest in the world."
The industry generally works like this: Campaigns hire signature gathering firms, which in turn pay subcontractors — sometimes without the campaigns' knowledge — to deliver the signed petitions.
That may have contributed to this year's problems, said Steve Liedel, an attorney who has worked with Democrats and ballot issues.
"If there was a bright light shining on this, there'll probably be less of a problem," he told Bridge in an interview.
Hundreds of thousands of signatures are submitted in election years to the state from candidates for governor and judges, as well as ballot measures.
The state has a total of four workers to review their veracity, according to an affidavit filed by Bureau of Elections Director Jonathan Brater, who noted the workers get help from 20 other staffers from time to time.
The scandal was only discovered when political opponents — Democrats — spotted suspicious signatures and filed complaints with the state.
'Some people are trying to play me'
Tinnin told Bridge he only collected signatures for a few months, gathering no more than 1,000, including some from acquaintances or people he met at his wheelchair basketball league.
A spinal injury from a car crash requires him to use a wheelchair and ankle-foot orthotics to stand, he said, and he never collected signatures outside in the cold spring.
"All the (signatures) I got were legit," said Tinnin, who lives in Wixom.
The state investigation, however, found that Tinnin's name is attached to the most invalid signatures of all circulators, more than 6,100 in total for seven candidates, including two judges.
If Tinnin had filed that many valid signatures, he would have been entitled to over $18,000 from Wilmoth, the businessman he met in Ferndal.
However, Tinnin told Bridge he was paid $2,000 to $3,000 via Venmo, the cash-sharing app.
Tinnin told Bridge he rarely gathered an entire page of signatures on his petitions, and instead left many spaces blank. He also said he didn't sign petition forms, as is required of circulators.
Someone else forged signatures of voters on those spaces, and then forged his signature at the bottom of the page, Tinnin claimed. He showed Bridge a copy of his driver license. It contained a signature that appeared different from those on several sheets bearing his name.
"When I Google this stuff — I'm like, hold on, that's not me. That's not my signature at the bottom of the forms. I never filled out mine (forms) all the way," Tinnin told Bridge. "Some people are trying to play me."
He said he is in contact with a lawyer, and this month was one of 18 circulators sued by Craig.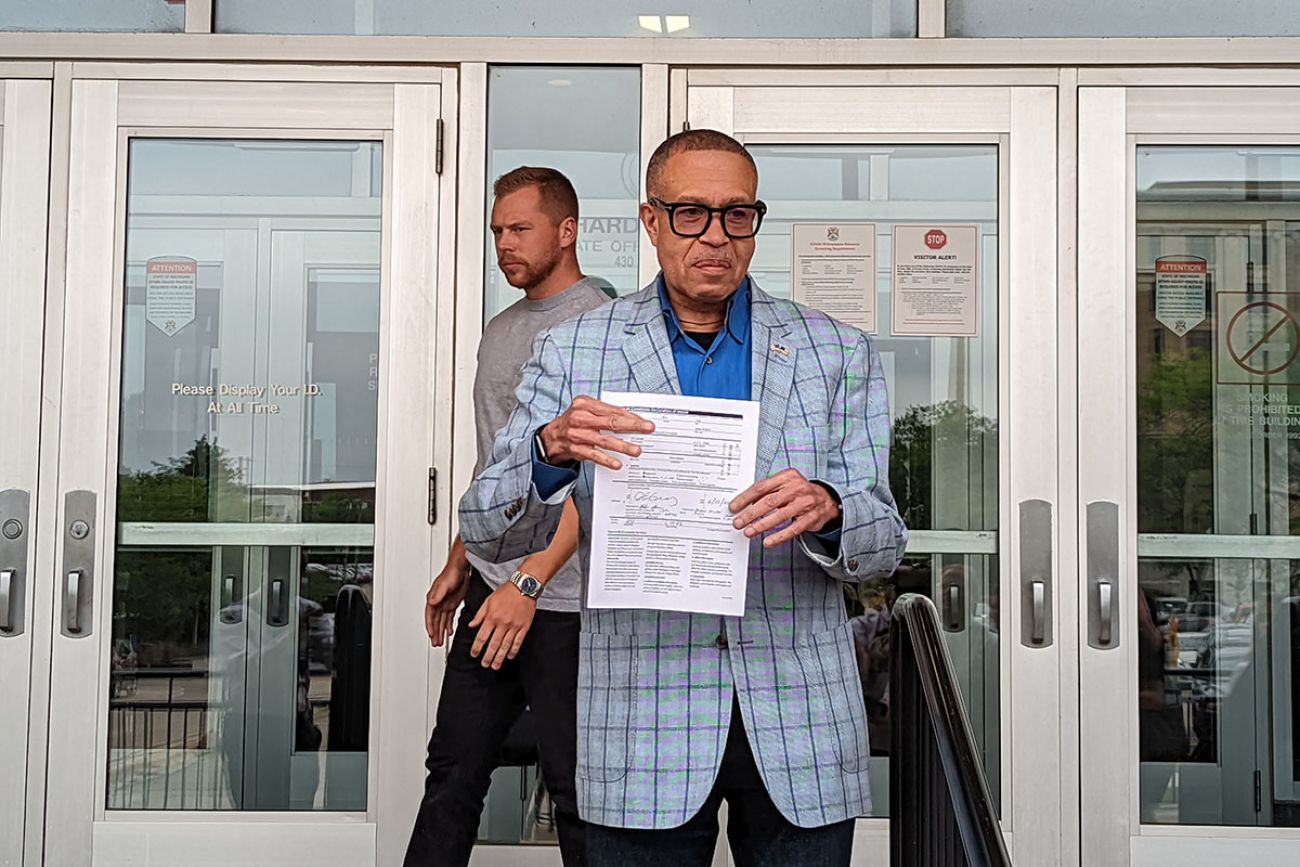 Former Detroit Police Chief James Craig is suing signature gatherers on claims they submitted forged signatures in his nominating petitions for governor. He is now running as a Republican write-in in the Aug. 2 primary. (Bridge photo by Lauren Gibbons)
'An alarm'
Michigan has the strictest signature gathering rules in the nation, requiring gubernatorial candidates to submit 15,000 valid signatures to make the ballot. Ballot measures must submit up to 340,047 or 425,059, depending on the type of issue.
In a May 23 report, elections officials concluded that 9,879 signatures submitted by Craig, the former Detroit police chief, were fake.
The forgeries were tough to miss, the state wrote: Signatures had "consistent handwriting," and some sheets contained filled-out lines of voter information without actual signatures. Some voters' names were misspelled in what experts described as a "round robin" approach to forgeries, where every few signatures were forged in the same handwriting.
In his Kent County suit, Craig alleges that all 18 circulators who collected signatures for him worked for Wilmoth, whose firm was hired as a subcontractor by a company called In Field Strategies.
Craig had agreed to pay In Field $13 per signature to collect 6,000 to 10,000 signatures, according to the suit. After the signatures were rejected, according to the lawsuit, the campaign asked In Field if it had subcontracted with Wilmoth, and it was assured it had not.
In Field did not return messages seeking comment from Bridge.
As campaigns were in crunch time for signatures, Wilmoth was shopping his services to other campaigns and ballot measures at cut-rate prices, said Roe, a consultant who was working as campaign manager for a ballot measure to reform term limits.
In April, Wilmoth offered to charge $8.50 per signature for the ballot measure, well below the market rate of $15, Roe said. The Warren businessman's pitch was to "cut out" the companies he was a subcontractor for and "take more money for himself," Roe said.
"He dramatically undercut all the other signature-gathering firms that were out there," said Roe. "That would certainly be an alarm."
Roe said he did not take up his offer and, ultimately, the Legislature invoked its powers to place the term-limit measure, Voters for Transparency and Term Limit, on the November ballot without having to collect signatures.
Brown, a state police captain, said he hired Wilmoth's firm in January at $4.75 a signature. He dropped out of the governor's race when election officials said 66 percent of his signatures were collected by fraudulent petition circulators.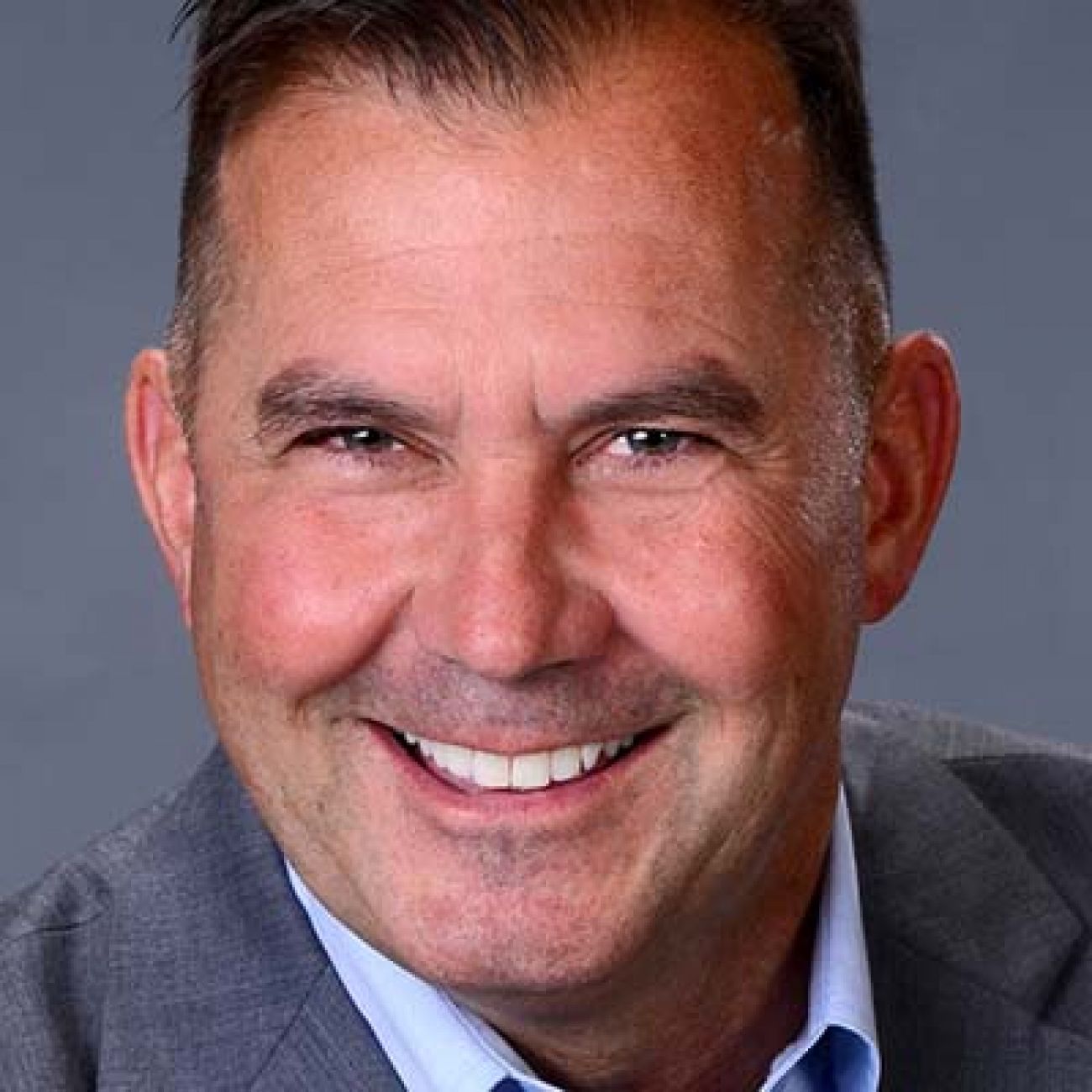 Michigan State Police Captain Michael Brown dropped out of the Republican gubernatorial campaign when elections officials concluded that 66 percent of his nominating signatures were fraudulent. (Courtesy photo)
Brown and others said market forces put campaigns in a bind: Signature gatherers were hard to find and more expensive because of the worker shortage, the COVID pandemic and a huge field that at one point included 12 GOP governor candidates and more than a dozen ballot initiatives.
Governor candidates have not yet filed expense reports, but ballot initiative campaigns alone have spent more than $9 million to hire firms to collect signatures.
By May, as the petition deadline approached and candidates were "scrambling for signatures," there was a "perfect storm situation" for fraud, Brown told Bridge.
In prior years, fraud occurred on a smaller scale, but this year, the "sheer scope" was "breathtaking," said Fred Wszolek, spokesperson for petition drives Unlock Michigan II and Let MI Kids Learn.
"You had a real saturation in terms of demand (for circulators), but you didn't have a whole lot in terms of supply," Roe said.
Increasingly, candidates turned to Wilmoth, who has long been a player in the petition-circulating world and has run campaigns from South Dakota to New Jersey, Florida and Virginia.
In 2011, Wilmoth was put on probation after he was convicted of hiring people with felonies to circulate petitions in Virginia, which was against the law at the time.
It is perfectly legal and common practice in Michigan.
'Society's throw-away people'
Roe, the consultant, described "flipping burgers at McDonald's" as perhaps "more glamorous than gathering signatures."
The industry pays quick cash, and relies on workers in need of it.
Brian Meeter, a Grand Rapids businessman, told Bridge his signature gathering firm Advantage Petitions uses the homeless and "society's throw-away people" as workers to "help them change their lives."
"I target homeless people. I target the downtrodden people. … I give them the opportunity to make $100,000 a year," he said. "This opportunity here doesn't judge them. It just asks them to go collect signatures."
An online ad touts Meeter's company as "felony friendly" and promises to pay $50-$100 per hour. A flyer recruiting signature gatherers — one obtained by Bridge with the same contact number matching the one advertised online — says the job pays $500 per day on average and requires no previous experience.
Roughly "98 percent of the people involved" with his business have a criminal history, said Meeter, whose firm has no ties to Wilmoth.
Liedel, the Democratic attorney, said some businesses may hire the homeless population and the formerly incarcerated because they are "often vulnerable."
"These are folks that are often vulnerable so they can be taken advantage of by some of the shady factors in this business," Liedel said.
Meeter said he is a subcontractor for Let the Voters Decide, a company run by Los Angeles, California-native Mark Jacoby. Jacoby calls the firm "the nation's largest network of signature gatherers."
A 2020 investigation by Michigan officials found Jacoby's circulators advised each other to mislead voters for their signatures.
The investigation found "sleazy practices and shady activity" but deemed it "inevitable" and "the price to be paid to live in a free society." In Michigan, it is not illegal for circulators to lie about the contents of their petition.
Jacoby's firm is not accused of gathering fraudulent signatures in this election and there is no indication the firm is linked to Wilmoth. Jacoby's firm worked as a subcontractor for at least five of the 13 petition drives and also gathered signatures for Republican governor candidate Tudor Dixon, according to a private Facebook post made by Jacoby.
The firm, though, courted controversy for steering workers away from Secure MI Vote — a Republican-backed election reform measure countering Promote the Vote 2022, which Jacoby worked on.
In one Facebook post, Jacoby's firm offered a bonus up to $12,500 for circulators to report anyone who collected signatures for other campaigns. In another, he promised to put "secret shoppers out to find out if people are working our issues and this awful issue!"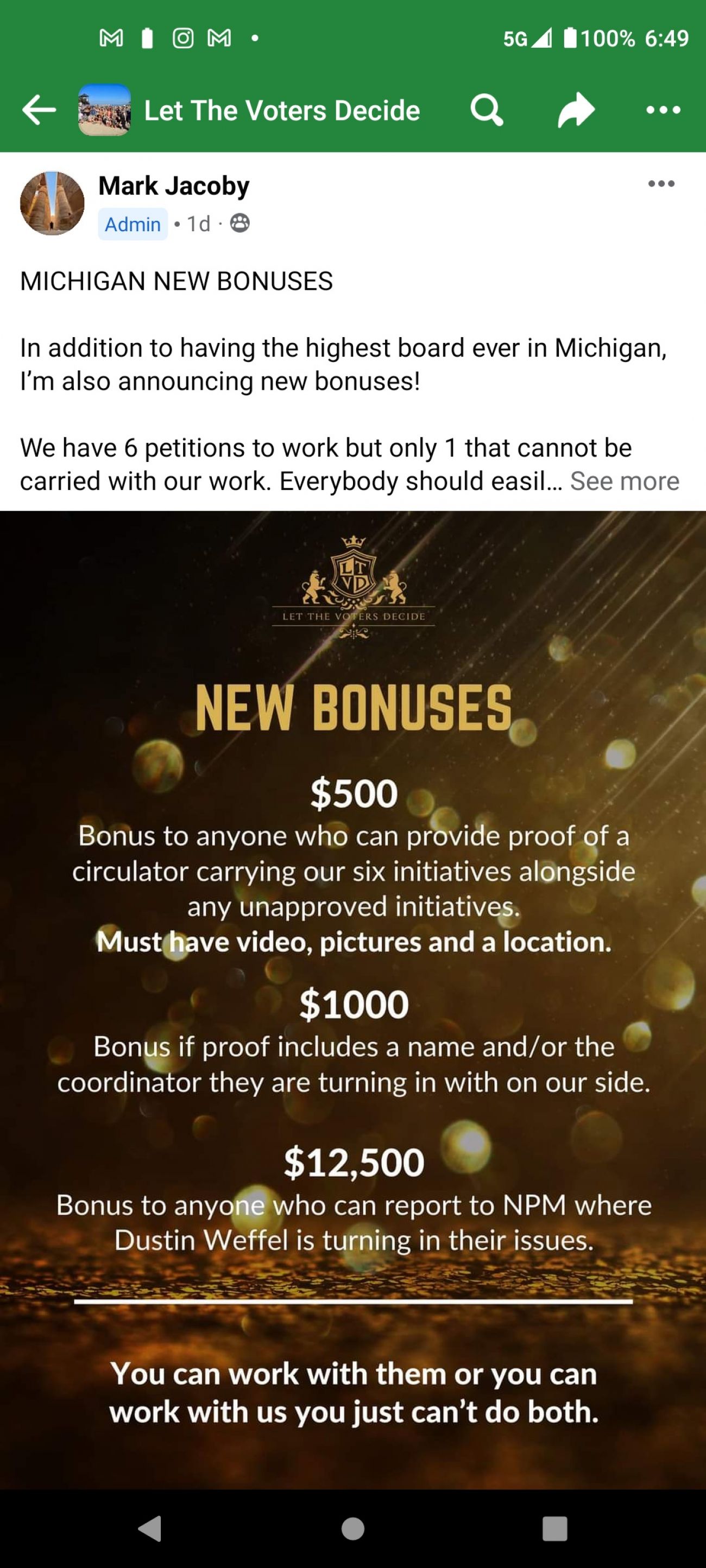 Secure MI Vote spokesperson Jamie Roe, not related to Republican consultant Jason Roe, told Bridge that Jacoby had been "working to enforce the pay to not circulate agreements and paying the bounties to out people who may have been circulating our petitions."
Jacoby issued a statement saying that "Let The Voters Decide has built an exemplary record."
"The signatures we've collected have never been the subject of a court case or a credible allegation of wrongdoing. This cycle, we qualified dozens of candidates for the ballot in eight states without issue or accusations of wrongdoing."
Poor enforcement
Wilmoth, Jacoby and his subcontractors' operations, however, are invisible in this year's campaign finance reports, even though state law requires campaigns to disclose their payments to contractors and subcontractors.
"I have never seen a petition campaign anywhere report all of the different subcontractors that they had worked with, let alone the individual circulators," Wszolek said.
And the Secretary of State's office has never enforced the requirement, he said. Secretary of State spokesperson Tracy Wimmer told Bridge the state relies on complaints to initiate investigations.
"There is an absolute need to reform the system," said David Woodward, an Oakland County commissioner and a leader in the effort to get a $15 minimum wage in Michigan.
Raise the Wage is one of several ballot measures that missed a recent deadline to submit petitions to make the November ballot because of fears of fraudulent signatures.
The group is now trying to collect another 100,000 signatures, Woodward said. The fraud, he said, is "incredibly unfortunate and compromises the integrity of the entire system."
Over the years, legislators have called for reform of the petition process, including proposals to ban paid circulators from getting paid by the signature and barring those convicted of election fraud from collecting signatures. The efforts have gotten nowhere.
Michigan is an outlier in that no other state requires more than 10,000 signatures for a statewide candidate. Ohio requires just 1,000. Michigan's rules, updated in 1999, switched from a system that required a percentage of voters in the last election.
Brown, the gubernatorial candidate, said he wished he could have had a way, perhaps through the Michigan Secretary of State's office, to spot-check signatures as they came in, giving him the ability to ensure he was getting good signatures.
Nessel told Bridge that barring per-signature payments would take away the financial incentive for people to cheat.
At least eight states had such a ban in place as of last year. The Arizona Court of Appeals ruled in May that the state's ban on payment per signature gathered was unconstitutional for violating the First Amendment.
Jason Roe, campaign manager for the term limits initiative, called 2022's petition fiasco an "anomaly" and said he's not sure there is a legislative solution.
If anything, this year shows the system works because the fraudsters were caught, he said.
"Signature gathering is the Wild West of politics," Roe said. "If (campaigns) employ grifters, do we need legislation to spell that (out)? Or should the candidates who want to run states or run for Congress maybe pay a little more attention to the people they are employing to do the work for them?"
Only donate if we've informed you about important Michigan issues
See what new members are saying about why they donated to Bridge Michigan:
"In order for this information to be accurate and unbiased it must be underwritten by its readers, not by special interests." - Larry S.
"Not many other media sources report on the topics Bridge does." - Susan B.
"Your journalism is outstanding and rare these days." - Mark S.
If you want to ensure the future of nonpartisan, nonprofit Michigan journalism, please become a member today. You, too, will be asked why you donated and maybe we'll feature your quote next time!