Ryan Kelley: Firebrand activist '100% unapologetic' in Michigan governor bid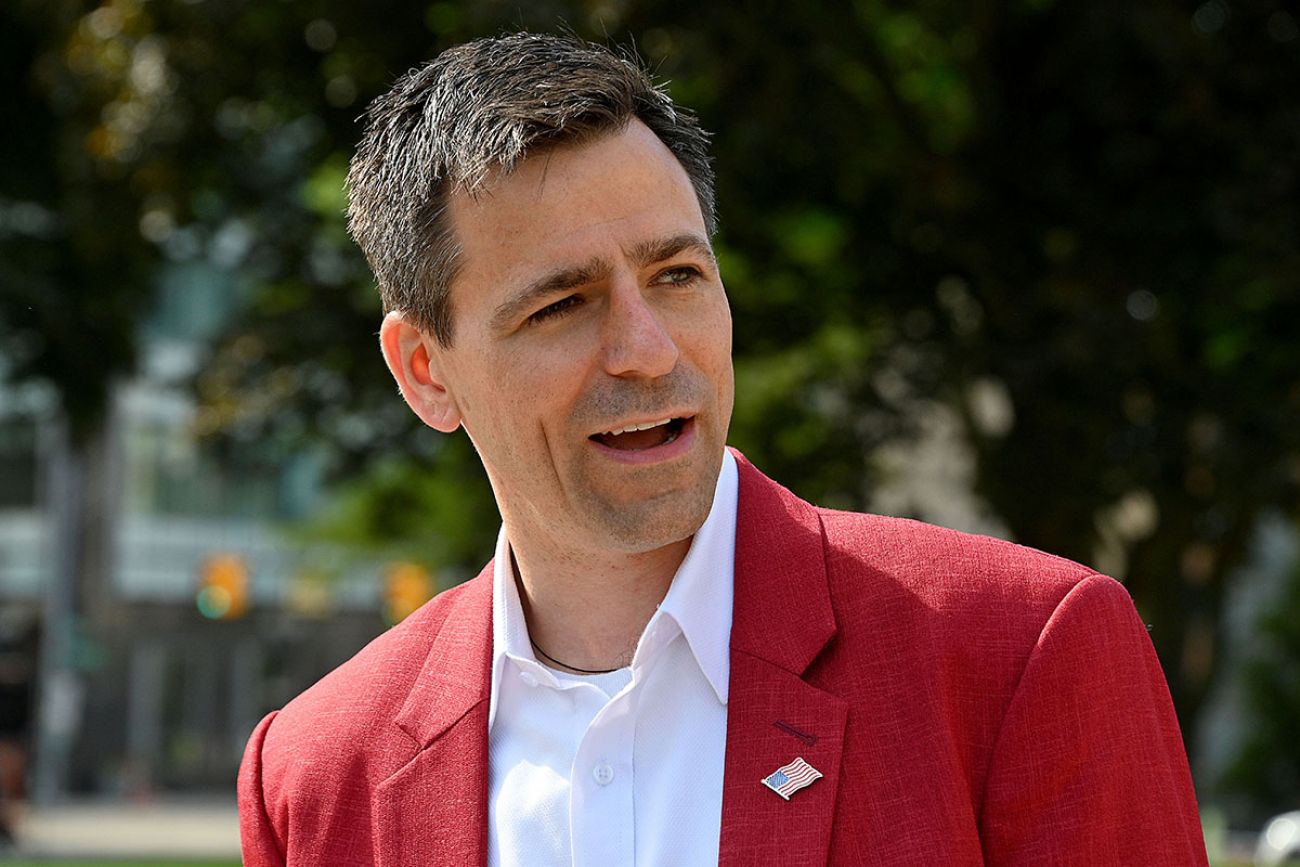 Ryan Kelley made his mark on Michigan politics by organizing anti-lockdown rallies at the Michigan Capitol. (Bridge photo by Dale Young)
Michigan Government
Ryan Kelley: Firebrand activist '100% unapologetic' in Michigan governor bid
GRAND RAPIDS — Ryan Kelley was in the Huron-Manistee National Forest, where his kids had delighted in the sound of a tree falling and sang in the car during a pizza run, when he recommended the experience to his viewers.
"Life is good when you're camping," he said in a fall 2020 YouTube video posted on his "Kelley Krew" channel, where he and his wife chronicled their lives while offering advice on parenting, homeschooling, sex, home makeovers and more.
Then, Kelley walked into the woods and recorded a very different video for the American Patriot Council, which he had co-founded earlier in the year. He demanded authorities arrest and imprison Michigan Gov. Gretchen Whitmer for emergency orders she had issued during the COVID-19 pandemic.
"We need to start blowing up law enforcement across this nation, and we need to make a big deal out of this," Kelley said in the tense clip. "No more lawsuits, no more thinking a court is going to handle this. These are criminals."
Related:
The videos highlight Kelley's public transition from a self-described "YouTube entertainment personality" to a firebrand who had already organized a massive anti-lockdown protest at the Michigan Capitol and invited armed militia members to serve as "security."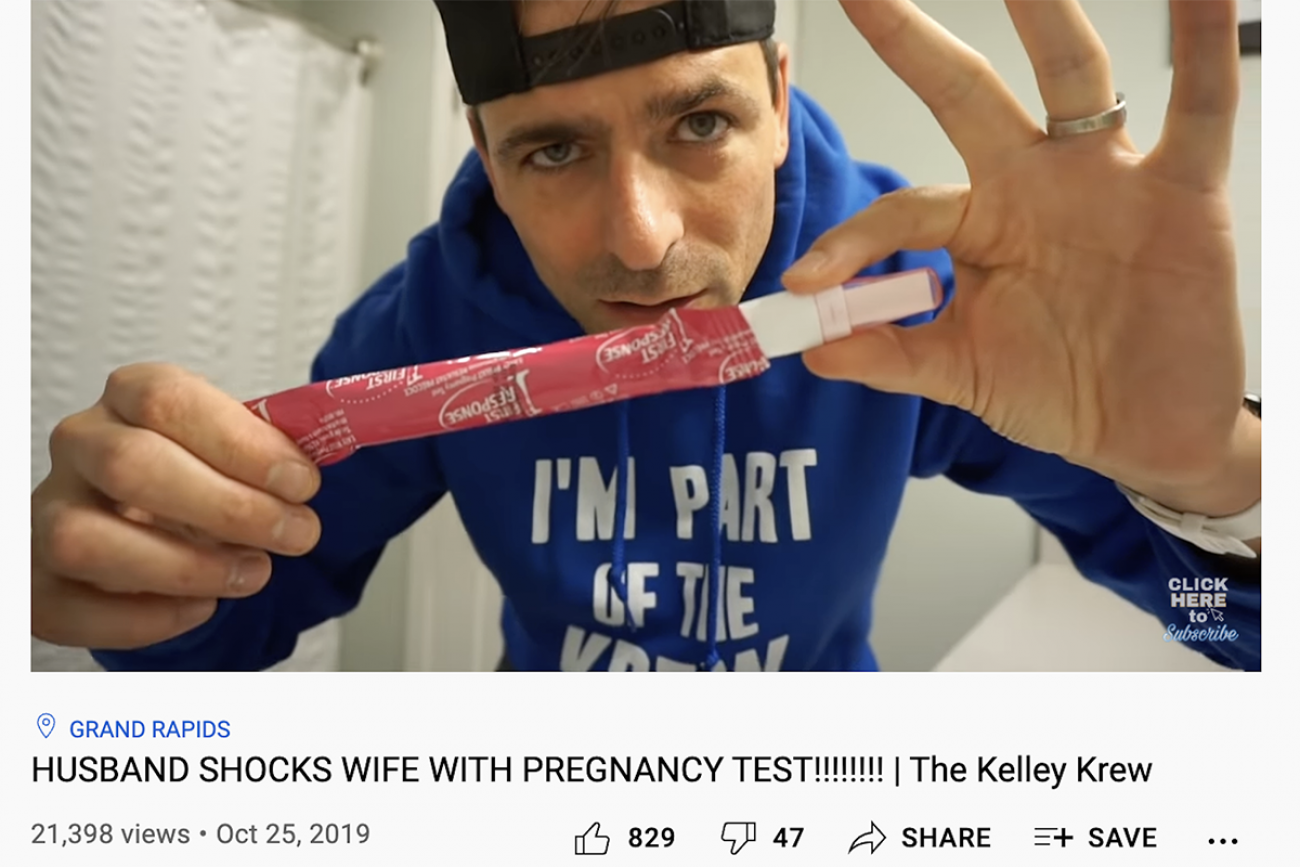 Before he was a political activist, Ryan Kelley was a "YouTube entertainment personality" who created videos with his wife and kids. (YouTube screenshot)
Now running for Michigan governor, the Allendale Township real estate broker and former family vlogger has positioned himself to the far right of the five-candidate Republican field competing to take on Whitmer, a first-term Democrat seeking re-election.
Calling himself "100 percent unapologetically American," Kelley is touting his activism over the past two years, including anti-vaccination efforts, his defense of a Confederate soldier statue in west Michigan and his recent arrest stemming from riots at the U.S. Capitol on Jan 6, 2021, when loyalists to former President Donald Trump attempted to block congressional certification of his election loss.
"I have a large history of things that I've done to stand up for the state, which really none of the other gubernatorial candidates have," Kelley told Bridge Michigan earlier this year. "None of the other candidates actually took that kind of action in 2020, when it mattered most."
Once considered a longshot by pundits, Kelley has climbed in the polls since his June arrest on misdemeanor charges of "disorderly and disruptive" conduct at the U.S. Capitol. He has offered a series of provocative policy proposals in his race against Garrett Soldano of Mattawan, Tudor Dixon of Norton Shores, Kevin Rinke of Bloomfield Township and Ralph Rebandt of Farmington Hills.
Among other things, Kelley has promised to declare the pandemic "over" on his first day in office by lifting any remaining regulations, ban private employer mandates and eliminate any "diversity, equity and inclusion" positions in state government. He also wants to decertify" the 2020 presidential election and replace voting machines with full hand counts, which experts say could delay election results for days, if not weeks or months, and reduce accuracy.
As with other Republicans competing in the Aug. 2 primary, Kelley has never held elected office. He was appointed to serve as an Allendale Township planning commissioner, however, and argues his fight against COVID-19 restrictions show he has the leadership ability to govern a state of 10 million people.
"It affected my real-estate business and my life with my family," Kelley told Bridge last week, explaining how Whitmer's COVID-19 policies compelled him to organize protests that launched his political career. "It impacted all aspects of everybody's day-to-day life."
If elected, Kelley has promised to "audit" the state budget to eliminate wasteful spending, reduce business taxes and regulations and make Michigan a "constitutional carry" state by eliminating the need for concealed pistol permits. He also wants to form a "people's cabinet" within his administration to ensure Michigan residents "have a place to make their voices heard."
From pregnancy tests to armed protests
Kelley, 40, lives in Allendale Township with his wife and six children. He attended Grand Rapids Community College but did not graduate. Prior to the pandemic, Kelley was best known for his real estate work, which landed him on local television at least once, and as a YouTube influencer.
In 2019, Kelley and his family traveled the country in a RV on what they called a "#LetsConnect American YouTubers Tour," meeting other families who also documented portions of their lives on the video sharing site. They sold T-shirts and stickers to fans who followed their journey online.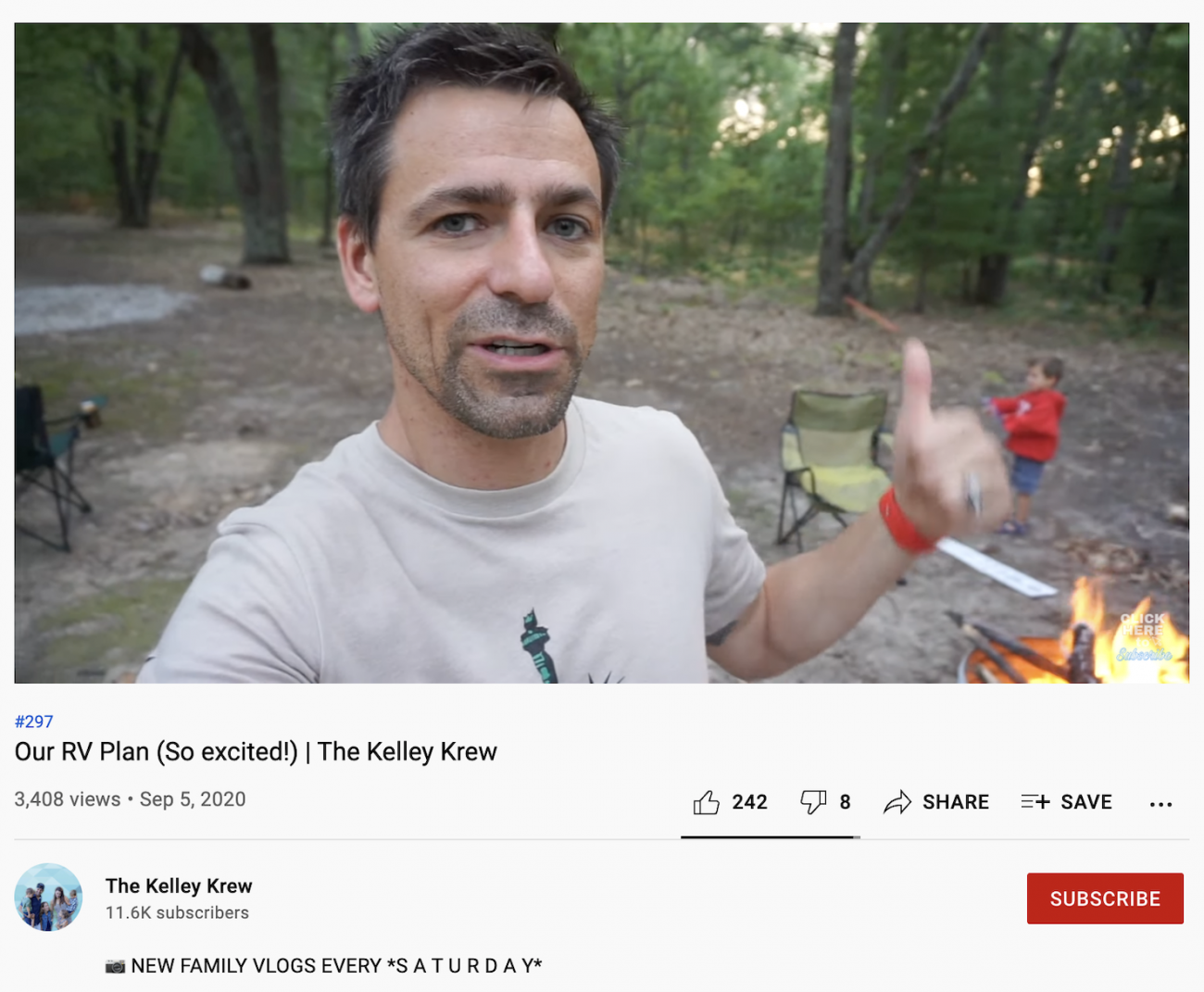 "Life is good when you're camping," Ryan Kelley said in a fall 2020 video on the "Kelley Krew" YouTube channel (YouTube screenshot)
In one of their most popular YouTube videos, filmed back at their home in Michigan, Kelley purported to "shock" his wife by revealing she was pregnant after testing "a little bit of her pee" he said she left behind in their toilet.
"Normally, it's the girl that surprises the guy," Kelley said in the video, which played for laughs, is no longer online and doesn't make it clear if his wife already knew she was pregnant.
Kelley has since used his social media skills on the campaign trail. He boasts more than 97,000 followers on Tiktok, where he's earned more than 1 million "likes" on campaign videos, including an April post in which he promised to "prosecute" school boards that make "sexually explicit content" available to kids. It's "one of the biggest problems" in Michigan public schools, he claimed.
"I learned a lot about America" and video editing through the YouTube series, Kelley told Bridge Michigan last week following a gubernatorial debate, saying the cross-country tour "brought our family together." But those skills don't easily "translate into running the government," he acknowledged.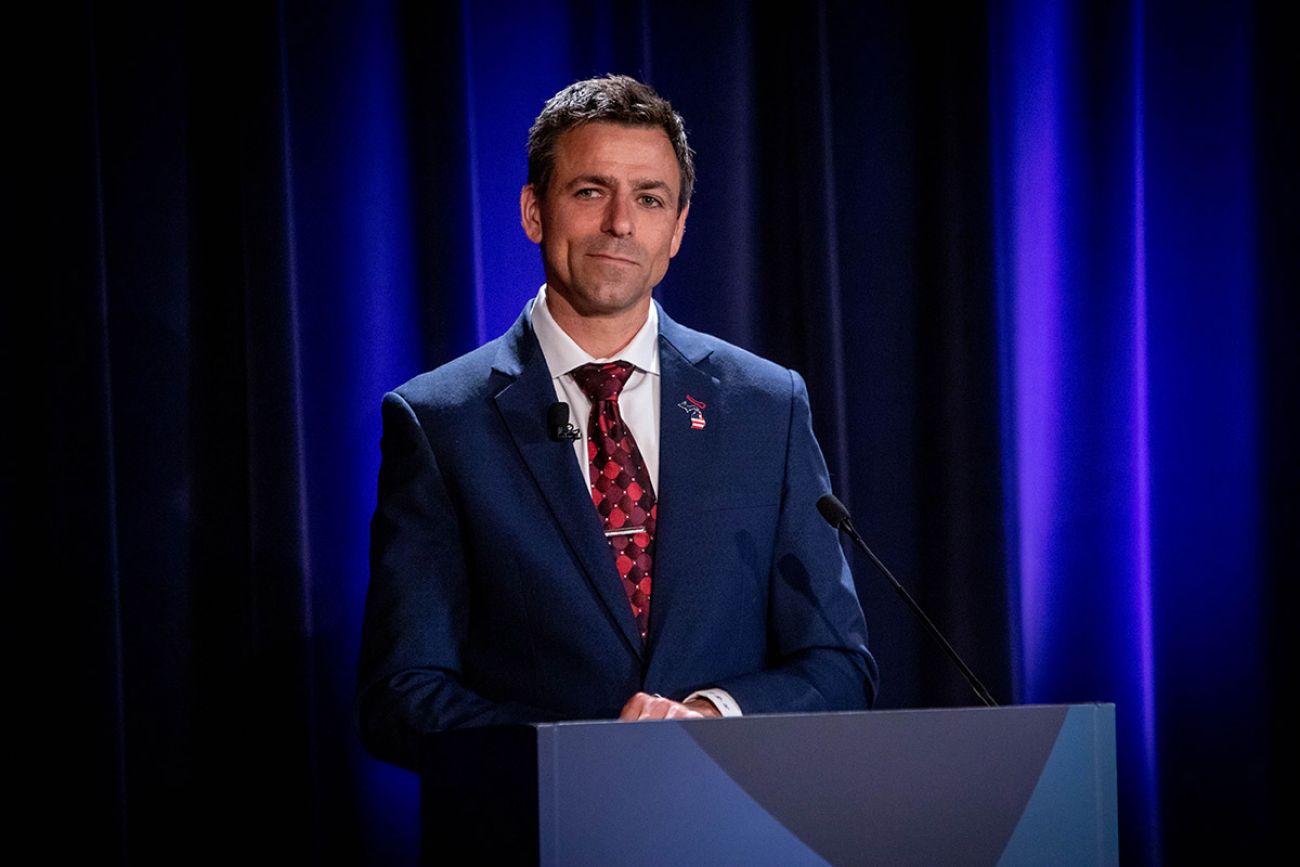 As governor, Ryan Kelley says he would try to "decertify" the 2020 presidential election and cancel state contracts with election tabulator machine companies. (Photo courtesy of Michael Buck/WOOD TV-8)
Instead, Kelley touts his real-estate business. He previously sold waterfront properties as chief executive officer of City2shore. His current firm, NuCon Realty, specializes in new construction homes and commercial property sales.
State records indicate Kelley also tried to start a limo service in 2009 and, as of 2014, told the Wyoming-Kentwood Chamber of Commerce he was selling ASEA, a supplement that purports to use "redox signaling molecules" to improve health but is mostly just distilled water with salt, according to Joe Schwarcz, a pseudoscience researcher at McGill University.
"I think our government is meant to operate like a small business," Kelley told Bridge. Small business owners should be "engaging" in government to ensure officials are making "principled decisions" and "doing the right thing," he added.
Kelley burst onto the scene as a political activist in April 2020, when he organized a rally that drew thousands to the Michigan Capitol to protest Whitmer's COVID-19 orders and demanded Republican lawmakers reject the governor's request to extend an emergency declaration. They eventually did.
At the time, Kelley told reporters he invited militia members to serve as a "security" detail at the rally and suggested anyone who had a problem with that should read the Constitution and "live life without fear."
The protest made national news after armed demonstrators entered the Capitol, including some who carried their firearms into galleries overlooking the state House and Senate chambers. Two of the men were later arrested on accusations they helped surveil Whitmer's home as part of an alleged kidnapping plot.
"We had so many guns, and we got the vote we wanted from our Legislature," fellow organizer Jason Howland said in a podcast with Kelley. "We made noise and we let them know that we meant business. A show of force is exactly what it means to keep and bear arms."
Kelley organized another anti-lockdown rally a few weeks later in Grand Rapids, followed by another at the Michigan Capitol in June, where he urged fellow activists to "unite as a militia" to "protect our citizens in pursuit of life, liberty and happiness."
Later in June, Kelley openly carried his own firearm in a counterprotest against potential removal of a Confederate soldier statue in Allendale Township, which he argued was an attempt by groups like Black Lives Matter to "erase our history."
"We need to celebrate our history, to remember our history and why the freedom of slavery happened," he told WWMT-TV at the time, suggesting that if the statute was torn down, the U.S. Constitution could be next.
Jan. 6 arrest
After Joe Biden won Michigan's 2020 presidential election by 154,188 votes, Kelley's activism shifted to "stop the steal" rallies, where he coupled conspiracy theories about COVID-19 with claims the election was "rigged" against Trump.
"COVID-19 was made so that they can use the propaganda to control your minds so that you think, if you watch the media, that Joe Biden won this election," he said in a November 2020 rally at the Michigan Capitol. "We're not going to buy it. We're going to stand and fight for America, for Donald Trump."
The FBI highlighted those comments in a June affidavit when agents arrested Kelley for his alleged role at a pro-Trump rally at the U.S. Capitol in 2021. Agents also raided his Allendale Township home in front of his wife and children.
Kelley has acknowledged he was in Washington D.C. to protest the election on Jan. 6 but has denied entering the Capitol, and federal authorities have not produced any evidence to contradict that claim.
But they say video evidence —including footage Bridge Michigan reported on last year as part of an extremism investigation — will prove Kelley engaged in "disorderly and disruptive conduct" in a restricted area and damaged a tarp "covering the northwest scaffolding" outside the building, among other things.
Kelley has argued he was simply expressing his First Amendment right to protest the 2020 election and accused the Biden administration of "weaponizing" the Department of Justice. His GOP primary competitors rushed to his defense, questioning the timing of his arrest, which occured the same day a congressional panel began a series of hearings on the U.S. Capitol attack.
Kelley last week pleaded not guilty to four misdemeanor charges, each punishable by up to one year imprisonment. He is not due back in court until September, which means he is not expected to stand trial on the criminal charges until well after the GOP primary is decided.
In the meantime, Kelley is prohibited from leaving the state without notifying the court and cannot possess guns despite his attorney's request he be allowed to continue carrying a concealed pistol for self-defense on the campaign trail.
The arrest has helped his campaign, Kelley said last week, suggesting he's "seen the support grow across the state" and "the entire country." He's raised more than $16,000 for a legal defense fund and has garnered national attention, including a Fox News appearance on Tucker Carlson Tonight.
Kelley has polled at or near the top of several recent surveys of the GOP primary field. His arrest appears to have helped him with Republican voters who believe "that government isn't just incompetent, it's corrupt," said John Sellek, a political veteran with Harbor Strategic Public Affairs in Lansing.
"There's no question he has an opportunity to win" the primary, but without additional fundraising to pay for advertising, Kelley may struggle to build on his recent momentum and reach voters outside the "hardcore MAGA GOP social media circle" that "made him," Sellek told Bridge.
In Colorado, Democrats recently bankrolled ads for a far-right Republican they thought would be more beatable in the general election. It's possible Michigan Democrats could follow suit and encourage their voters to cross over and vote for Kelley in the state's open primary, which is allowable under state law, Sellek said.
'A threat to their democracy'
Kelley's recent popularity surge reflects a Republican Party that remains locked in the grip of Trump, said Jeff Timmer, a former executive director of the Michigan GOP who left the party over its fealty to Trump and is now working as a campaign consultant for Attorney General Dana Nessel, a Democrat who is up for re-election.
"Before his arrest, (Kelley) wasn't even in the conversation," Timmer said. "He would have finished sixth out of the five candidates. But now, he is arguably the frontrunner for Trump's endorsement. The dynamics have changed completely."
Critics have called the Jan. 6 riots an attempt to subvert democracy, and Democrats argue that Kelley's participation makes him unfit to serve.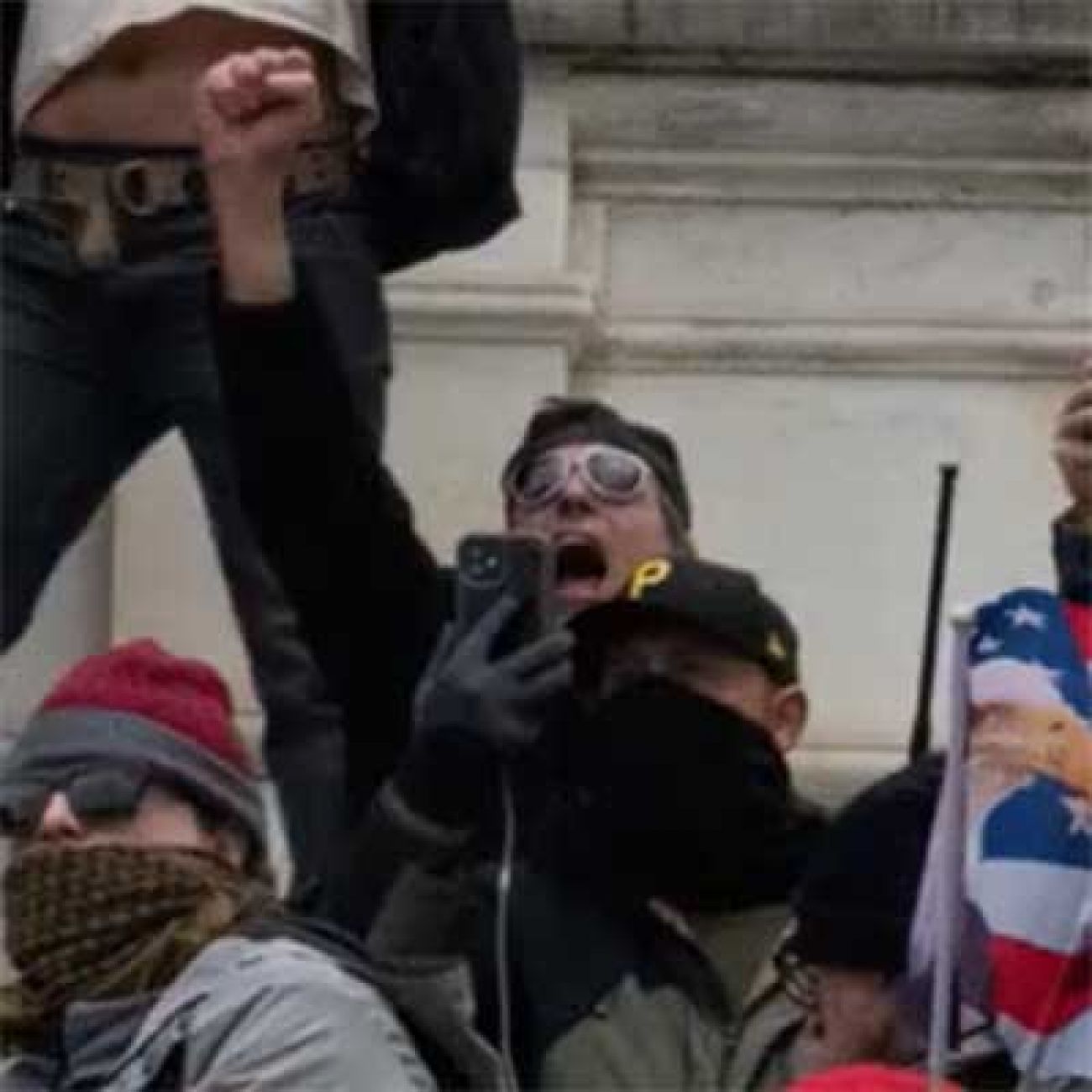 Video of the Capitol riots shows Ryan Kelley, a GOP candidate for governor in Michigan, atop a stairway at the U.S. Capitol waving others up and pumping his fist. (Parler screenshot)
He's scoffed at the criticism.
"They see me as a threat to their democracy, and I am," Kelley told NBC News last month. "I am a threat to their democracy, because we're a republic which upholds the individual liberties and rights of the people."
While the United States can also accurately be called a representative democracy, Kelley and other conservatives have increasingly called it a republic, which entrusts elected representatives to make laws on behalf of the people they serve.
It's a notable distinction for supporters of Trump, who was elected without winning the popular vote but arguably reshaped American politics for decades by appointing three justices to the U.S. Supreme Court.
Democracy is just "mob rule" where "51 percent of the people control the other 49 percent of the people," Kelley told Bridge Michigan, explaining his frequent campaign references to the republic. "I believe that's an important talking point for the next generation to understand that it's not the emotional whims of 51 percent of the people that determine our future."
Kelley and other "faux patriots" are using that language to justify "minority rule," said Timmer, the former GOP official turned Trump critic.
"We're a democratic republic. We democratically elect our representatives, and it's not like Ryan Kelly is some kind of rocket scientist who's figured that out," Timmer said.
While Kelley's arrest appears to be playing well in the GOP primary, it could be a boon to Whitmer if he advances to the general election, said Sellek, who worked on 2018 Republican gubernatorial nominee Bill Schuette's campaign.
Kelley could allow Democrats to change the conversation away from things they don't want to talk about, including Biden's unpopularity and "the complete sense of unbalance that the world is delivering to people" under his administration in Washington, D.C., Sellek said.
Whitmer "really needs this to be a referendum about a person on the GOP side that they can tar and feather as Trump or anti-democratic or subversive in a way that makes people who can't pay their bills right now uncomfortable," he said.
And among the field of five candidates, Kelley would be "the easiest one for the Democrats to paint that way," Sellek concluded.
Only donate if we've informed you about important Michigan issues
See what new members are saying about why they donated to Bridge Michigan:
"In order for this information to be accurate and unbiased it must be underwritten by its readers, not by special interests." - Larry S.
"Not many other media sources report on the topics Bridge does." - Susan B.
"Your journalism is outstanding and rare these days." - Mark S.
If you want to ensure the future of nonpartisan, nonprofit Michigan journalism, please become a member today. You, too, will be asked why you donated and maybe we'll feature your quote next time!