They were at the Capitol riot. Now, these Michigan Republicans want your vote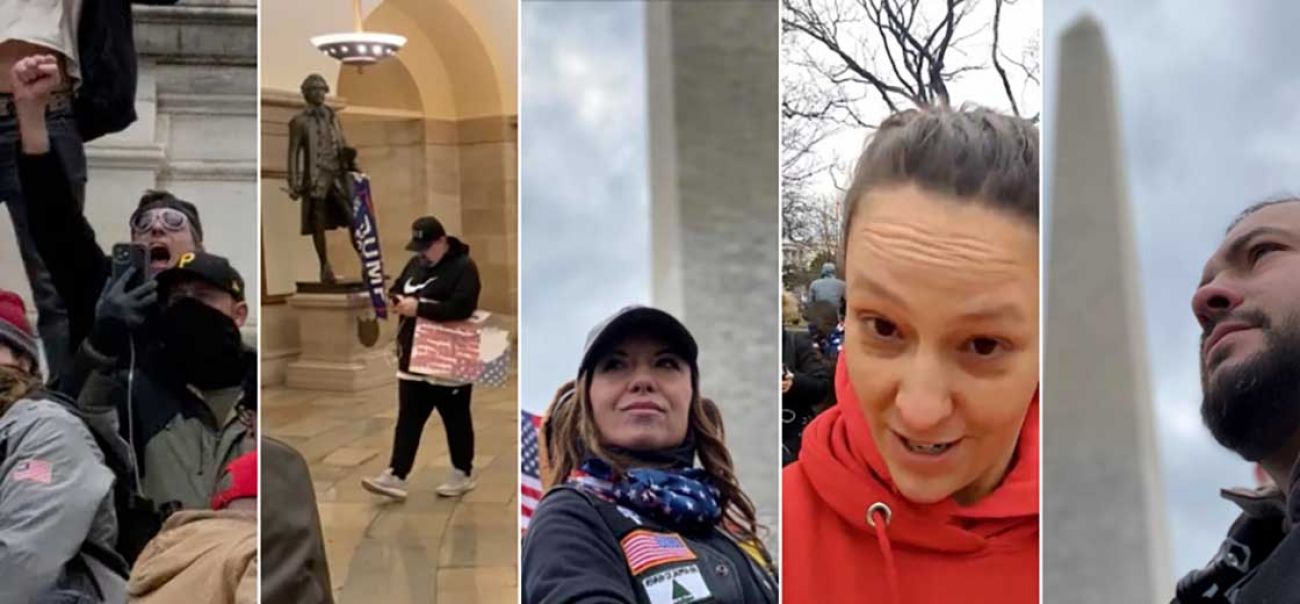 From left: Ryan Kelley, Jason Howland, Angela Rigas, Audra Johnson and Jon Rocha — seen here in video footage and social media posts — were at the U.S. Capitol on Jan. 6 to protest an election lost by former President Donald Trump. (screenshots)
Michigan Government
They were at the Capitol riot. Now, these Michigan Republicans want your vote
June 9, 2022: FBI arrests Ryan Kelley, Michigan GOP governor candidate, over Capitol riots
June 23, 2021: GOP investigation finds no Michigan vote fraud, deems many claims 'ludicrous'
Ryan Kelley climbed on scaffolding, helped a man moving a police barricade and repeatedly waved fellow protesters toward the Capitol riots in Washington, D.C., on Jan. 6.
Now, he's running for governor of Michigan.
Kelley's ally in organizing rallies against pandemic orders in Michigan, Jason Howland, was there that day too, just feet away from a clash between protesters and police. He made it inside the Capitol with hundreds of others, many of whom now face criminal charges.
Related:
Howland is now running for state House.
Also at the Washington, D.C. protests were congressional candidates Audra Johnson and Jon Rocha and state House candidate Angela Rigas. They say they weren't on the front lines of the insurrection and were simply exercising their rights to demonstrate and protest.
Now, these conservative activists are asking voters for their support even as former President Donald Trump, who called them to D.C., continues his false claims that election fraud caused his loss to Democrat Joe Biden.
The candidates "are a walking contradiction," said Jeff Timmer, former executive director of the Michigan Republican Party who is part of a national group urging the GOP to cut ties with Trump.
"'Your vote matters but it doesn't really matter because it's going to be fraudulent and rigged anyway' is not an intellectually consistent message."
By and large, the candidates are campaigning on similar themes to protect freedom and restore "election integrity."
All are considered longshots, but "it's dangerous to dismiss these people as fringe or extremists, because the Republicans' actions in Washington and Lansing show that these people are very mainstream in today's party, and they should be taken seriously," Timmer said.
In recent months, other activists who fought to "stop the steal" have assumed leadership positions in the Michigan Republican Party, including new co-chair Meshawn Maddock, who was in Washington D.C. and spoke at a pro-Trump rally a day before the insurrection.
Following Trump's lead, 15 Michigan legislators and four of the state's six congressional Republicans joined lawsuits seeking to overturn the election. Three of those members of Congress — U.S. Reps. Jack Bergman of Watersmeet, Tim Walberg of Tipton and Lisa McClain of Bruce Township — voted to block Biden electors just hours after the insurrection.
Persuading Republicans who do not trust elections to vote is a challenge, acknowledged Rocha of Kalamazoo, who works in manufacturing. He is running to unseat U.S. Rep. Fred Upton, one of 10 congressional Republicans who voted to impeach Trump for inciting the Capitol riots.
"People don't trust the system, period, but it's our job to reassure them that we're going to fight the system," Rocha told Bridge Michigan, noting people have told him they won't vote because they're not sure "if it's going to be stolen again."
Footage from the frontlines
Bridge Michigan, with grant support from the Fund for Investigative Journalism, reviewed hours of footage and photographs of the Capitol riots.
Among other things, the images show Kelley and Howland, often near each other but not together, immersed in large crowds that moved toward the Capitol from the northwest bleachers between roughly 1:30 p.m. and 3 p.m. despite flash bang grenades, tear gas and the arrival of riot police.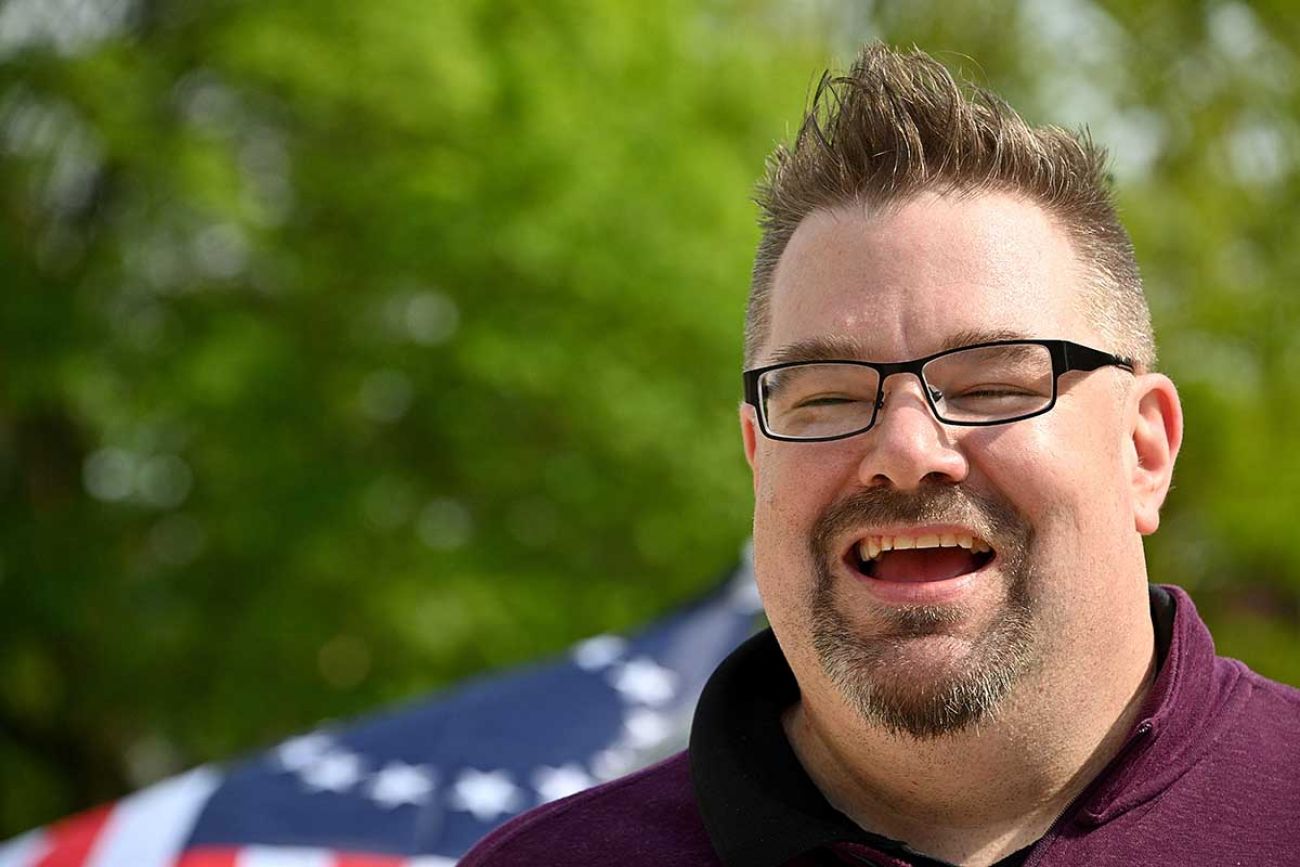 Jason Howland, a Michigan Republican now running for state House, was filmed inside the U.S. Capitol on Jan. 6. (Bridge Michigan photo by Dale Young)
There are clear images of Howland inside the Capitol wearing the same hat and Nike sweatshirt that he wore to Michigan rallies. Kelley was filmed outside the building encouraging protesters, wearing the same peacoat, aviator glasses and red watch band as he did at Michigan events.
Footage of the two is widely available online because a group they cofounded, the American Patriot Council, organized public protests of Michigan lockdown orders last year.
Kelley, an Allendale planning commissioner, also has gained publicity for protesting against removal of a Confederate soldier statue in Allendale and organizing militia-backed protests against Democratic Gov. Gretchen Whitmer at the Michigan Capitol and in Grand Rapids.
There is no known evidence that either were personally violent during riots on Jan 6 linked to at least four deaths and hundreds of arrests across the country, including eight Michigan men.
Federal officials have charged many who entered the Capitol that day with unlawful entry, a misdemeanor or felony depending on the nature of the offense, even if they didn't assault anyone.
Approached by Bridge Michigan at a recent Lansing rally, Kelley declined to discuss his actions on Jan. 6, instead telling a reporter to "Google all that stuff" and walking away.
Asked later about specific footage of him waving protesters toward the Capitol and filming as others clashed with police, Kelley responded to a voicemail with a text, stating that he did not enter the Capitol and "did not engage in any altercation or confrontation with law enforcement."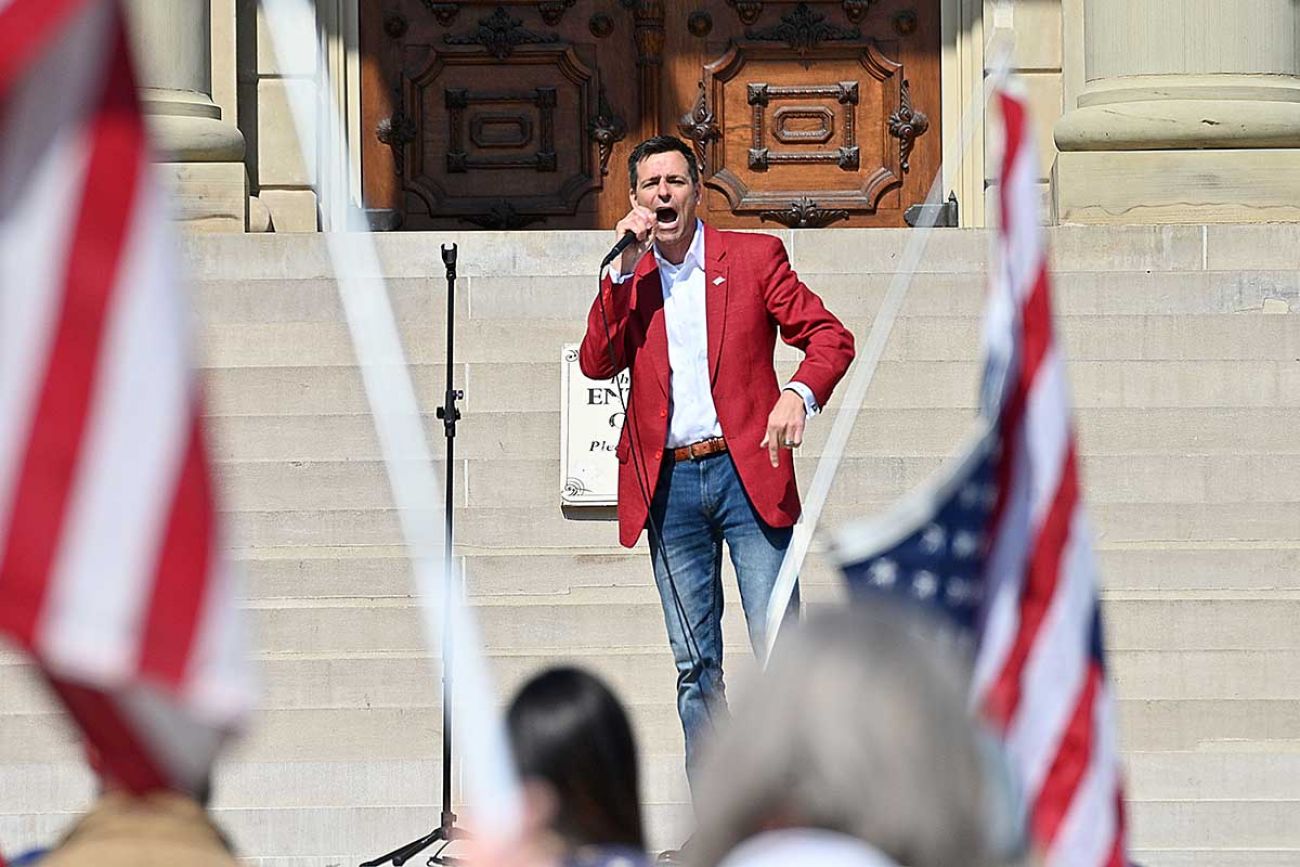 Michigan Republican gubernatorial candidate Ryan Kelley, seen here at the Michigan Capitol on May 15, has acknowledged he was at the U.S. Capitol on Jan. 6, but did not go inside. (Bridge Michigan photo by Dale Young)
Also approached by Bridge in Lansing, Howland said he "hung out" in Washington D.C. on Jan. 6 but did not go inside the Capitol.
The Mount Clemens Republican did not respond to follow-up voicemails seeking comment on video showing him inside the building, including footage published by ProPublica.
"It's not an insurrection when everybody's carrying a flag for the country that they're saying they're trying to overthrow, chanting USA, USA," Howland, who is campaigning for the 31st District state House, previously told Bridge.
'Let's go'
According to the footage reviewed by Bridge:
The crowd outside the U.S. Capitol was growing restless about 1:50 p.m. on Jan. 6 when Howland, just rows back from a line of police blocking a stairwell, turned around and appeared to shout "let's go" while Kelley filmed from further back.
As other rioters later pushed past police, with one person spraying a liquid substance and another striking an officer with a Trump flag, Howland disappeared in the crowd rushing up the stairs. Kelley appeared to distance himself from the fray and did not immediately join the push.
Kelley later positioned himself on a stone ledge and occasionally waved to the crowd. He helped a man move a Capitol police security barricade and he climbed scaffolding. And, after another man bleeding from the head was pulled up onto the ledge, Kelley took out his phone to document the blood.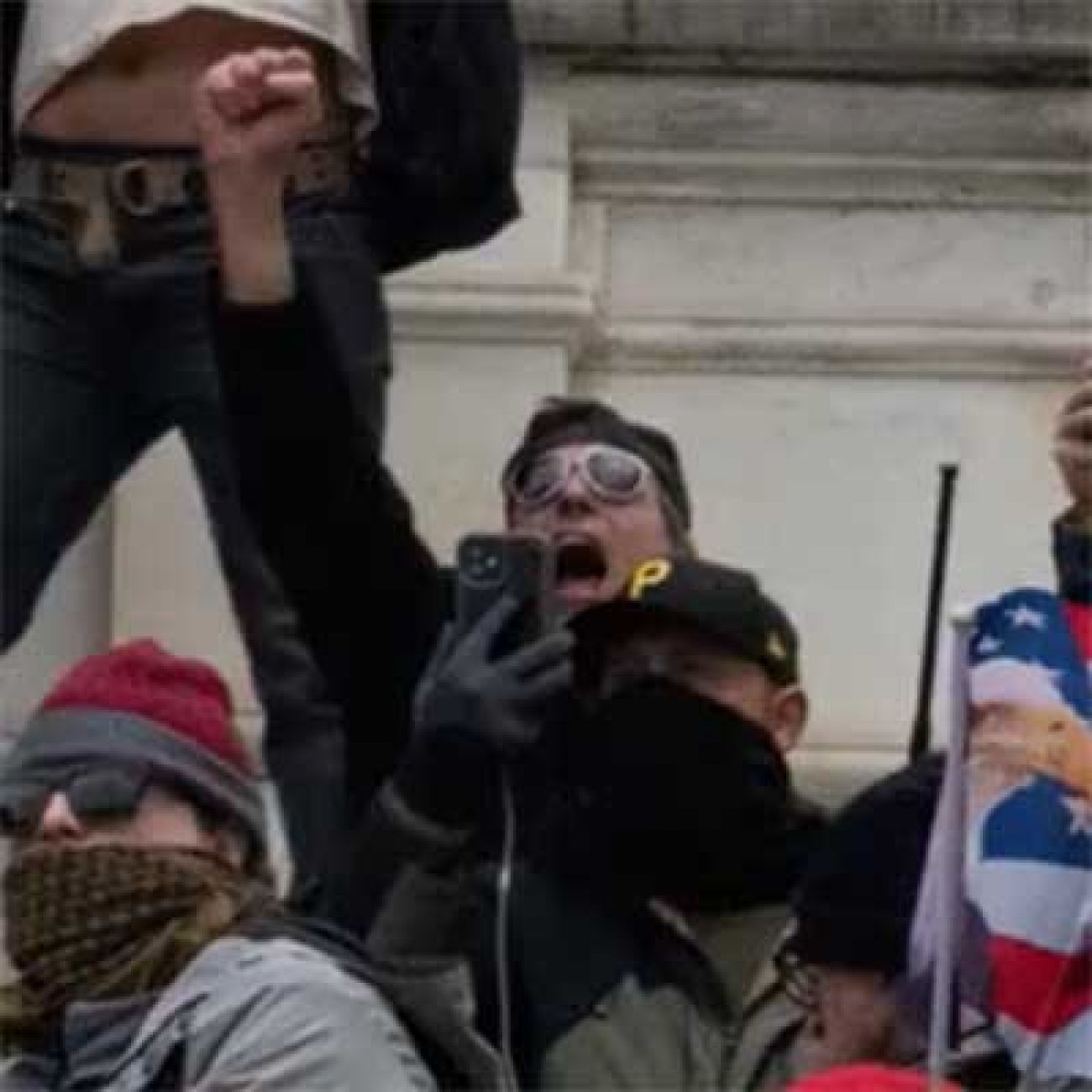 Video of the Capitol riots shows Ryan Kelley, a GOP candidate for governor in Michigan, atop a stairway at the U.S. Capitol waving others up and pumping his fist. (Parler screenshot)
As Capitol police retreated up the stairwell with rioters chasing them, Kelley ran along the stone railing 25 to 50 feet behind. He stopped at the top of the stairway, waving others up and pumping his fist, before later moving to an outdoor terrace.
That was at about 2:11 p.m., according to video time stamps reviewed by Bridge.
Within the next five minutes, the first wave of rioters entered the Capitol, Vice President Mike Pence was escorted out of the Senate chambers and federal officers would lock down both the House and Senate.
Howland eventually made it into the Capitol, footage shows, although it is not clear how. Multiple videos show Howland in the "Crypt" area under the Capitol rotunda as protesters chanted "USA!"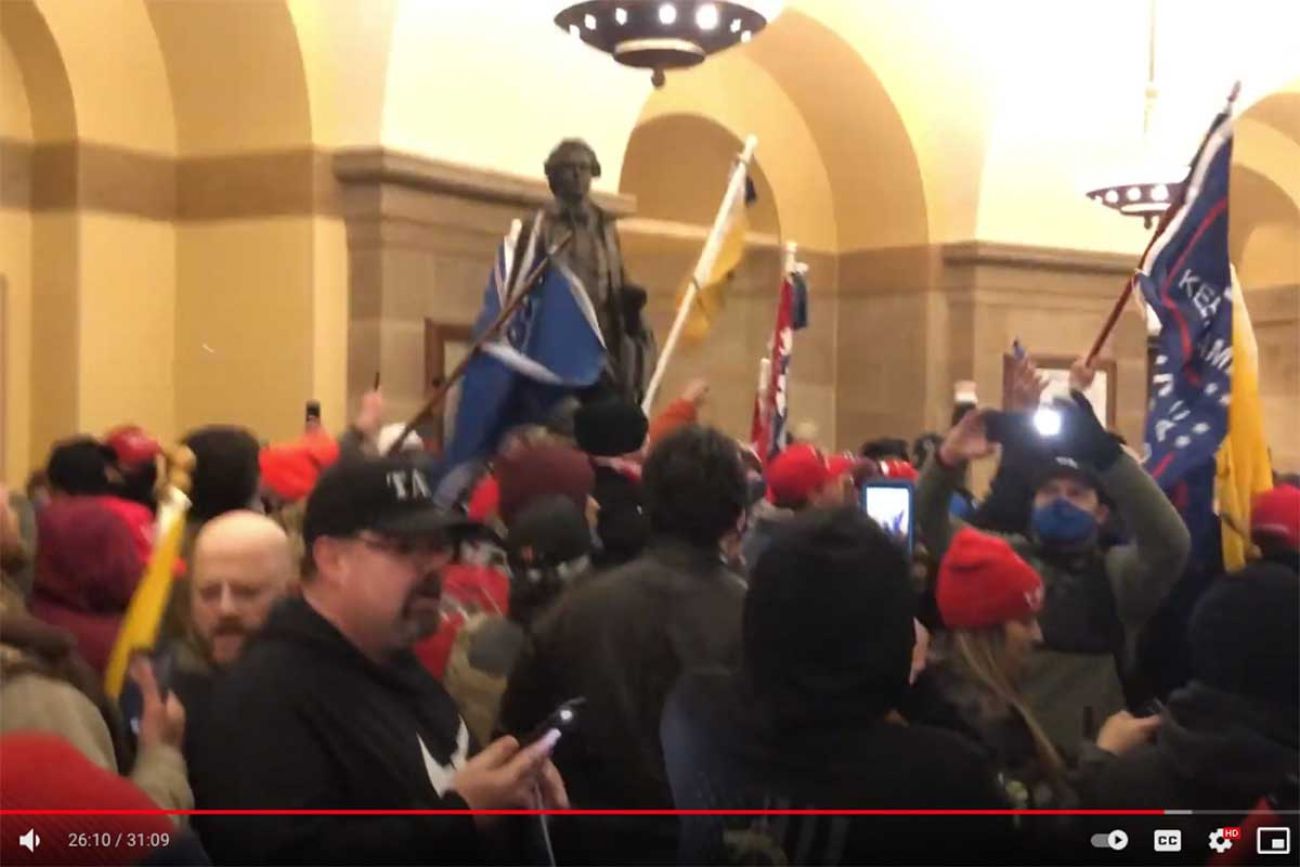 A crowd of protestors made their way into the "Crypt" area of the Capitol rotunda on Jan. 6. In the foreground, wearing a black sweatshirt, hat and goatee, is Jason Howland, a Republican candidate for state House in Macomb County. (YouTube screenshot via Storyful)
He was still carrying the sign he had outside, according to a 2:39 p.m. video published by ProPublica.
Howland was filmed at roughly the same Capitol location where Karl Dresch of the Upper Peninsula posed for a photo prior to his January arrest on related charges, including obstructing an official proceeding, a felony punishable by up to 20 years in prison.
'Insurrectionist… a compliment'
Thousands of other Trump supporters gathered outside the Capitol that day did nothing wrong, said Rigas, an Alto Republican who told Bridge she and friends went to Washington D.C. "because we love our country."
"I didn't go to DC with the idea that suddenly this (election) was all going to be overturned or anything like that," said Rigas, who last month announced she will run for the Michigan state House.
Rigas said she was standing on a "half wall" outside the Capitol, where she was hit by tear gas, which she called "confusing" for her group because "we didn't see any fighting or anything like that where we were."
In a recent speech, Rigas said she considered fleeing but instead "ran right back into the tear gas" to try and "hold the line" against what she considered a "horrific" attack on Americans.
"I didn't expect to be called an insurrectionist or a terrorist or even a treasonist," Rigas said in April. "I have to say, looking at things now, I consider all of those terms a compliment, because our Founding Fathers were called all the same things. So if you want to call me that, I'll take it."
Rocha, the congressional candidate from Kalamazoo, was with Rigas. He told Bridge Michigan he was too far away from the Capitol to understand what was happening inside. They had watched Trump speak nearby and then walked over with what he called a peaceful crowd before leaving around 3:30 p.m.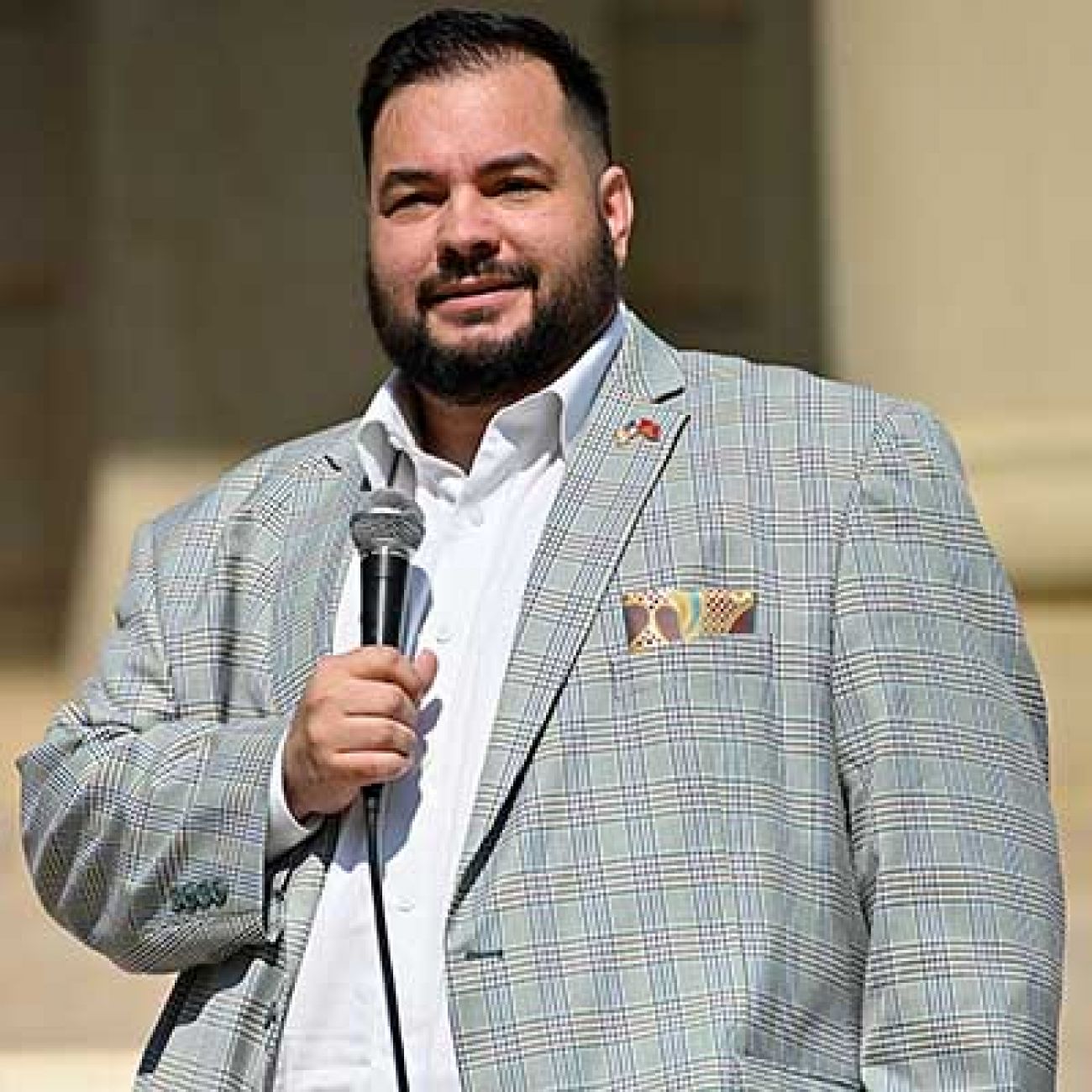 Jon Rocha, a Michigan Republican now running for Congress, was outside the Capitol on Jan. 6, but said he did not even know there had been violence until after he left. (Bridge Michigan photo by Dale Young)
"Cell phone coverage was horrible, so we didn't even know anybody had broken into the Capitol until we were (driving away) well into Virginia and started getting updates," Rocha said.
"Most people had no idea what was going on inside there. No clue."
Rocha is now among four Republicans running against Upton, who has also been censured by local GOP parties for his vote to impeach Trump over the riots.
Johnson, a GOP activist known as the "MAGA Bride" because she wore a Trump dress to her wedding reception, is challenging U.S. Rep. Peter Meijer of Grand Rapids, the other Michigan Republican who voted to impeach Trump for Jan. 6.
Meijer was with colleagues in the House when Trump supporters stormed the Capitol. He has described how frightened lawmakers took cover under bulletproof chairs before police ordered them to evacuate. They eventually took shelter in a committee hearing room.
Meijer and Upton last week were among 35 House Republicans who joined congressional Democrats to vote for establishment of an independent commission to investigate the Jan. 6 Capitol attack.
"A violent mob breached this building to disrupt the lawful presidential transition and threaten the lives of Vice President Pence and members of Congress," said Meijer, who has criticized Trump for encouraging "violent delusions" that the election could be overturned.
Johnson, who has called Meijer a "fake conservative" because of his impeachment vote, "never entered the Capitol" on Jan. 6 and "was never involved in any kind of skirmish," said campaign manager Adam Brassfield.
In a series of Facebook videos she posted from Washington D.C. in the aftermath of the insurrection, Johnson told supporters she "saw everything" from outside. (She later told Bridge she didn't see anyone break into the Capitol.)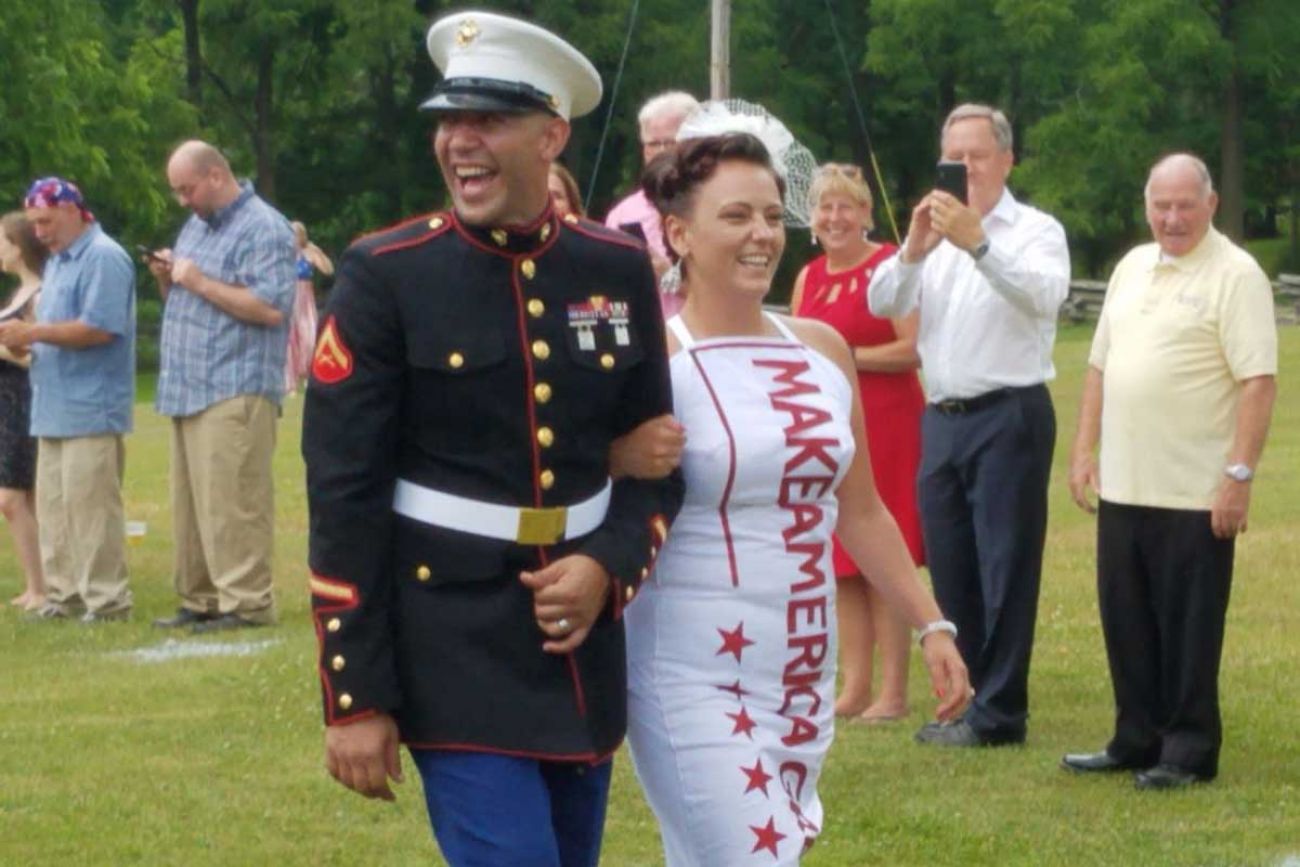 Audra Johnson, shown here marrying Jeff Johnson in 2019, is running for Congress as a Republican against U.S. Rep. Peter Meijer. She was outside the Capitol on Jan. 6 to support Donald Trump. The next day, she posted a video warning "we're already in war." She says she was speaking metaphorically. (Courtesy photo)
"This is God-fearing American-loving citizens who have had enough," she said in a Jan. 6 video shared with Facebook friends but not currently public.
"And to be honest, I don't blame them. We have warned people over and over and over again that you cannot take our freedoms. We won't stand for election fraud."
In another video posted the next day, Johnson told her Facebook followers that "Trump is our leader" and said she did not yet think the election fight was over.
"I need you to know, the storm is coming," she said. "It's already begun. Hunker down and realize this is going to be a fight. Your fellow patriots are already in combat. We're already in war."
"The storm is coming" is a popular slogan among QAnon conspiracy theorists. But Johnson told Bridge Michigan "I'm not QAnon" and instead was commenting on social and political divides with the phrase.
"We are in the midst of a 'civil war,'" she said. "We have families torn apart. My own brother wants me dead. So we're in a war."
Activists candidates
The candidates who attended the Jan. 6 protest and are now running for office rose to prominence last year — often online — in the revolt against Whitmer and her pandemic orders.
"Right now, where is the energy of the GOP? It's the activist, pro-Trump wing," said John Sellek of Harbor Strategic Public Affairs, who worked for 2018 Republican nominee for governor Bill Schuette.
Kelley is one of a handful of gubernatorial candidates competing for the grassroots, anti-lockdown wing of the GOP, including Kalamazoo-area chiropractor Garrett Soldano and conservative media host Tudor Dixon. Retiring Detroit Police Officer James Craig is also expected to run and would enter the race as a likely frontrunner.
Kelley has largely avoided mainstream media since announcing his campaign for governor, but he boasts large followings on social media. He's promoted his candidacy on TikTok, where he has more than 27,000 followers. Howland, meanwhile, has more than 21,000 followers on the platform.
Voters should treat Kelley, Howland and other candidates who tried to overturn the election as "the seditious criminals and traitors that they are," argued Timmer, the former Michigan GOP official urging the party to cut ties with Trump.
"I don't think they can win general elections in a statewide race," he said. "In some of these districts that might be heavily Republican, that's a different story."
Trump supporters who continue to spread misinformation about the 2020 election have lost a series of lawsuits, including an Antrim County case dismissed last week by a GOP judge. Audits have confirmed Biden's 154,188 vote in Michigan.
Polls suggest election falsehoods espoused by Trump have undermined GOP confidence in election integrity, and pro-Trump candidates like Johnson now fear that could hurt their campaigns.
"That's a huge problem," she said. "There's many people that I know... to be really good conservatives, really good constitutionalists, that said, 'If I was going to vote anymore, I'd vote for you.' People are giving up on our elections."
Rocha, the Kalamazoo candidate for Congress who was outside the Capitol on Jan. 6, said he's telling frustrated voters that sitting out the 2022 election won't do them any good: "If you don't vote, for sure you'll lose," he said.
Only donate if we've informed you about important Michigan issues
See what new members are saying about why they donated to Bridge Michigan:
"In order for this information to be accurate and unbiased it must be underwritten by its readers, not by special interests." - Larry S.
"Not many other media sources report on the topics Bridge does." - Susan B.
"Your journalism is outstanding and rare these days." - Mark S.
If you want to ensure the future of nonpartisan, nonprofit Michigan journalism, please become a member today. You, too, will be asked why you donated and maybe we'll feature your quote next time!