Drag queens and MAGA: Tudor Dixon fights culture wars in Michigan governor bid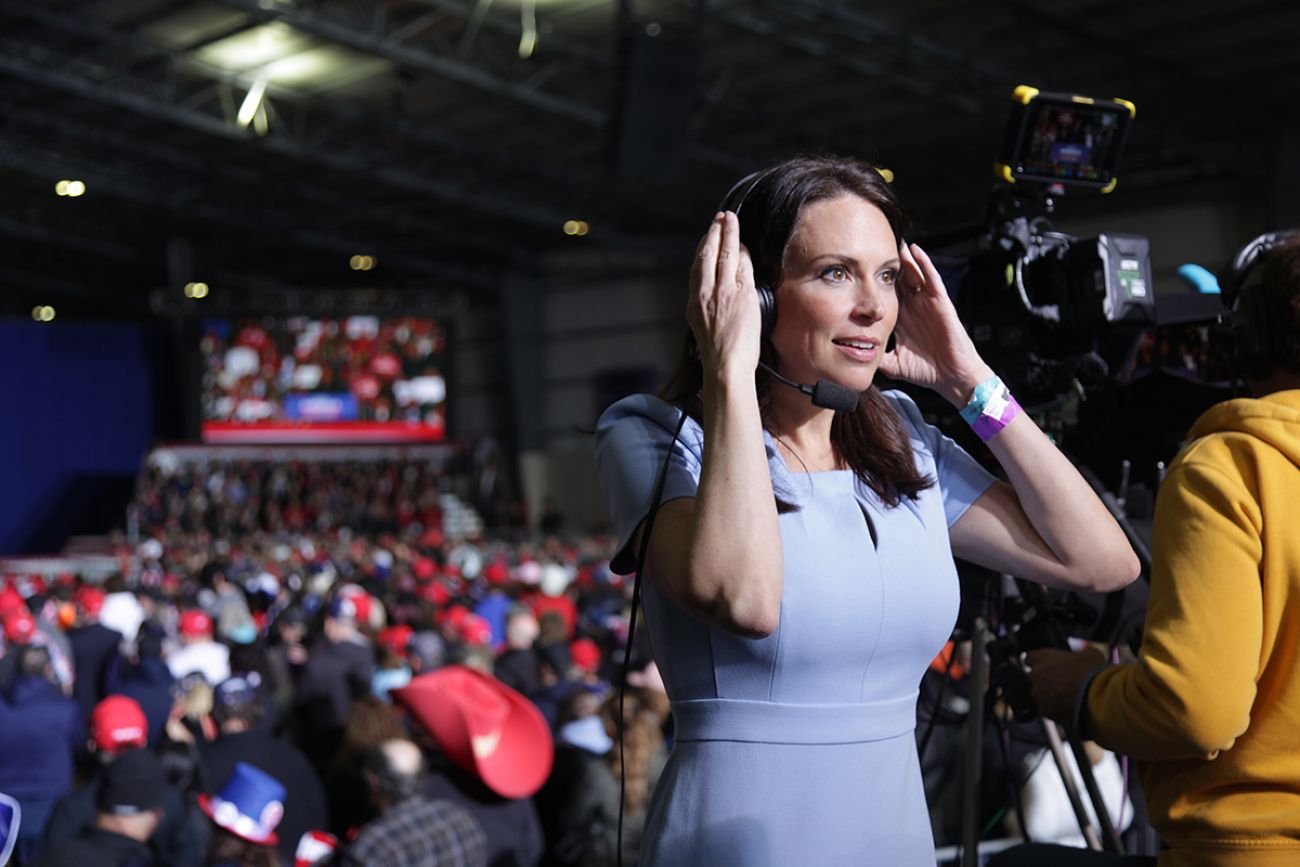 Michigan gubernatorial candidate Tudor Dixon, seen here during an interview at an April Trump rally, has courted the former president's endorsement. (Bridge Michigan photo by Yue Stella Yu)
Michigan Government
Drag queens and MAGA: Tudor Dixon fights culture wars in Michigan governor bid
August 3: Tudor Dixon wins 80 of 83 Michigan counties in GOP governor primary romp
August 2: Tudor Dixon: What to know about the Republican taking on Michigan Gov. Whitmer
LANSING — Fighting what she calls liberal "indoctrination" in public schools isn't just a talking point for Michigan Republican gubernatorial candidate Tudor Dixon.
It's a business model that launched her second career in conservative media and a swift ascent in statewide politics for the Norton Shores resident, who has emerged a favorite of the old-guard GOP establishment.
Dixon, now 45, stepped out of the steel industry in 2017 to co-found Lumen Student News, a subscription-based news service for schools designed to promote American exceptionalism and civics she argued were sorely lacking in contemporary classrooms.
Too many students, she said at the time, have a "romanticized, glamorized view of socialism" and traditional media is "on the socialist side." Her service produced feel-good features like "Awesome America" and reporting on current events.
The idea, Dixon told Bridge Michigan, was borne of fears that "kids are learning that the United States isn't a great place to live anymore." While it proved "hard to get into schools," Dixon parlayed the production into a job as a news host on a conservative streaming network that introduced her to a national audience and influential GOP leaders.
After two years of reporting on issues such as government restrictions early into the pandemic that shuttered businesses and cut family access to the nursing home where her grandmother died, Dixon said she was eager to find solutions.
Related:
"When I started to talk to folks around the state… they were saying, you know, COVID is terrible, but this administration has really been hard on us in general," Dixon told Bridge Michigan in a phone interview, explaining her decision to run for governor.
"There's a part of me that is a doer, and I just wanted to be able to help."
With absentee voting underway in what is suddenly a wide-open primary, Dixon appears to be the traditional Republican establishment's pick to take on Democratic Gov. Gretchen Whitmer, who faces a complicated path to re-election given pushback to her COVID restrictions and other state policies, along with national factors like inflation, gas prices and President Joe Biden.
Dixon has racked up major endorsements from the powerful DeVos family, the Michigan Chamber of Commerce and GOP lawmakers like state Senate Majority Leader Mike Shirkey, and U.S. Reps. Bill Huizenga and Lisa McClain.
Right to Life of Michigan is also supporting Dixon, who last week celebrated the fall of Roe v. Wade, supports a dormant 1931 law that would make most abortions illegal in the state and has argued sex education programs run by Planend Parenthood are part of "business model" to ensure student abortions.
(Editors note: Under existing Michigan law, sex education programs cannot discuss abortion as a form of reproductive health. Planned Parenthood, which only works with school districts whose advisory boards invite them, says none of its sex education programs include information about abortion.)
In a political balancing act, Dixon has also courted grassroots Republicans loyal to former President Donald Trump, who has twice publicly praised Dixon but not yet endorsed in a primary race that experts say he could ultimately decide.
Despite her high-profile backers, Dixon has so far posted sluggish poll numbers in a race against real estate broker Ryan Kelley, chiropractor Garrett Soldano, businessman Kevin Rinke and pastor Ralph Rebandt.
She has "struggled with an identity" in a primary that will be decided by voters increasingly unlikely to care about endorsements from traditional power brokers, said GOP strategist Dennis Lennox.
Dixon launched her campaign last year with appeals to the "MAGA, Brietbart hard-right base of the Republican Party," but has since "morphed into an establishmentarian candidate who has the full support of DeVos world," Lennox said
"It's quite a metamorphosis on her part."
A 'right to know'
Dixon, a political outsider in a field of political outsiders, has taken aggressively conservative positions in her bid for Michigan governor.
She wants to "phase out" Michigan's personal income tax, make it a "constitutional carry" state by eliminating the need for concealed pistol permits and "pardon" business owners penalized during what she calls "illegal lockdown policies" by Whitmer. Echoing Trump's false claims he won Michigan in 2020, Dixon has also proposed tightening voter ID laws and voter fraud penalties.
Education is a top priority. And six years after starting her student news service, Dixon's concerns about public school curriculum have become mainstream in a party reshaped by Trump.
GOP candidates across the country are vowing to limit classroom conversations on race and sexuality, and Dixon has positioned herself on the frontlines of that culture war.
She proposed a "Parents Right to Know Act" that would require schools to post online the name of every textbook or library book available to students, the course syllabus for every class and any "diversity, equity or inclusion" programs or consultants hired by the district.
Dixon also wants to make it a crime for adults to bring minors to drag queen events. And she wants to limit transgender student athletes by only allowing students of the same biological gender to compete against one another in school-sanctioned, gender-specific athletics.
She supports a DeVos-backed plan for student scholarships to private schools and told Bridge she would support a Michigan-version of Florida's Parents Rights in Education law, which would prohibit any instruction related to sexual orientation or gender identity before fourth grade.
Critics have labeled it the "Don't Say Gay" law.
"These are conversations that are confusing and too big for students," said Dixon, a mother of four, who told Bridge her 10-year-old daughter recently saw a transgender person on television and asked if she too would "change into a man" some day, prompting a family discussion.
"It's not appropriate in the classroom, where they should be focused on learning, especially in the state of Michigan, where we have such a low rate of reading literacy," Dixon said. "We have to focus on the things that they need to be learning in school. Those social issues have to come from home."
Critics contend Dixon and other Republicans are stoking divisions by making classroom discussions about race or sexual identity an election-year wedge issue.
Democratic Attorney General Dana Nessel, who is gay and has feuded with Dixon while joking about a "drag queen for every school," accused the GOP of focusing on "fake issues" for political gain.
"They're taking advantage of people's fears, and they're putting the lives of LGBTQ people at great risk when they demonize this subset of the population," Nessel told Bridge.
"Opening children's eyes up to the fact that there are other people that are not identical to themselves, here's all it does: It breeds tolerance. That's it."
But Dixon argued that parental fear over things like drag queen story hours — events where drag queens read children's books to kids — is not a "fake issue," reiterating her proposal to criminalize drag shows that involve children.
"We are done over-sexualizing our children," she said. "Let them be kids."
Steel and vampires
Dixon was born in Pennsylvania and grew up in suburban Chicago before attending the University of Kentucky. She moved to Michigan in 2002, when she took a job at a Muskegon steel foundry her dad had purchased.
There, at her dad's firm, Dixon worked her way up from customer service to running sales and human resources, helping handle "everything that had to do with our largest deals with customers across the globe," she said.
Dixon left Michigan Steel Inc. to start a family in 2009, three years before the company collapsed. Facing millions of dollars in tax liens and unpaid property taxes, her dad closed the foundry and laid off the entire workforce in 2012, according to a local news report from the time.
Dixon had "no involvement" in the steel business in those final years before it shut down, said campaign spokesperson Kyle Olson. "Like countless businesses across Michigan, the company definitely struggled after the economic downturn started and ultimately just couldn't survive," he said.
Dixon went on to work for two other steel companies between 2015 and 2017, according to her LinkedIn account. She and her husband still own another company, Cornerstone Foundry Supply LLC, which sells parts to foundries across the country, she told Bridge.
In endorsing Dixon on June 16, Michigan Chamber of Commerce President and CEO Jim Holcomb said she's "demonstrated a commitment to free enterprise, our state's shared economic prosperity and a predictable regulatory climate."
Dixon founded Lumen Student News with Olson, who now works on her campaign as senior adviser and communications director. Together, they also produced Dummycrats, a 2018 movie that mocked Democrats and featured podcasters "Diamond and Silk" trying — but failing — to confront U.S. Rep. Maxine Waters of California over liberal policies she had supported in Congress.
Dixon had dabbled in media before, both behind and in front of the camera.
She interned at a local Fox station while going to college in Kentucky, she said. After graduating, she also interned on "The Rosie O'Donnell Show" and then worked full-time as a production assistant for the Oxygen Network co-founded by Oprah Winfrey.
O'Donnell would later emerge as a fierce Trump nemesis. But when Dixon worked on her show and ran around New York City finding gifts for guests, "the world was different" and "there weren't political conversations" on set, Dixon said, calling it a "very interesting" time.
Dixon has also worked as an actor, which she has called a "hobby" to help a group of aspiring filmmakers in Kalamazoo. Between 2008 and 2012, she co-starred in a locally-filmed drama called "Lexibaby," played a teen "bopper" eaten by zombies in "Buddy BeBop vs the Living Dead" and was a leading vampire in a web series called "Transitions."
Critics contend those films undermine Dixon's public persona as a family values candidate. The Michigan Democratic Party said her participation in a zombie film whose own creators called it "disgusting" "complicates (her) own crusade to demonize public schools" and Planned Parenthood.
A trailer for her first film shows Dixon's character lifting up her shirt in a romantic scene with a man who had just snorted cocaine. The horror film includes other actors in graphic sexual scenes. In the vampire series, her character uses a sword to slash someone's neck.
Dixon scoffed at the criticism, calling it evidence that critics are "nervous" about her campaign because they think she can win.
"They're bringing up movies that were made — obviously — for adults," she said. "These are not movies that are pornographic in any way."
The director of her first film, she previously told Bridge, "was looking at all the hardships of life," including illegal drug use that is "a concern for adults, and that's why it follows into art."
'Stolen freedoms'
Dixon's father died last week after a two-year battle with pancreatic cancer, an affliction she knows all too well as a breast cancer survivor herself.
Dixon was diagnosed in 2015, a "shocking" development that required faith and a resolve to "be a fighter, to keep pushing ahead, to keep a positive attitude and to make sure you are taking advantage of every moment in life," she said.
Her father's death was the latest in a series of recent losses for Dixon's family. In November 2020, her grandmother and her husband's grandmother died on the same day, she said.
The latter contracted COVID-19 and died in an Ohio hospital. Dixon's grandmother did not have COVID, but Dixon said she suspects she "died of a broken heart" in a Michigan nursing home her family was not allowed to visit because of pandemic restrictions.
"Forget about governors, lockdowns and stolen freedoms — just protect those you love the most during the holidays," Dixon wrote at the time on Instagram, pleading with her followers to take seriously a virus that had spread to other members of her husband's family.
Their grandparents "died alone, probably scared and it breaks our hearts," she added. "I know the survival rate, but when your people fall outside of that number the guilt and pain is 100%"
Dixon has said she believes COVID-19 vaccines saved lives among the elderly, But despite her personal losses, she remains a fierce critic of Whitmer's policies early in the deadly pandemic.
Michigan should have never fully barred family visitations at nursing homes, Dixon argued, suggesting that relatives who tested negative for COVID should have been allowed to visit dying relatives even at the peak of the pandemic.
"Devastated" by the experience, Dixon told Bridge she is developing "family rights" legislation that would "prevent families from being locked away from their loved ones in their final moments."
"We took everything away from them," she said of Michigan nursing home residents who were denied outside visitors in an attempt to slow the spread of the virus. "There was no consideration for their mental health."
Big endorsements, small poll numbers
In prior years, a candidate backed the Michigan Chamber of Commerce, Right to Life and former U.S. Education Secretary Betsy DeVos might have been a clear frontrunner for the Republican gubernatorial nomination.
But Dixon, who enjoys support from all three, has been stuck in the single digits of most public opinion surveys of the GOP field, which thinned considerably in recent weeks with the signature fraud disqualifications of early frontrunner James Craig and big spender Perry Johnson.
A recent EPIC-MRA poll showed Dixon in fourth place with 5 percent of the primary vote, trailing real estate broker Ryan Kelley, chiropractor Garrett Soldano and businessman Kevin Rinke. Another recent poll from Mitchell Research showed her tied for the lead with Rinke at 15 percent.
In each poll, "undecided" was by far the most popular option, which suggests there is still a path for Dixon to win the nomination, said pollster Bernie Porn, whose EPIC-MRA survey indicated nearly half of all primary voters do not yet know who Dixon is.
"If you've got enough advertising, anything is possible," he said, noting that financial backing from the DeVos family should help pay for exposure through television ads, which Dixon told Bridge are in the works.
Experts say the DeVos backing could also end up as a complicating factor for Dixon, who continues to pursue an endorsement from Trump.
Betsy DeVos this month acknowledged she and other Trump cabinet members discussed invoking the 25th Amendment to remove Trump from office after his supporters — fixated on his false claims the election was "stolen" from him — stormed the Capitol on January 6, 2021. When Vice President Mike Pence made clear that wouldn't happen, DeVos resigned.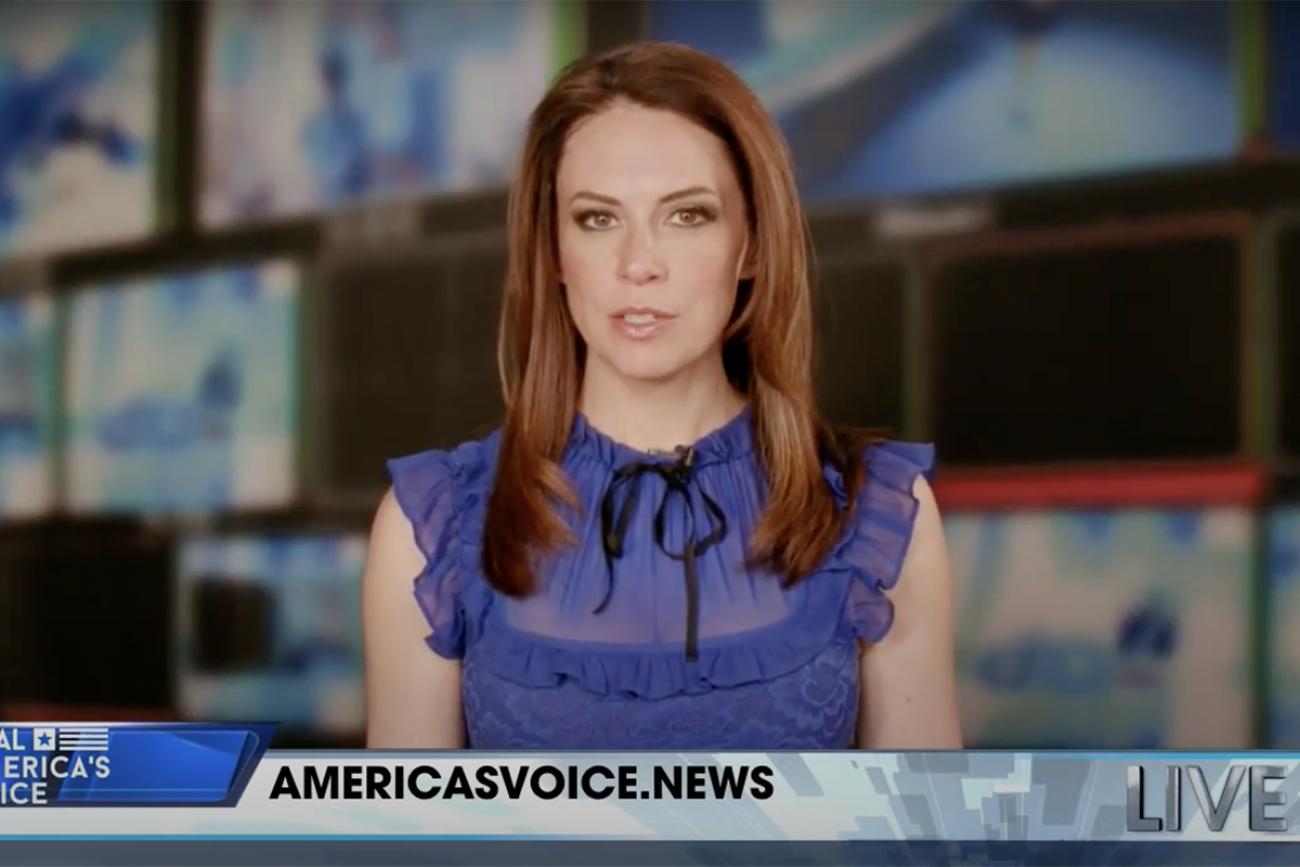 Tudor Dixon covered the January 6, 2021, riots for Real America's Voice, a conservative news show she co-hosted. "Potentially it was a combination of maybe Antifa, maybe Trump supporters together not realizing. We don't really know," Dixon said at the time. (Screenshot)
Trying to remove Trump from office "wouldn't (have been) my choice," said Dixon, who has echoed the former president's debunked claims that widespread fraud cost him the election. 
The family knows "that Betsy DeVos and I differ on that, but they appreciate the fact that my plan is the right plan for them going forward," she said. 
In tweets following the 2020 contest, Dixon claimed the election was stolen and accused Democrats of "obvious" and "sloppy" voter fraud.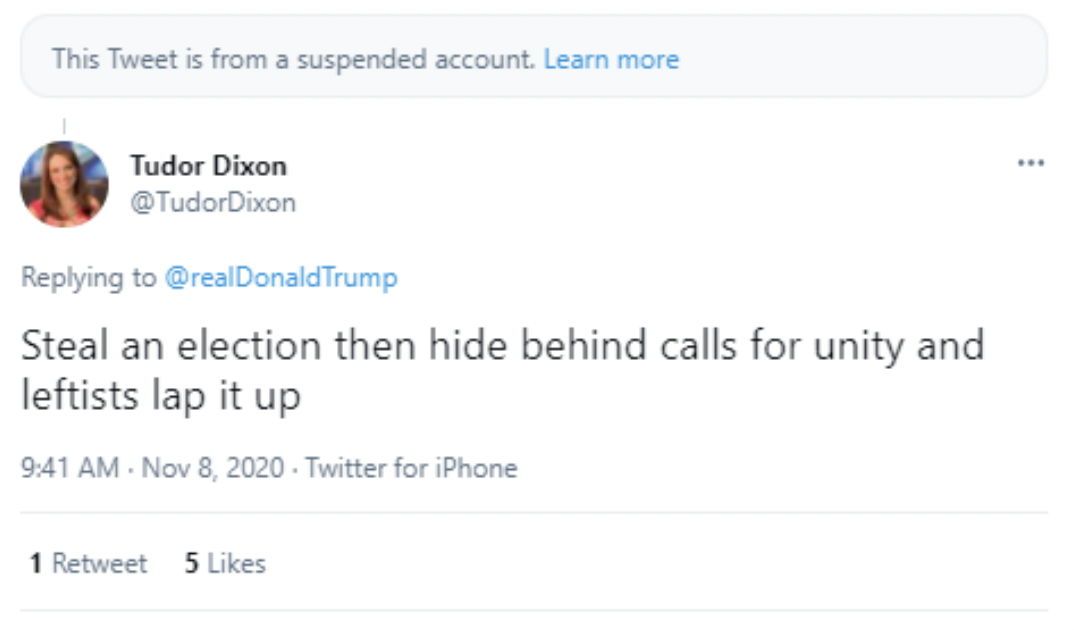 In a recent gubernatorial debate, Dixon said she believes Trump actually won Michigan despite his 154,188-vote loss to Biden, contradicting findings from former U.S. Attorney General William Barr and the state Senate Oversight Committee, both of whom investigated claims but found no evidence of widespread fraud.
Trump praised Dixon in February, calling her a "very special" candidate when her campaign paid $7,342 to host a fundraiser at his Mar-A-Lago resort in Florida.
In Trump's April rally in Macomb County, he called her "fantastic" and "brilliant."
Dixon told Bridge she last spoke with Trump "a few days" after that April rally but thinks he'll "get involved in this race." But whether he endorses her remains "the million dollar question," she acknowledged. 
Trump remains very popular with GOP voters, and his endorsement "would probably tip the balance" of the race, said Porn. If Trump backs someone else, that would "potentially boost any of (them) over all the money behind Tudor Dixon," he added.
Only donate if we've informed you about important Michigan issues
See what new members are saying about why they donated to Bridge Michigan:
"In order for this information to be accurate and unbiased it must be underwritten by its readers, not by special interests." - Larry S.
"Not many other media sources report on the topics Bridge does." - Susan B.
"Your journalism is outstanding and rare these days." - Mark S.
If you want to ensure the future of nonpartisan, nonprofit Michigan journalism, please become a member today. You, too, will be asked why you donated and maybe we'll feature your quote next time!