Whitmer, Dixon debate: What to expect on five key Michigan issues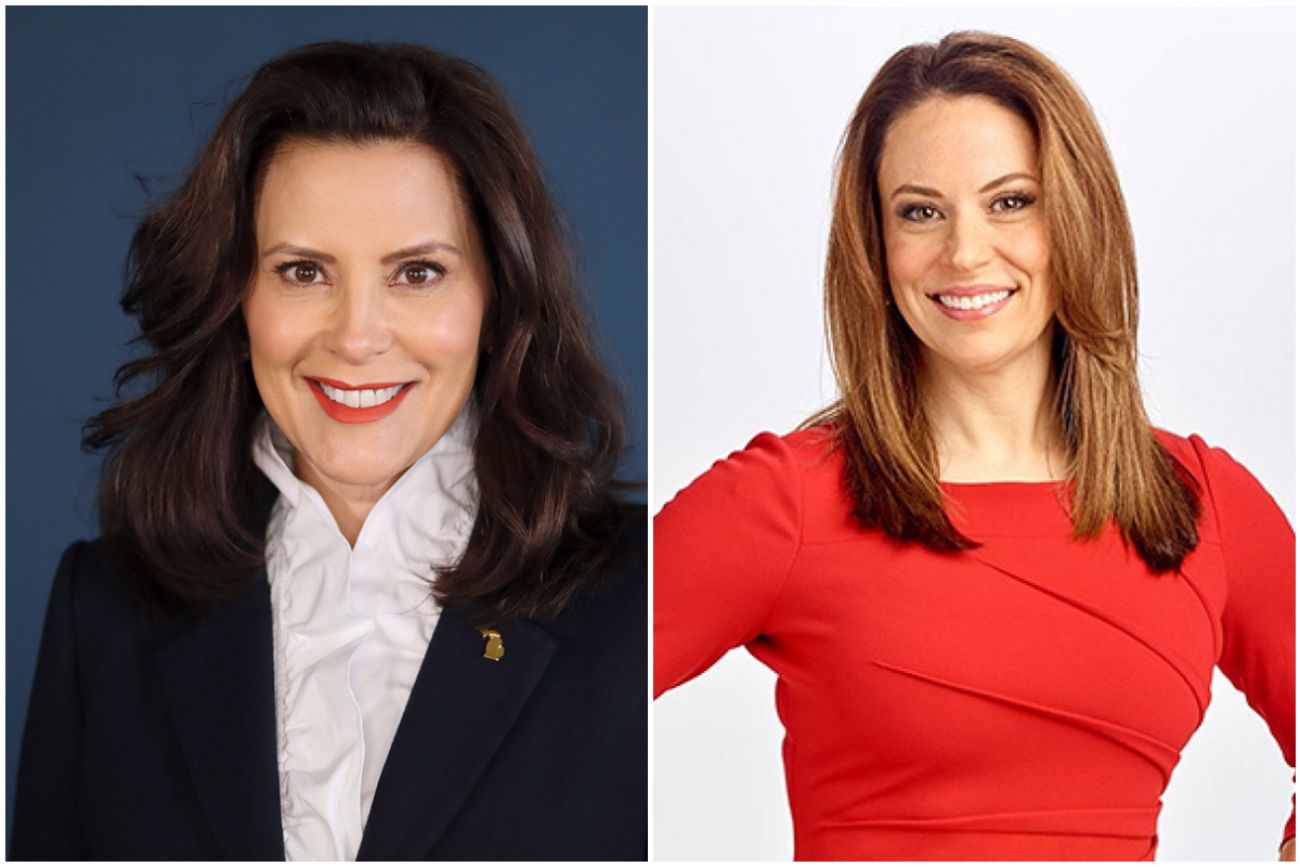 Republican challenger Tudor Dixon and Gov. Gretchen Whitmer have significantly different ideas about everything from improving education to reducing crime.
Gov. Gretchen Whitmer and challenger Tudor Dixon are set to debate Thursday
Schools, abortion rights and economy are among top issues for voters
The candidates have diametrically different ideas and approaches to most issues
---
Related: Watch five key moments for Whitmer, Dixon in Michigan governor debate
Related: Michigan governor debate: Fact checking Whitmer-Dixon showdown
LANSING — You've seen the ads. Now, it's time for the candidates to take their case to the people.
Michigan voters will get a side-by-side comparison Thursday of Democratic Gov. Gretchen Whitmer and her GOP challenger Tudor Dixon, as they face off in their first debate before the Nov. 8 general election.
The hour-long event, hosted by WOOD-TV in Grand Rapids, will begin at 7 p.m. and be broadcast online and across TV stations in the state and streamed live on Bridgemi.com.
Related:
A second debate is Oct. 25.
In a recent poll by The Detroit News, the top issues driving voters to the ballot box were abortion, inflation, the cost of living, education and the economy.
A similar survey by Business Leaders for Michigan found that voters want answers to improving K-12 education, improving the economy and investing in infrastructure.
Like most voters, Bridge Michigan wants to hear more about the big issues at the debate and how Whitmer and Dixon plan to tackle them.
Here's a primer on five of the state's top pressing concerns and what each candidate has done about them. And, in many cases, has not done.
K-12 learning
School performance was a problem before Whitmer was sworn in as governor in January 2019. That year, Michigan schools showed improvement after years of declines, ranking average in the nation.
But student learning took a bigger toll during the pandemic.
Recent data from Kids Count shows Michigan ranks 40th in the country in education this year, with nearly 70 percent of students less than proficient for reading in fourth grade and math in eighth grade.
About 1 in 5 Michigan high schoolers aren't graduating on time, with larger gaps for kids in poverty. Test scores on the Michigan Student Test of Educational Progress, or M-STEP, plummeted during the pandemic, and now schools are racing to fill learning gaps.
What Whitmer has — and has not — done
Whitmer closed schools in spring 2020 when the pandemic hit and implemented a statewide mask mandate that was rescinded in June 2021. She refrained from issuing a school mask mandate afterward even as the state's top doctor pleaded for one.
In 2020, Whitmer negotiated and signed a school reopening plan that leveraged federal funds to offset expenses related to the pandemic.
Whitmer's administration increased school funding for four consecutive years and ensured every district had the same baseline funding.
This summer, her administration negotiated with state lawmakers and passed a $19 billion school aid budget, one of the biggest in Michigan history. The plan includes more money for teacher recruitment, school security, mental health and the teacher pension system.
What Dixon has — and has not — done
On the campaign trail, Dixon has focused on cultural issues like banning "pornographic books" from school libraries.
Dixon said schools are too focused on sex and race at the expense of learning, and she's proposed to use some of the state's $6 billion in federal COVID spending to pay for 25 hours of tutoring for every student.
Whitmer's school budget includes money for tutoring as well as learning loss grants.
Dixon supports school voucher programs and Let MI Kids Learn, a former U.S. Education Secretary Betsy DeVos-backed program that would allow donors to contribute to a private scholarship fund and receive tax credits in return.
Whitmer has vetoed school voucher-like programs and argued the program would divert public money toward private schools.
Dixon supports a state law that requires students to repeat third grade if they have low reading test scores, while Whitmer is critical of the law.
Dixon proposes the "Parents Right to Know Act," which would require schools to publish textbook titles, course syllabus and diversity consultants hired by school districts. She also wants to mandate civics curricula that would focus on "America's founding principles," even though Michigan's elementary social studies standards already include these requirements.
College attainment
An educated public is a prosperous and healthy one — and Michigan's college attainment ranks in the bottom third of the nation, as less than 32 percent of adults have degrees.
Men with bachelor's degrees make about $900,000 more over their lifetime, while college degrees have been linked to longer life expectancies.
As with much of the nation, Michigan college enrollment has plunged since the pandemic — 54 percent of high school graduates in 2021 enrolled in college last fall, down from an average of 63 percent in the three years before COVID-19, Bridge has reported.
What Whitmer has — and has not — done
Whitmer made debt-free community college a centerpiece of her campaign during her 2018 campaign, and she's had some success.
In February 2021, in what was described as the largest college attainment effort in state history, Michigan Reconnect, which offered free community college to adults ages 25 and above and allowed them to earn an associates or skills certificate.
As of August, more than 100,000 people had been accepted into the program since February 2021, said Lt. Gov. Garlin Gilchrist.
A new scholarship program, the Michigan Achievement Scholarship will provide scholarships for high school graduates starting with the class of 2023 to attend a community college or nonprofit private or public university within Michigan.
What Dixon has — and has not — done
Dixon's education priorities on her website do not mention higher education, nor has the issue come up during the campaign.
Abortion
The procedure remains legal in Michigan after the U.S. Supreme Court overturned Roe v. Wade that guaranteed a federal constitutional right to abortion for nearly 50 years.
A 1931 Michigan law was set to take effect that would have made performing the procedure a felony except to save the life of a mother, but a judge has issued an injunction barring enforcement.
Separately, voters will consider Proposal 3 on Nov. 8 to enshrine abortion rights in the state constitution.
If it passes, lawmakers and courts may still have work to do, possibly deciding issues such as whether minors would need consent from parents to get an abortion, as well as licensing requirements for physicials and health standards of clinics.
What Whitmer has — and has not — done
Whitmer has promised to "fight like hell" to preserve abortion rights in Michigan.
In April, the governor asked the state's Supreme Court in a court filing to declare a woman's right to an abortion under the state constitution, although the court has not acted.
She also challenged the state's 1931 law and a judge in Oakland County blocked the law from taking effect.
This summer, she also vetoed abortion-related funding proposed by Republicans in the state's $77 billion budget, including nearly $17 million for five programs that Whitmer considered anti-choice, including tax credits for adoptive parents and advertising promoting adoption.
Whitmer has not said whether she supports Michigan's parental consent law, and Republicans are pressing her to do so.
What Dixon has — and has not — done
Dixon has said she opposes abortion except to save the life of a mother.
She is endorsed by anti-abortion group Right to Life in Michigan. Paul Miller, chair of the organization's PAC board, described Dixon as "a strong pro-life leader who possesses the ability to lead Michigan towards being a life-affirming state."
The GOP nominee has told reporters abortion is not an issue in the governor's race because of the ballot measure.
"This is not an issue that the governor has an impact on," Dixon told WWMT last month.
But governors could have a huge role in shaping abortion policy through signing laws or issuing executive orders on aspects of abortion that likely will be litigated and legislated regardless of the fate of Proposal 3.
Crime in Michigan
Crime spiked in Michigan faster than across the nation during the pandemic, data shows.
Violent crime offenses statewide increased by 12.4 percent in 2020 while the national average was 5.6 percent. In 2021, the rate in Michigan crept up another 0.03 percent while the national rate decreased by 1 percent.
There were 745 murders in Michigan in 2021 — a 30 percent increase from 2019. More than 41 percent of those killings were in Detroit, but homicides also increased in Grand Rapids.
Crime has risen nationwide since the pandemic, along with a host of negative behaviors from binge drinking and depression to reckless driving and shoplifting.
What Whitmer has — and has not — done
Whitmer marched in a social justice protest in 2020, saying at the time she supported the "spirit" of defunding the police, drawing criticism from Dixon and other Republicans.
She signed bipartisan bills designed to lower inmate populations, including one that ended the practice of suspending driver licenses for non-driving offenses such as drugs and restricting the use of criminal records to determine eligibility for professional licenses.
Whitmer has signed budgets that increased funding for state police and county sheriff patrols. She also proposed a $32 million plan to recruit and train officers, but no legislation has been approved by lawmakers yet.
What Dixon has — and has not — done
Dixon has pitched a $1 billion public safety plan, including $700 million over four years for local recruitment and retention of police officers, firefighters and other public safety positions. She also promised to work with state lawmakers on a plan attracting public safety personnel from out of state.
Dixon has criticized Whitmer for vetoing $13 million in secondary road patrol funding in 2019, although the governor later negotiated with Republican lawmakers and restored that funding.
Dixon and other critics say Whitmer and other Democrats aren't supportive enough of police, contributing to a nationwide officer shortage.
Inflation and business attraction in Michigan
From groceries to gas, prices are spiking as inflation drives up costs in Michigan and nationwide.
The national inflation rate peaked at 9.1 percent in June — the highest since at least 2012 — and decreased slightly, hovering at 8.3 percent in August, data shows.
In Michigan, inflation is rising at the fastest pace in 40 years, ranking the 15th highest among states. A gallon of gas averages $4.35 in Michigan, some 44 cents more than the national average.
Michigan's unemployment rate, 4.1 percent, is also higher than the national average of 3.7 percent.
What Whitmer has — and has not — done
Whitmer has touted her efforts to bring jobs to Michigan, including the creation of a $1 billion-plus fund to attract large-scale businesses such as battery plants.
She approved COVID-19 relief funds for businesses and supported two GOP-backed tax breaks, including a $200 million initiative to allow small businesses to claim bigger federal deductions and $80 million allowing owners to exempt more equipment from local personal property taxes.
But Michigan has recovered far slower than other states from the pandemic, and has lost 82,000 jobs since Whitmer became governor.
Early in her term, Whitmer tried to raise gas taxes to fund road repairs. She's since vetoed a host of Republican tax cuts, including a gas tax holiday and efforts to slash the state income tax.
What Dixon has — and has not — done
Dixon has hammered Whitmer's economic policies and blamed some of her COVID-19 policies for job losses. She's also criticized some high-profile efforts to lure electric battery plants as "taxpayer-funded corporate welfare to foreign-backed companies."
Even so, she told Bridge she supports state efforts such as the Strategic Outreach And Attraction Reserve (SOAR) Fund that uses taxpayer money to clear sites for big projects.
"I would continue to partner with businesses and job creators seeking to grow and maintain a significant presence in our state" if elected governor, she said.
Dixon also wants to phase out Michigan's 4.25 percent income tax to make the state more competitive with those such as Texas and Florida. But she has not offered any specifics on whether she would cut government spending to replace $12 billion generated by the tax, which accounts for nearly 30 percent of state revenue.
Paula Gardner and Jonathan Oosting contributed reporting.
Only donate if we've informed you about important Michigan issues
See what new members are saying about why they donated to Bridge Michigan:
"In order for this information to be accurate and unbiased it must be underwritten by its readers, not by special interests." - Larry S.
"Not many other media sources report on the topics Bridge does." - Susan B.
"Your journalism is outstanding and rare these days." - Mark S.
If you want to ensure the future of nonpartisan, nonprofit Michigan journalism, please become a member today. You, too, will be asked why you donated and maybe we'll feature your quote next time!