Crime spiked in Michigan under Whitmer. GOP blames her. Experts blame COVID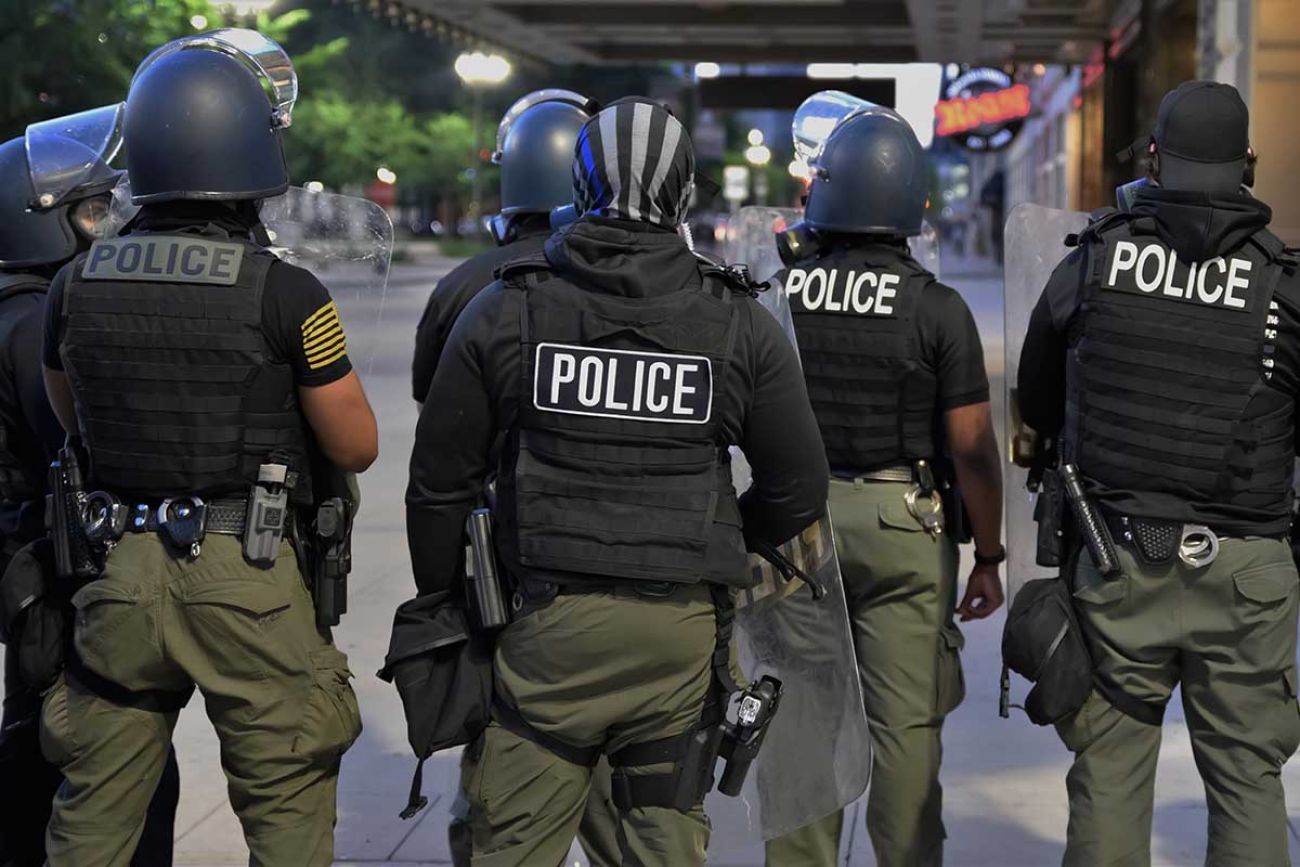 Violent crime offenses rose by more than 12 percent in Michigan in 2020 and inched up again in 2021. (Photo courtesy of Lester Graham, Michigan Radio)
Violent crime in Michigan rose in 2020 and 2021, and Republicans say Gov. Whitmer is to blame.
Michigan ranked 17th for the highest crime rate spike over that time
Whitmer has increased funding for police but says 'we've got more work to do'
---
LANSING — Sirens wail over Detroit's skyline, police lights flicker through a living room window and looters smash a business storefront in a new online attack ad that accuses Michigan Gov. Gretchen Whitmer of being "soft on criminals."
The dystopian imagery is part of a Republican push to blame rising violent crime rates on Democrats, including Whitmer and Attorney General Dana Nessel, who are both seeking re-election to a second term on Nov. 8.
While violent crime has increased across the country, including many states with Republican governors, the Michigan GOP has ammunition: State police data shows violent crime offenses here jumped 12.4 percent in 2020 — higher than the 5.6 percent national increase — and inched up another 0.03 percent in 2021 even as the national volume decreased by 1 percent.
The 745 murders in Michigan last year was up 30 percent from 2019. More than 41 percent of those killings, 310, were in Detroit, the state's largest city. Grand Rapids had the biggest increase among cities, going from an average of nine murders per year to an average of 25 in the past two years.
Related:
"We're done with Whitmer's violent crime wave in the state of Michigan," Republican gubernatorial challenger Tudor Dixon said Saturday in a rally with former President Donald Trump, touting her plan to pump $1 billion into law enforcement over the next four years. "We will protect every community."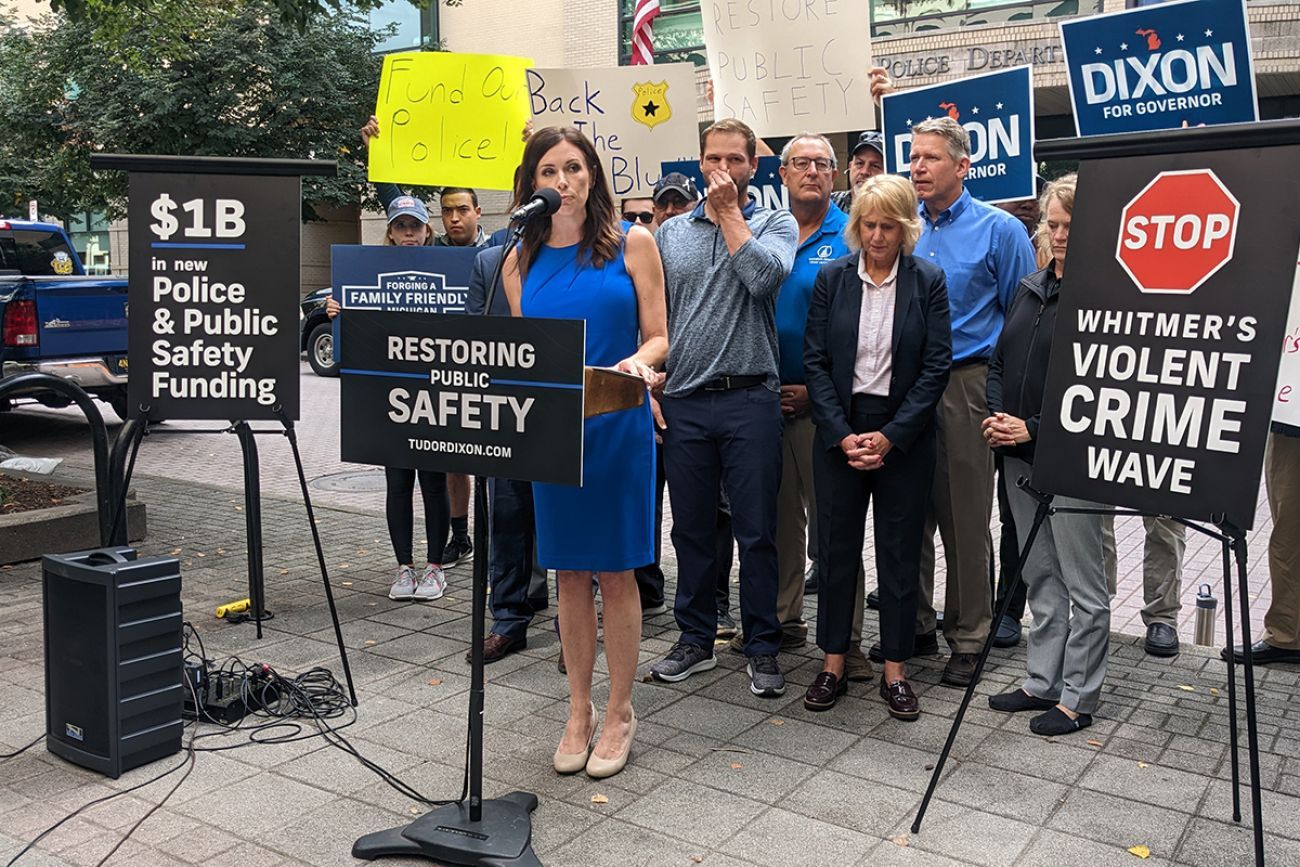 Republican gubernatorial challenger Tudor Dixon says she wants to stop "Whitmer's violent crime wave." (Bridge photo by Jonathan Oosting)
In his speech, attorney general nominee Matthew DePerno argued Nessel has "sat on the sidelines as crime skyrocketed." Trump told Michigan loyalists that "radical Democrats" have turned their cities into havens for crime.
Whitmer has increased state spending on public safety since she took office in 2019 and proposed additional funding for agencies struggling with staffing shortages. But, she acknowledged last week, "we've got more work to do."
Experts say anger, isolation, economic anxiety and mental-health issues related to the COVID-19 pandemic are the most likely causes of what is a national crime spike that saw record gun deaths. But research is fledgling, theories have not been vetted, and nobody knows if higher crime will continue.
"I'd be cautious about anybody who essentially says, 'Well, this is the definitive reason why,'" said Christopher Kierkus, a professor in the School of Criminology, Criminal Justice, and Legal Studies at Grand Valley State University.
FBI data shows Michigan's violent crime spike was more severe than many states in 2020, when the national rate shot up. Adjusted for population, Michigan's 9 percentage point jump was the 17th highest nationwide.
While major cities with high rates tend to be run by Democrats, seven of the top ten states with the highest estimated violent crime rates in 2020 were run by Republican governors, including Arizona and Tennessee. Michigan ranked 11th with 478 offenses per 100,000 residents.
"Crime is up across the country," Whitmer told Bridge last week. "This is a phenomenon that is not unique to one state or one community, but it's one that we are working really hard to address."
Dixon and other Republicans criticizing Whitmer over crime have been unable to point to specific policy disagreements with the incumbent Democrat, but they contend she has not done enough to address the violent crime spike or counter anti-police sentiments that may have emboldened criminals.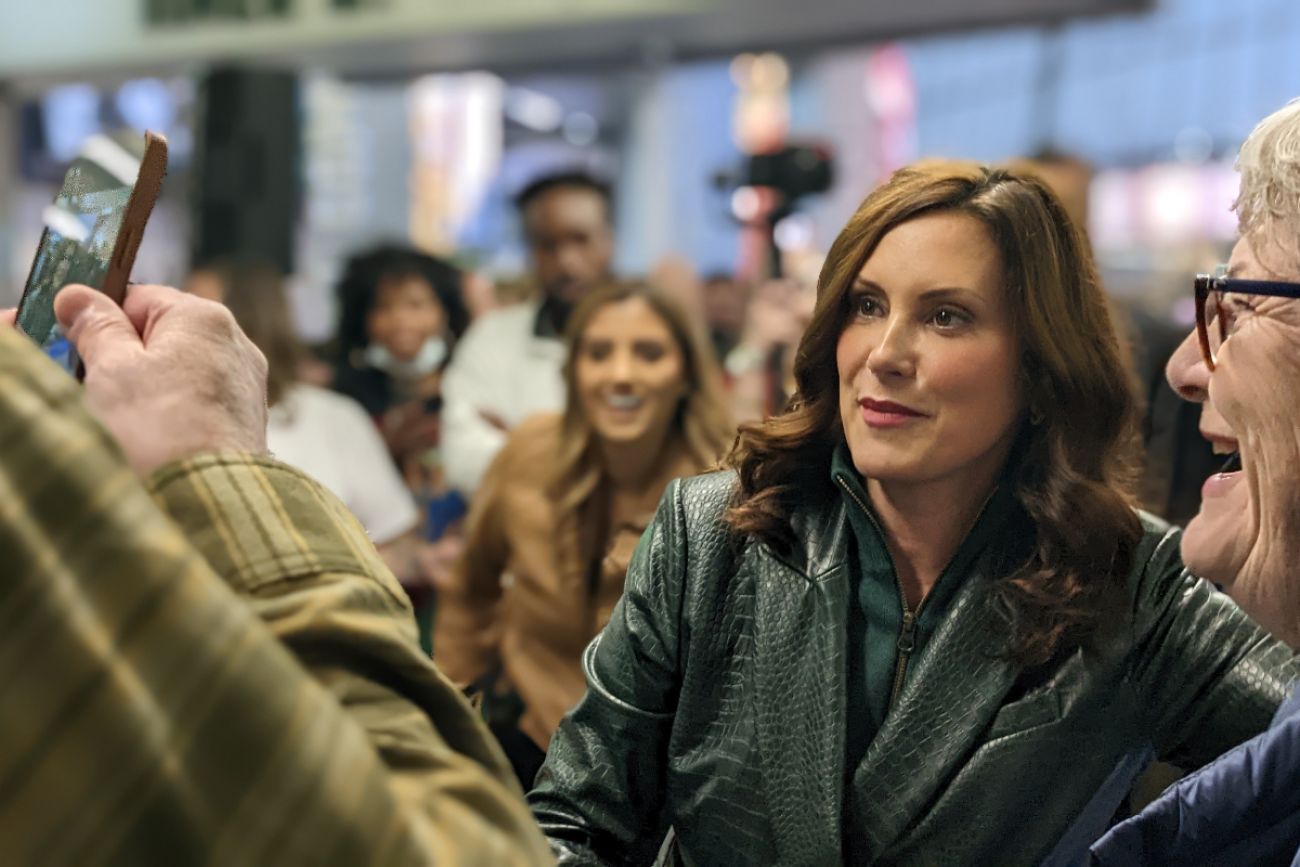 Gov. Gretchen Whitmer has increased funding for public safety but says there is "more work to do" to reduce violent crime (Bridge photo by Jonathan Oosting)
The focus on crime is an attempt to appeal to independent and moderate voters who feel "the natural sense of chaos that came out of the pandemic has just carried over into other areas," said John Sellek, a GOP consultant with Harbor Strategic Public Affairs in Lansing.
"While inflation is hard and stressful, crime is scary," Sellek said. "That's fear. And that's why I suspect we'll start to hear more about it, because it could have more of an emotional impact on some people."
Trump struggled to woo Michigan's suburban voters with similar messaging in 2020, suggesting that occasional violence at nationwide protests against racial injustice and police brutality could spread into their neighborhoods.
"This time around, it's not the party that's had to bring the issue up. It's personal experience," Sellek said, pointing to nightly television news coverage of shootings and other violent crimes. "Is the media amplifying a lot of that stuff because it gets clicks? That's part of it. But the bottom line is that it exists."
There are signs the crime surge is subsiding: Compared to the first quarter of 2021, violent crime in six of Michigan's seven largest cities was flat or down in the first three months of 2022, according to preliminary federal data voluntarily reported by communities with more than 100,000 residents.
Combined, first quarter violent crime was down 14 percent in Detroit, Grand Rapids, Warren, Sterling Heights, Ann Arbor, Lansing and Clinton Township.
A pandemic effect?
Michigan averaged 44,863 violent crimes in 2017 and 2018 — the two years before Whitmer took office — and 48,696 violent crimes in 2020 and 2021, a 9 percent jump, according to state and federal data analyzed by Bridge Michigan.
The increase was driven by large spikes in murders and aggravated assaults, which increased 25 percent and 21 percent over that span. Robberies and rapes both decreased between 2019 and 2021, and most types of property crimes also fell as people stayed home more during the pandemic.
Most of those violent crimes in Michigan last year involved guns. African Americans were more likely to be both the victim and accused perpetrator.
While the rate here grew faster than many states, Michigan "is pretty much mirroring the national trends" that saw violent crime in most states and communities, said David Carter, a criminal justice professor and Intelligence Program director at Michigan State University.
One emerging theory is that the "social trauma" of the pandemic altered people's feelings of responsibility for the greater good, Carter told Bridge Michigan.
"Violence was used as a response to even minor slights, and so this was triggering everything from road rage to gang encounters," he said. "There appeared to be a greater likelihood to use violence as a response to conflict."
State data shows the number of domestic violence offenses, including assaults, rose 28 percent in 2020 and 2021, a phenomenon experts have dubbed the "shadow pandemic" because victims were trapped in their homes with their abusers during COVID-19 lockdowns and work-from-home periods.
The spike is notable because violent crime had significantly decreased in the United States since the 1990s, said Kierkus, the Grand Valley criminology professor.
Michigan recorded 485.3 violent crimes per 100,000 residents in 2021, but more than 803 violent crimes per 100,000 residents in both 1986 and 1991.
Early in the pandemic, people were "really forced to live a very different life than they were used to," Kierkus said. "We've seen spikes not only in violent crime, but also with substance abuse and mental health issues. And obviously, all of those things are related."
But, he warned against drawing broad conclusions at this point, adding "it's really complicated and two years of data" isn't enough to make conclusions.
Suburban bump
Detroit remains one of the most violent cities in America, and crime statistics reviewed by Bridge show urban centers like Saginaw, Flint, Kalamazoo and Lansing ranked among the most violent in the state for 2020 and 2021.
But some of the largest spikes occurred in suburbs near Detroit, Grand Rapids and Flint, suggesting the crime surge spread beyond those major cities to areas like Troy, Livonia, Grandville and Burton.
Southfield, an inner-ring Oakland County suburb, averaged 178 violent crimes in 2017-18 and 338 in 2020-2021, a 90 percent increase mostly caused by an uptick in aggravated assaults. Murders rose from 1.5 per year to 3.5 per year.
Deputy Police Chief Aaron Huguley attributed the violent crime spike to an increase in domestic violence.
"The COVID-19 pandemic is partly responsible for this increase, as families shared more time and space together during that time period," he said in an email to Bridge Michigan, noting that the department's arrest and case resolution rates have also increased in recent years.
Defund the police? Not in Michigan
Dixon and DePerno, the Republican nominees for governor and attorney general, contend their Democratic counterparts are complicit in the rising crime rates because they have not done more to combat progressive prosecutors and anti-police sentiments that arose following the 2020 murder of George Floyd, an unarmed black man killed by a police officer in Minnesota.
Whitmer's "embrace of radical anti-police policies sent a message to police that she doesn't have their back, and to criminals that they may do as they please," Dixon said last month outside of the Grand Rapids Police Department. "The people of Michigan are suffering a violent crime rate as a result."
Whitmer marched in a social justice protest in 2020 and said at the time that she supported the "spirit" of the defund the police movement, which sought to redirect resources into community and mental health support programs.
But Whitmer has not defunded the police.
She's done the opposite, signing budgets that increased state police funding from $716 million to $824 million a year and doled out an additional $253 million in annual revenue sharing payments to local governments, which use that money to fund public safety.
Last week, the governor signed a law that will raise annual funding from $10 million to $15 million for a program that pays county sheriffs to patrol local roads.
Whitmer proposed a series of law enforcement reforms following Floyd's death, including a statewide ban on police chokeholds and new limits on no-knock warrants that drew scrutiny after the death of Breonna Taylor, but Michigan's GOP-led Legislature has not approved any legislation for her to sign into law.
Both Whitmer and Dixon have proposed using part of the state's multi-billion surplus to address staffing shortages that law enforcement officials say have plagued their profession.
Last year, Whitmer pitched a $75 million "MI Safe Communities" plan that included $32 million to help local agencies recruit and retain officers, but she has so far been unable to reach a deal with the GOP-led Legislature, where House Republicans had approved a bigger plan to address police staffing shortages.
"We need to recruit more people to go into these important jobs," Whitmer told Bridge last week. "They are very dangerous jobs, but they are crucial for our communities."
Dixon has proposed a larger public safety plan. She wants to spend an additional $1 billion over four years, including $700 million for officer recruitment and retention, along with $250 million for equipment and training.
Democrats contend Dixon's plan to phase out Michigan's personal income tax will jeopardize the state's ability to pay for services, like public safety. But the Norton Shores Republican has pledged to prioritize funding, and her campaign is backed by the Police Officers Association of Michigan.
Law enforcement officials across the country have bemoaned their struggles to fill job openings, but the extent of officer shortages is unclear in Michigan. Counts compiled by the state are incomplete because some agencies routinely or sporadically fail to report data.
In 2019, the 547 Michigan police agencies that reported data to the state employed a combined 18,068 officers, according to the latest tally. Last year, the 533 agencies that reported data had a combined 17,874 officers. That's 194 fewer officers, but with 14 fewer departments reporting.
The Michigan Association of Chiefs of Police has estimated more than a 1,000 officers across the state have left their jobs since 2020, and forces from Oakland County and Detroit to Eaton and Kalamazoo counties have cited shortages.
"It's a crisis within our profession," said Bob Stevenson, a former Livonia police chief who is now executive director of the statewide association.
"Almost every department in the state is either short people or can't get qualified applicants," he said, arguing it has become especially difficult to recruit minority job candidates because of "the vilification of the profession" in recent years.
"Unfortunately we all got painted with a broad brush from what happened in Minneapolis," Stevenson said. "The vast majority of our professionals are just hard-working people trying to make a difference."
A 'liberal cities' problem?
DePerno, the GOP candidate for attorney general, has criticized Nessel for failing to rein in progressive prosecutors in places like Washtenaw County who have ended cash bail or stopped charging some drug crimes if police find contraband during unrelated traffic stops.
"Dana Nessel has prioritized criminals instead of victims," DePerno said last weekend.
Violent crime in Ann Arbor, the largest city in Washtenaw County, jumped by about 22 percent between 2017-18 and 2020-21. That was the 32nd highest increase among the 96 Michigan cities with at least 15,000 residents.
But Nessel has not proposed those policies herself at the state level. DePerno has also falsely claimed Nessel wants to "defund the police" and that "crime is at an all-time high," which ignores historically high rates in the 1980s and 1990s.
In a statement to Bridge, Nessel said she is "proud" of her efforts to fight crime as attorney general. She cited efforts to get "ghost guns" off the streets, said she'd "aggressively prosecuted" rape, sexual assault and domestic violence cases and established hate crime, domestic terrorism and organized retail crime units.
"Contrary to what you may hear from Republicans, crime is a national issue, not a 'liberal cities' problem," Nessel said.
"The reality is that violent crime rates are rising nationally, in small towns as well as big cities, and it is primarily driven by gun violence. The criminal justice reform movement is also not the cause of the recent increase in violent crime. In fact, murder rates are higher in red states than in blue states."
Experts say it's not yet clear whether anti-police sentiment or progressive policies had anything to do with the recent crime surge across the country.
"There was a backlash towards police after the 2020 social justice protests, but I do not see a correlation between those things and high crime rates," said Carter, the Michigan State professor.
"They are on separate paths."
A 2019 study, published before the recent crime wave, analyzed arrest rates and found "no evidence" that the push to "de-police" communities had caused a previous murder spike in large cities.
Even early supporters have largely abandoned the "defund the police" movement, Carter said, noting many police departments are now "getting more funding" and public confidence in police appears to be on the rebound.
There is little evidence to support the notion that crime increased more in cities with progressive prosecutors or liberal criminal justice reforms, said Kierkus, the Grand Valley professor.
But that doesn't mean the theory should be discounted entirely, he added, noting older research suggests crime can increase if the public feels that "society is not taking crime as seriously" and people think they are more likely to avoid arrest.
"It's very likely COVID is the main driver," Kierkus said. "There may well be something having to do with the criminal justice reforms and a perception that we've become more tolerant of crime, but I would hesitate to really draw definitive conclusions until we've got a couple of more years of data available to look at."
Only donate if we've informed you about important Michigan issues
See what new members are saying about why they donated to Bridge Michigan:
"In order for this information to be accurate and unbiased it must be underwritten by its readers, not by special interests." - Larry S.
"Not many other media sources report on the topics Bridge does." - Susan B.
"Your journalism is outstanding and rare these days." - Mark S.
If you want to ensure the future of nonpartisan, nonprofit Michigan journalism, please become a member today. You, too, will be asked why you donated and maybe we'll feature your quote next time!