With Roe in doubt, Gretchen Whitmer moves to protect abortion in Michigan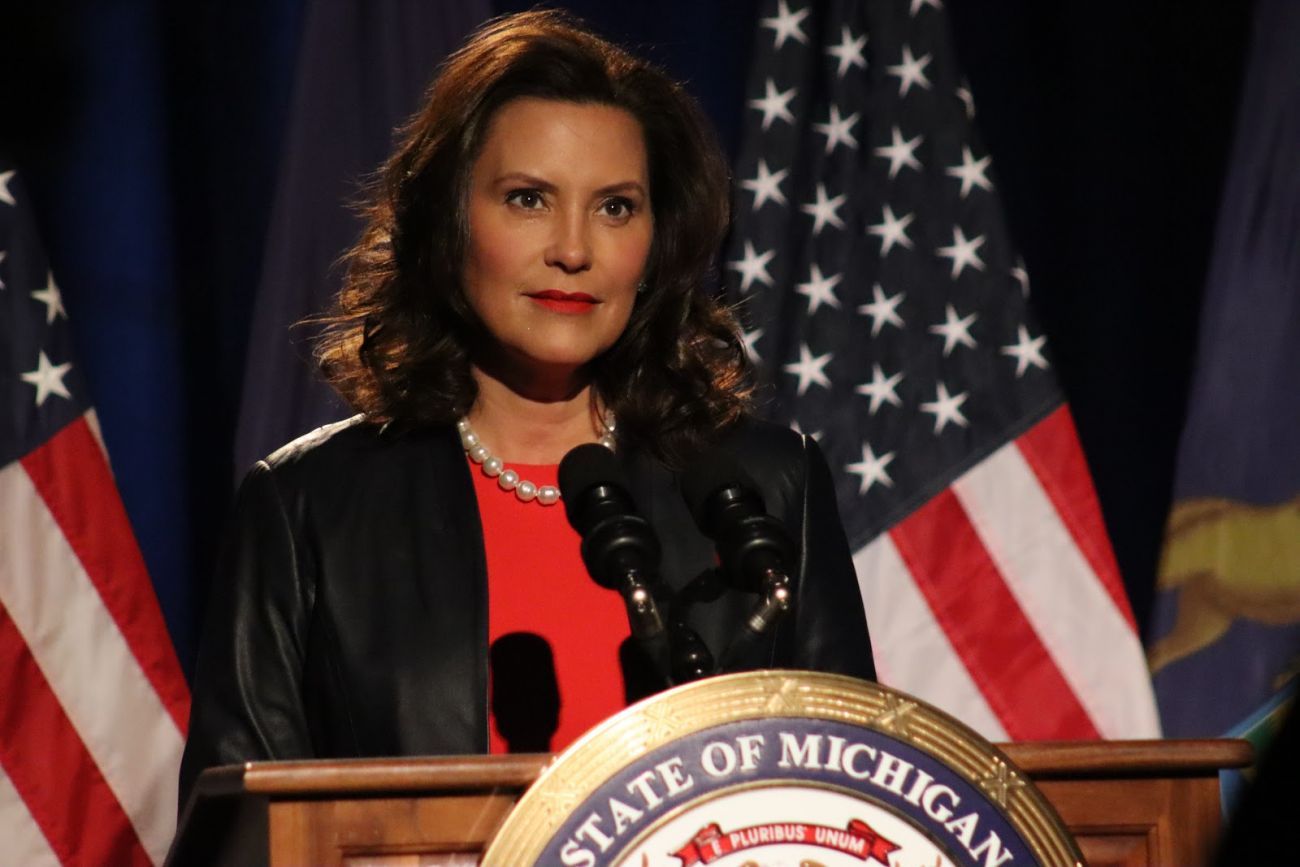 Michigan Gov. Gretchen Whitmer is moving to persuade the state's highest court to embrace a woman's right to an abortion before a U.S. Supreme Court ruling on Roe v. Wade.
Gov. Gretchen Whitmer asked the Michigan Supreme Court Thursday to reaffirm a woman's right to an abortion under the state constitution — a preemptive move to address the possible downfall of federal abortion protections this year.
Since the U.S. Supreme Court issued the landmark Roe v. Wade decision in 1973 that offered abortion protections to women and prevented states from banning the procedure before fetal viability, "the contours of the right to abortion … have been eroded," the governor noted in a 27-page court document, filed Thursday in Oakland County Circuit Court.
"To participate fully and equally in society," Whitmer argued, "Michigan women need access to abortion."
Related:
Her filing sets the stage for a request later in the day to the Michigan Supreme Court. Whitmer is asking the seven justices to step into the Oakland County suit and fast-track a decision that would declare, for the first time, that abortion rights are protected by the state constitution.
Whitmer's suit — and a similar suit filed Thursday by Planned Parenthood of Michigan — is part of a tightly coordinated effort by abortion-rights and Democratic activists in Michigan.
As those suits were being filed Thursday, Democratic Michigan Attorney General Dana Nessel — who noted she had had an abortion two decades ago — reiterated an earlier pledge that she will not enforce the state's old abortion law should Roe be struck down.
"I will take no part in driving women back into the Dark Ages and into the back alleys," she said in a statement.
The volley of abortion-rights actions comes as the conservative-majority U.S. Supreme Court is poised to rule by June on a Mississippi law that would make most abortions illegal after 15 weeks of pregnancy, a smaller window afforded to woman than the roughly 24 weeks that Roe and other decisions have recognized for fetal viability.
Whitmer's action is a bold move, according to Elizabeth Nash, legislative director for the Guttmacher Institute, a national research organization that supports legal abortion access.
No other governor has attempted to enlist a state supreme court so directly into the issue, she said.
But Nash noted that Michigan is one of only eight states with a pre-Roe criminal statute banning abortion that remains on the books. In Michigan, a 1931 law — set aside by the federal Roe decision nearly a half-century ago, but never invalidated — makes providing an abortion a felony unless the mother's life is endangered. The law likely will be revived if the U.S. Supreme Court strikes down or severely curtails Roe, upending nearly a half-century of federal abortion protection across the nation.
"I have not heard of a governor who has this ability to sort of summon the state Supreme Court to answer a legal question like that," Nash said.
Genevieve Marnon, legislative affairs director for Right to Life of Michigan, an anti-abortion group, saw the move another way: as "a telltale sign" that Whitmer fears other efforts to erect post-Roe abortion protections in Michigan will fail.
Reproductive Freedom for All — a coalition of abortion rights advocates that includes the American Civil Liberties Union of Michigan and Planned Parenthood of Michigan — is pushing for a constitutional amendment that would explicitly affirm Michigan women's rights to "reproductive freedom."
The petition group must collect at least 425,059 valid signatures before July 11 to place the measure on the November ballot for voter approval.
"That tells me that they aren't real confident that they are going to get their signatures," Marnon said of the Whitmer court filing. "I think that's why we are seeing what we are seeing."
Right to Life has joined a coalition called Citizens to Support Michigan Women and Children to work against the constitutional amendment by abortion rights groups, Marnon said.
Simultaneously with Whitmer's suit, Planned Parenthood of Michigan also prepared legal action Thursday with a lawsuit seeking to block enforcement of the 1931 law.
"We needed to make sure that Michiganders were going to be protected and have access to abortion no matter what happened in the Supreme Court or at a federal level," said Dr. Sarah Wallett, chief medical officer for Planned Parenthood, which operates 14 Michigan clinics.
Its political donation arm has contributed $17,500 so far to Whitmer's re-election campaign.
"There's really not any room for a gray area in this. Abortion is healthcare," Wallett said. "And right now we're in this really gray zone where health care of Michiganders who need abortion is potentially at risk."
The Planned Parenthood suit "argues that the ban violates the rights to liberty, bodily integrity, equal protection, and privacy under the Michigan Constitution and state civil rights laws, and that the law is unconstitutionally vague," according to a prepared statement from Planned Parenthood.
Revisiting Roe
Whitmer's legal action comes weeks or months ahead of a decision in the Mississippi case, known as Dobbs v. Jackson, one of several suits that helped move the 1973 Roe case back before the nation's highest court, which has tilted conservative since the appointment of new justices during the Trump administration.
Anticipation that the reshaped court will strike down or gut Roe has energized anti-abortion activists in recent years and triggered multiple cases designed to return the case to the court.
Mississippi's is among some the most restrictive of the nation's recent patchwork of state abortion laws. Guttmacher, the advocacy and research organization, ranked the states in 2020 from "very supportive" in terms of laws that support abortion rights to "very hostile." It ranked Michigan, with its Republican-dominated legislature, as "leans hostile" at that time.
If the U.S. justices strike down Roe, the 1931 Michigan law — one that "on its face … is a sweeping prohibition on abortion," Whitmer acknowledged in the lawsuit — would make it at least a four-year felony for Michigan medical providers to induce an abortion.
Removing Roe's protective shield will revive existing state abortion bans such as Michigan's 1931 law. That will set off a scramble in each state to erect laws either protecting or limiting abortion rights, said Lance Gable, a Wayne State University law professor specializing in health law.
"If Roe is overturned and so you're going to see a lot of activity as states adapt" to a post-Roe world, he said.
Gable also noted that while Michigan law allows the governor to leapfrog lower courts on important public issues, that is no guarantee the justices will step in to decide the issue.
"The court does have the authority to not take the question. It's their discretion," Gable said.
Whitmer's complaint names as defendants prosecutors in 13 Michigan counties in which 27 abortion providers are located— Emmet, Genesee, Grand Traverse, Ingham, Jackson, Kalamazoo, Kent. Macomb, Marquette, Oakland, Saginaw, Washtenaw and Wayne.
Because prosecutors are obliged to enforce criminal statutes, the suit argues, it's imperative the state's high court move quickly to resolve "substantial uncertainty" over whether the 1931 law would once again be enforceable if Roe falls.
Prosecutors in seven of the 13 counties — all Democrats — released a letter Thursday vowing not to enforce the 1931 law if it were to be revived.
The prosecutors — from Genesee, Ingham, Kalamazoo, Marquette, Oakland, Washtenaw and Wayne — said the law conflicts with their duty to "act in the best interest of the health and safety of our communities."
"We cannot and will not support criminalizing reproductive freedom... Instead, we will continue to dedicate our limited resources towards the prosecution of serious crimes and the pursuit of justice for all," the statement read.
In a media session Thursday morning, Nessel spoke about her own abortion in 2002. She said she was pregnant with triplets, but the pregnancy was "riddled with massive complications."
"I was eventually told I would miscarry all three unless I terminated one. So I chose to try whatever I could do, and follow the advice of my doctors, in order to salvage the pregnancy of the other two," she said. "I didn't work as hard as I did to become pregnant only to have an abortion. But like most people, I was faced with what felt like an impossible and incredibly difficult decision."
The abortion of one fetus, she said, "allowed me to carry the other two babies long enough for them to be born alive….Today, I have two beautiful sons who I love and adore more than anything on God's green earth instead of having no children at all."
As the attorney general, Nessel has taken a rare step in saying she would not defend the state against the Planned Parenthood suit attacking the validity of the state criminal statute.
Nessel denied any "coordination" with Whitmer on the timing of her statement.
"I have not had any communication with the attorneys on her team, or with the governor about this lawsuit," she said.
Michigan Democrats, meanwhile, were quick to leverage the court filing for fundraising.
"Gretchen Whitmer won't stop fighting for Michigan and we can't stop fighting for her," read the fundraising appeal, which asked supporters to "chip in here to fuel our work as we prepare to turn out Democrats to the polls to reelect Governor Whitmer and flip Michigan's state legislature with Democrats who will work with our Governor to protect and ensure reproductive freedom for all."
Whitmer employed the rarely-used Executive Message court rule in an effort to put the case directly to the Michigan Supreme Court. Whitmer wants the justices to intervene and settle the issue promptly, which the rule allows on issues of "such public moment as to require an early determination."
"It is necessary and appropriate to resolve that uncertainty, which chills the right to abortion and currently affects the decisions of Michiganders seeking abortions," lawyers for the governor wrote in the suit, which Bridge Michigan obtained in advance of its filing.
Whitmer, a first-term Democrat up for reelection in November, argues the 1931 law violates the due process and equal protection clauses of the Michigan Constitution, and deprives women of basic reproductive health protections.
It cites a litany of potential harms women face without the right to an abortion, including comparatively higher health risks from continued pregnancy and childbirth, loss of educational or job opportunities, and heightened odds for many women of economic insecurity and children who would be raised in poverty.
The filing also details the paternalistic ancestry of the criminal statute, which had its origins in the mid-19th century. The law, Whitmer argues, was "rooted in an effort to enforce antediluvian marital roles" based on concerns that included falling birth rates and the view that "women had to be saved from themselves."
Marnon, of Right to Life, argued to Bridge in an interview that the state Supreme Court already upheld the statute in a ruling shortly after the 1973 federal Roe decision. The Michigan court wrote then that, absent the protections of Roe, abortion in Michigan would result in "criminal responsibility."
"I'm not sure why she would ask our Supreme Court to go against their own precedent," Marnon said of Whitmer.
The Michigan Catholic Conference, the "official public policy voice of the Catholic Church in this state" issued a statement Thursday addressing Whitmer's legal efforts.
"The right to life for unborn children and its inherent value given by our Creator cannot be reduced to a legal opinion or legislative vote," said its policy advocate, Rebecca Mastee.
Whitmer's suit notes there were 29,669 abortions performed in the state in 2020, roughly 40 percent below 1987, when the number of abortions in the state reached its peak, according to the Michigan Department of Health and Human Services.
Of those nearly 30,000 abortions, Whitmer wrote, only seven were reported to have immediate complications.
"Michigan women deserve the freedom and autonomy to plan their lives knowing that they have access to a common, safe, and key component of reproductive healthcare," the suit said. "...They deserve freedom and autonomy over their bodies and futures."
Only donate if we've informed you about important Michigan issues
See what new members are saying about why they donated to Bridge Michigan:
"In order for this information to be accurate and unbiased it must be underwritten by its readers, not by special interests." - Larry S.
"Not many other media sources report on the topics Bridge does." - Susan B.
"Your journalism is outstanding and rare these days." - Mark S.
If you want to ensure the future of nonpartisan, nonprofit Michigan journalism, please become a member today. You, too, will be asked why you donated and maybe we'll feature your quote next time!