A Michigan abortion ban could 'shock' state politics ahead of 2022 election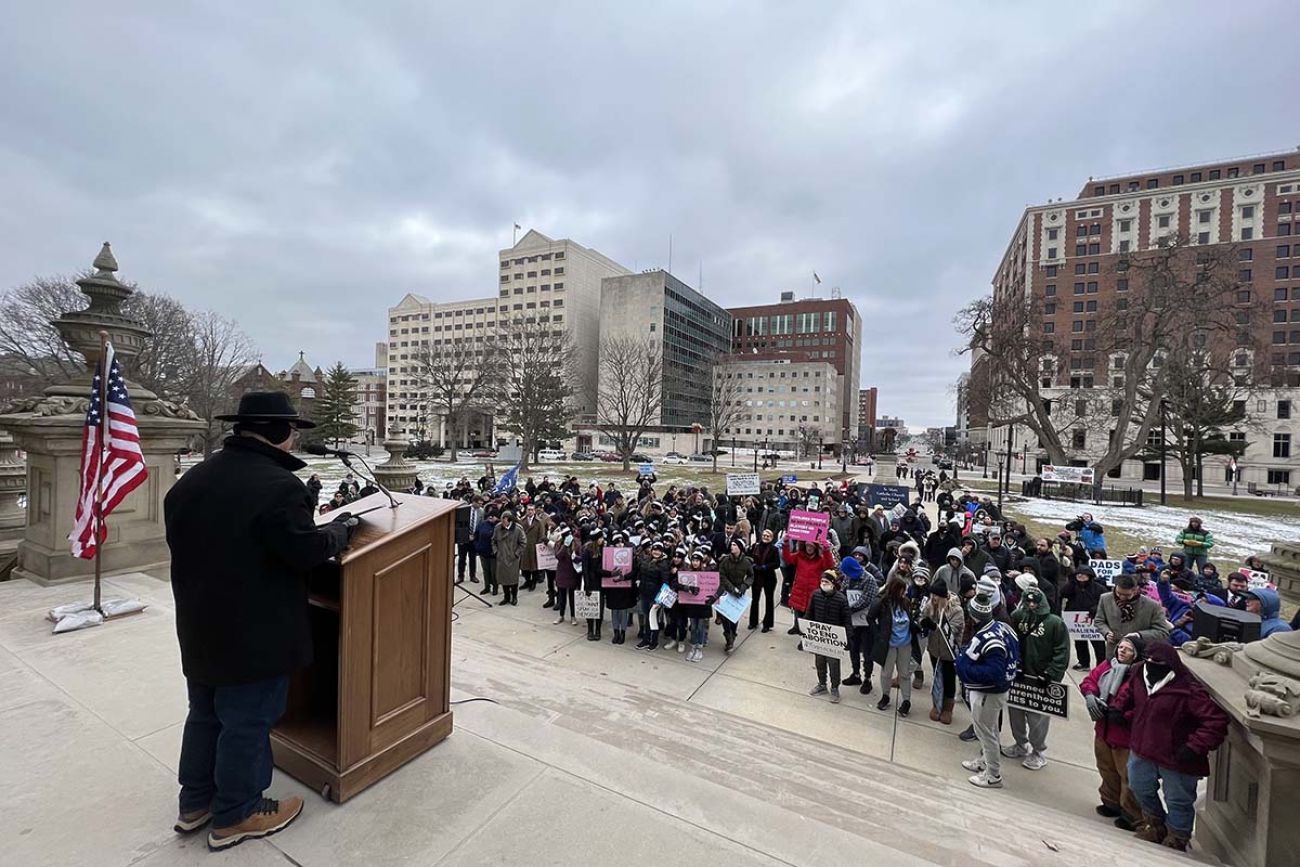 Ed Rivet, president of Right to Life of Ingham County, speaks to attendees of the annual Roe v. Wade Memorial and March in front of the Michigan State Capitol on Jan. 19, 2022. Rivet called for "all hands on deck" to support the potential reversal of Roe. v. Wade and defeat a statewide ballot initiative that would constitutionalize reproductive rights for women. (Bridge photo by Yue Stella Yu)
May 3, 2022 update: Leaked Supreme Court draft would overturn Roe, upend Michigan abortion law
LANSING—Michigan women could lose legal access to abortion this summer, an increasingly realistic possibility that could dramatically redefine the contours of state and national politics just months ahead of pivotal midterm elections.
Candidates, political parties, advocacy organizations and ballot groups across the state are drawing battle lines as a conservative-tilted U.S. Supreme Court considers a Mississippi abortion case that asks justices to overturn the court's 1973 landmark decision in Roe v. Wade.
If the court overturns Roe — which guarantees women access to legal abortion before a fetus is considered viable outside the womb — ramifications in Michigan could be swift: A 1931 statute outlawing abortion across the state remains on the books and would likely be reinstated, making it at least a four-year felony for medical providers to induce an abortion.
Related:
The law could force women to travel out of state for some reproductive health services and, abortion-rights advocates say, limit access to quality care.
And it would be a "shock to the political system" with the potential to upend a midterm election cycle that is otherwise shaping up to be a solid year for Republicans, said Richard Czuba, a veteran Michigan pollster with Glengariff Group Inc.
"Typically, in a midterm election, the party in power in the White House gets shellacked," Czuba said, referencing Democrats. "This is the kind of issue that fundamentally changes that equation, because independents so strongly support leaving Roe v. Wade in place."
With the conservative court set to rule by the end of June, most major political candidates in Michigan have already taken positions on what could become a state-level issue if the Supreme Court again gives governors and state legislatures wide berth to set abortion policy.
GOP gubernatorial challengers James Craig, Kevin Rinke, Garrett Soldano and Tudor Dixon have indicated they would stand by the 1931 law to ban abortion if Roe is scrapped. And Republican candidates for attorney general — Tom Leonard, Matthew DePerno and Ryan Berman — say they would enforce that ban if elected as the state's top law enforcement officer.
Roe v. Wade is "complete and total nonsense," DePerno said Friday in a forum with competitors for the GOP nomination, touting his hard-line stance against any allowable exceptions to an abortion ban, which can include to save the life of the mother or pregnancies cause by rape or incest. "Real conservatives… understand that life begins at conception."
Democratic officials have vowed to protect abortion rights but have limited options prior to the November election because Republicans currently control both chambers of the Michigan Legislature.
Gov. Gretchen Whitmer, who is firmly pro-choice on abortion, has lobbied lawmakers to repeal the 1931 ban, a request GOP leaders have so far scoffed at. Pro-choice Michigan Attorney General Dana Nessel, also up for re-election, says she would not enforce the ban at the state level so long as she is in office.
"My re-election isn't all that's on the line in November," Whitmer said in a recent fundraising letter, telling supporters that "a woman's right to choose will be on the ballot" too.
That may be true regardless of whether the Supreme Court overturns or guts Roe: Reproductive rights advocates are preparing a petition drive for a potential 2022 state ballot measure that would ask voters to guarantee the right for a woman to have an abortion before fetal viability. If approved, the proposed amendment to the Michigan Constitution would trump the 1931 law.
"The threat to abortion is now at our doorstep," said Nicole Wells Stallworth, executive director of Planned Parenthood Advocates of Michigan, which backs the petition drive along with the ACLU of Michigan and another organization called Michigan Voices.
"Many of the candidates understand that this is such an important issue, and they plan to run on it," Stallworth told Bridge Michigan, stressing the importance of state level and legislative elections. "But the voters — we have a lot of work to do to make sure that they understand that this is really real: abortion access is at risk."
A 'fundamental issue'
Abortion has traditionally been a successful wedge issue for Republicans, who have wooed evangelical and other voters in Michigan and across the country by promising to oppose a procedure that anti-abortion advocates believe is tantamount to murder.
While surveys suggest abortion is not a singular election issue for all evengelicals, "it is the issue where they are fully convinced that they are on the right side, and that the other side is evil," said Kristin Kobes Du Mez, a history professor at Calvin University who has studied and written about he intersection of faith and politics.
Donald Trump's pledge to appoint "pro-life" Supreme Court justices if elected president likely played at least some role in helping him win support from faith-motivated voters in 2016 despite a personal history that included multiple divorces and explicit comments objectifying women.
Trump went on to nominate three justices who are now in position to overturn Roe, which could end up strengthening what is already a powerful bond between evangelical voters and the Republican Party, Du Mez told Bridge Michigan.
"There is a sense of gratefulness, to be honest," she said. "There's a sense of, 'They did something for us finally, and we owe them our gratitude and our votes into the future.'"
But Republican voters already appear to be highly motivated going into the 2022 election cycle, said Czuba, the pollster. What's not yet clear, he said, is how much a Supreme Court ruling on abortion would motivate Democrats or independents.
Republicans have been "very successful" at "playing at the margins" of abortion policy by doing things like tightening funding rules, Czuba said. "But we've never dealt with the central question of should it be allowed or not. And that's where we're at now with this Supreme Court decision."
State and national public opinion polls have consistently shown majority support for some form of legal abortion. More than 67 percent of Michigan voters support keeping Roe v. Wade in place, according to a January survey by Glengariff.
Nearly 66 percent of Michigan voters also want to repeal the 1931 law that would ban abortion if reinstated, according to the same survey. Only "strong Republicans," the kind who tend to vote in primary elections, offered broad support for an outright ban on legal abortion.
Support for legal abortion is also notably high among independent voters: 71 percent indicated they wanted to retain Roe and overturn the old ban.
"We always like to talk about Republicans and Democrats, and we always forget that there's 22 percent of independents sitting in the center," Czuba said "And those are the people who decide elections in Michigan."
A 'vise grip on abortion politics'
Abortions rates have generally declined in recent decades despite legal access. But rates have increased slightly in Michigan each of the past five years.
Michigan providers reported performing 29,669 abortions in 2020, the highest total since 1996 but down 40 percent from the all-time high of 49,098 in 1987, according to state data. The vast majority of Michigan abortions — 89 percent — ended pregnancies at 12 weeks or less, well before fetal viability, which medical experts say is typically around 23 or 24 weeks.
The Mississippi law now before the Supreme Court would ban abortions after 15 weeks of pregnancy, a direct challenge to the pre-viability standard established in Roe.
Judicial questions and comments during December oral arguments appeared "very favorable to the pro-life side," said Genevieve Marnon, legislative director for Right to Life of Michigan.
There is a strong possibility the justices "will overturn Roe vs. Wade and send the decision back to the states," Marnon predicted, telling Bridge she has "every confidence" Michigan's 1931 ban would then be reinstated.
The 91-year-old law, which is based on an even older 1846 statute, would make it a felony for medical providers in Michigan to perform an abortion unless it is necessary to preserve the life of a pregnant woman.
More than 40 Republicans currently serving in the Michigan Legislature have signed onto legal briefs asking the Supreme Court to overturn Roe, along with six of Michigan's seven incumbent congressional Republicans — all but U.S. Rep. Fred Upton, R-St. Joseph.
"Mississippi's case provides the court a chance to release its vise grip on abortion politics, as Congress and the state have shown that they are ready and able to address the issue in ways that reflect Americans' varying viewpoints and are grounded the science of fetal development and maternal health," attorneys for Congressional Republicans wrote in a legal brief opposing Roe.
"It is long overdue for this court to return lawmakers to legislators."
Whitmer and Nessel, the top ranking Democrats in Michigan government, joined counterparts in 22 other states urging justices to uphold Roe, arguing in a legal brief that pre-viability prohibitions on elective abortions should remain unconstitutional.
Current Supreme Court precedent "draws an appropriate line that respects state interests while safeguarding a woman's ability to make one of the most consequential, intimate, and properly private decisions she will ever have to confront," Democratic attorneys general wrote.
Michigan is one of eight states with a pre-Roe ban that could be reinstated with Supreme Court reversal, according to the Guttmacher Institute, a research organization that supports legal abortion access. A dozen other states have more recently passed laws that would take effect and ban most abortions. Nine other states have abortion restrictions that could be reinstated.
If abortion is banned in Michigan, a woman who lives in Marquette would have to drive more than five hours and three hundred miles to find legal access in Illinois. A woman in Traverse City would have a slightly shorter drive – about four hours and 280 miles – to Indiana, unless that state's Republican governor and GOP-led Legislature would subsequently restrict abortion.
"For women unable to make that journey, laws banning abortions before viability would lead to materially worse health outcomes and reduced socioeconomic opportunities," Nessel and other Democratic attorneys general argued in their Supreme Court brief. "There is no sound basis for imposing those harms."
'God put them in this moment'
While a Supreme Court decision could reshape the 2022 election cycle, abortion politics are already having a notable impact in statewide races.
Soldano, a Kalamazoo-area chiropractor who is so far the only Republican gubernatorial hopeful to file petition signatures to qualify for the August primary ballot, made national news last month by arguing against abortion for women who are raped.
Even women who are raped should "recognize that God put them in this moment" and avoid abortion because "that little baby inside them may be the next president, maybe the next person who changes humanity," Soldano said on a right-wing podcast.
The comments were a "disgusting, dangerous attack on women's control over our own bodies and our own lives," said Laphonza Butler, president of EMILY's List, a national organization that helps liberal women win elections.
But Soldano doubled down, saying he is "not ashamed" of his comments and calling the resulting media attention "great news" for his campaign.
While some competitors criticized his messaging, fellow GOP candidates like Craig, Detroit's former police chief, have taken similar positions, saying abortion should only be allowed in cases where continuing to carry the baby jeopardizes a woman's life. Dixon, a conservative media personality from the Muskegon area, says she is a "pro-life candidate - no exceptions."
Republican attorney general candidates who oppose Roe v. Wade took the debate a step further on Friday, indicating broad opposition to Supreme Court intervention in other cultural flashpoint issues previously decided at the state level, including birth control.
In a candidate forum hosted by the Alcona County GOP, Deperno and Leonard, the 2018 GOP nominee for attorney general, said they opposed a landmark 1965 Supreme Court decision that barred states from banning contraceptives. Berman, currently a state legislator, said he is "all about states' rights" but wasn't familiar with details of the contraceptive case.
"This case, much like Roe v. Wade… trampled upon states' rights," Leonard said.
Nessel, the Democratic incumbent, accused Republican challengers of taking a "radical" position opposing privacy rights that were also central to court decisions allowing same-sex marriage, sex between unmarried persons and even "non-missionary" sex positions.
"The party of 'limited government' wants direct involvement in everything you do in the bedroom," Nessel said in a series of Twitter statements. "The Handmaid's Tale is no longer dystopian fiction," she added, referencing the sex slavery novels and television series.
Leonard, in a response statement released by his campaign, called Nessel a "fringe culture war activist" who does not understand what he called a "common sense" stance.
"My problem with (the 1965 contraceptive ban case) isn't the result — of course states shouldn't ban contraceptives — but rather how the Supreme Court got there," Leonard said. "Our rights should be grounded in the Constitution's text and tradition, not a judge's feelings."
Only donate if we've informed you about important Michigan issues
See what new members are saying about why they donated to Bridge Michigan:
"In order for this information to be accurate and unbiased it must be underwritten by its readers, not by special interests." - Larry S.
"Not many other media sources report on the topics Bridge does." - Susan B.
"Your journalism is outstanding and rare these days." - Mark S.
If you want to ensure the future of nonpartisan, nonprofit Michigan journalism, please become a member today. You, too, will be asked why you donated and maybe we'll feature your quote next time!