As Gretchen Whitmer pitches Michigan education, a lag in college enrollment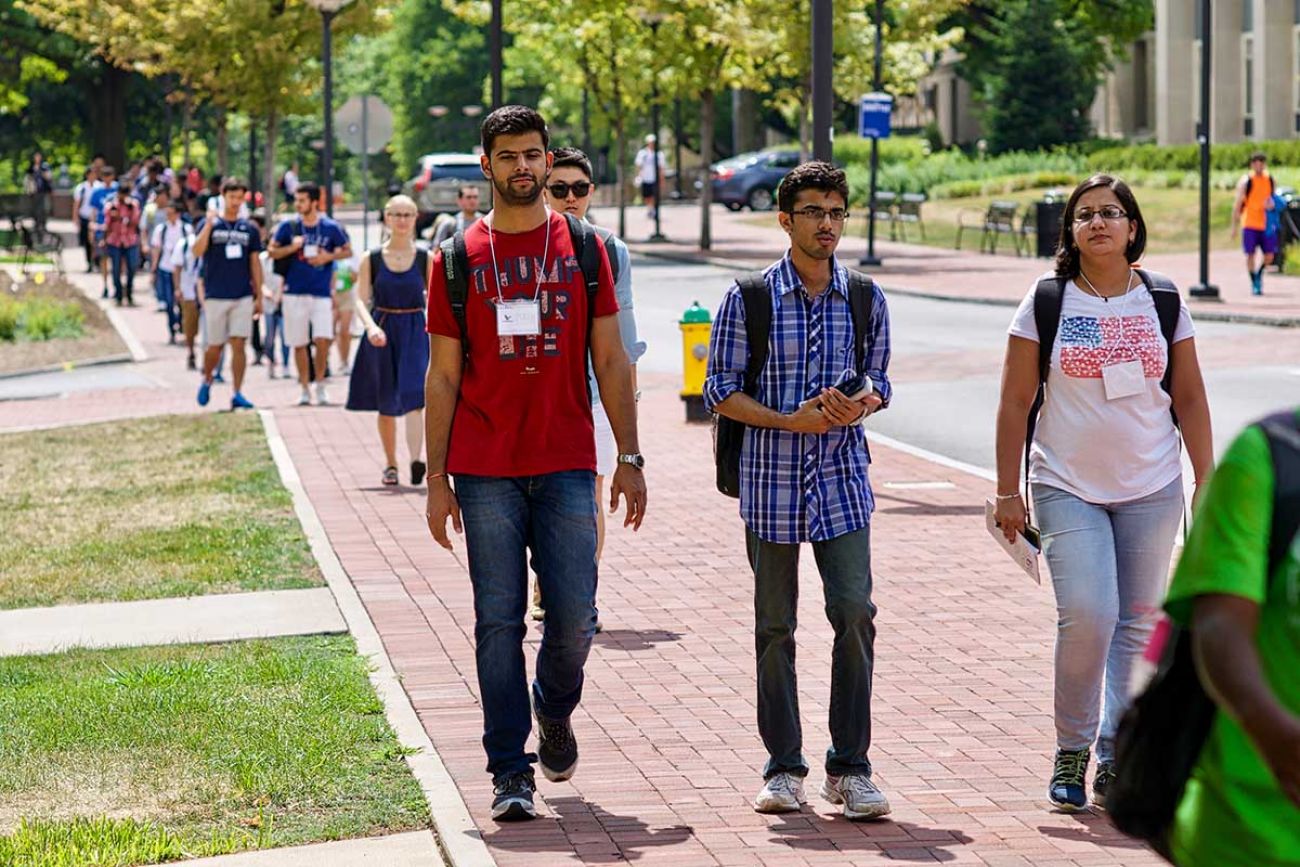 Michigan guidance counselors say the pandemic's uncertainty is making some students more deeply question their path after high school. (Shutterstock photo by John M Chase)
Talent & Education
As Gretchen Whitmer pitches Michigan education, a lag in college enrollment
College enrollment among Michigan high school graduates continues to lag compared to pre-pandemic rates, a challenge that could impact the state's economy for years if not addressed.
A Bridge Michigan analysis of college enrollment data shows 54 percent of students from the high school class of 2021 enrolled in a two- or four-year college last fall, down from an average of 63 percent college enrollment in the three years preceding COVID-19. Declines were seen across much of the state, in wealthy and impoverished districts alike.
Related:
Michigan high schools sent about 9,000 fewer students to college last fall than would have been expected before COVID. In the past two pandemic years, that total rose to 17,500 fewer recent grads enrolling in college.
The drop was worse for two-year colleges, with 16 percent of Michigan high school graduates enrolling last fall, down from the pre-pandemic average of 24 percent. Enrollment in four-year colleges rebounded slightly last fall to 37 percent of high school graduates — up from fall 2020, but still below the 39 percent rate before COVID hit
College access experts say sluggish enrollment numbers are discouraging for multiple reasons. Studies show people with college degrees generally receive higher wages, and a more highly-educated workforce would boost Michigan's economy and allow the state to attract and fill more high-skilled jobs.
Boosting post-secondary attainment has been a signature goal of Gov. Gretchen Whitmer, who in her first State of the State speech in 2019 urged the state to raise its rate of working-age adults with a certificate or college degree from 44 percent to 60 percent by the year 2030.
Since the pandemic, Whitmer has rolled out a slew of ambitious initiatives to make college more accessible, including free-tuition programs.
Her proposed education budget, to be released Wednesday, is geared to better supporting K-12 students, including economically disadvantaged students, who already enroll post-secondary education at lower rates. In addition to boosting per-pupil funding, Whitmer's budget seeks $222 million more for low-income students, $30.8 million for vocational education and career tech and $361 million more for student mental health.
Michigan College Access Network executive director Ryan Fewins-Bliss said he is worried about the latest enrollment numbers, saying they could affect the workforce for years. Business owners are moving toward robotics and machinery and the way to avoid displaced workers in the process is to produce more highly skilled workers, he said. For example, they can be the person who design, service or install the robots.
"We're going to need more talent who have certificates and degrees to fill these jobs," Fewins-Bliss said. "But again, we're pinching the pipeline because our students aren't going to college right now. So there won't be people to fill those jobs."
The median wage for Michigan workers one year after they receive a high school diploma is $12,400, and rises to $19,800 after five years, according to MI School Data, a state data repository.
Paychecks improve dramatically for college grads. The median income for someone with a two-year associate's degree is $33,700 after one year and $39,600 after five years. For someone with a four-year bachelor's degree, it rises from $39,300 to $52,900.
While low-income students and students of color enroll in post-secondary programs at lower rates than white students, Bridge's analysis indicates college enrollment fell across much of Michigan, from the richest suburban districts to the poorest urban schools. Consider:
In the Bloomfield Hills district in Oakland County — one of the wealthiest in the state — 87.1 percent of graduating high school students enrolled in a two- or four-year college pre-pandemic. That rate fell to 73.9 percent last fall.
Other wealthy districts, like Forest Hills, Birmingham, Troy and Rochester all saw college enrollment fall.
In Saginaw, where 79 percent of students are considered economically disadvantaged, the city schools had been sending, on average, 46.2 percent of graduates to college before the pandemic, but just 31.9 percent in 2021.
Detroit schools saw a big drop in students attending two-year college, down from 18.5 percent before COVID to 8 percent in 2021. However, the student enrollment rate for four-year colleges rose, from 33.8 percent to 38.6 percent.
Erin Berndt is a school counselor at Norway High School in the Upper Peninsula, with about 175 students. She noted that the high school class of 2020 had most of its senior year to prepare for their future before COVID hit in March of that year. But the class of 2021 spent its entire senior year in pandemic mode, with a lot of unknowns and shifting routines.
Students at Norway, near Iron Mountain, don't generally get a lot of exposure to visiting colleges because of the school's geography, so getting college representatives to visit them makes a difference. But college reps weren't allowed to enter the high school during the 2020-21 school year. And after spending their days in remote learning, the last thing students wanted to do was jump on another virtual meeting for a college tour.
The inconsistency of schooling, Berndt said, also made it harder for her students to feel confident in their decisions.
"It just felt so disjointed," she said. "Start, stop. Start, stop. Yes, things are normal. No, they're not."
She noticed that students are struggling to pick a time and venue for prom. If it's hard to make a decision about a dance, how much harder is it to make a decision about the next two to four years of their lives?
"It's almost like they're in this sort of — which I feel like I am, too — in this sort of fog, where we know what we have to do. And we really want to do it but also we haven't done it in so long and it feels like it's going to be so much work on top of everything else we have to do."
"I'm not going to call them disinterested but I just think that they're overwhelmed," Berndt said.
The combination of virtual learning and fewer social interactions has also impacted students who knew they were going to college.
Ann Arbor Huron High School class of 2021 graduate Eli Atkinson said he felt like he had regressed socially after spending almost his entire senior year online and he wasn't sure if it would be responsible to pay full tuition when he wasn't confident college would be in-person.
"I think that the year before college is, like, very important for social development," he said.
So Atkinson is taking a gap year. He works 30 hours a week at a lab at the University of Michigan studying epidemiology and also works part-time at a local restaurant. He plans to attend college in the fall.
At Lansing's Waverly High School, AmeriCorps member Alan Weeks serves as a college advisor. He graduated from Waverly in 2016 and remembers talking with his friends in high school about what was next. He said it's different for students now.
"They've gone through a pretty tough two years, but now they're kind of getting into that realm" of whether to attend college, Weeks said.
"But I just don't think those conversations were really happening of, 'What do you want to be in the future?' Especially when you're worrying about 'what am I going to do in the next week? Like, am I going to be in school in-person or am I going to be online and am I going to be safe when I go there?'"
The cost of college
"In many ways, Michigan's…most pressing economic problem at the moment is demographic," said Lou Glazer, president and co-founder of Michigan Future, Inc. "So part of it is that we don't have enough young people, but what we particularly don't have is enough young people with college degrees...It's not only important to their life outcome, but it's also important to the Michigan economy."
But with less time to meet with teachers and school counselors to talk about how to reduce college costs, sometimes the sticker price feels too steep.
"I do think that students are a little more reluctant," Berndt said. "And I also think that some students, some of our higher achievers who had jobs and were working, there was extra pay and so they were continuing to work and say, "maybe I'll put college off for a year."
Larry Good, president and CEO of the nonprofit Corporation for a Skilled Workforce, said technical programs require faculty and students to be on-site. With a pandemic that pivots more lessons to online learning, he said naturally there will be a slow down in some of those fields.
Still, he said, the lower rate of post-high-school enrollment is a challenge for the entire state of Michigan.
"It's not a black and white…mindset that 'the only good path was to go to university,'" he said. "That's certainly an important path and we need lots and lots of people to do that. But the idea that there's other ways to work and learn, that you can do well with, are also in the labor market.
"And so part of it is getting people to see the range of choices that they've got. I mean, overall, Michigan desperately needs to increase the number of people who've got skills and credentials past high school."
As Atkinson, the Ann Arbor grad, prepares to go to college next fall, he is practicing other skills including living on his own, paying for rent and using public transportation to get places. He's confident he has built his independence, which contrasts the feelings of insecurity and incompetence he felt when he first decided to wait on college.
"I think by taking a gap year and having a really good experience, I probably learned that everyone really is on their own path and no one actually knows what they're doing fully. So it was a good lesson for me...to remember to trust my own process."
Good said the trends in higher education enrollment is an opportunity for colleges and universities to examine what they can do to better engage potential students that are not right out of high school.
The Whitmer administration's Michigan Reconnect and Futures for Frontliners programs are both aimed at helping adults well past high school attend community college.
Nancy Peters-Lewis, executive director of the College and Career Access Center in Jackson, said the combination of students seeing family members operate in a labor market amid 'the Great Resignation,' combined with college affordability concerns and the big question of whether a student even wants to do college create the "perfect storm."
She is seeing "apathy and ambiguity" in the college application process.
Every year, her organization surveys high school students in Jackson. In September 2020, 15.4 percent of students surveyed said they were undecided on what to do past college. In 2021,19 percent of students were undecided and in 2022, 32 percent of students were undecided.
Weeks, the AmeriCorps college advisor at Waverly, said college costs were a huge issue even before COVID.
"And then when you add a pandemic that is making the wallets even tighter and putting even more strain on families that may potentially already had financial issues, I think it's a tough thing," Weeks said. "Even at a community college that can be considered more affordable and a great opportunity, it's still an investment."
Peters-Lewis said her team works hard to tell students about the Free Application for Federal Student Aid (FAFSA) program and scholarships, but it's harder to point students toward college if they are questioning if they should go to college in the first place.
Berndt said her students hear from their peers who recently graduated. They wonder if there's a point in paying for college if there's a chance that the virus could pick back up and they'll be left learning from their bedrooms on a computer again.
In the meantime, some Norway High students are taking advantage of the fact that more colleges and universities are not requiring standardized test scores.
Berndt said some are applying to colleges they otherwise would not have applied to because they see the pandemic as a time to try something new.
"With that test score taken out of the equation, it's making other things possible for the students," she said.
Still, Michigan is below the national average in the percentage of high school students applying for college financial aid.
As of late January, 34 percent of U.S. students in the class of 2022 had filled out the FAFSA form seeking free financial aid for college. Michigan's rate was 30.9 percent, according to the National College Attainment Network's FAFSA tracker.
Fewins-Bliss said he hopes Michigan will use an "unprecedented opportunity" from its budget surplus and American Rescue Plan Act money from Washington to help students get "into and through post secondary education.
"I think it's a perfect opportunity and an appropriate use of that funding."
Only donate if we've informed you about important Michigan issues
See what new members are saying about why they donated to Bridge Michigan:
"In order for this information to be accurate and unbiased it must be underwritten by its readers, not by special interests." - Larry S.
"Not many other media sources report on the topics Bridge does." - Susan B.
"Your journalism is outstanding and rare these days." - Mark S.
If you want to ensure the future of nonpartisan, nonprofit Michigan journalism, please become a member today. You, too, will be asked why you donated and maybe we'll feature your quote next time!