Gretchen Whitmer touts economy. Michigan lost 82K jobs under her watch.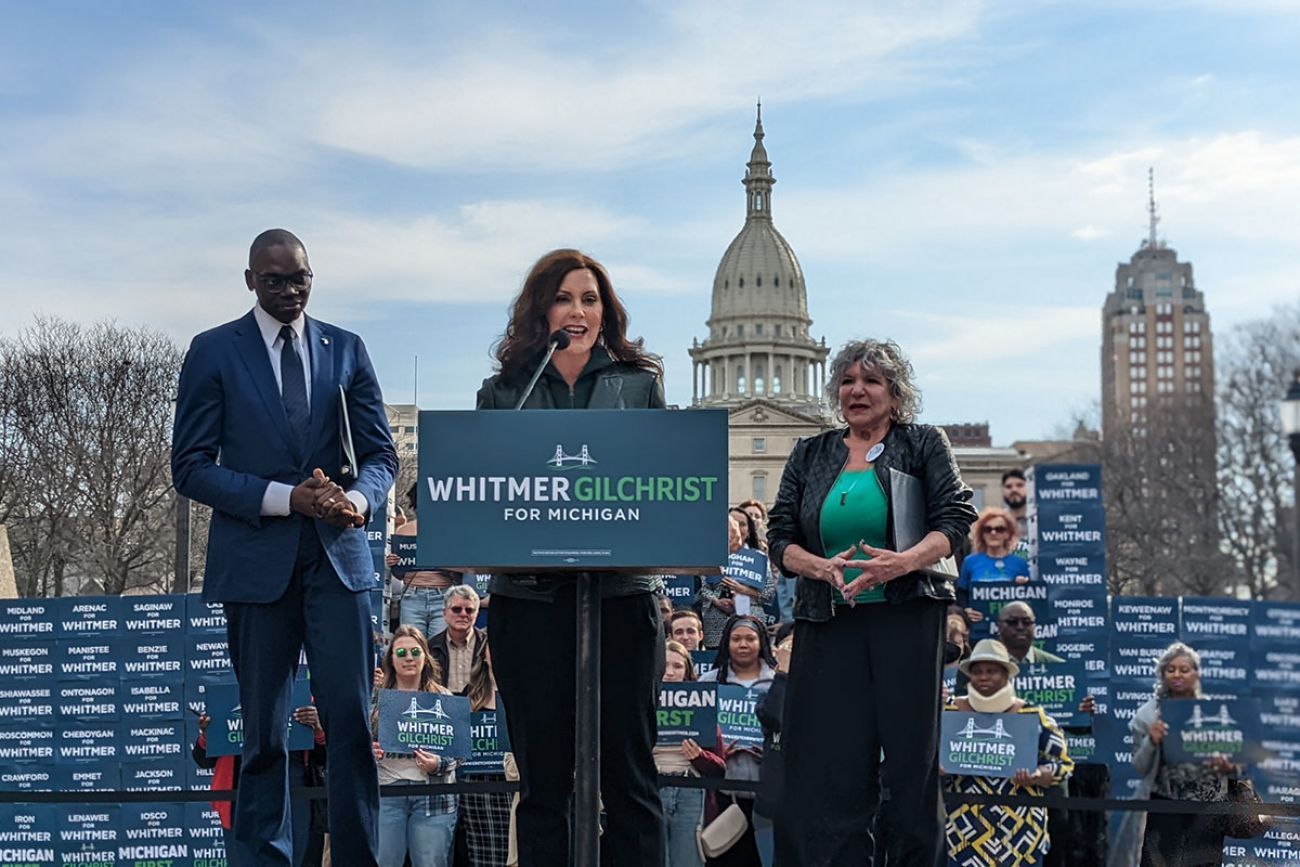 Gov. Gretchen Whitmer claims Michigan has economic "momentum" as the state crawls back from COVID-19 job losses. (Bridge photo by Jonathan Oosting)
Michigan is in the bottom tier of states in regaining jobs lost during the pandemic
Before the pandemic, Michigan's economy was growing slower than the nation
Republican Tudor Dixon blames Whitmer for job losses, but economists say the issue is more nuanced
---
LANSING — Standing between supermarket shelves, Michigan Gov. Gretchen Whitmer turns to the camera and acknowledges that "everything is going up," even the cost of breakfast cereal.
"I can't solve the inflation problem, but we're doing things right now to help," she says in a television ad for her re-election campaign, noting $400 state rebate checks sent to motorists resulting from auto insurance reforms she signed.
In another commercial, the first-term Democrat highlights planned construction of a semiconductor wafer manufacturing facility in Bay City, telling voters she is working to bring "the supply chain home."
The Whitmer ads skip the bad news: Michigan has lost 81,900 jobs during her tenure, and the state's economy is taking longer than most to recover from massive job losses early in the COVID-19 pandemic.
Related:
No doubt, the virus hurt the economy nationwide, but by most measures — unemployment, job growth, local inflation — Michigan fared worse than most other states under Whitmer.
The reasons are plentiful and debate rages on how much governors can control the economy. But the ads show Whitmer knows the issue is a potential weakness for in the Nov. 8 general election, said John Sellek, a Republican consultant with Harbor Strategic Public Affairs in Lansing.
"The economy plays a huge role in Michigan politics, and it always has," he said. "It's a place where, in national polling, the GOP has a massive advantage over the Democrats on doing something about it."
Republican challenger Tudor Dixon contends Whitmer is to blame for the job losses because she issued executive orders early in the pandemic that closed non-essential businesses and shut down restaurants.
Most governors — Democrats and Republicans alike — did so in the first phase of the pandemic in early 2020, but Whitmer's administration issued additional closures that fall while Republican counterparts allowed businesses to stay open.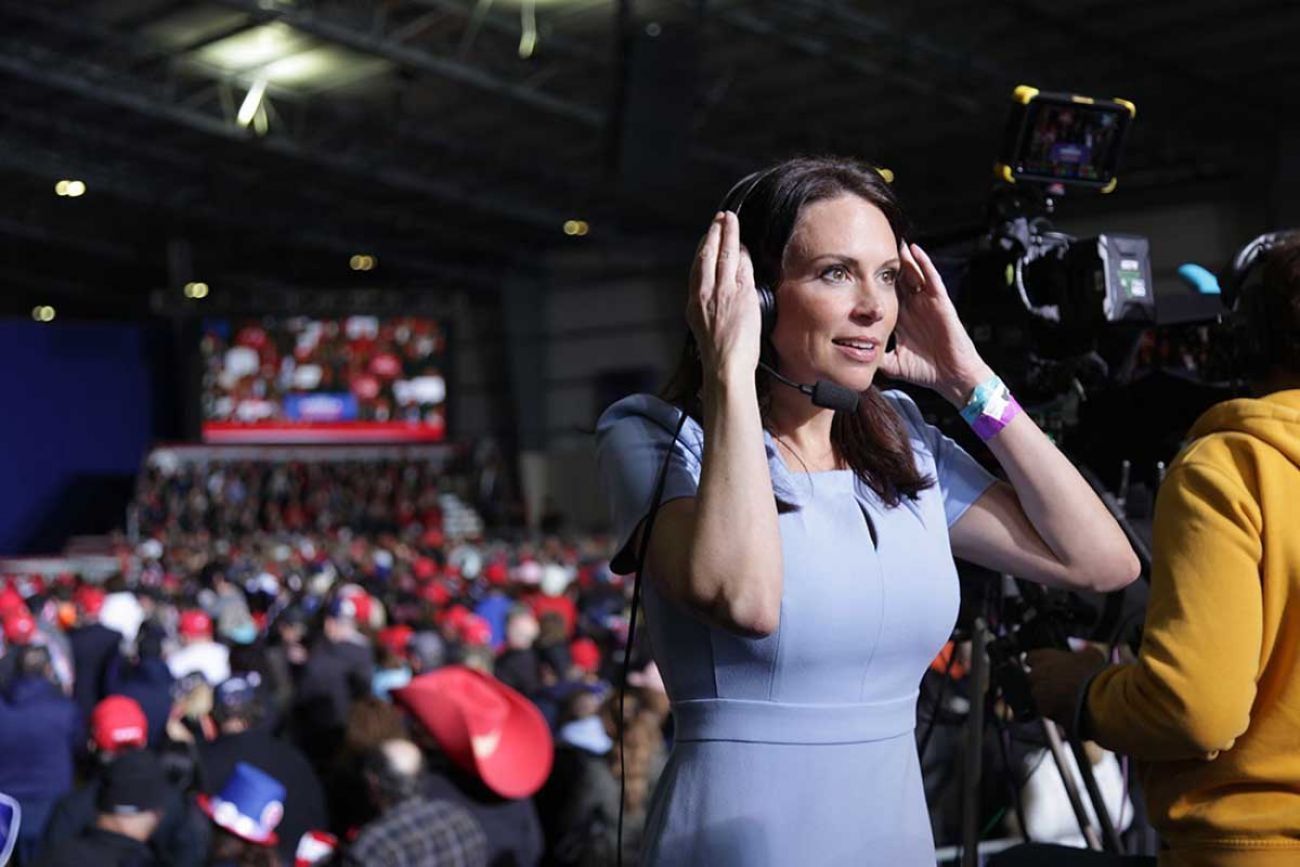 Republican Tudor Dixon says she'd do more to "partner" with businesses if elected governor (Bridge file photo)
Dixon said she would have enabled businesses and individuals to "make choices for themselves" rather than impose "extreme lockdowns."
The former conservative news host and steel industry executive wants to "streamline or rollback" 40 percent of all business regulations over four years, phase out Michigan's 4.25 percent personal income tax and "send a clear message that Michigan is Open for Business and we want job-creators here."
"Gretchen Whitmer implemented the most draconian and extreme lockdowns in the country throughout the pandemic," Dixon said in a statement to Bridge.
"She destroyed our small business community …and forced hard working Michiganders to follow her intrusive orders that picked winners and losers. That is her economic legacy."
Whitmer is touting planned business investments, including a $6.5 billion General Motors Corp. expansion in Ingham and Oakland counties facilitated by $666.1 million in tax incentives from a program she created with the GOP-led Legislature. Lawmakers on Wednesday agreed to put another $600 million into the fund for business attraction.
The Democratic incumbent contends Michigan has economic "momentum" despite global factors beyond her control. She approved COVID relief funds for businesses and two GOP-backed tax breaks: A $200 million measure to allow small businesses to claim bigger federal deductions, and an $80 million change allowing owners to exempt more equipment from local personal property taxes.
"Gov. Whitmer has cut taxes for small businesses, secured billions of dollars in major economic investments that are creating tens of thousands of good-paying jobs, and strengthened Michigan's workforce with tuition-free skills training and higher education," spokesperson Maeve Coyle said in an email.
"Additionally, Gov. Whitmer has put Michigan on strong financial footing to build on this momentum by cutting costs for hardworking families, continuing to invest in economic development, and fighting to repeal the retirement tax."
Still, economists do not expect Michigan to reach pre-pandemic employment levels until 2024. Local inflation is also rising at the fastest rate in four decades and is the 15th highest among states. Average gas prices are again nearing $4 per gallon.
As of July, federal data showed 18 states had fully recovered all jobs lost during the pandemic. Fifteen of them have Republican governors.
Among Midwest states, only Indiana had recovered all jobs by August. Michigan employment was down 1.9 percent from January 2019, when Whitmer took office, 43rd in the nation.
Despite concerns over her pandemic policies, some business groups do not appear to be holding the orders against Whitmer.
The Michigan Manufacturers Association endorsed her re-election bid last week, marking the first time since 1990 that the group backed a Democrat for governor.
The Michigan Restaurant & Lodging Association and the Small Business Association of Michigan — two groups representing industries perhaps hardest-hit by the orders — are not taking sides in the race after endorsing Republican Bill Schuette over Whitmer in 2018.
Digging out
To cut through the election-year rhetoric, Bridge Michigan spoke with economists and industry experts, who said there are some positive signs for the state's economy despite job losses and the looming threat of a national recession.
While total employment is down significantly over the past four years, Michigan's 4.1 percent unemployment rate is down slightly from the 4.2 percent rate when Whitmer took office, suggesting most who want to work can again find jobs.
Inflation has pinched pocketbooks, but consumers continue to spend. And Michigan was one of only four states with a gross domestic product growth in the first quarter of this year.
Whitmer's early COVID orders had largely mirrored public health measures in other states, including Ohio, where Republican Gov. Mike DeWine shut down large portions of the economy days before Whitmer did the same in Michigan.
But COVID hit Michigan particularly hard in late 2020, when health officials feared a winter surge could overwhelm hospitals, Whitmer closed some businesses a second time for more than two months, including restaurants, casinos and movie theaters.
That surge "seemed to be much more acute here than nationally," leading to another round of job losses that set Michigan further back than many states and delayed its recovery, said Gabe Ehrlich, director of research seminar in quantitative economics at the University of Michigan.
"It took us longer to really get into the kind of post-COVID economy, in a sense, where people felt like, OK, we're getting back to normal,'" Ehrlich told Bridge.
"We had further to dig out, and we're still digging out."
Sellek, the Republican consultant, said that voters may not hold the economy against Whitmer if they think she's "doing the best she can" given huge outside factors like COVID and national inflation.
"The pandemic essentially proved that … most officials don't have the power, let alone the authority, to really do something about it."
At the lowest point of the pandemic, Michigan was down more than 1 million jobs, a massive hole that swallowed the 14,100 jobs the state had gained in the first 14 months of Whitmer's tenure, according to federal data. During those months, Michigan jobs increased 0.4 percent compared to 1.7 percent for the nation.
While Michigan has regained most of those lost jobs, U-M economists predict the state will not reach pre-pandemic employment levels until the first quarter of 2024. That would be about four years after the state's first confirmed case of COVID-19 temporarily ground the economy to a halt.
"It's not necessarily that we've been slower to catch up; there's just more ground to cover," Ehrlich said, noting supply chain issues in the auto industry and manufacturing sectors have" been a thorn in the side" of Michigan's recovery.
Nonetheless, the Michigan economy appears to be "holding up" and hasn't yet dipped into recession, added Ehrlich, who pegged the odds of a national recession at "50-50" over the next two years.
Since Michigan's pandemic losses bottomed out in April 2020, the state has gained 957,300 jobs. Its 3.1 percent job growth rate over the past year ranked 18th nationally and trailed only Illinois among neighboring states.
Michigan did "shut down more than a lot of other states" during the pandemic, said Charles Ballard, an economist who recently retired from Michigan State University and has donated to Democratic campaigns, including Whitmer.
But, he noted, Whitmer's public safety orders may have also prevented deaths, which also have a negative effect on the economy.
"There are probably a few thousand Michiganders who are alive today who would be dead otherwise," Ballard said, echoing prior estimates by public health researchers at Imperial College London, Oxford University and U-M.
The Great Resignation
Michigan's 4.1 percent unemployment rate for August was above the national rate of 3.7 percent and higher than the state's pre-pandemic rate of 3.8 percent. But the rate is now well below the 22.7 percent pandemic peak, and it is slightly lower than the 4.2 percent rate when Whitmer took office.
So why does Michigan still have 81,900 fewer jobs?
One glaring factor: There are 67,629 fewer willing workers now than there were before the pandemic hit Michigan.
As of August, 60.1 percent of working-age Michiganders either had jobs or were actively seeking one, down from 61.7 percent in late 2018 and 61.1 percent in February 2020.
The "Great Resignation" was a national phenomenon, but experts say Michigan may have been hit harder than most states because we entered the pandemic with an older population and therefore more workers who may have chosen to retire early rather than deal with health risks or government regulations.
"We're also less well educated by a little bit than the national average," said Ballard, the MSU economist. "And labor force participation is lower for less educated workers, in large part because they just don't fit into today's economy nearly as well as they once did."
Michigan's workforce is considerably smaller than when Whitmer took office, but the data suggests most Michiganders who want to work have options, Ballard said, noting "help wanted signs are everywhere."
GOP lawmakers last year blamed labor shortages on pandemic unemployment benefits, arguing $300 weekly payments incentivized people not to work.
The benefits ended in September 2021 and Michigan's labor participation rate still trails neighboring states and is a full percentage point below the national average.
Ehrlich, the U-M economist, said he does not have a "great answer" for why Michigan's labor participation rate is lagging, but he too speculated that the state's older population may have played a role.
Traditionally, some people who retire end up returning to the workforce. But since the pandemic, the re-entry rate has been "way down," he said.
Michigan also tends to rely on immigration to stem population losses, but that too fell during the pandemic and may have shrunk the potential labor force in sectors like childcare that allow others to return to work, Ehrlich said.
'Particularly challenged'
While Whitmer and Dixon have sparred over job numbers in the state's still-dominant auto industry, it's the restaurant and hotel industries that have been the slowest to recover from pandemic-induced job losses.
According to federal data, the state's leisure and hospitality sector employs 39,700 fewer people than it did when Whitmer took office. It accounts for about 9 percent of Michigan's 4.4 million non-farm jobs.
Most concerning for Michigan industry insiders: The hospitality and leisure sector's recovery appeared to stall in February. Since then, restaurants and hotels have actually lost a combined 4,200 jobs, according to federal data.
At the peak of the pandemic, Michigan's hospitality and leisure sector had shed 243,100 jobs. The state had recovered 148,700 of those jobs by late 2020, when the pandemic surged again and the sector lost 69,700 jobs in December.
Calling it the "worst moment of this pandemic to date," Whitmer's health department ordered restaurants to close indoor dining rooms for a second time on Nov. 18, 2020.
She originally billed the order as a three-week "pause" but later extended restaurant closures by more than two months. They were able to reopen dining rooms on Feb. 1, 2021.
More than a year later, "this industry remains particularly challenged," said Justin Winslow, president and CEO of the Michigan Restaurant and Lodging Association, which is not endorsing in the race but sued Whitmer's administration over indoor dining closure orders in 2020.
"The second closure in Michigan really sent a lot of people who work in this industry elsewhere, and so that started us further behind the eight ball as people just found work in other industries because they felt this industry was too unstable for too long," he said.
Restaurants and hotels that navigated the pandemic successfully are now battling labor shortages. They're paying more to try to recruit or retain workers, and the cost of goods and services has increased with inflation.
Many restaurants have cut hours, utilizing their staff for only "the most reliable money-generating hours," and hotels have taken rooms "out of inventory" since they don't have enough workers to clean them all between guests, Winslow said.
With fewer Michiganders heading downtown to work in office spaces, restaurants have had fewer customers for traditional lunch hours, he added.
The pandemic "really did scramble the way we live our lives," said Ehrlich, the U-M economist. Remote work changed "where people spend their money and where they recreate. I think it's taking time for the economy to adapt."
Development wins or 'dysfunction'?
Whitmer's campaign continues to claim she "created nearly 25,000 auto jobs as part of the biggest manufacturing boom in years."
That is inaccurate and reflects planned jobs, but not actual losses.
The Democratic incumbent points to announced investments, including a $6.5 billion GM electrification expansion in Lansing and Orion Township facilitated by a new tax incentive program she negotiated with the GOP-led Legislature.
The incentive fund also helped land a $2 million investment from Ford expected to create 3,200 jobs (the company laid off 3,000 white-collar workers too). And a new $600 million deposit approved this week by the GOP-led Legislature could help secure a $2.3 billion investment from Gotion Inc. which plans to build a battery parts manufacturing facility in Big Rapids and create 2,350 jobs.
The bipartisan incentive funding will empower Michigan to "compete for huge economic development projects" and help "attract transformational projects bringing billions in investment and creating thousands of jobs to Michigan," Whitmer said in a Wednesday statement.
Her Republican opponent, Dixon, blasted the spending plan because it is expected to subsidize the development by Gotion Inc., a Chinese electric vehicle battery manufacturer that partners with Volkswagen and is based in Fremont, California.
As governor, "I would continue to partner with businesses and job creators seeking to grow and maintain a significant presence in our state," Dixon told Bridge in a statement. "What I will not do is provide taxpayer-funded corporate welfare to foreign Chinese-backed companies."
Asked more broadly about business incentives, Dixon said she would "stop picking the corporation and instead start finding areas throughout the state where we can have sites ready to go that anyone can take advantage of with suitable roads, sewer, water, energy, electrical infrastructure, and broadband."
Dixon has also hammered Whitmer over Ford's decision to build a $5.6 billion electric truck factory in Tennessee, arguing it is proof of "dysfunction" in Michigan's economic development strategy.
Federal data shows there are about 7,000 more vehicle manufacturing jobs in Michigan than when Whitmer took office, but about 10,800 fewer auto parts manufacturing jobs, a net loss of 3,800 jobs.
Across the full manufacturing sector, Michigan is down 24,400 jobs since Whitmer took office. There are also 26,600 fewer education and health jobs; and 24,800 fewer government sector jobs.
Despite tough circumstances, Whitmer has "worked proactively" on the manufacturing sector's "top priorities," Mike Johnston, executive vice president of government affairs and workforce development for the Michigan Manufacturers Association, said in a recent statement endorsing Whitmer's re-election campaign.
She recognizes "the need to compete for manufacturing capital investment through aggressive economic development incentives and to build a world-class workforce," he said.
The Michigan Chamber of Commerce, one of the state's most powerful business groups, has not announced a general election endorsement but backed Dixon in the GOP primary, saying she "demonstrated a commitment to free enterprise, our state's shared economic prosperity and a predictable regulatory climate."
The cost of inflation
Whitmer's recent campaign ad says she "can't solve the inflation problem."
Economists agree, describing rising inflation and gas prices as national and international issues that state-level policy makers can't do much about.
"We tend to blame governors and presidents way more for bad economic news than they deserve, and we tend to give them more credit for good economic news than they deserve," said Ballard, the MSU economist.
"We're kind of in this little boat floating on the vast ocean of the world economy, and we cannot fully insulate ourselves from what's going on."
Gas prices are largely dependent on international markets and spiked due to global disruptions, including the Russian invitations of Ukraine.
But the state could have cut or suspended fuel taxes to reduce at-pump costs.
Whitmer vetoed legislation from the Republican-led Legislature that would have temporarily waived the state's 27.2-cents-per-gallon gas tax, which pays for road repairs. She proposed an alternative plan to suspend the state's 6 percent sales tax on motor fuels.
Likewise, Whitmer twice vetoed bills that would have cut personal income taxes, citing the long-term state budget impact, but proposed her own plan with one-time one-time rebate checks, expansion of the Earned Income Tax credit for lower-wage workers and more senior income exemptions.
Whitmer and the GOP leaders were unable to reach a compromise on any major tax relief package despite a nearly $6 billion surplus in the state's discretionary general fund, and they appear unlikely to do so before the Nov. 8 election.
Dixon says she wants to "phase out" Michigan's personal income tax, but she has acknowledged that would have to be done gradually to avoid major budget cuts. The state's current 4.25 percent income tax generates $12 billion a year in revenue for state and local governments.
Even if state leaders can't do much about global inflation, Michiganders can certainly feel the effects.
While personal incomes have risen by 11.7 percent since late 2019, inflation means "real disposable income" is down 3 percent, according to U-M economists.
"After you adjust for inflation and taxes and transfers, it turns out that people's paychecks aren't going as far," Ehrlich told Bridge.
Republicans worked to associate Whitmer with Democratic President Joe Biden, whose low approval ratings suggest he is taking much of the blame for high prices.
Economists who spoke with Bridge said massive pandemic spending by the Biden administration – including stimulus checks – does appear to have fueled inflation.
Demand went up with consumer spending power, but supply was tight because of COVID-related supply chain disruptions and labor shortages.
The federal stimulus programs were "way too big and not nearly targeted enough," Ballard said, noting federal policy makers "stomped on the fiscal supply accelerator and supply was not able to keep up with it."
Ehrlich agreed there "probably was some overshooting in terms of stimulus," but he noted that unpredictable factors like Russia's invasion of Ukraine added to supply chain problems that meant companies could not meet consumer demand.
Federal policy makers didn't want to "repeat the mistake" of the Great Recession of 2007, when the economic stimulus was arguably too small, Ehrlich said.
"We didn't have a big financial meltdown like we did after the Great Recession, we had a very strong recovery in that sense. The cost of that, obviously, has been inflation."
Only donate if we've informed you about important Michigan issues
See what new members are saying about why they donated to Bridge Michigan:
"In order for this information to be accurate and unbiased it must be underwritten by its readers, not by special interests." - Larry S.
"Not many other media sources report on the topics Bridge does." - Susan B.
"Your journalism is outstanding and rare these days." - Mark S.
If you want to ensure the future of nonpartisan, nonprofit Michigan journalism, please become a member today. You, too, will be asked why you donated and maybe we'll feature your quote next time!