Michigan governor debate: Fact checking Whitmer-Dixon showdown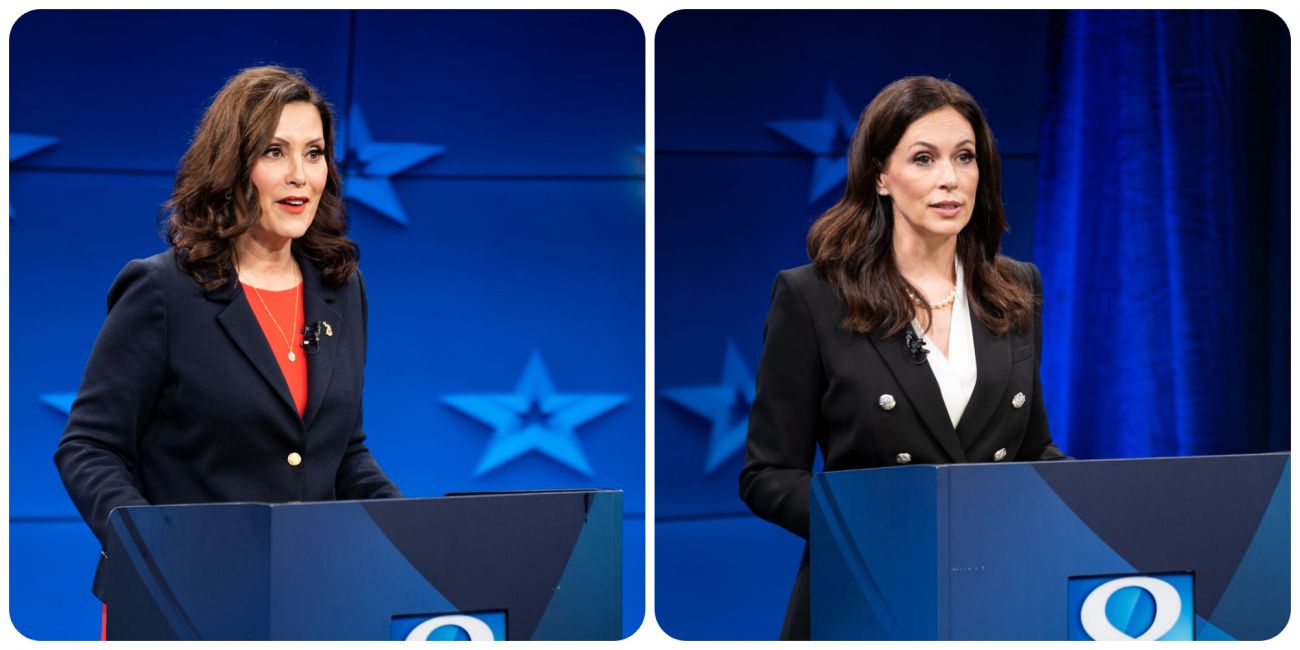 Gov. Gretchen Whitmer, left, and Republican challenger Tudor Dixon met for their first debate on Thursday, trading barbs for one hour on abortion, COVID policy, the economy and roads. (Bryan Esler/WOOD TV8)
First of two debates keep fact checkers busy

Dixon said she doesn't want to 'criminalize people' for abortions, even though she supports a law that would do just that

Whitmer said Michigan recovery among nation's best; doesn't mention that's because its job losses were among the worst
---
Oct. 21: How to watch the Tudor Dixon, Gretchen Whitmer second debate on Oct. 25
Oct. 21: Whitmer: Proposal 3, abortion rights will help Michigan 'steal' jobs from Ohio
GRAND RAPIDS — Michigan Democratic Gov. Gretchen Whitmer and Republican challenger Tudor Dixon sparred over abortion, the economy and COVID-19 on Thursday night in their first of two televised debates.
In the process, both candidates repeatedly accused each other of lying or distorting facts as they painted conflicting pictures of the state.
After it was over, Whitmer told reporters she hoped viewers saw "the stark difference" between her vision for Michigan and that of Dixon, a former conservative news host and steel industry executive.
Related: Watch five key moments for Whitmer, Dixon in Michigan governor debate
"I hope also that people understood that even in a bipartisan environment — a tough environment — we've made some record accomplishments here in Michigan and we've got to keep the forward action," Whitmer said, referencing her work with the GOP-led Legislature.
Down in the polls and fundraising, Dixon opened the debate by acknowledging that many viewers may not know much about her. She used the televised event to litigate Whitmer's tenure and make the case for why she should lead the state instead.
"I think it was just a really valuable time for us to be able to point out the fact that the governor has been hiding a lot, that the governor hasn't been honest about her positions," Dixon told reporters after the debate.
The second and final debate between the major party gubernatorial candidates is Oct. 25 in Rochester.
Related: How to watch Dixon-Whitmer gubernatorial debates on Oct. 13 and Oct. 25
So who was honest in round one? And who stretched the truth to score political points?
Bridge Michigan analyzed some of the most provocative claims from the hour-long debate, which was held at WOOD-TV studios in Grand Rapids. Some were true, others false, but most needed more context, so read on to find out.
Abortion
Dixon's claim: "I've never said that I wanted to criminalize people. I've never said I wanted this to be a felony…My position on abortion is clear. I am pro life with exceptions for (the) life of the mother."
The facts: While Dixon hasn't expressly called for new criminal penalties, she has publicly vouched for a suspended 1931 law that would it a crime for physicians to peform an abortion, punishable by up to four years in prison. She called it a "good law" at a Republican debate this spring in Livingston County.
Dixon last year told reporters she thought there should be "no exceptions" to an abortion ban, but has since maintained that she supports an exception for the life of the mother but not rape, incest or general health.
Related: Tudor Dixon opposes abortion after rape, but Dem attack ads twist her words
Whitmer's claim: "The only reason that (the 1931 abortion) law is not in effect right now is because of my lawsuit stopping it."
The facts: Whitmer's lawsuit isn't the only legal challenge pending in state courts challenging Michigan's 1931 abortion ban — but a recent order barring county prosecutors from enforcing the 1931 law stems from Whitmer's challenge.
In May, a state judge issued an injunction blocking enforcement of the law based on a lawsuit from Planned Parenthood of Michigan. But another court ruled that injunction didn't apply to county prosecutors who wanted to enforce the ban.
Whitmer sued in Oakland County, where a judge issued an injunction barring enforcement while lawsuits over the old law continue. Whitmer and Planned Parenthood have asked the Michigan Supreme Court to decide whether the state constitution provides a right to abortion in Michigan.
Related: Judge: Michigan abortion ban 'dangerous,' old law unenforceable amid suits
Guns
Whitmer's claim: "The same month as the Oxford school shooting for four children were murdered, eight were injured and the community was terrorized, Tudor Dixon posted on her social media a picture of her shooting a gun with the caption that said, 'Gun control means using both hands.'"
I will always protect and defend the Second Amendment. pic.twitter.com/jyU0k7kTfk

— Tudor Dixon (@TudorDixon) November 1, 2021
The facts: Dixon's tweet was 29 days before the Nov. 30 school shooting. While Whitmer's claim is accurate — and reflects Dixon's opposition to gun control — the post was in no way a reaction to the school shooting, as Whitmer seemed to imply.
Dixon's claim: Whitmer "wants to take guns away from law abiding citizens"
The facts: Whitmer has not proposed any broad measures to confiscate guns without reason. But she has called for Michigan to adopt a so-called "red flag" gun law that would allow a judge to issue a "extreme risk protection order" authorizing police to seize guns from an individual if there is "reasonable cause" to believe the person poses a risk to themselves or others.
Related: Michigan to weigh red flag bill after Oxford shooting. Gun groups are furious.
Economy
Whitmer's claim: "We've had one of the strongest economic recoveries in the country."
Dixon claim: "Michigan is in a terribly slow recovery."
The facts: Michigan lost more jobs than most states early in COVID-19, and the state is still down more than 82,000 jobs from when Whitmer took office, data that undermines her rosy picture of the economy.
By comparison, 18 states had fully recovered all pandemic-era job losses by July.
Because Michigan lost so many jobs to begin with, Whitmer can point to periods where the state's recovery looked good on paper. Between April 2020 and April of 2021, for instance, Michigan gained the fifth-most jobs in the nation. By percentage, that was tops in the country.
Related: Gretchen Whitmer touts economy. Michigan lost 82K jobs under her watch.
Roads
Dixon's claim: Whitmer pledged to fix roads, but her own roads commission says the roads are "in worse shape than when she took office."
The facts: Michigan road quality has improved somewhat under Whitmer, who's used bond borrowing and surplus funds to increase spending. But without a long-term funding solution, roads will again deteriorate and nearly half will be in "poor" condition by 2033, according to projections by the state's Transportation Asset Management Council.
As of 2021, 67 percent of state roads were rated in good or fair condition, up from 58 percent in 2020, according to the council's latest report. Fifty five percent of local roads were rated in good or fair condition, up from 50 percent the prior year. But 11 percent of bridges were rated in poor or "severe" condition, the worst rate among Great Lakes states.
Dixon's claim: Whitmer promised "no, she wasn't going to raise the taxes" to fund road repairs, but "one of her first acts when she got into office was to try to raise your gas taxes by 45 cents."
The facts: In a 2018 debate, while she was running for governor, Whitmer dismissed as "ridiculous" claims she wanted to implement a 20-cent per gallon gas increase.
Once taking office, she proposed raising taxes 45 cents a gallon to fund road repairs, which was deemed a nonstarter by the Legislature, including members of her own party.
Bipartisanship
Dixon's claim: Whitmer "has vetoed more bills than any other governor in the last 70 years."
The facts: Whitmer has not quite set the modern record for total vetoes by a Michigan governor, but the first-term Democrat appears well on her way should she win re-election and again be paired with a Republican-led Legislature.
Through her first three years in office, Whitmer had vetoed 92 bills, an average of 31 per year that was the highest rate since 1953, according to an MLive analysis. She has vetoed another 15 bills so far this year, according to state records.
Whitmer's running total of 107 vetoes trails Jennifer Granholm (140) John Engler (117), Rick Snyder (113) and William Milliken (112), but each of those governors served at least eight years in office.
Whitmer's claim: "As governor, I signed more than 900 bills, all of them bipartisan."
The facts: Whitmer has signed 936 bills into law since taking office, according to state records. And because Republicans control both chambers of the Legislature, every bill that reached her desk does so with GOP support, making her bipartisan claim true.
But she hasn't set any records on that front. Granholm, who served both terms with a GOP-led Senate, signed 3,372 bills over two terms, an average of 421.5 per year, according to data compiled by MLive. Whitmer averaged 249 bill signings over her first three full years.
Crime
Dixon's claim: "It must be so embarrassing for the governor that it's actually on tape that she said she supports the spirit of defund the police. That's the truth."
The facts: In 2020, Whitmer said she supported "the spirit" of the movement to defund the police. Earlier this week, she clarified that she believes the phrase itself is "dangerous and foolish," but understands the desire to get more resources invested in other areas.
"If you look at my record, I have funded the police over and over again," she said.
I support defunding the police - Gretchen Whitmer https://t.co/MmvrsuJXNy pic.twitter.com/QwU17PIFsV

— Michigan GOP (@MIGOP) October 11, 2022
COVID-19
Whitmer's claim: Dixon "said kids couldn't get COVID."
The facts: Dixon made the comments Whitmer was referring to in episodes of her "America's Voice Live" show.
In a June 2020 episode, Dixon said "our kids are not at risk" for catching COVID-19, and in a July 2020 episode, she stated, "you heard so many people saying that this is not a virus that affects the young students."
But after Thursday's debate, she denied having ever made such claims. "My own children have had COVID, so I would never say that," Dixon told reporters.
While symptoms are typically mild, children can get hospitalized and, in rare instances, die from COVID. Nationwide, nearly 1,500 deaths of children 18 and younger are attributed to the virus, according to the Centers for Disease Control and Prevention.
Dixon's claim: "The governor wants you to believe that she did listen to the experts, but we have the letter from the nursing home association that said whatever you do, don't send COVID positive patients into nursing homes. And yet the governor did…She even tried to hide the final report of the numbers of how many deaths we had."
The facts: Whitmer's April 15, 2020, order required nursing homes to readmit seniors who had been treated for the virus, but only if the facilities had set up dedicated isolation units and had appropriate personal protection equipment, which was in short supply across the country in March and April.
The order was controversial, but it was never actually enforced, according to both the Whitmer administration and officials from the Health Care Association of Michigan, which represents nursing homes across the state.
Under Whitmer, Michigan established a series of nursing home "hubs" that set up special — and completely separate — care units to handle incoming COVID-19 patients.
Michigan's auditor general in January released a report linking 8,061 COVID-19 deaths to nursing homes and other long-term care facilities, up from the state's official count of 5,675.
But it is "unfair" to say the state intentionally undercounted nursing home deaths, Auditor General Doug Ringler said in a legislative hearing, noting his team counted more deaths and facilities than the state was required to report to the federal government.
Only donate if we've informed you about important Michigan issues
See what new members are saying about why they donated to Bridge Michigan:
"In order for this information to be accurate and unbiased it must be underwritten by its readers, not by special interests." - Larry S.
"Not many other media sources report on the topics Bridge does." - Susan B.
"Your journalism is outstanding and rare these days." - Mark S.
If you want to ensure the future of nonpartisan, nonprofit Michigan journalism, please become a member today. You, too, will be asked why you donated and maybe we'll feature your quote next time!