Business leaders on Michigan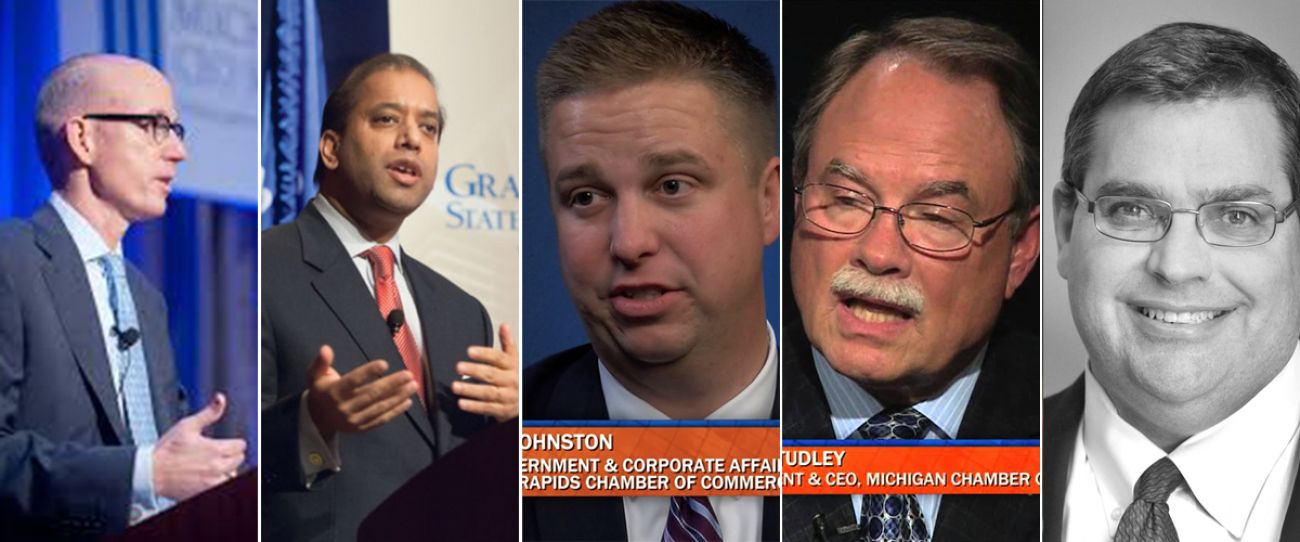 Is business losing clout?
Other articles in this report:
Five top business leaders in Michigan talked to Bridge Magazine and Crain's Detroit Business about the issues important to their industry. They directly answered questions about the challenges the business community faces in Lansing. Their remarks below have been edited and condensed:
What were the top policy "wins" early in Gov. Rick Snyder's tenure?
Doug Rothwell, president and CEO, Business Leaders for Michigan: Multi-year budgeting, passing budgets early, budget transparency, replacement of the Michigan Business Tax with the corporate income tax, debt reduction, moving to a hybrid pension-defined contribution retirement plan for new teachers, early childhood education funding, some new road funding. Business Leaders for Michigan did not have a position on right to work. "For me, the biggest takeaway is probably the way the state is being fiscally managed," Rothwell said. "If we have a more solid financial foundation, that's going to enable us to do more of the investing and (have) more of the ability to support growth than we were able to do in the past."
Sandy Baruah, president and CEO, Detroit Regional Chamber: Financial restructuring in Detroit and the city's school system, including the grand bargain; budgetary, regulatory and taxation reform, including replacement of the Michigan Business Tax with the corporate income tax; investment in the state's "rainy-day fund." The Detroit Regional Chamber had no position on right to work, though Baruah said the status helps economic developers pitch Michigan to out-of-state companies and site selectors.
Andy Johnston, vice president of government and corporate affairs, Grand Rapids Area Chamber of Commerce: Replacing the Michigan Business Tax with the corporate income tax; reforming Michigan's personal property tax; right to work; the Gordie Howe International Bridge between Detroit and Windsor, Ontario; the 2015 road-funding package; budgetary and fiscal practices, including passing budgets early; early childhood education funding; capital funding for community colleges to update equipment.
Rich Studley, president and CEO, Michigan Chamber of Commerce: Right to work; replacing the Michigan Business Tax with the corporate income tax; 2015 road-funding package; last year's rewrite of Michigan's energy law; Detroit's bankruptcy and restructuring
Tony Stamas, vice president of government relations, Small Business Association of Michigan: Replacing the Michigan Business Tax with the corporate income tax; personal property tax reform; the 2015 road-funding package.
What's at the top of your "to-do" list before Snyder is term-limited in 2018?
Rothwell: Fiscal health strategies — including reducing the state's unfunded retirement obligations for public employees and adopting a more preventative approach for local fiscal stress — "are all still on the table, but I honestly feel the bigger part of our agenda right now is really about making sure we can invest more in building out our infrastructure and repairing it and making sure we invest more in education." Economic development, via increasing the number of incentive tools available, is also a priority.
Baruah: Completing the Gordie Howe International Bridge between Detroit and Windsor; continuing budget discipline implemented under Snyder; investing in core infrastructure, such as roads, bridges and drinking water, and in next-generation mobility infrastructure, including the American Center for Mobility in Ypsilanti Township and wired roads.
Johnston: Addressing unfunded retirement liabilities, particularly related to teacher pensions; more criminal justice reforms; work on building up the state's mobility sector; increasing attention on infrastructure.
Studley: Investment in infrastructure; creating more opportunities for students to enter careers, including in the skilled trades.
Stamas: Replacing the health insurance claims assessment; investing in infrastructure, including roads, bridges, water systems and broadband internet; focusing on talent.
Why is addressing education so important?
Rothwell: Michigan is investing in K-12 schools, but not all of the state funding is making it to the classroom because of ongoing retiree legacy costs. "If you invest $100 million a year in higher ed, we will eventually get to be a Top 10 state for affordability," Rothwell said. "We've seen progress, but not as much as we would like. We don't think that will require higher taxes." He said reducing the budget for corrections, for instance, could allow the savings to be reinvested in higher education.
Baruah: "All the jobs that are being created in the modern economy are essentially going to people with four-year degrees. And if Michigan is shallowing on the number of four-year degrees that we're able to produce and keep in this state, that's a very scary sign. … (In) the short term, we need more people with associate's degrees and professional certifications, and forecasts show over the next 20 to 25 years, we're still going to see a shortage with that kind of skill set."
Studley: "We have a lot of employers today who don't need any more people like me" with a bachelor's degree. "We've got to make sure that we've got more and better options for high school-plus."
What about infrastructure?
Rothwell: "We should not be happy with the fact that we passed a package of legislation that increased funding for roads that will merely, basically, repair what we've got. We have got to grow this state's population. We've got to get bigger. And we can't do that with the infrastructure we've got. … We have got to increase revenues to support infrastructure beyond what we've got today."
Baruah: Policymakers should stop looking at infrastructure spending as a pure cost and ask what the spending will achieve. Michigan is a state whose per capita income has been declining for 40 years "and yet we spend more on automotive repair than our neighboring states because of the condition of our roads. So we're asking people with fewer resources to spend more on tire repair and wheel repair and alignments because we're not investing significantly in our roads. … Even when (the 2015 road-funding legislation) was done and kind of signed, sealed and delivered, we were one of the few organizations that … did not give it our blessing. We said it was inadequate at the time."
Johnston: "We're going to fight to remind our legislators that infrastructure is a priority. I'm still confident that Lansing can do more than one thing at a time."
Studley: "We would be in even worse shape today if the Legislature had not acted. … We're hopeful that after Congress and the president finish work on health care and tax reform they will move on to infrastructure, where the governor has already been to D.C. to talk to members of our congressional delegation. … You can't go back to Congress or any president and say, 'We need help with road funding.' One of the first questions they ask is: 'When is the last time you tackled that issue?' It's a good start."
Stamas: "It's still an issue that has yet to be fully addressed, but at least it was a significant step to trying to keep us from going back any further. … People recognize that, on a lot of fronts, more needs to be done, and the governor's looking at it and trying to be creative in terms of efficiency and savings. … I don't think (it) was the complete resolution."
What do you think about proposals to cut Michigan's income tax?
Rothwell: He said he understands the motivation for policymakers to campaign for income tax cuts when they heard from constituents this past election cycle who said their incomes are lower. "We've got to do a better job of saying, 'Yeah, we agree with you, but we're not sure the best way to do that is reduce the government.'"
Johnston: The Grand Rapids chamber has no position on reducing the income tax. "Our priority when we're talking to legislators is making sure that these underfunded liabilities are addressed."
Studley: "We didn't take a position for or against the income tax rollback, but we watch that debate very carefully. If it had swerved off the road and jeopardized the commitment to use general fund revenue to fix the roads, we would have jumped in the middle of that debate. If it swerved off the road to the left and morphed into a debate over graduated income tax, again, we would have jumped in with both feet."
Stamas: The Small Business Association of Michigan had no position on the income tax proposal. "If there's a reduction, then where will that reduction come from in the budget?"
Why does it seem like there is no consensus between Snyder's administration, business leaders and the Legislature on key issues?
Rothwell: "It's very difficult to do the kind of work that I'm saying needs to be done, and I think that there's a lot of folks out there that have a lot of different viewpoints that make it difficult for the average citizen to sort through it all. As a result, I think the default position will be, 'I don't really understand any of it, (so) let's do nothing.' … If you don't really understand it, you vote no.
Baruah: "The business community continues to be very supportive and appreciative of the governor, so that alignment I think continues to exist strongly. Obviously, the Legislature and the governor, I think that is kind of taking the natural cycle of a two-term governor entering his last two years in office. I think it's very safe to say that a lot of the heavy lifting was done in the first term and where there was a strong level of alignment, but now the Legislature is even kind of more conservative than it was in the governor's first term."
Studley: "I think that reflects an honest difference of opinion between the governor and some Republican lawmakers and a difference in perspective and priority. I think the desire for income tax relief is really more a call for efficiency and effectiveness and more accountability in state government. The total state budget is well over $50 billion a year today. That's a lot of money."
Stamas: "There's enough things out there to find areas of agreement that I still feel we're going to have an opportunity to make some good policy changes in the next two years. … Some of the broader dynamics can change, but I still think in Michigan, when we look at the last six years, the Legislature's really worked with the governor's lead to get through some big issues. I'm still hopeful that that sentiment will prevail."
How influential are business leaders in Lansing these days, given the rise of other viewpoints and interest groups?
Baruah: "Businesses are at the end of the day practical people, for the most part. A great example is on religious freedom (and LGBT rights). … That's obviously not something that the Republican tea party was in favor of. … Where the business community has been quite vocal supporters of increased investment in our infrastructure, the tea party hasn't really been there. … The business community views (higher academic standards) as critical to Michigan's future and meeting their talent needs. That's not something that the tea party Republicans have been aligned around."
Johnston: "Our region has had an outsized influence in recent years that's not just benefitted our region, but our state. And part of that is that we have a growing and vibrant region anchored by the city of Grand Rapids and that we have a culture that is focused on collaboration and working together."
Studley: "As the process changes, if you want to continue to be effective and make a positive difference, you have to change and evolve in terms of strategies and tactics. A lot of (it) frankly is just education and information. Lawmakers aren't around long enough to build institutional knowledge, and sometimes that's our responsibility to share that with them in a way that's fair and accurate. But we don't tell any lawmaker what to do."
How involved are you in election cycles?
Baruah: "We're kind of down-the-road bipartisan. We endorse just about as many Democrats as we do Republicans. … Whereas some business groups are still kind of more Republican-leaning, we're pretty much 50/50 just because we're trying to figure out what's the best way we can get things done. … We feel that we're pretty engaged. Our endorsement is one of the more sought-after statewide endorsements, so we're pretty comfortable with the impact that we have."
Josh Lunger, government affairs director, Grand Rapids chamber: The Grand Rapids chamber makes formal endorsements in state House and Senate primary races in several West Michigan counties.
Studley: "We try to work with both Democrats and Republicans. I could care less whether the sponsor of a bill has an R or a D after their name."
Only donate if we've informed you about important Michigan issues
See what new members are saying about why they donated to Bridge Michigan:
"In order for this information to be accurate and unbiased it must be underwritten by its readers, not by special interests." - Larry S.
"Not many other media sources report on the topics Bridge does." - Susan B.
"Your journalism is outstanding and rare these days." - Mark S.
If you want to ensure the future of nonpartisan, nonprofit Michigan journalism, please become a member today. You, too, will be asked why you donated and maybe we'll feature your quote next time!