All Michigan regions grew in 2010
Michigan's regional economies surged ahead in 2010, propelled by a surprisingly robust manufacturing sector and solid growth from the "information economy." The latest figures are a positive pivot from a decade that saw most Michigan regions lag economically.
Between 2001 and 2009, 11 of 14 Michigan metropolitan areas recorded declines in real gross domestic product -- the value of finished goods and services, measured in dollars.
But as Michigan's economy pulled out of its tailspin, every metro in the state saw GDP growth, according to new data from the federal Bureau of Economic Analysis, analyzed by Bridge.
The story behind the numbers is manufacturing led a widespread, albeit historically weak, economic recovery as demand for cars and trucks, office furniture and food picked up after a decade-long decline.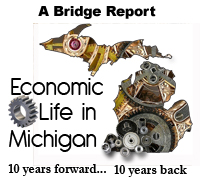 More worrisome is the stall seen in the national economy in recent months, putting into question how long Michigan's momentum will last.
"It's kind of just in our DNA," Michigan Manufacturers Association President Chuck Hadden said about the state's traditional reliance on manufacturing to lift it from recession. "It's something we do. It's part of our heritage."
The state's metro areas saw growth in other sectors, as well, including agriculture, construction, wholesale trade, and knowledge areas such as insurance, information and health care.
Holland-Grand Haven, which is becoming the nation's center of production for advanced batteries that power electric and hybrid vehicles, led the metros in growth with a 5 percent jump in GDP last year. (Editor's note: The Bridge analysis is based on federal data for 14 MSAs, or metropolitan statistical areas. These regional economies do not, however, report on every county of the state.)
Much of that growth was attributed to more mainstream products, mostly auto parts produced by Gentex Corp., Johnson Controls Inc. and dozens of other companies in manufacturing-dependent Holland.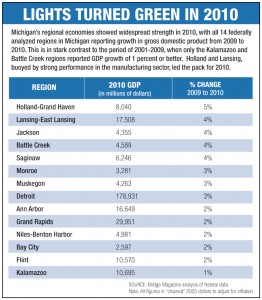 "If I drive around now, their parking lots are full," said Jane Clark, president of the Holland Area Chamber of Commerce. "They're working on Saturdays. We're very, very upbeat about what is happening."
Holland's two major battery plants, one owned by Johnson Controls and the other by LG Chem, were built last year, giving construction a boost, too.
Request Foods, a Holland-based packager of frozen food products, built a 233,000-square-foot plant there last year.
"We had three massive construction projects last year," said Randy Thelen, president of Lakeshore Advantage, a regional economic development agency in Zeeland. "Request Foods, Johnson Controls and LG Chem built a combined 1 million square feet of factory space."
Thelen said the area also benefited from the partial recovery of the office furniture industry, which underwent a severe contraction earlier in the decade.
"We're a heavy manufacturing area," he said. "One-third of our employees work in manufacturing."
Lansing, Battle Creek, Jackson and Saginaw tied for having the second-fastest GDP growth among the metros, each growing 4 percent last year.
Saginaw's recovery was the most striking. Long tied to the fortunes of General Motors Co. and parts maker Delphi Corp. -- both of which filed for bankruptcy in the last decade -- Saginaw's GDP fell 16 percent from 2001 to 2009. That was the biggest drop of any metro area in the state.
A bounce-back in the auto industry and major investments by Dow Chemical affiliates in the solar industry restored some of Saginaw's fortunes, said JoAnn Crary, president of Saginaw Future, a local economic development agency.
Hemlock Semiconductor, which makes polysilicon for semiconductors and wafers used in solar panels, is prospering despite the slowdown in the domestic solar panel industry.
The company has invested more than $2.5 billion over the past six years in its Thomas Township plant, near Saginaw, and employs about 1,200 workers.
Crary said the company was responsible for about a third of the $2.5 billion in U.S. polysilicon exports last year.
Chinese manufacturer Nexteer acquired GM's massive but troubled steering gear operations inSaginaw, preserving thousands of jobs. The company has since added about 650 workers, Crary said.
"Our community colleges and universities have been adding jobs," she said. "And tourism and retail bounced back last year."
A mixture of growth, primarily in knowledge and manufacturing companies, led to 4 percent GDP growth in Lansing last year.
"Perhaps the most dynamic growth industry in the Lansing region has been the insurance sector," said Tim Daman, president of the Lansing Regional Chamber of Commerce. "Lansing's insurance companies now provide close to 8,000 jobs in our region, representing almost 20 percent of the state's total."
Liquid Web, a fast-growing web-hosting company located in Delta Township, is another of the Lansing region's knowledge-based companies reporting good news. Founded in 1997, it has almost doubled employment since 2009, from 150 employees to nearly 300 today.
And the Lansing region's two GM assembly plants are among the newest and most successful in the company. Lansing's manufacturing GDP grew 22 percent, from $1.6 billion in 2009 to $2.1 billion last year.
A boost in auto production last year by the Detroit Three automakers also benefited other manufacturing-dependent metro areas, including Battle Creek, Benton Harbor, Detroit, Monroe and Muskegon.
George Erickcek, a labor market economist at the Upjohn Institute for Employment Research in Kalamazoo said other areas of the state not as dependent on the auto industry didn't grow quite as fast.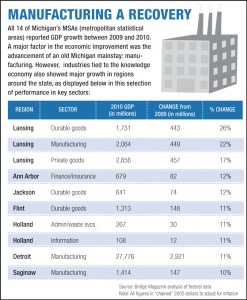 Among them were Ann Arbor, Grand Rapids and Kalamazoo, metro areas that didn't feel the automotive "bump" as strongly as some other metros, he said.
Diane Keller, president of the Ann Arbor/Ypsilanti Chamber of Commerce, said the area is seeing growth in health care, life sciences and companies making applications for smart phones.
Ann Arbor's information sector, for example, grew 9 percent last year, from $653 million in GDP to $721 million in 2010.
Ironically Kalamazoo, which produced the fastest GDP growth among 14 metro areas between 2001 and 2009, had the slowest growth last year at just 1 percent.
Erickcek said Kalamazoo has relatively little automotive manufacturing and therefore "didn't join the party."
Kalamazoo also posted slight declines in government activity and educational services, possibly a result of university cutbacks, Erickcek said. Kalamazoo is home to Western Michigan University.
Ron Kitchens, president of Southwest Michigan First, a local economic development agency, said he's not concerned about Kalamazoo's relatively slow growth last year.
"We must look at long-term numbers rather than fluctuation in a year," he said.
Business Watch
Covering the intersection of business and policy, and informing Michigan employers and workers on the long road back from coronavirus.
Thanks to Business Watch sponsors:
Support Bridge's nonprofit civic journalism. Donate today.
We're not just a news organization, we're also your neighbors
We've been there for you with daily Michigan COVID-19 news; reporting on the emergence of the virus, daily numbers with our tracker and dashboard, exploding unemployment, and we finally were able to report on mass vaccine distribution. We report because the news impacts all of us. Will you please support our nonprofit newsroom?