Booming again: West Michigan's economy is on a roll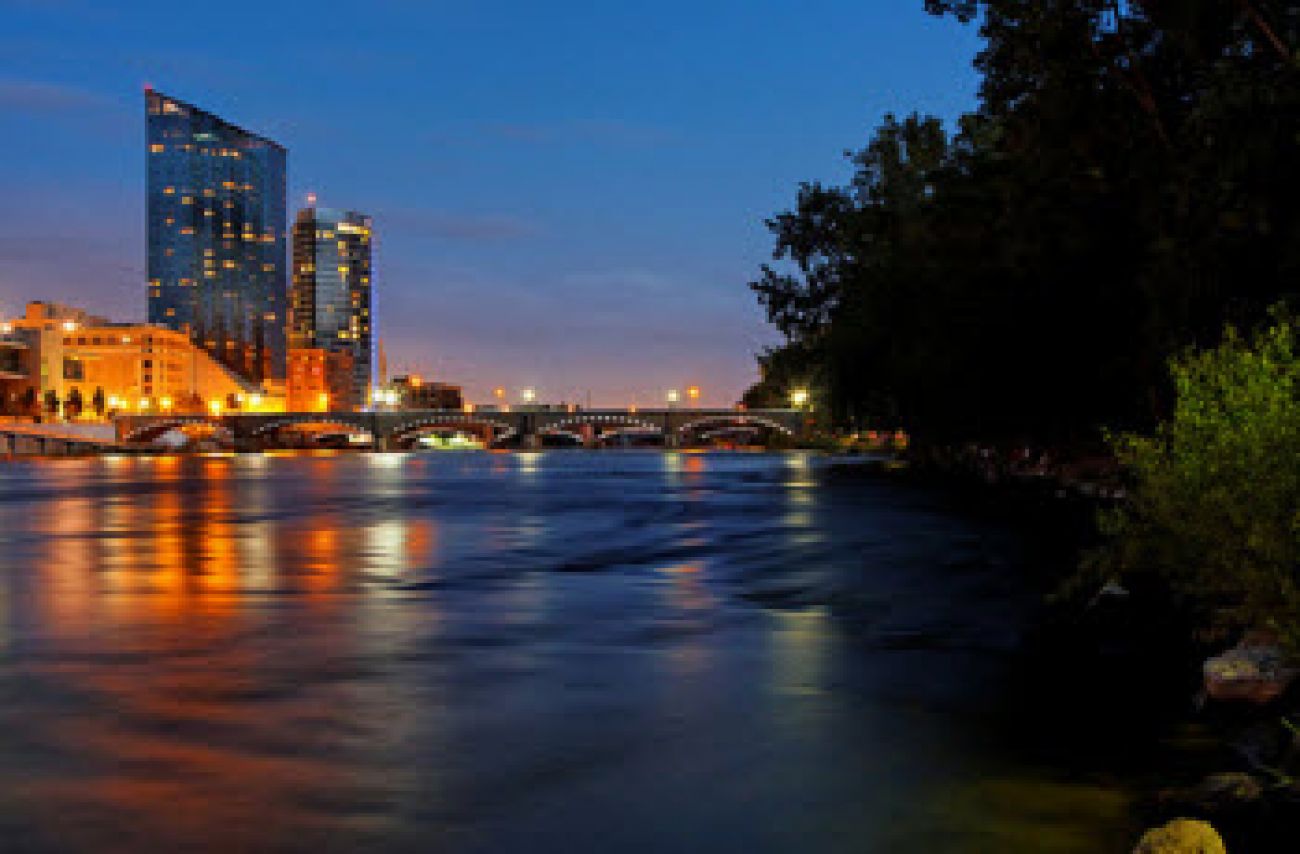 Slideshow: Top 10 Michigan counties with highest job increase, 2012-2016
Source: Michigan Department of Technology, Management and Budget
Michigan's economy is enjoying some of the lowest sustained jobless rates since before 9/11, with a return of thousands of manufacturing jobs swept away by the Great Recession. With joblessness below 5 percent, that's been mostly good news, despite wages that remain generally stagnant.
But nowhere is Michigan shining brighter than West Michigan, where two counties, Kent and Ottawa, account for one fifth of all new jobs in the state, despite comprising just one-tenth of the population.
In Ottawa, the April jobless rate was 2.7 percent. It was 2.9 percent in Kent. Both are historic lows not seen since 2000. An estimated 70 percent of employers tell business leaders that finding qualified workers is one of their toughest jobs right now.
The success isn't limited to those two: Nearby Barry and Allegan counties, just south of Grand Rapids and Holland, are also doing well and a string of counties running from Lansing to Lake Michigan have among the lowest jobless rates in the state.
It's a success story that has caught the eye of economists and others looking to West Michigan for economic guidance.
"It's certainly something that people talk about," said Charley Ballard, an economist at Michigan State University. He noted that the region's population is growing, it has high per-capita income and its economy has been running ahead of state economic trends for years.
One stubborn downside: Wages are still mostly at 2010 levels, though they are rising slowly. In West Michigan, only Ottawa showed slight gains from 2010, when adjusted for inflation. Wages are down nearly 10 percent in Allegan County and up about 1 percent in Barry and Kent. Statewide, average weekly wages remain down 2.1 percent since 2010, though they rose nearly 3 percent from 2014 to 2015.
But the low jobless rate in West Michigan should help push wages up, said Robert Dye, chief economist for Comerica Bank. Job growth may slow, he said, but employers will have to pay more to get the workers they require, he said.
While some look across the country to find replicable models of economic revival, like the steel-to-higher-education transformation in Pittsburgh, others say that other regions in the state can just look down I-96.
"I think we have a model in our state. We don't need to look to Pittsburgh," said Sean McAlinden, vice president for strategic studies and chief economist with the Ann Arbor-based Center for Automotive Research. "But it's a really difficult model to follow."
Slideshow: Top 10 Michigan counties with highest wages, 2015
Source: U.S. Bureau of Labor Statistics' Quarterly Census of Employment and Wages
Not as easy as 'just add water'
For years, West Michigan's economy has tracked ahead of the rest of the state. When the jobless rate in the worst-struck counties exceeded 20 percent at the height of the Great Recession, West Michigan's rate was half that. Now, it continues to do better, the byproduct of a diversified economy and a focus on shared success, according to economists and advocates for the region.
"The uniqueness of West Michigan is the concerted effort to connect among business and community leaders (to) work together," said Jennifer Owens, president of Lakeshore Advantage, which promotes Allegan and Ottawa counties. She said companies are used to looking toward neighbors in the region, either through the local chamber or within their own industrial park, for suppliers and business partners.
That may sound like a marketing pitch, and you'll hear it often from Owens and her peers. But Ballard and other economists noted it as well. "You get a kind of 'progressive-folks-going-about-their-business' vibe," Ballard said.
On the civic side, the business community works together to identify and meet goals, from helping to found Grand Valley State University decades ago to expanding its campus to downtown Grand Rapids. Regional leaders have supported downtown in other ways, promoting its celebrated breweries and events like ArtPrize, the public art event bankrolled by some of the region's biggest corporations sponsors. An estimated 400,000 people visit ArtPrize annually.
The results have been impressive: The Grand Rapids region is one of fastest growing economies in the country.
But replicating West Michigan's success elsewhere in Michigan may be difficult.
"I think there is a shared culture on the west side of the state that's as strong or stronger than other parts of the state," Ballard said.
A number of the region's leaders come from the same background, rooted in the waves of Dutch immigrants who began settling in the area in the 19th century. By 1900, 40 percent of the Grand Rapids population was of Dutch descent.
Metro Detroit, by contrast, is far more diverse, its residents coming from across the globe and spread out over a vast area. Agreeing on one vision for a region of 4 million people can a trickier. And then there's the auto industry. Though West Michigan has long been a supplier for the industry, automotive work there doesn't dominate like it does in Metro Detroit.
"West Michigan has been able to grow in ways that Southeast Michigan hasn't because West Michigan wasn't hampered as much by the shrinking of the auto industry," Ballard said.
Part of it was accidental, but some was purposeful. Steelcase, the furniture giant, did solid business with the automotive industry. But it diversified its portfolio, lessening its reliance on auto work, said McAlinden, the automotive economist.
"West Michigan dodged a bullet in terms of its industrial mix," MSU's Ballard said. But, "it's not all that they were lucky."
Slideshow: Top 10 Michigan counties with the lowest jobless rate, April 2016
Source: Michigan Department of Technology, Management and Budget
Big business, but willing to help
That West Michigan mix includes office furniture (Steelcase, Herman Miller, Haworth), pharmaceuticals (Perrigo), advanced manufacturing (Johnson Controls, Gentex, Magna International, Lacks Enterprises) as well as hospitals and higher education.
"The West Michigan area doesn't hang its hat on one producer," said Owens of Lakeshore Advantage.
Those companies are the region's anchors. But they're also advocates for newer businesses.
Jeff Disher, who started his engineering career for the former Prince Automotive (bought in 1996 by Johnson Controls; later sold in several transactions), aspired to own his own firm. He started in 2000 with one employee – himself.
Innotec, a relatively new firm in 2000 that included other Prince alumni, agreed to take a chance on Disher. It worked out and now, more than 15 years later, Disher, his design and engineering firm, employs over 100 people in nearby Zeeland and in Ann Arbor.
"People see that when you help your neighborhood out, there's a reward there for everyone," Disher said.
That could be West Michigan's mantra. Birgit Klohs, president and CEO of The Right Place, which promotes West Michigan, sells the region to others this way: "This is a very committed, collaborative region," she said.
Top 10 Michigan counties with greatest growth in average weekly wages, 2011-2015
Source: U.S. Bureau of Labor Statistics' Quarterly Census of Employment and Wages
When business meets politics
Some conservative business principles embraced in West Michigan, however, have expanded across the state in ways that haven't pleased everyone.
The region has one of the lowest rates of participation in organized labor in Michigan. About 5 percent of private industry workers in the Grand Rapids region are union members, compared with 11 percent in Metro Detroit and statewide.
Owens said that lower labor costs are one of the reasons that outside companies are attracted to West Michigan.
What has irritated many backers of the labor movement, however, was the strong push by one West Michigan family in an ultimately successful 2012 campaign to enact right-to-work laws – making union membership voluntary – in a state was the was the birthplace of the United Auto Workers.
Many see the support by the DeVos family for right-to-work as part of a conservative business agenda that has outsized power that doesn't work everywhere in Michigan.
The DeVos family is among the top political donors in the state. They support conservative candidates and causes nationally as well.
"They're sort of the 800 pound gorilla in the state," said Zack Pohl, spokesman for the Michigan AFL-CIO, which has railed against the influence the DeVos family wields in Lansing.
West Michigan residents may think of the DeVos family differently. They are a visible part of the fabric of the community; the family name is on the medical, educational and civic buildings whose organizations have shared in their philanthropy. And it has backed a $15 million venture capital fund in 2012, giving entrepreneurs five minutes to make a pitch that could get them $5,000 in support.
Start Garden ultimately backed 190 business ideas with $5,000 each and another 91 with bigger investments. The group is currently developing a new model with the goal of supporting "developing companies" on a broader scale.
It is part of a business attitude that nurtures growth, said Disher, the engineer.
"People have opportunity," he said. "Like-minded people attract each other."
And now, he's doing his best to attract even more. At a time when the economy is hot, Disher has added to his business: He's become a talent recruiter.
We're not just a news organization, we're also your neighbors
We've been there for you with daily Michigan COVID-19 news; reporting on the emergence of the virus, daily numbers with our tracker and dashboard, exploding unemployment, and we finally were able to report on mass vaccine distribution. We report because the news impacts all of us. Will you please donate and help us reach our goal of 15,000 members in 2021?