What does an additional penny of gas tax buy?
For each penny of gas or diesel tax, Michigan gets about $45 million for transportation funding needs that include roads.
There are lots of road cost variables, but that $45 million might buy, for example, 23 more lane miles of reconstructed roads or 75 additional lane miles of repaired roads. Or, it could enable the Michigan Department of Transportation to replace 16 bridges or repair 47.
Both fuel and sales tax increases are being offered up in Lansing as ways to find more money to repair Michigan roads. Which is better, and how it affects the public, is a mixed bag.
Gov. Rick Snyder has called for shifting Michigan's per-gallon gasoline and diesel tax to a percentage tax at the wholesale level, increasing registration fees and allowing local registration fees.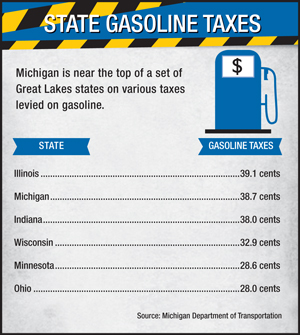 Sen. Roger Kahn, R-Saginaw Township, has legislation that would impose a percentage tax at wholesale and increase registration fees, tied to another measure that would give voters an alternative of approving a 2-cent increase in Michigan's 6-cent sales tax and dedicating it to transportation funding.
Mike Nystrom, executive vice president of the Michigan Infrastructure & Transportation Association, said MITA supports the sales-tax option provided a statutory solution is passed first. MITA sees the sales-tax increase as better long-term "because it is not tied to the price of fuel, but rather it's tied to all products and thus it is a consistent source of revenue that would allow for growth over time as well," Nystrom said.
He said reliance on fuel as a road-funding source is not sustainable, given factors like hybrid vehicles and increasing fuel-efficiency standards that reduce gasoline consumption.
"Any revenue source that is tied to fuel is going to continue to decline as far as a resource," Nystrom said.
Kahn, asked which he sees as a better source of revenue for funding roads, said that "from the point of view of the roads, and the point of view of the people, I think the sales tax is better." It involves the public in decision-making, he said, and the "sales tax would grow as the economy grows."
A penny of Michigan sales tax brings in about $1.1 billion to $1.3 billion.
But others say a sales tax means the general public will pay for those who use the roads the most.
"People that drive lots of miles win, because they're not being taxed more because they drive more miles. You're taxing people who are out buying furniture, or out buying groceries," said John Taylor, chair of the department of marketing and supply chain management in Wayne State University's School of Business. "The fuel tax is taxing the people that use the roads. The more you use the roads, the more you pay, so it is a perfect user fee."
Taxing fuel also has the benefit "of rewarding people with fuel-efficient cars," which is a good public policy goal, Taylor said.
Among the road-using population, fuel taxes hit differently.
Michigan State University professor of economics Ken Boyer said poorer members of the population tend to have more inefficient vehicles than wealthier drivers, so they tend to pay more in fuel taxes. Also producing more in fuel taxes are suburbanites and rural dwellers who tend to drive more than those who live in cities, he said.
An "inner city resident, who doesn't drive all that much, higher fuel taxes would be a benefit to you because the funding source would be on others," he said.
Boyer also said switching from Michigan's 19 cent per gallon tax on gasoline and the 15-cent per gallon tax on diesel to a common uniform rate on all fuels has "the effect of raising taxes on truckers, relative to cars" and eliminating a preference to the trucking industry that has long been "considered to be a subsidy to manufacturing" and the trucking industry in general.
Nearly three quarters of goods shipped every year from sites in Michigan are carried by trucks and another 9 percent are carried by parcel, U.S. Postal Service or other courier services that use trucks for some of the deliveries, according to a 2012 study by TRIP, a Washington, D.C.-based national transportation group.
But the TRIP study also said that "transportation projects that improve the efficiency, condition or safety of a highway or transit route provide significant economic benefits by reducing transportation delays and costs associated with a deficient transportation system."
Michigan proponents of Snyder's approach say balancing out higher fuel costs would be improved roads benefiting expedient commerce, business travel and vehicles.
"Our members know that in the short run they will probably pay more … but they know that they're paying a lot more now in terms of wear and tear on their vehicles, than what good roads will cost them in the future," said Rich Studley, president and CEO of the Michigan Chamber of Commerce. "The only thing that's more expensive than good roads, are bad roads."
We're not just a news organization, we're also your neighbors
We've been there for you with daily Michigan COVID-19 news; reporting on the emergence of the virus, daily numbers with our tracker and dashboard, exploding unemployment, and we finally were able to report on mass vaccine distribution. We report because the news impacts all of us. Will you please donate and help us reach our goal of 15,000 members in 2021?