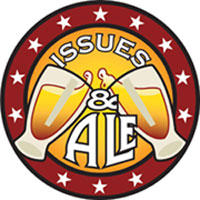 Join the Center for Michigan and Michigan Radio for two "Issues & Ale" events on public trust in Michigan's state government.
The first will be held Tuesday, June 14 from 6:30-8 pm at Brewery Becker in Brighton. Outreach & Training Coordinator Hailey Zureich and Bridge reporter Chastity Pratt Dawsey will be on stage alongside Michigan Radio personalities and statewide policy experts to gather your input and share insights about issues related to public trust, or lack thereof, in Michigan's state government. Admission is free; RSVP here.
We'll then take this show to the Southwest side of the state on Tuesday, June 28. This Public Trust "Issues & Ale" event will be held in Kalamazoo from 6:30-8 pm at One Well Brewing. Engagement Strategy Director Amber DeLind and Bridge reporters Ron French and Nancy Derringer will be on stage at the event. Admission is also free; RSVP here.
Join us to lift a pint and share your input! And if you can't make it to either, find a Community Conversation on public trust in state government on our Conversation Calendar. You can search by zip code for a discussion near you.