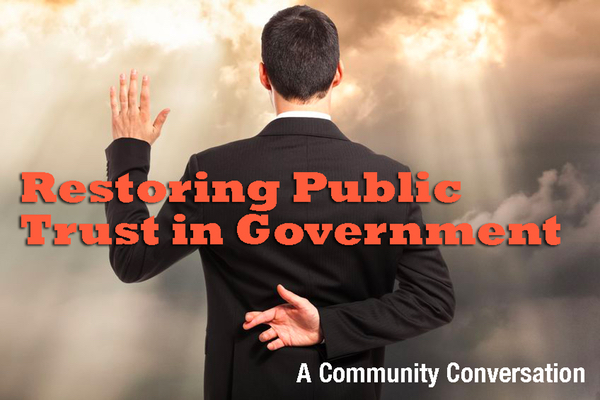 Public trust in our state government is low.
Public opinion polls, such as IPPSR's annual State of the State Survey, show that the Michigan public's trust in our state government has been dwindling for years. Crises in some of our largest cities have further eroded public trust in the state government's ability to represent the needs of our communities. We'll be electing national, state, and local leaders in November, and some Michigan residents are raising questions about how much their vote matters when partisanship and special interest groups have so much influence on our leaders.
In the Center for Michigan's current public engagement campaign, your voice does matter. We will be gathering feedback on public services delivered by state government, Michigan elected officials and the political process, and perhaps most importantly, your ideas for improving state government services and Michigan politics. Where we find common ground among the problems and potential solutions shared in Community Conversations across the state, we will amplify these ideas to state leaders, so they know what it will take for them to improve public trust in government.
These "Restoring Public Trust in Michigan's State Government" Community Conversations will launch on March 28, and will be the seventh round of statewide Community Conversations facilitated by the Center for Michigan. Beginning in 2007, the Center for Michigan, a 501(c) (3) nonprofit and nonpartisan organization, has spoken with more than 40,000 Michigan residents in community conversations across the state. These engaged Michigan residents, including Bridge readers like you, have shared their ideas for improving our state and have contributed to real policy change in Michigan.
In this round of conversations, the Center will meet with 3,000 Michigan residents and gather input on what would improve trust in Michigan's government. And we need your help.
We're looking for community leaders who can bring together 20-50 people for these critically important conversations. If you are interested in learning more about how to host a Community Conversation, please call us today at 734-926-4285 or email us at engage@thecenterformichigan.net. If you are not able to host a conversation but are interested in participating, please visit our Community Conversation calendar to find a discussion near you. We hope to see you there!